Are you looking forward to upgrading your town hall 7? Yes, then this best th8 hybrid bases guide will help you a lot. In this guide, you will find all the basic strategies to build the best th8 hybrid base that is used for both war zone and farming zone. Secondly, you will also get a guideline for forming the best th8 upgrading priority list.
COC Townhall 8 is a practice stage for players to get ready for hard and more trilled levels. The town hall 9 hero grind is the most thrilling level, but you are not ready for it if you have not to practice in town hall 8. In town hall 8, the player must max their all buildings and towers. 1n town hall 7 the most important upgrades are Healers, Hogs, and Dragons. If you have upgraded these three of them then town hall 8 will become easy and simple for you.
Best TH8 Hybrid Bases 2021
In the best upgrade priority list, you must first upgrade the laboratory. The lab is very helpful for upgrading the new troops in the clan. Then you can upgrade the clan castle, Dark spell factory, and Dark barrack. If you will give priority to clan castle and will upgrade first, then you will get +5 extra space for troop and +1 capacity for a spell. If you give priority to Dark barrack, then you will get access to two new Dark troops. The dark troop will help to reduce the time of upgrading. The upgrading of the Dark spell factory is also very important but there is one disadvantage that you will not get access to previous dark spells.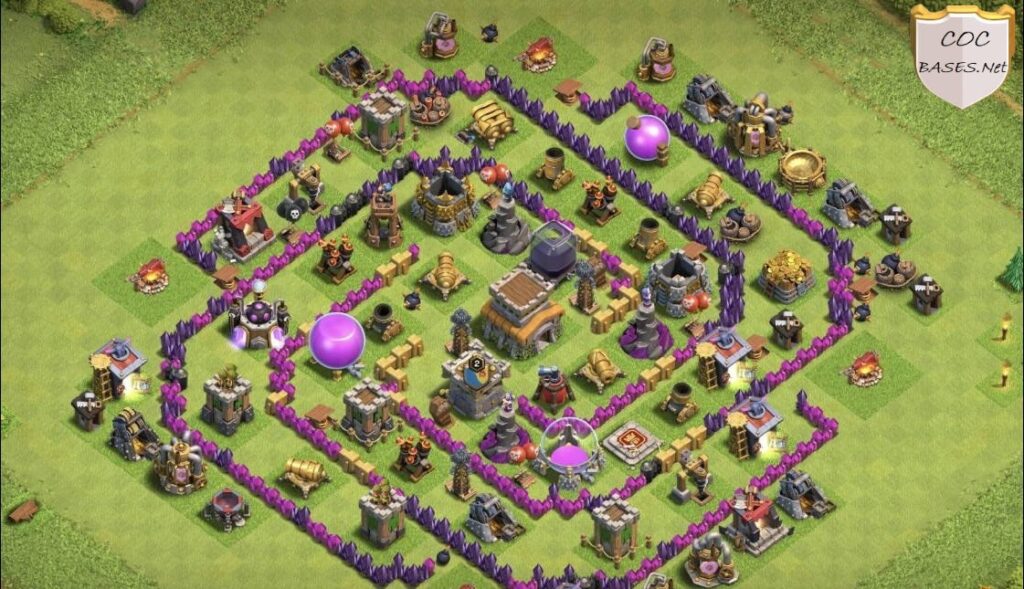 Best Townhall 8 Hybrid Bases
If you want to build the best th8 hybrid bases, then first you must be aware of the hybrid base. The hybrid base is quite different and unique from the trophy base, war base, and th8 farming base. It is a mixture of both a defense base and a farming base. It will become very easy for players to switch between farming and pushing regularly. And if so then a hybrid base is best for you. Many players like to play with a specific type of base, then for them, I will prefer to use Hybrid base layouts. The best hybrid base layout is the finest to protect storage and town hall at the same time. It will help the players to stay high on loot and trophies. The players want to stay in-between both of the ranges, farming, and war zone, so it is good to build th8 hybrid base.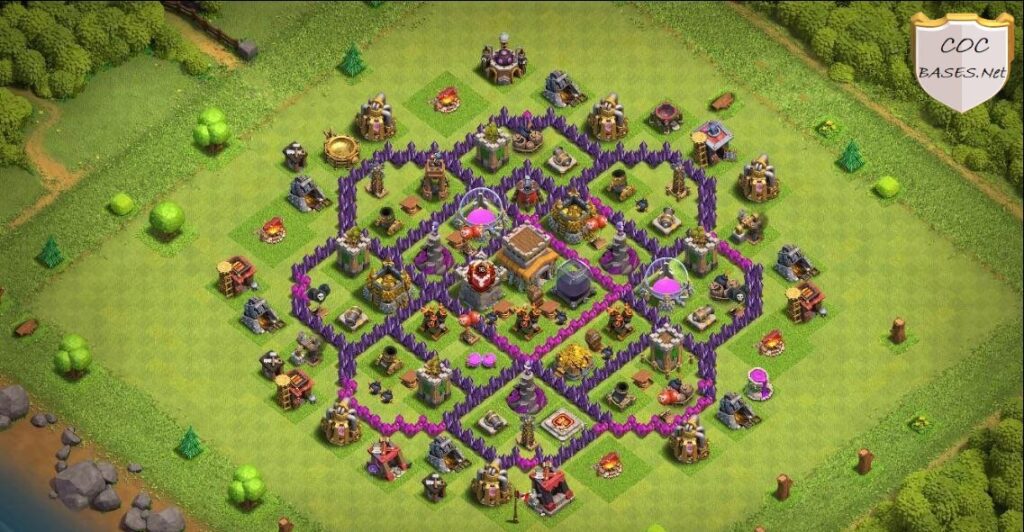 TH8 Hybrid Base Dark Barbarian
As already mentioned that in a hybrid base layout both resource towers and town hall are kept inside the clan for protection. The best hybrid base layout is designed in such a way that it acts as both a farming base zone and a war base zone when needed. In this best th8 hybrid base, you can see that the clan castle is placed in the center. The base is divided into many small sections and separated from one another by a hard wall. The town hall is also placed in the central region for the safety of the whole clan. The resource buildings are equally distributed all over the clan. There is an extra layer of heavy defense army that is surrounding the best th8 base layout for safety.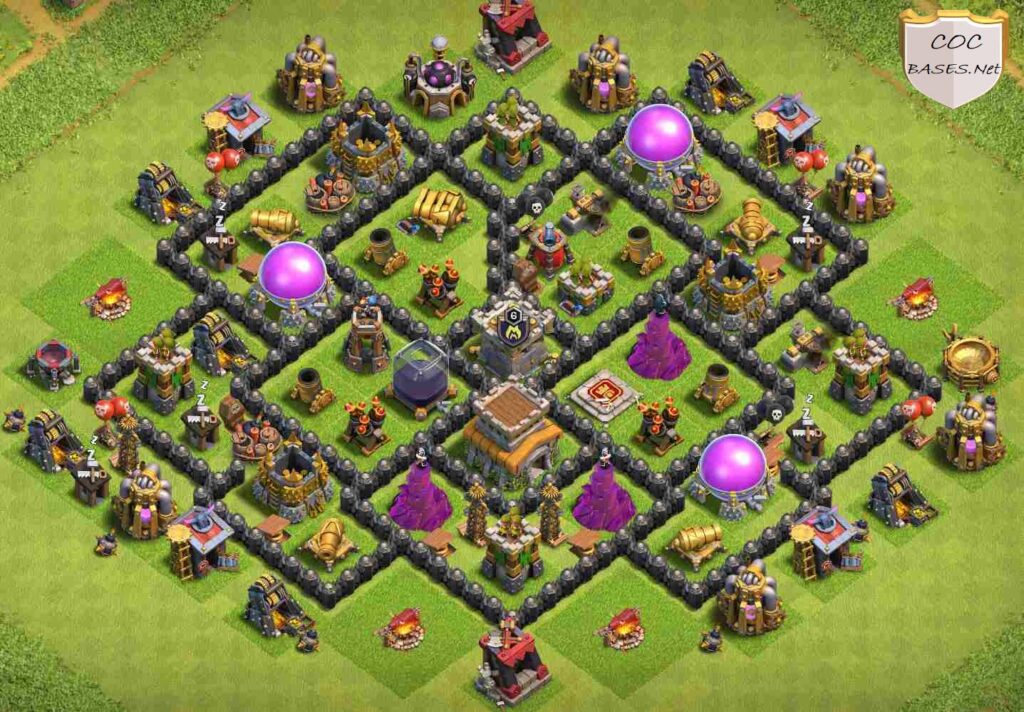 This is also one of the best th8 hybrid bases, which we have designed for players who want to play with a hybrid base. The base is divided into small compartments and each compartment is filled with diverse buildings and towers. the town hall is centralized with a clan castle and some amazing defense buildings. The base also consists of archer queen alter. The resource and storage towers are also placed inside the clan in different compartments. As we know that in farming base we also have to secure the resource buildings because there are chances of the opponent's loot. The same is the case in a hybrid base as it is a combination of both a farming base and a war zone.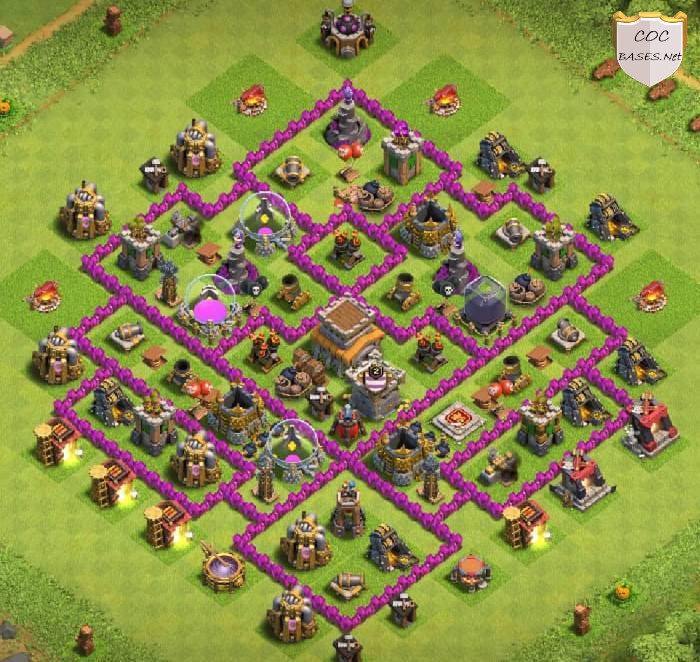 TH8 Hybrid Base Anti Everything
If you have fewer buildings and towers, then this best th8 hybrid base is amazing for you. This hybrid base layout does not have a separate outer boundary made up of a wall but there is a layer of the heavy army acting as a boundary. The heavy army boundary consists of mortar, dark barracks, and dark spell factories that are placed for protection. The town hall is placed in the central layer with air-defense buildings surrounding it. the clan has many small compartments of which one contains the clan castle. The resource buildings are placed in each compartment as security of storage is also important.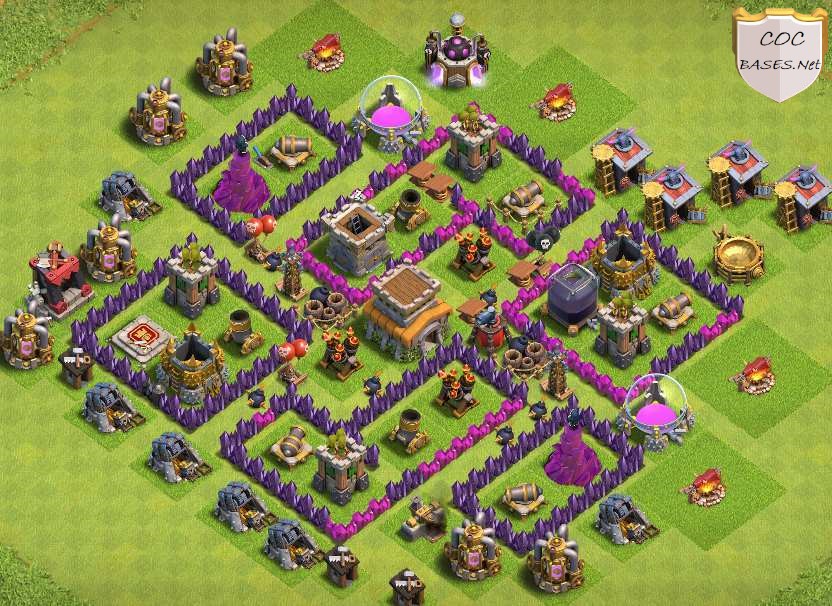 Unbeatable Th8 Hybrid Base Layout
Some base designs are incredible because of their amazing strategies and placement of buildings. This best th8 hybrid base is divided into small compartments that are surrounded by a wall. The town hall is placed in the corner section with archer queen alter and defense buildings. This base will help you to save your town hall as well as your storage towers. If you want to secure your clan from loot as well as make the base hard for opponents, then this base is best for you. Some amazing defense buildings and army towers are placed outside the clan to protect this best hybrid base for town hall 8.
TH8 Hybrid Base Layout with Link
This is one of my favorite hybrid base designs which I build to win the game clash of clan. This design layout is different from the previous design but the strategy of building selection is the same. It is also an unbeatable th8 hybrid base that is amazing and best for both farming and war purposes. This best th8 hybrid base is divided into big sections. One section contains a town hall with archer queen alter and many other defense & army buildings. There are fewer buildings but all of them are playing an important role in saving the clan.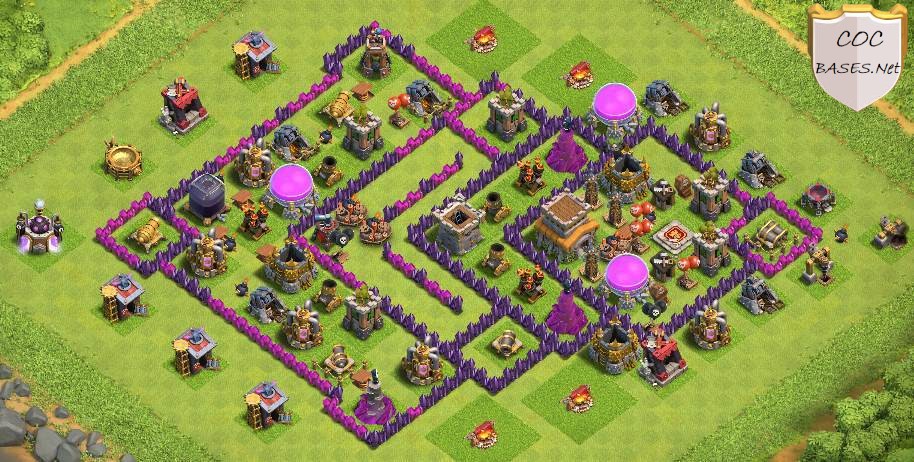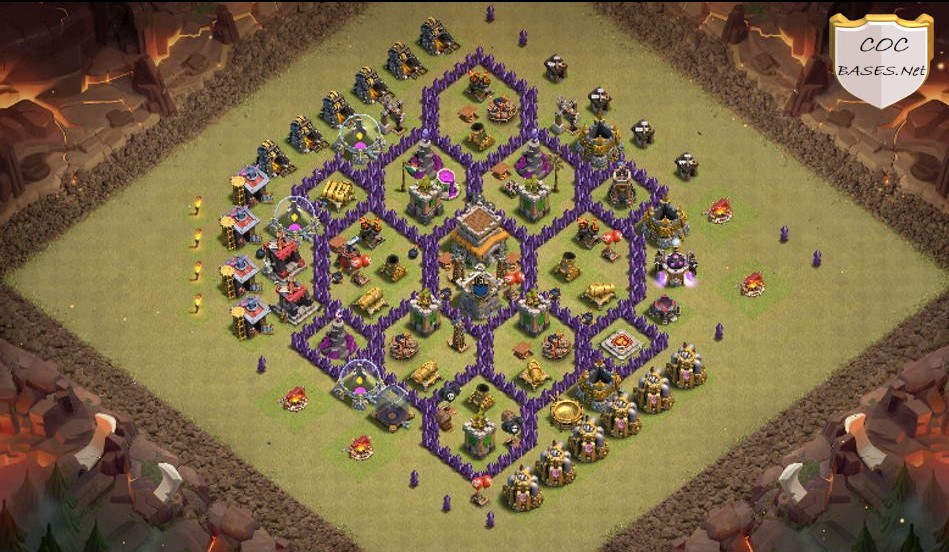 TH8 Hybrid Base 2021 Link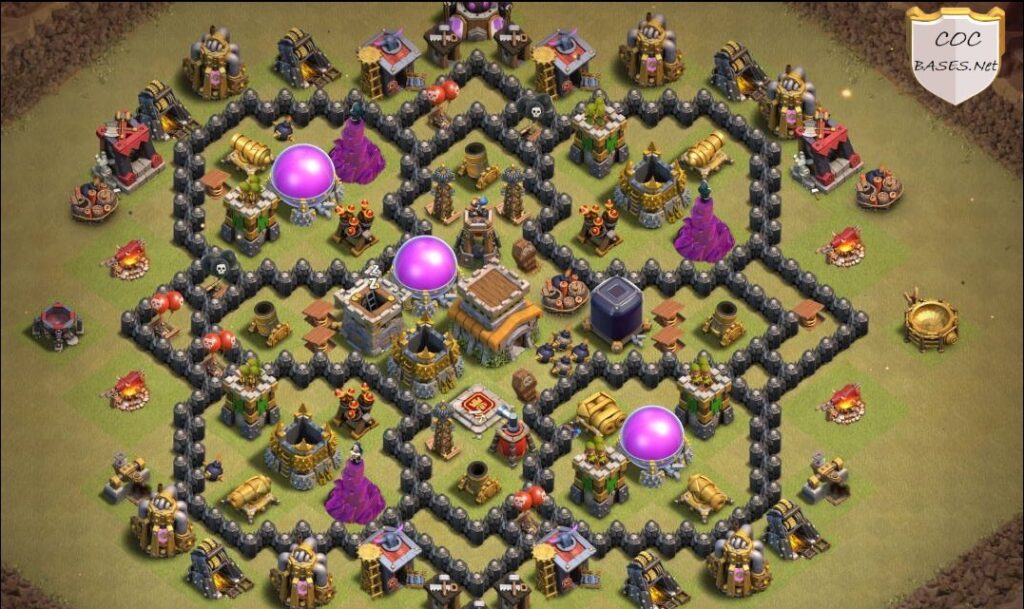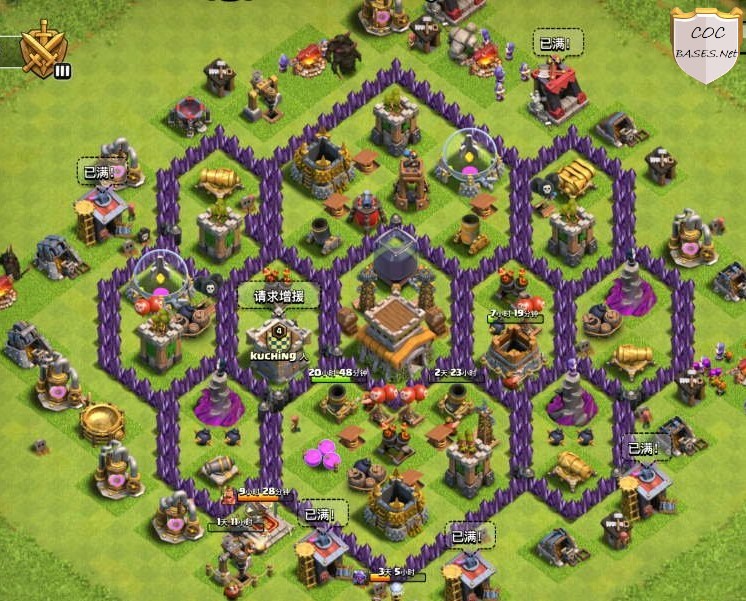 More Articles
builder hall 8 base layout 2021
th8 farming base town hall outside