Town hall 7, one of the best levels that is breaking all the records of strategies and thrillers in the game. Players are in love with town hall 7 Clash of Clans, as the first hero is unlocked is barbarian king alter. Barbarian king alter has the finest role in town hall 7, it is said to be the least strong of the three but is very effective. It is not simple to build a best th7 base if you are a beginner and are not aware of the specification of buildings and towers. This best th7 base guide is compiled after complete research and our own experience, so you will find it best to trust on. Here we will discuss different bases, how they are effective and sometimes act as a threat, and how to build the best base layout designs.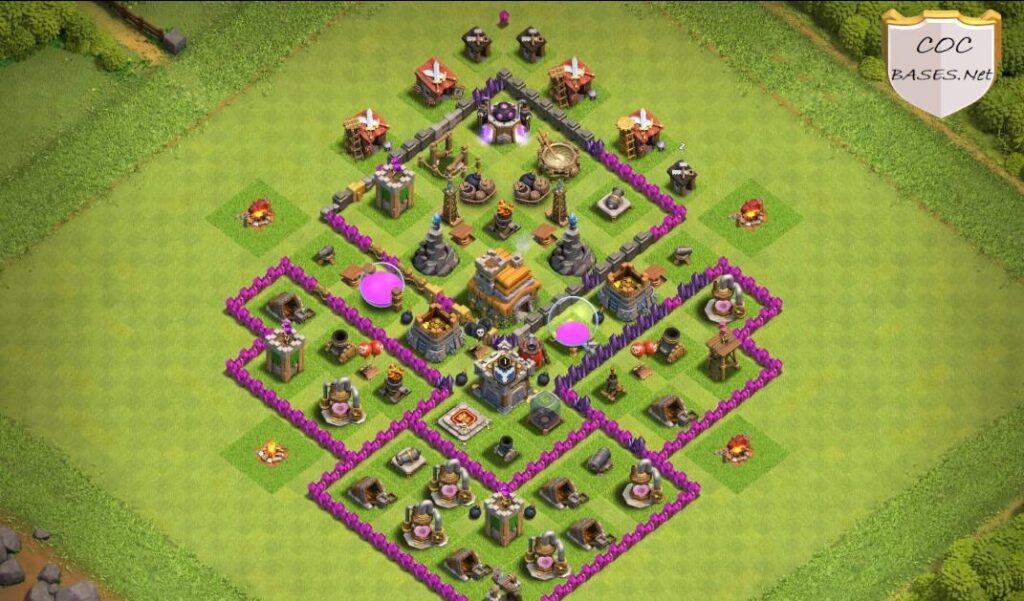 Best TH7 Bases 2023
Most of the players would be aware that we have four types of bases and each has its pros and cons. But I would say that whichever base you choose for your clan, the effectiveness of that base will only depend on how you design it. While making the best th7 bases it is quite important to keep in mind which buildings and towers you want to max.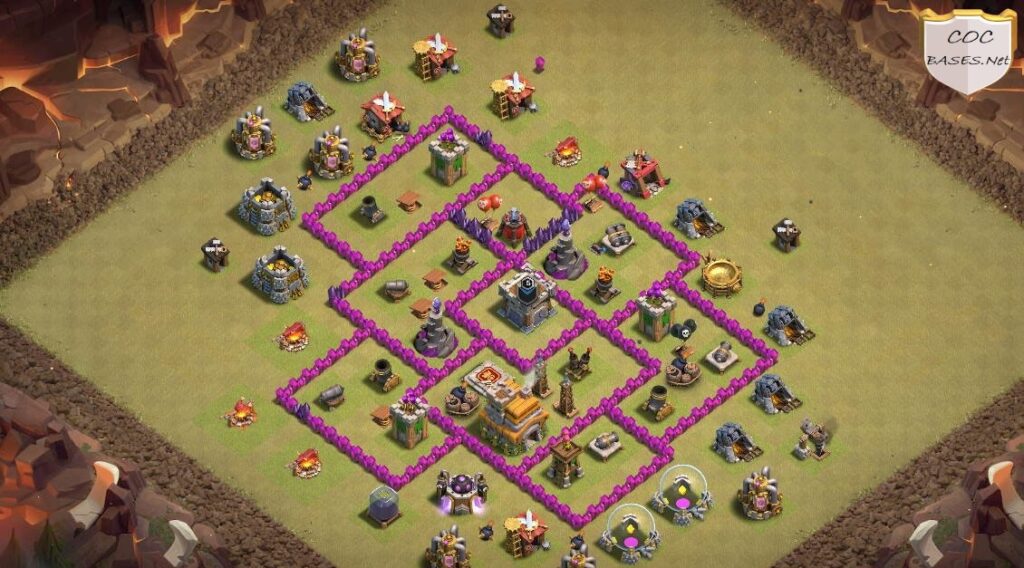 TH7 Base without Barbarian King
Secondly, the placement of buildings also plays an important role. Compartments that are small section in the whole structure, is also very important. For the best th7 base layout, you must divide your clan into small sections that will make your base more protected. As each compartment will be surrounded by an extra maxed layer of the wall. This wall will keep the opponents away from your clan.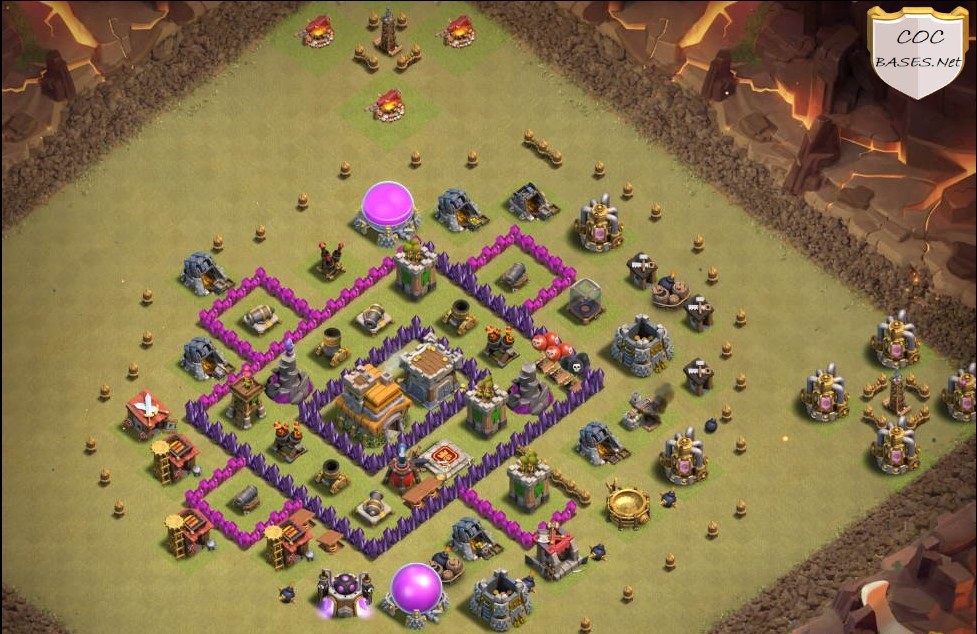 COC TH7 Base Layout Link
Best th7 bases are hard to make but it is not impossible to build the most defensive and attacking bases. To make one, just need practice and some tactics to remember. You will get many online sources to download the best base layout but they will be just 50 % effective as many players will be having the same base designs.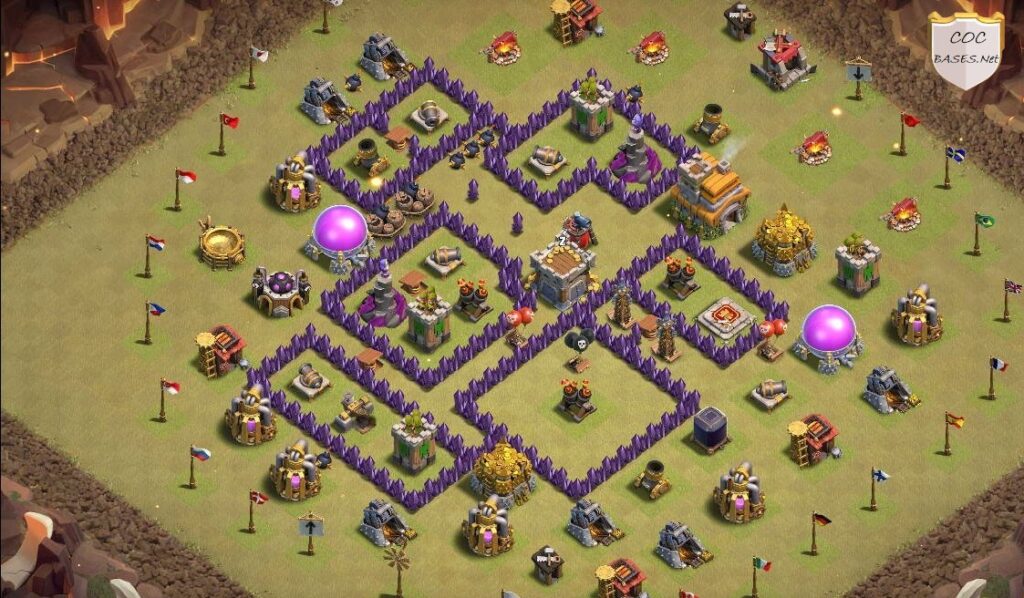 Town Hall 7 Base Layout Anti Dragon
So it is impressive to build your th7 base layout that will last for a long. As mentioned above, there are 4 base layouts i.e trophy base layout, hybrid base layout, farming base layout, and war base layout. I would recommend going with the th7 war base layout as you don't have to save your resources. As th7 and th8 are just the practice stage of town hall 9 hero grind. So you have to gain more stars and save your town hall from the opponents to be prepared for the town hall 9 clash of clans.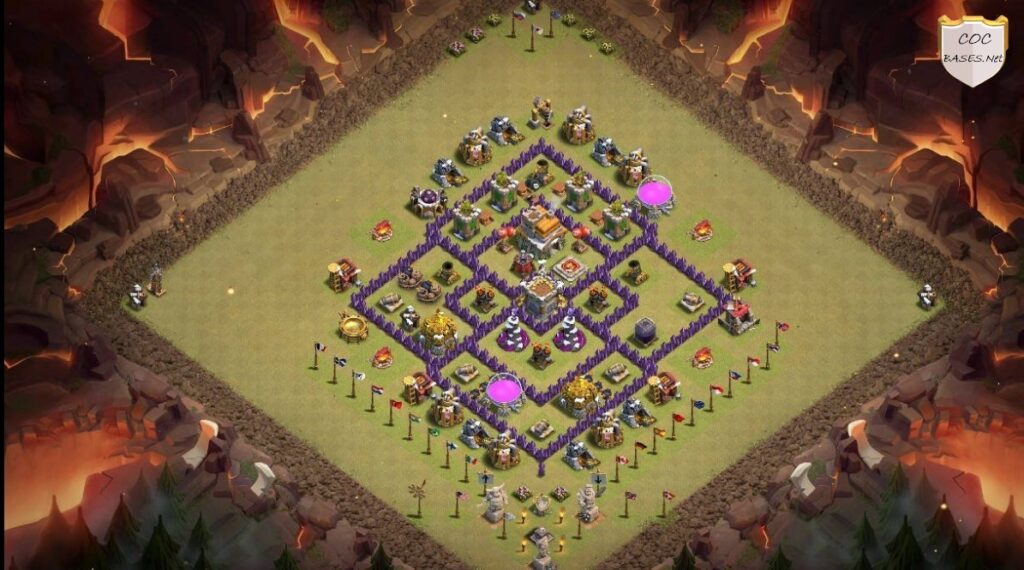 Best TH7 Base Anti Everything 2023
This is an amazing and whole new town hall 7 base layout. This base doesn't have an outermost boundary that is sometimes quite effective. The clan is divided into two main compartments and each compartment has two separate sections. The town hall is kept in the left compartment with air-defense and elixir collector for its safety. There is no outer wall boundary instead, the army towers are arranged for the protection of the whole best base layout. This best th7 base also contains barbarian king alter & hidden tesla that will keep ground attackers away from the clan.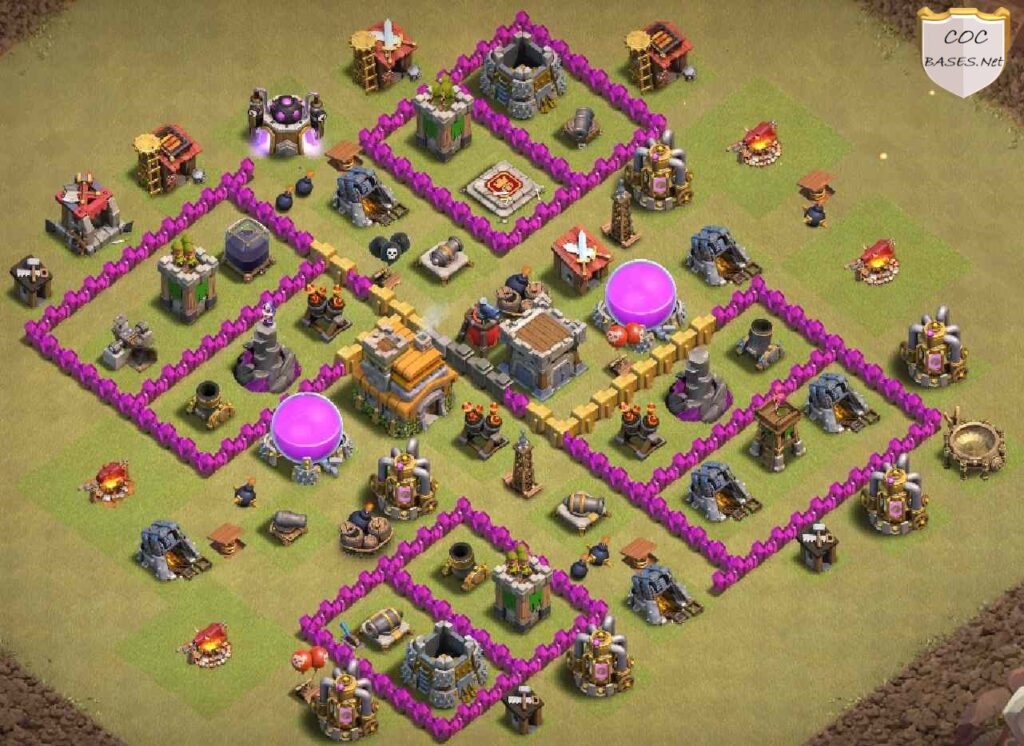 TH7 Base Best Defense
This town hall 7 base layout is also quite different from other bases as it doesn't have a proper wall boundary. Usually, you will see that the best base layout has a proper edge wall boundary that keeps the whole clan protected. But some players who have not upgraded their walls, have fewer walls available. I would recommend this base to those having fewer walls, still, without a wall, your base can be made quite effective. This best th7 base is separated into small compartments, the right central contains the town hall with some effective defense army. The barbarian king alter is also unlocked in this town hall 7 hero grind.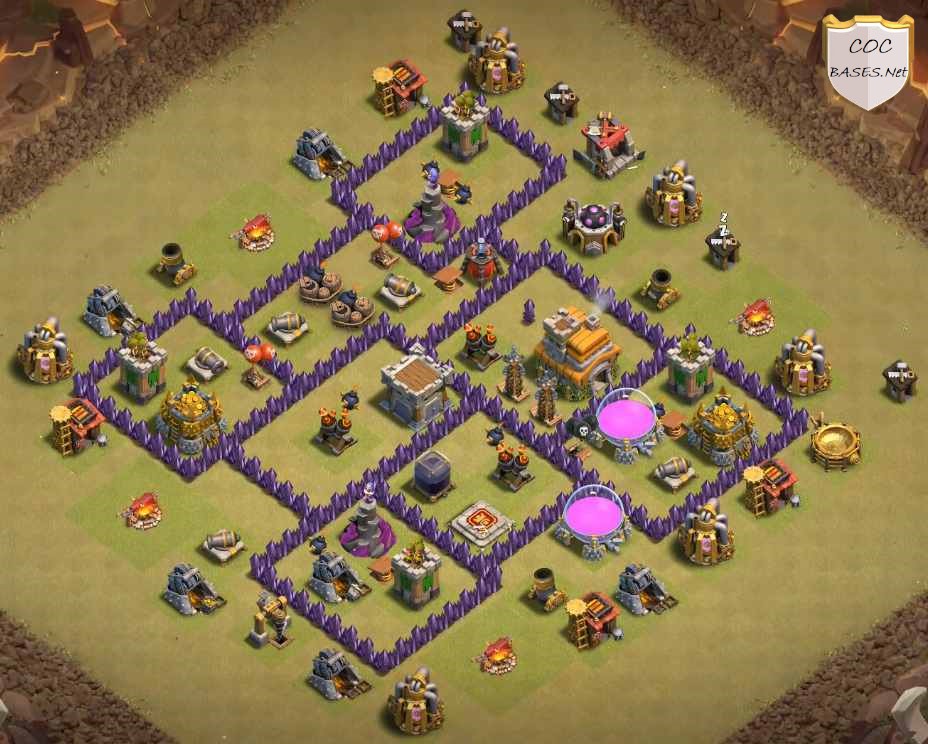 Unbeatable Townhall 7 Base Link
This best th7 base consists of rectangular-shaped compartments, which are filled with some amazing defense and army buildings. The dark elixir storage and barbarian king alter are placed in one compartment, it will strengthen the power and will keep the opponents away from the clan. The town hall and gold storage are placed in one section with a hidden tesla in the middle. The combination of hidden tesla, cannon, and mortar is best to destroy the ground and air attackers. This best town hall 7 link is eye-catching as well as quite effective, it will protect your base for a longer period.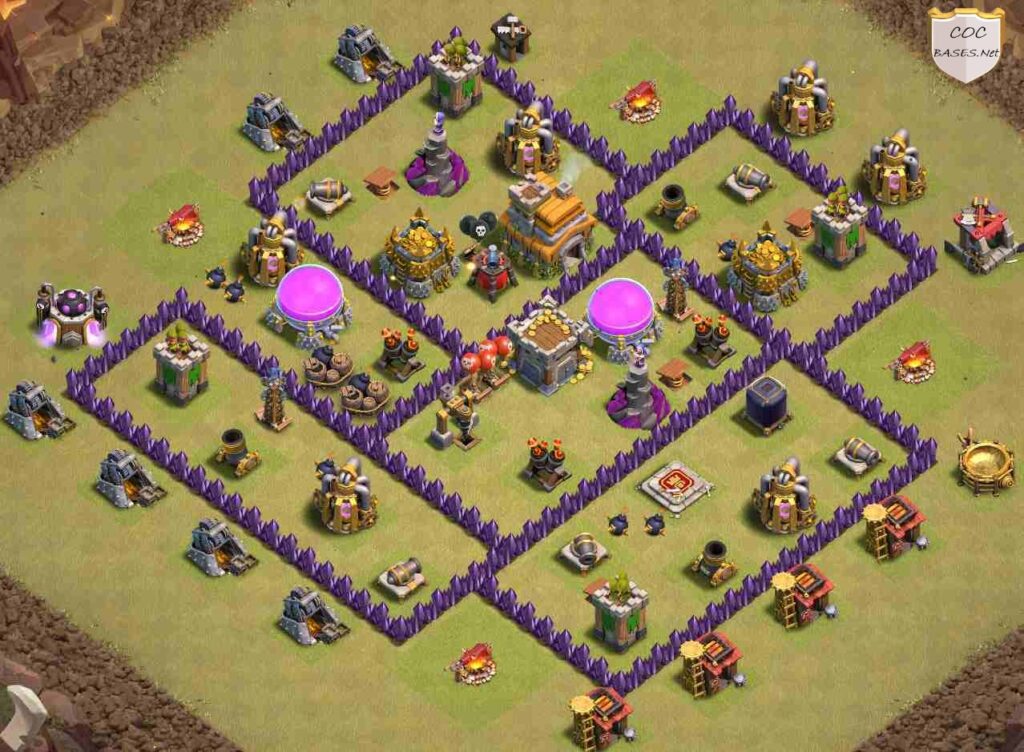 Clash of Clans TH7 Base Link
Here we have mentioned the two best strategic town hall 7 bases for 2020. The first best th7 base is quite similar to all mentioned layouts in this best th7 base guide. But the building placement strategy is different and is quite more effective than the other best base layouts. The town hall is kept in a section of the clan with barbarian king alter. The barbarian king alter is the hero that is unlocked in town hall 7 and has strong power. The hidden tesla is kept in the side compartment that will destroy all the air attackers during the battle. The resource towers are also placed in different compartments as in a hybrid base layout both resource and town hall are important.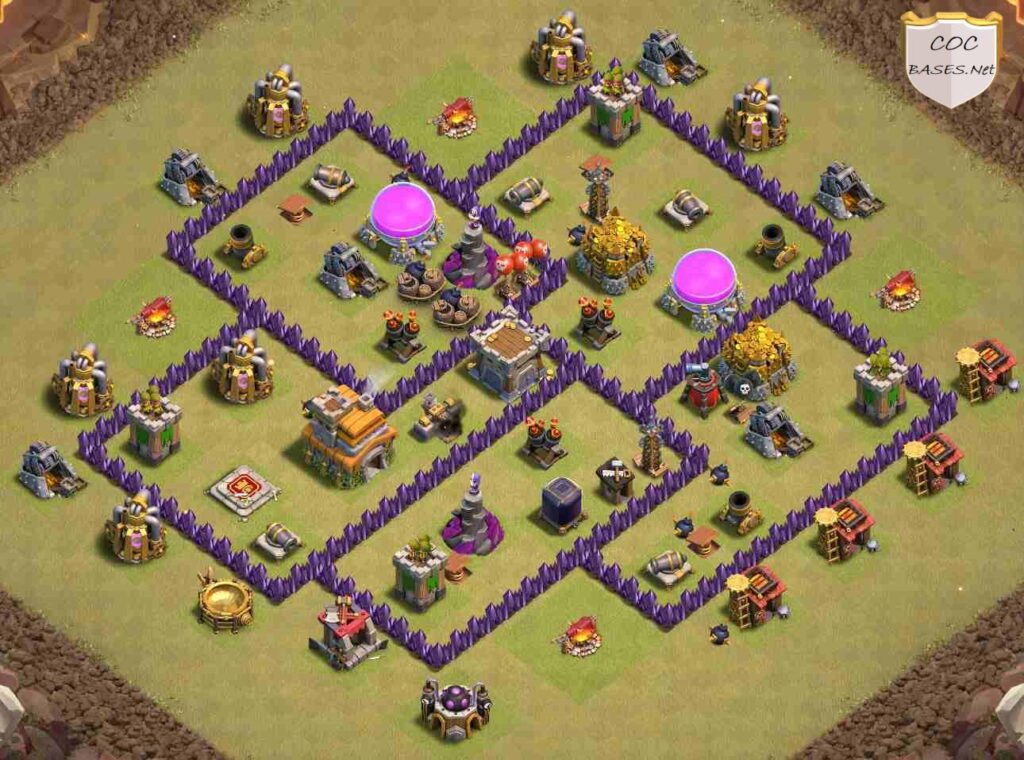 Best TH7 Base Layout Copy Link
Whoa! I am loving the look of this best th7 base, as it is different from all the bases mentioned above. The buildings and towers are placed quite well in this amazing town hall 7 bases 2020. There is no more to say, I would recommend you to try this finest th7 base layout yourself. I am liking that the town hall is kept in the center with dark elixir storage. The barbarian king is kept in a separate small section, as it is powerful to save the town hall itself. The clan castle is kept with some best defense towers and buildings. So this best base link is my favorite containing 81% strength.