Welcome to Best TH13 Hybrid Base! One of the most strategic games, Clash of Clans bases, is upgraded to a fully new level. In this game, players have to attack other clans and protect and secure their clans to get more stars and points. This game is not only for fun but also enhances the cognitive skills of players. Players have to build the most secure and strategic clan to keep the enemies away from their base.
TH13 Hybrid Base Layout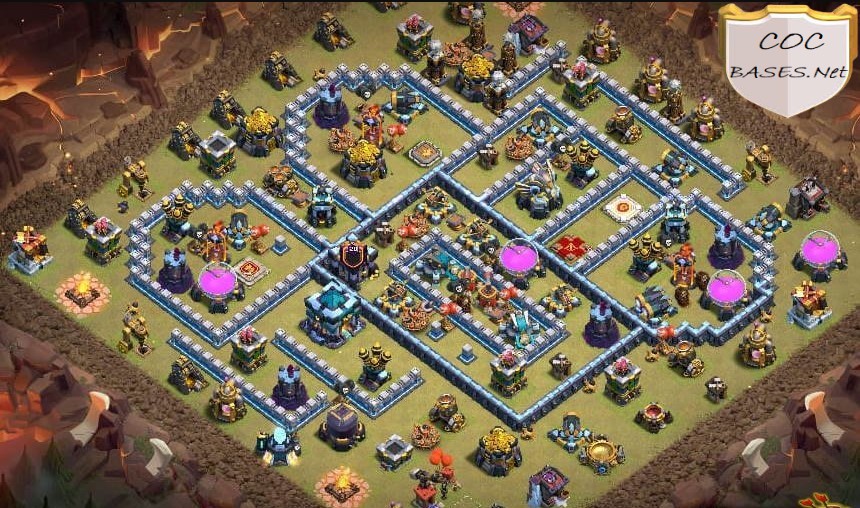 Best TH13 Hybrid Link Anti Everything
With every new level, there is the addition and subtraction of new features to make the level more interesting. The town hall 13 upgrades require very little war weight. In town hall 1, you will find very less buildings and towers as compared to the latest level TH13 trophy base. You can also place scattershot in the best Th13 hybrid base. This will increase the protection and security of your clan.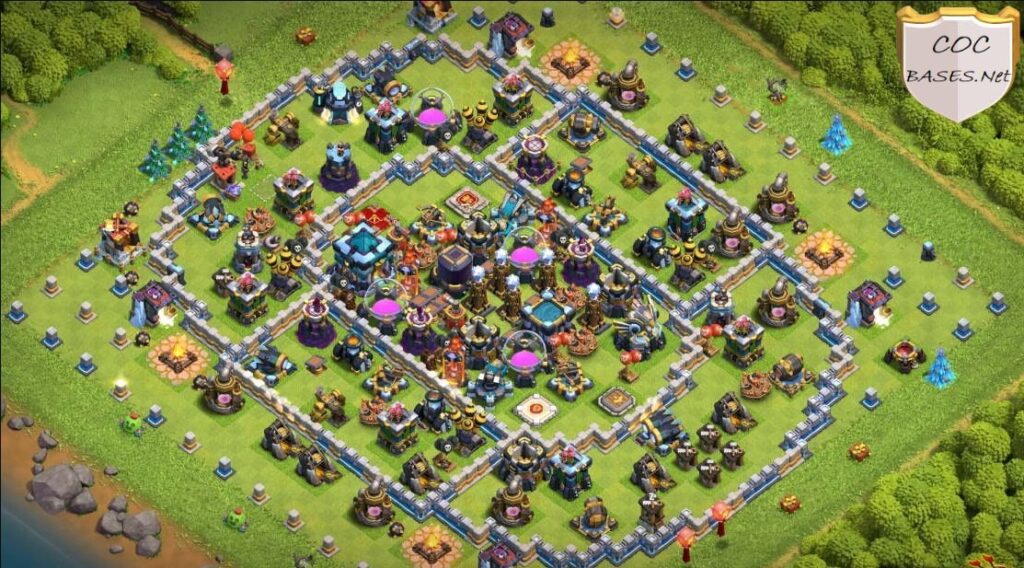 Best TH13 Hybrid Bases 2023
In a hybrid base layout, you have to protect your town hall as well as resource towers. For saving your Town Hall, it is vital to centralize it with a heavy defense building. It is the finest tactic to save your troop in times of war. At this level, the grand champion league is available with an advanced troop. In this best Th13 hybrid bases guide, you will find the best hybrid base layouts for your clan. These hybrid base layouts will make your protection more advance and unique.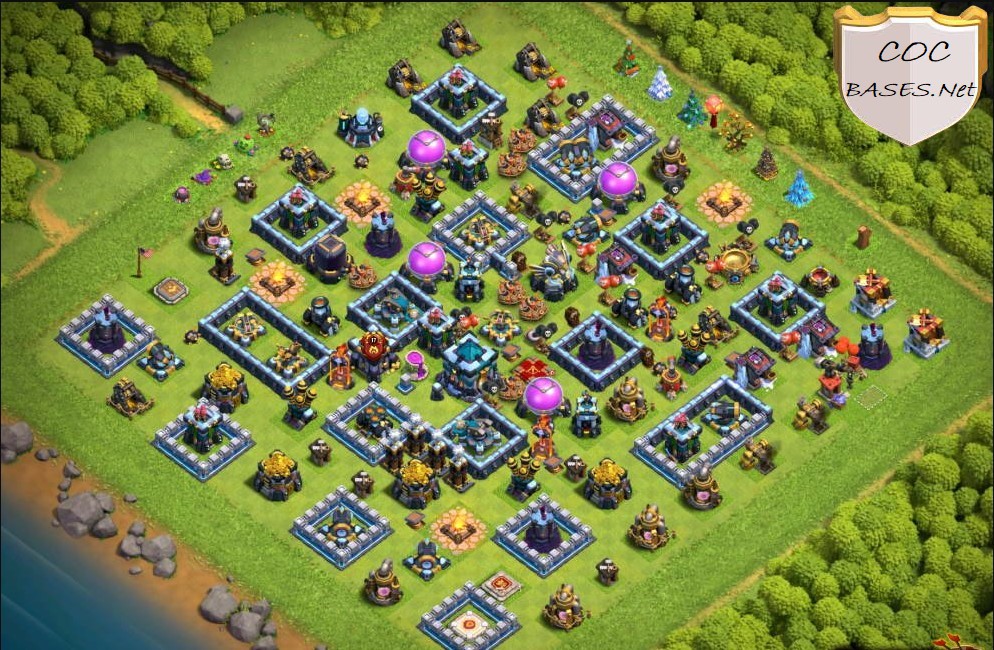 Town Hall 13 Hybrid Bases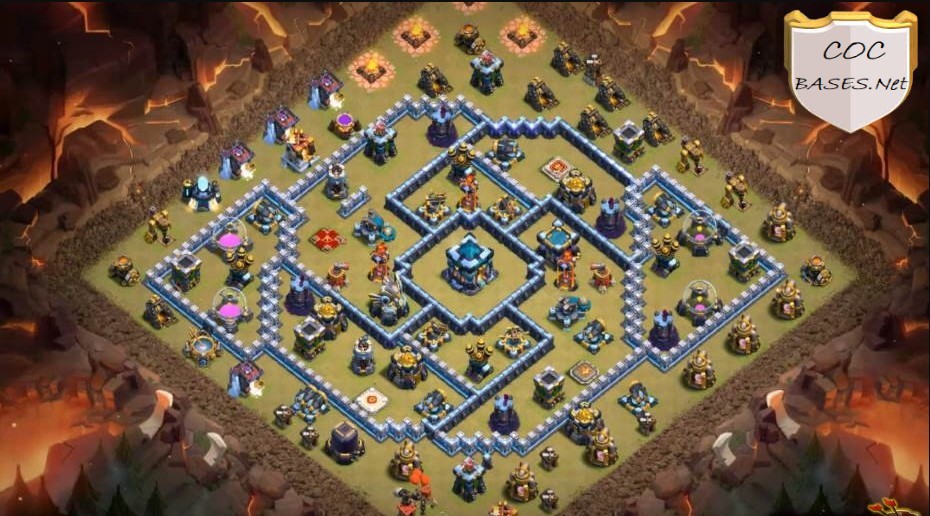 Best Hybrid Base Layout TH13
Mostly the town hall is placed in the center to make the clan safe and secure. In town hall 13 we have numerous buildings and towers and need a strategic mind to place and utilize them in right place. These best Th13 hybrid bases are separated into 5 parts, from which the town hall is placed in the center. When it is about hybrid base layout, it is important that your storage and troop both are safe. According to the priority, you must place your buildings and towers. Those buildings must be placed inside the boundary, which must be protected. The buildings must be surrounded by anti-war towers, walls, and firing defense buildings.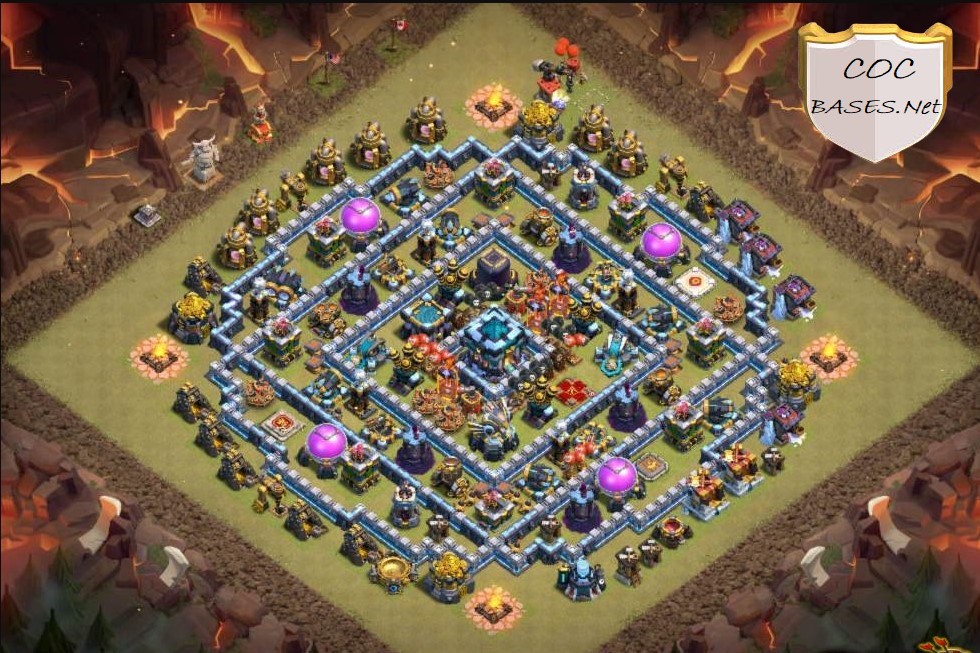 TH13 Anti 3 Star Hybrid Base Layout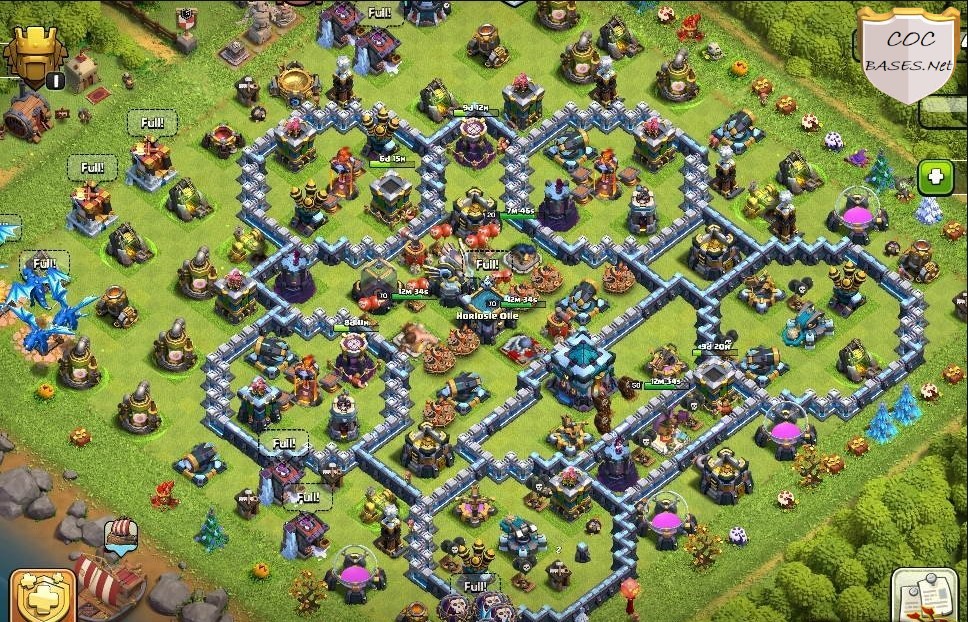 TH13 Hybrid Base Copy Link
This hybrid base link is not surrounded by a specific hard-maxed wall. There are small portions in which important buildings are placed. The town hall is placed in the center that is surrounded by the defense army. The storage towers are placed inside small portions to be protected by enemies. All the layers have several bomb towers, archer towers, and air defense towers to save the best th13 hybrid base.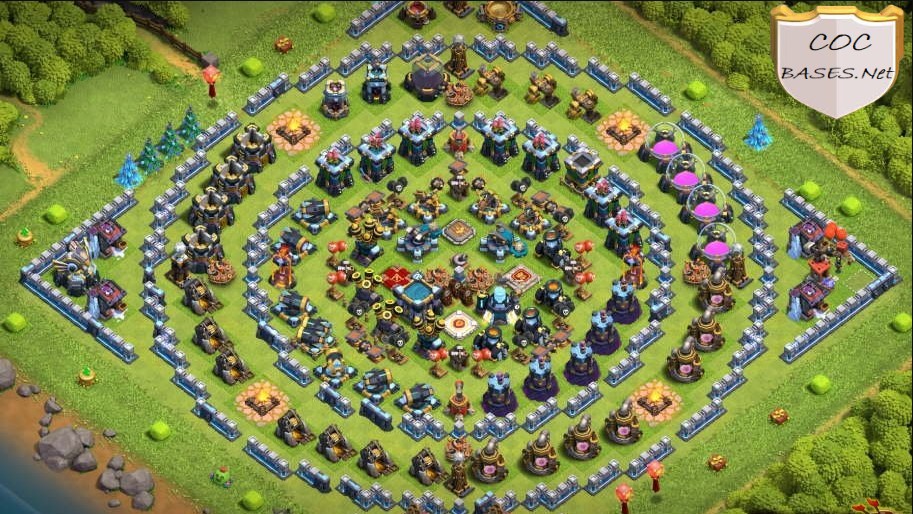 Clash of Clans TH13 Hybrid/War Base
Players always keep the most precious item of their base in the center to make it highly secure. In town hall 13, we have a huge number of buildings and towers, which makes the decision of the placement of buildings quite difficult. The hard wall is used to separate the layers of a clan to make it the best th3 hybrid bases. This base layout consists of air defense, cannon towers, eagle artillery, xbows, and many other anti-defense towers. The clan is surrounded by a heavy army so that opponents cannot enter.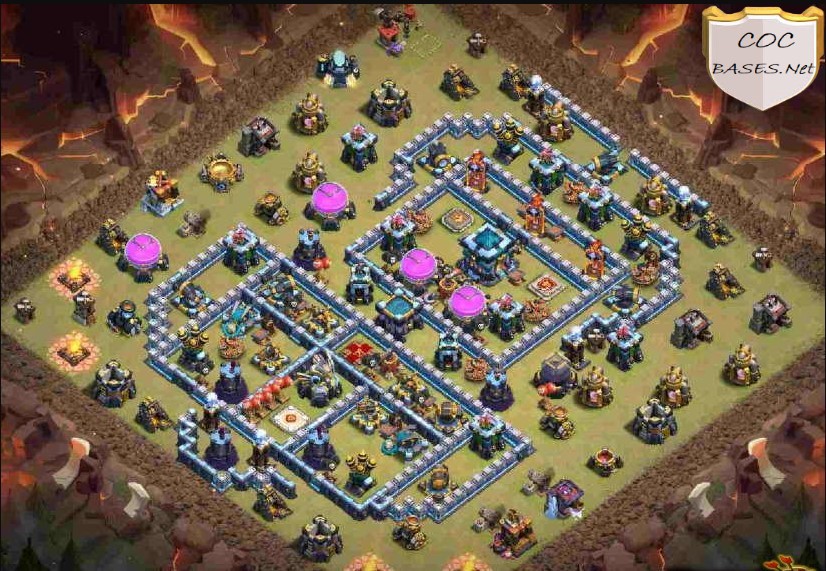 TH13 Anti 1 Star Hybrid Base
Here we have mentioned two amazing and eye-catching hybrid base layouts. The base is divided into different sections making it one of the best Th13 hybrid bases. The town hall is placed in one section surrounded by many defense buildings and towers. The archer queen alters and barbarian king alters are placed in one segment of the clan. Outside the clan there are many defense buildings and towers, making the base protective as well as secure.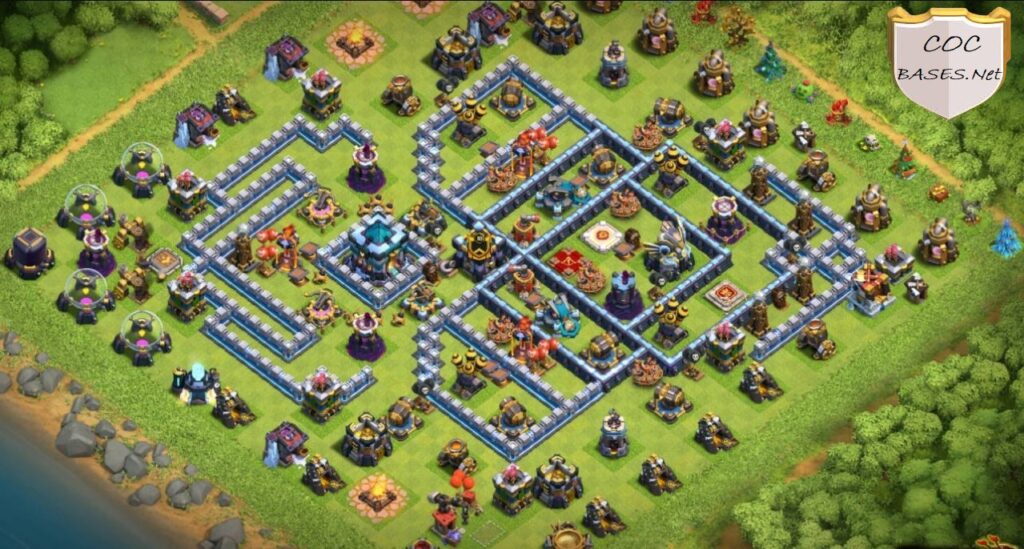 COC TH13 Hybrid/Farming Base 2023
Woah! This is one of my favorite base layouts, which is quite attractive. It is a circle base layout in which buildings and towers are placed in a circle. The town hall is placed in the center with many buildings surrounding it. This best th3 hybrid base is very attractive and eye-catching. I will recommend you build this base for your clan.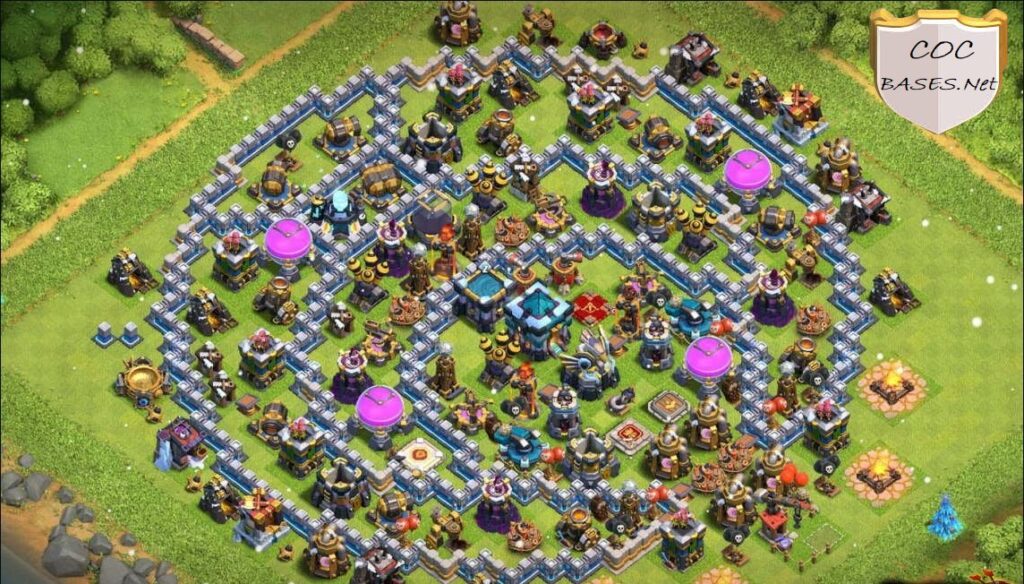 More Articles
th13 farming base no scattershot
th13 trophy base anti everything