Townhall 6 is one of the initial levels of clash of clans, which is very helpful to make the players pro. This level has a very weak defense as compared to other levels like town hall 7 and town hall 8. The town hall 6 clash of clans layout link has no heroes and no spells. So, basically either we need the Best TH6 War Base for our town hall so we can win or it is very hard to save your th6 base layout. So, if we want to save our resources and town hall, it is very important to gain more stars to upgrade the level to a higher one.
Best TH6 War Base 2024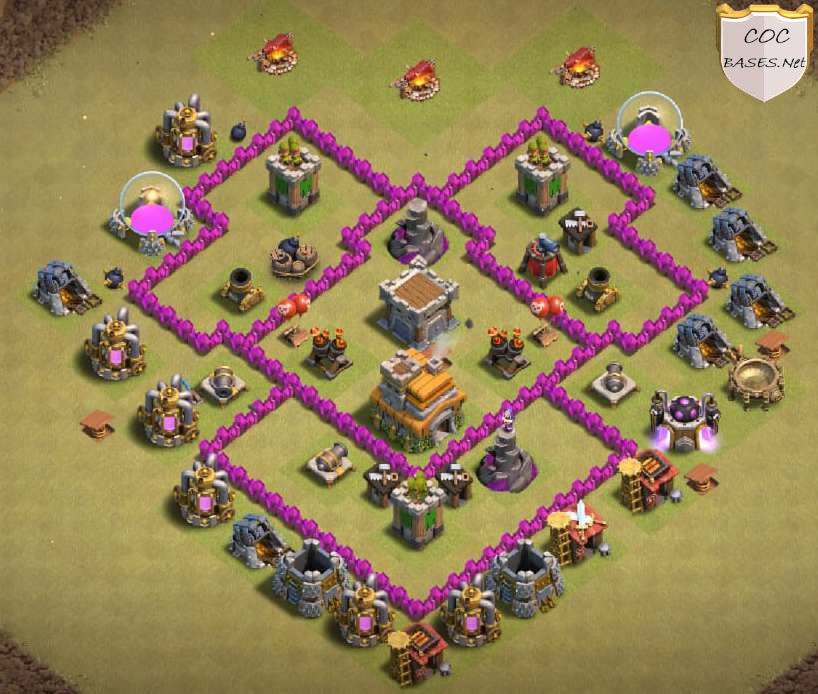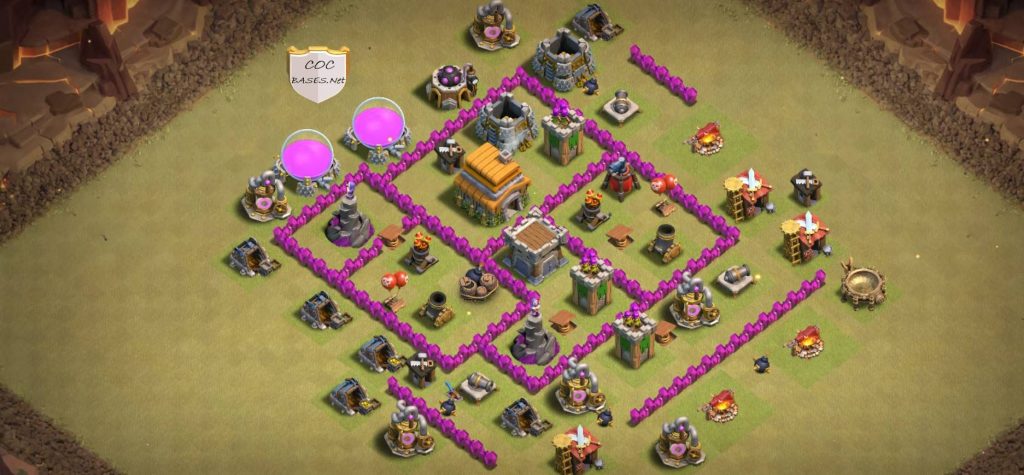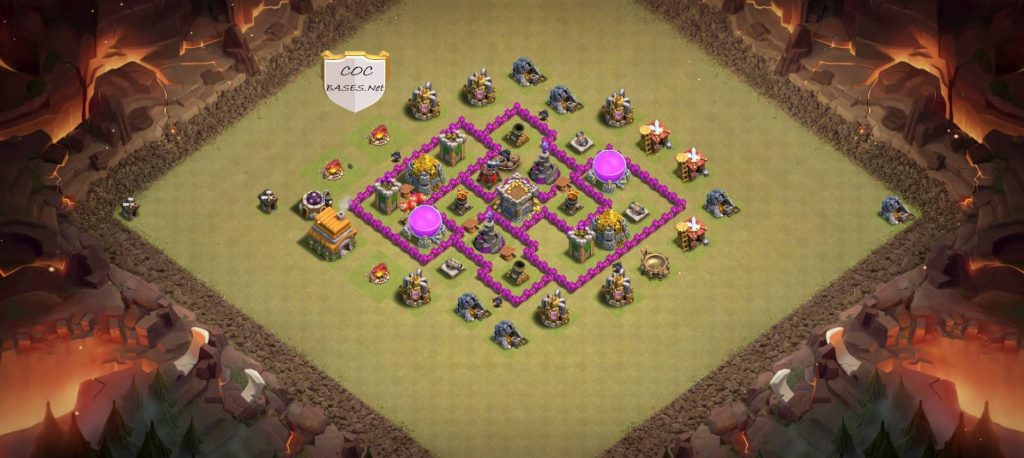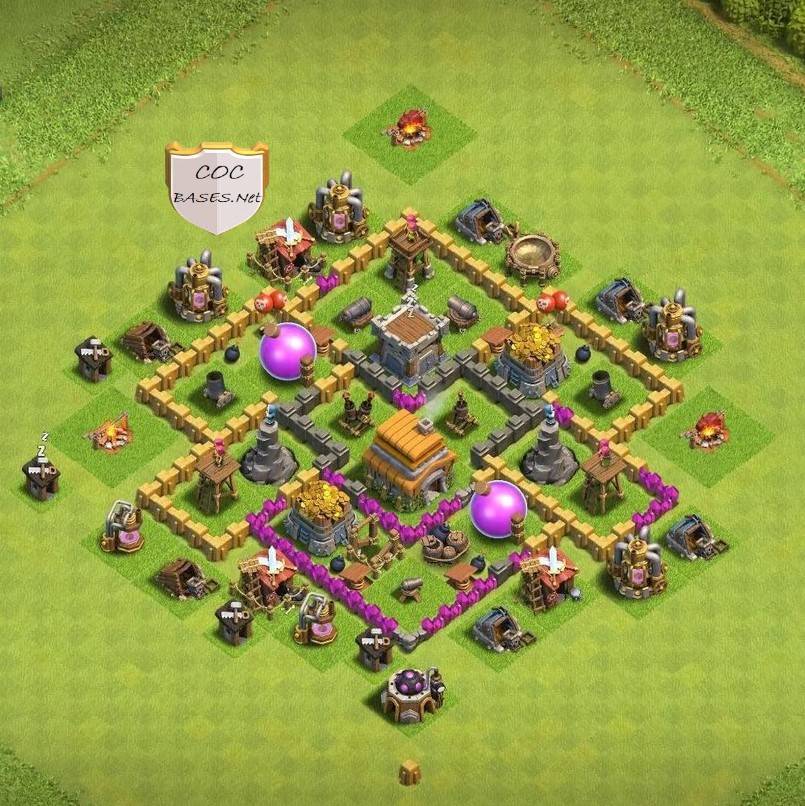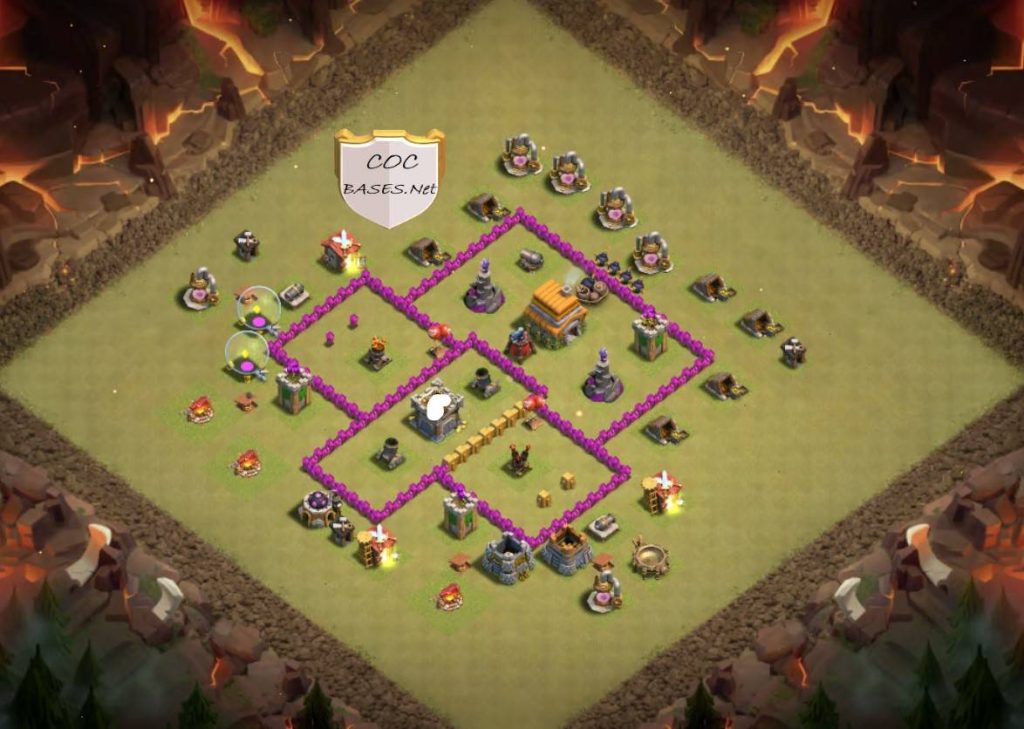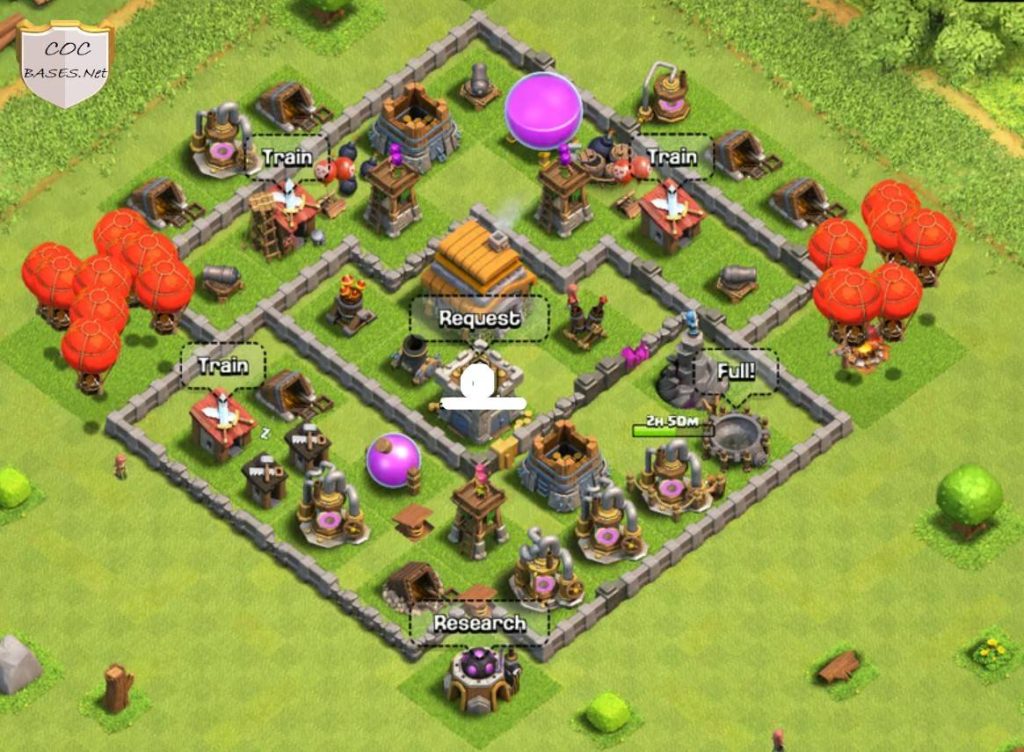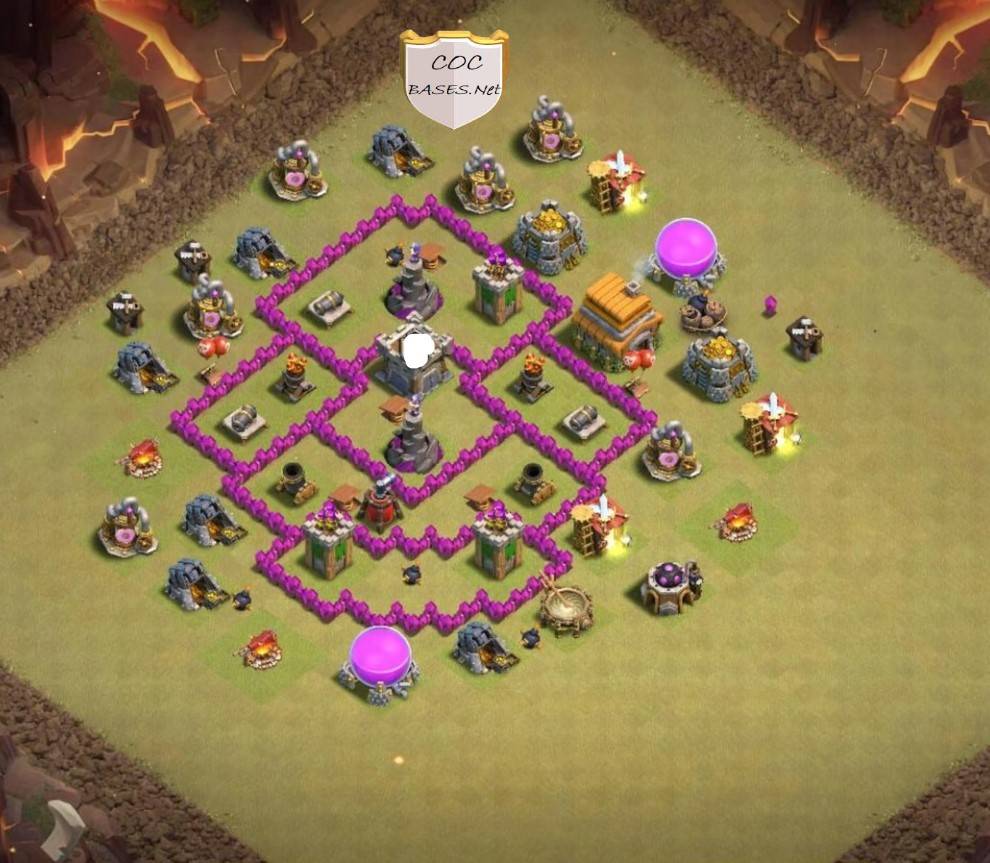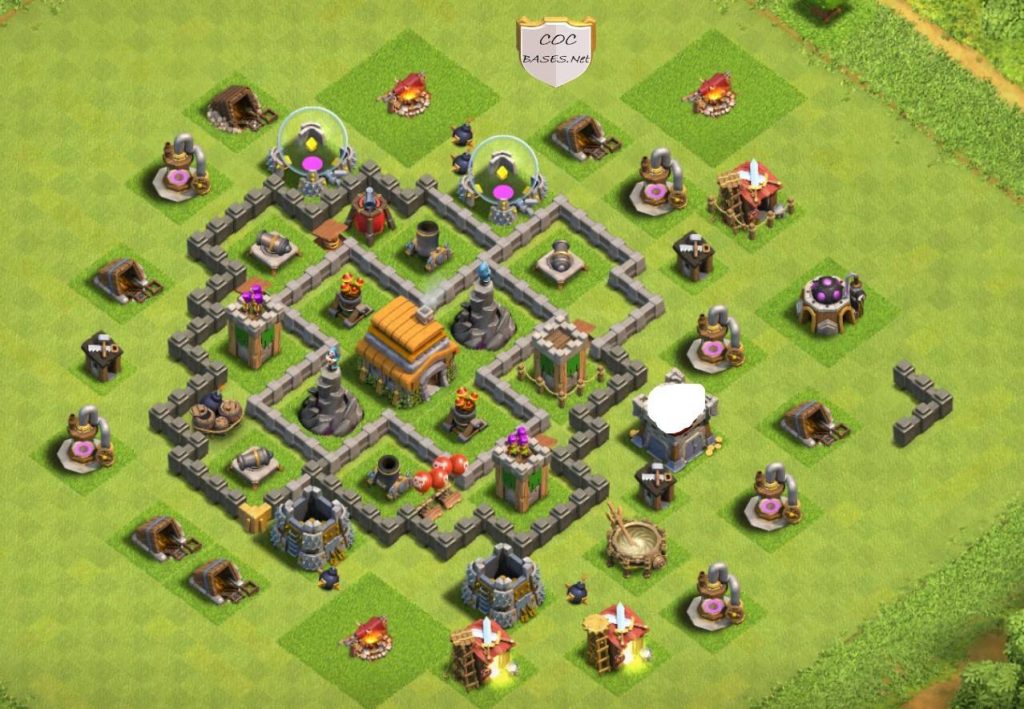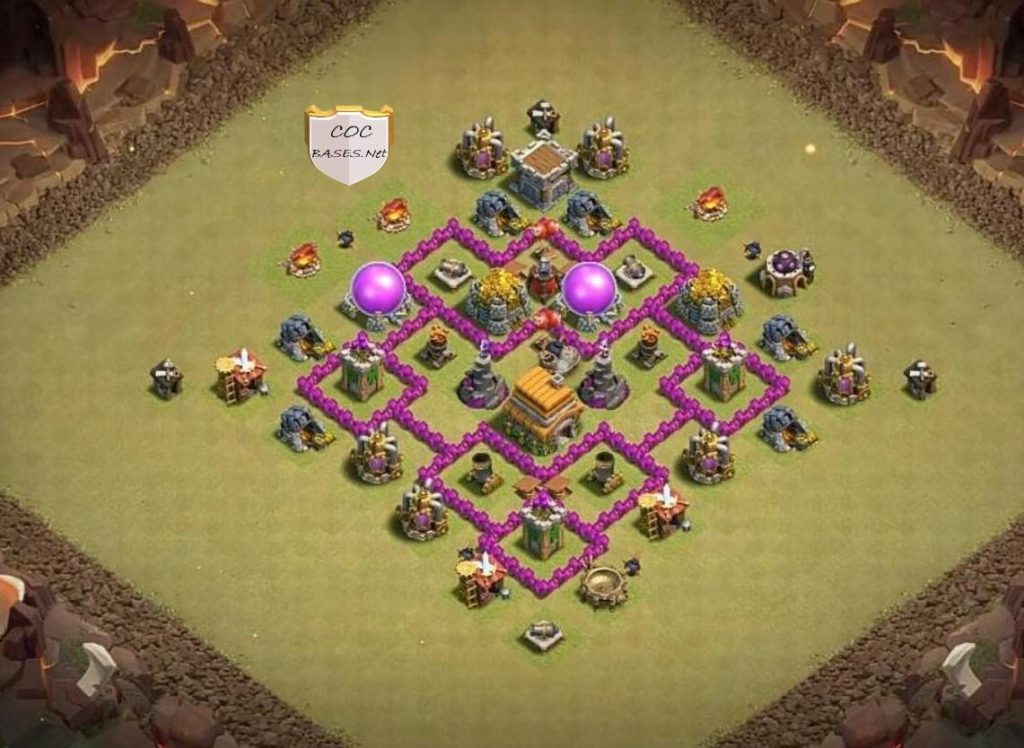 Best TownHall 6 War Base Link Anti Everything
It takes time to activate the shield and village guard so until then you must upgrade any defense building even a bomb. It is important to use your coins and elixir in upgrading rather than wasting or losing them in defense.
Townhall 6 is also known as the town hall for healing as in this the healer and healing spell is unlocked. This means now you can easily heal your troop against wizard tower. This will help you boost up the output of farming of the archer and barbarian.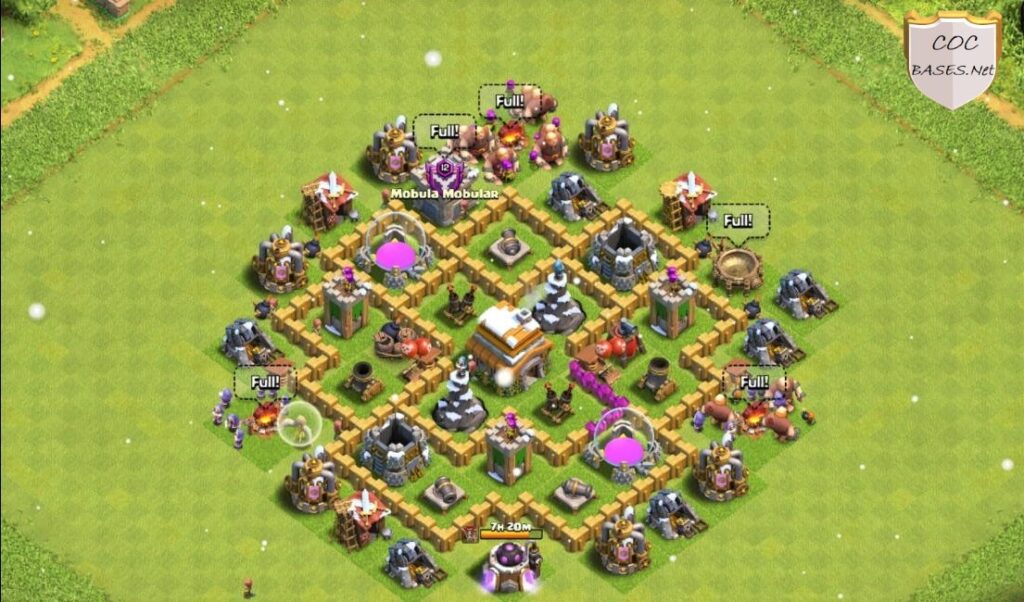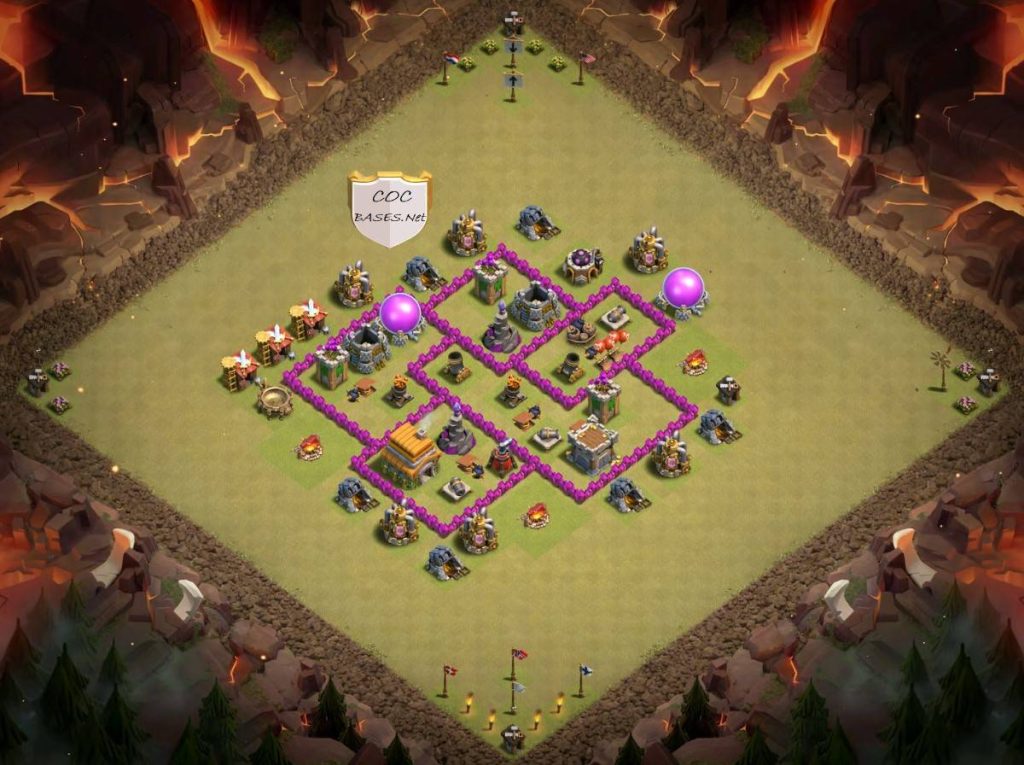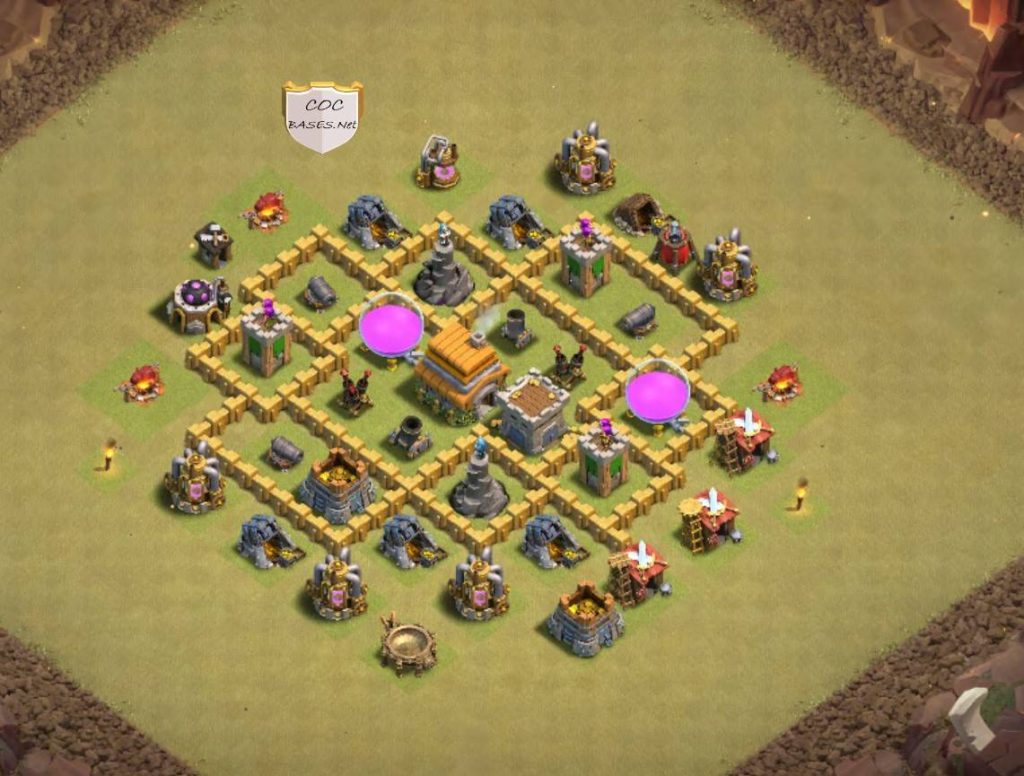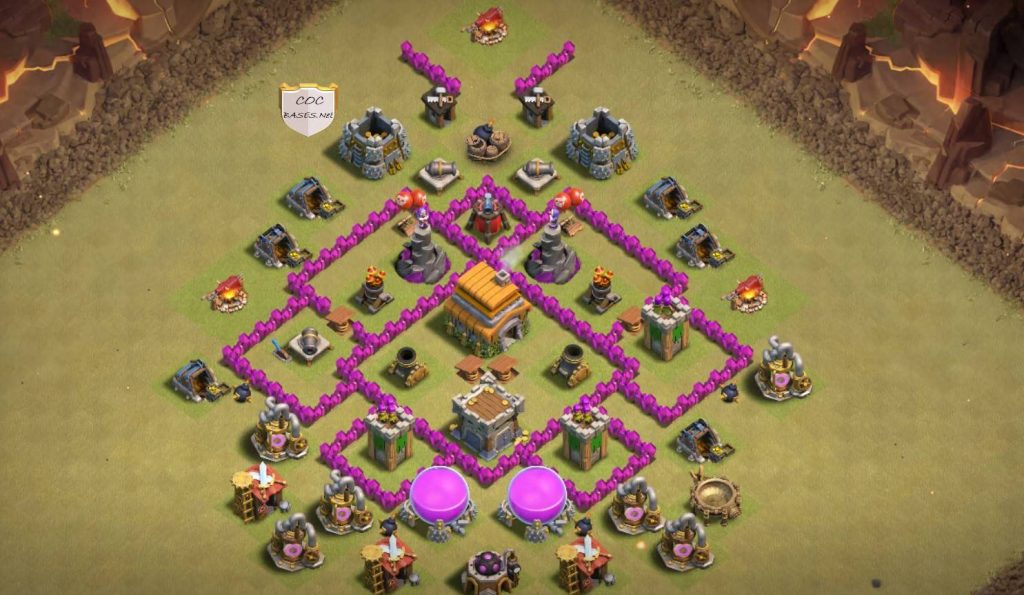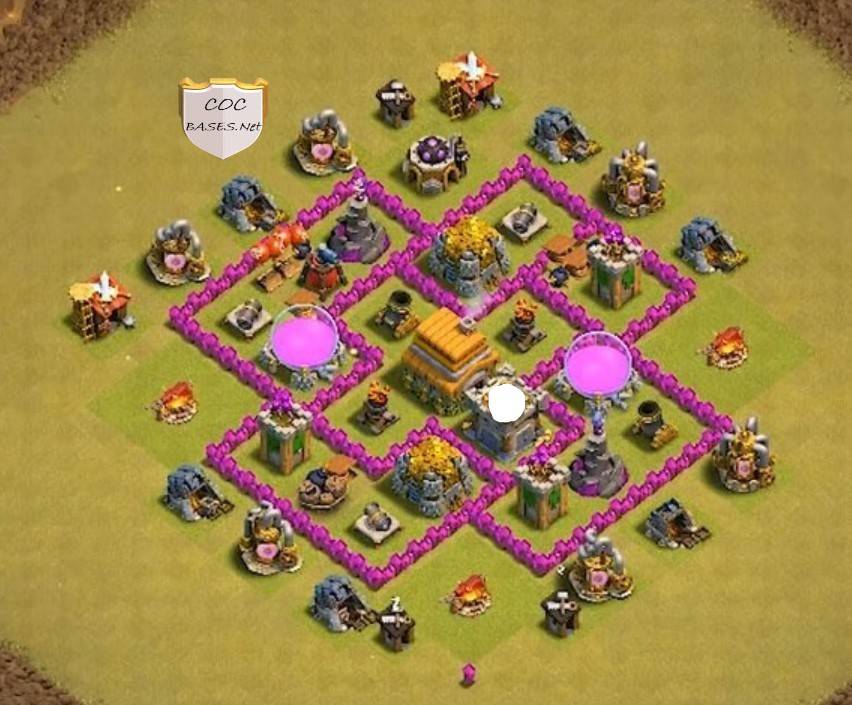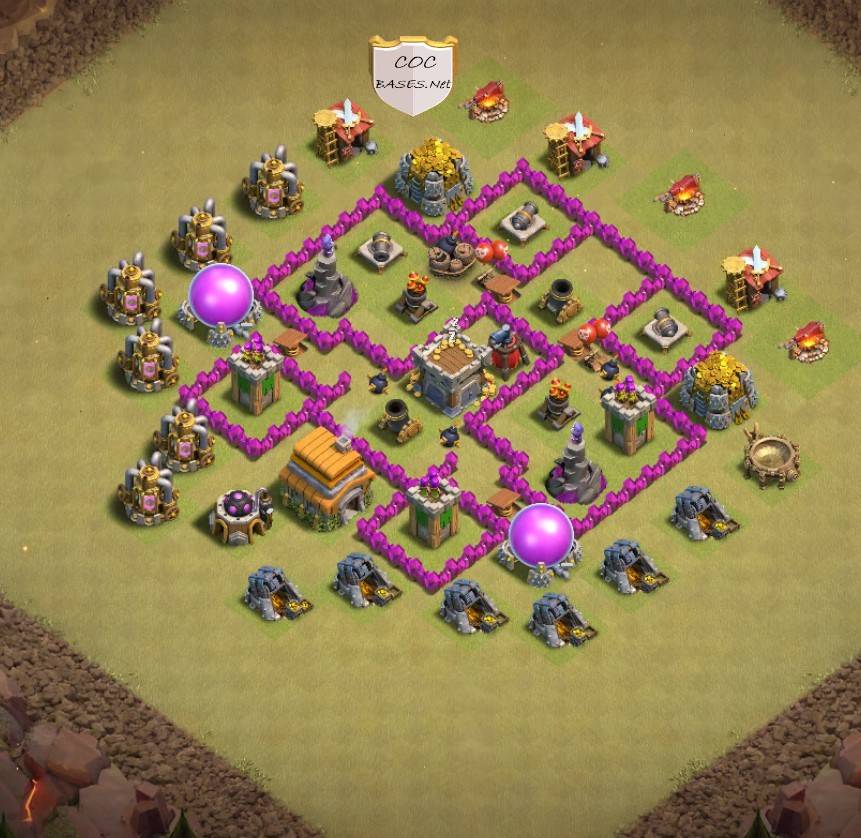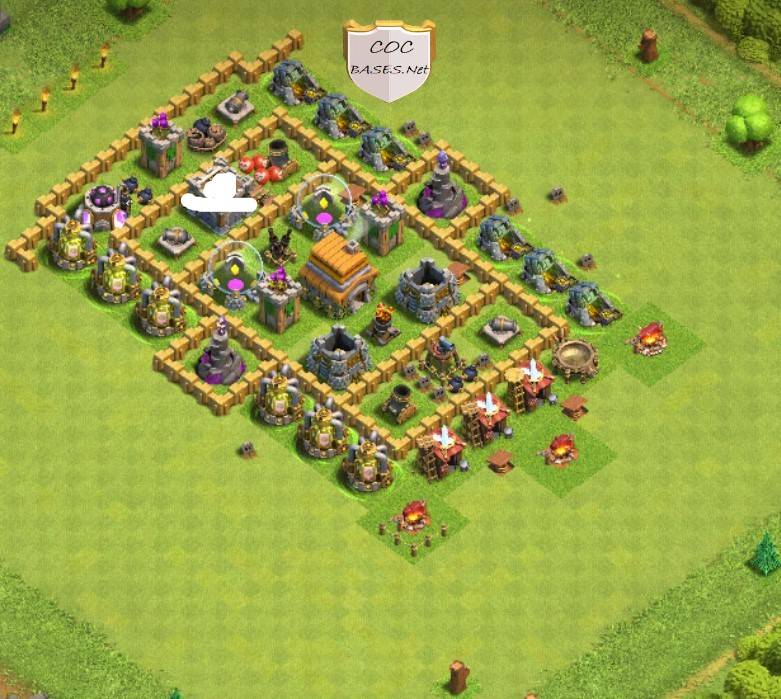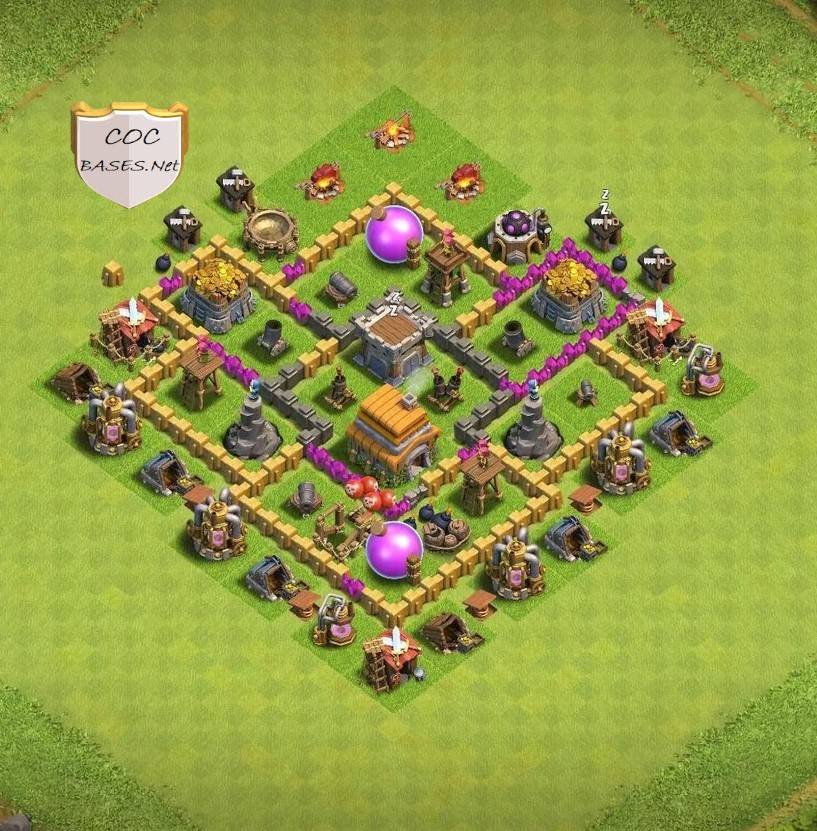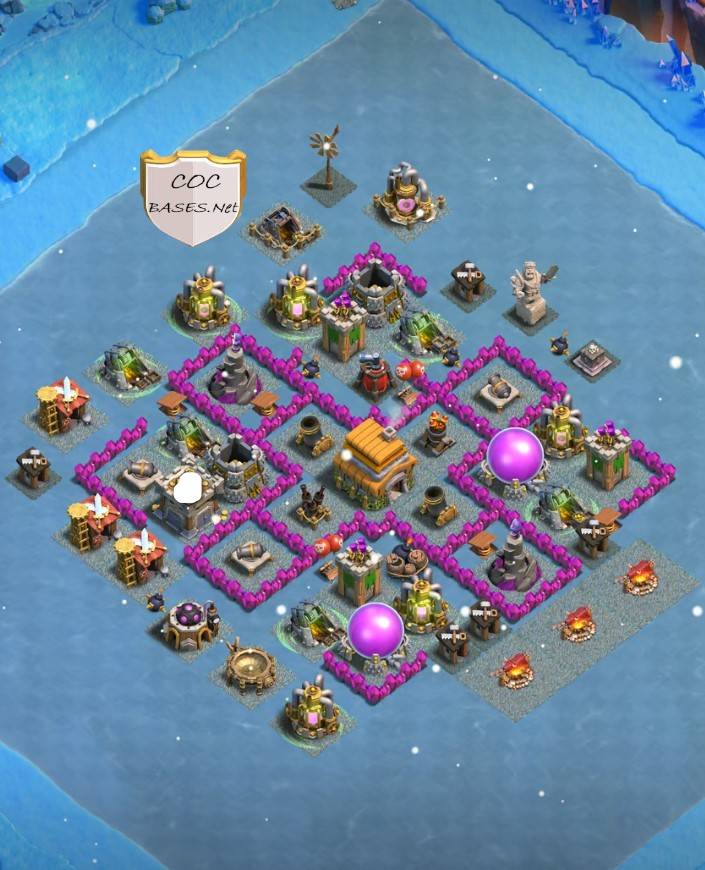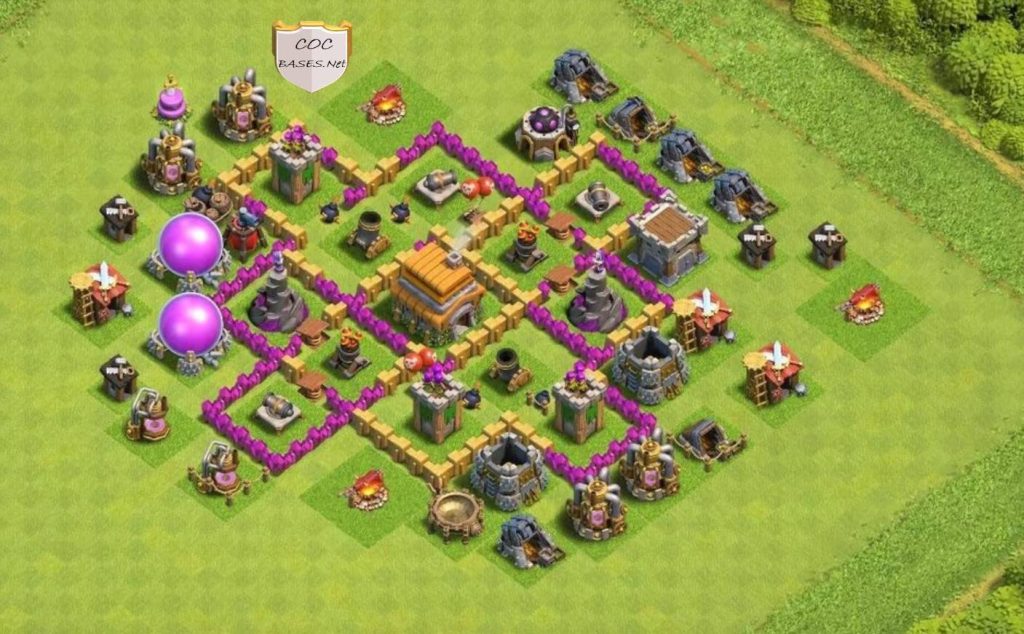 Town Hall 6 War Base Anti 3 Star Link
To make the best th6 war bases it is key important to make the best th6 upgrading priority list. As soon as you upgrade from town hall 5 to town hall 6, the first thing to upgrade must be laboratory level 4.
The second priority must be given to upgrading the army camp, without wasting any further time. Maxing the defense is not must important as it will not be helpful against the attack by town hall 7. The gold mines and elixir collectors are level 10 so it is not possible to upgrade them.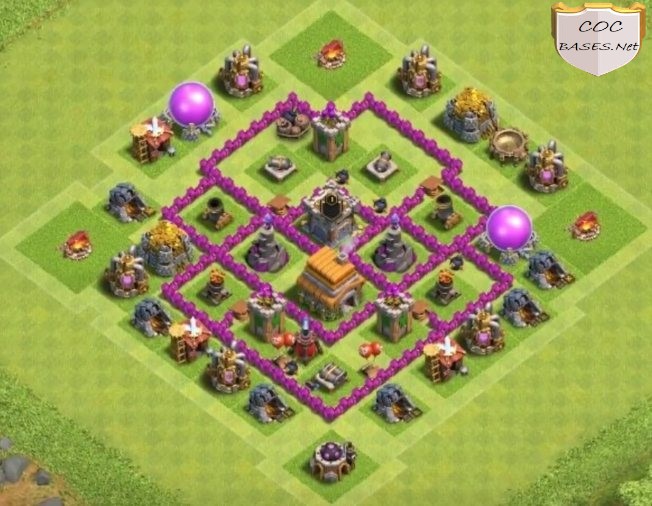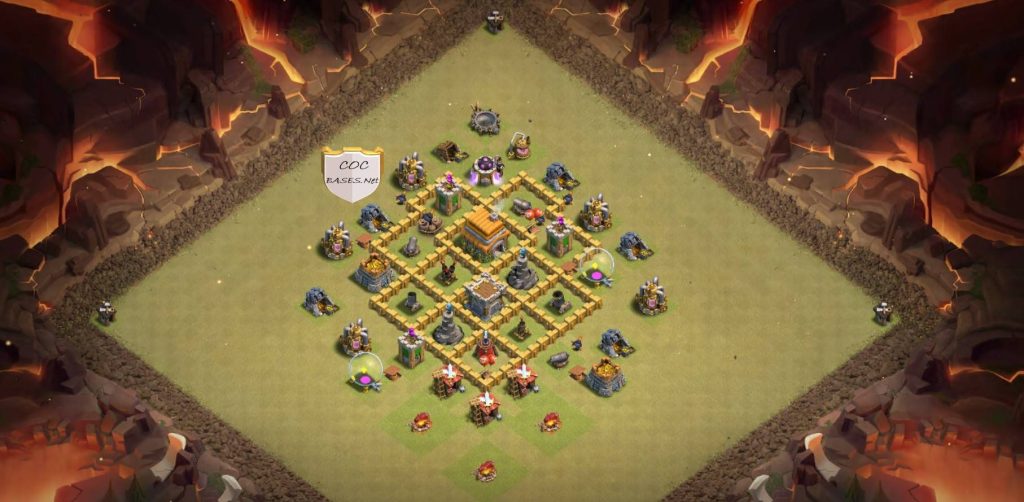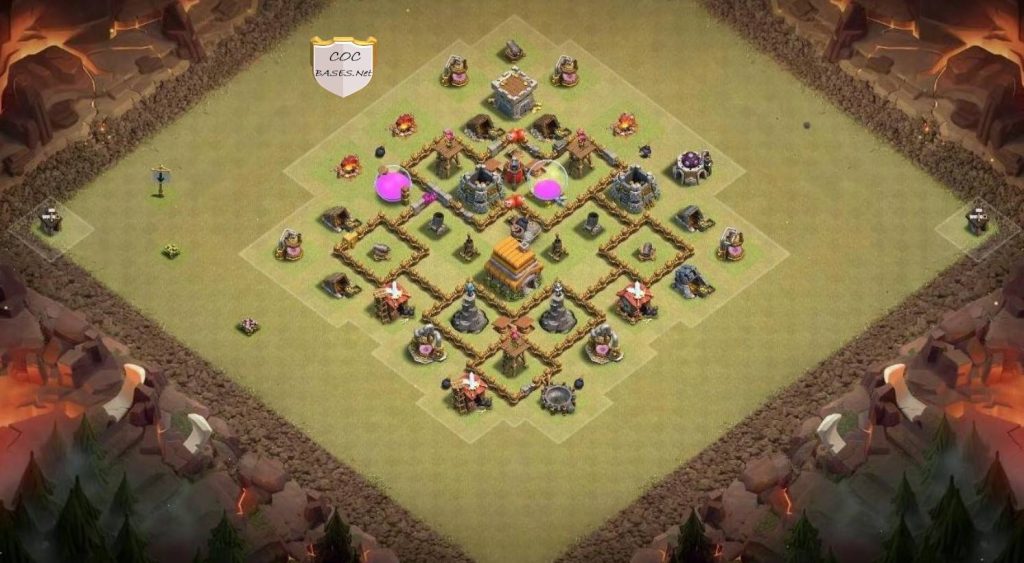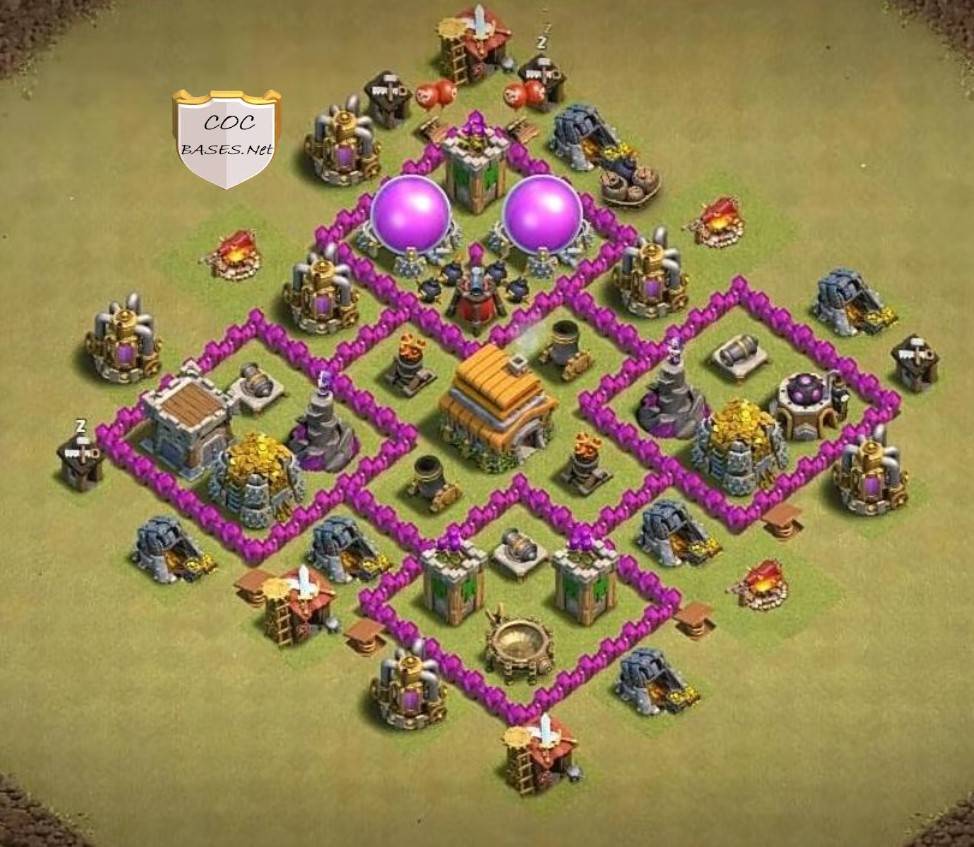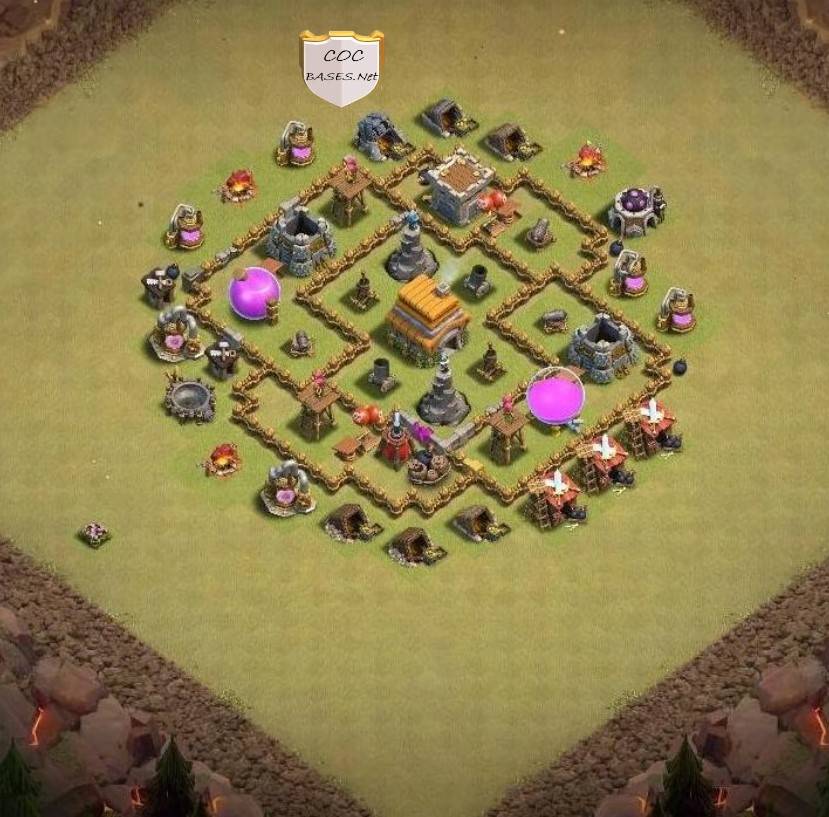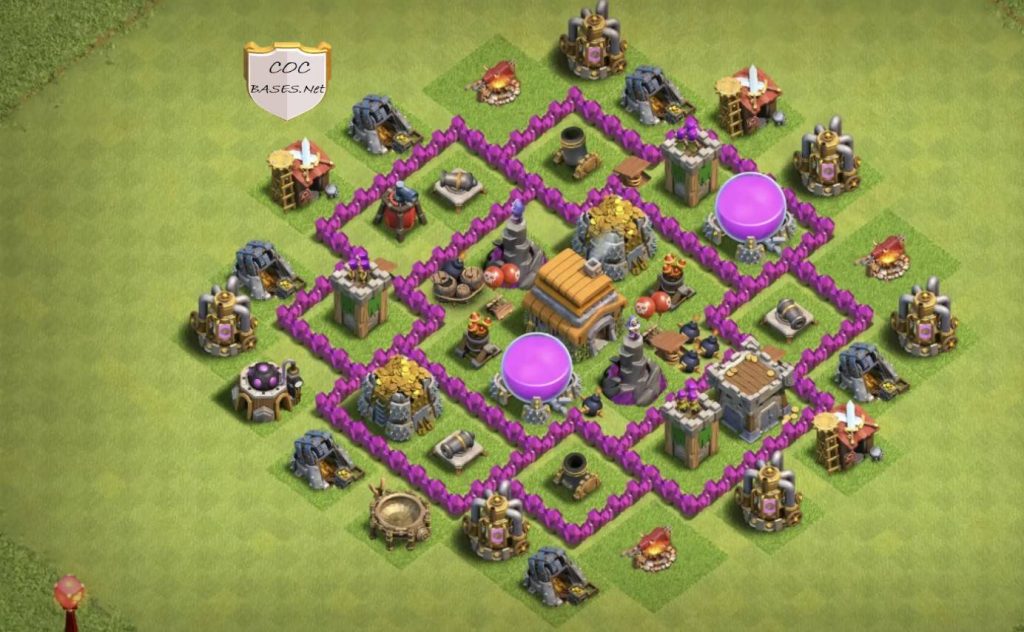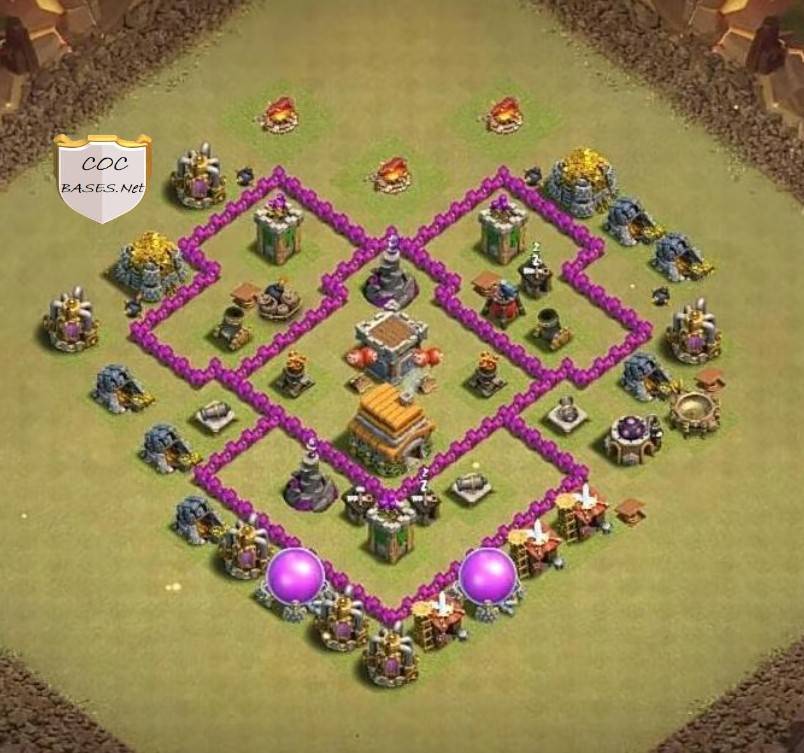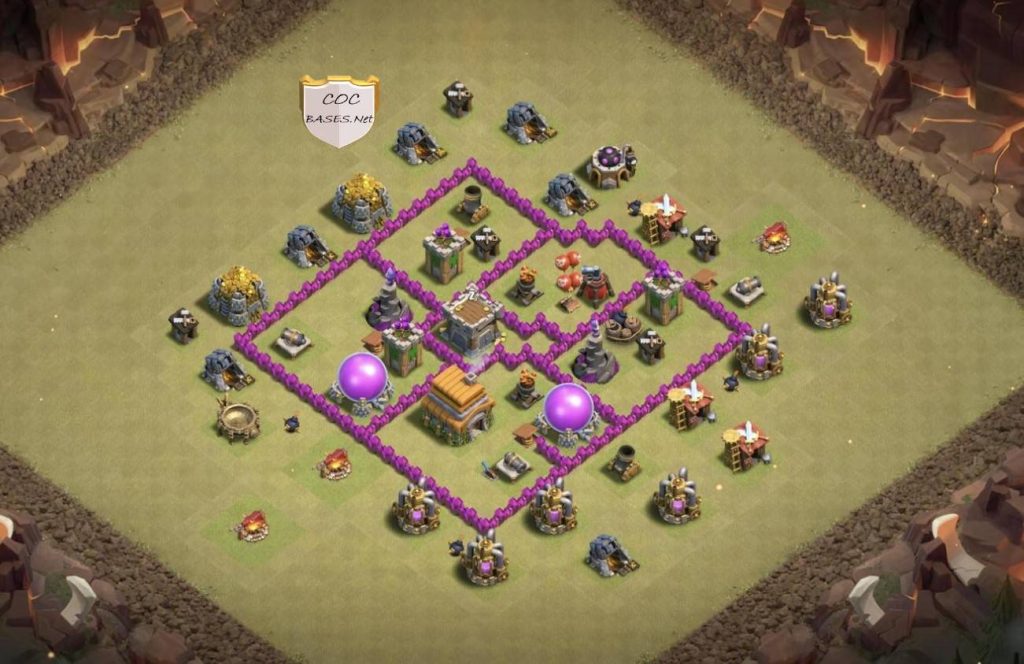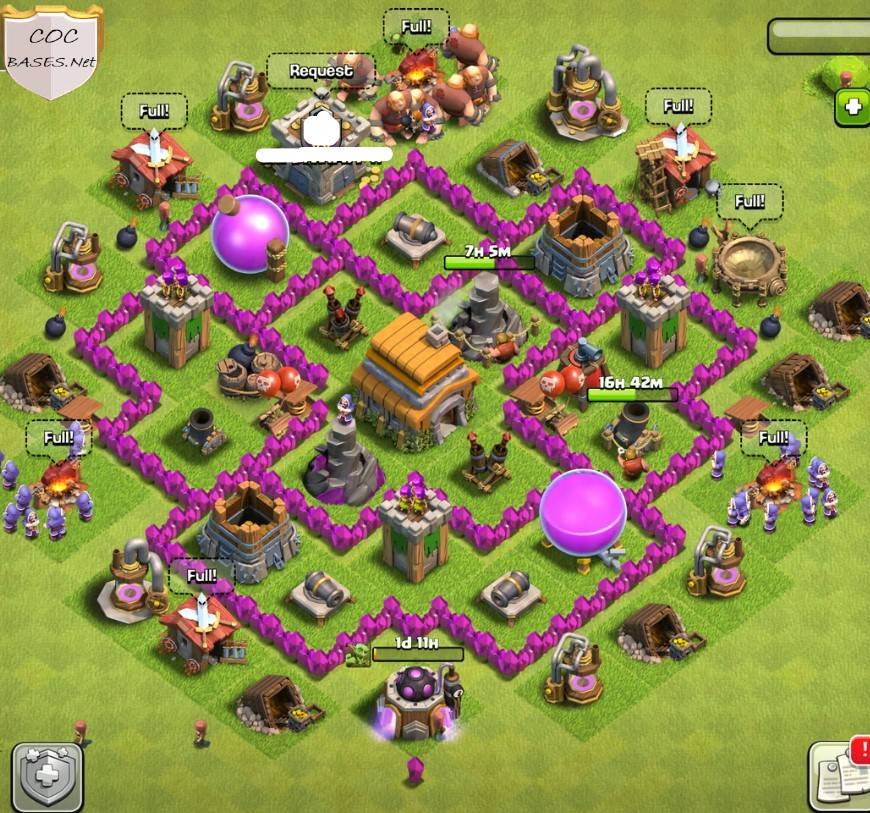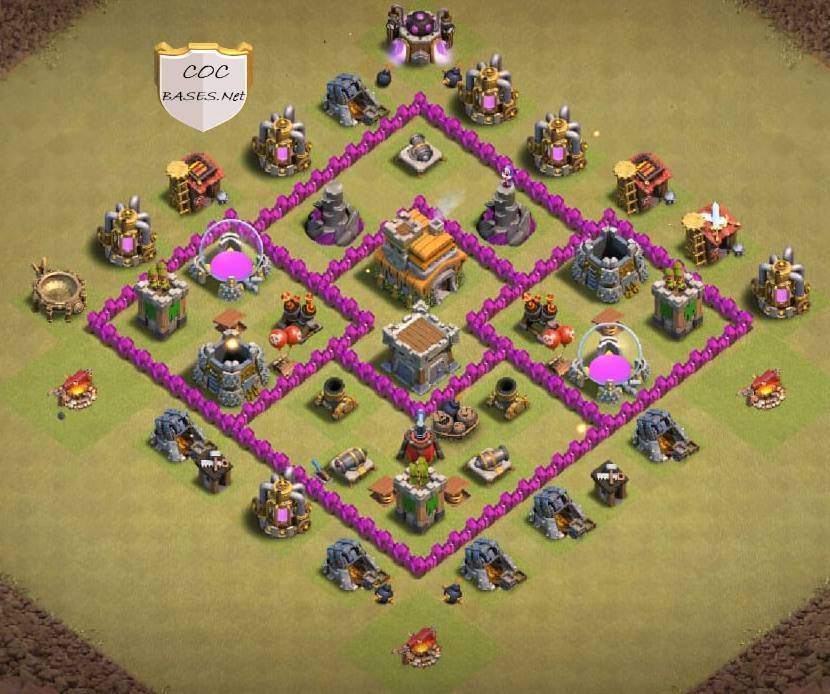 Anti 1 Star Town Hall 6 War Base with Download Link
Once you are done with the upgrade of the laboratory, you can work on the barrack upgrade. It will help you to train the healers and build a strong clan. A strong clan will provide higher chances of winning the war and you can gain a lot of resources.
This best th6 war bases guide is amazing to monitor you to build the best base layout for your clan. The placement of buildings is also very important and how to master it will be guided in this best th6 war bases guide.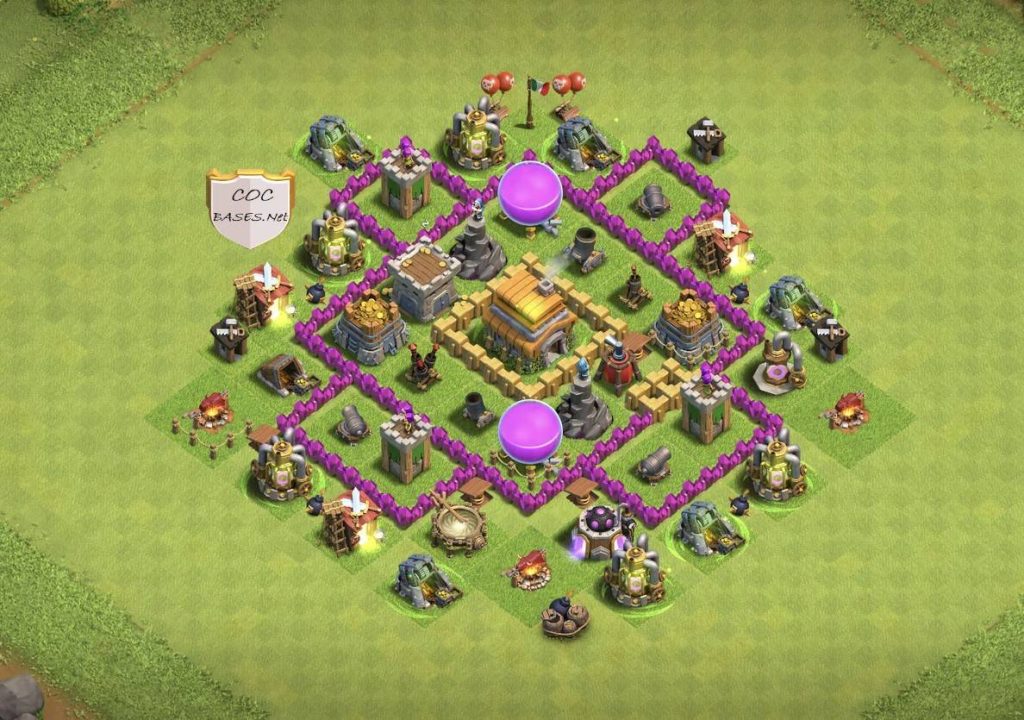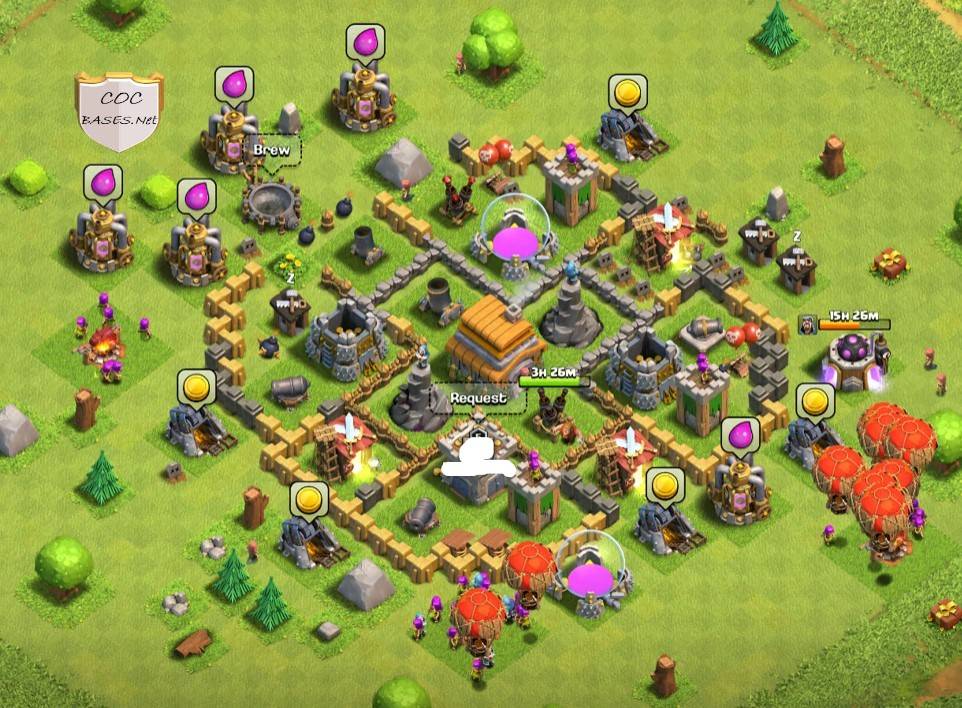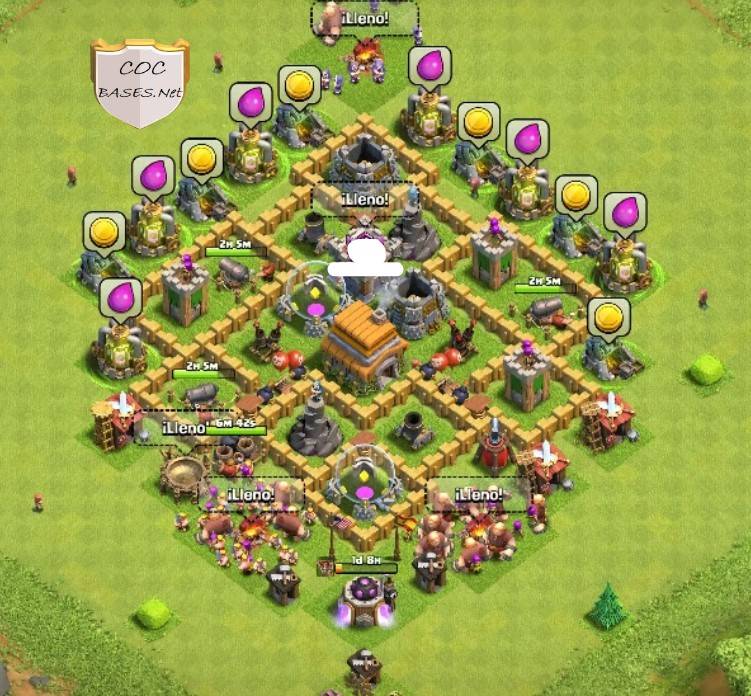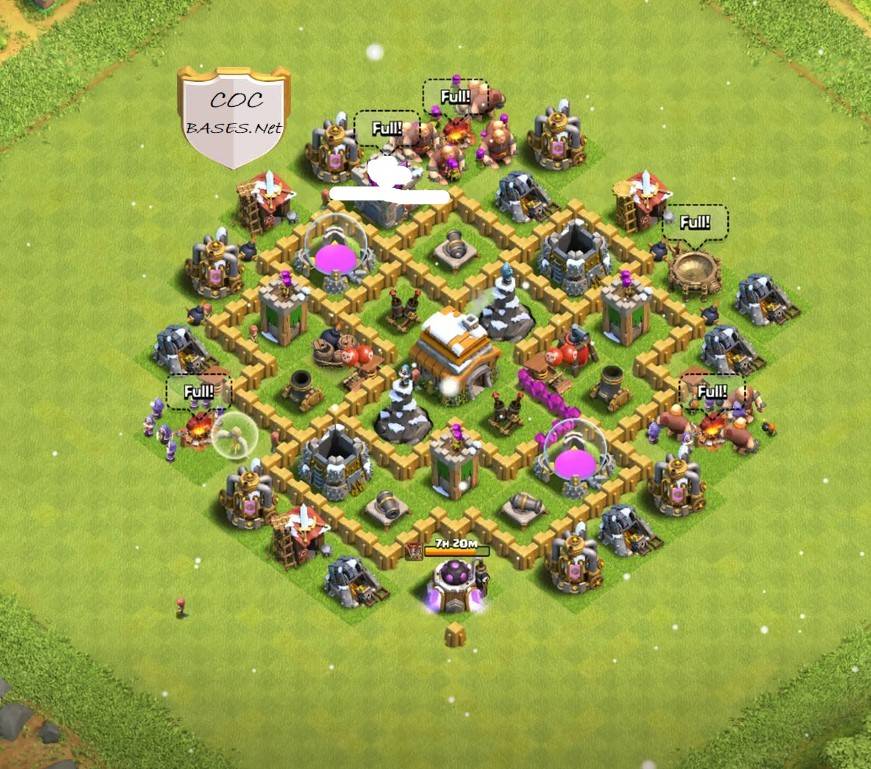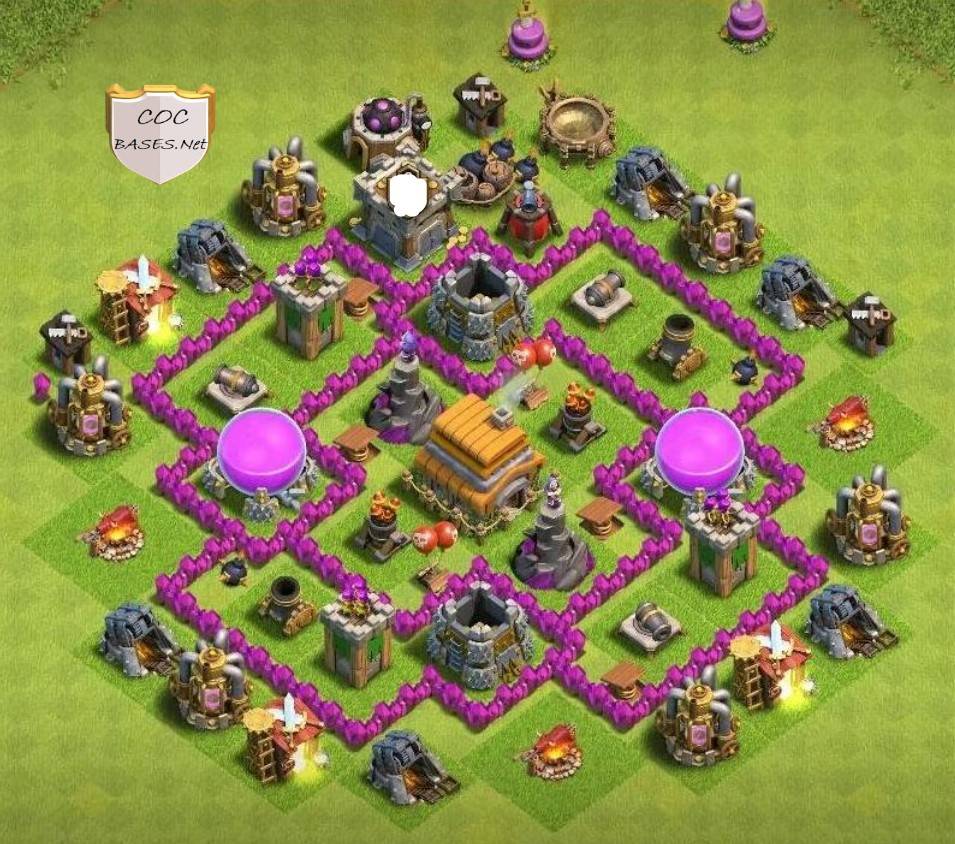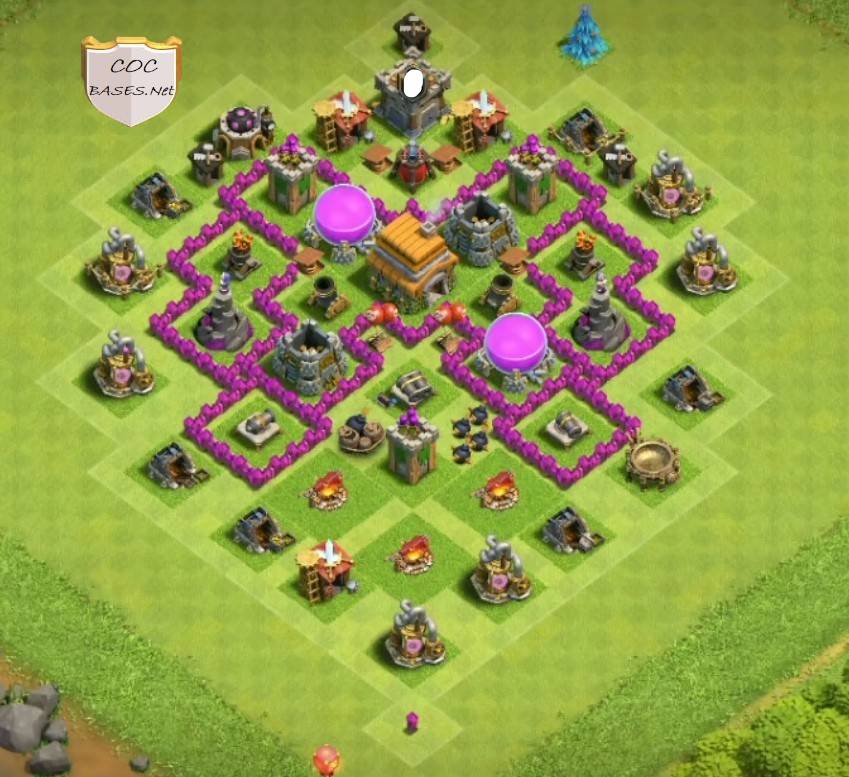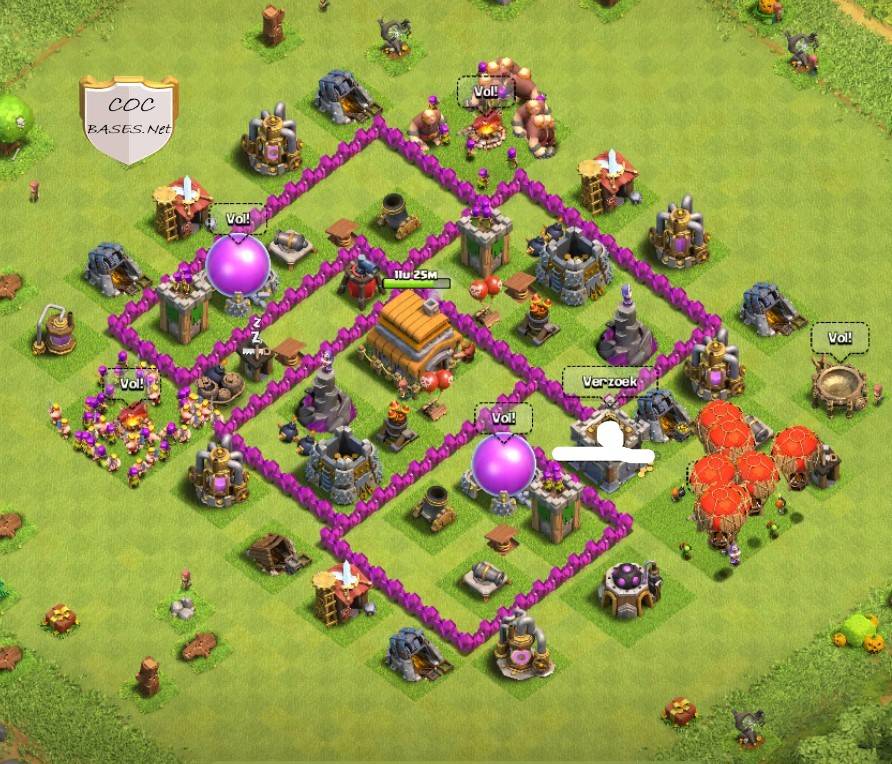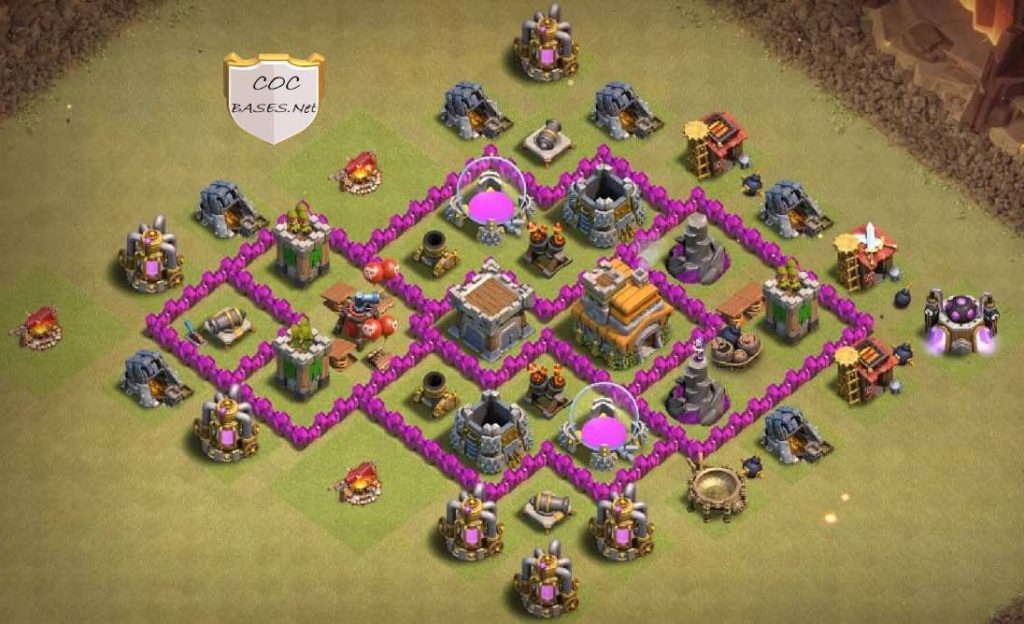 Best TownHall 6 War Layout Copy Link
Town hall 6 is an easy and simple level as compared to town hall 7 and town hall 8. As it does not contain any new unlocked heroes and no spells. Because of this the best th6 war bases are easy to build. As we know in the war base layout, the key point to focus on is to protect your town hall.
In a farming base layout, the priority is given to the protection of resources but in a war base layout, there is no worry of loot. The storage and collector buildings can be used as defense towers.
Here in this best th6 war bases guide, we have shown some of the best war base layouts with both attacking and defending strategies. The th6 war base must be built in such a way that it is able to protect your troop as well as your clan.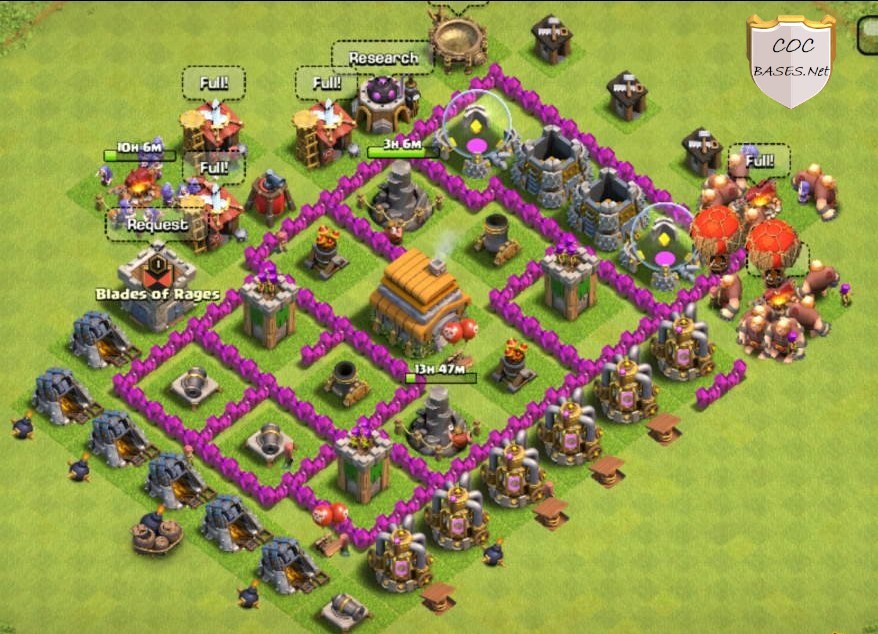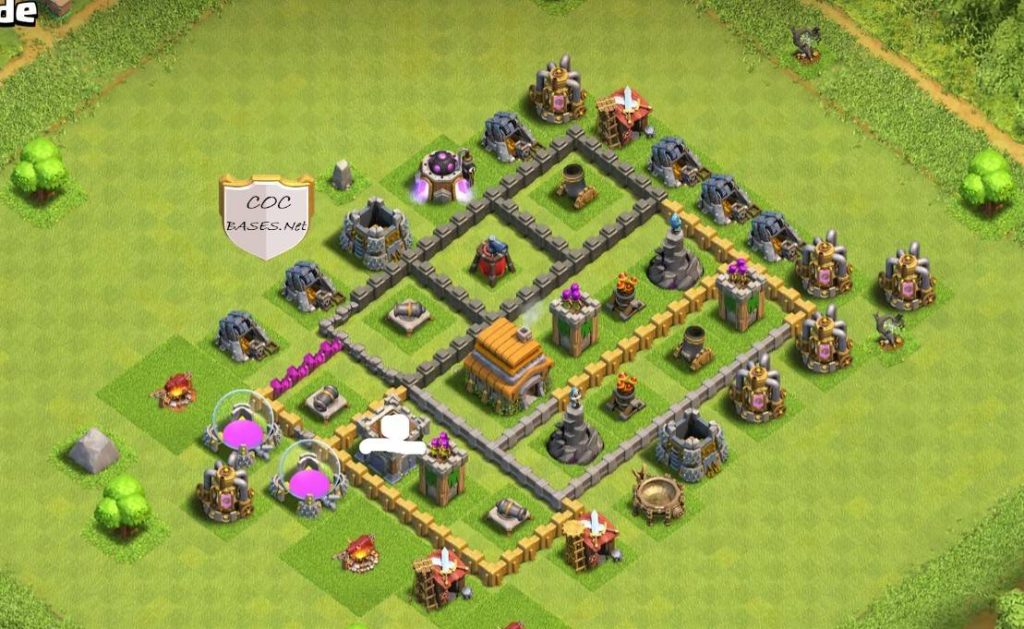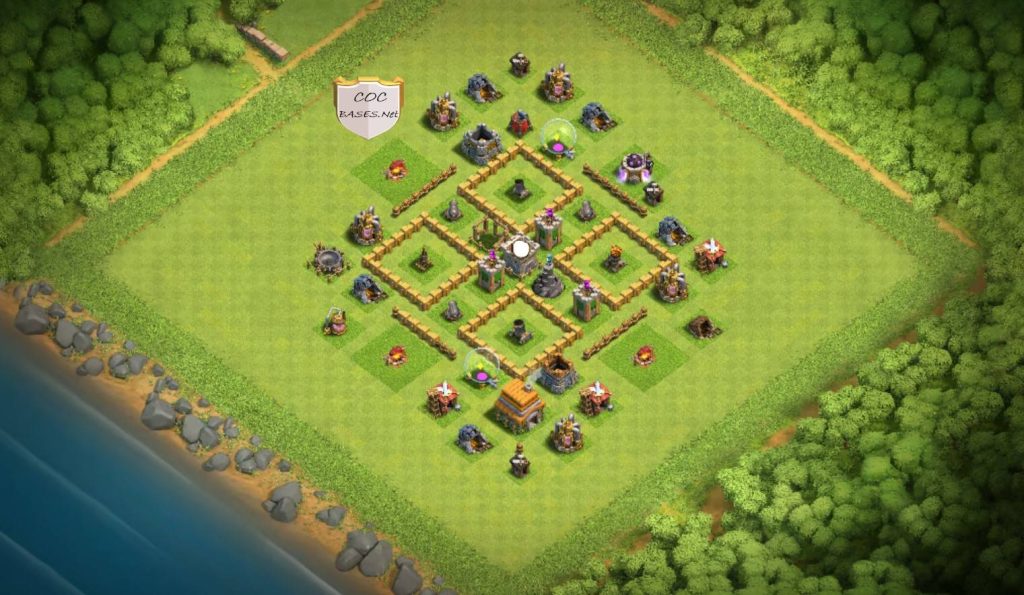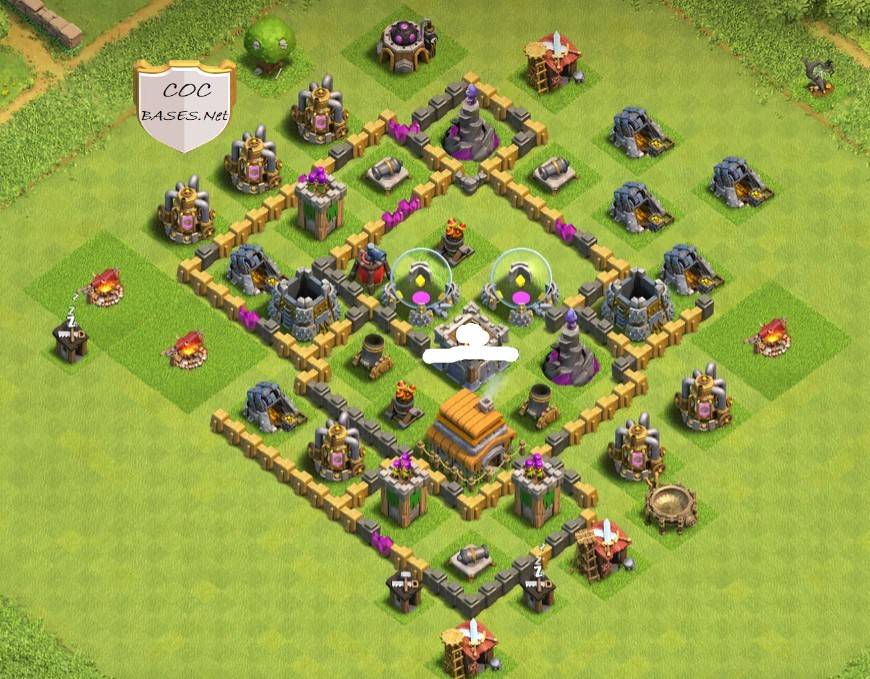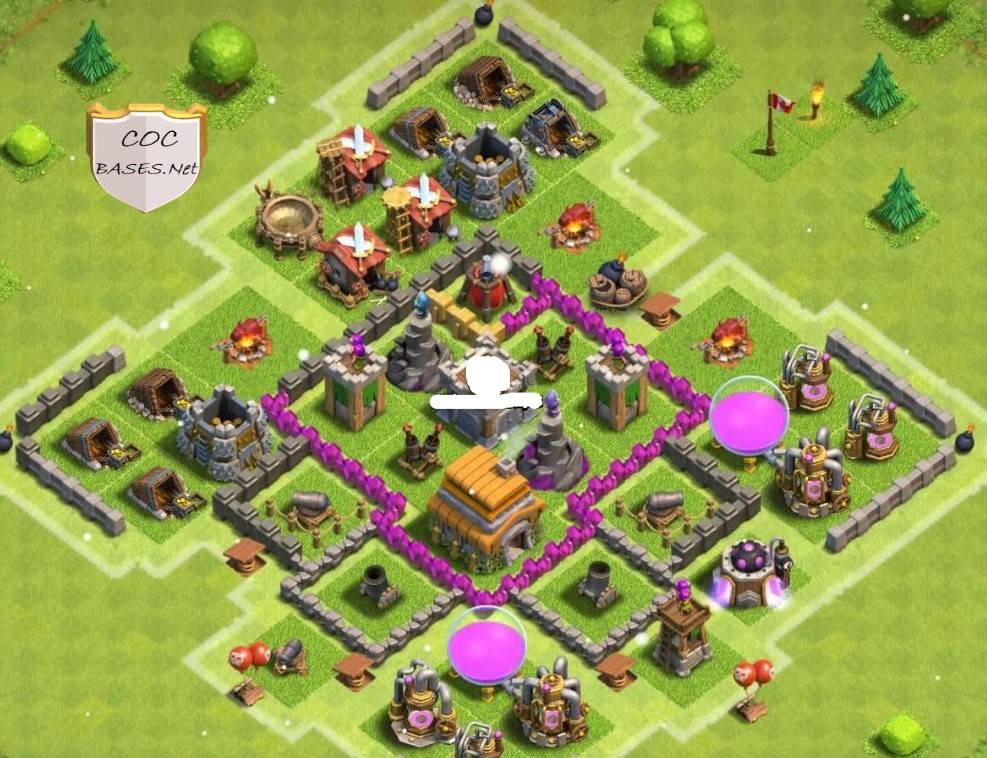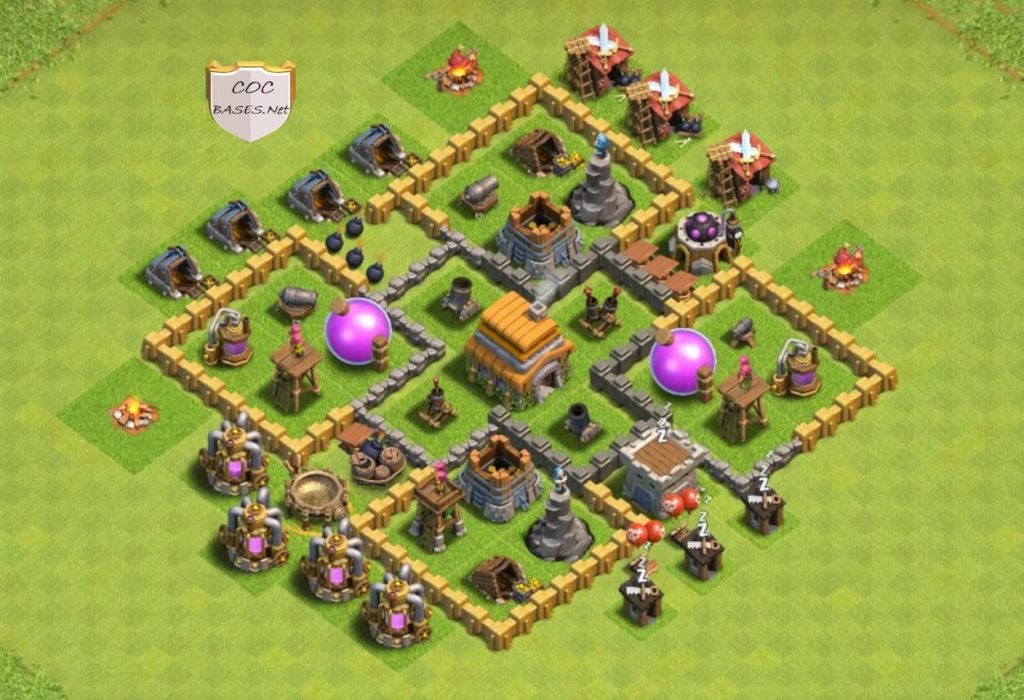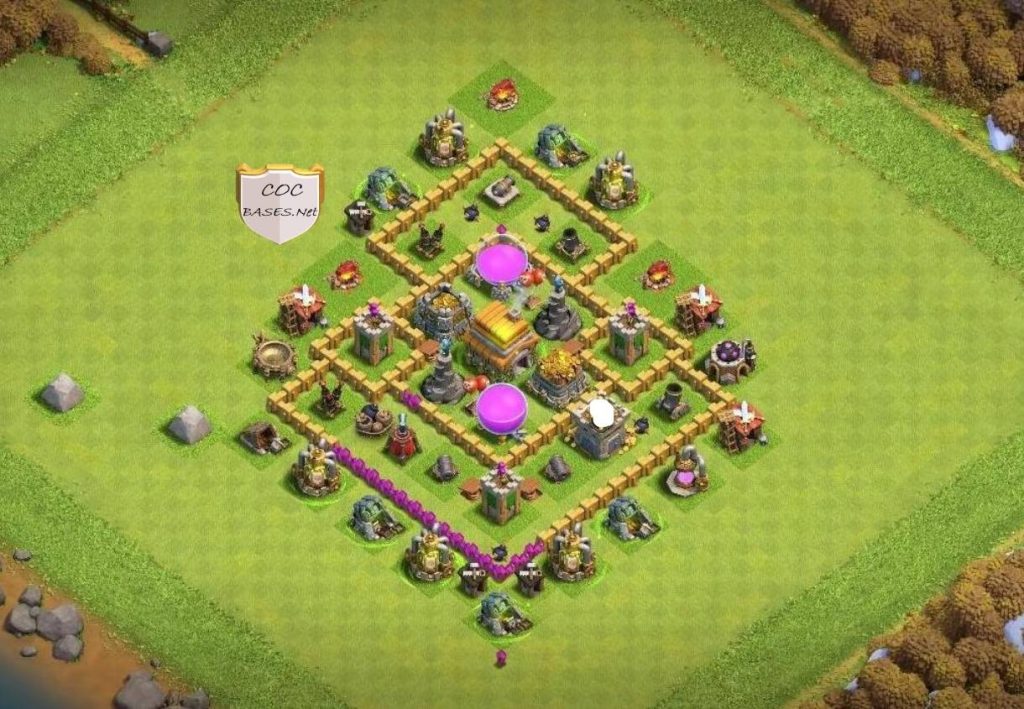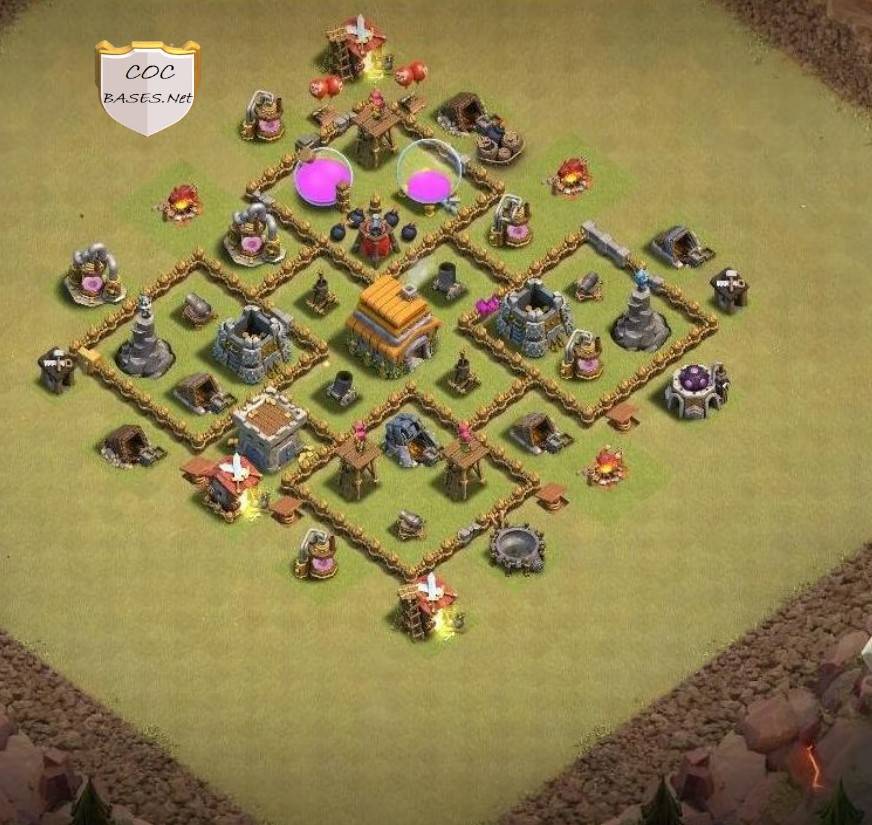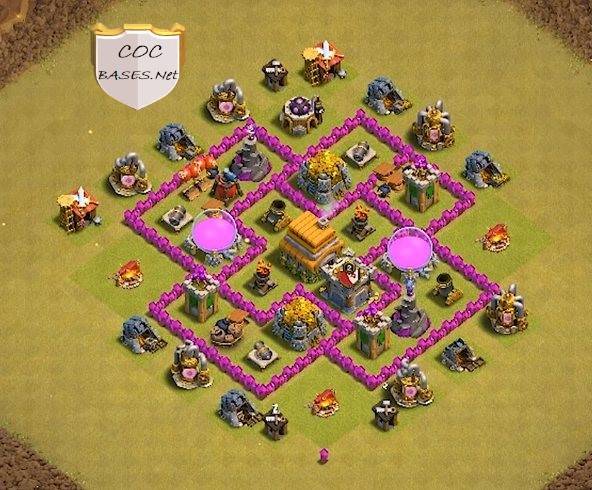 COC Anti 2 Star Town Hall 6 War Base Link
Here we have three amazing th6 war bases, which consist of a heart-shaped war base layout. This best th6 war base is divided into four segments, the central segment has a town hall. The town hall is placed with hidden tesla, air-defense, and clan castle.
The other segments consist of some basic defense buildings and army towers. This clan design is amazing and eye-catching, that's why most players want a base layout like this. The outer layer of the clan consists of army camps, resource collectors, barracks, dark elixir collectors, and laboratories. These buildings protect the whole best war base layout.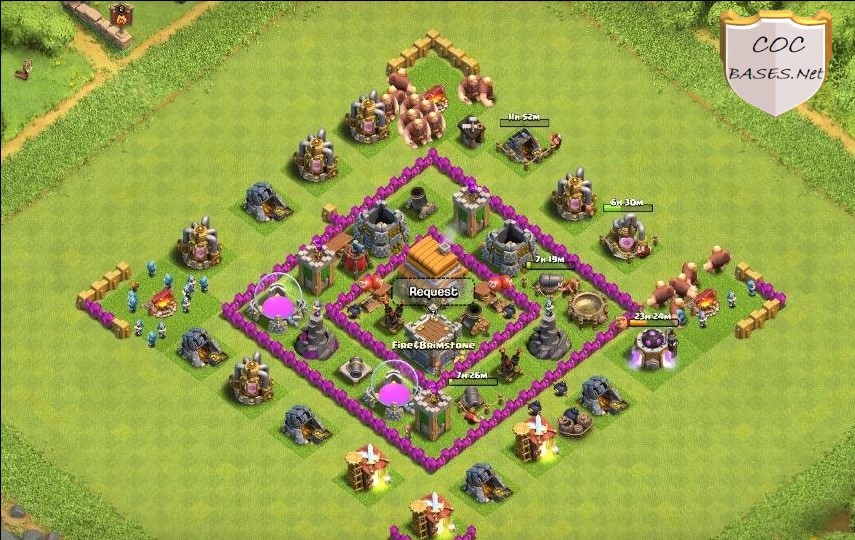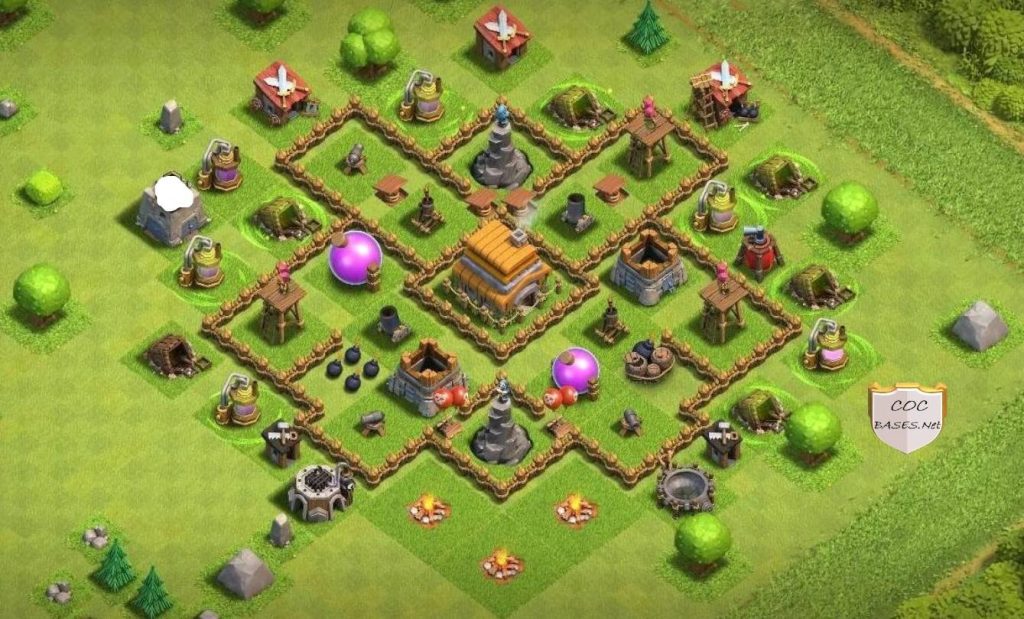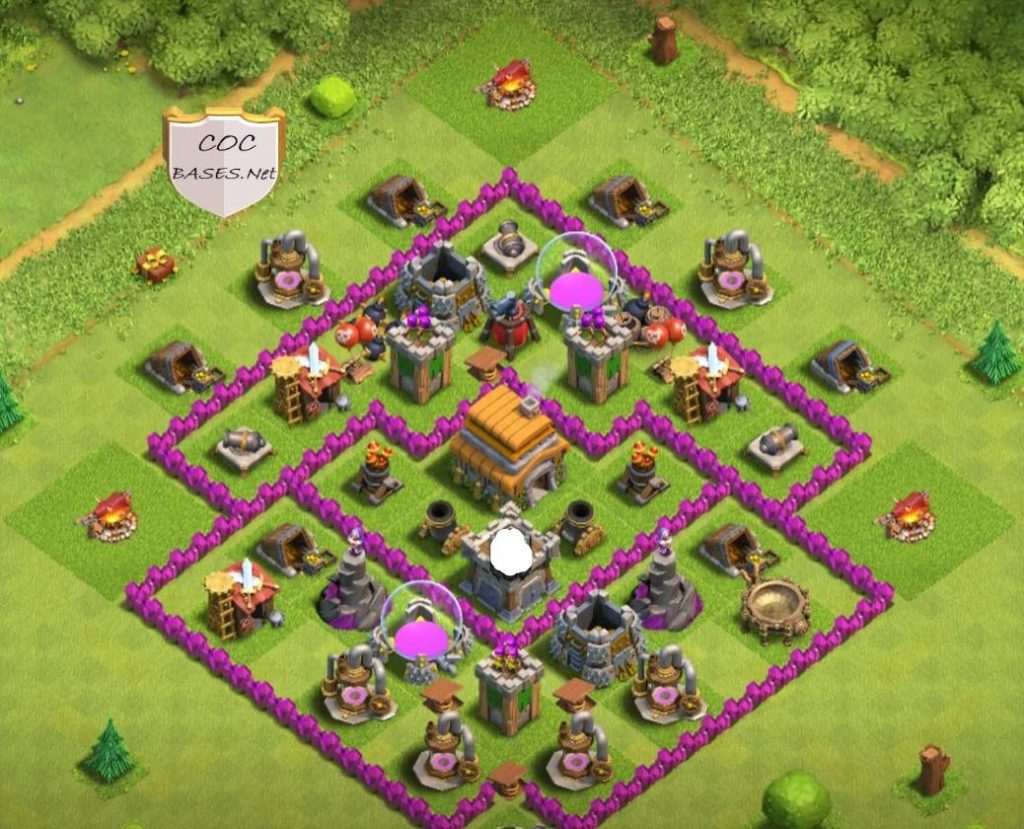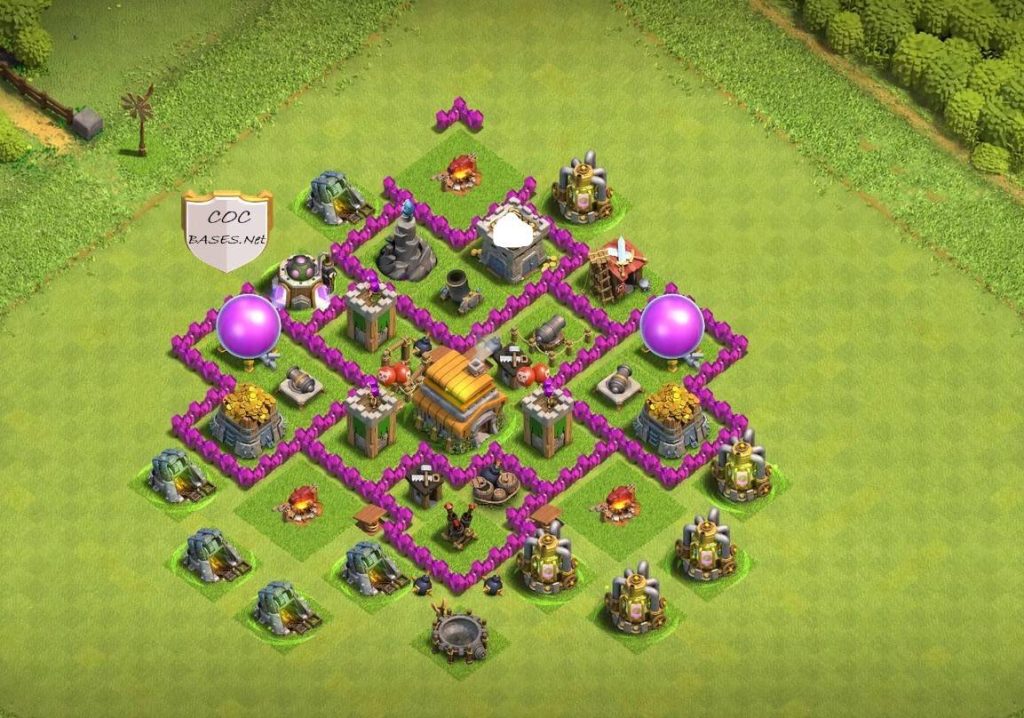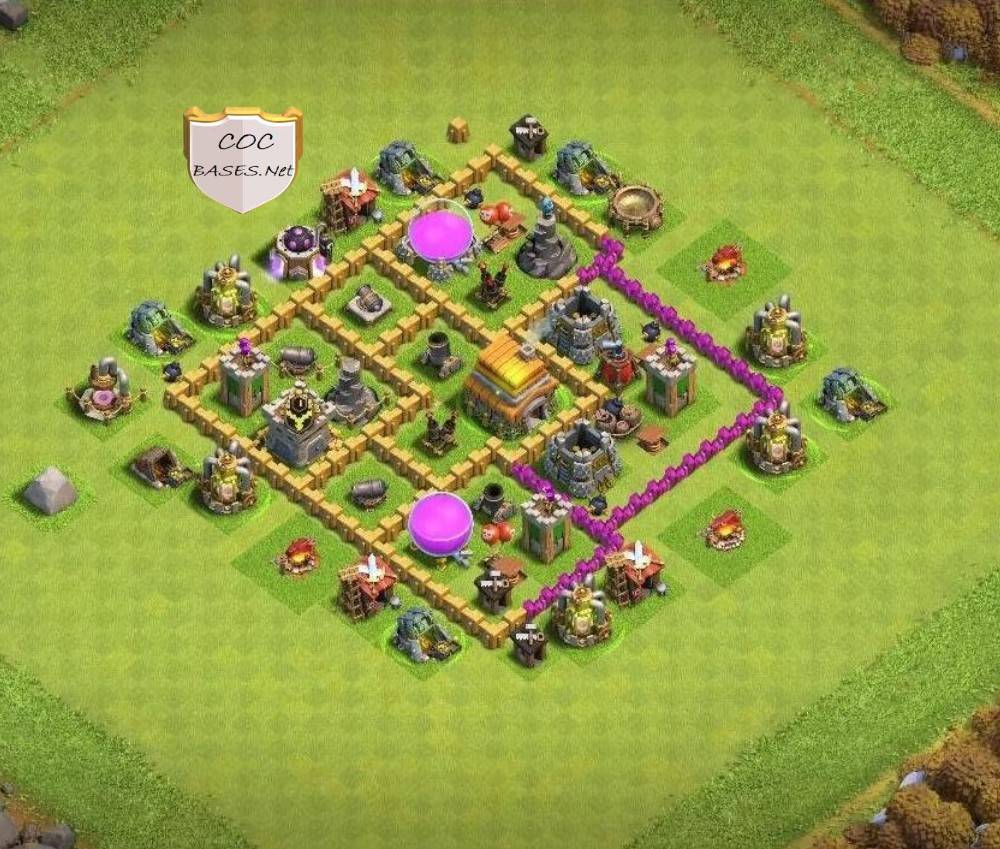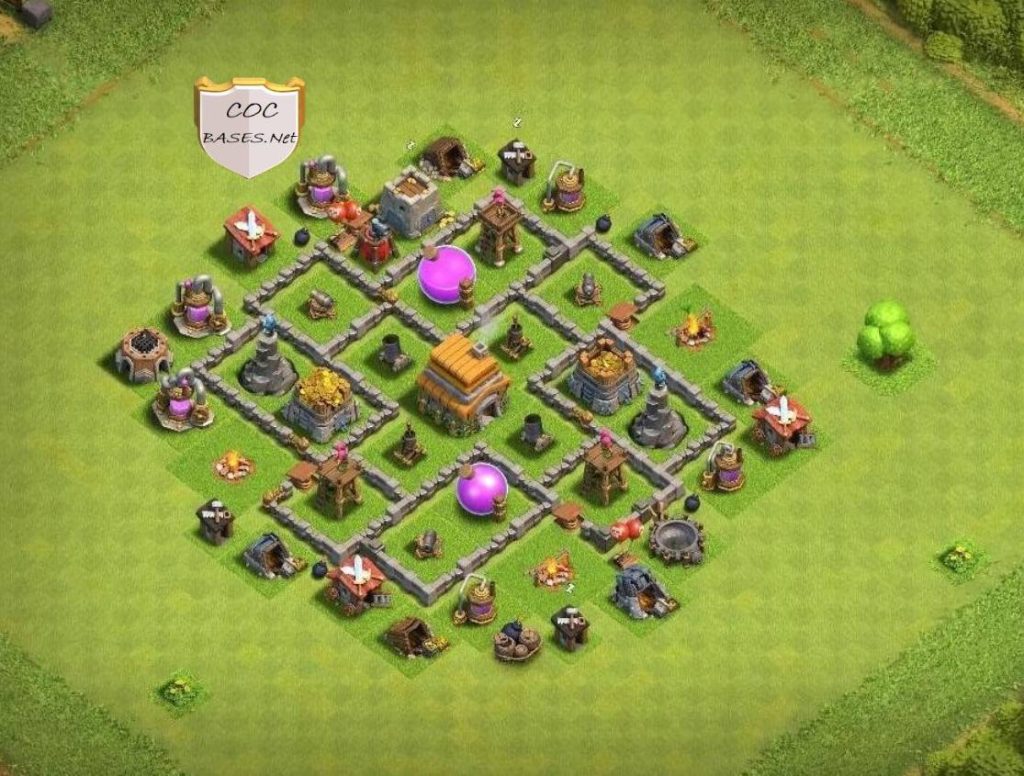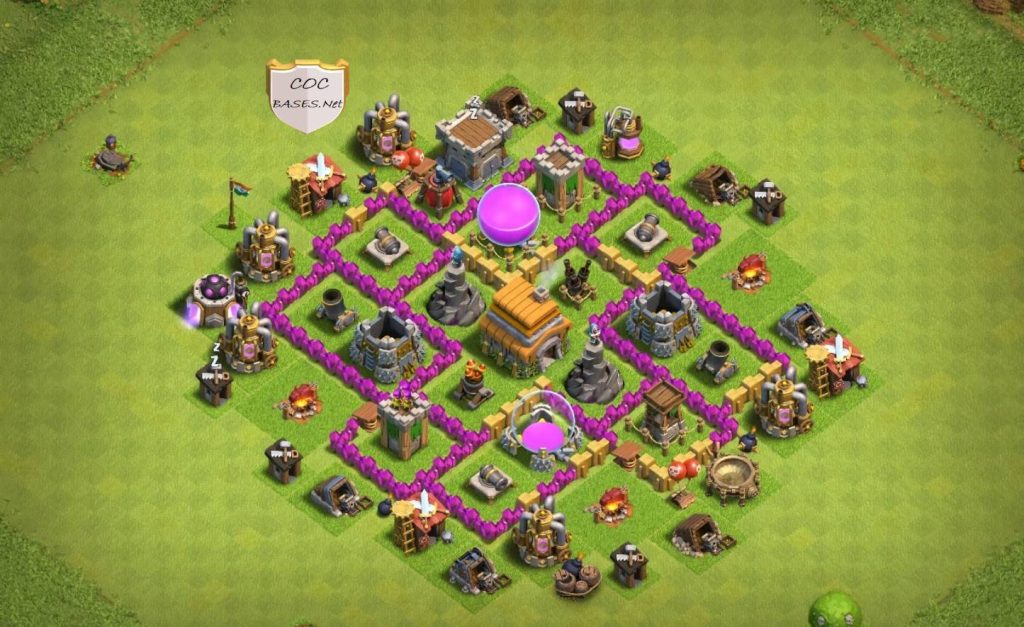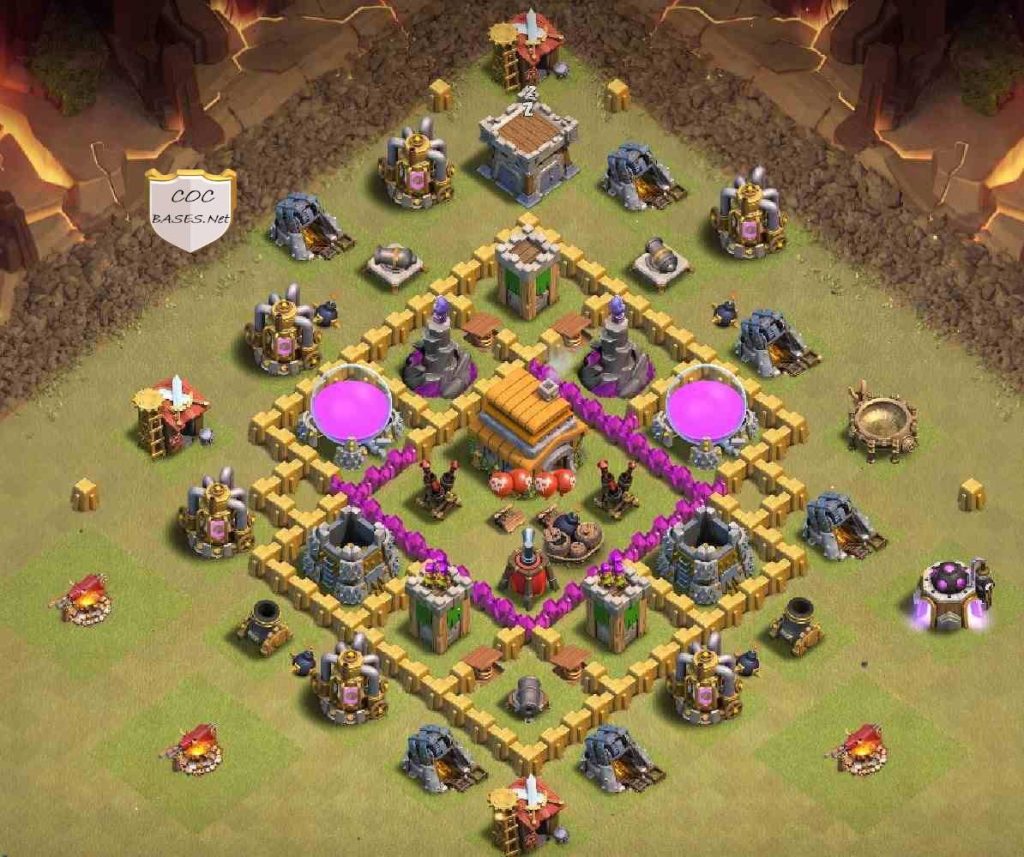 Clash of Clans Town Hall 6 War Base Anti Everything
This best th6 war base is also amazing and effective because of its placement-building strategies. This clan design has one big segment which has a town hall with some amazing defense buildings. The other segments of the clan are very small in size containing one or two buildings.
The clan castle is placed with air defense and archery. There is an outer layer of buildings and towers that protect this best trophy base layout from the outside. The outer layer has a barrack, laboratory, mortar, and many other amazing buildings surrounding the clan.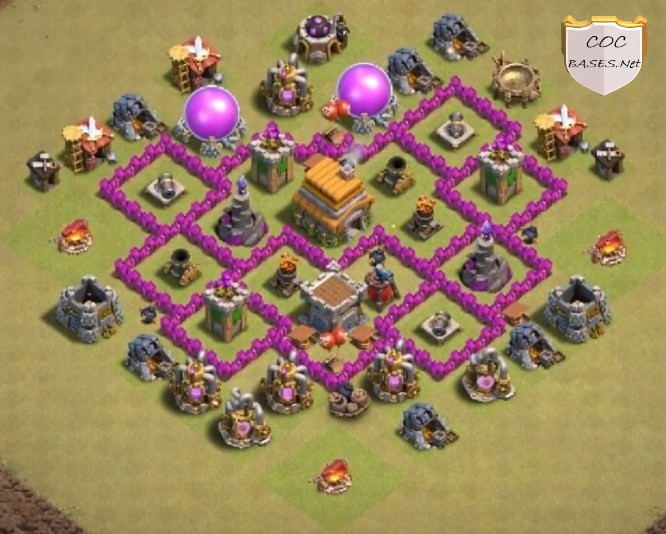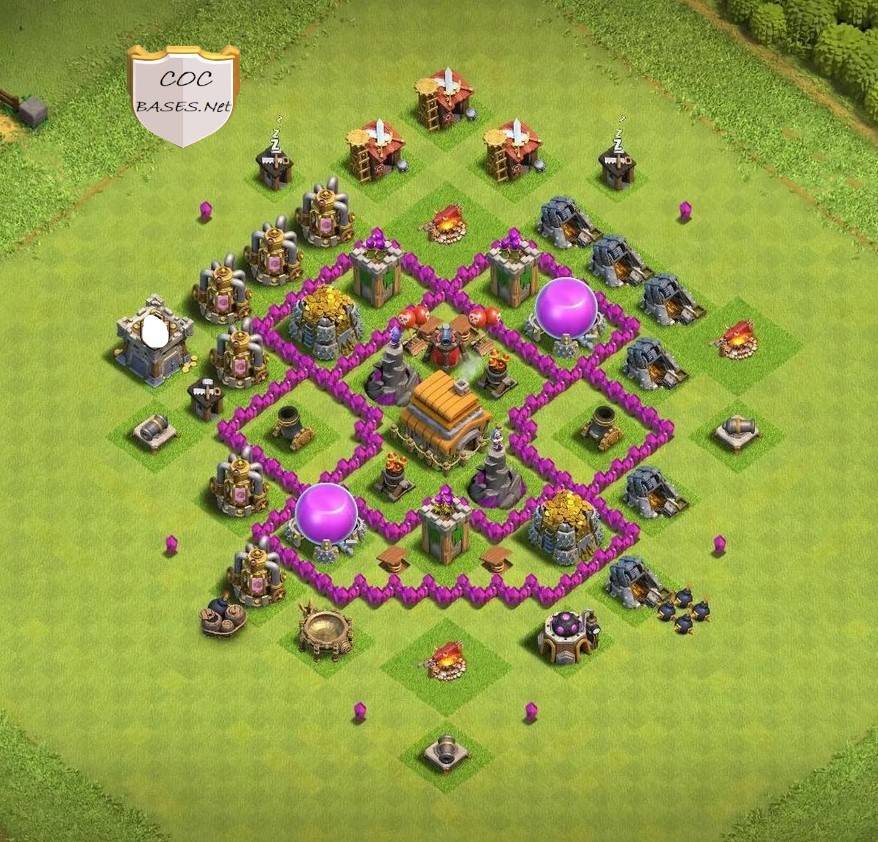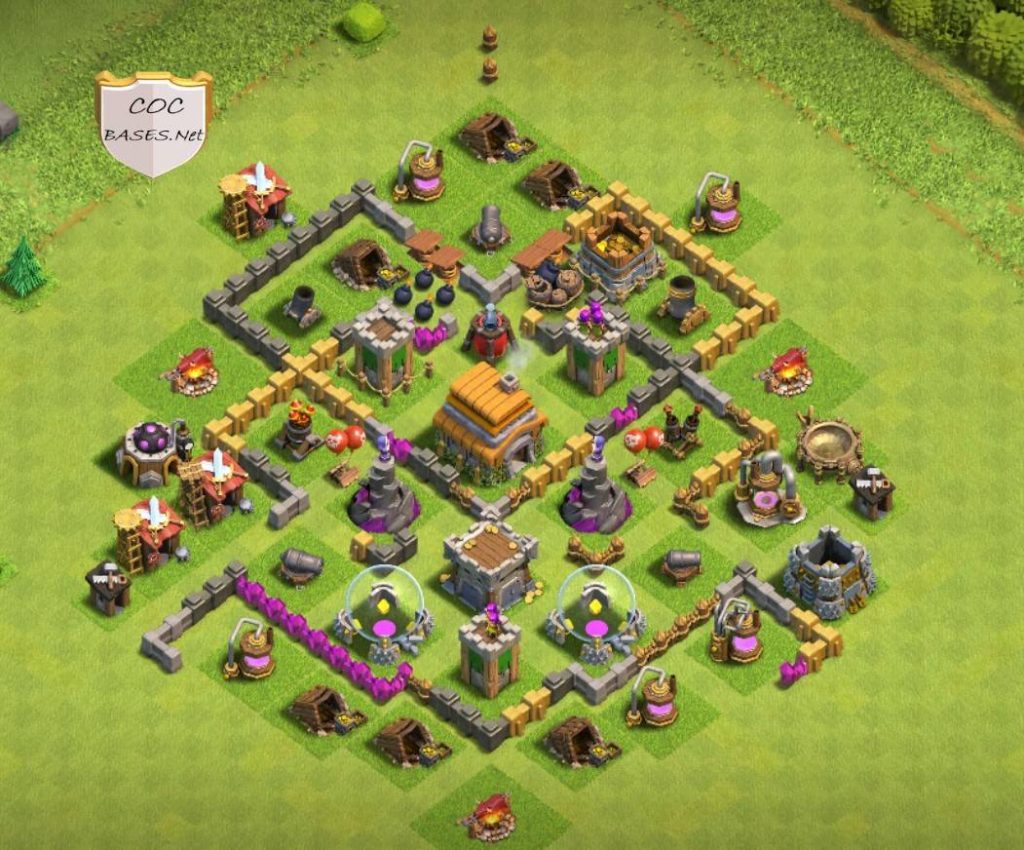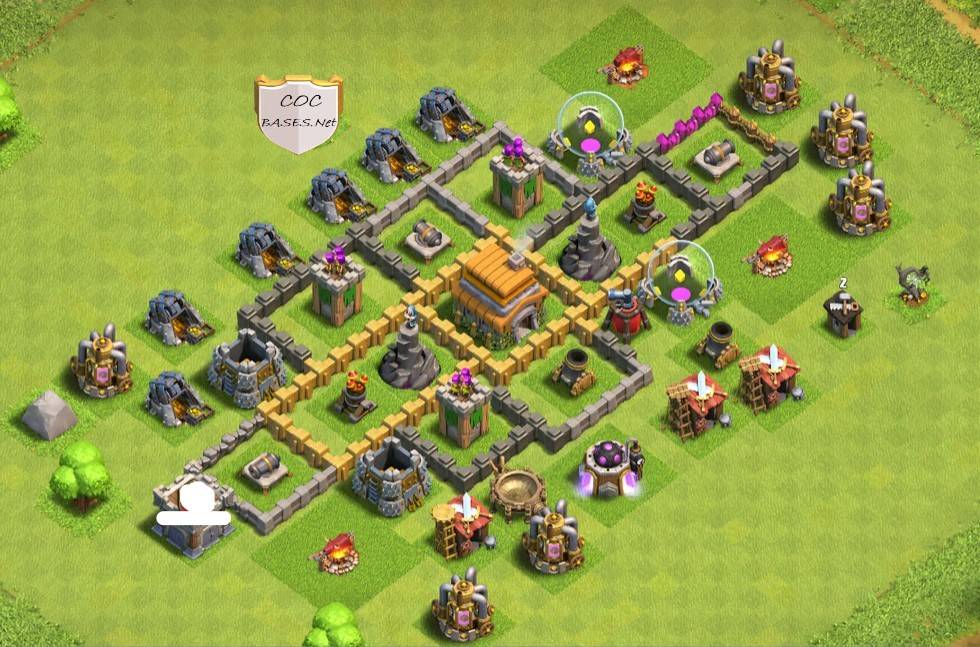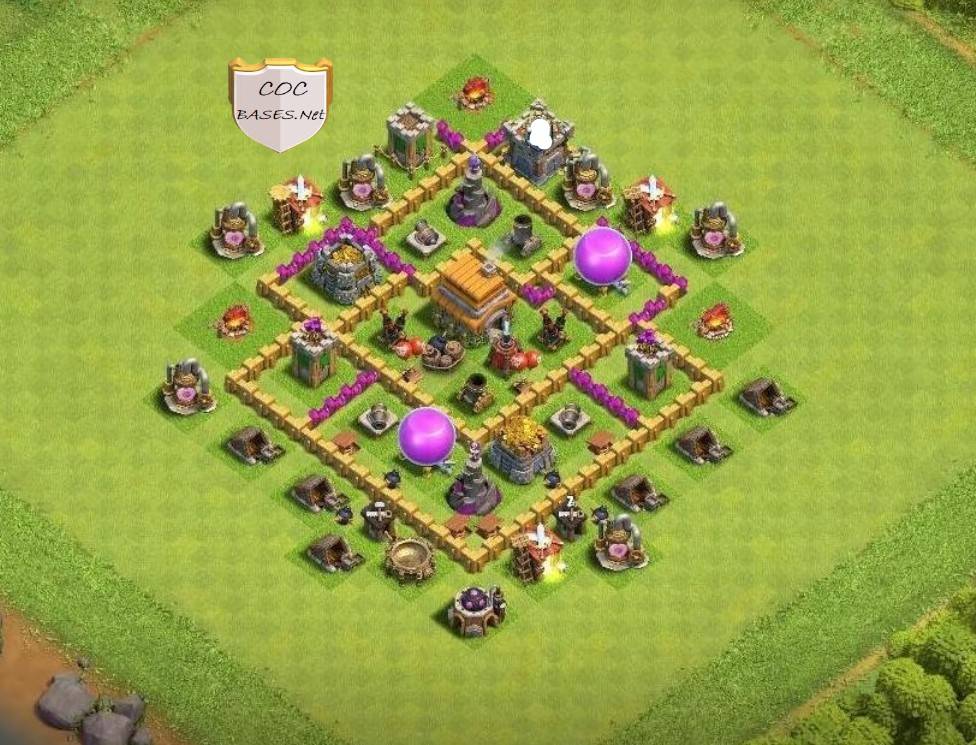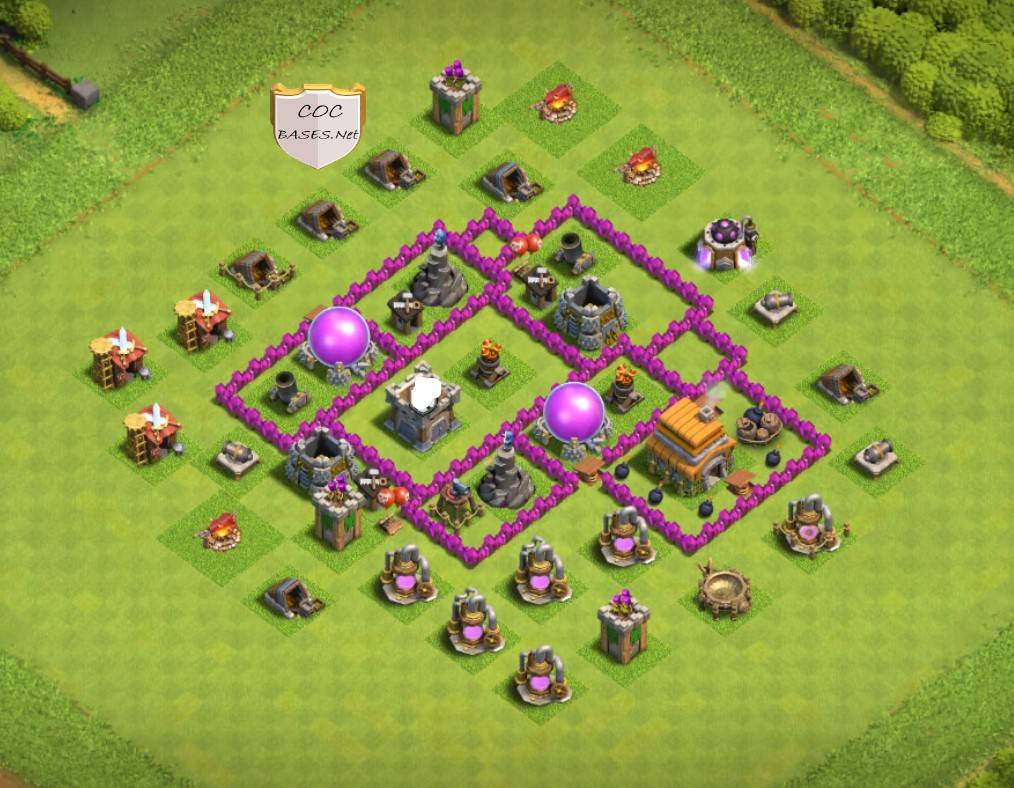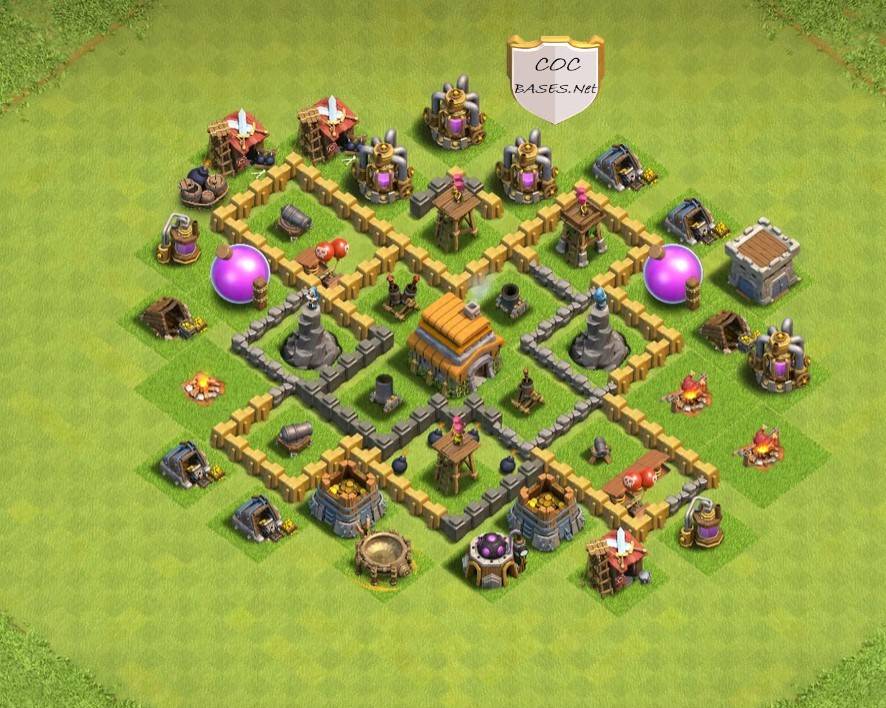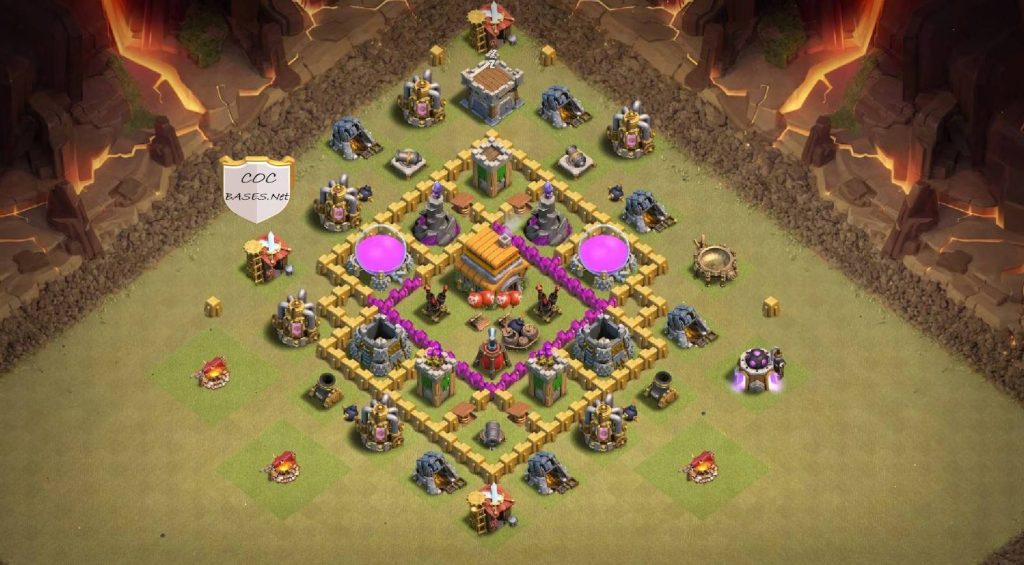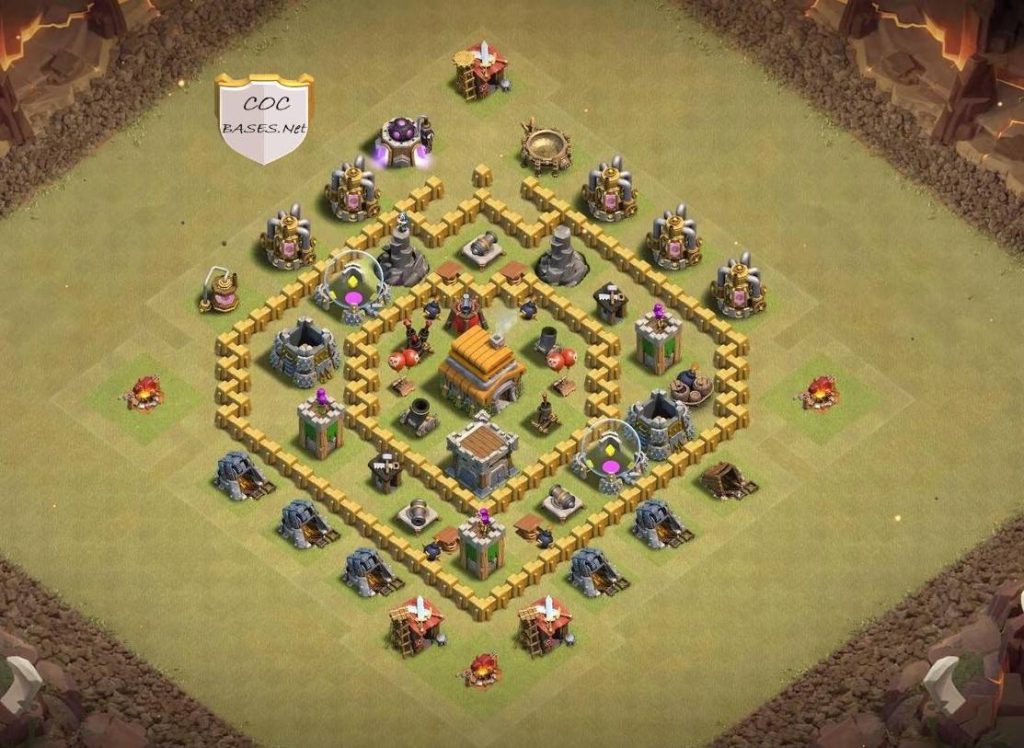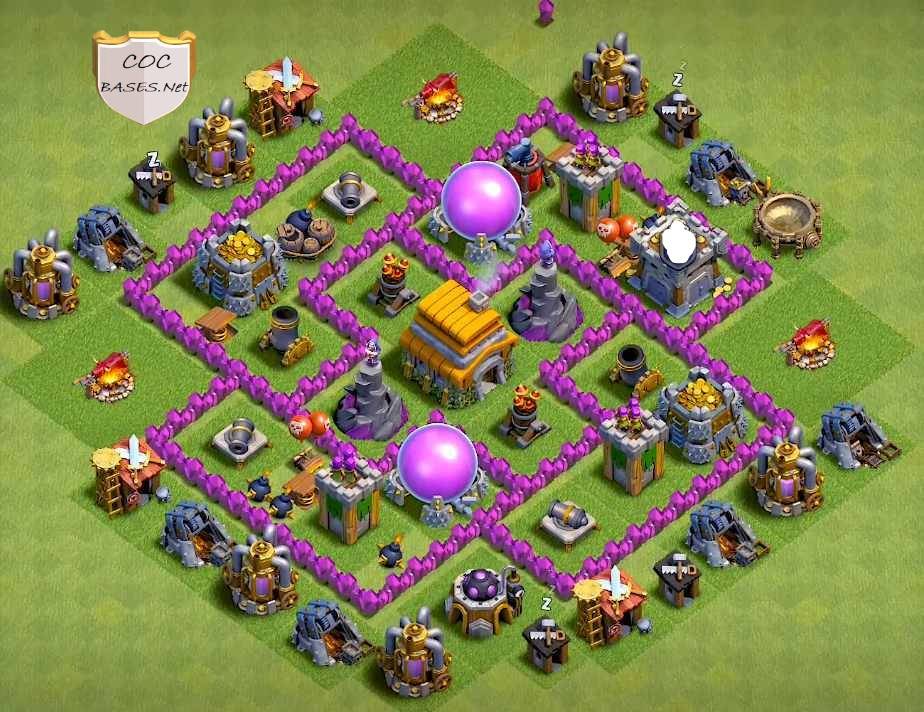 Best Town Hall 6 War Base Anti Giants
This is also one of the best th6 war bases that have an amazing design that make it quite attractive. The best strategy of a protective clan is to keep the town hall in the center with a clan castle. As you can see in this amazing war base, the hidden tesla is also placed in the center. The combination of air-defense and hidden tesla is a wonderful combo. Most of the resource buildings and defense towers are placed outside the best th6 clan.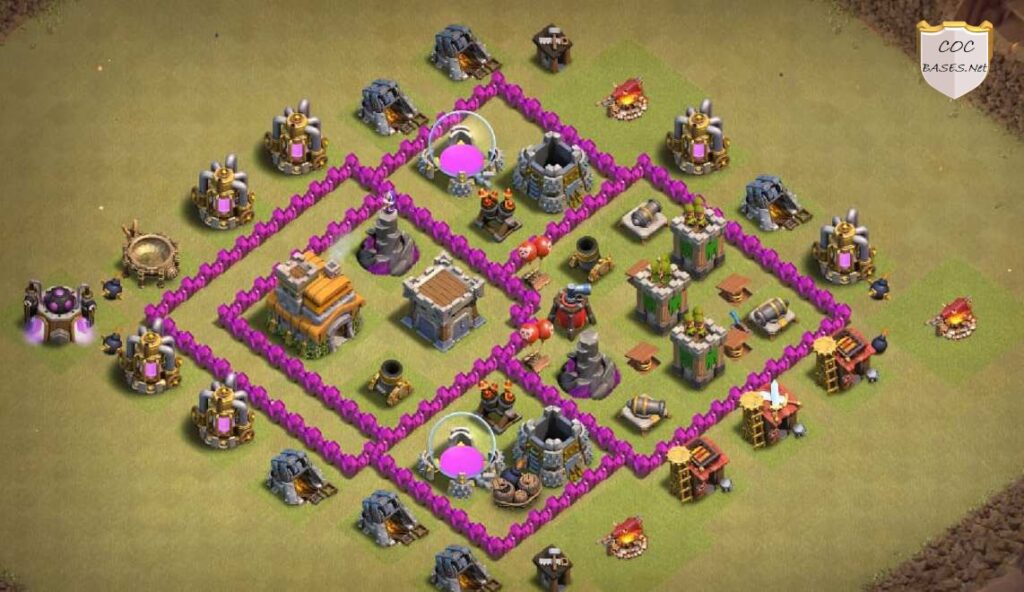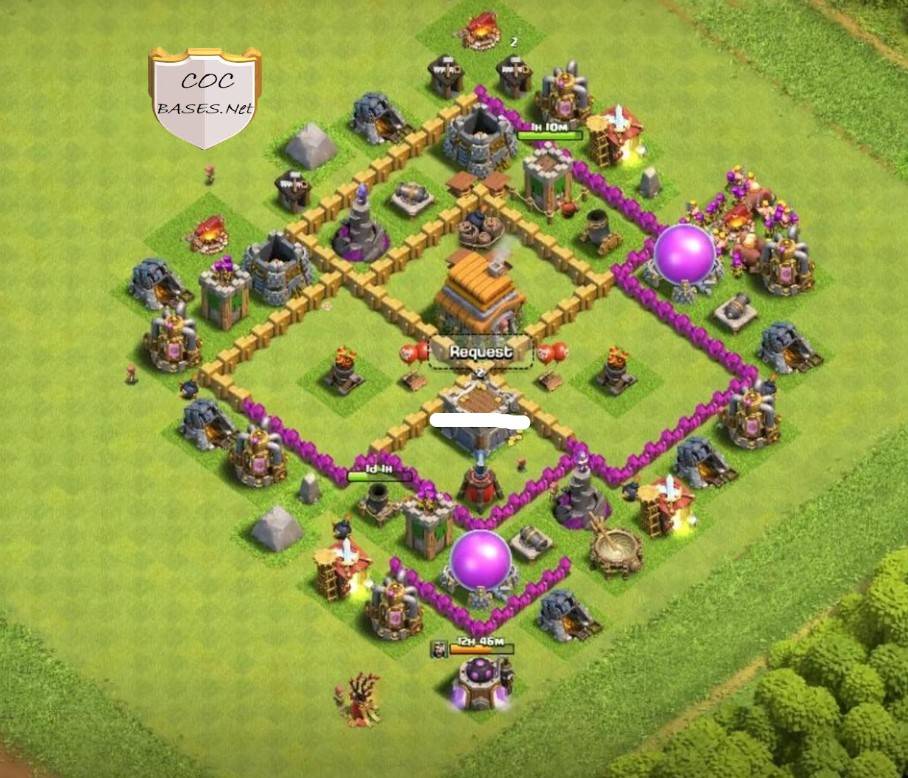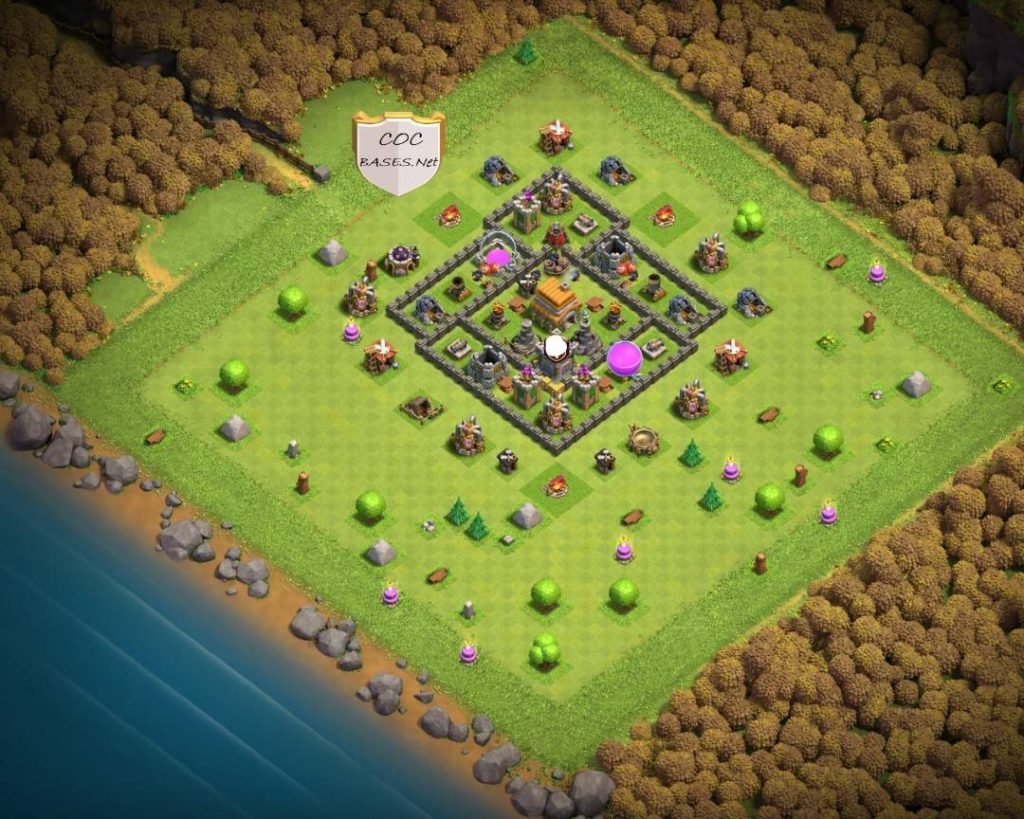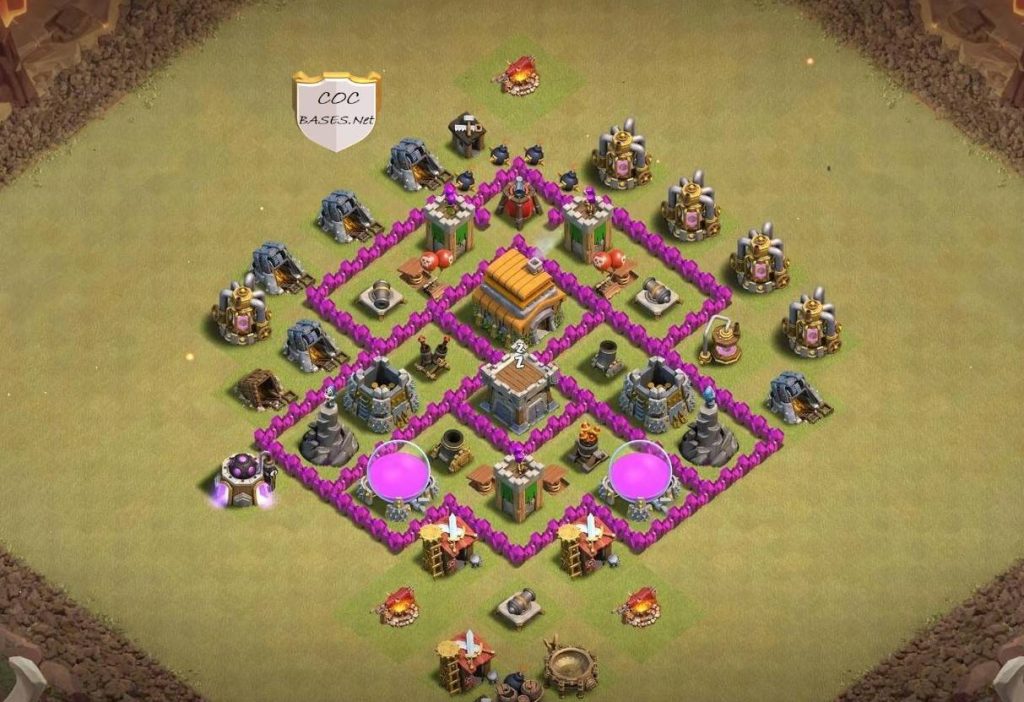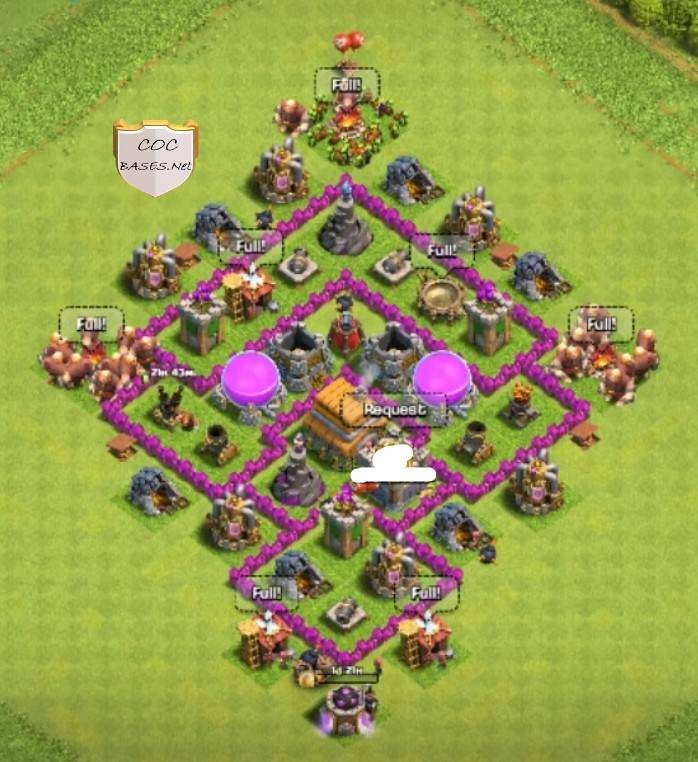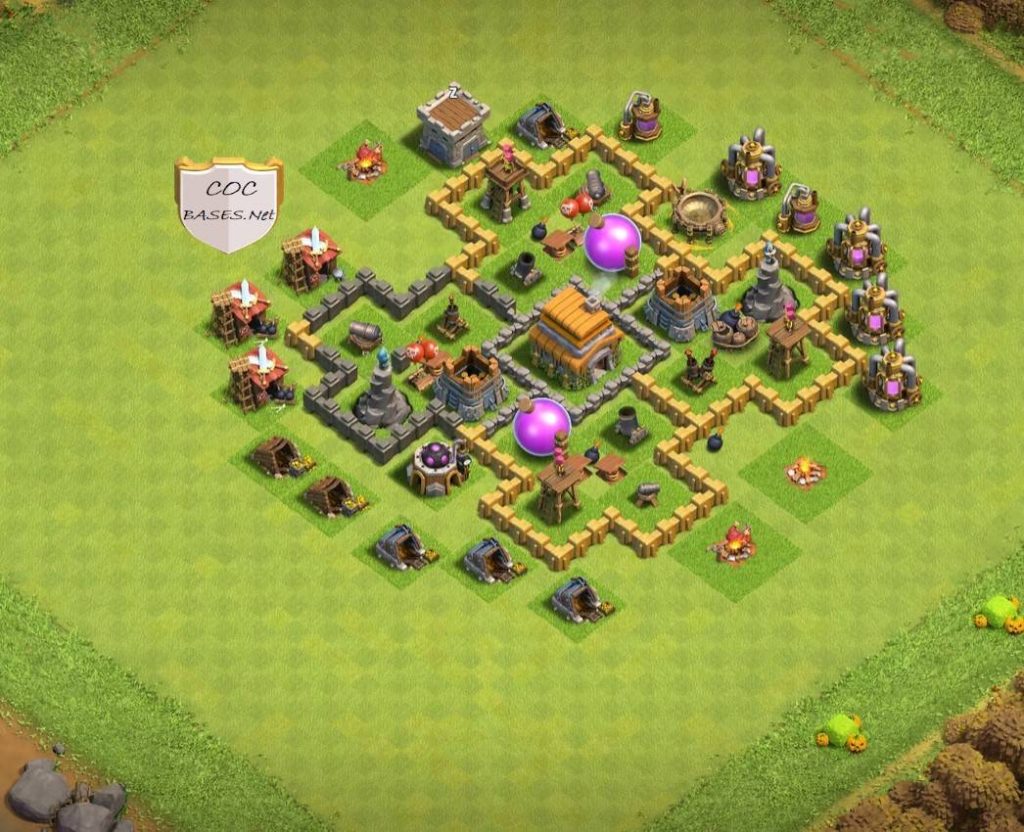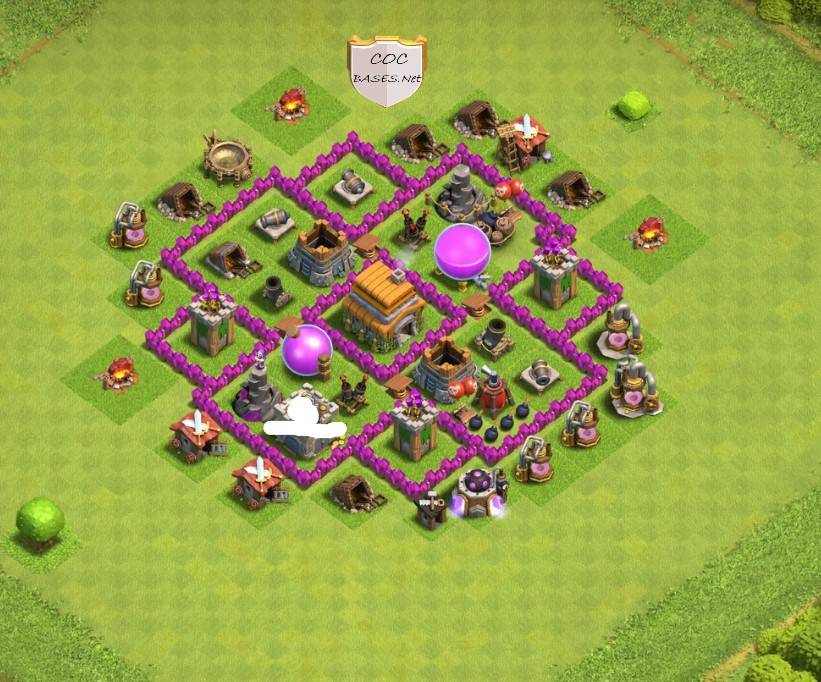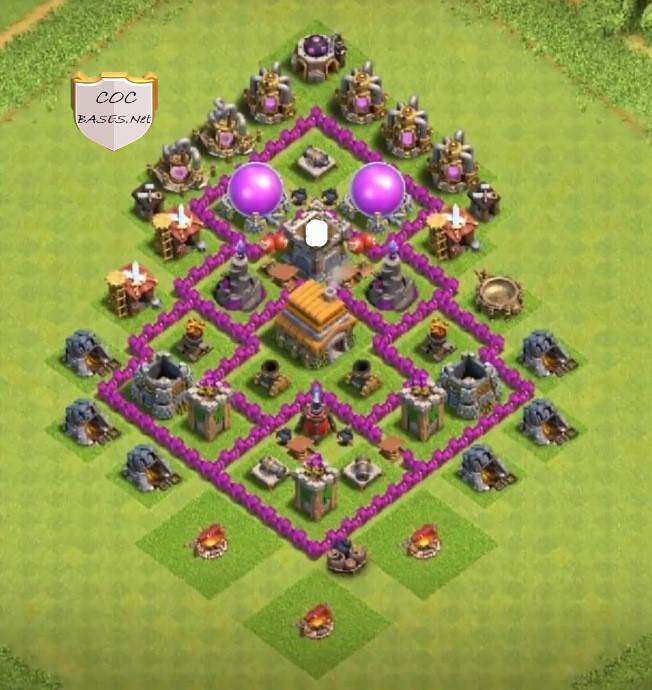 Best Town Hall 6 War Base Anti Balloons Copy Link
If you have more buildings and towers unlocked then here we have mentioned two amazing bases in this best th6 war base guide. On the two sides of the center segment, there are small compartments containing hidden tesla. The hidden tesla is best to keep your clan safe from air attacks. the clan caste is also placed on one side of the central segment.
If your base is divided into small layers and segments this means that your clan is well protected from attackers. There is an outer layer of the maxed wall that keeps the whole clan safe. This best th6 war base has an outer layer of amazing defense buildings to keep the clan in high security.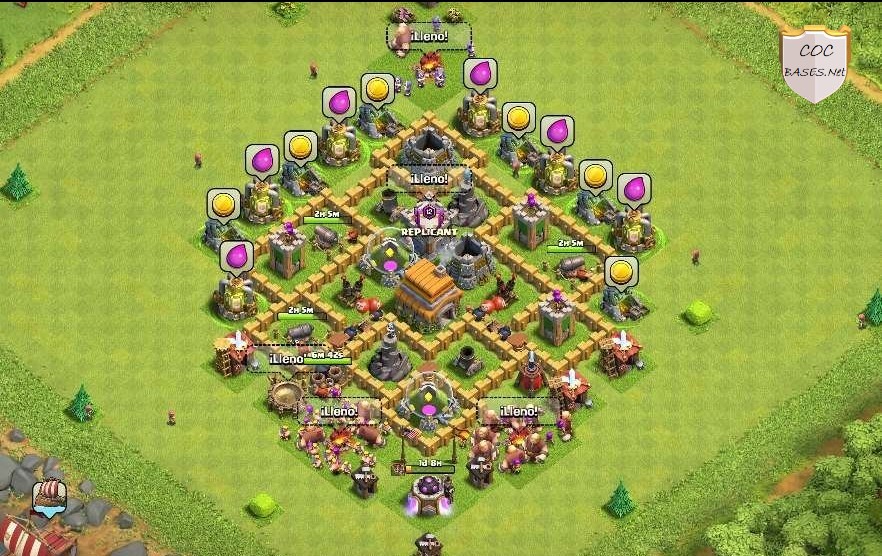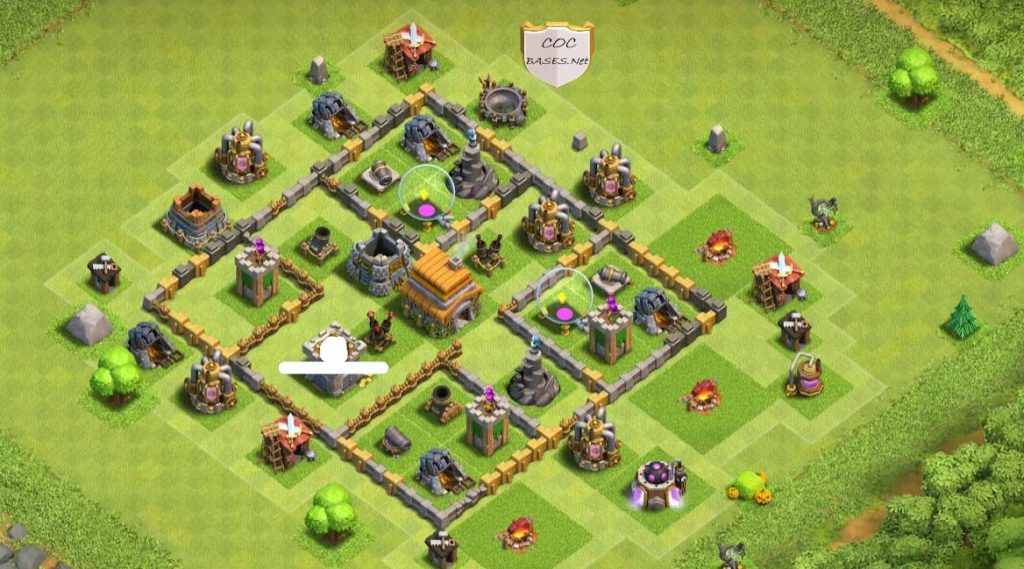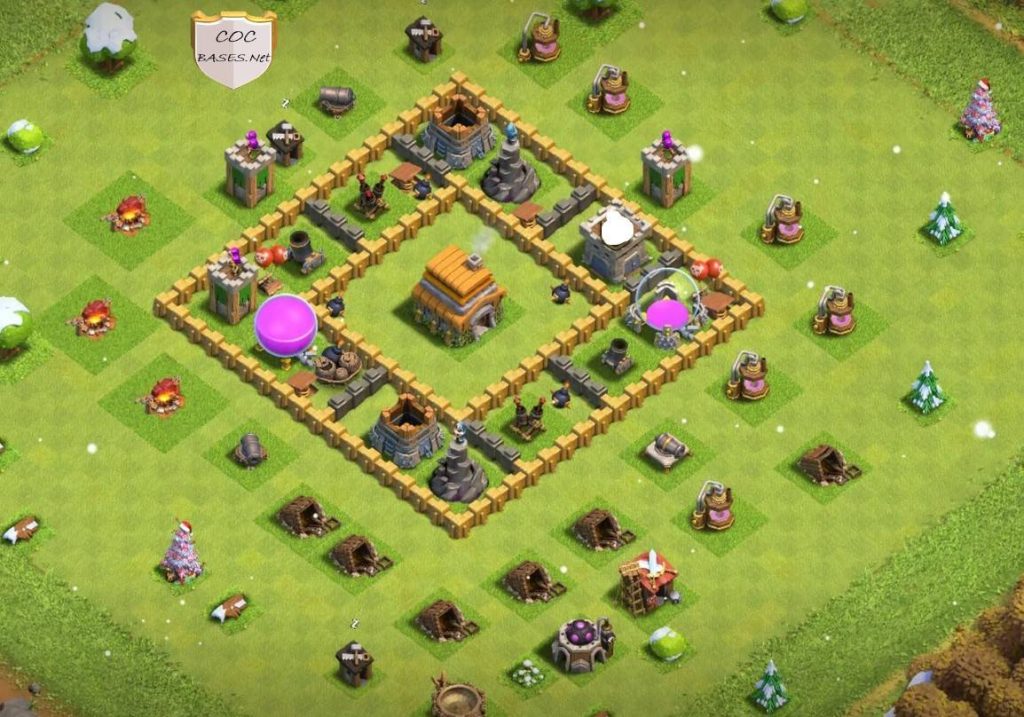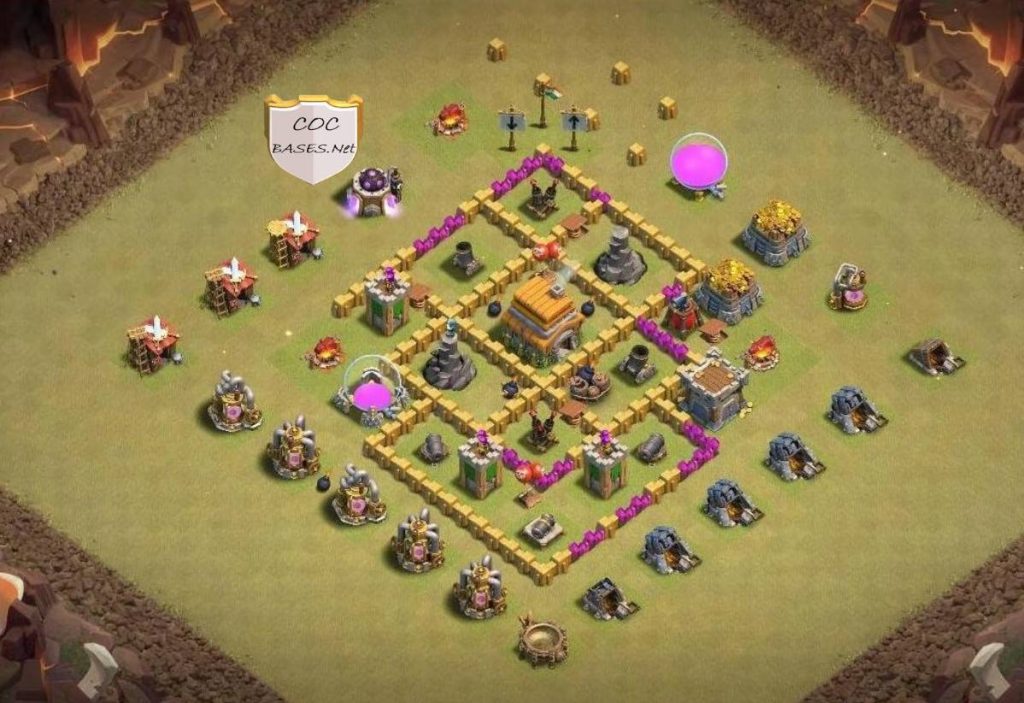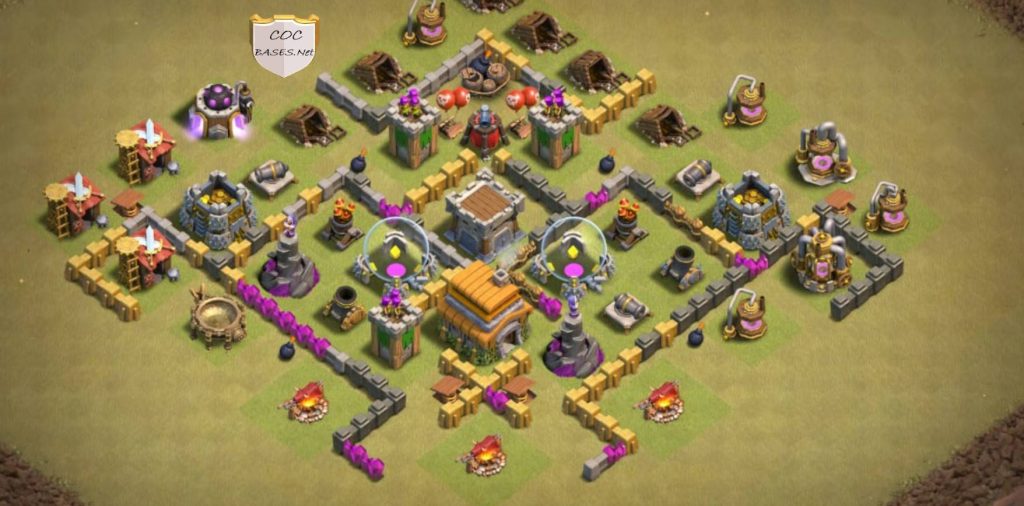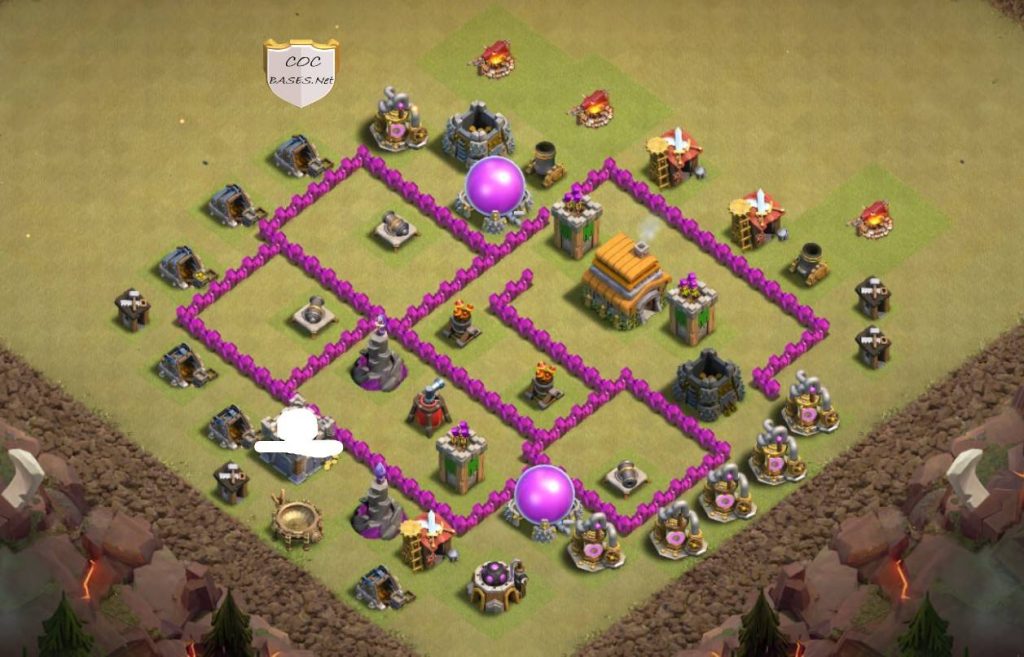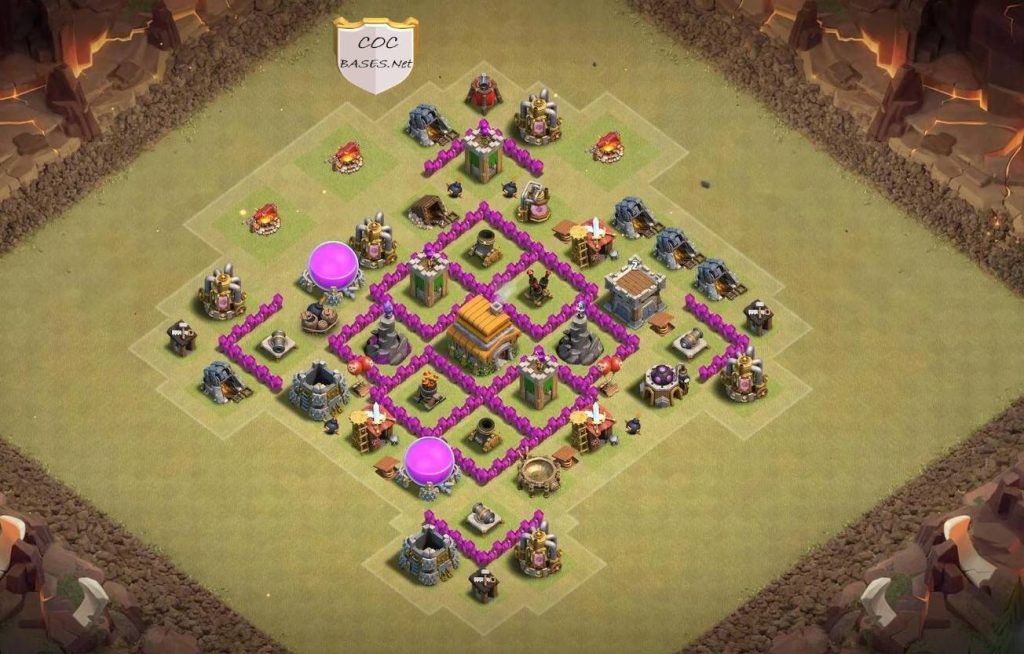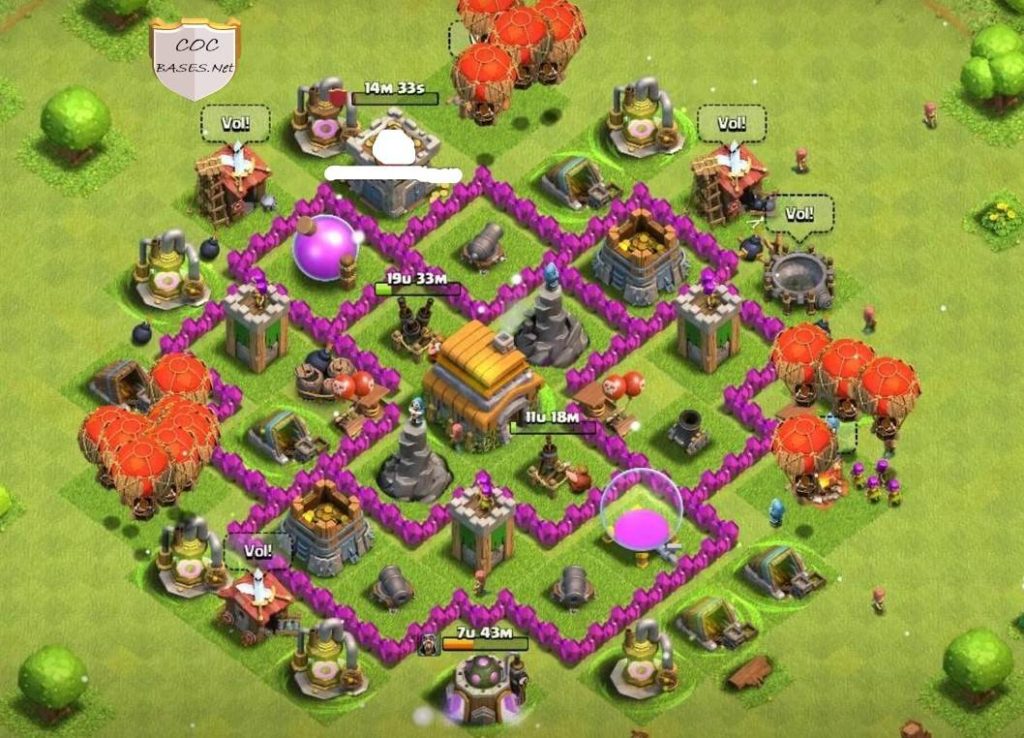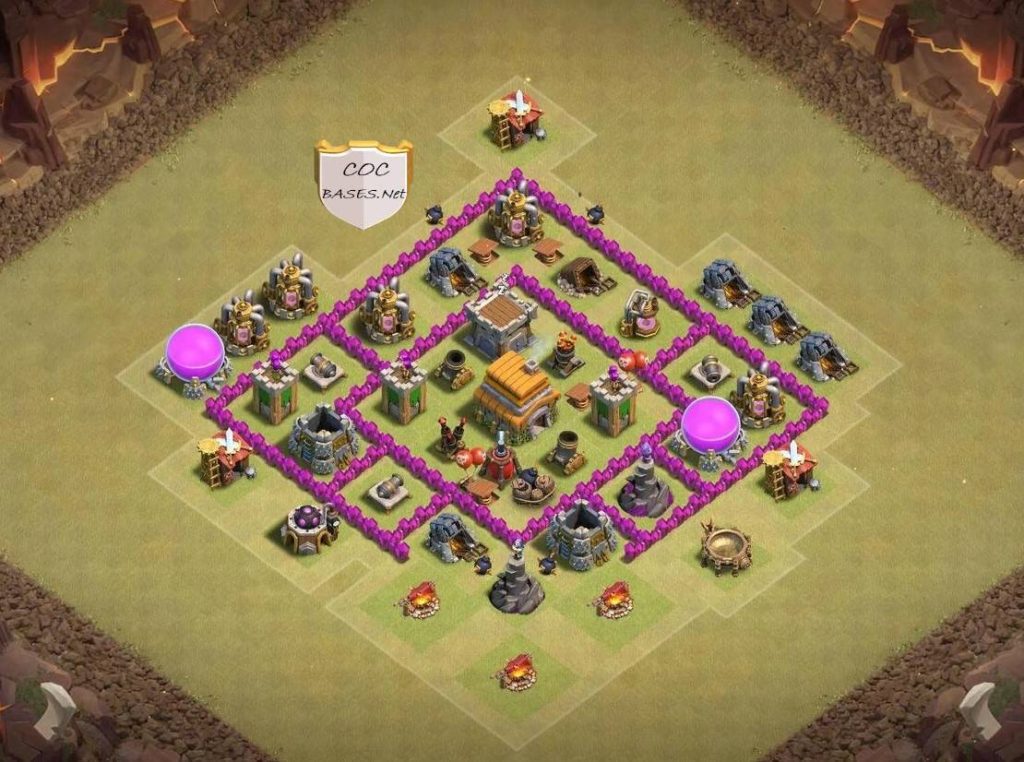 Best TH6 War Base Anti All Troops
This best th6 war base has only four big compartments, each surrounded by an extra maxed wall that protects the clan. One compartment has a town hall and clan castle with hidden tesla and mortar for protection. The two side compartments have resource buildings with air-defense. In a war base, it is important to save the town hall and also the resources. So in this base, the resources are also kept inside the clan for protection.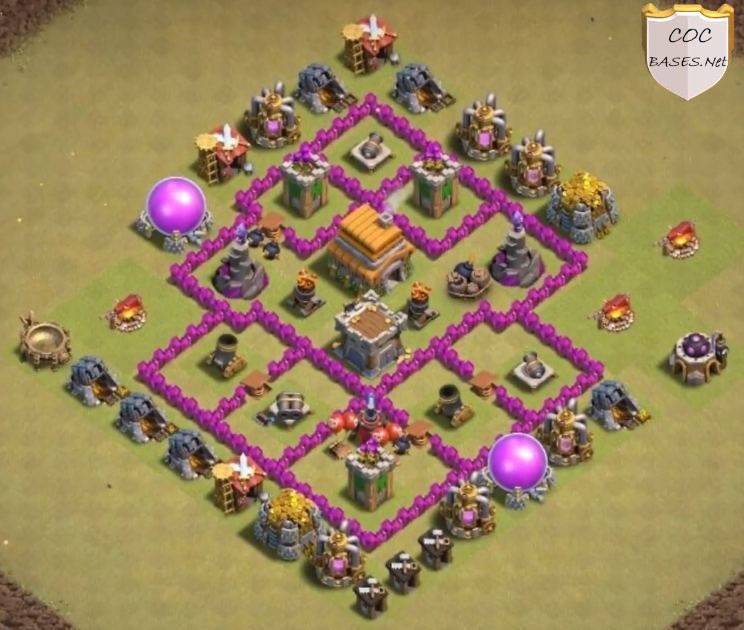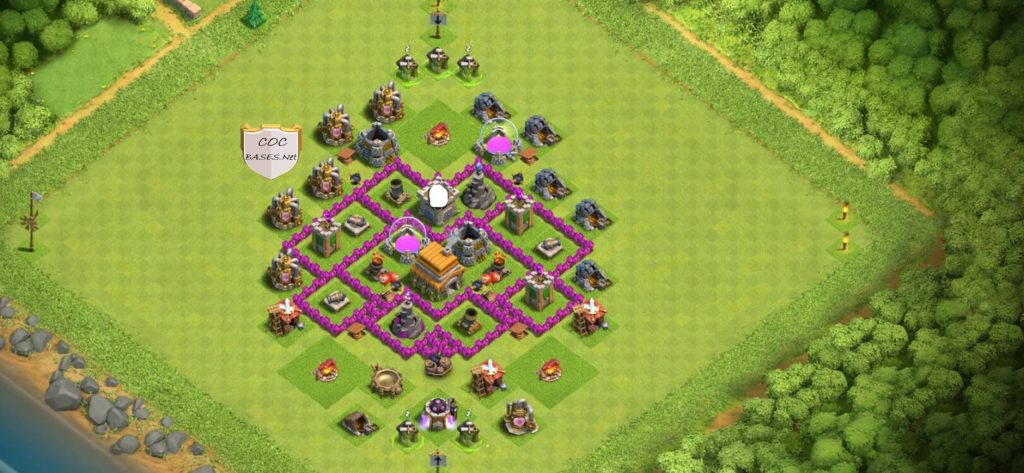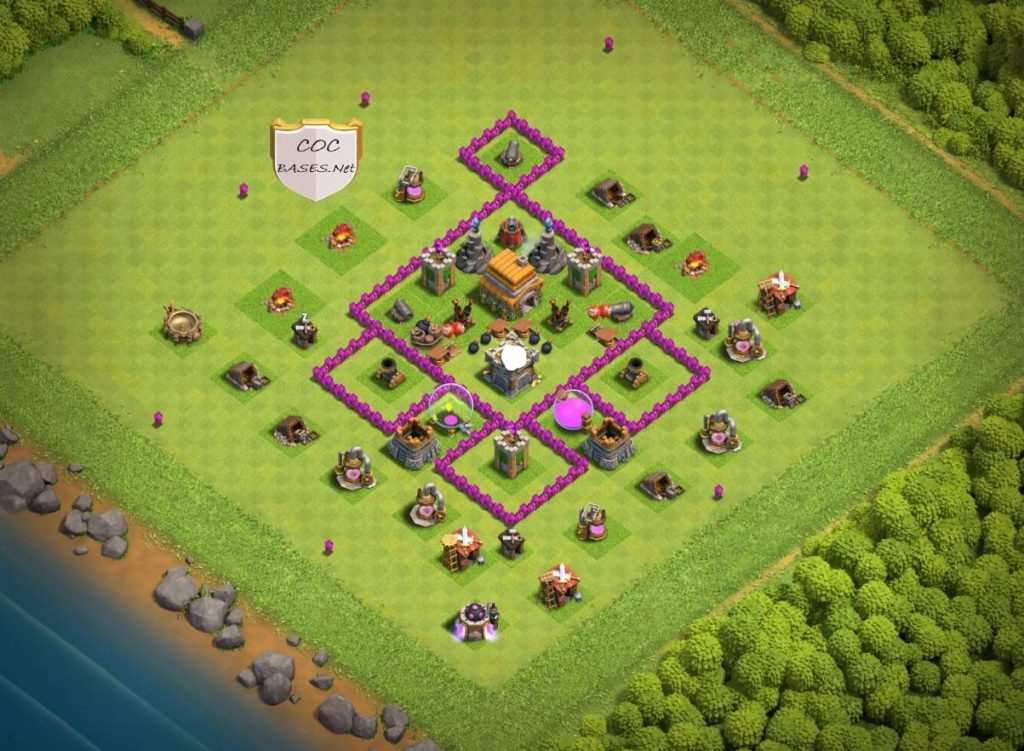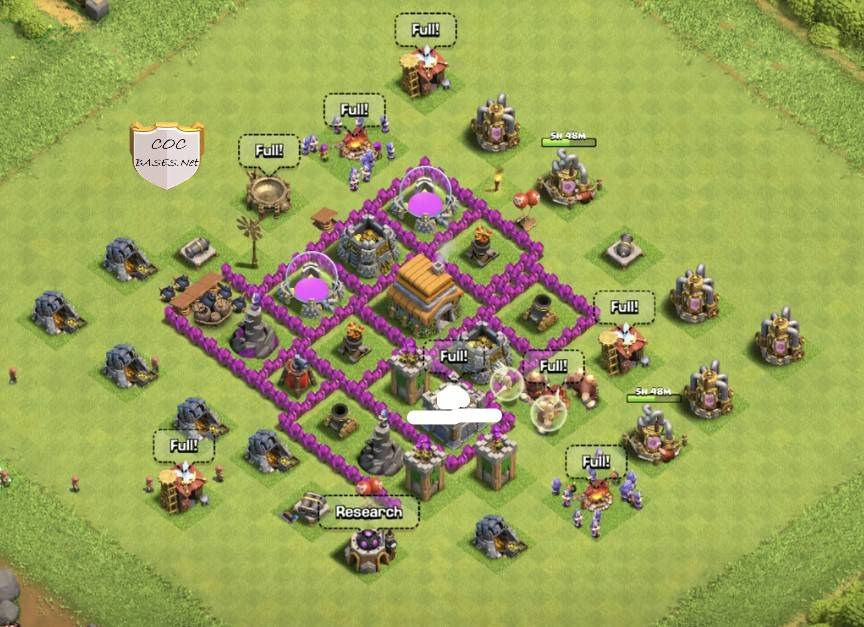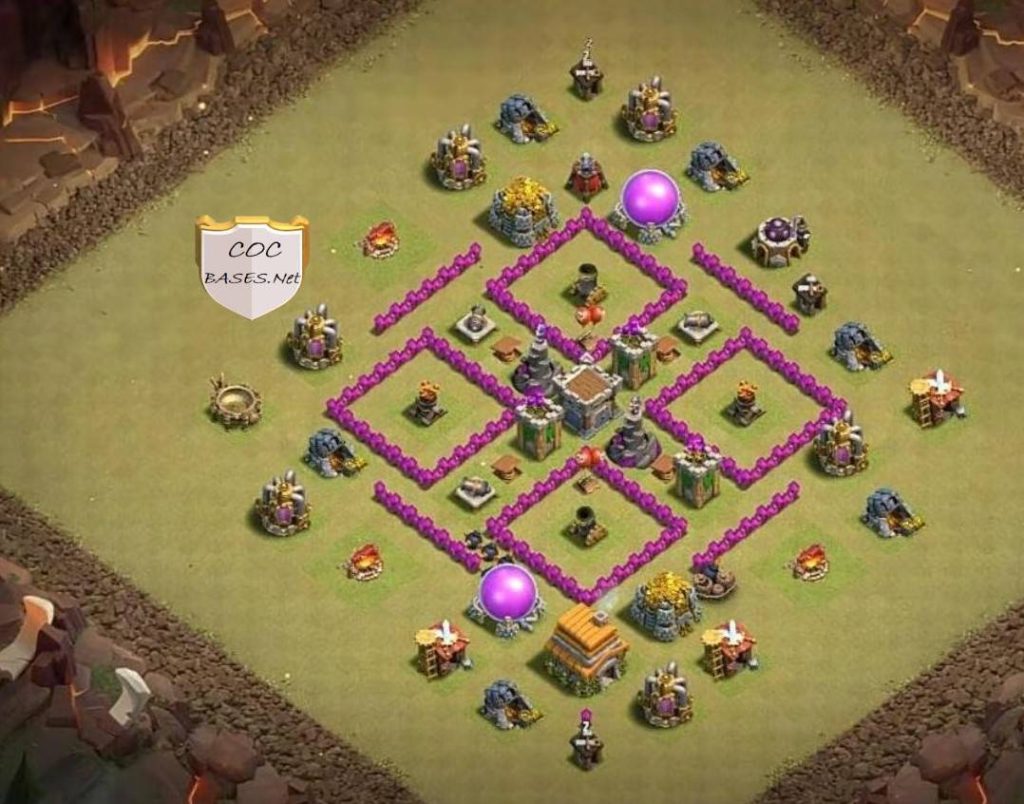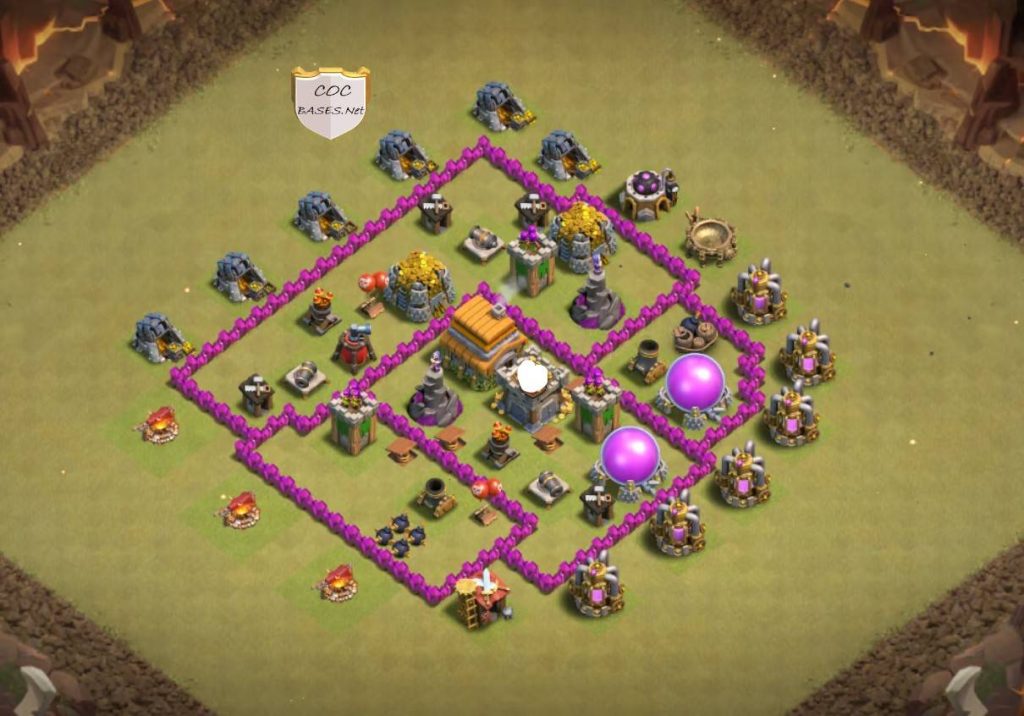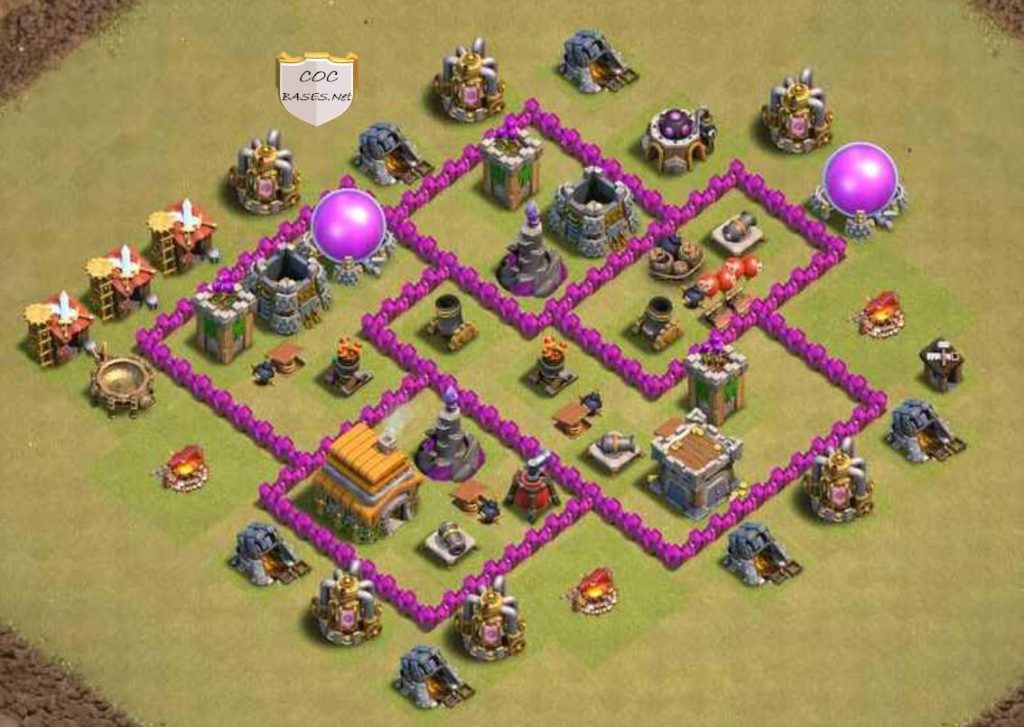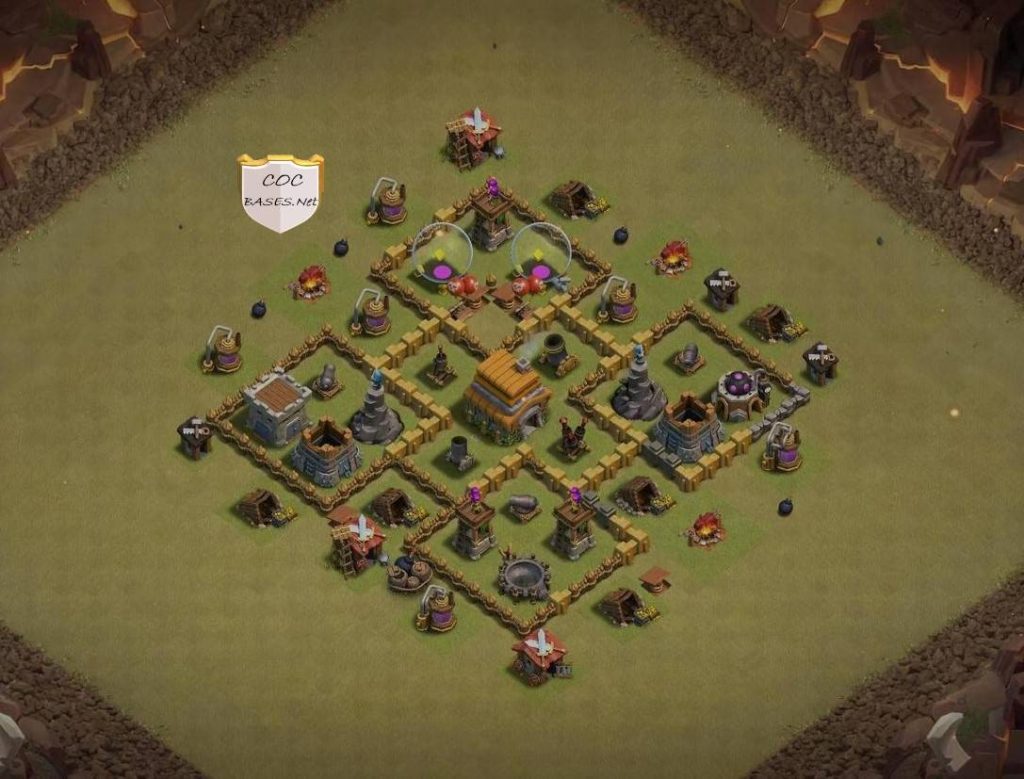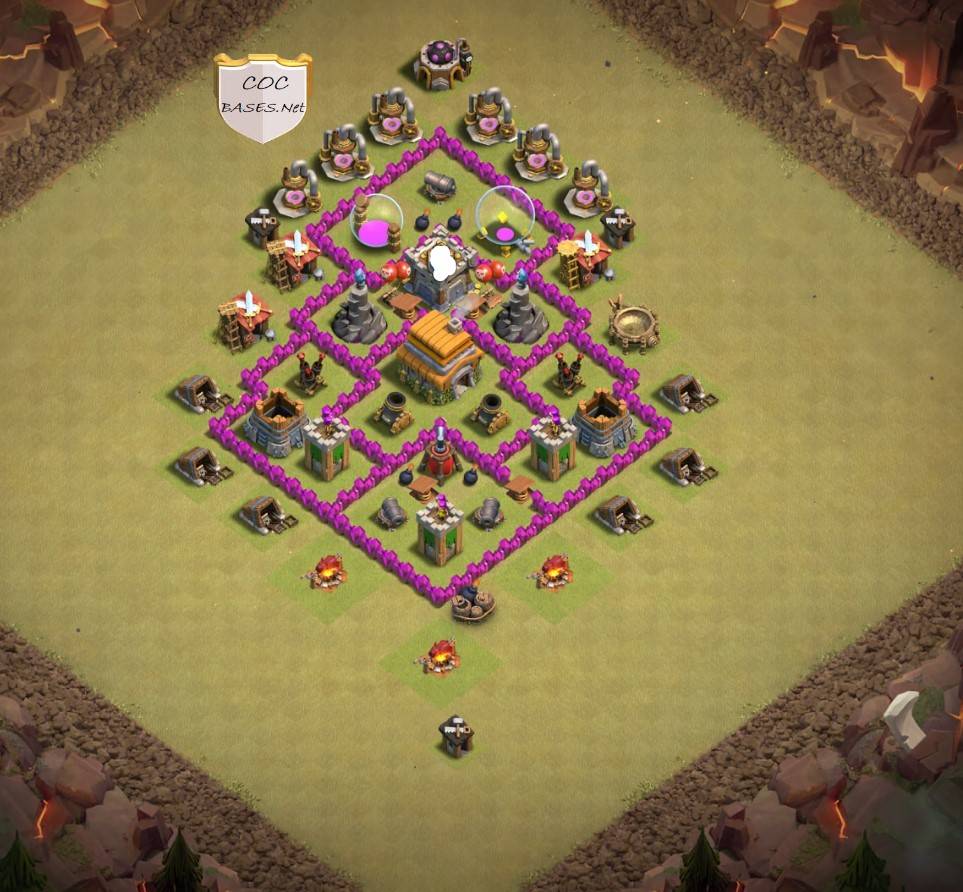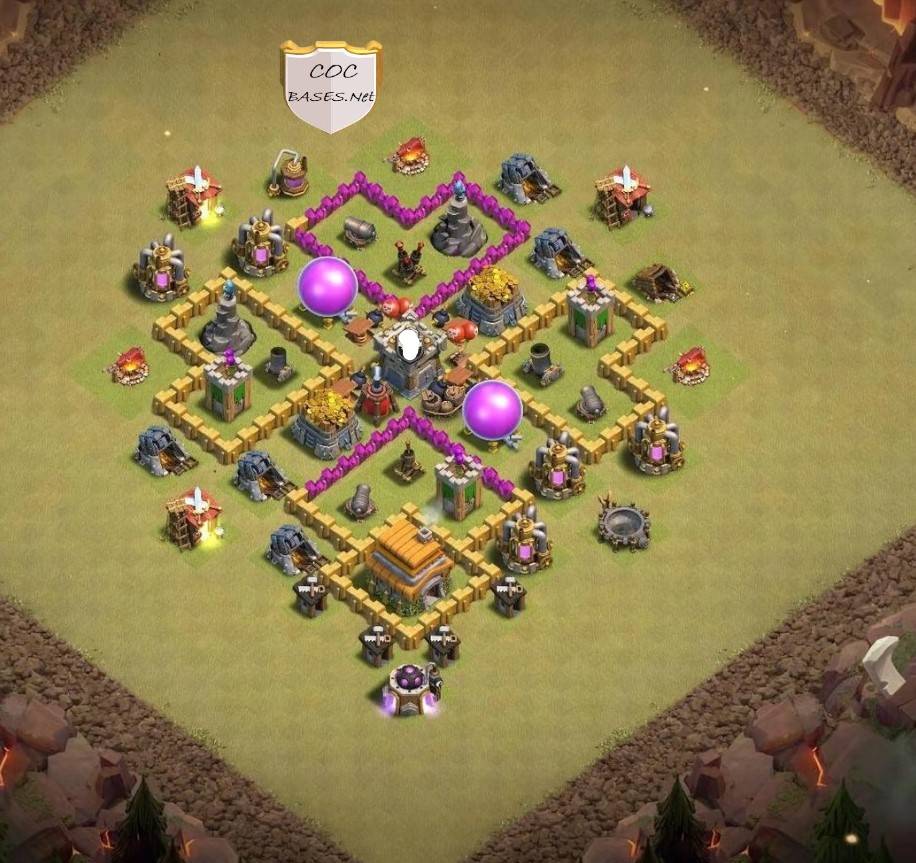 COC TH6 War Layout Anti Healer with Link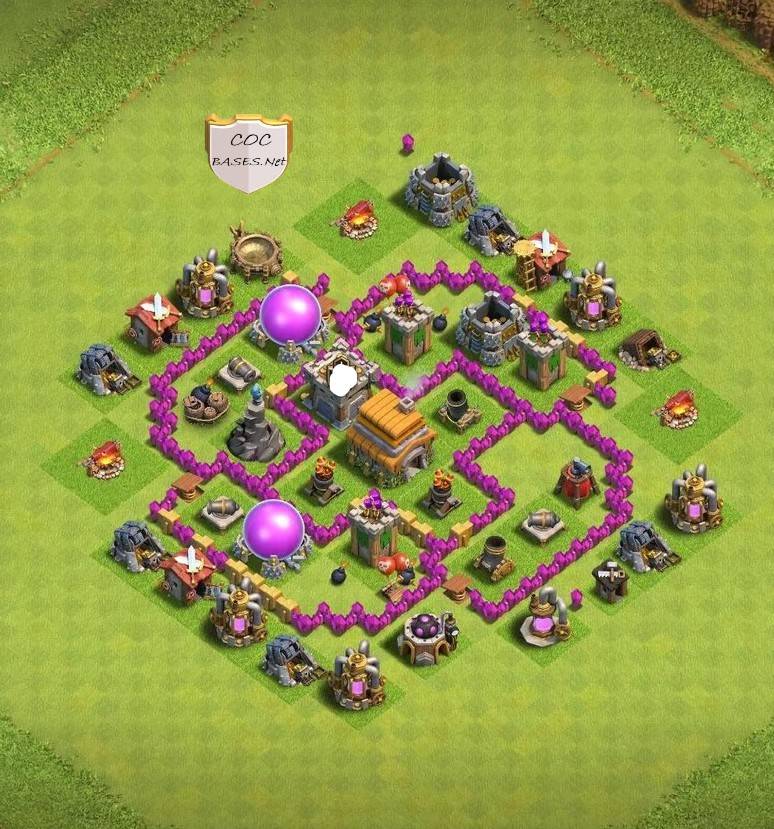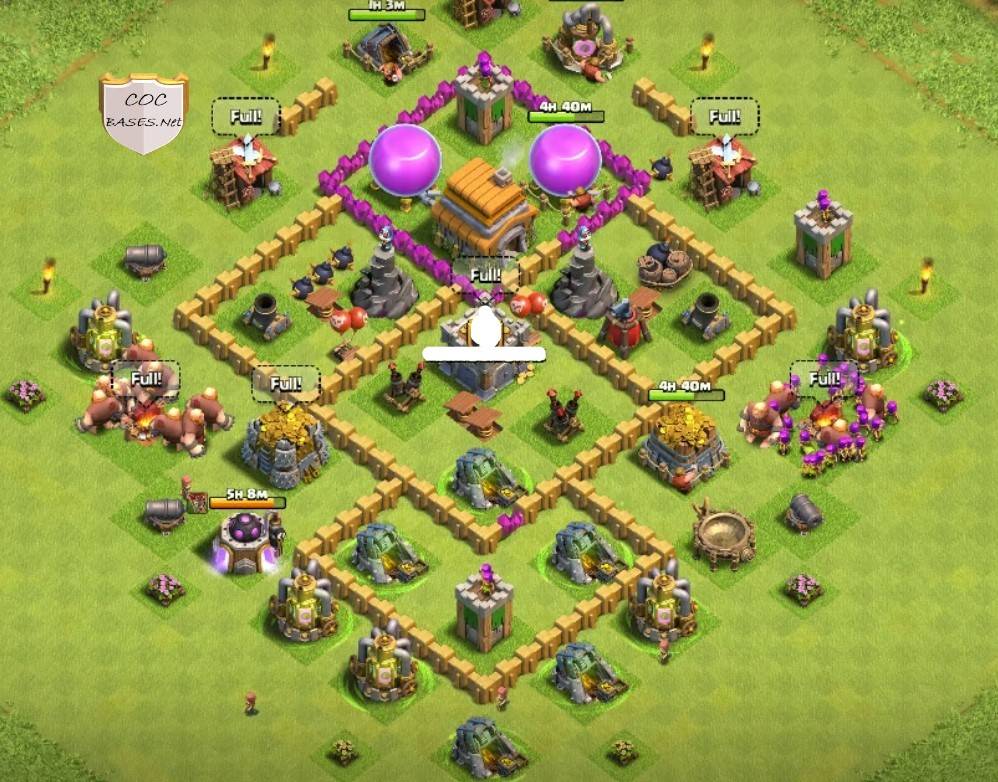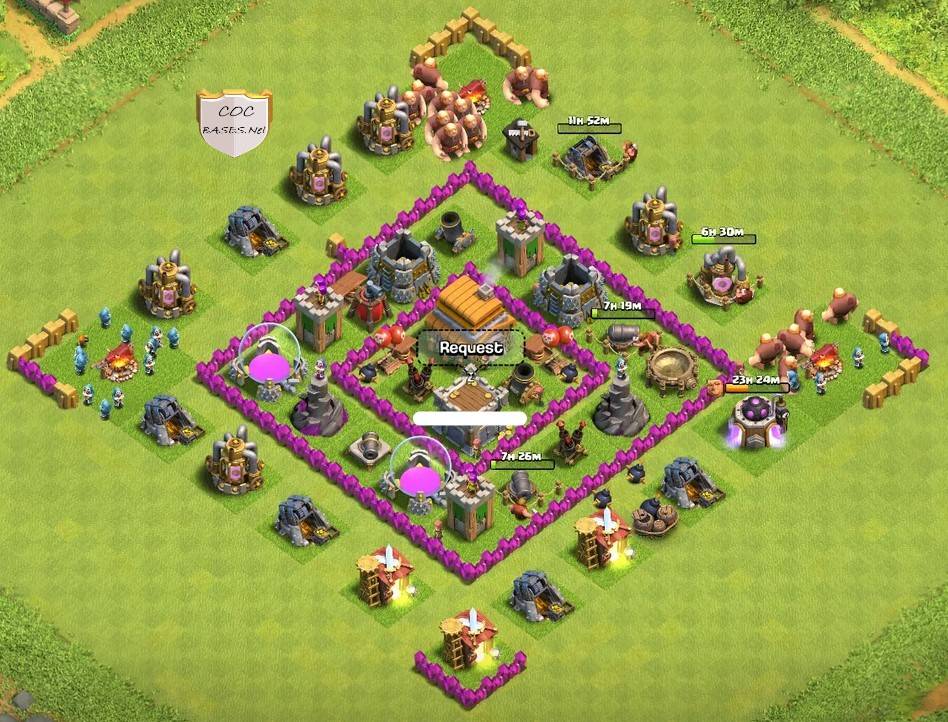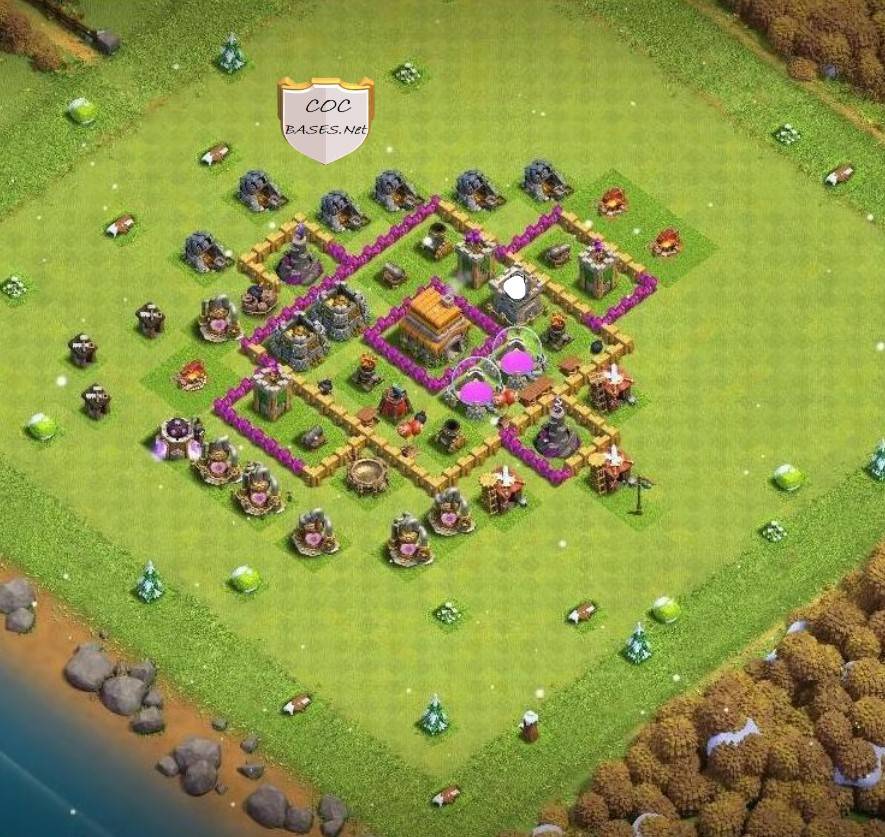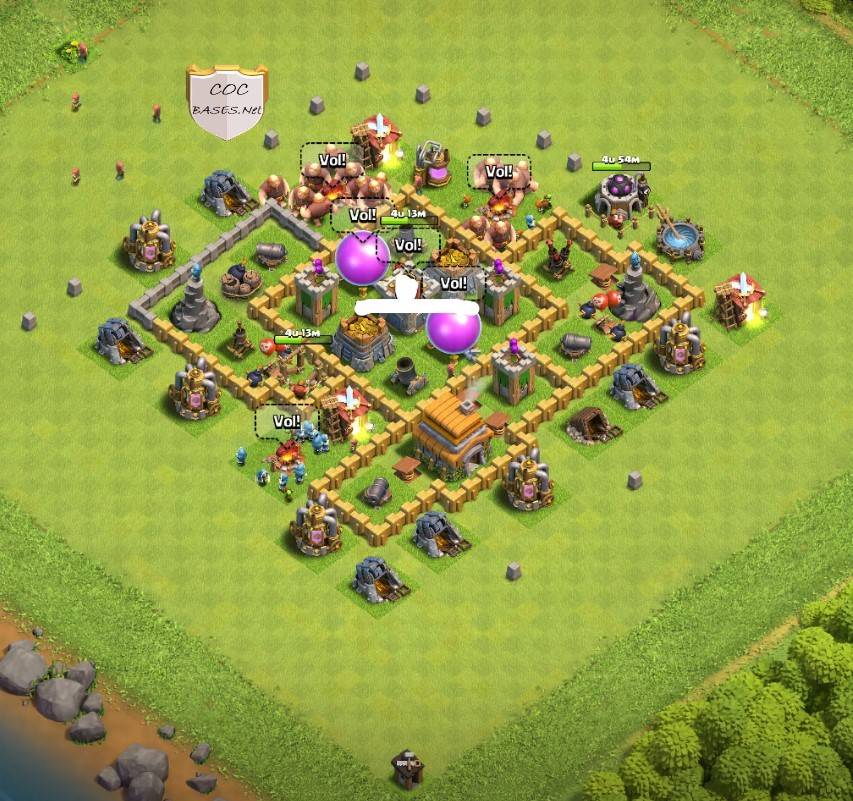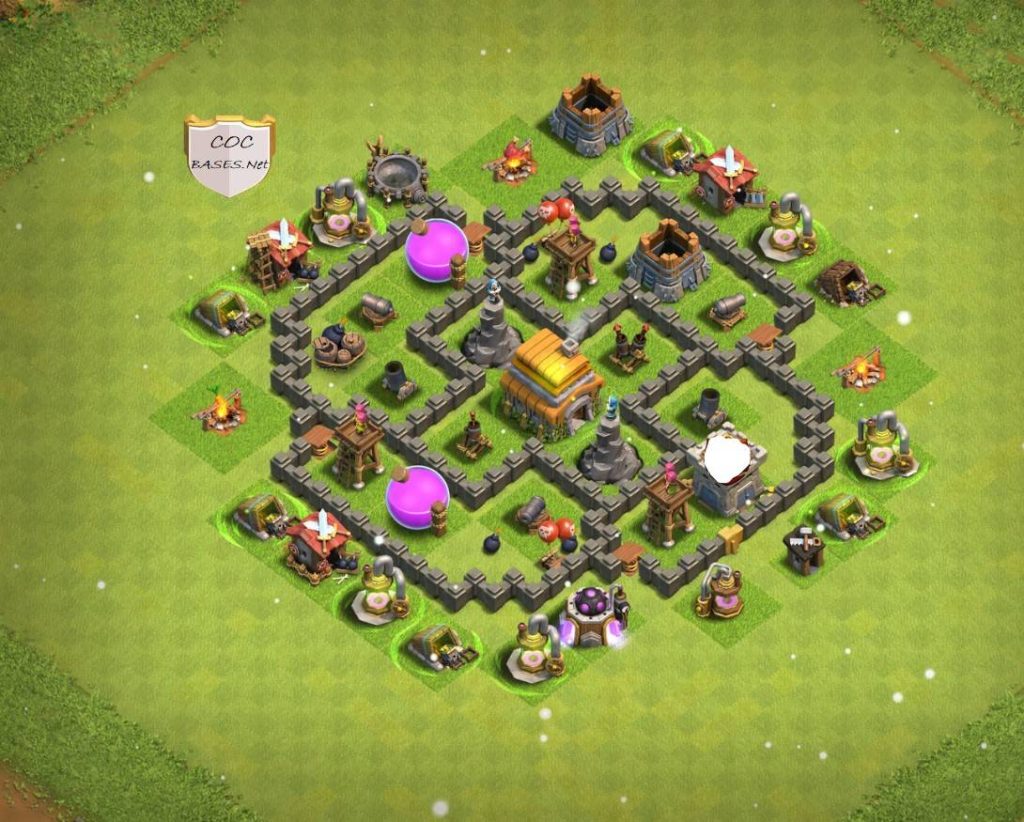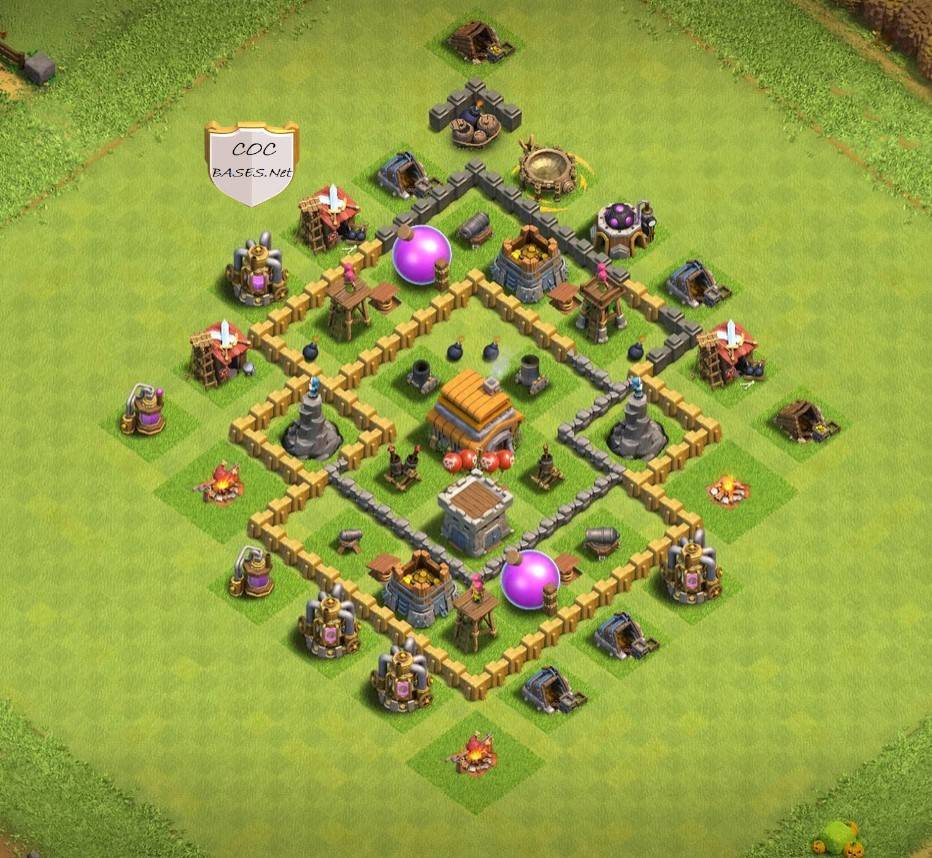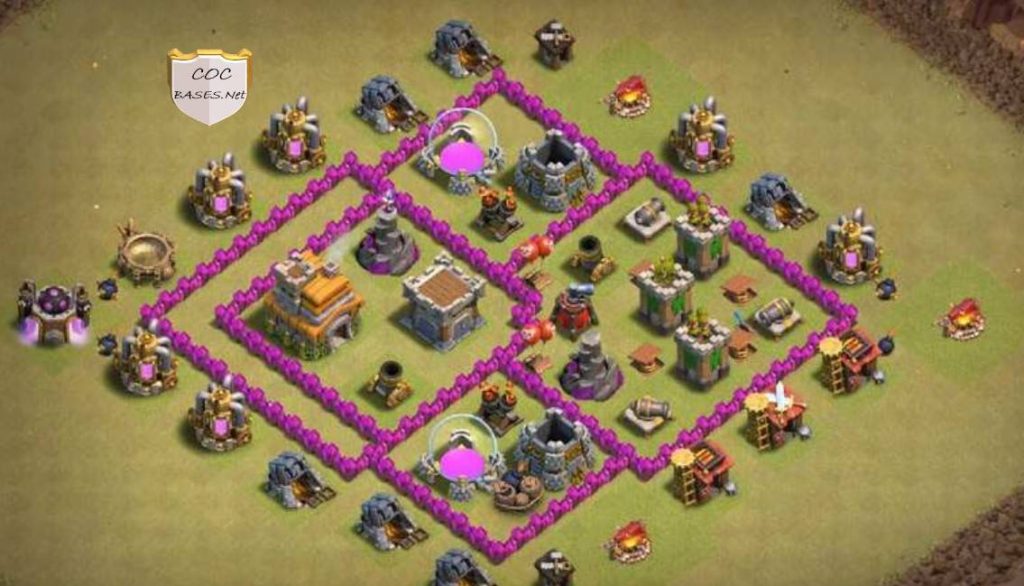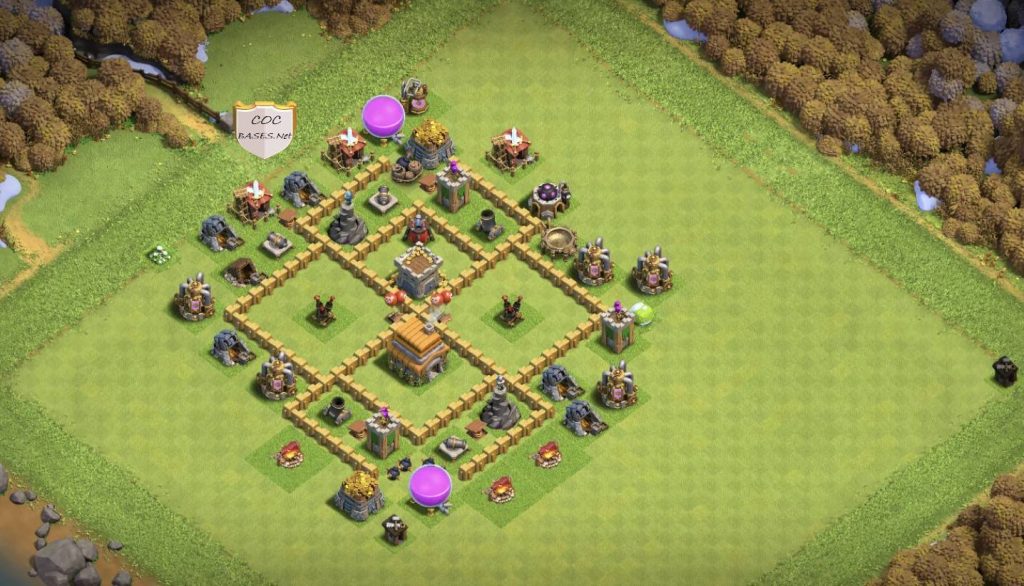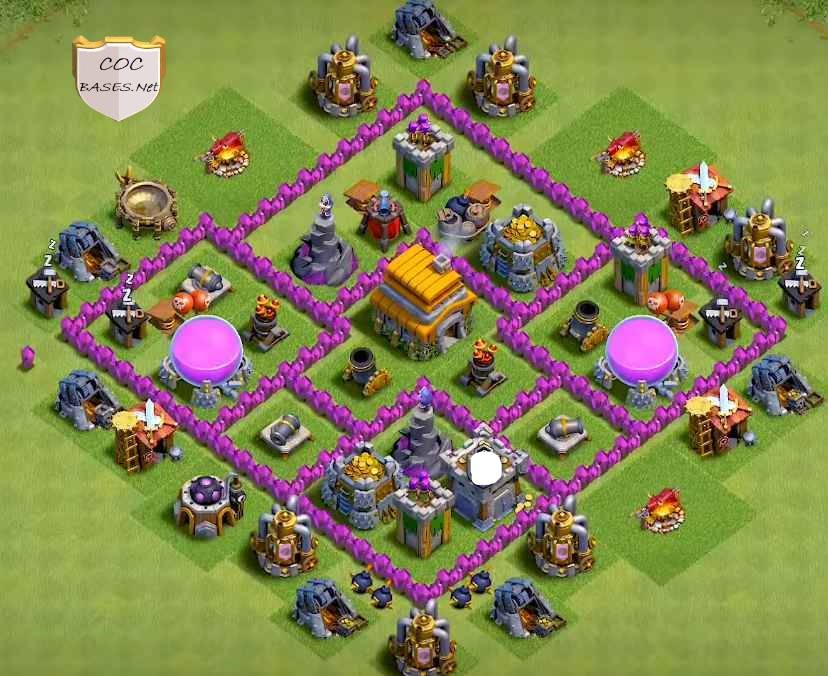 Clash of Clans Town Hall 6 Max War Base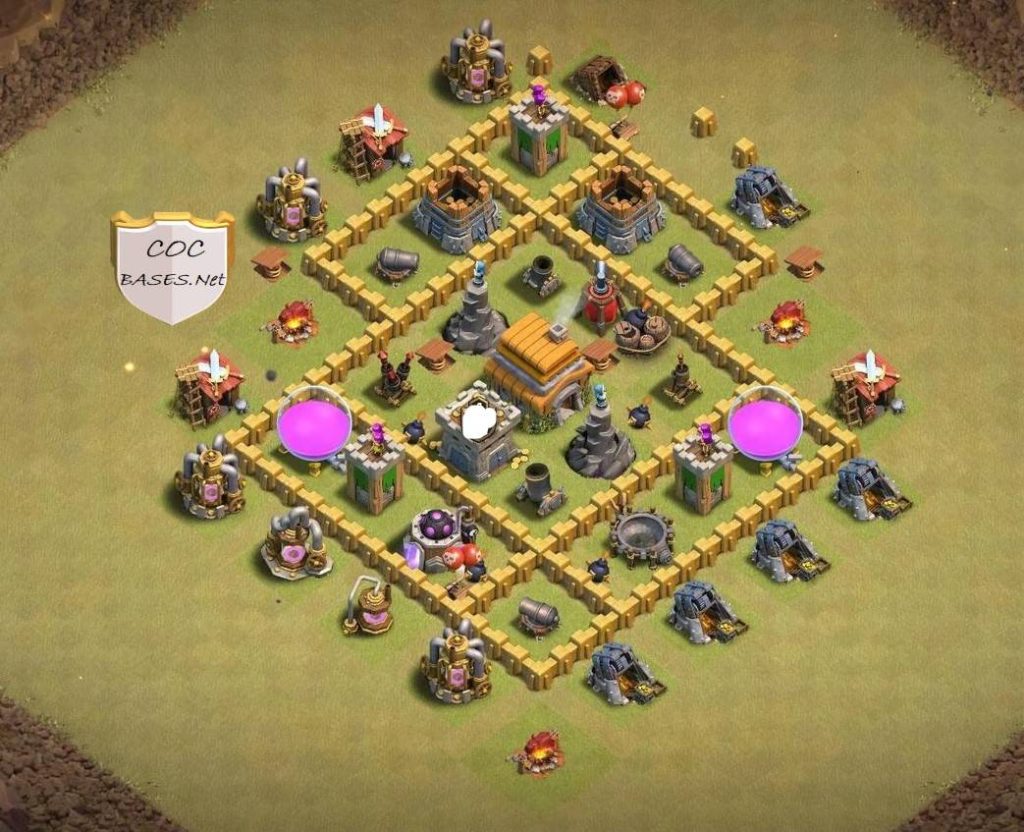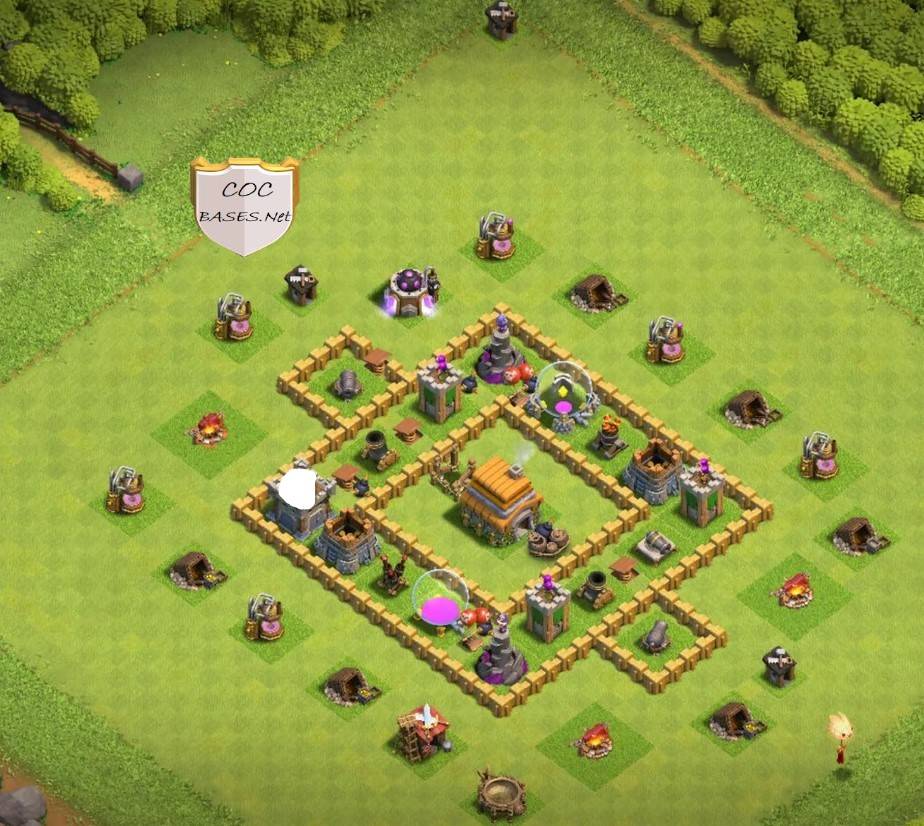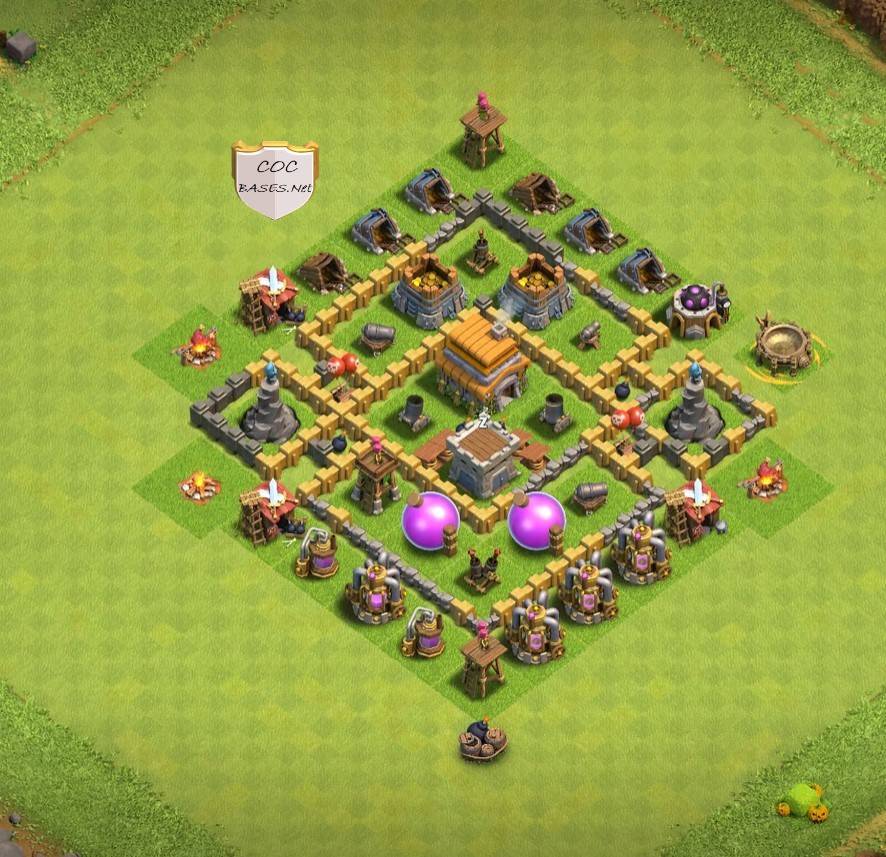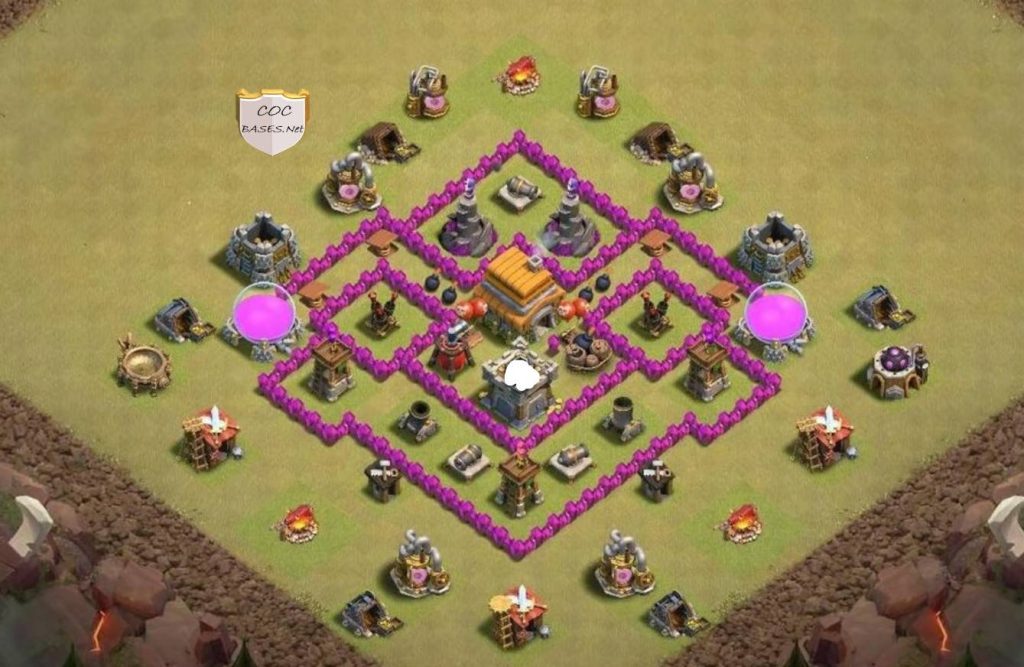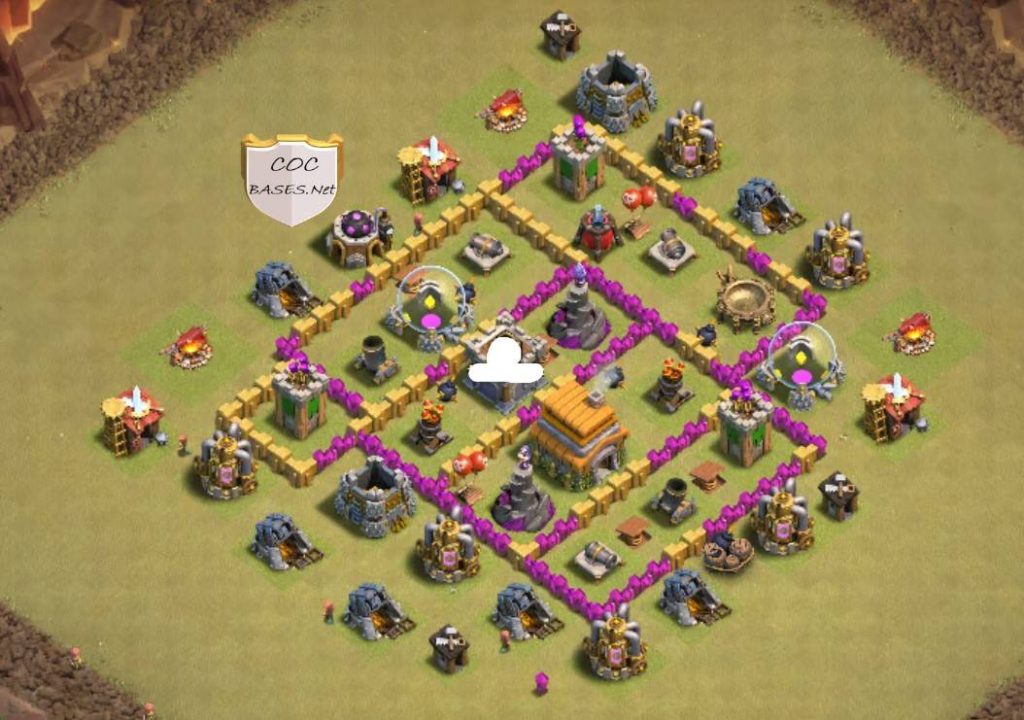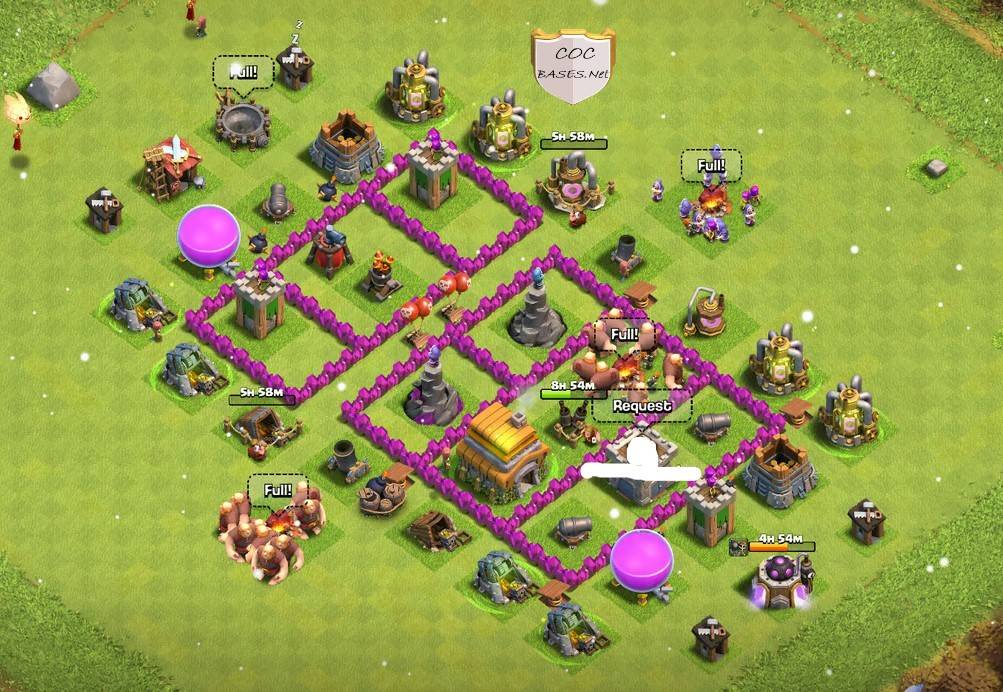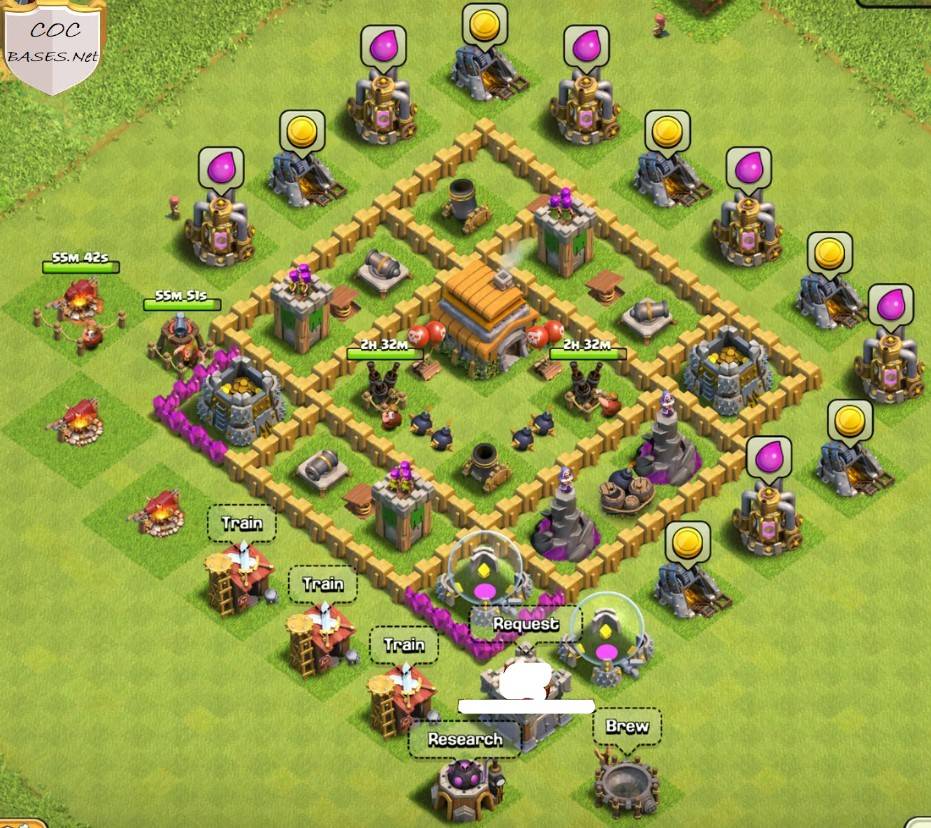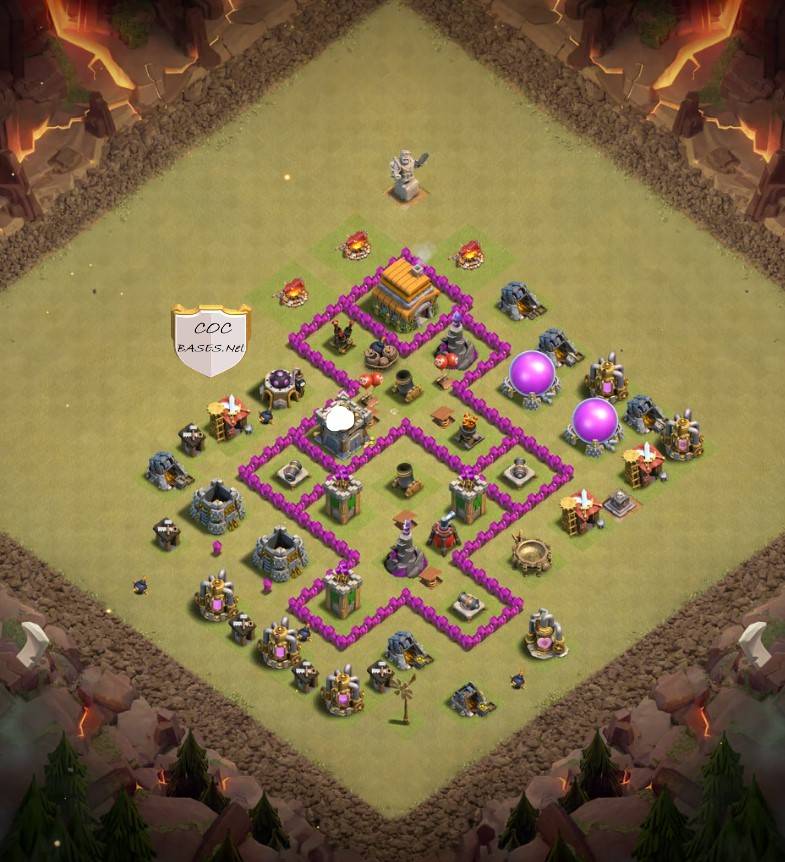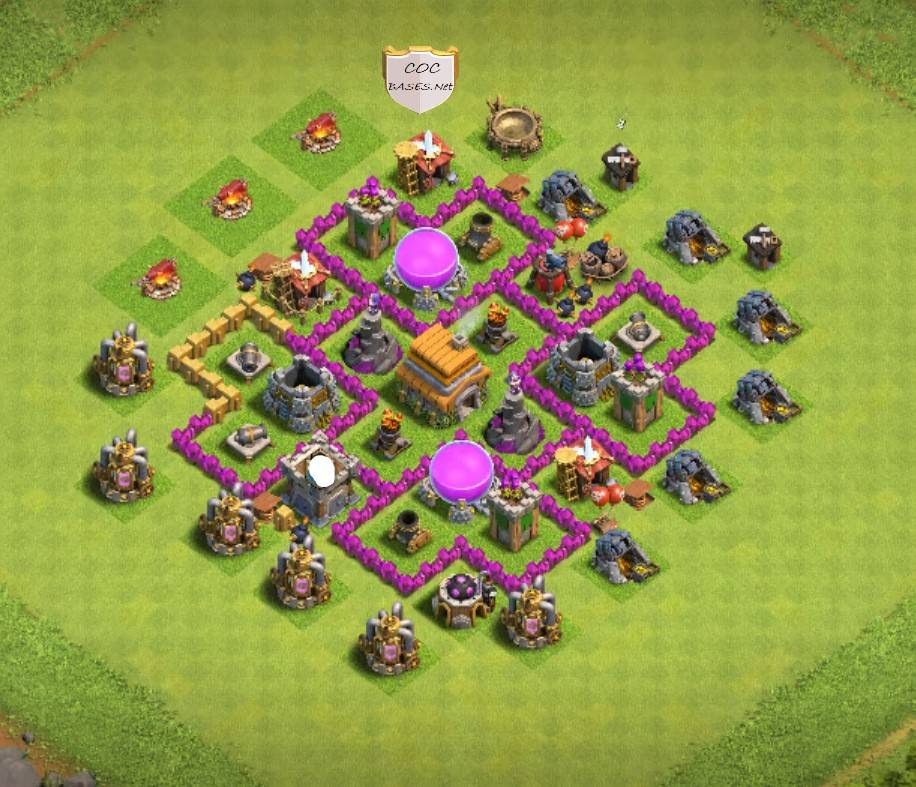 Clash of Clans TH6 War Layout with Copy Link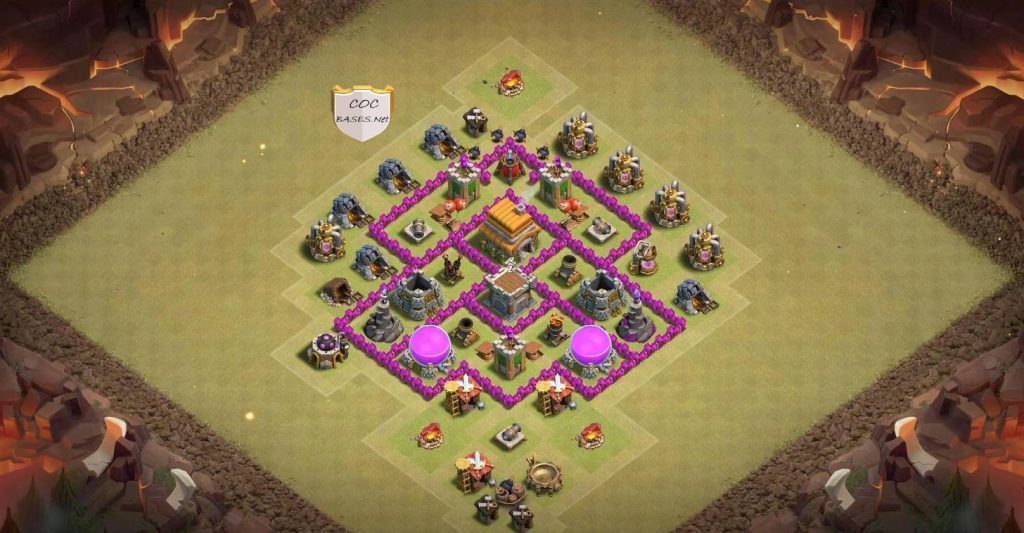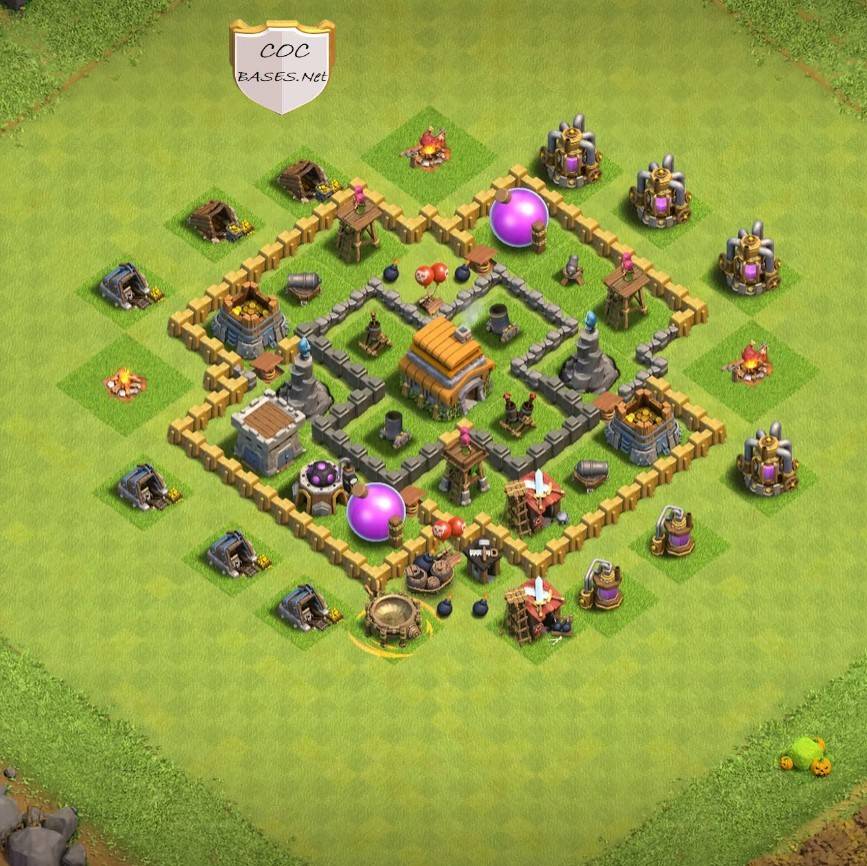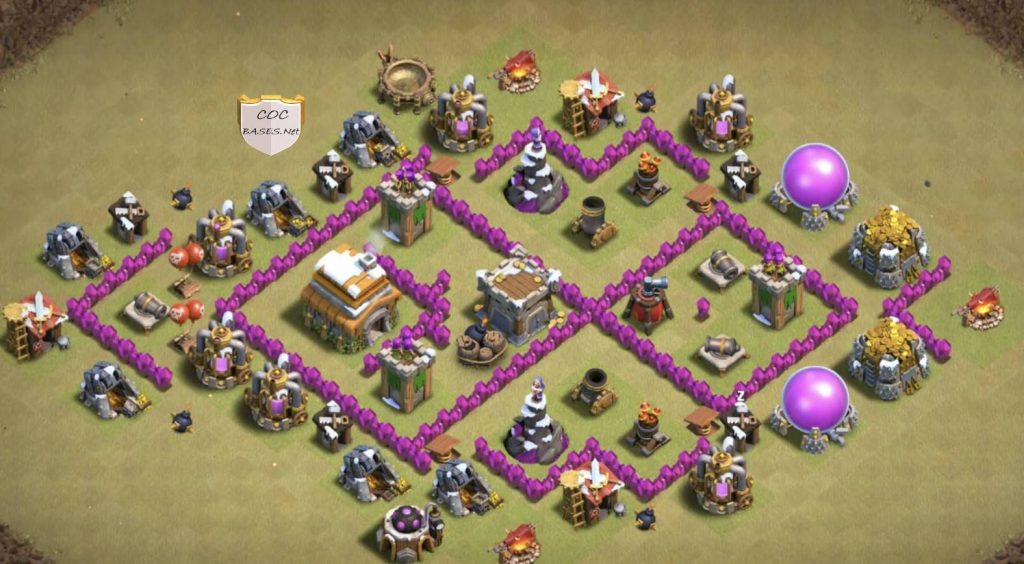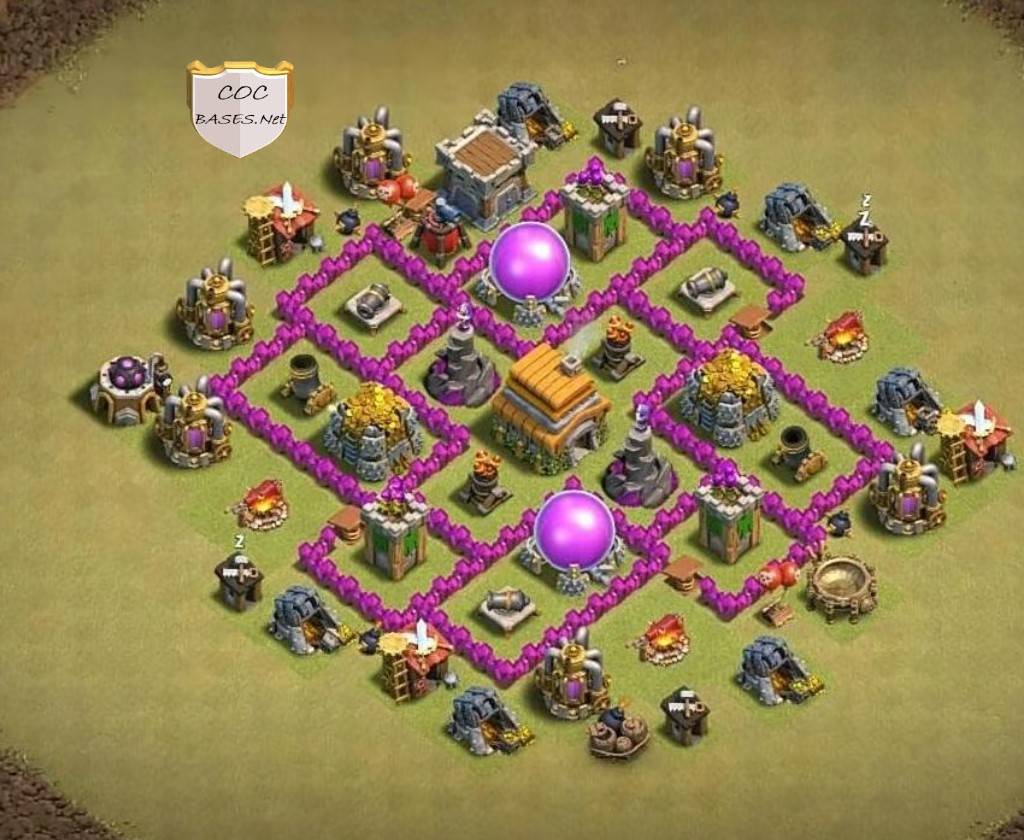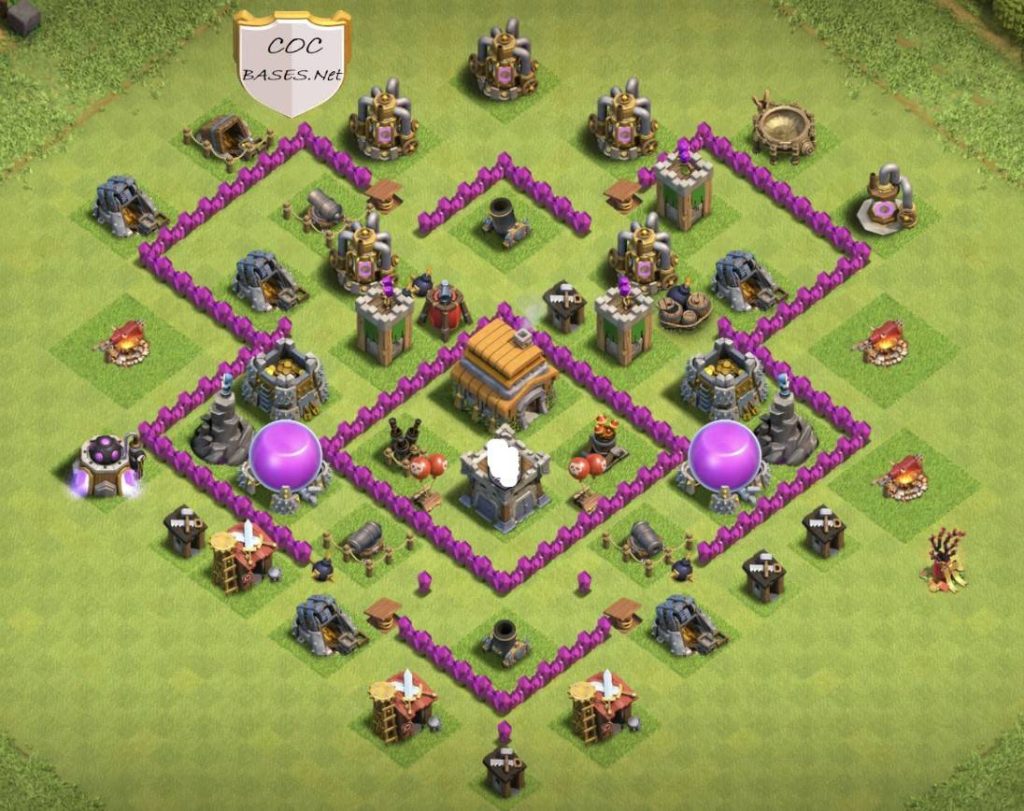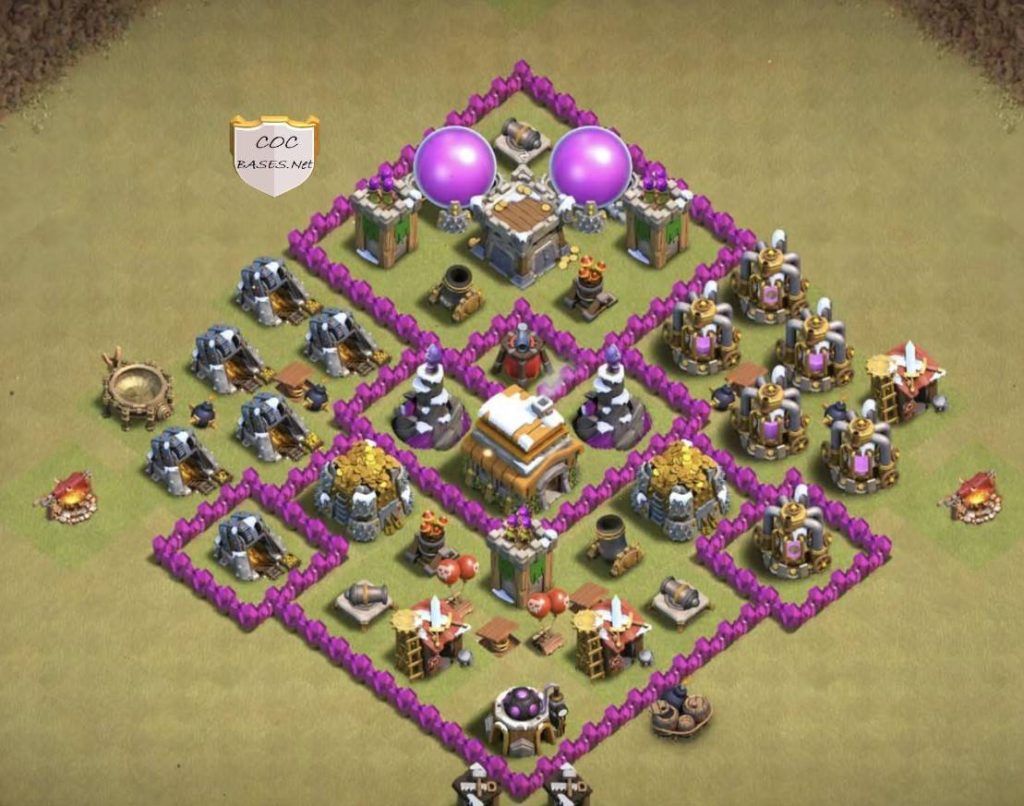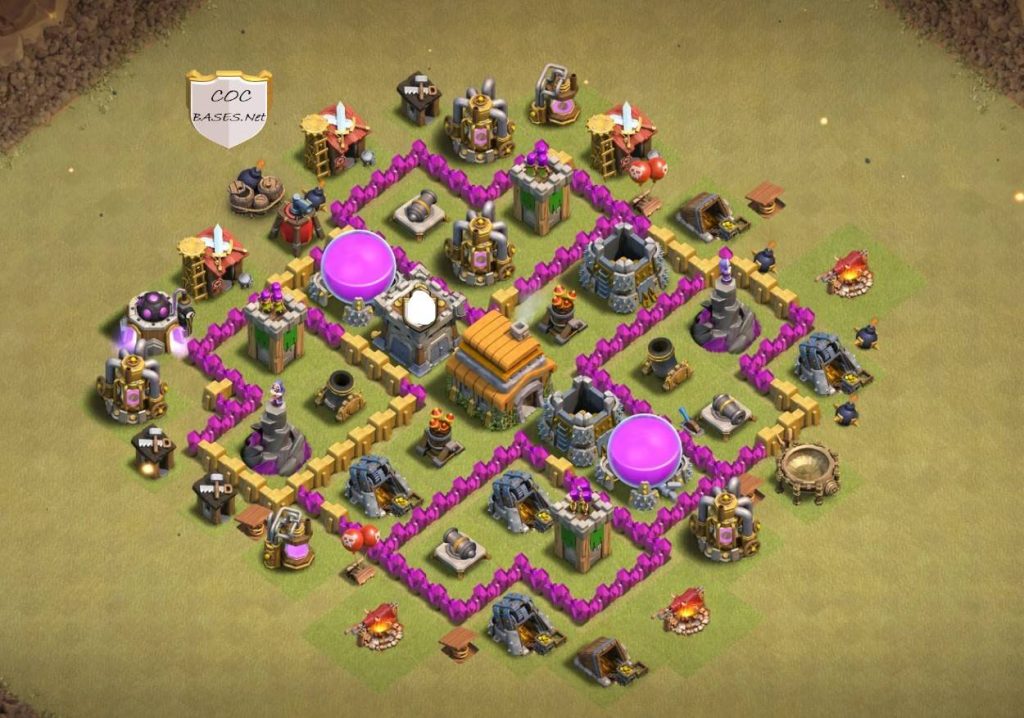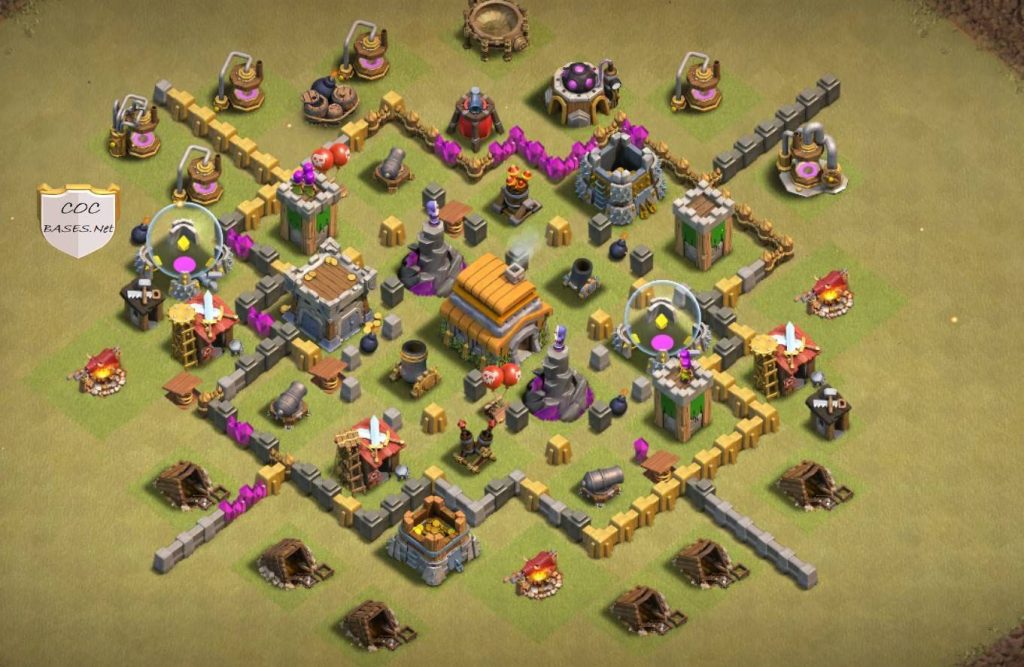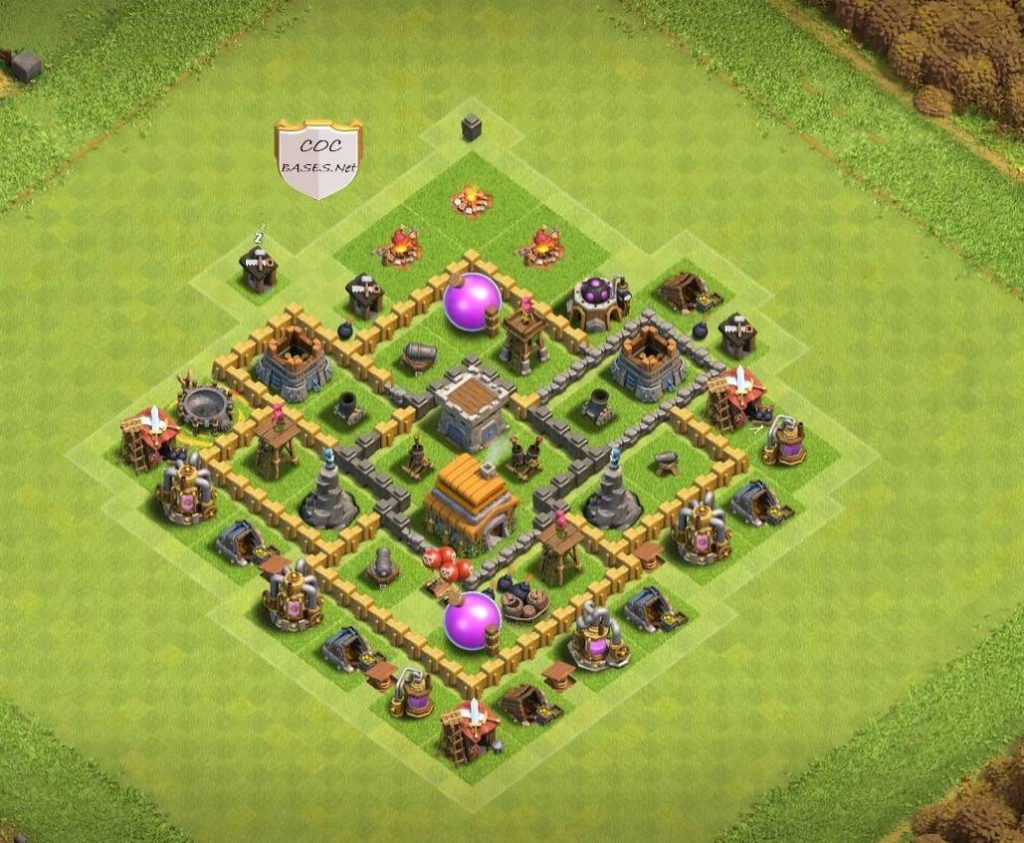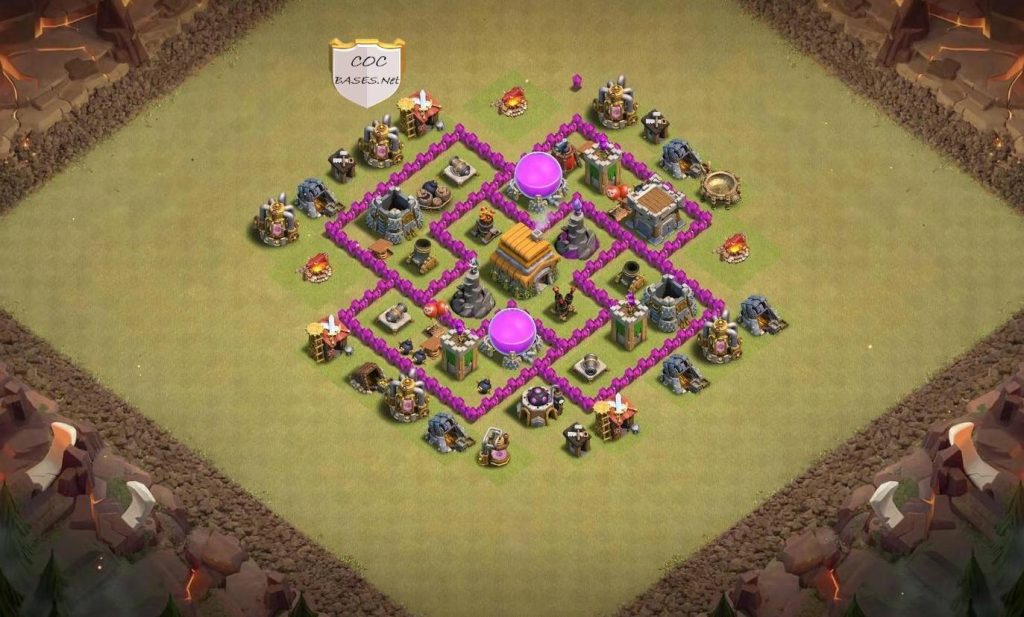 Town Hall 6 War Base Best Defense Layout Link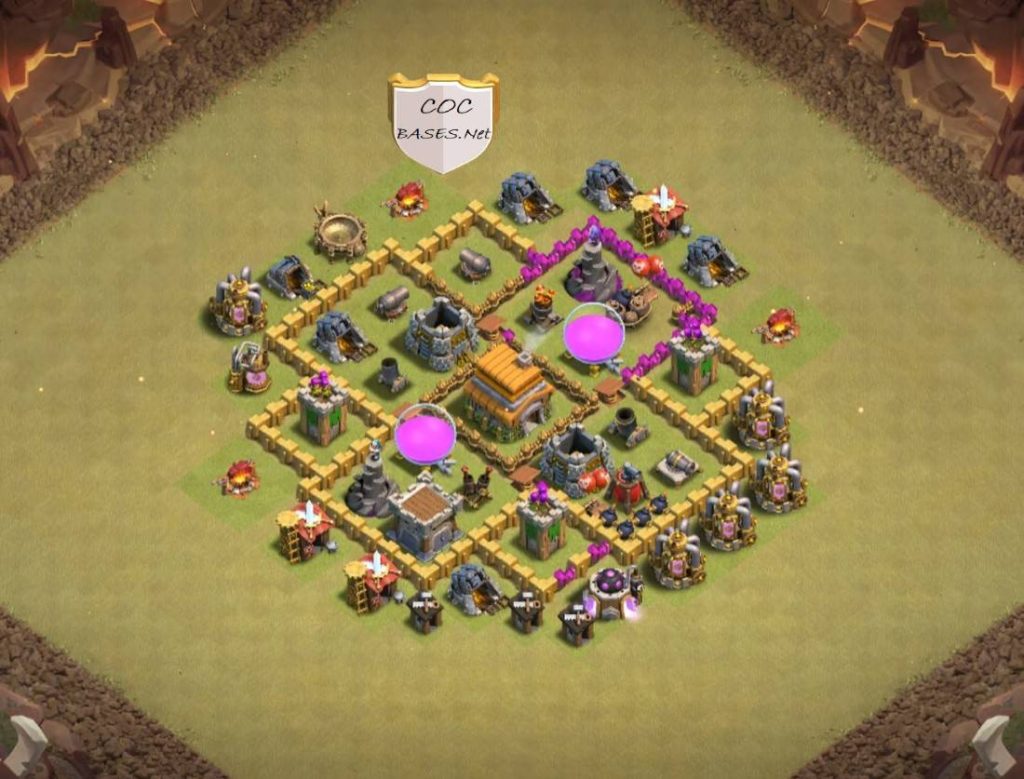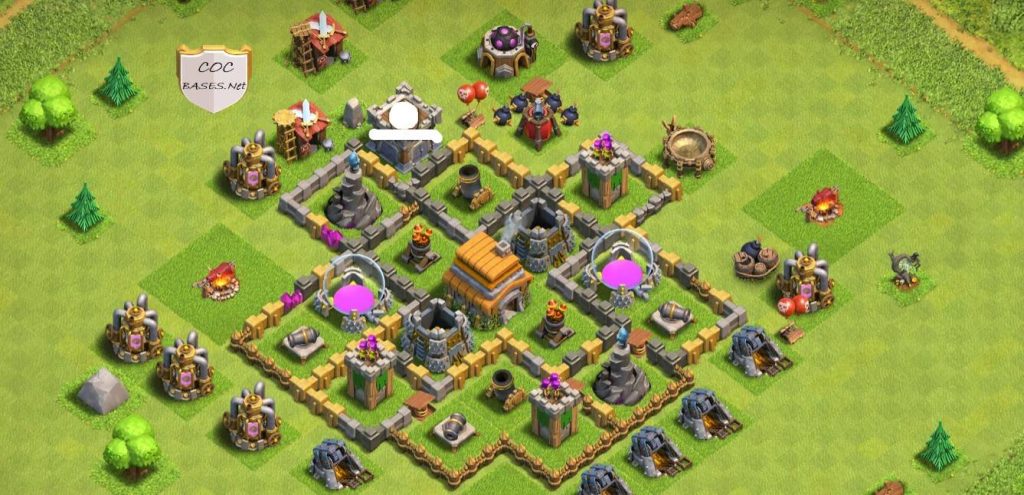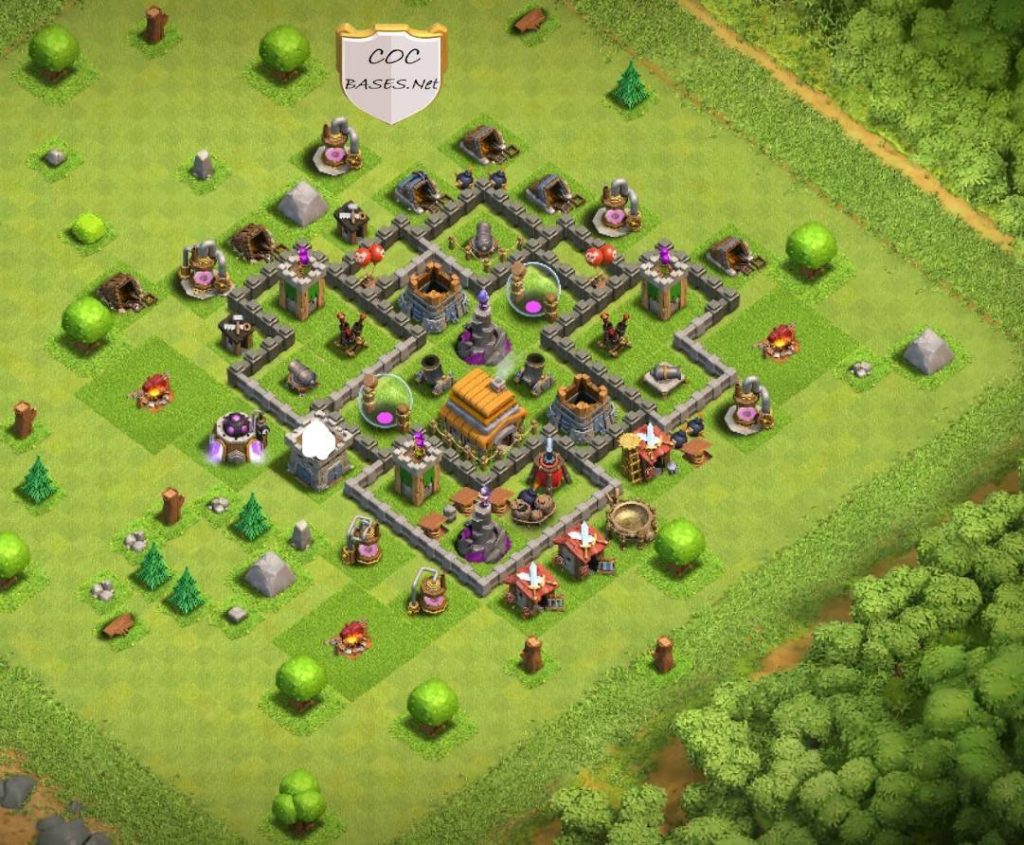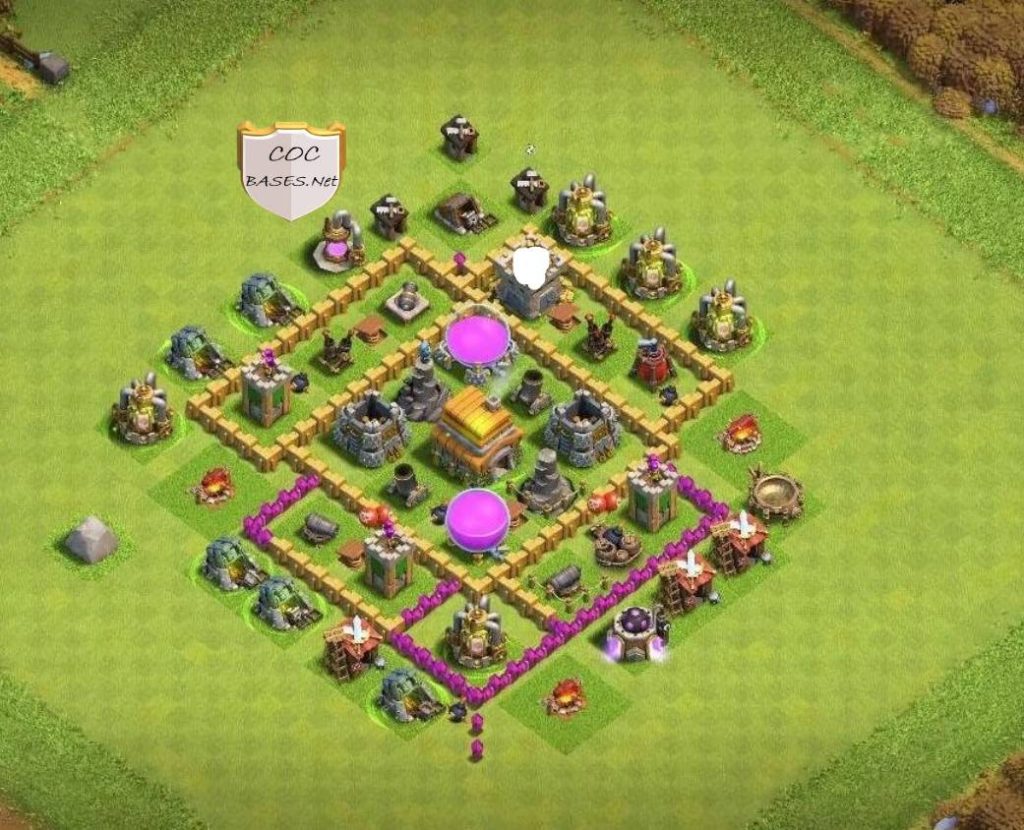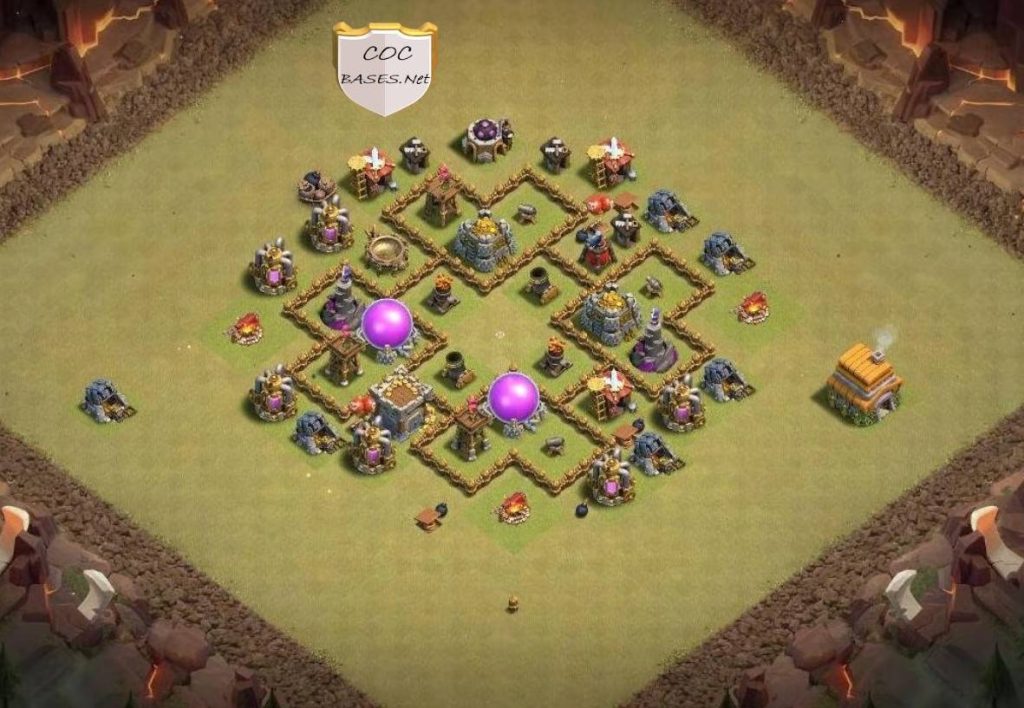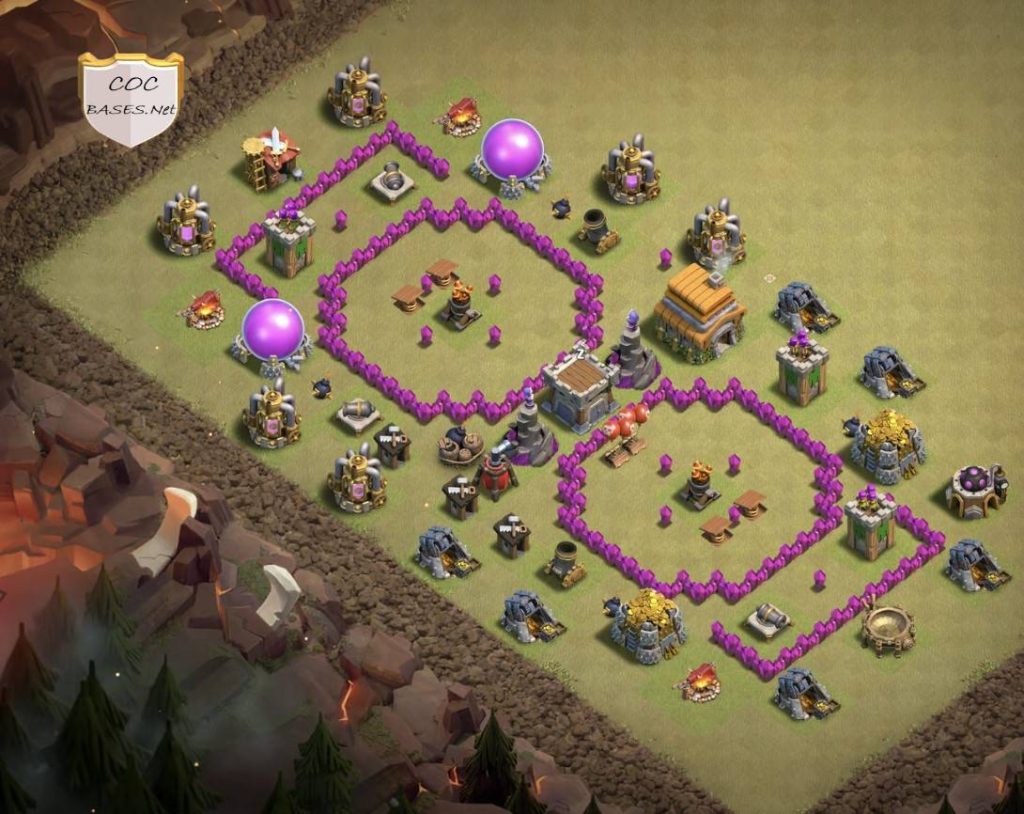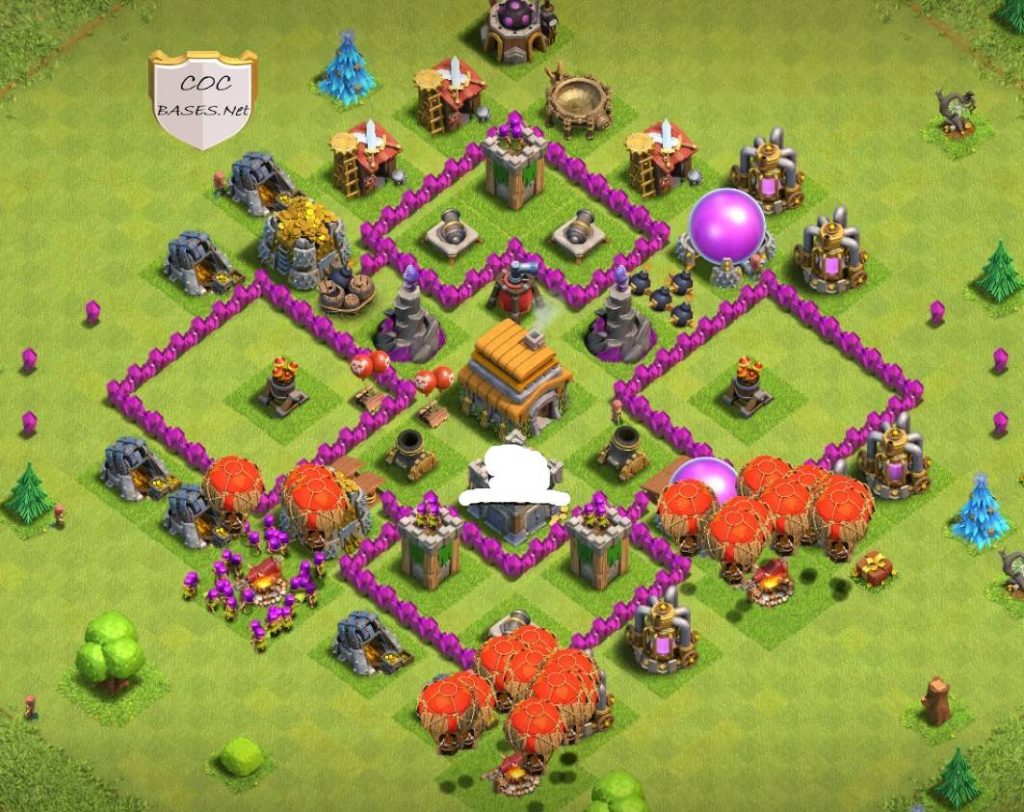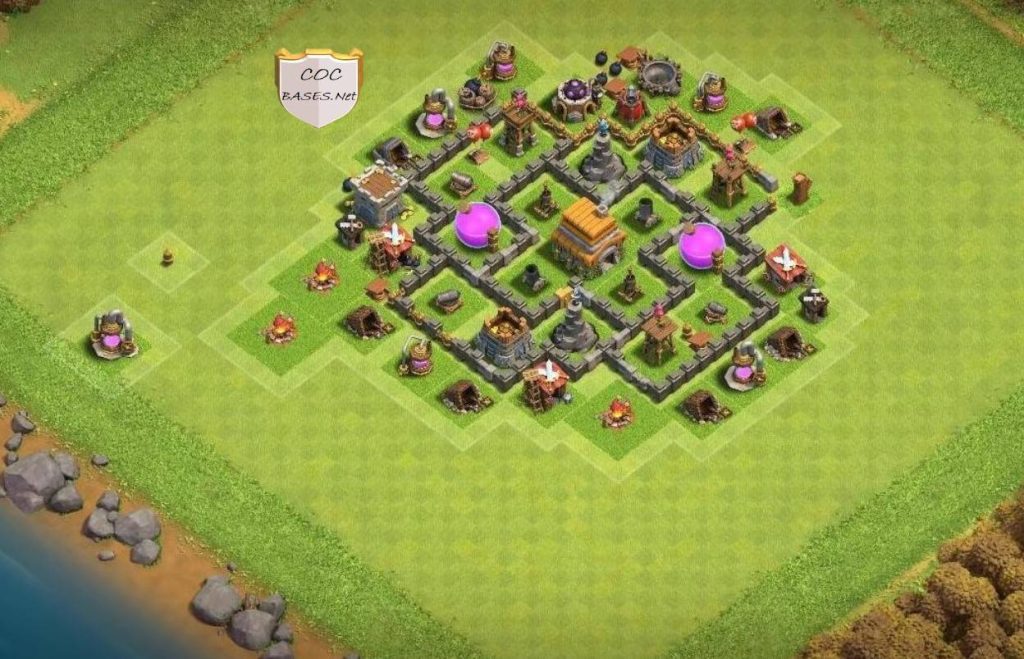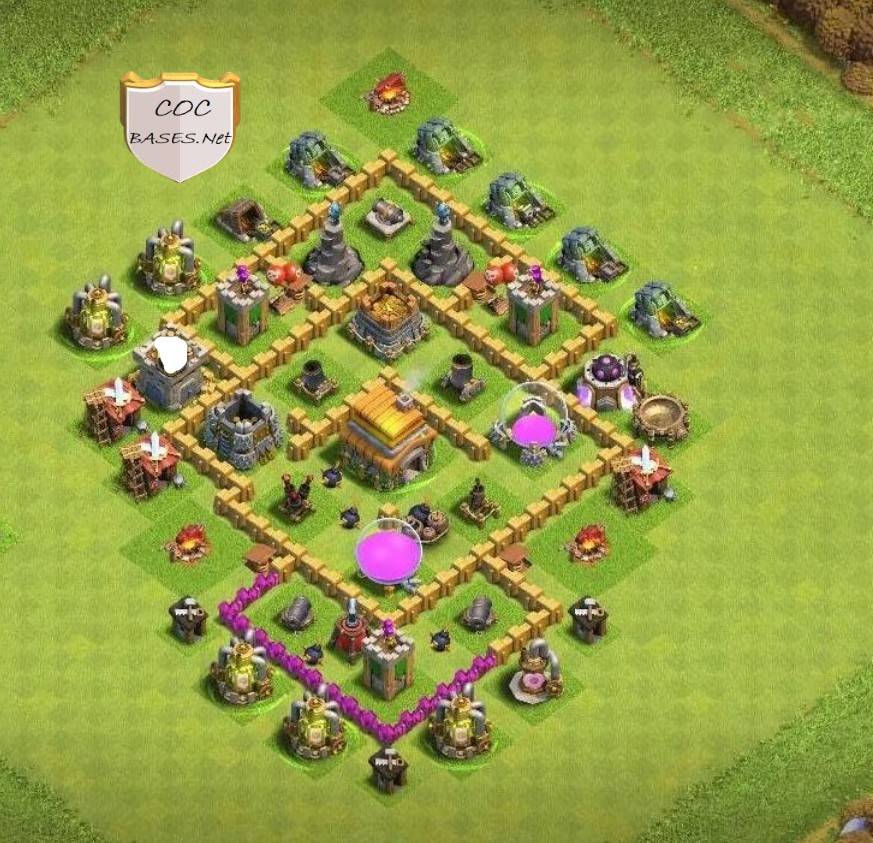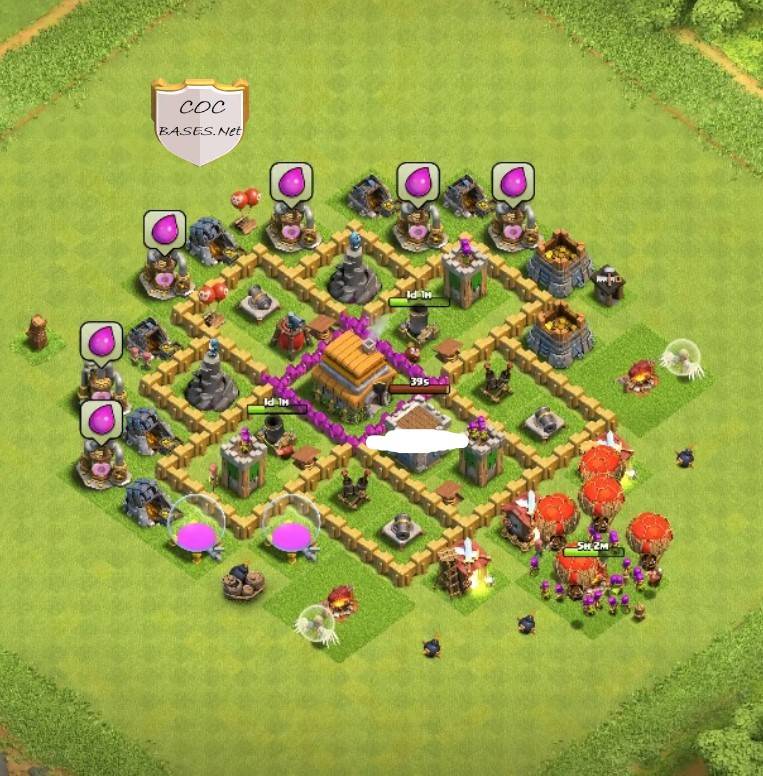 Town Hall 6 Clan War League Base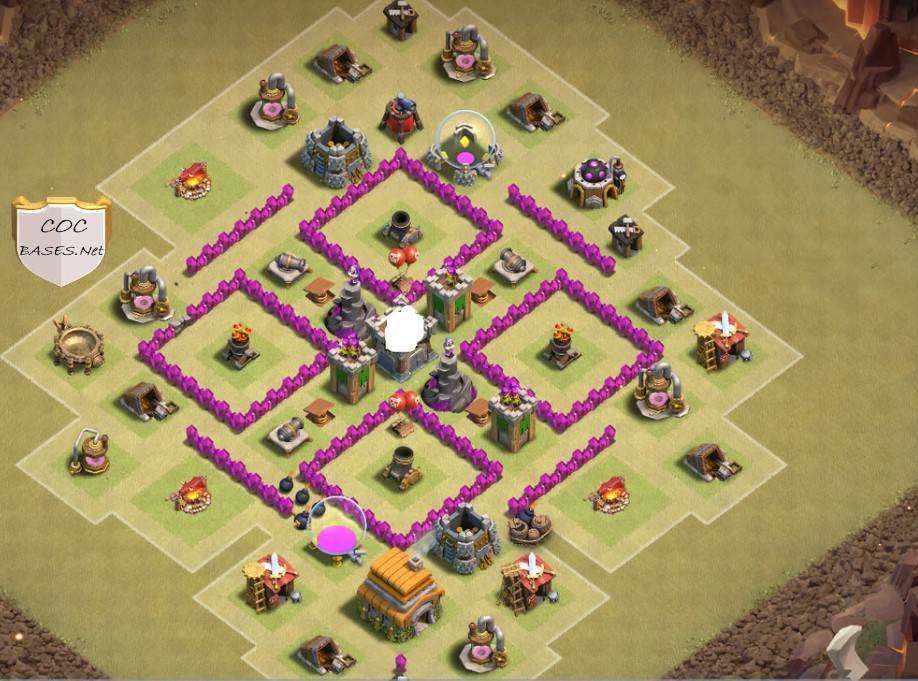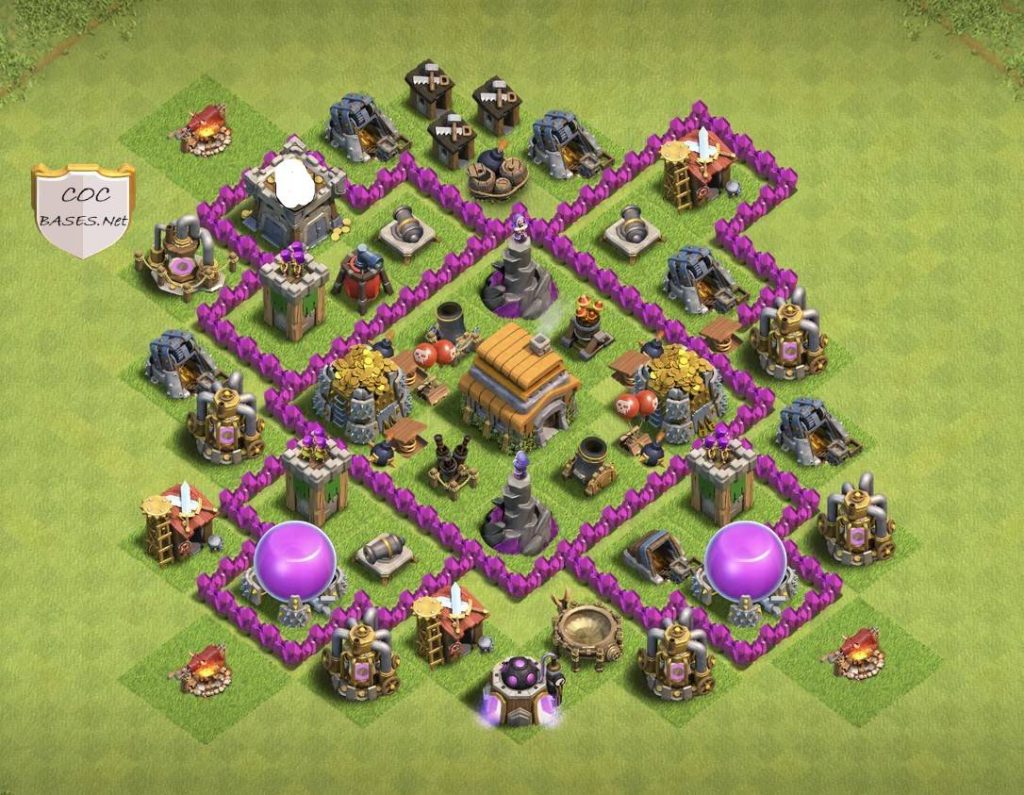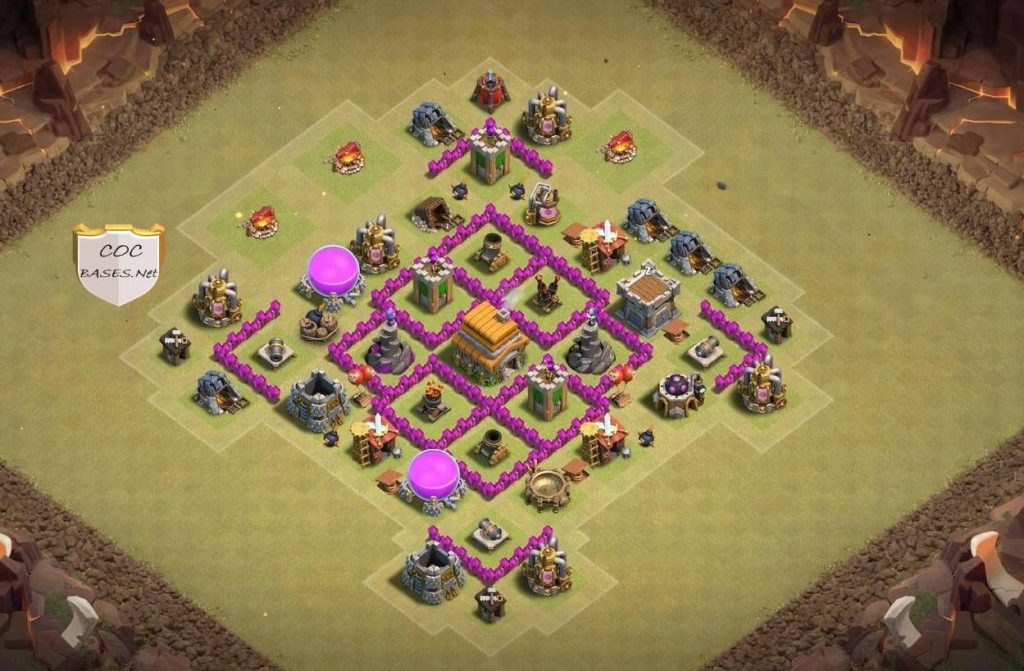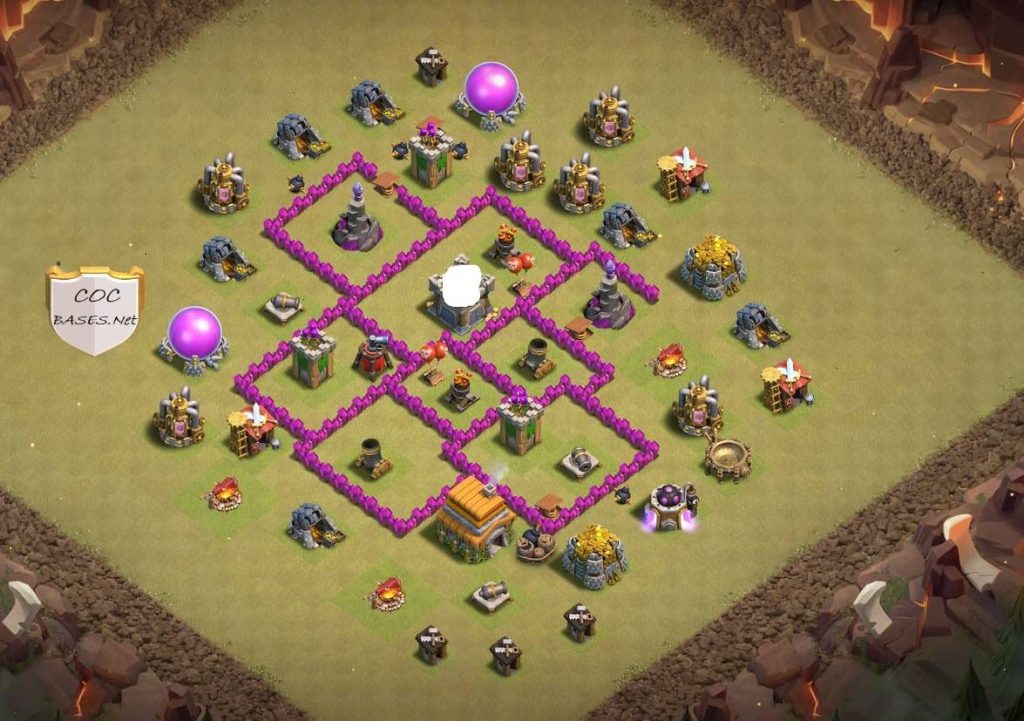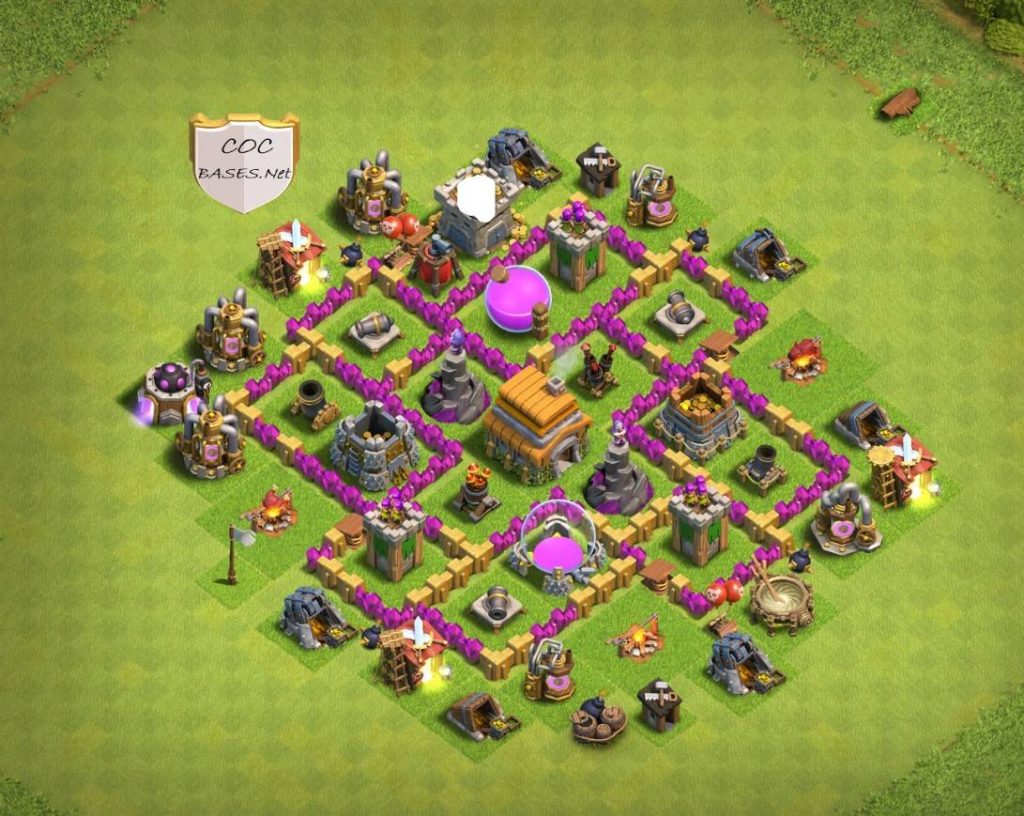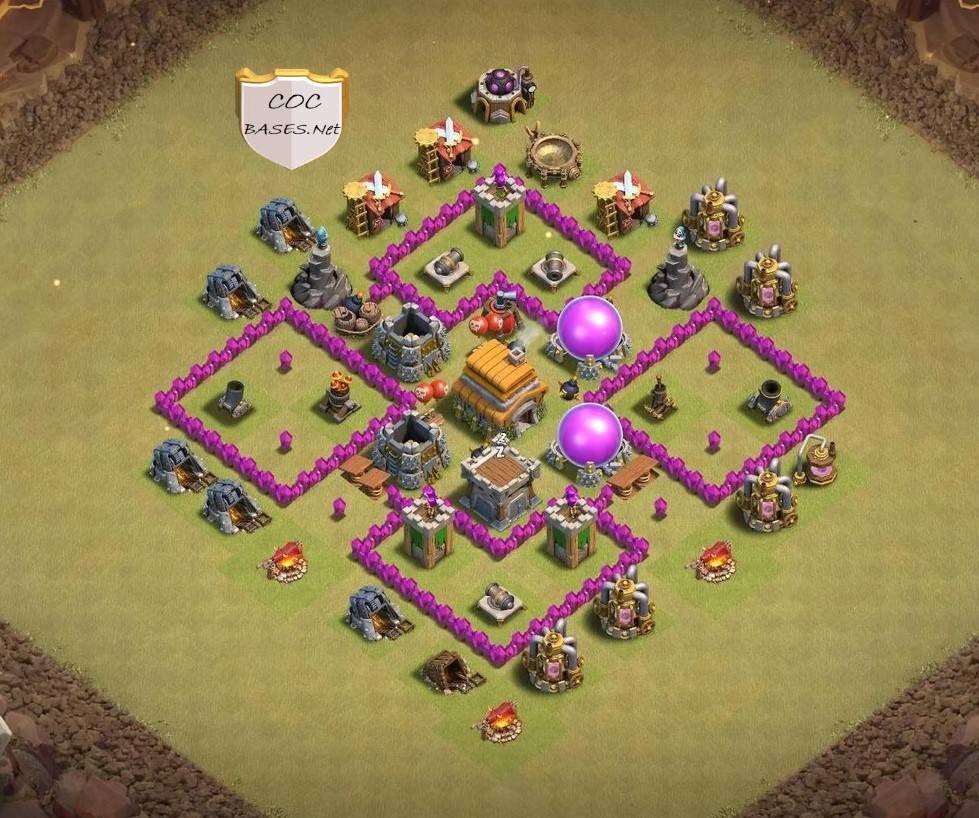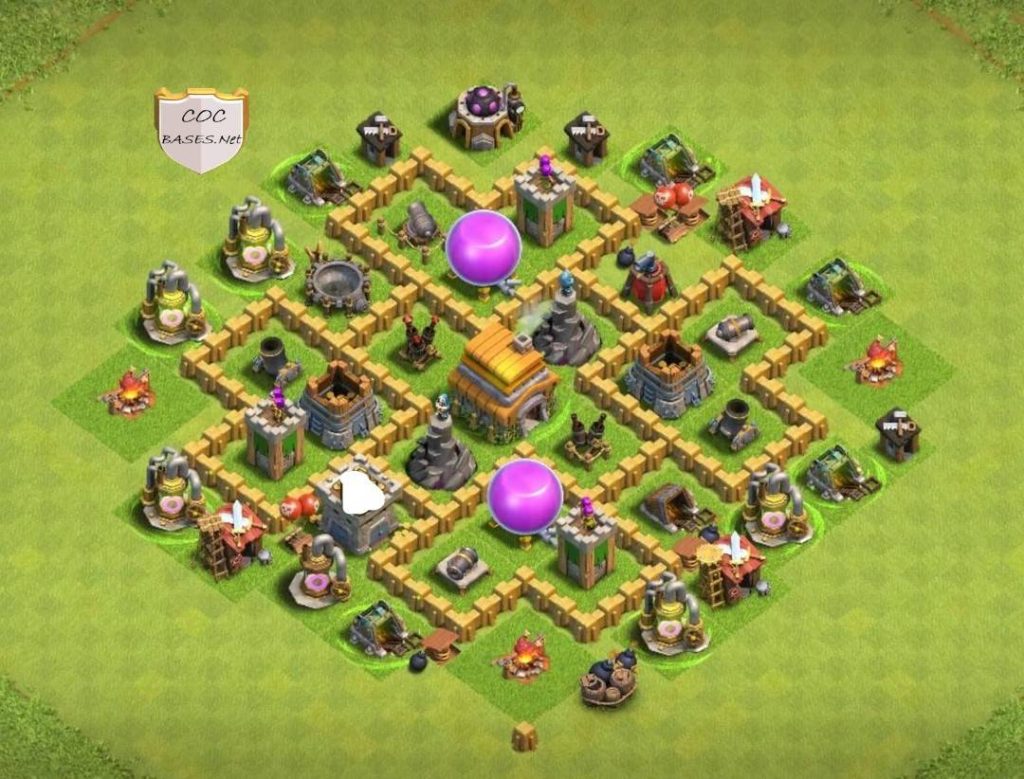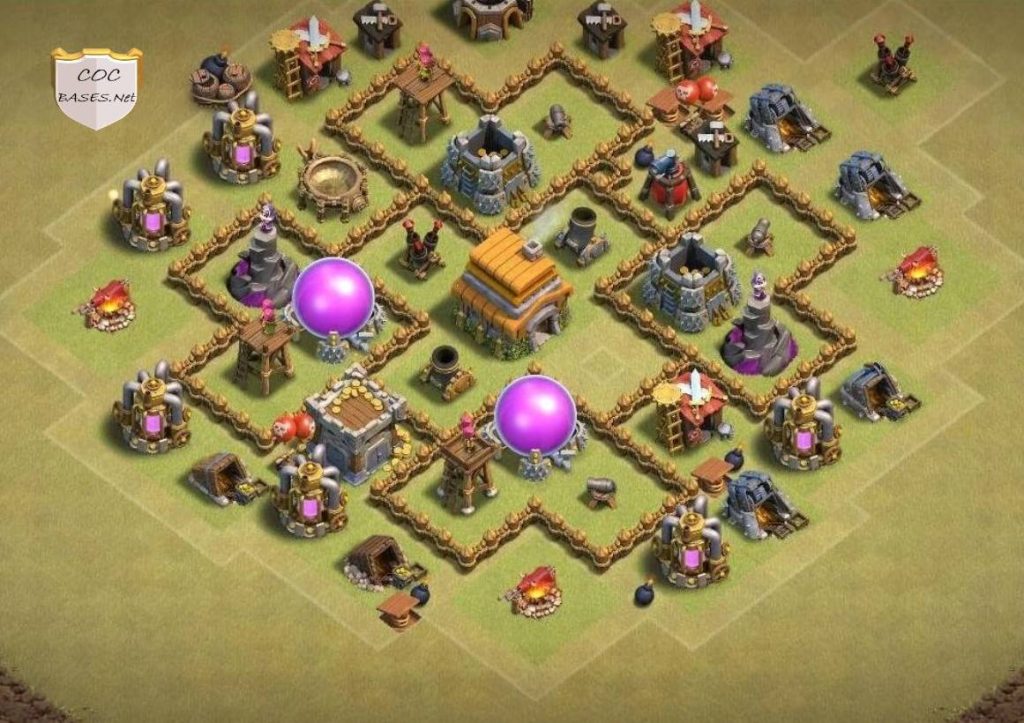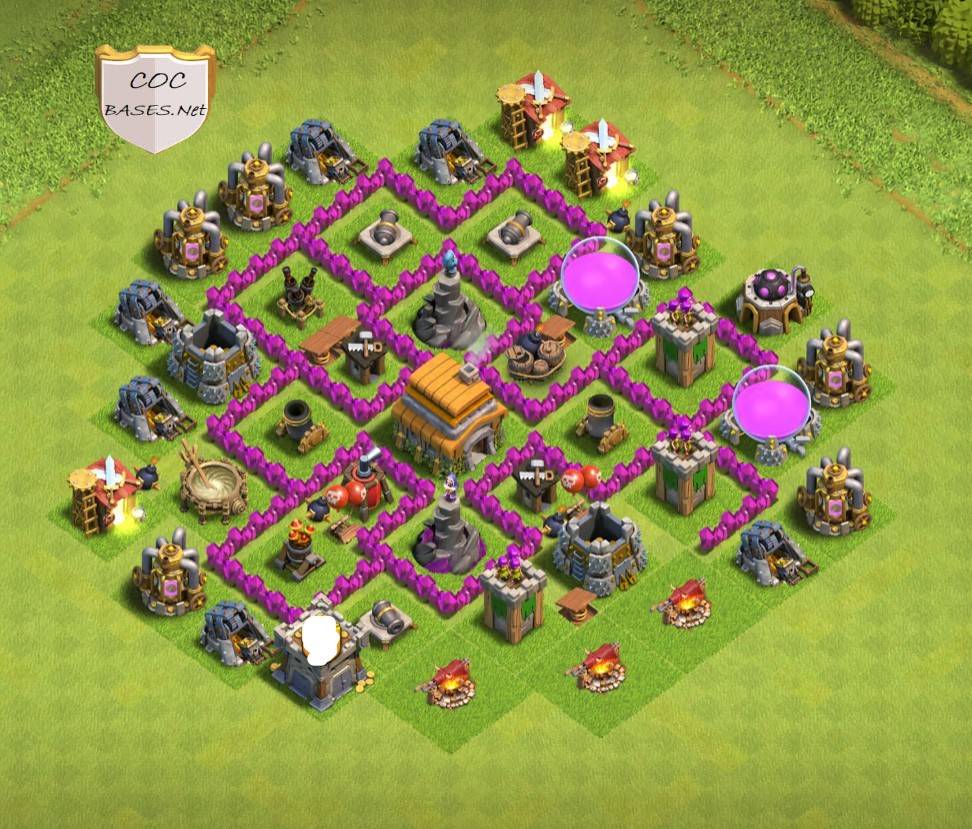 COC TH6 War Layout Base Copy Paste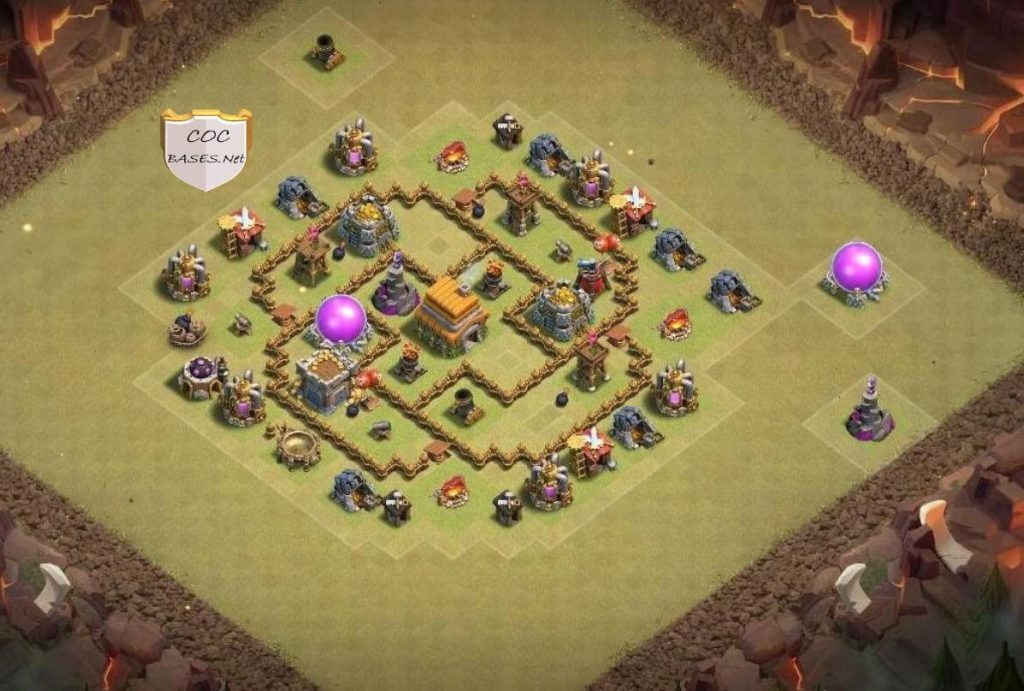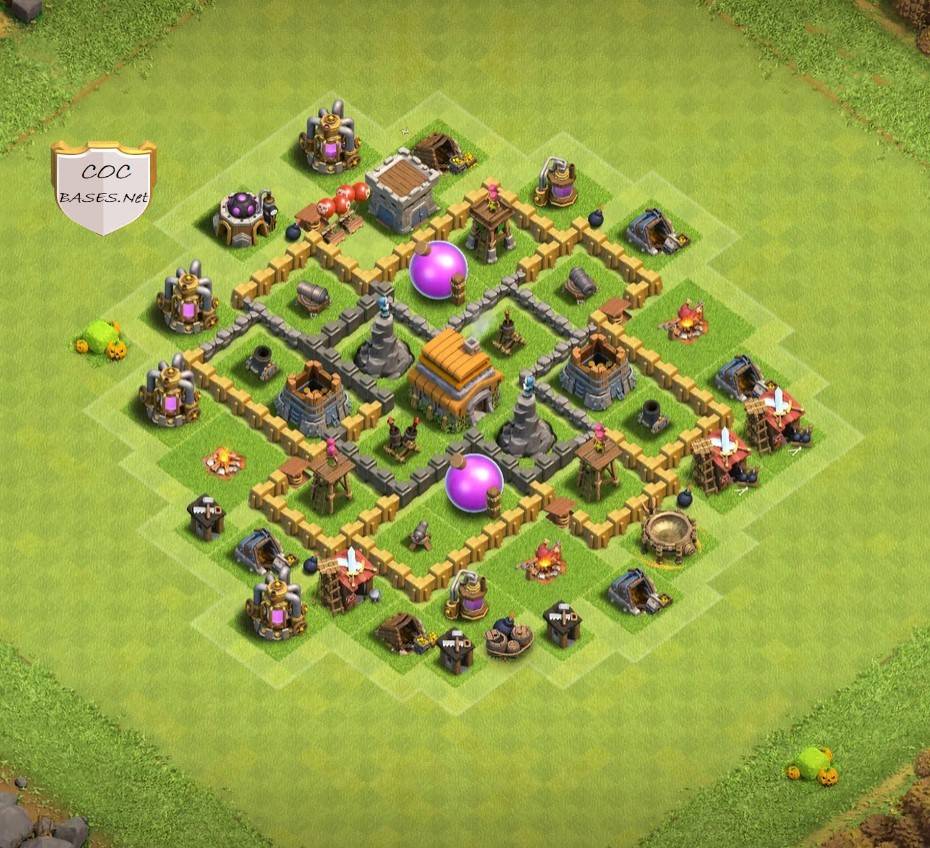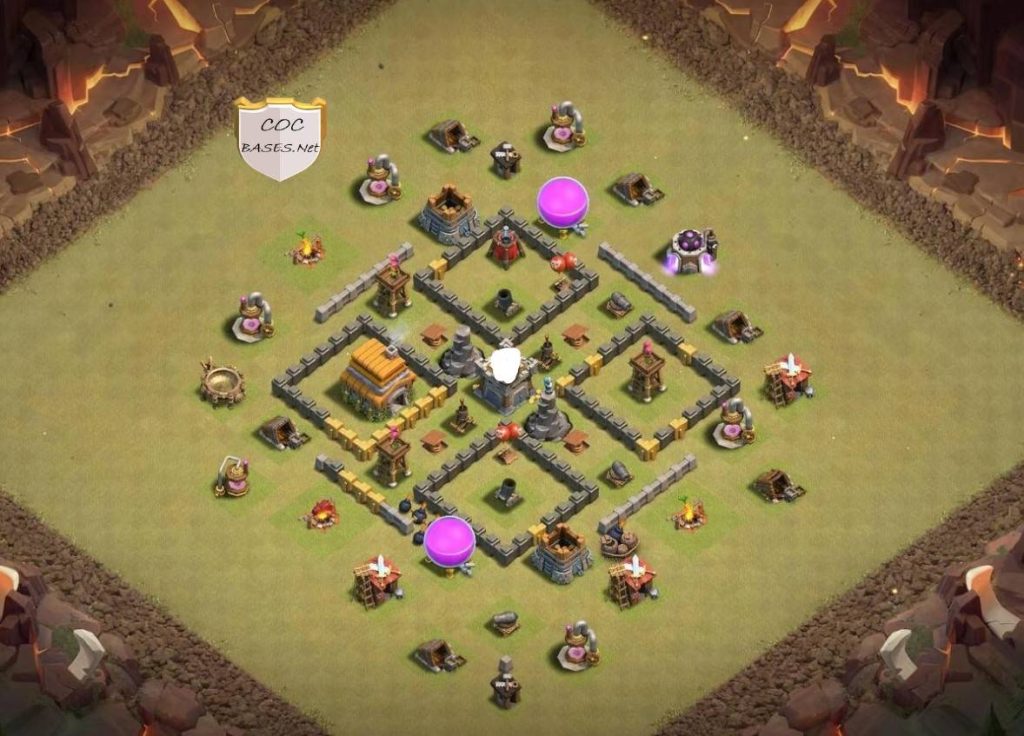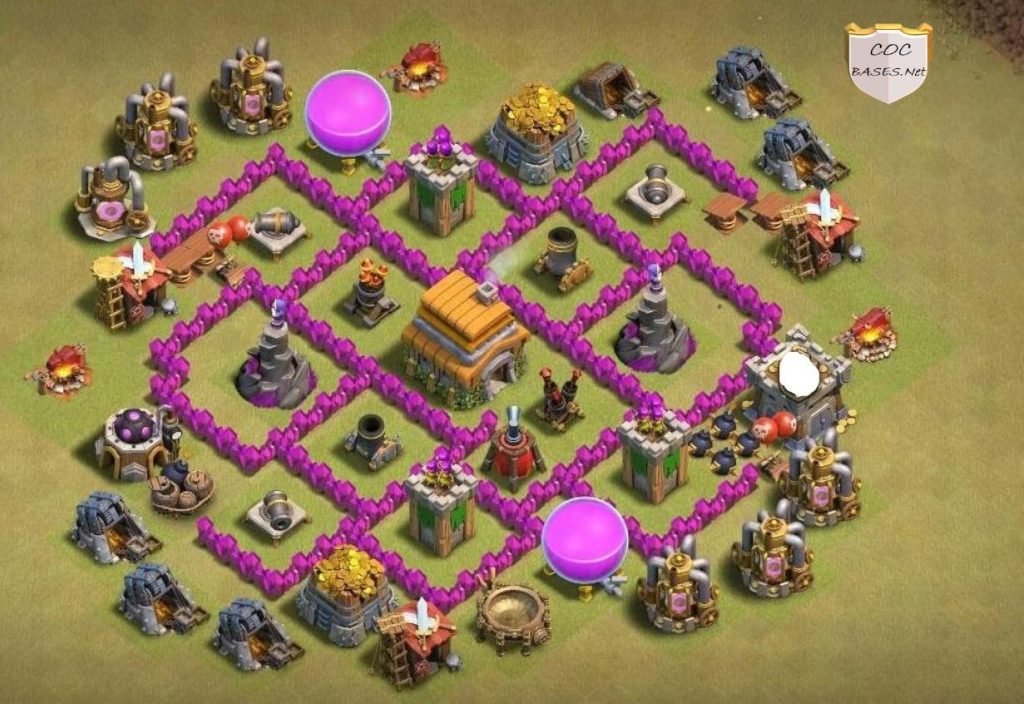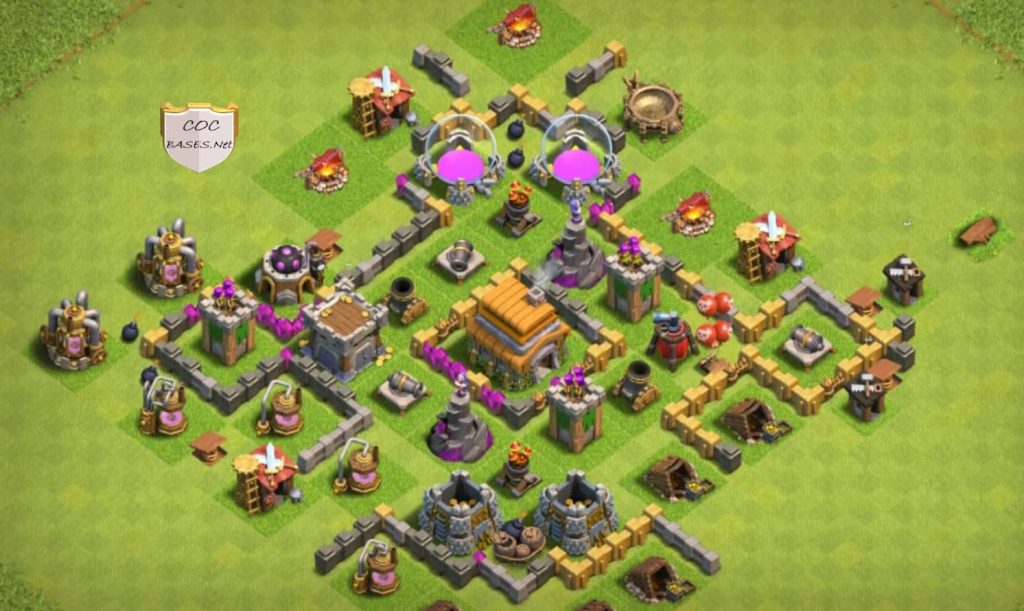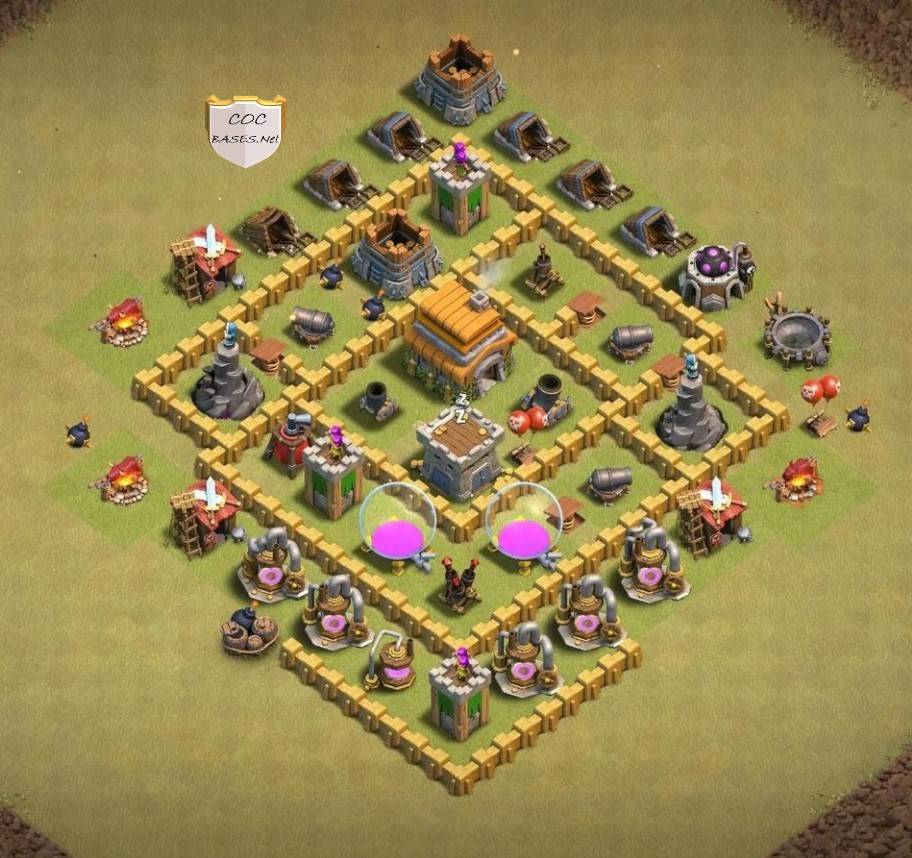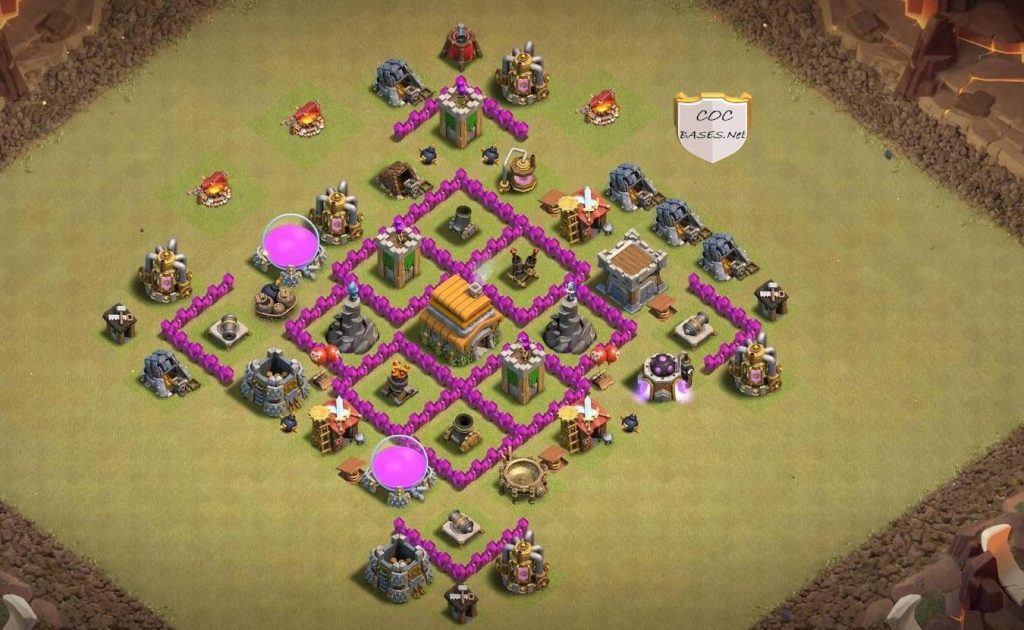 Anti Air TownHall 6 War Base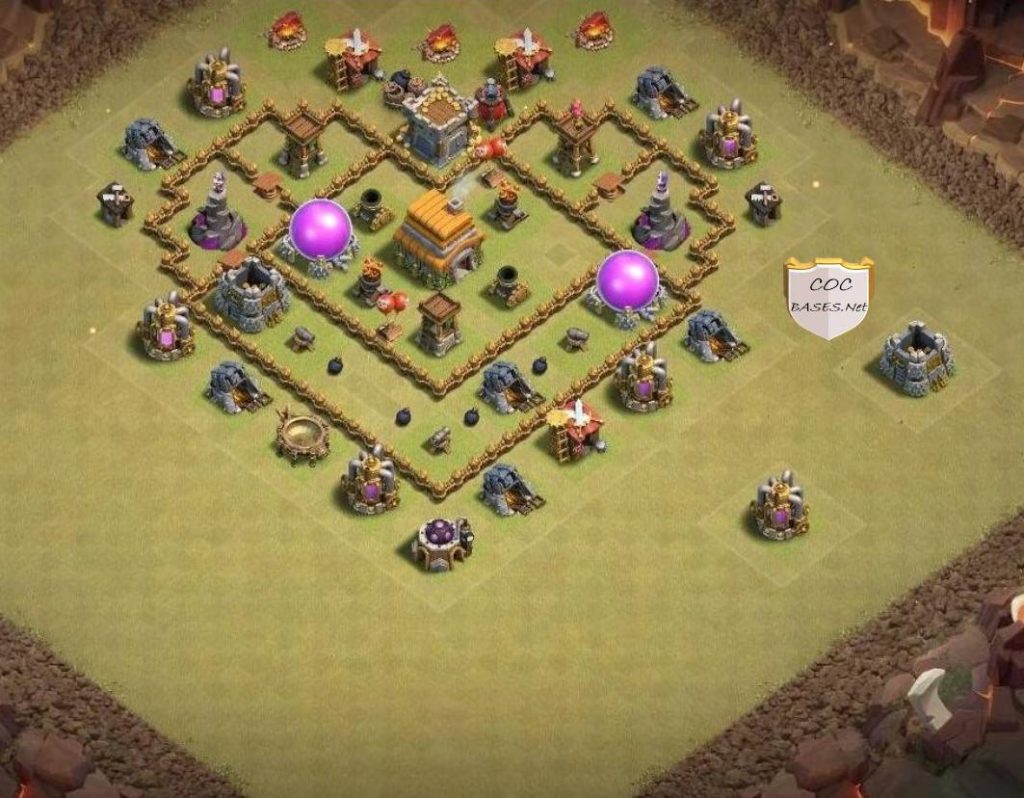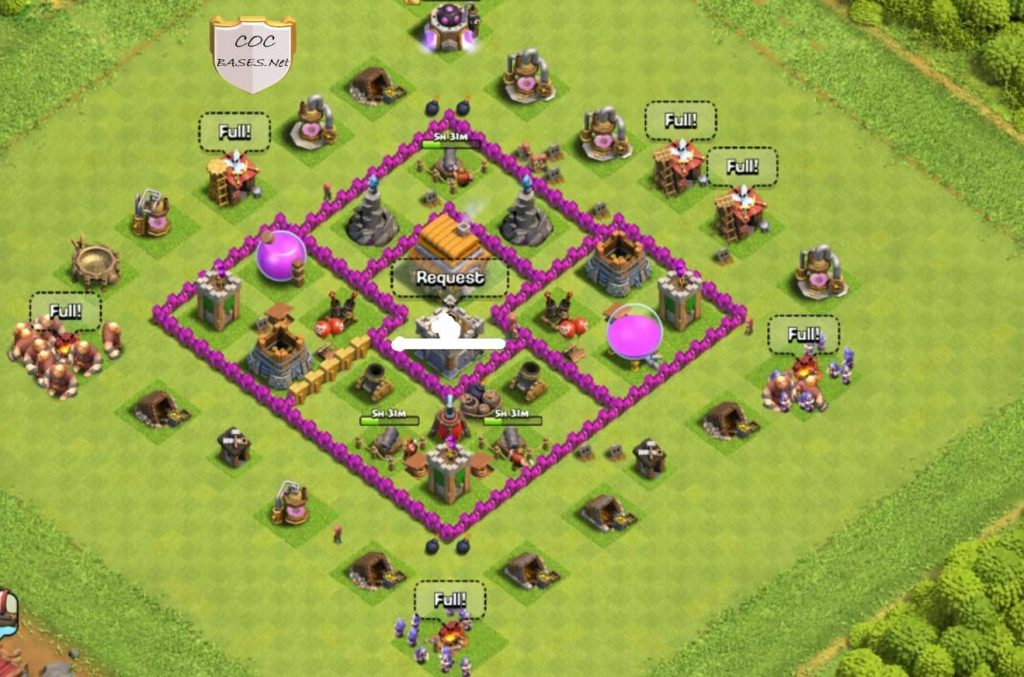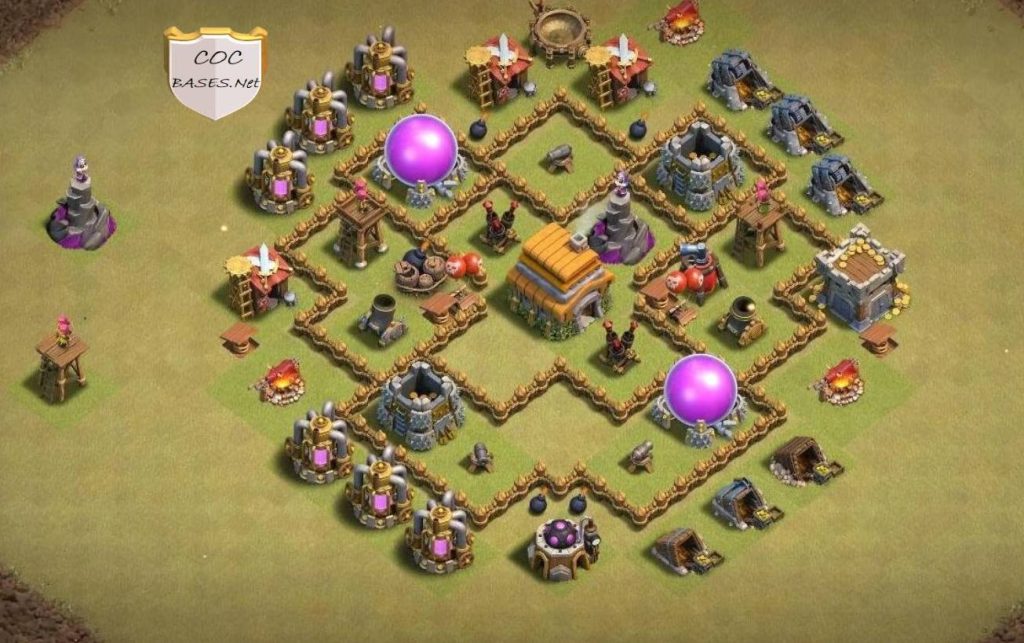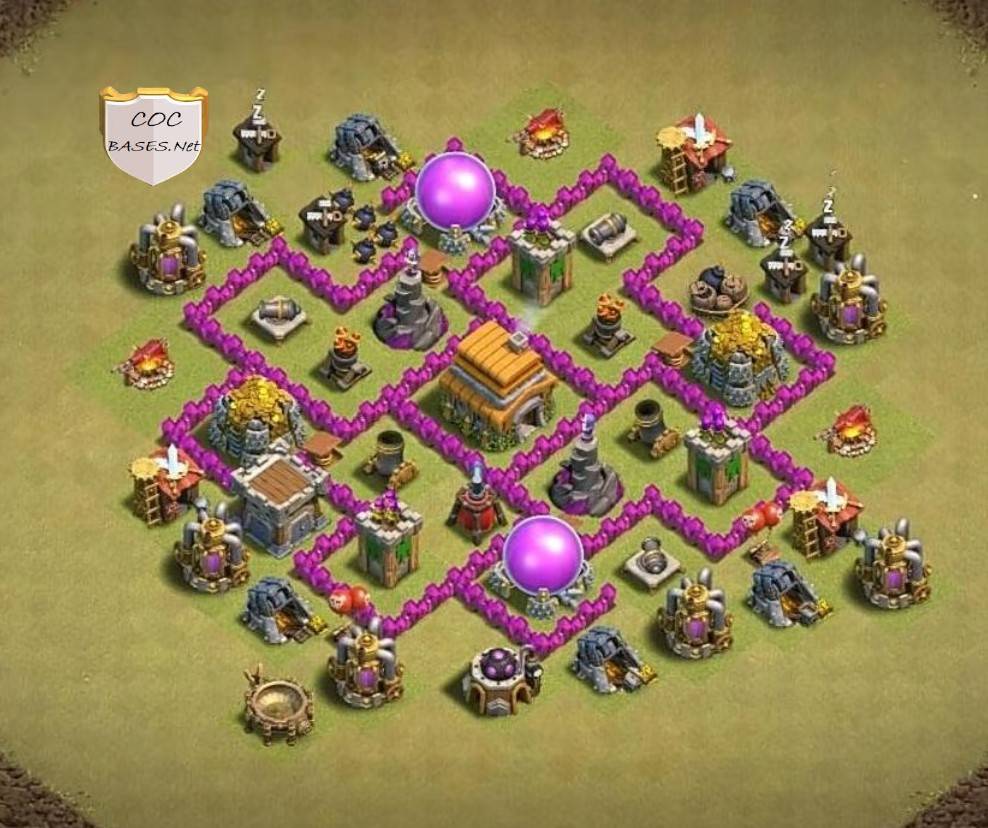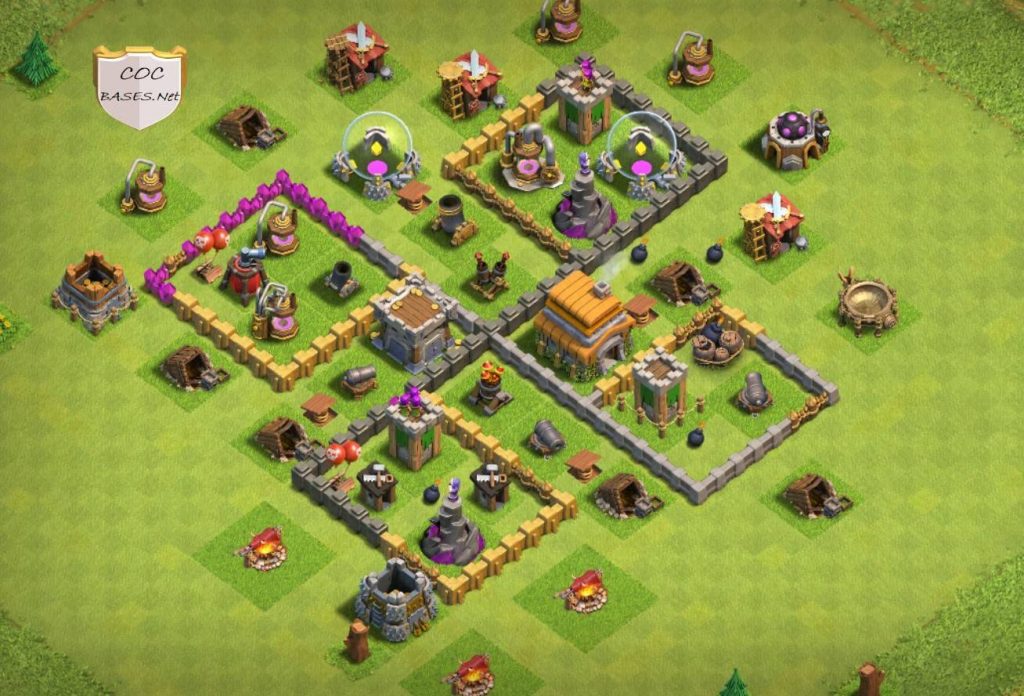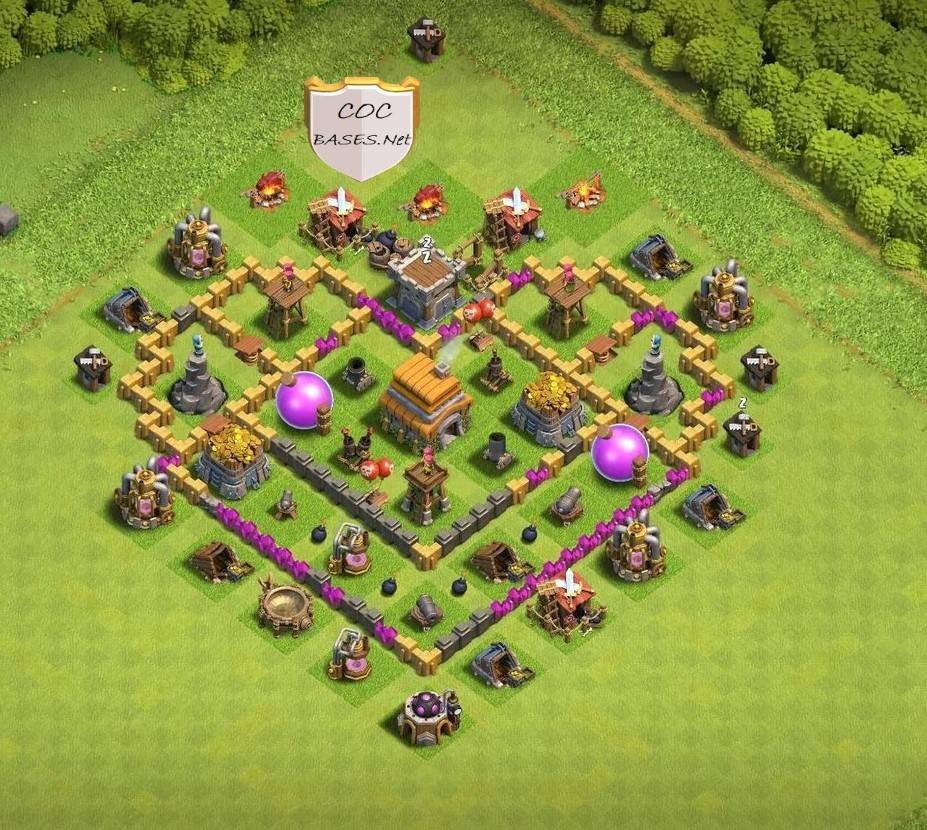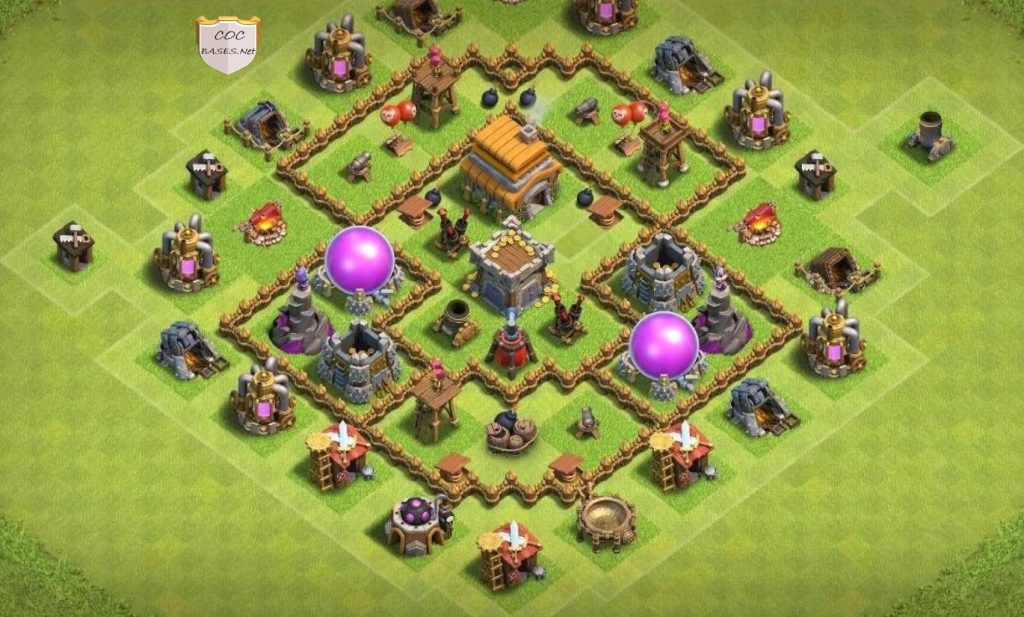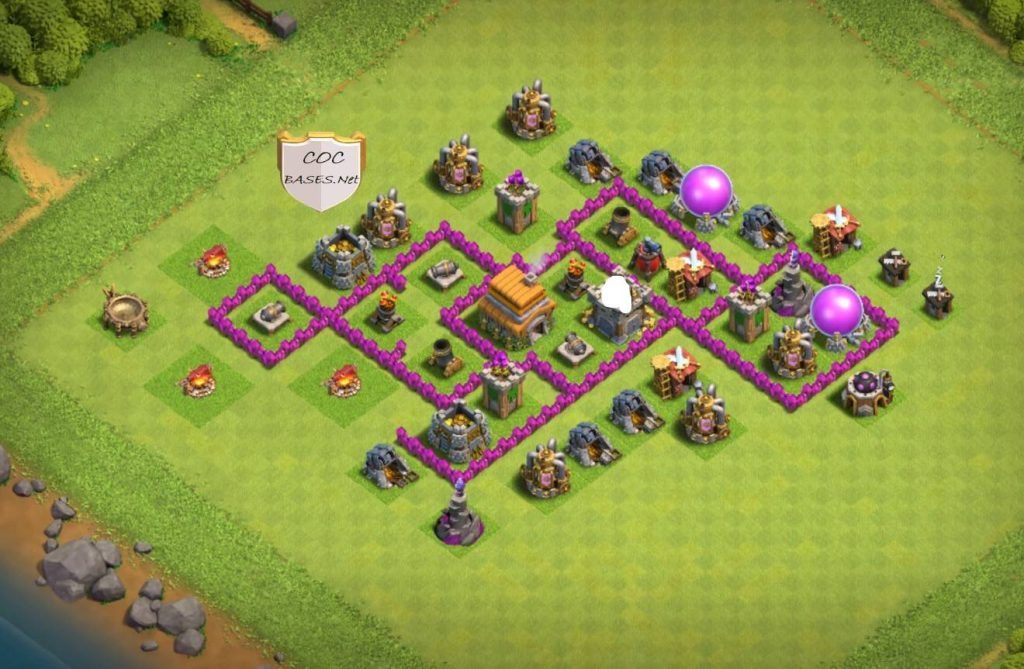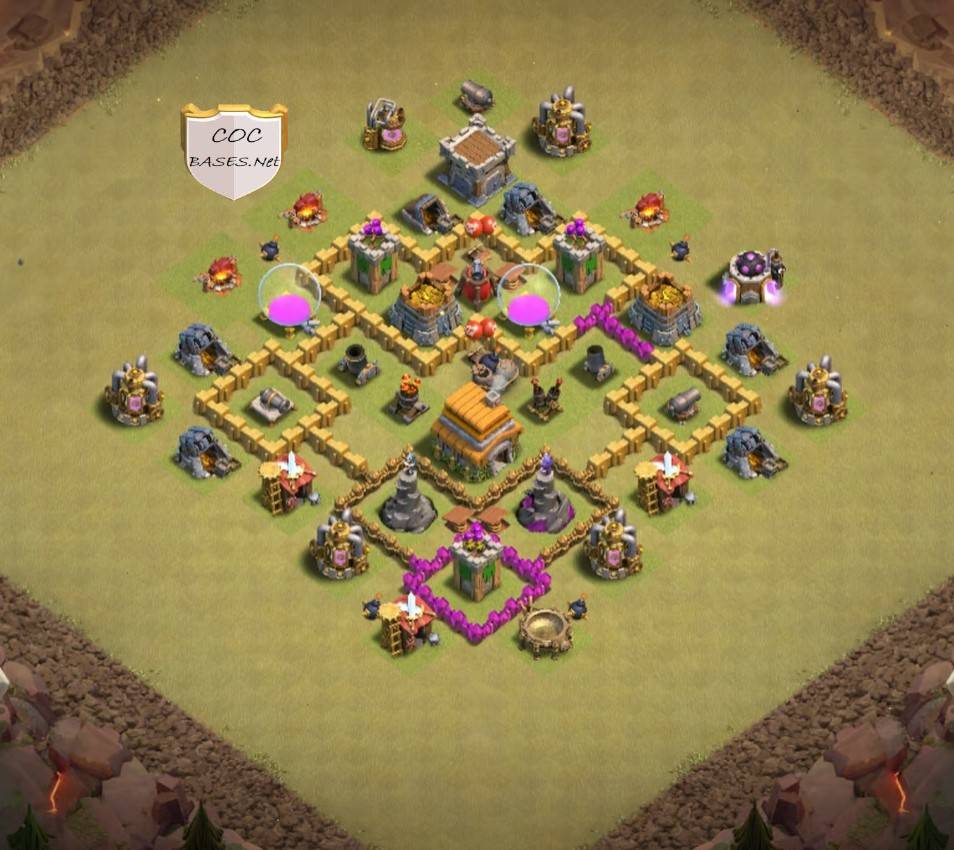 Town Hall 6 ESL Base with Link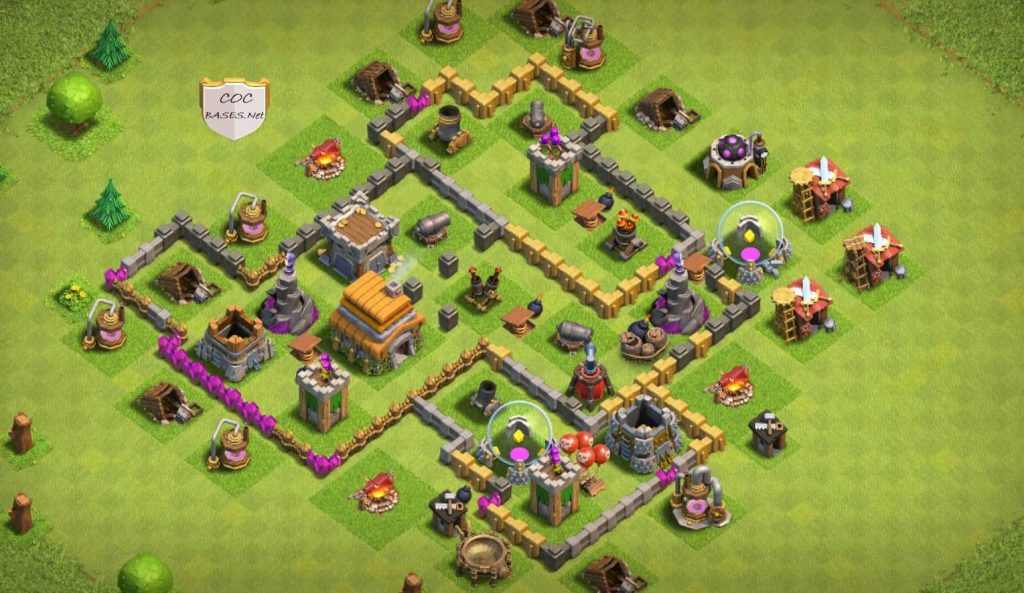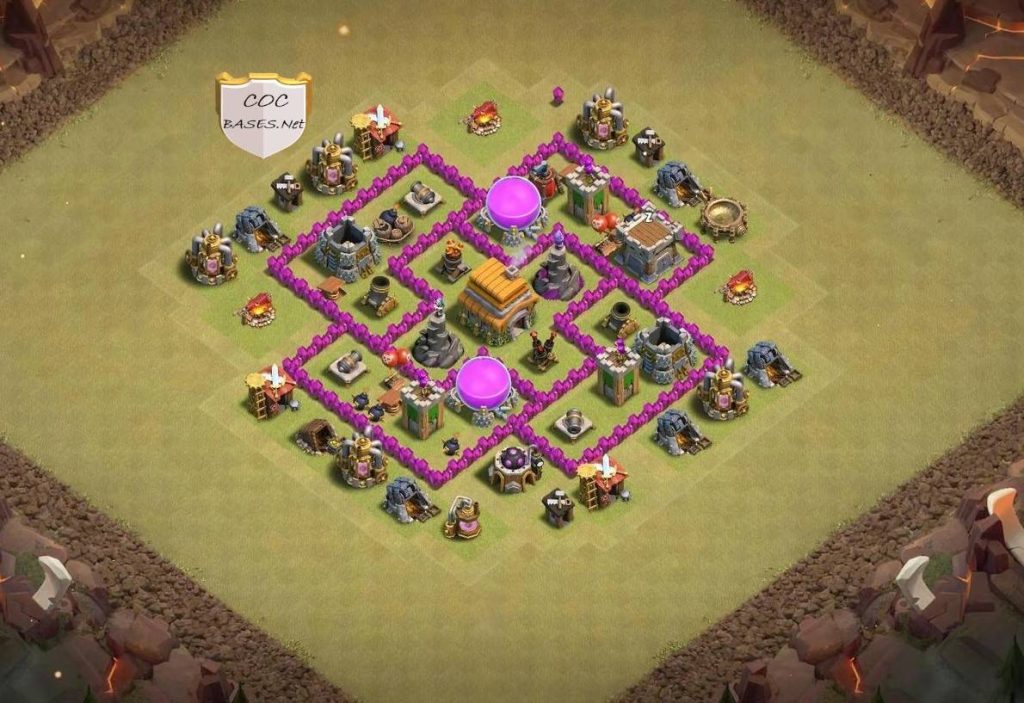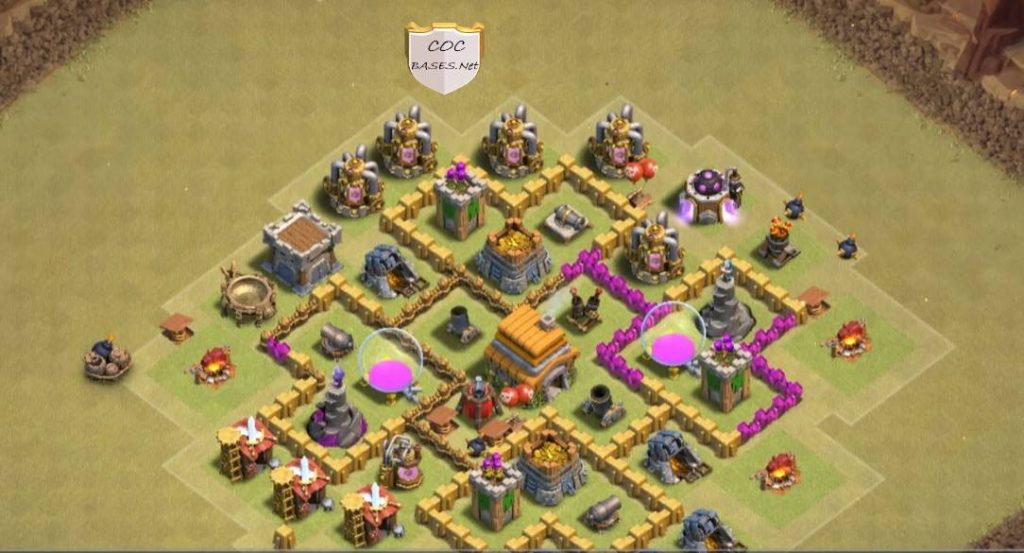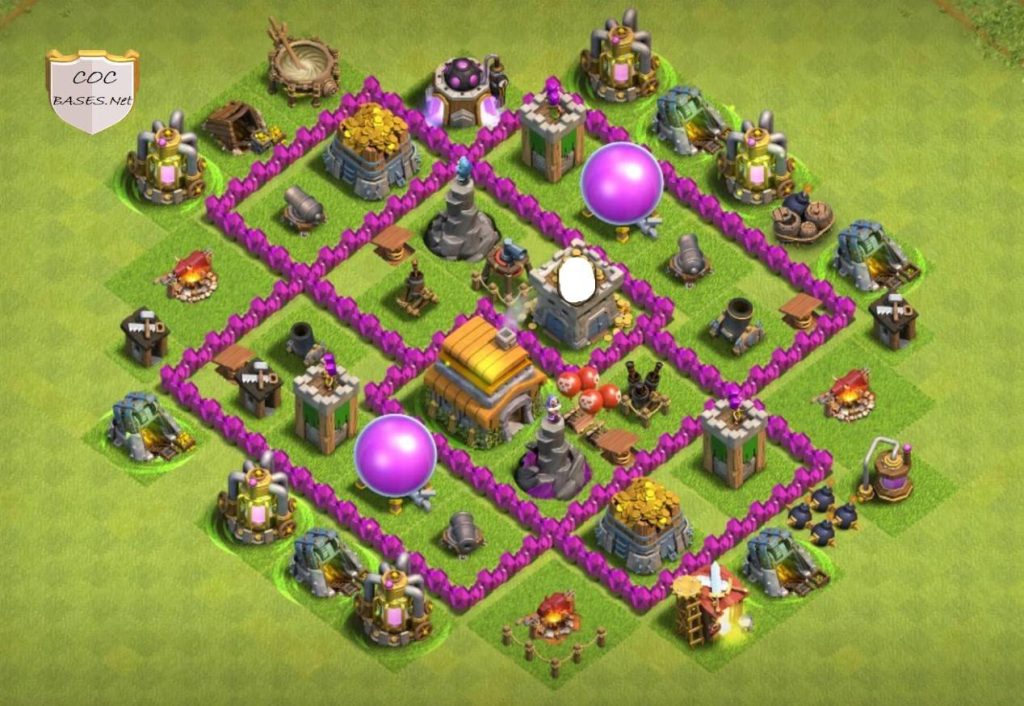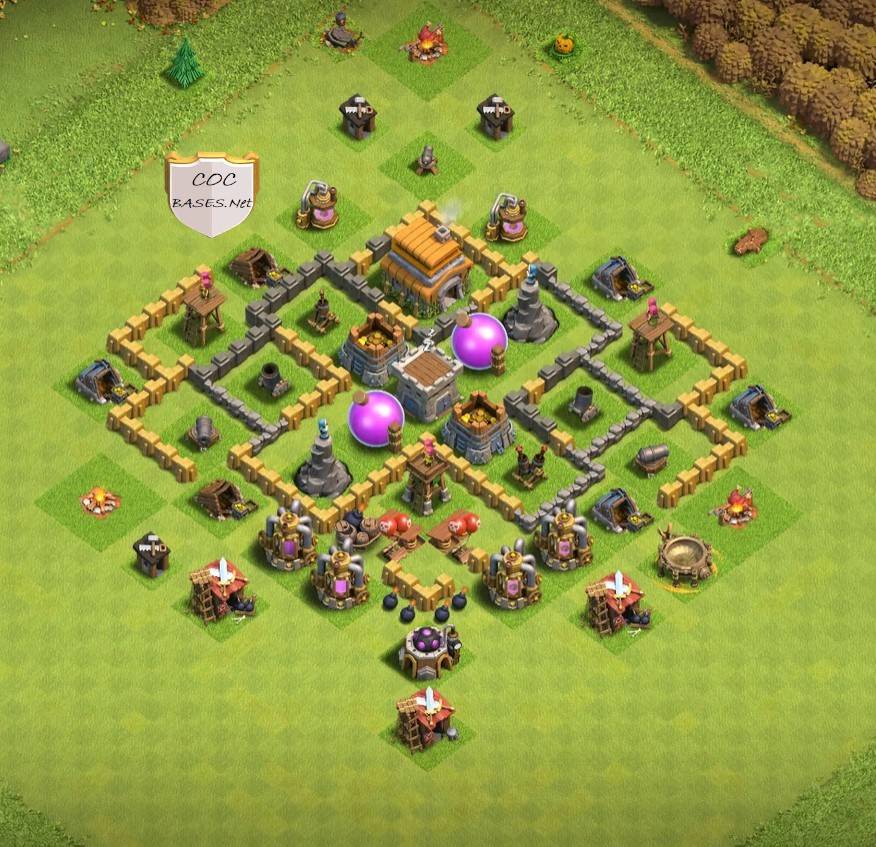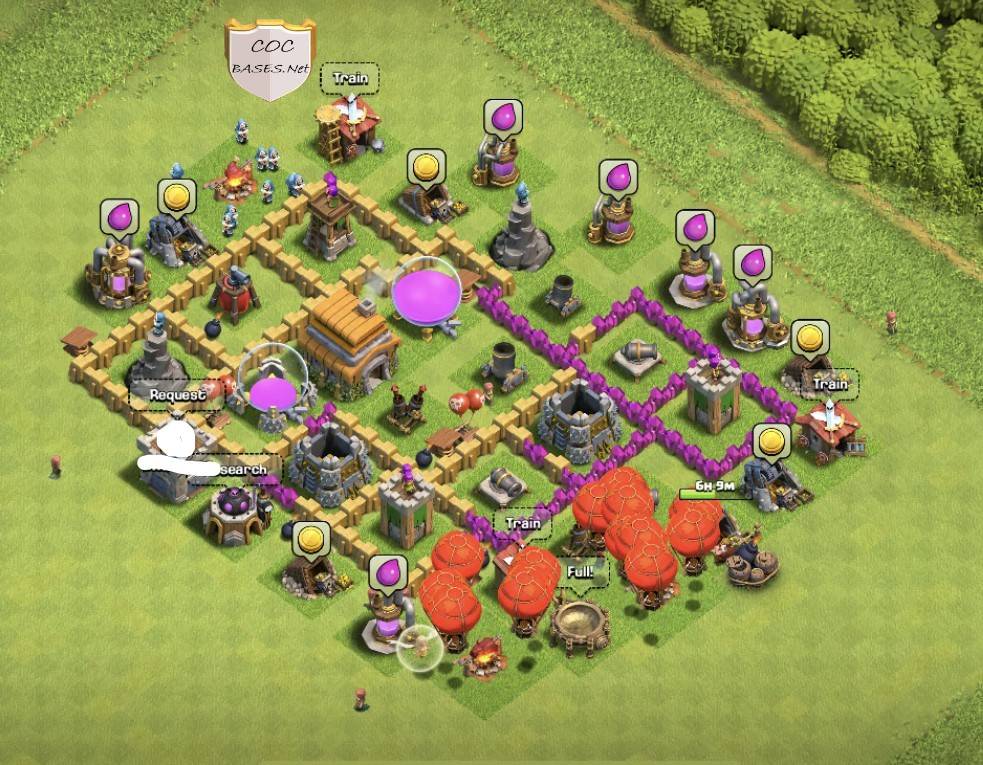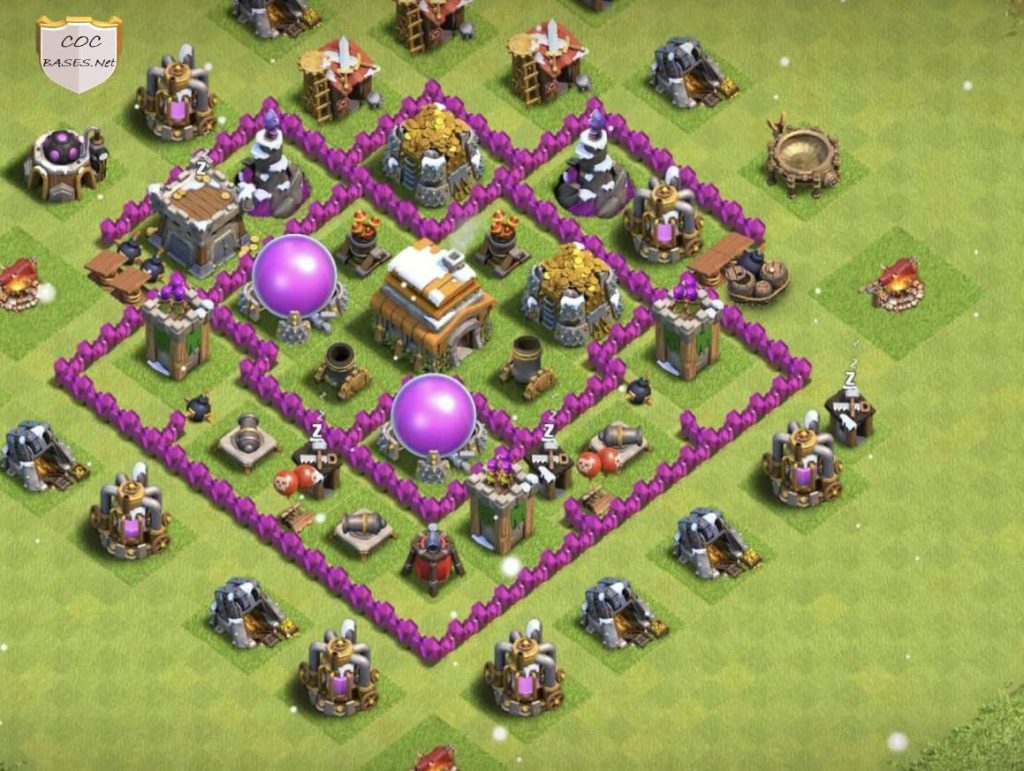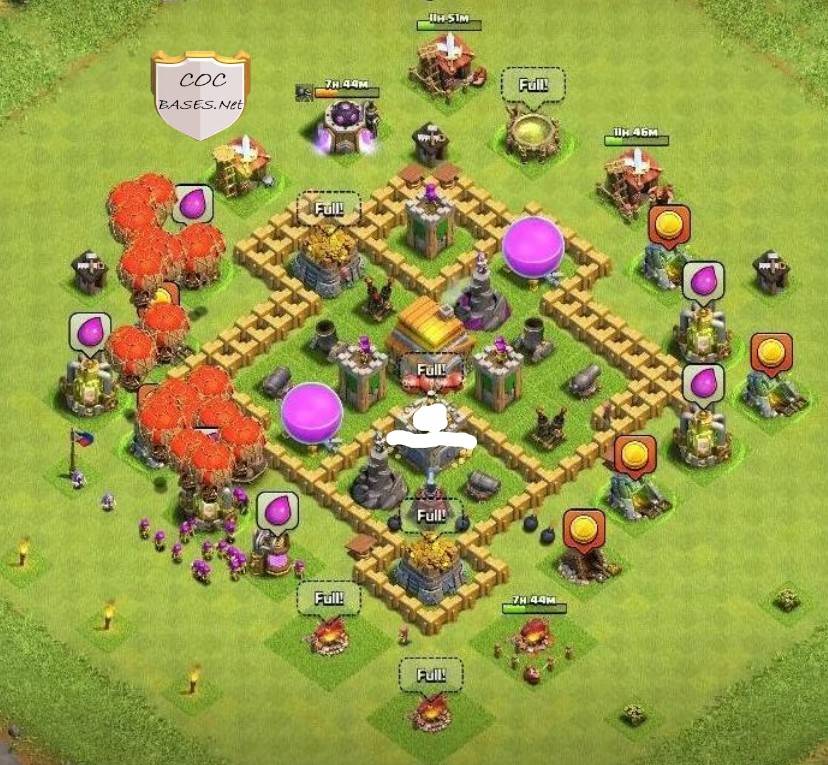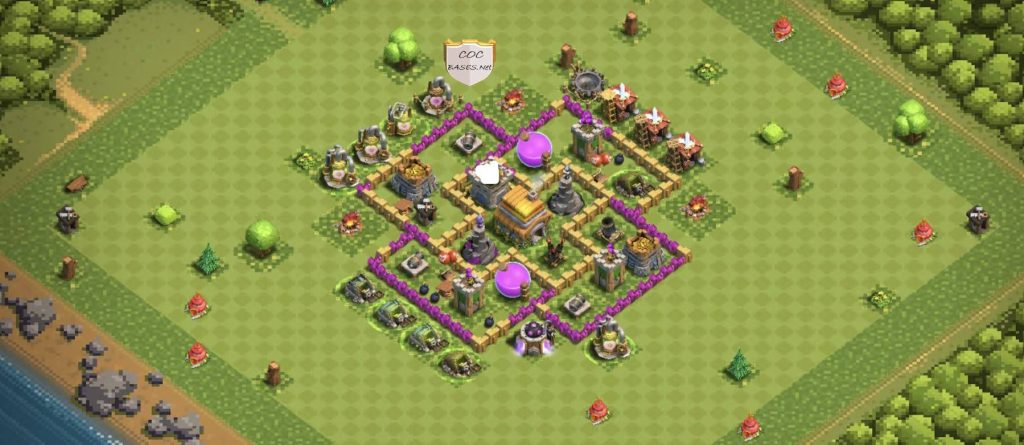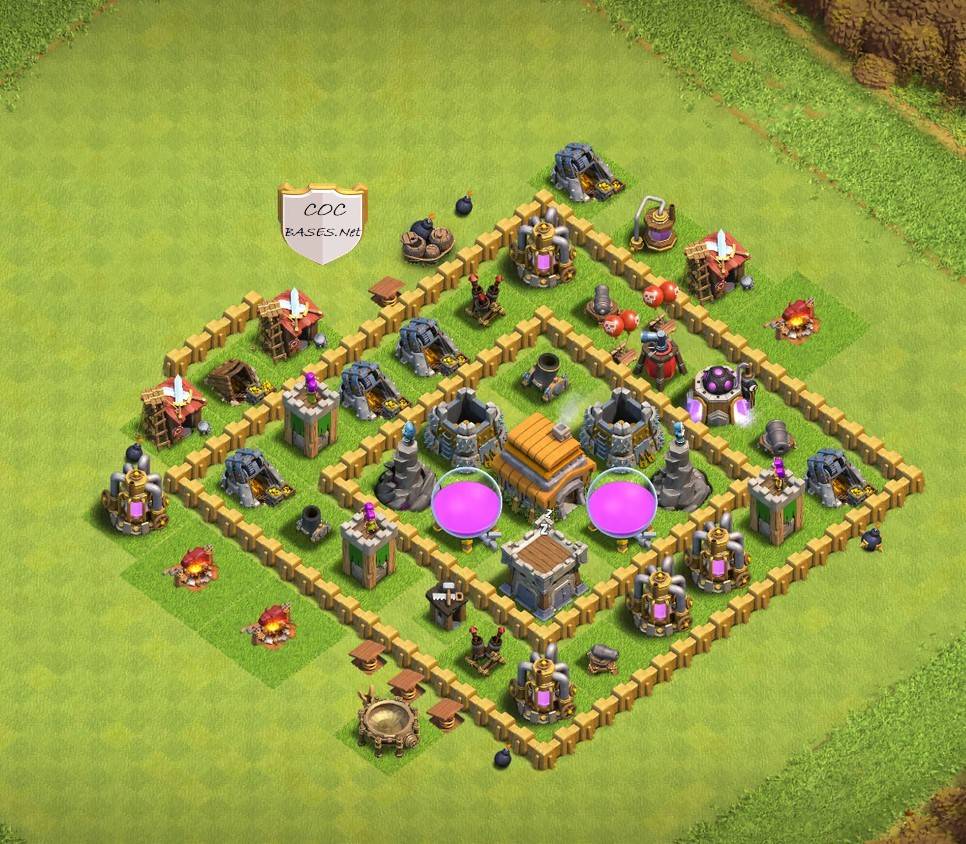 COC Anti Ground TH6 War Base Link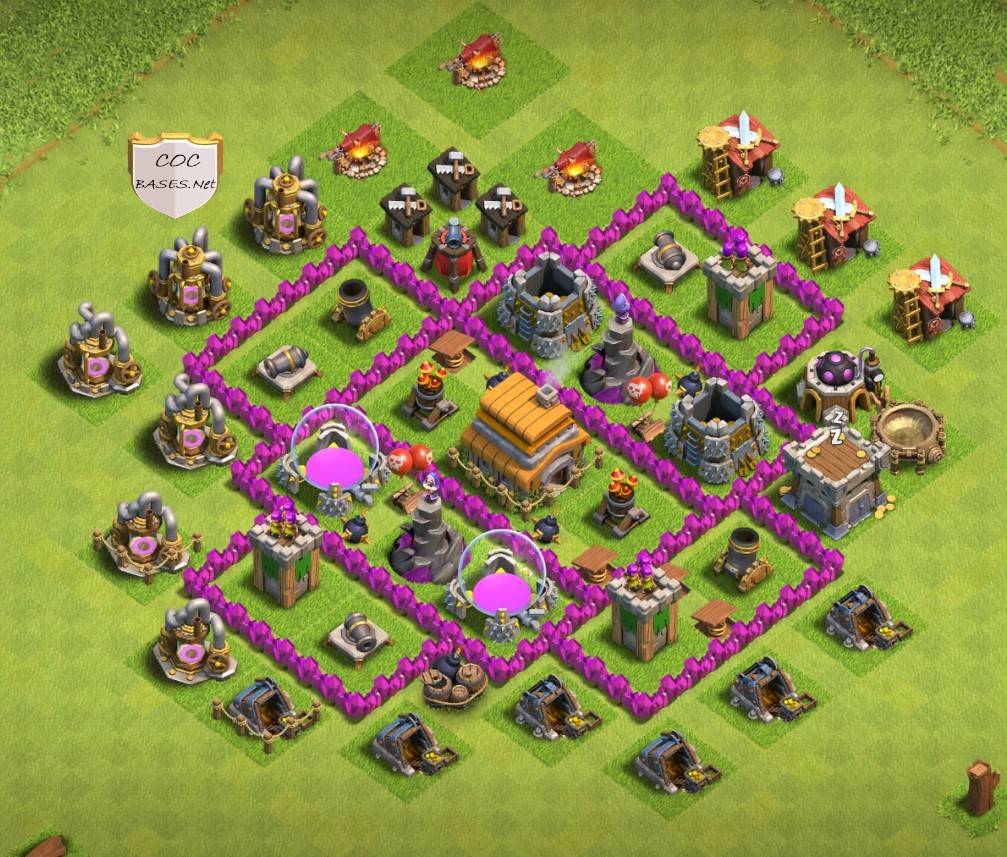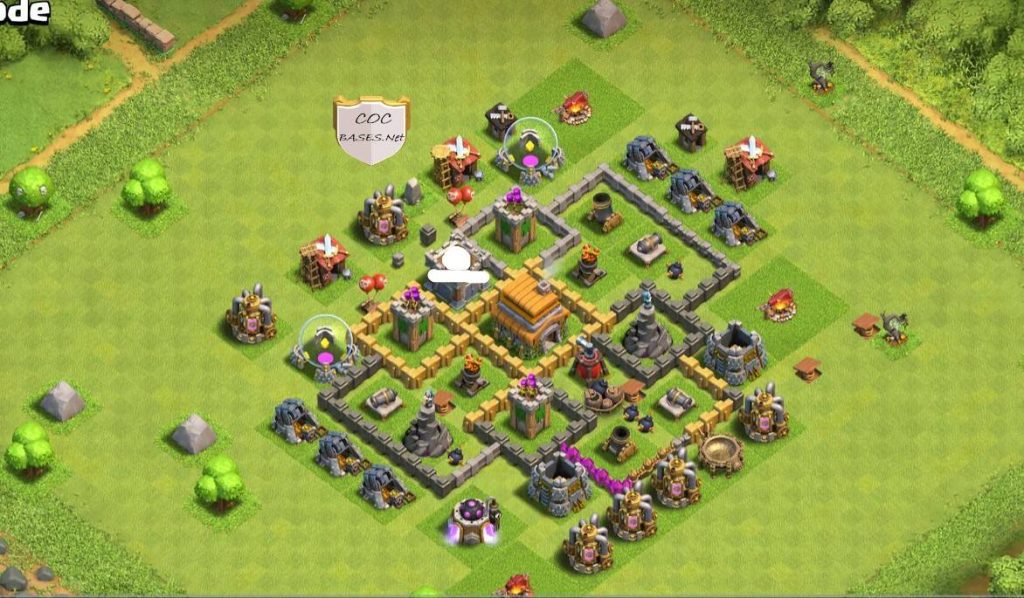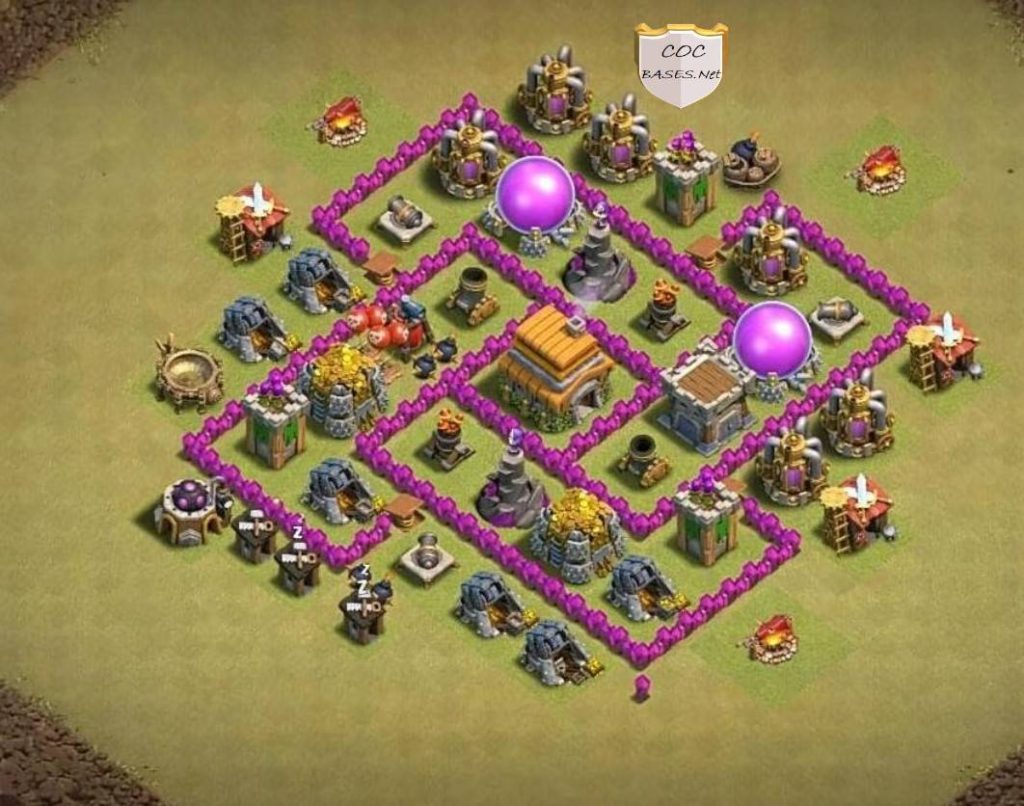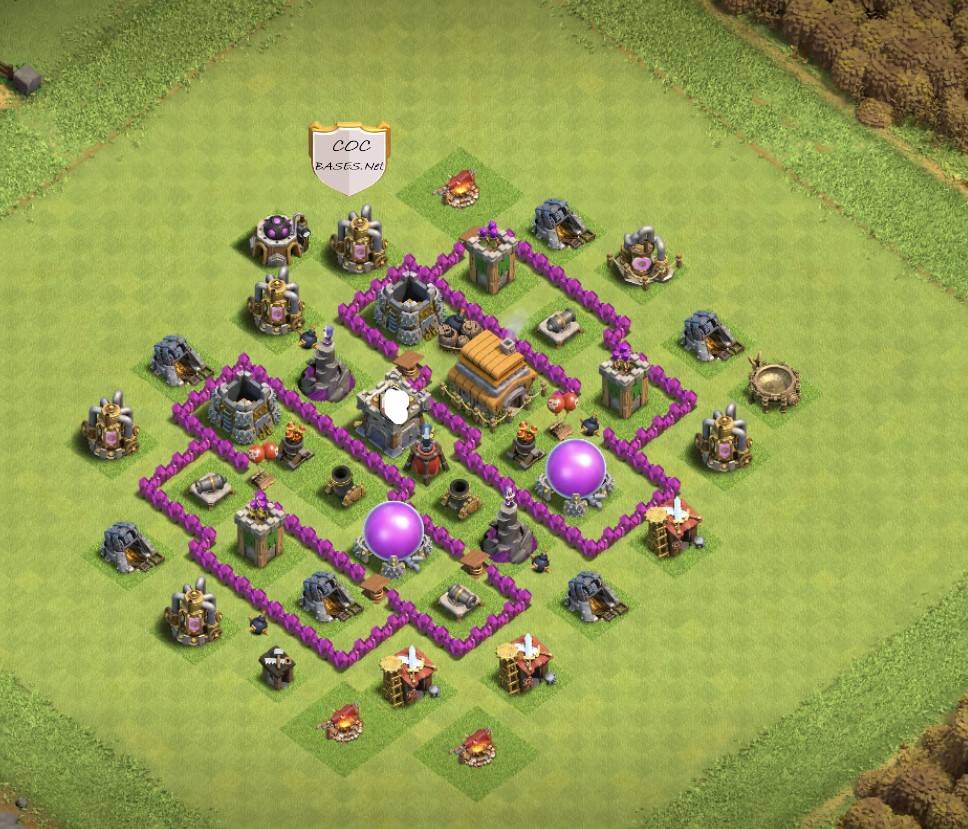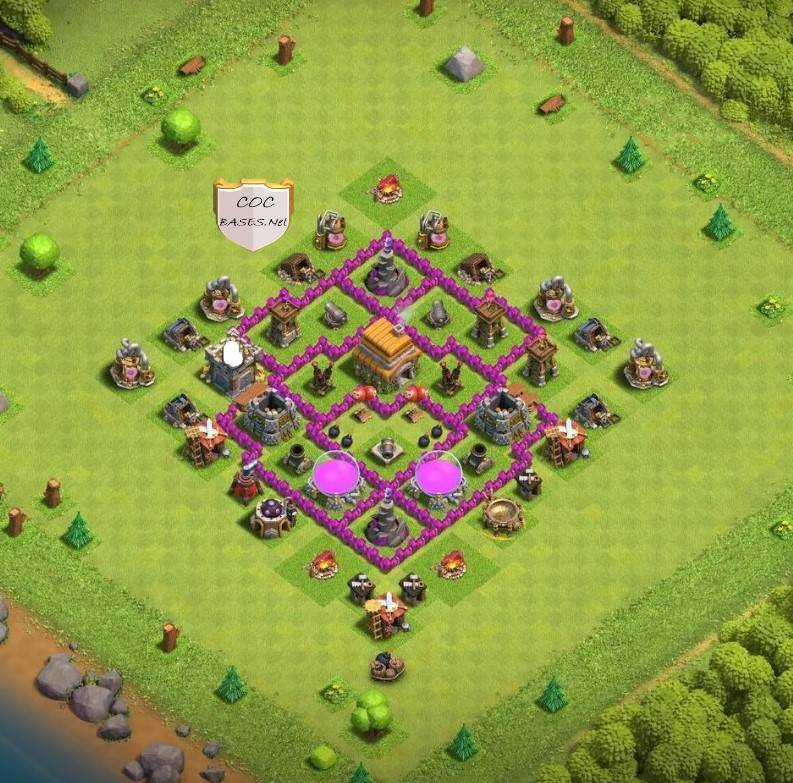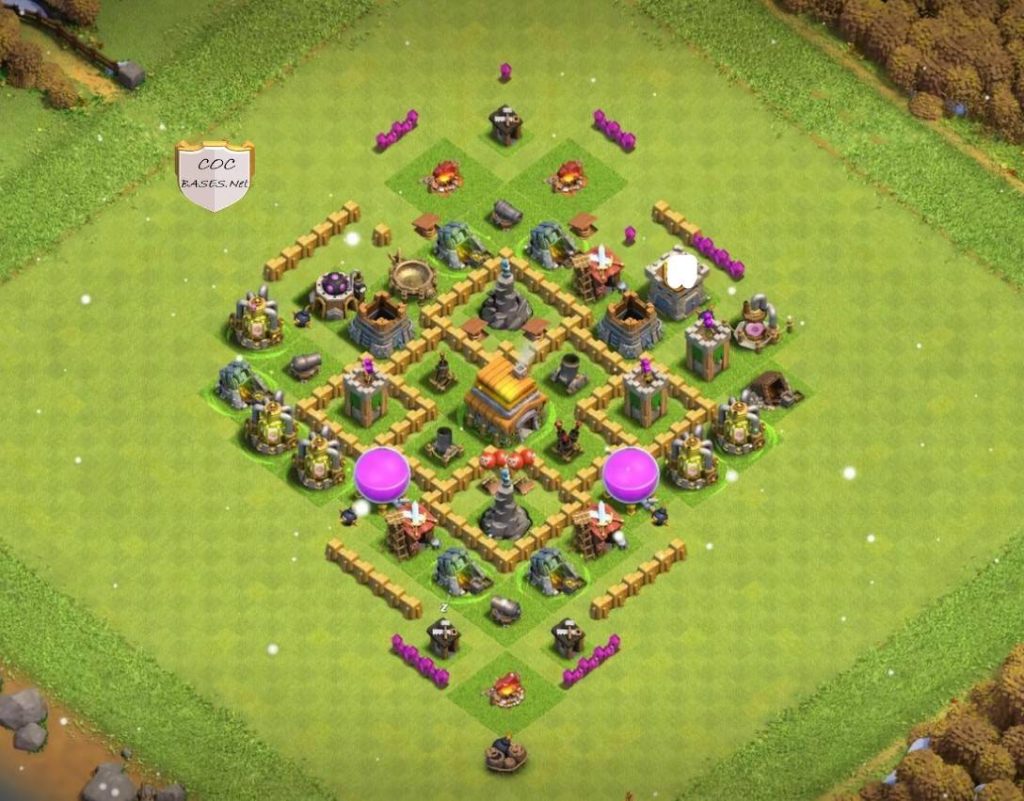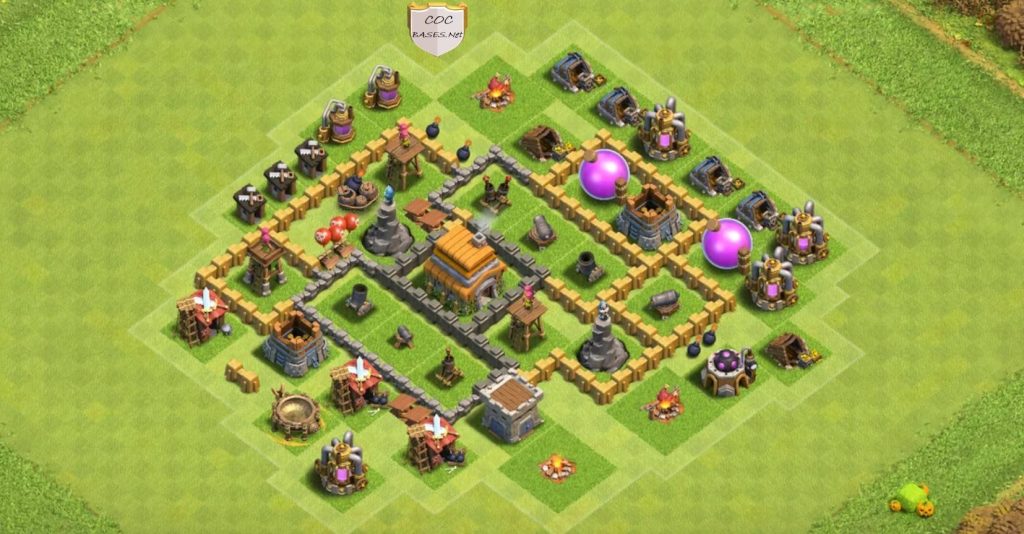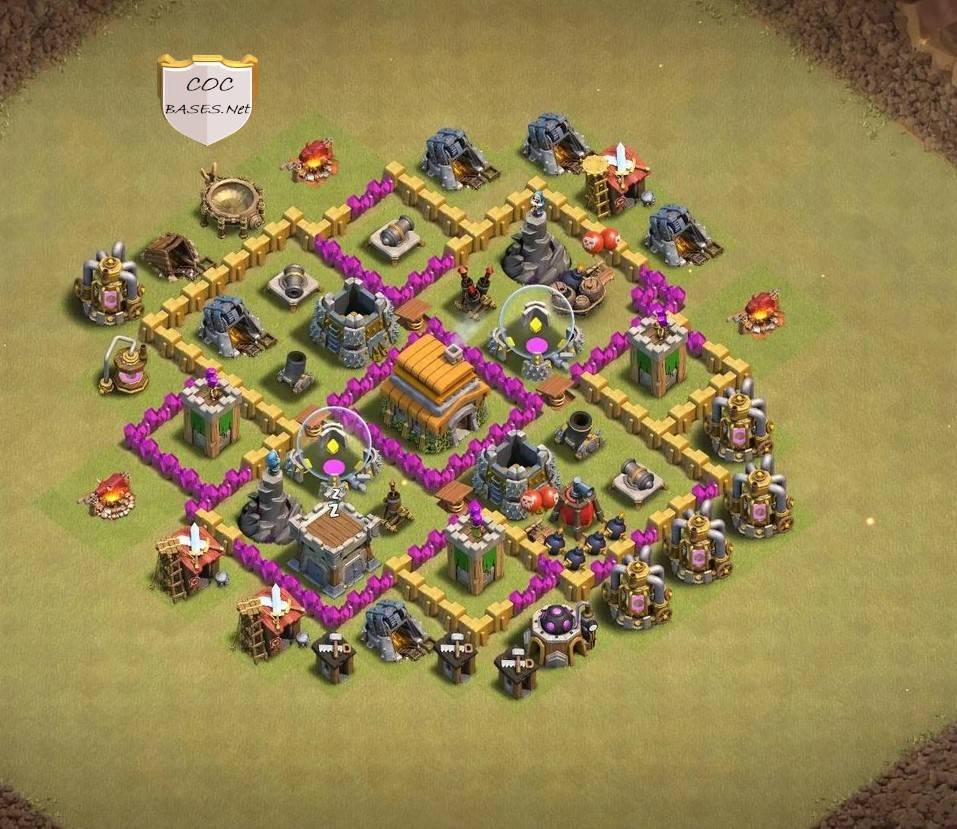 Undefeated TH6 War Bases Design HD Images With Copy Link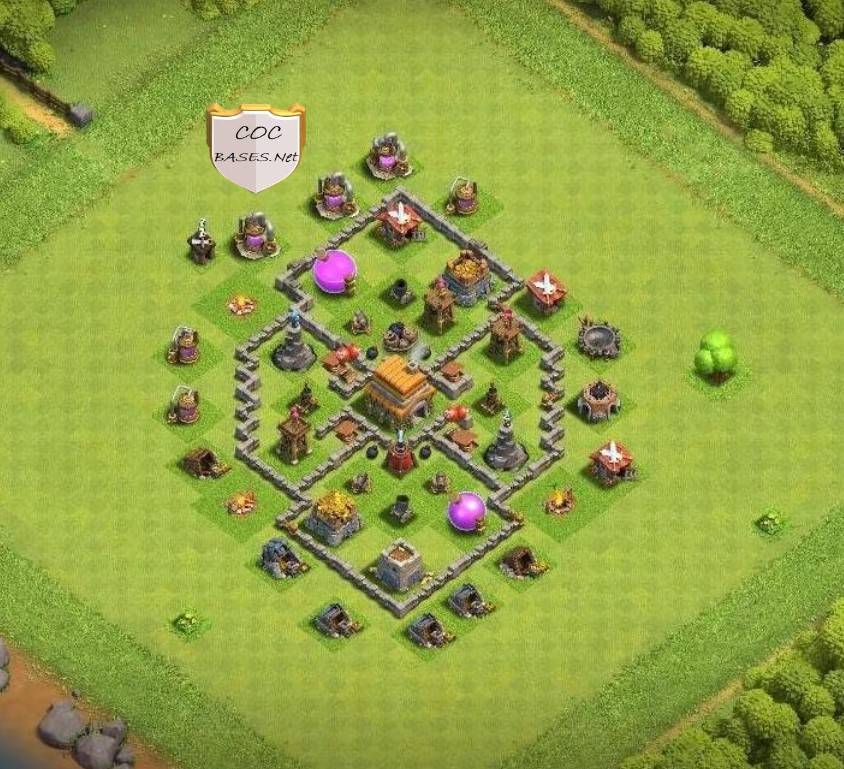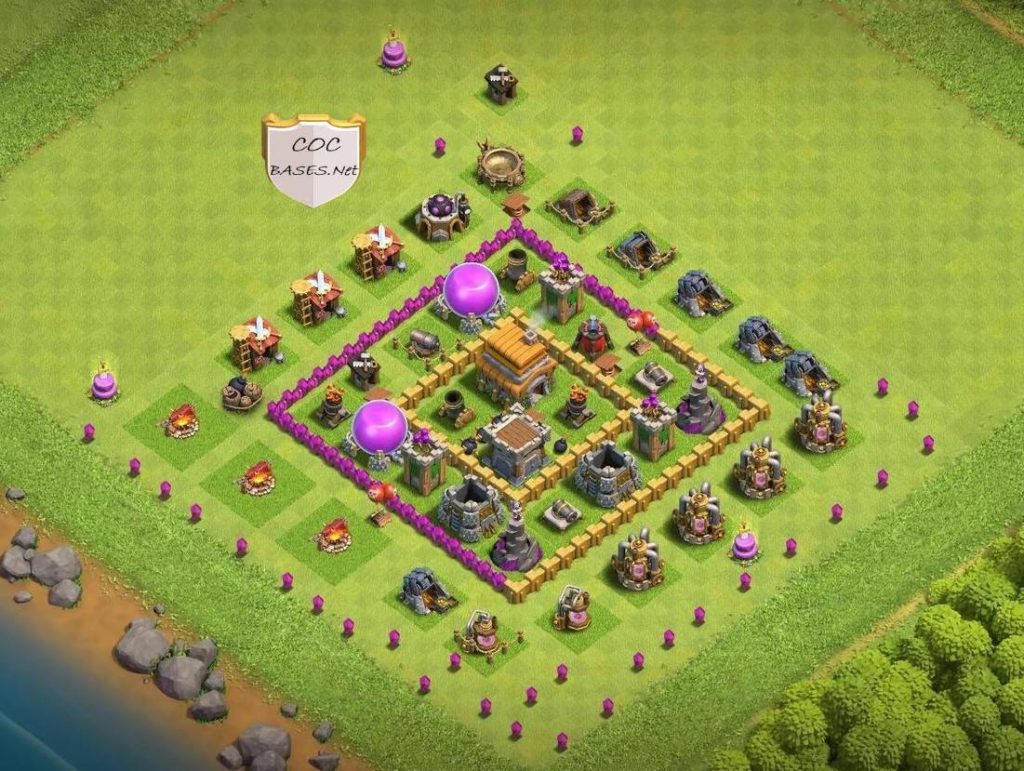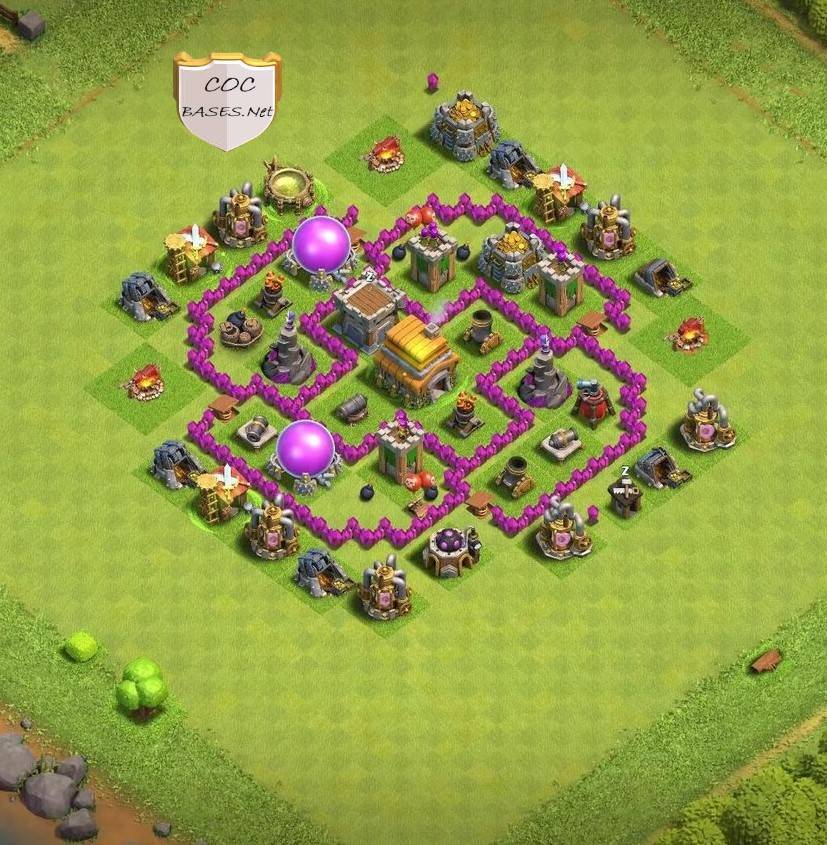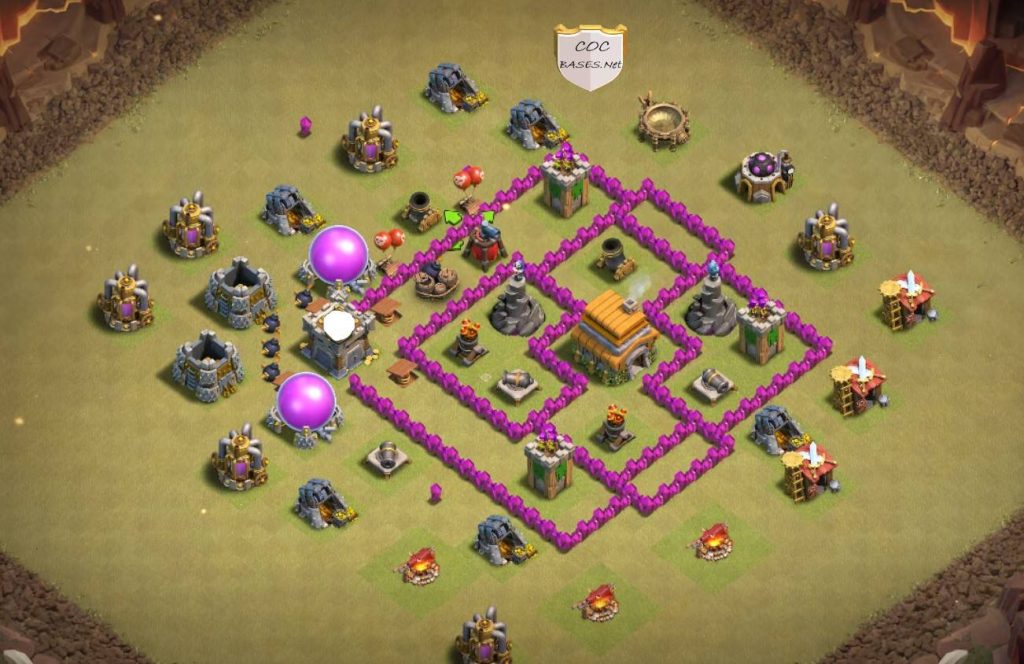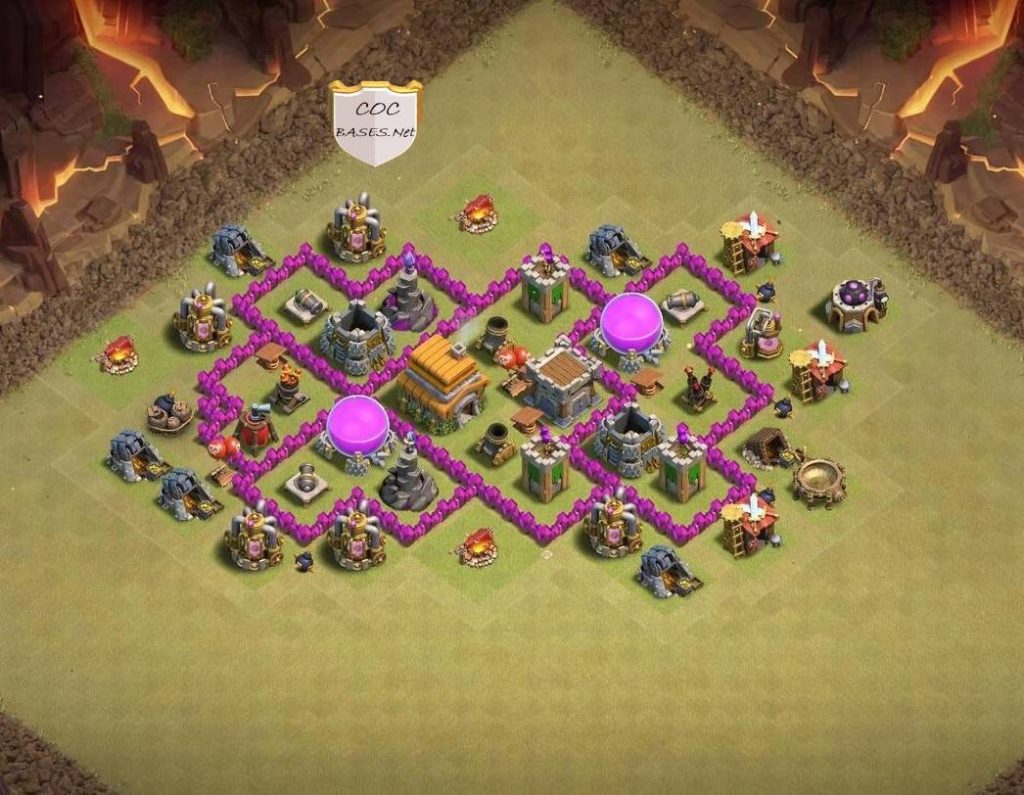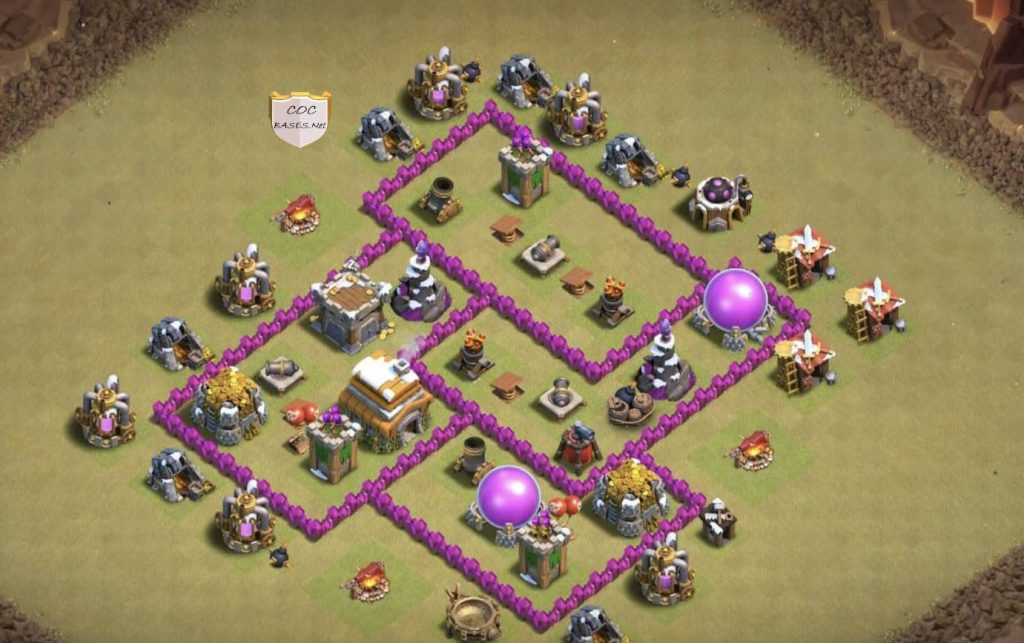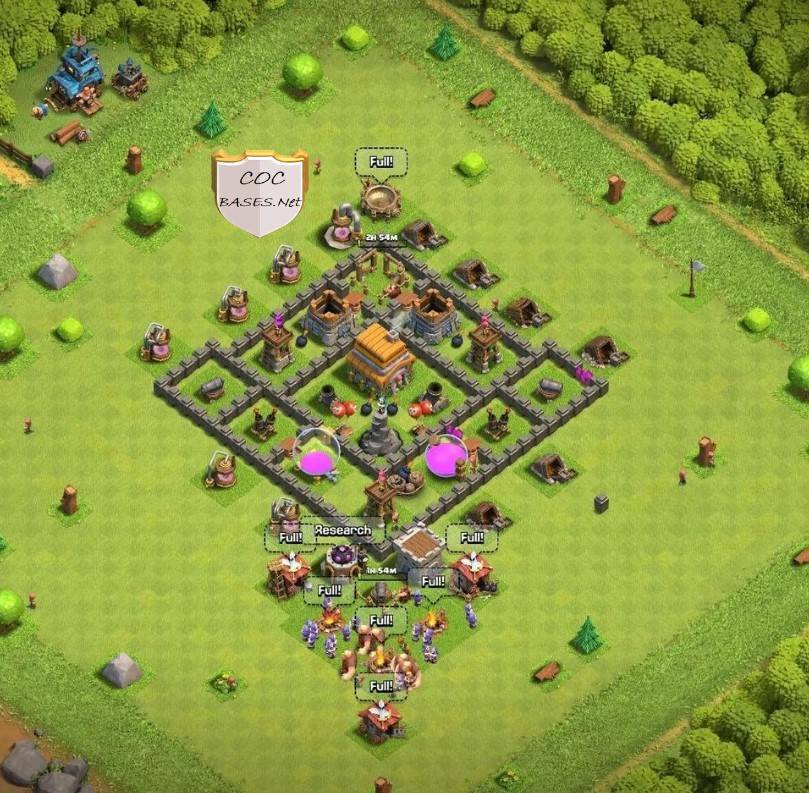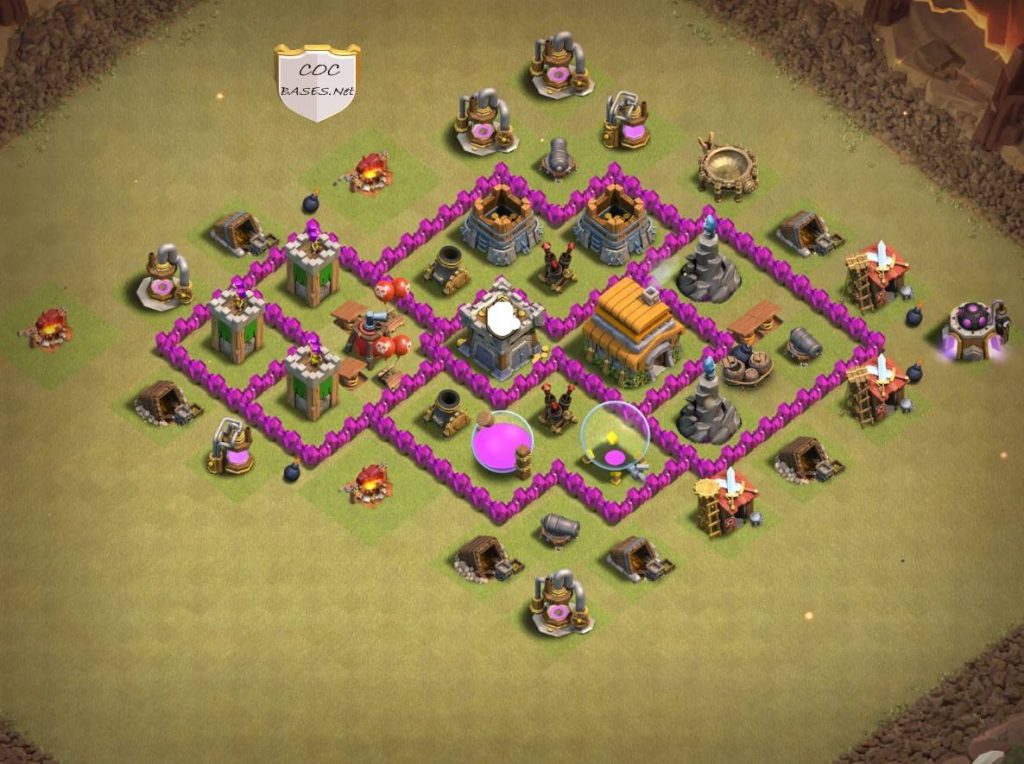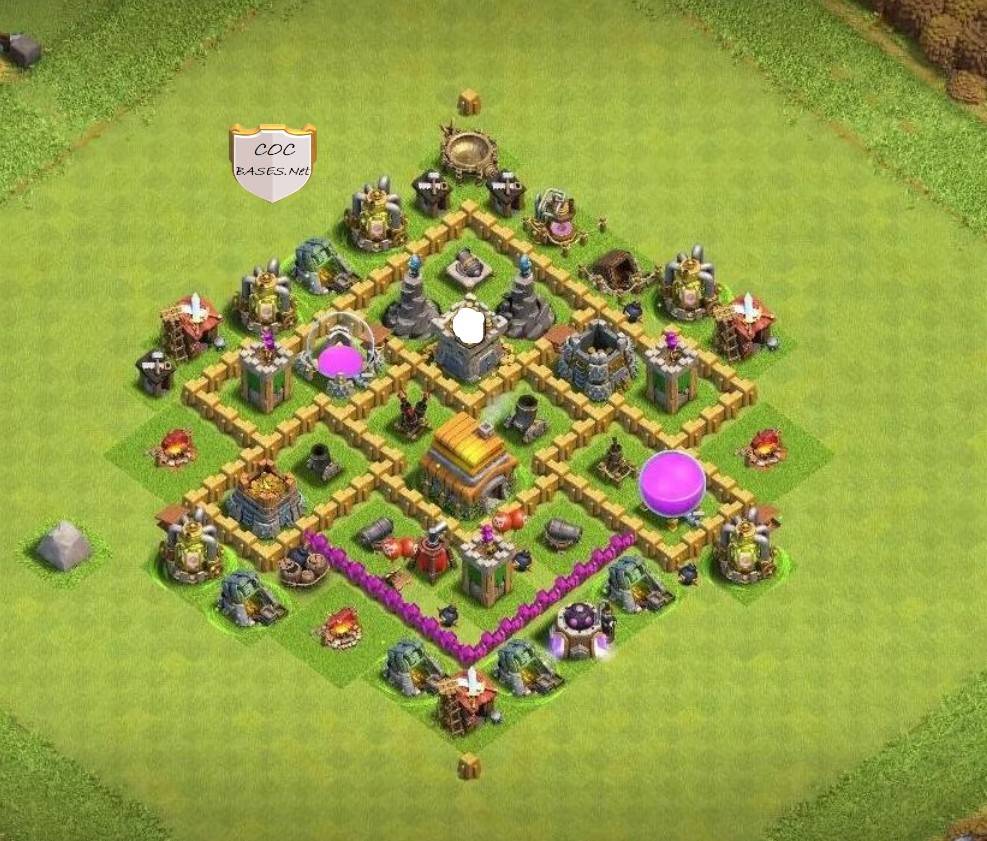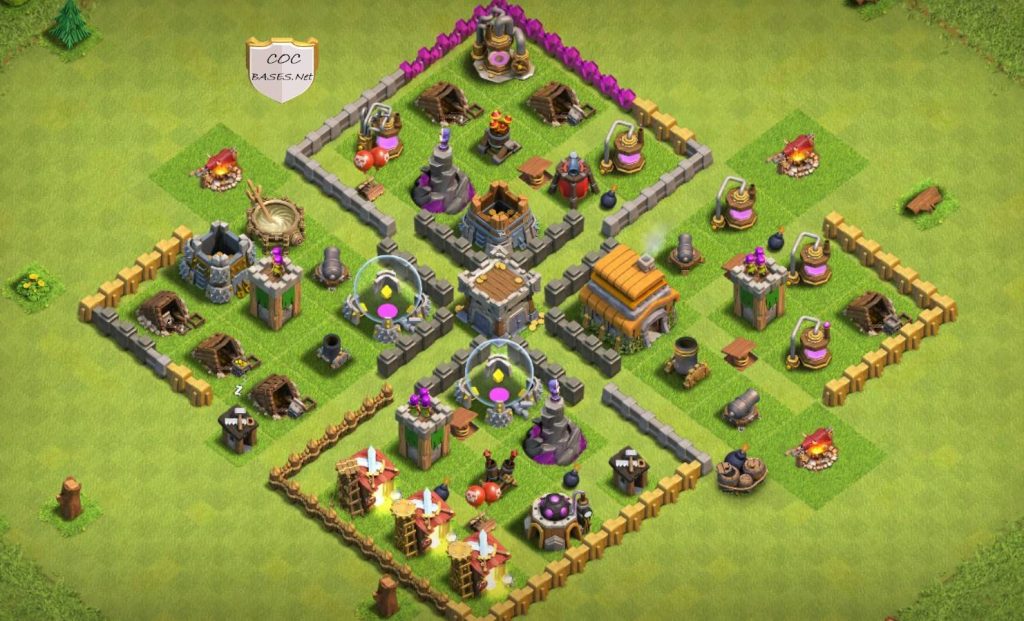 Unbeatable Town Hall 6 War Layout Base Link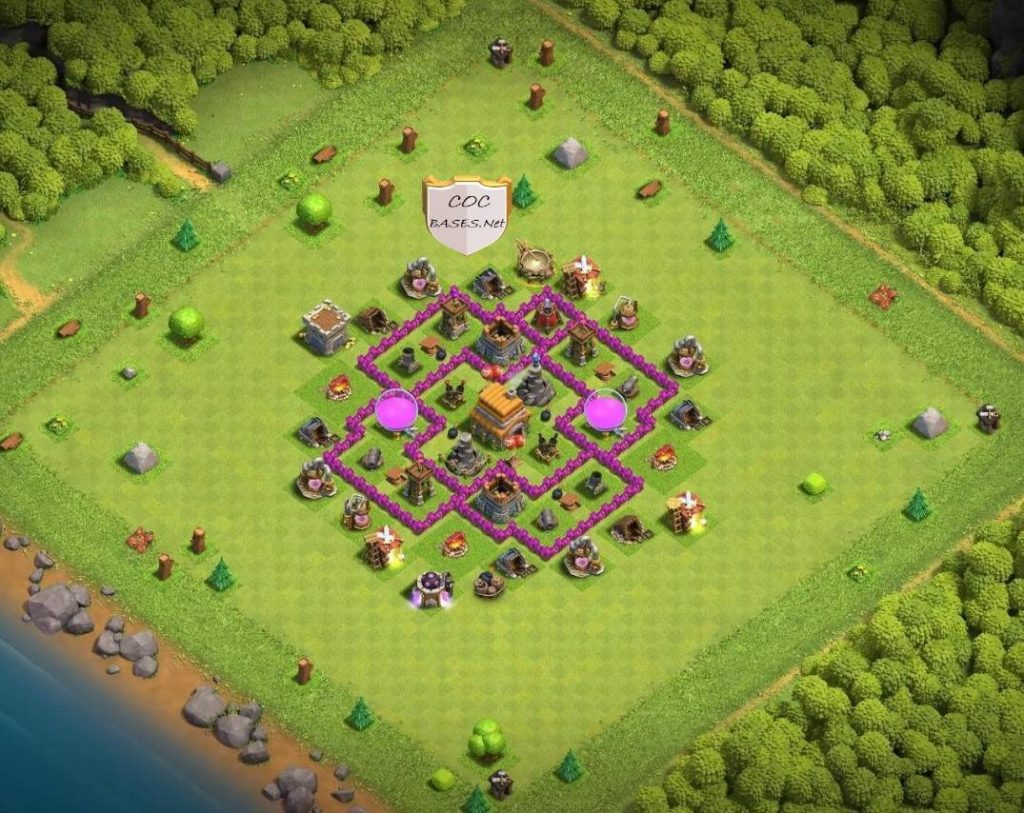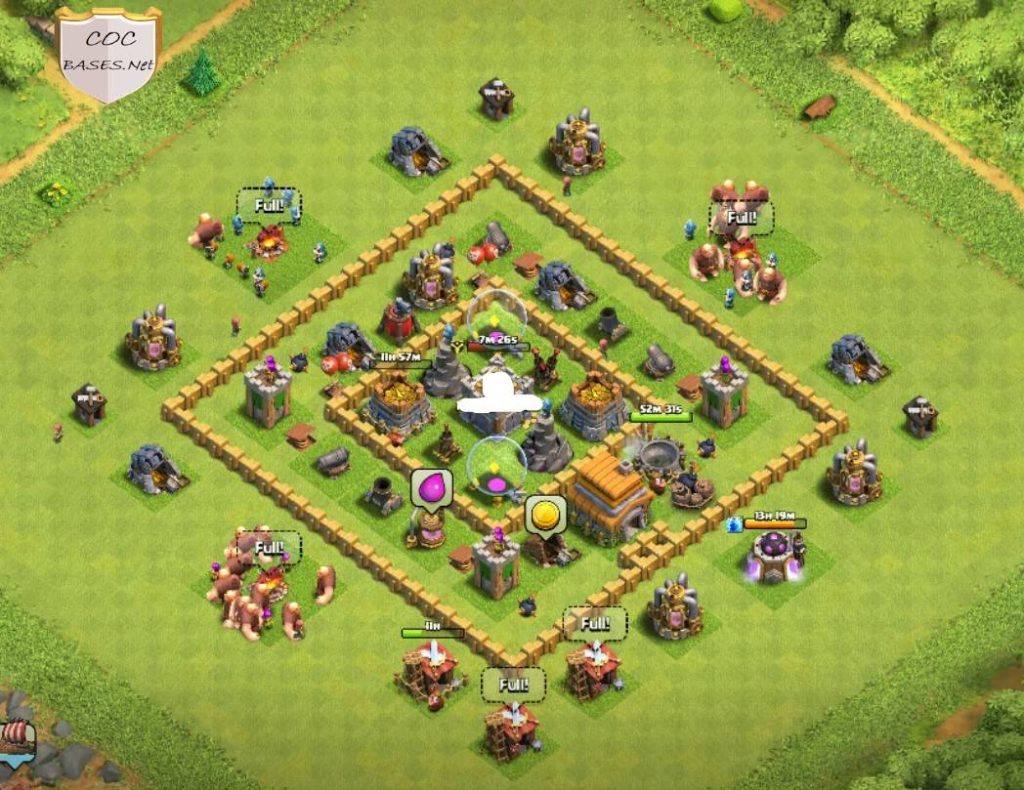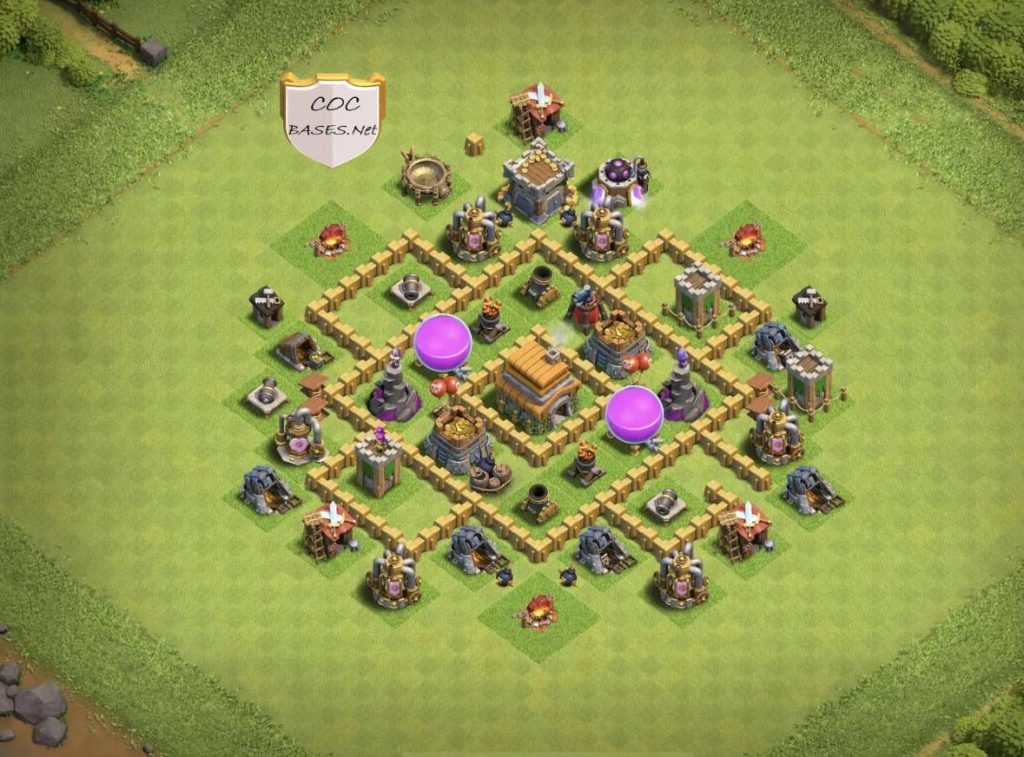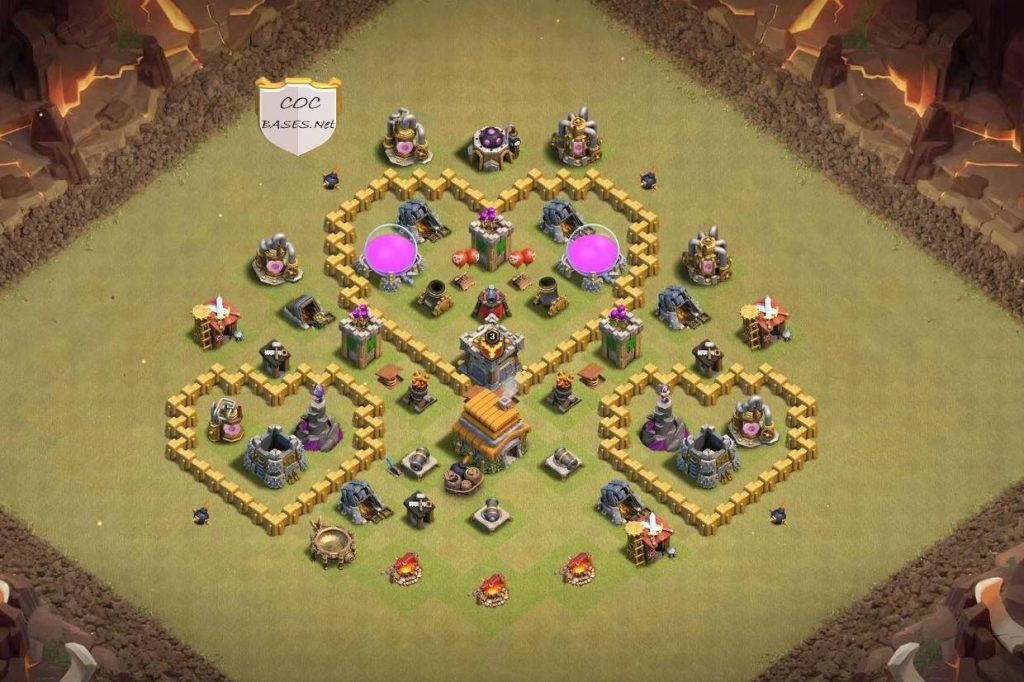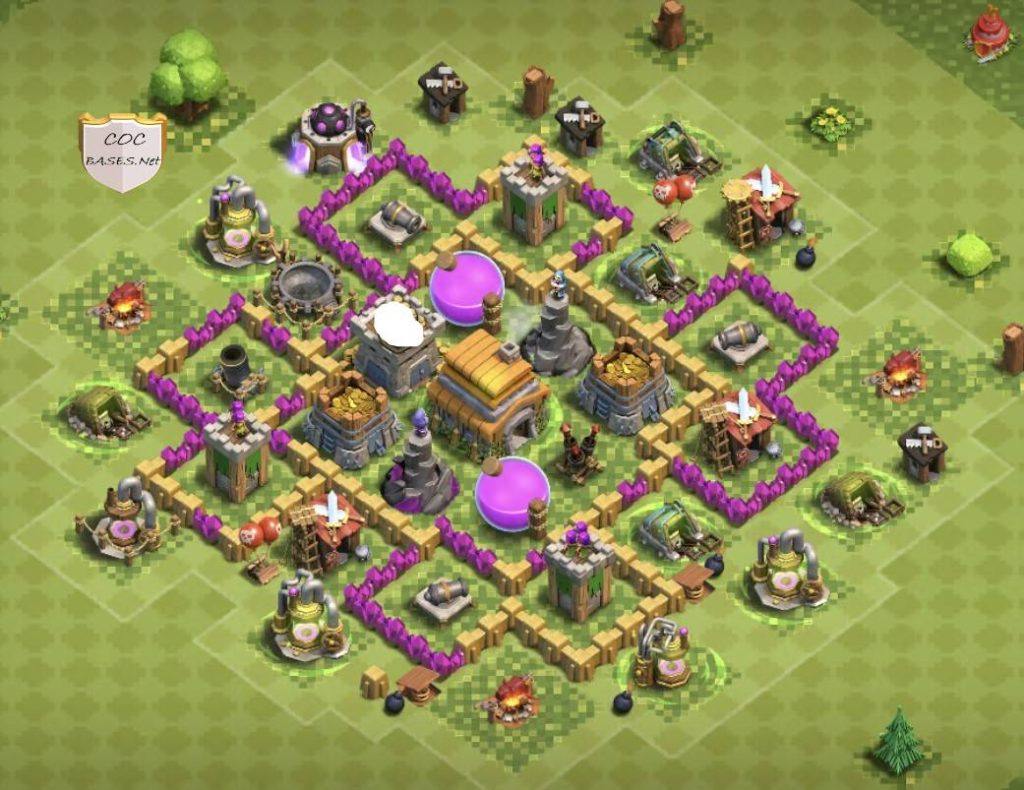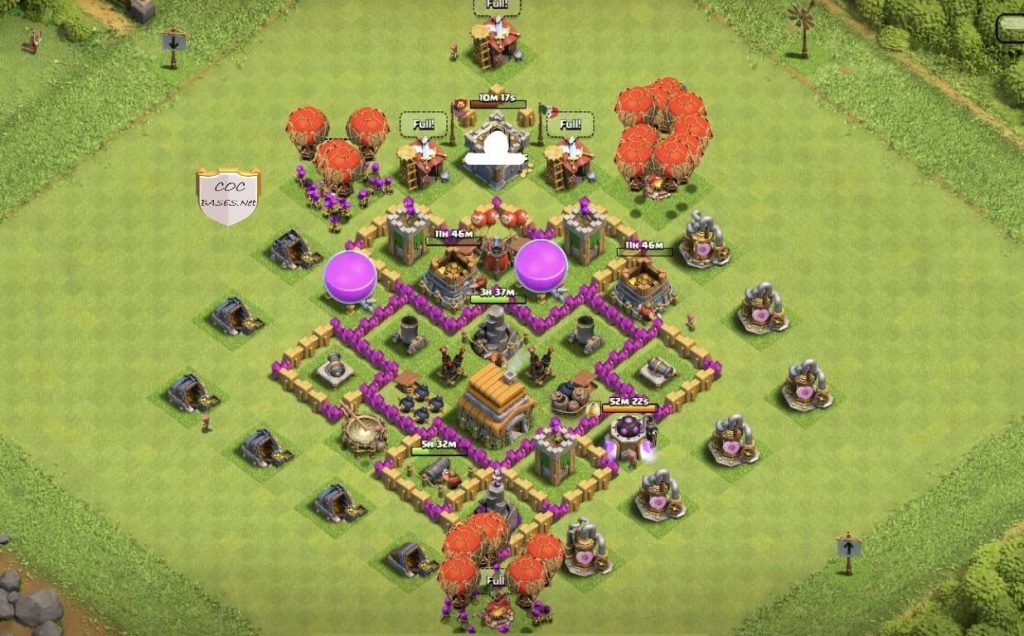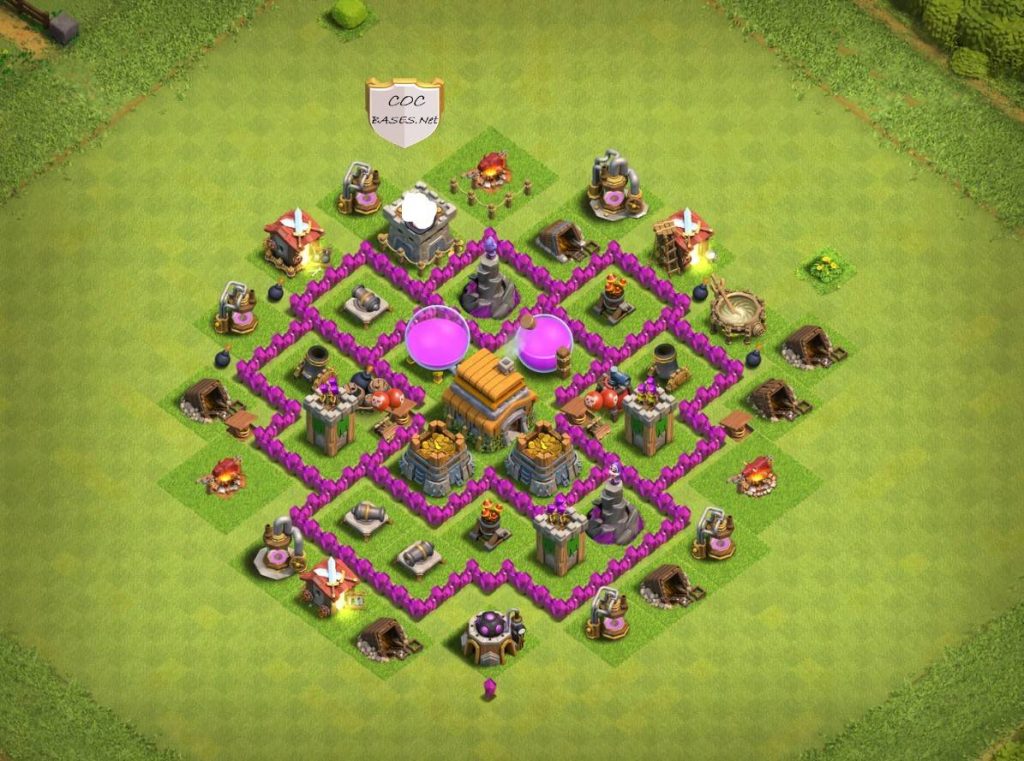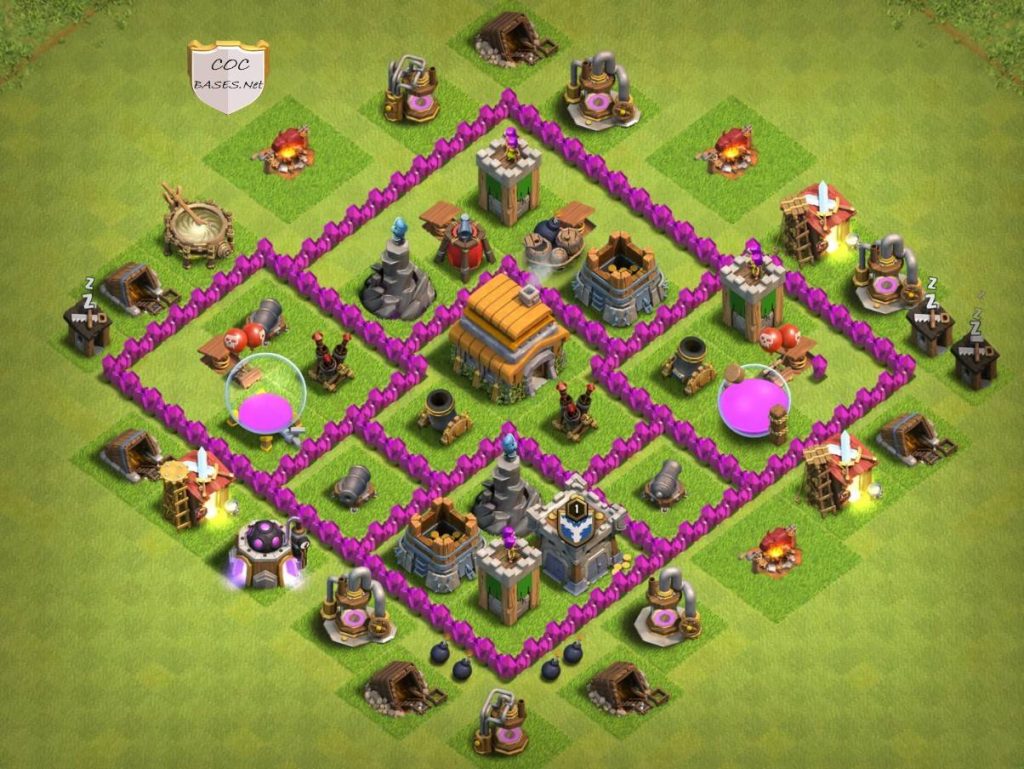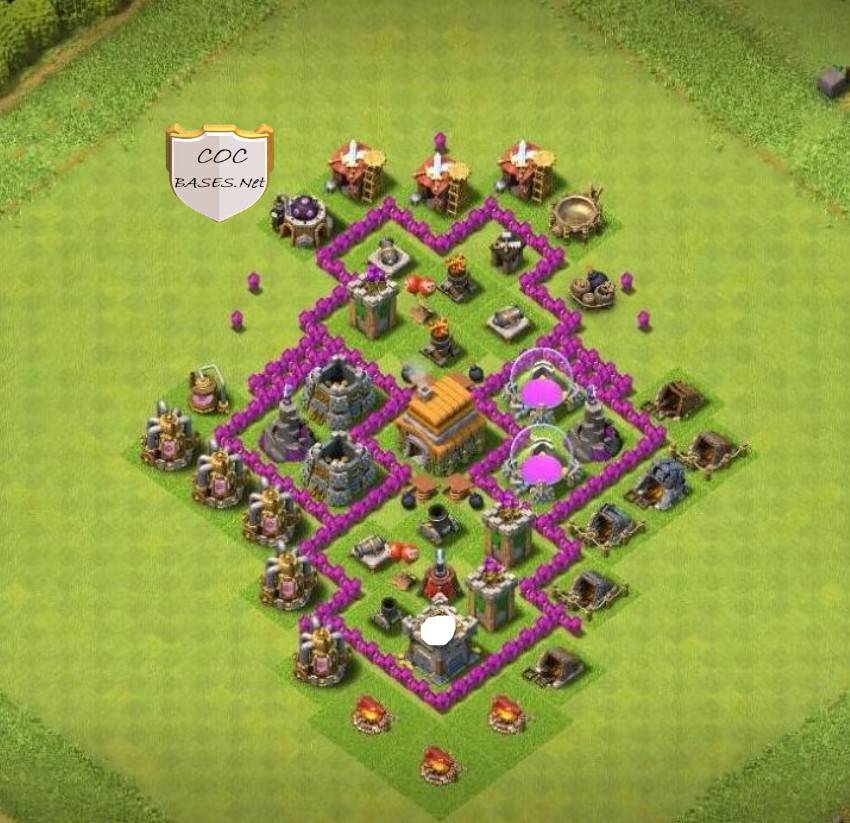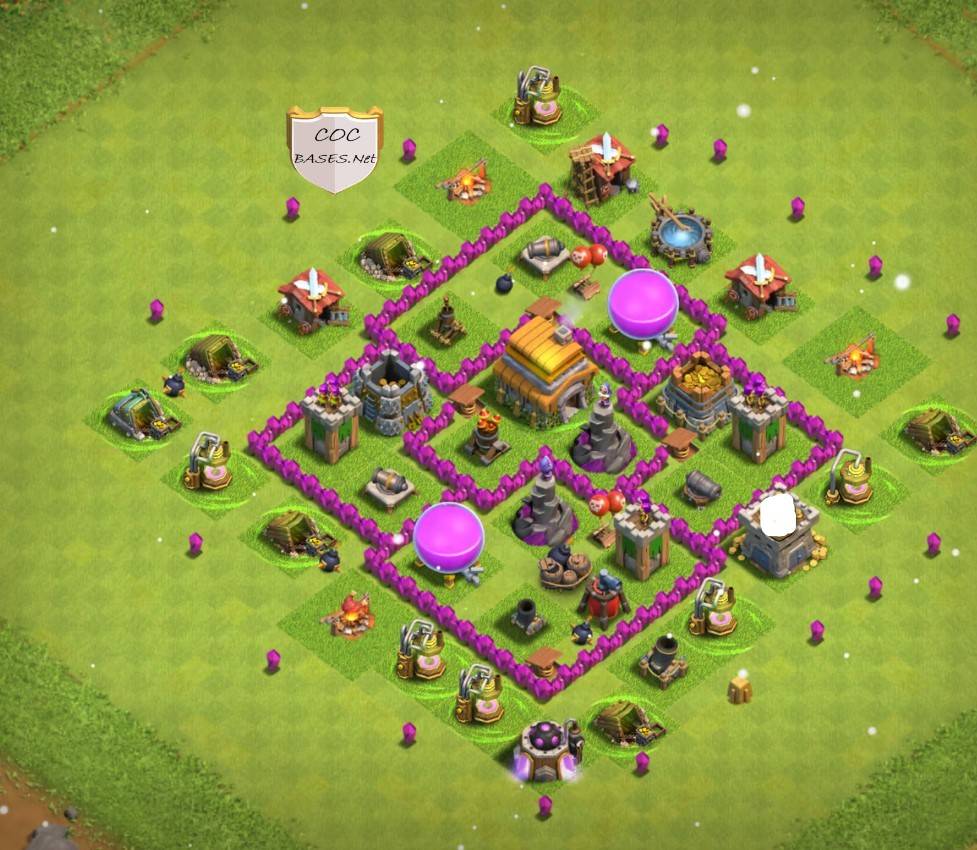 Also See