Welcome to town hall 6 hybrid bases! This is the real-time to know more about the best th6 hybrid base, as you have now upgraded to a new exciting level. Townhall 6 comes up with some amazing features and new buildings to be unlocked.
Townhall 6 doesn't consist of any hero or spell, it is mostly considered as practice level. In the best th6 level, the players get trained to build amazing bases to defeat the opponents by attacking or defending. You can also consider it a practice to face the amazing town hall 9 hero grind.
Best TH6 Hybrid Base Copy Link 2023
After upgrading to town hall 6, you must prepare the new upgrading priority list. Mostly, in upgrading priority list 2023, the preference is given to laboratory and spell factory upgrading. At this level most players have three builders, so every builder should be upgrading different buildings.
The priority must be given to upgrading of laboratory and then spell factory. Then eventually build new walls and buildings inside the best th6 hybrid bases. Afterward, the focus must be on maxing the mortar and other important defense buildings to secure the clan from attackers.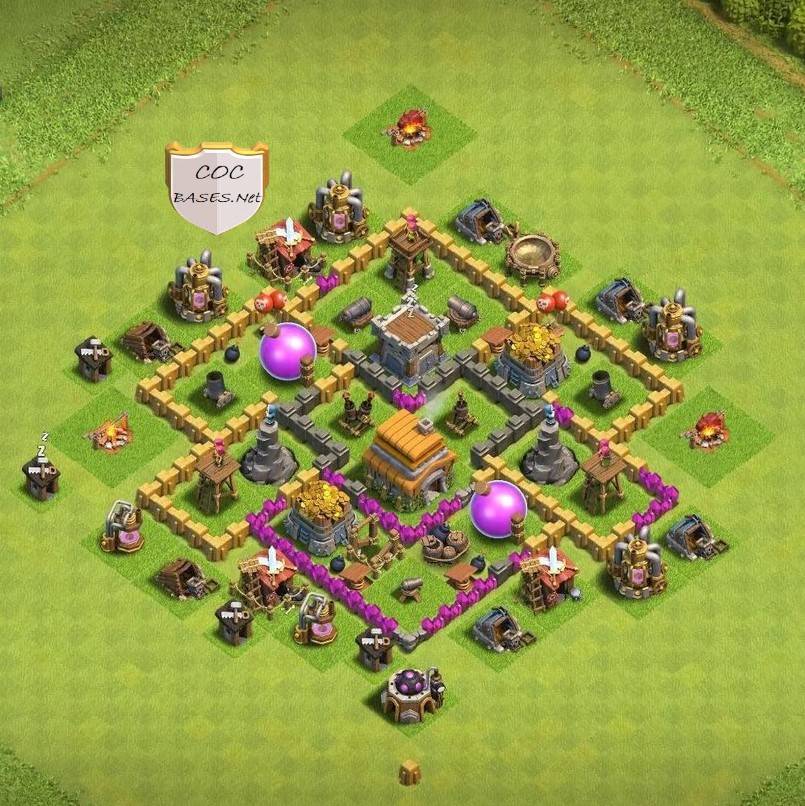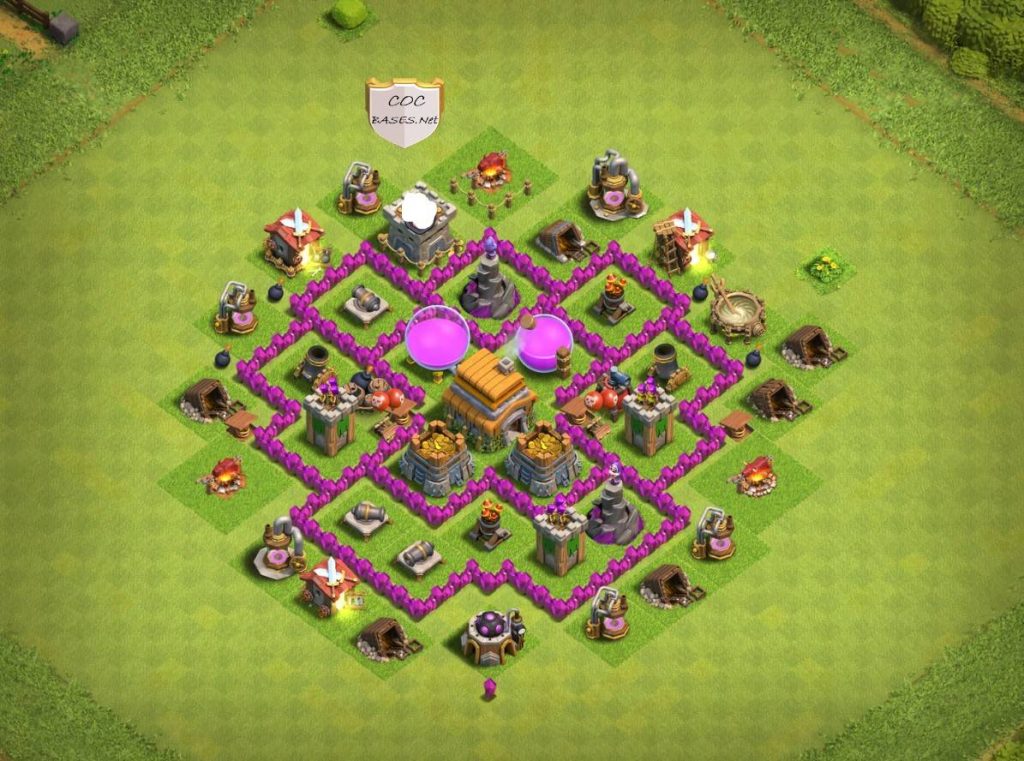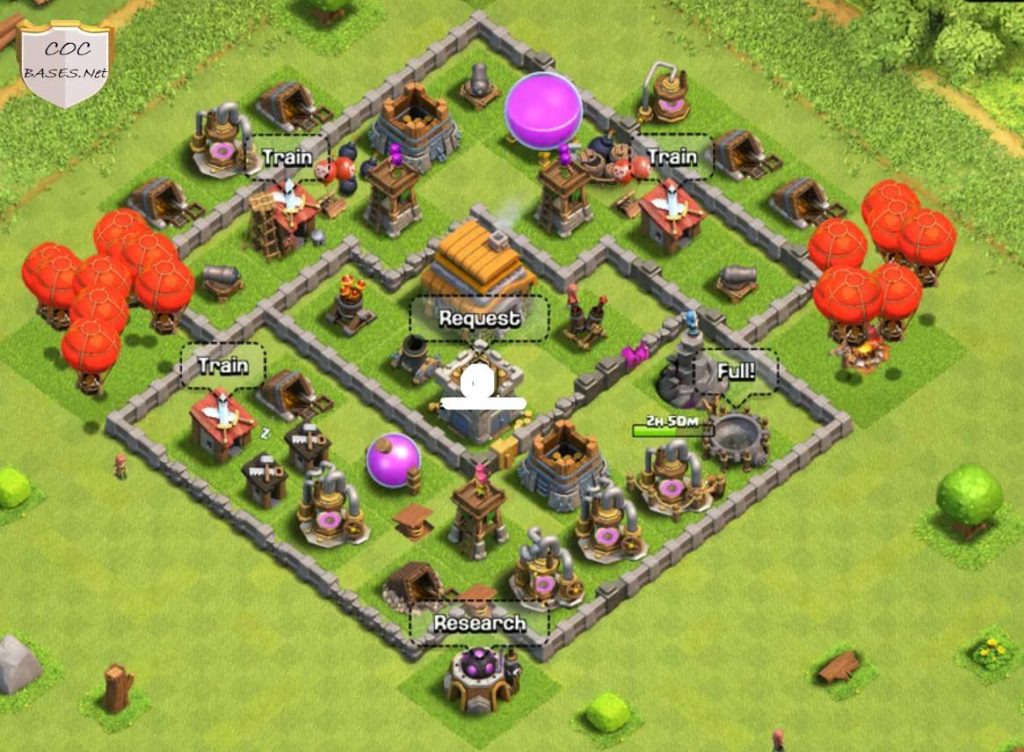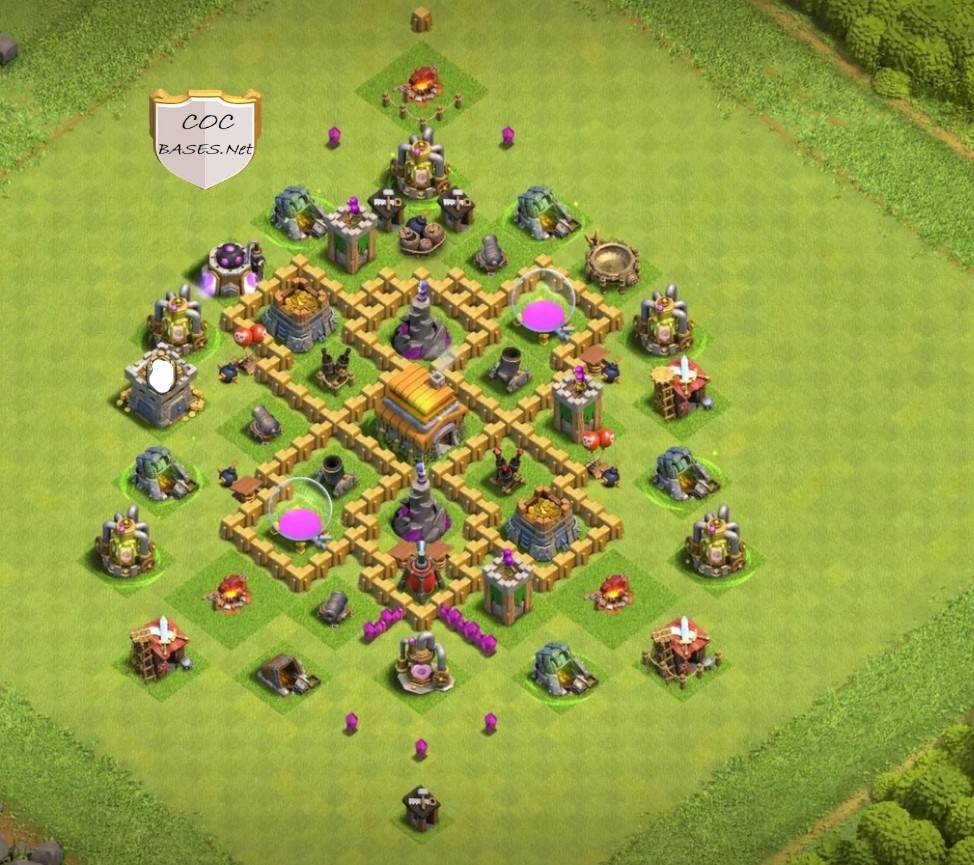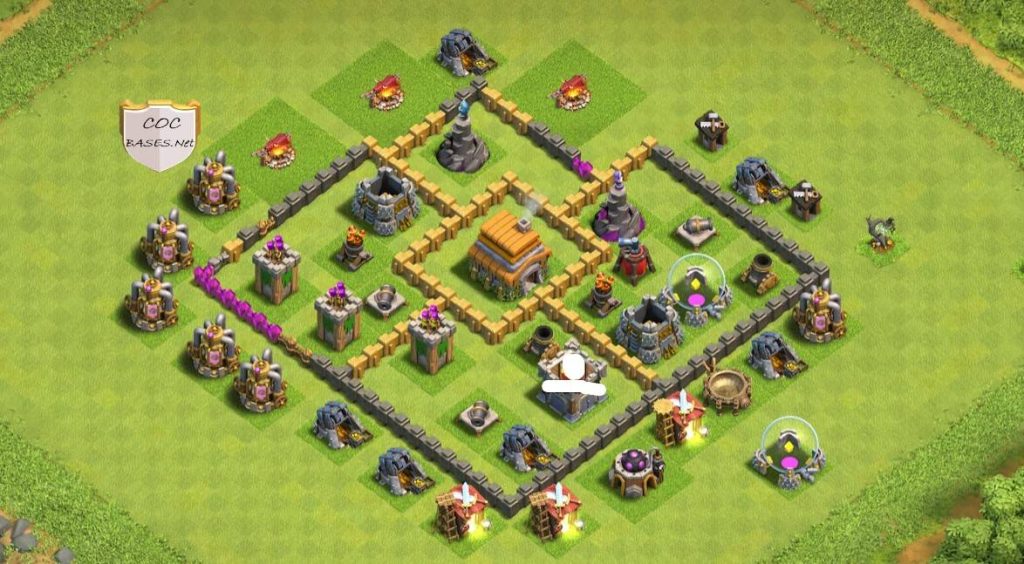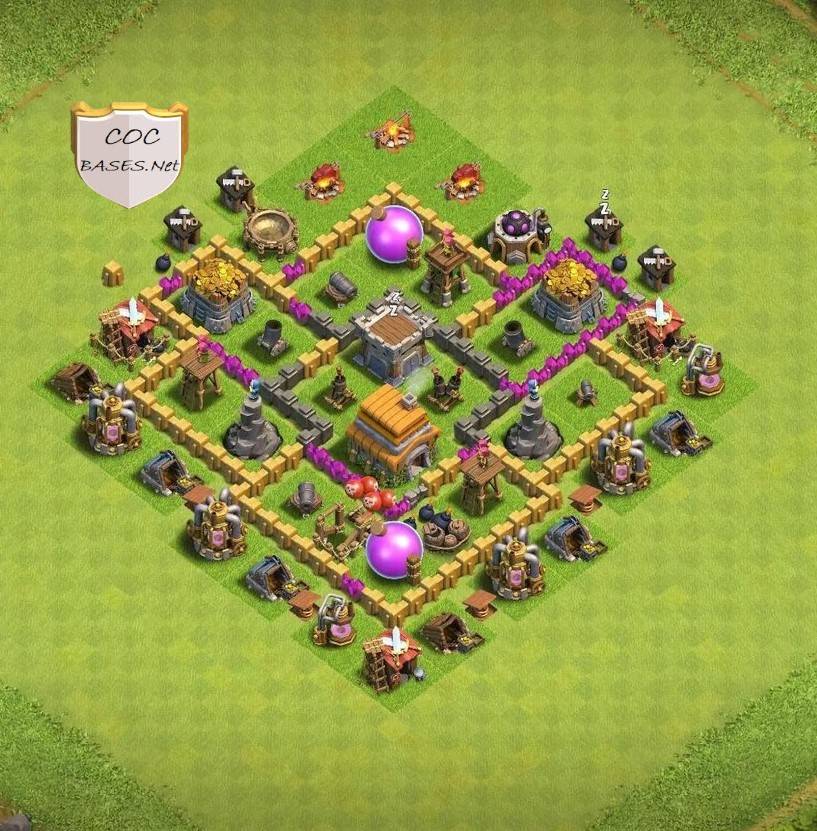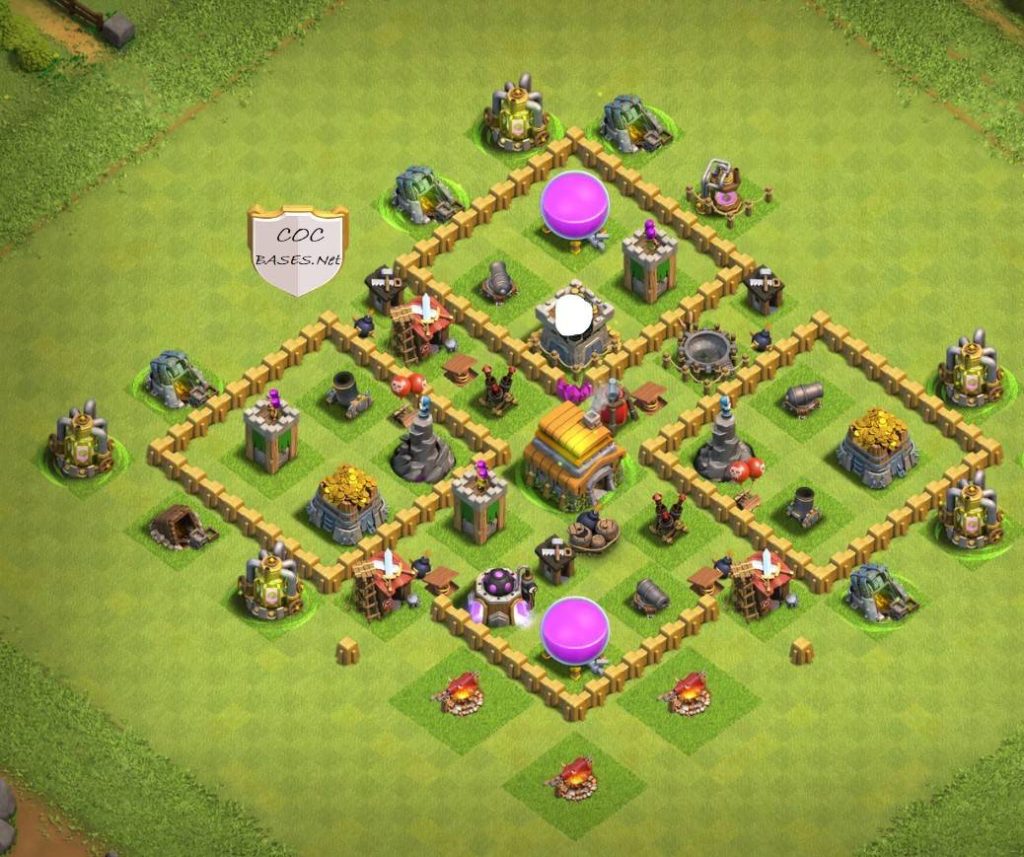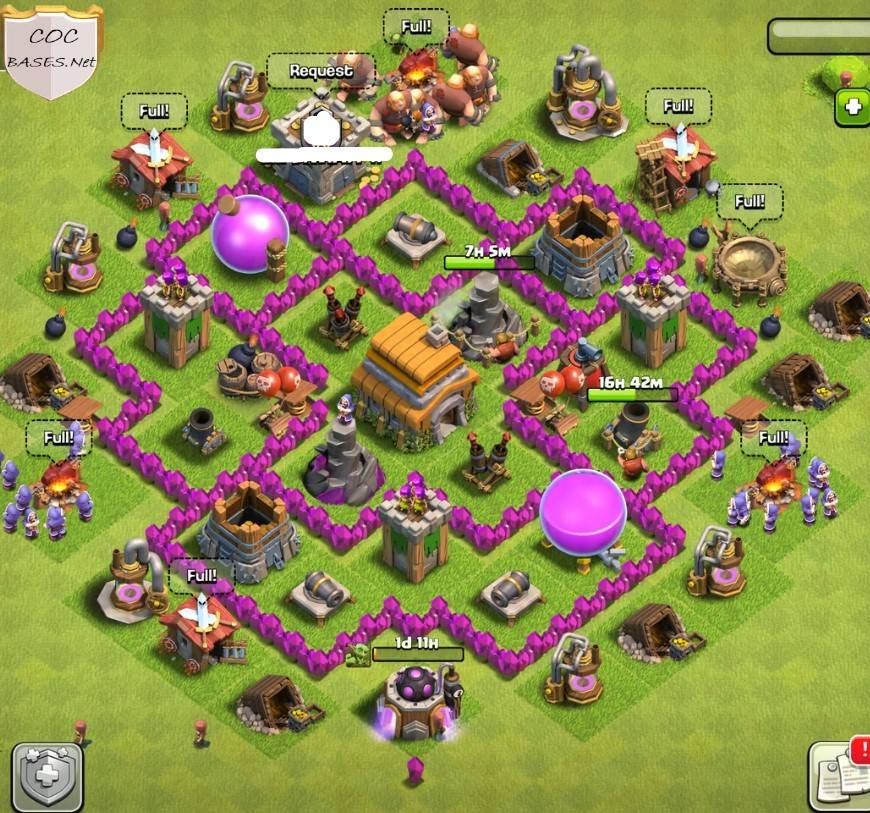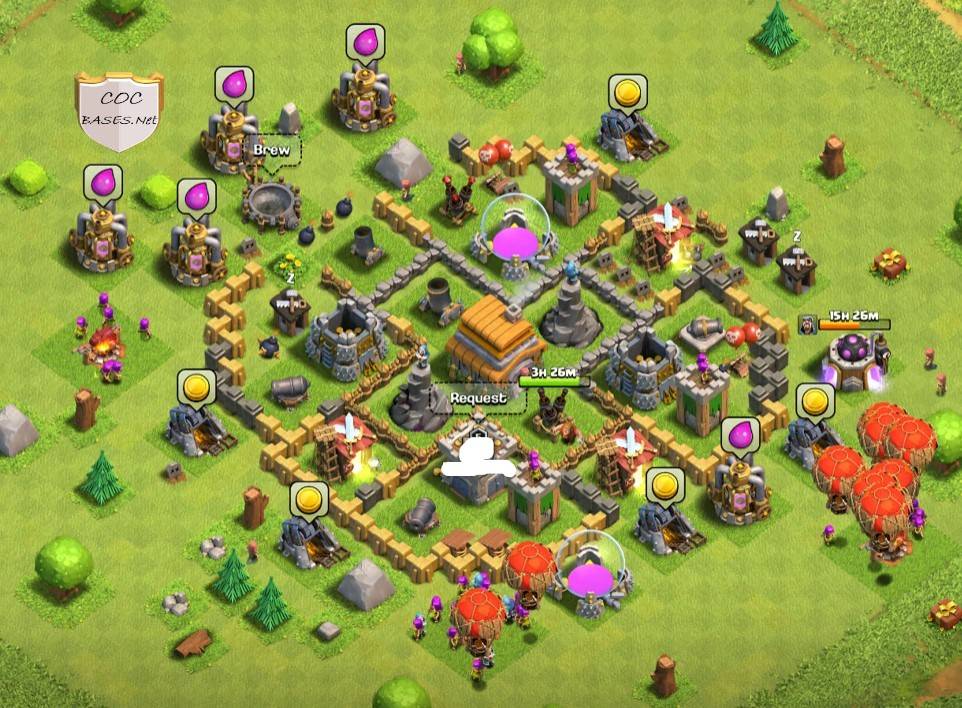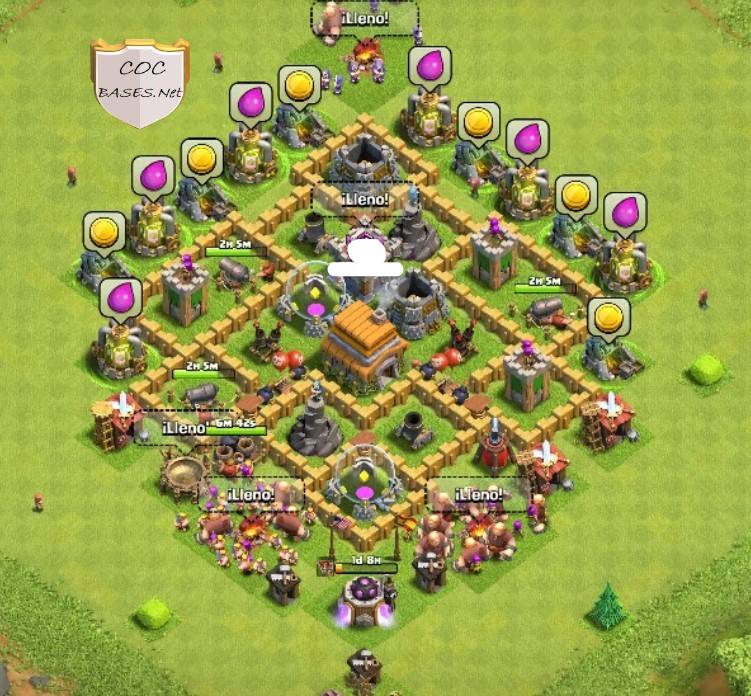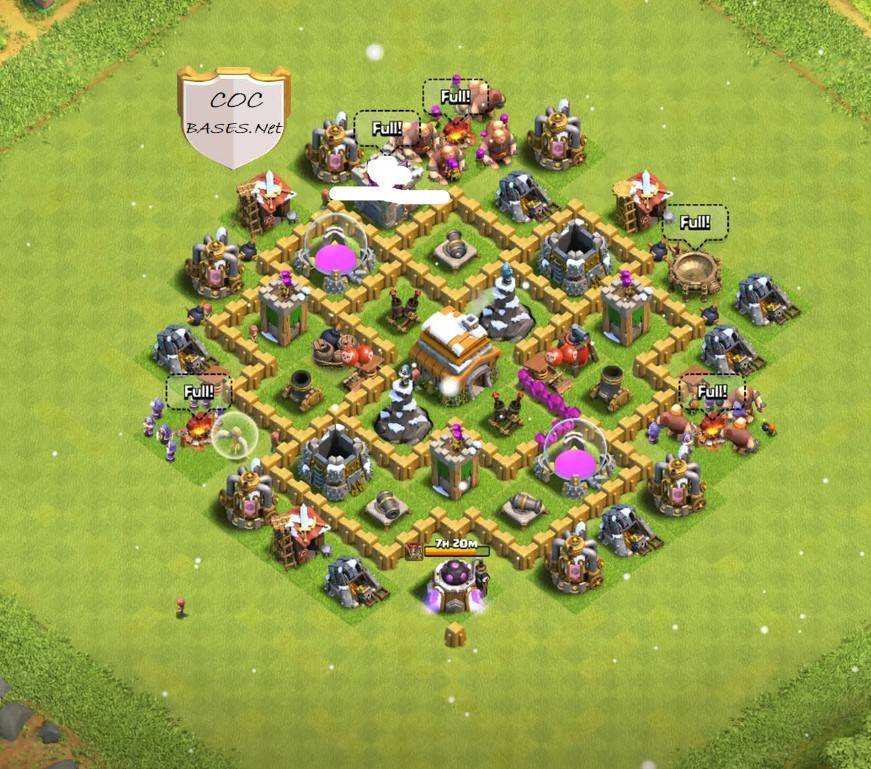 Best Town Hall 6 Hybrid Base Link Anti Everything
Like all other three bases, the hybrid bases are also very effective to be built in town hall 6. The hybrid base layout is the combination of farming base layout and war base layout. This best th6 hybrid base guide is for those players who always love to play with this base layout. As this base layout designs can be used as defending and also for attacking. You have to give preference to the protection of the town hall and also secure the resources from loot.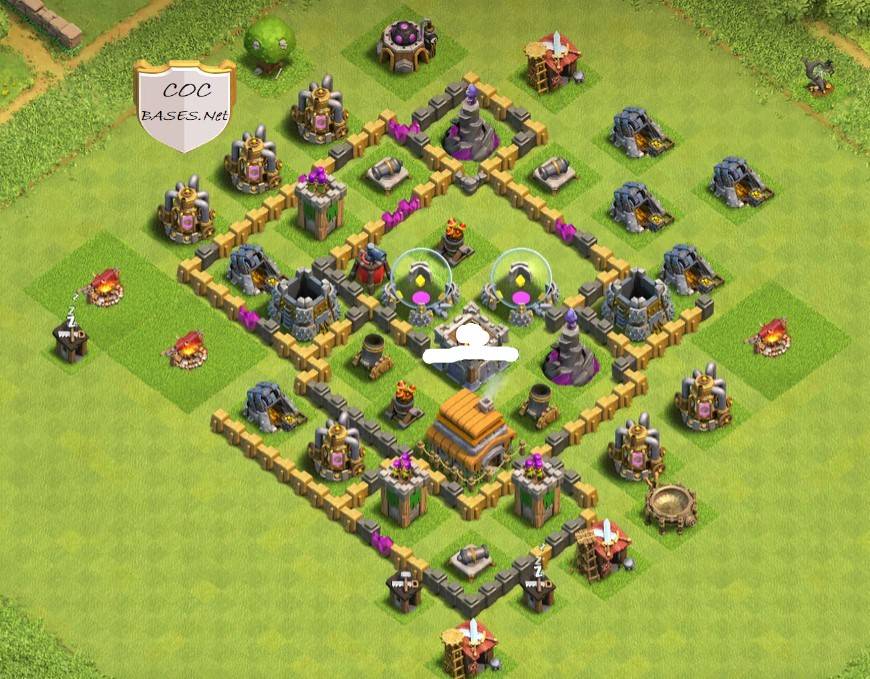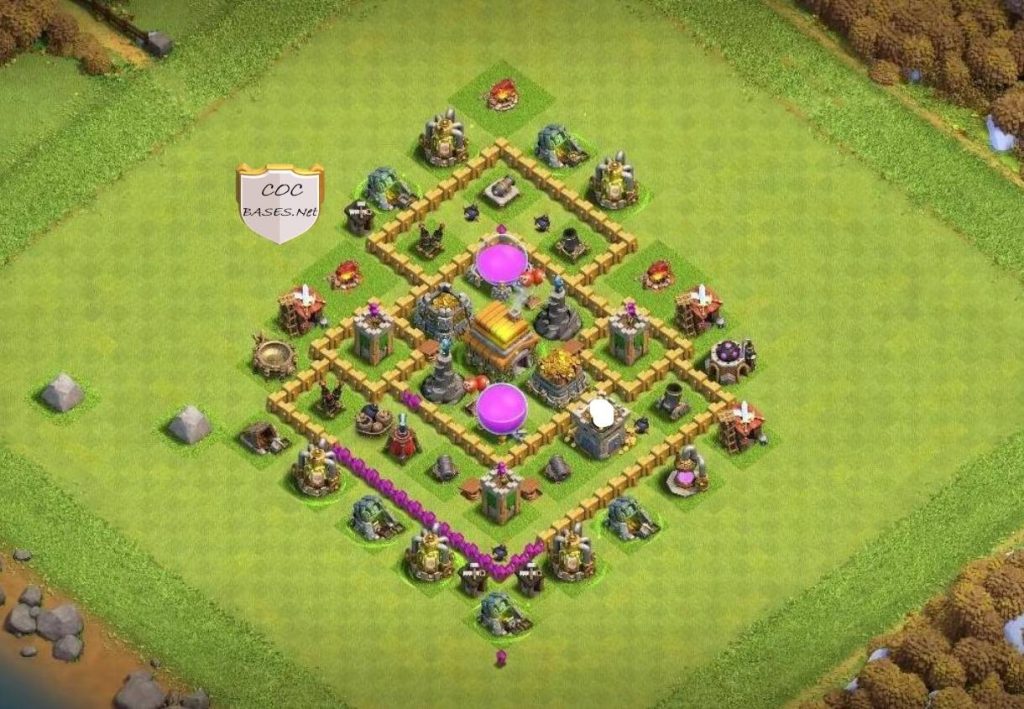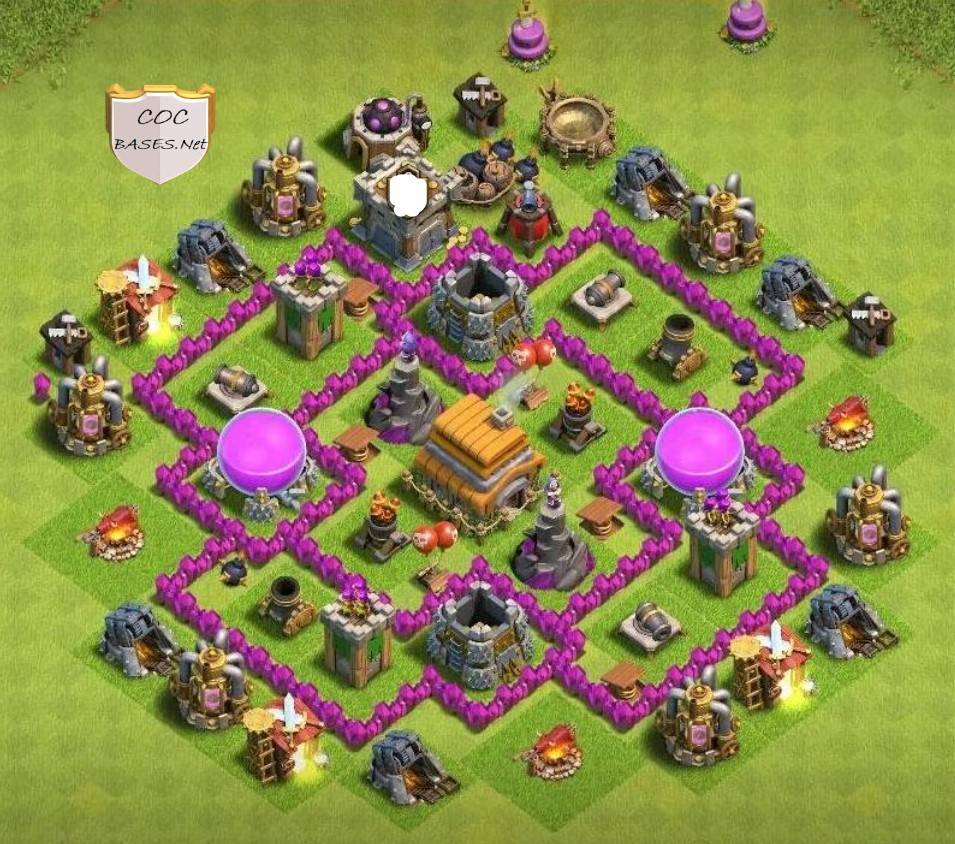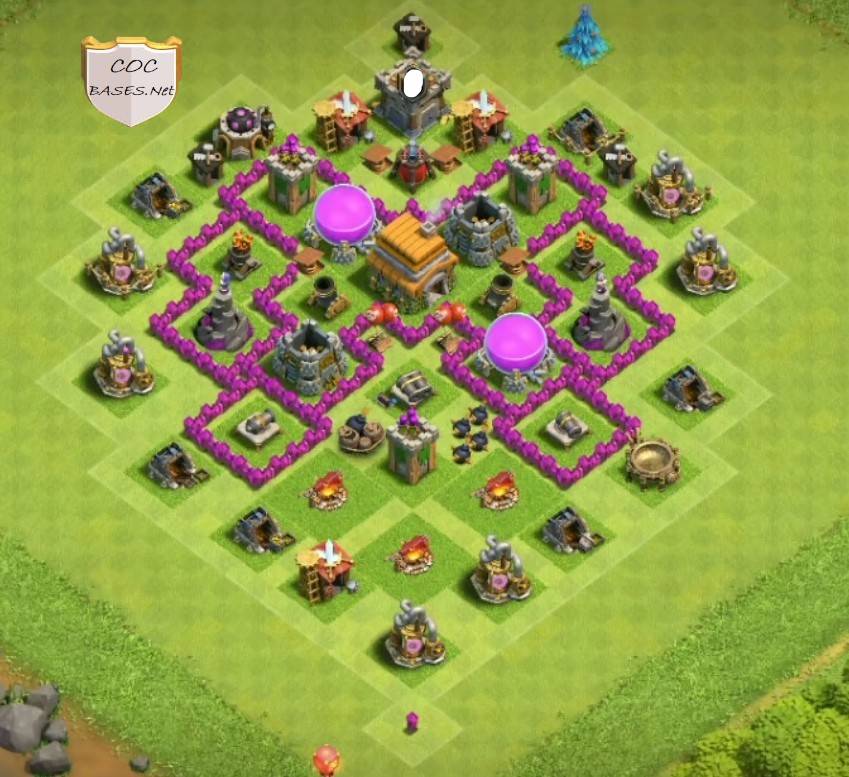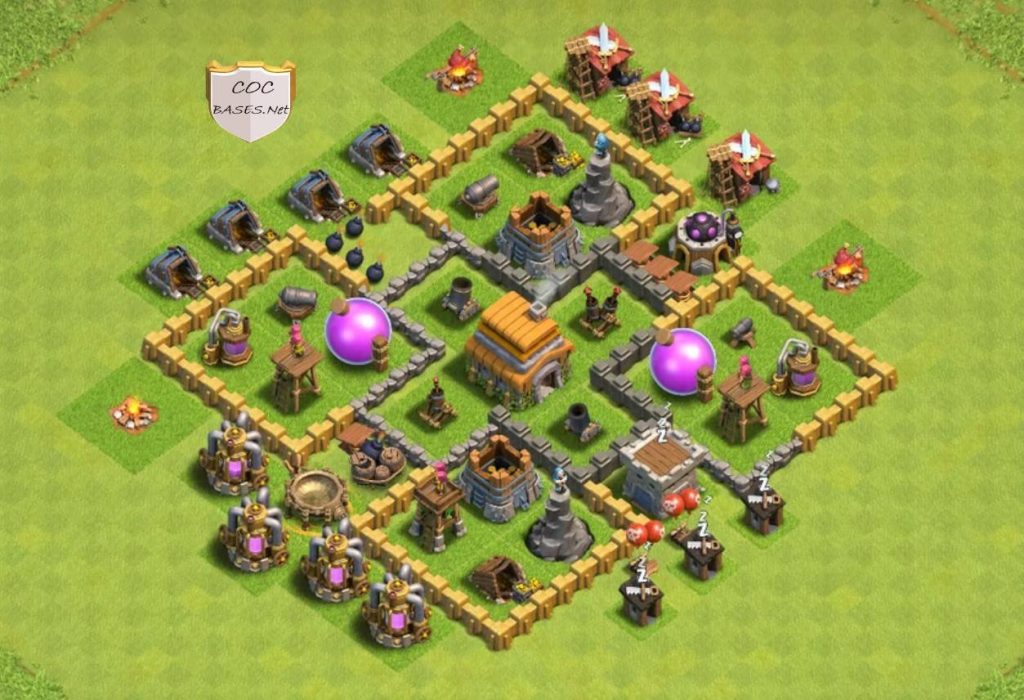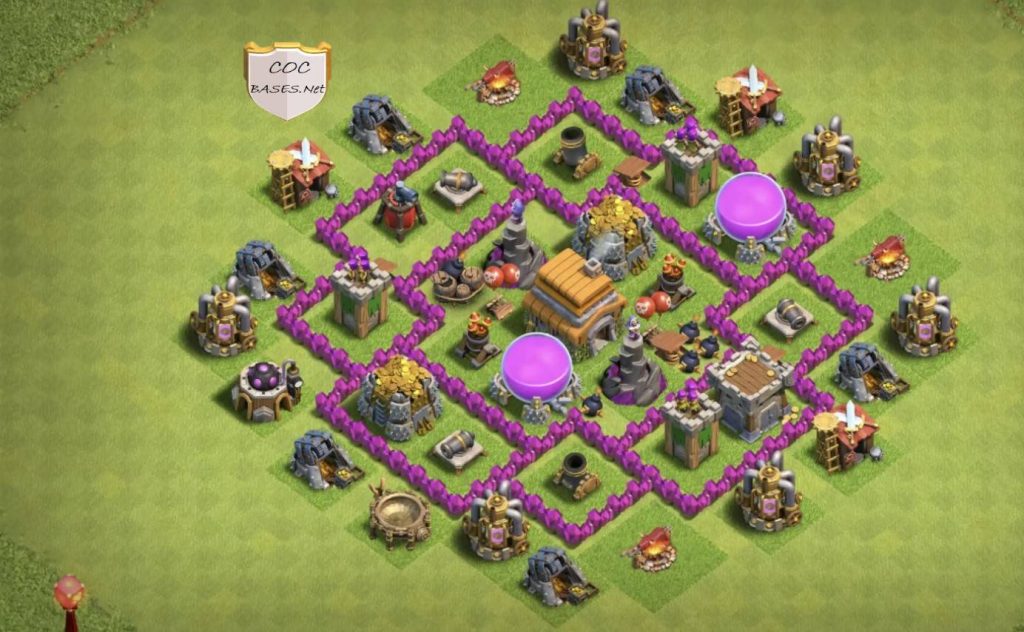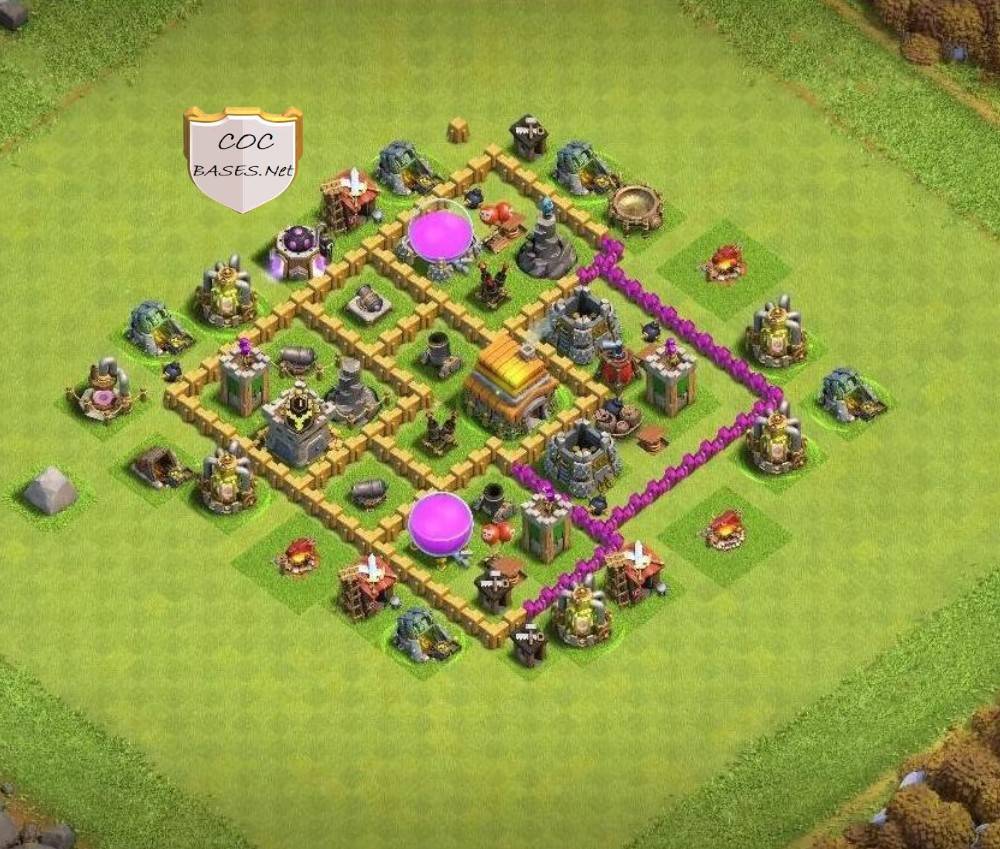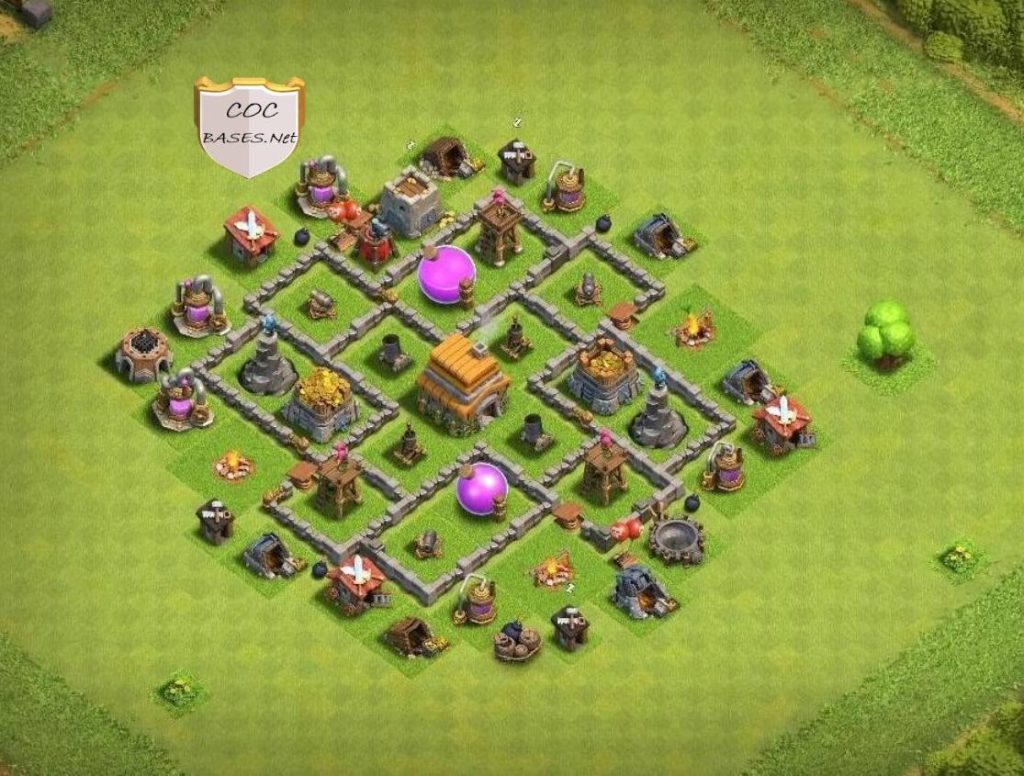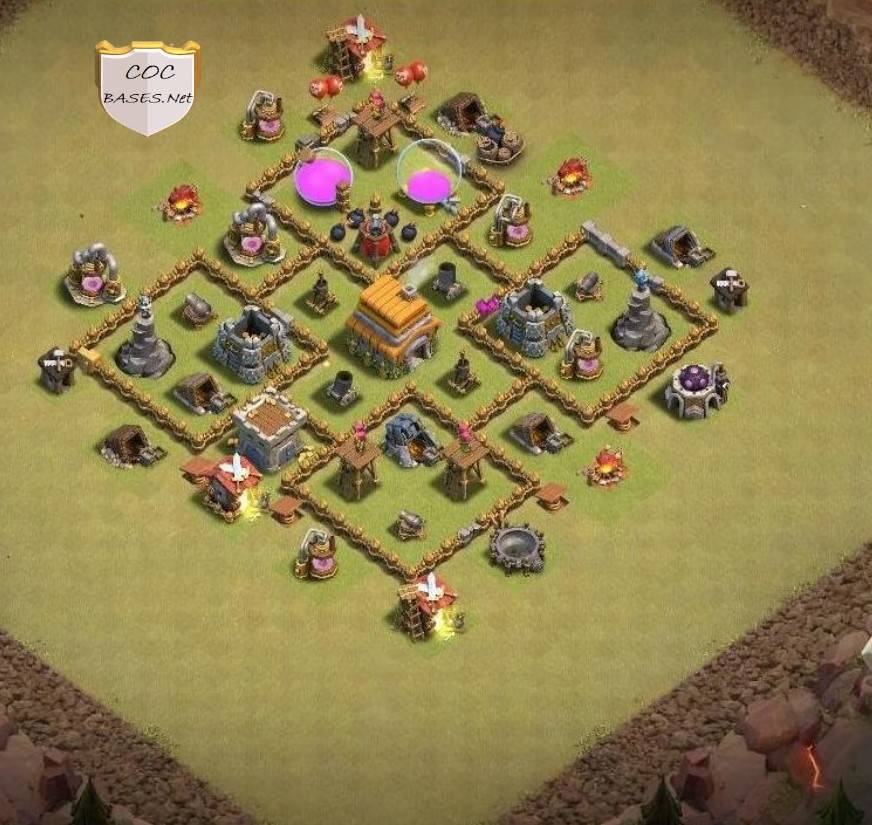 COC TH6 Hybrid/Farming Base 2023
The simple advice is to keep the town hall in the center with many small compartments surrounding it. In those small compartments, you can place resource buildings with defense towers. secondly, the placement of buildings is also very important like a combination of hidden tesla and air-defense or mortar. Below, we have mentioned some amazing hybrid base designs that will be very helpful for you to design your own best th6 hybrid base.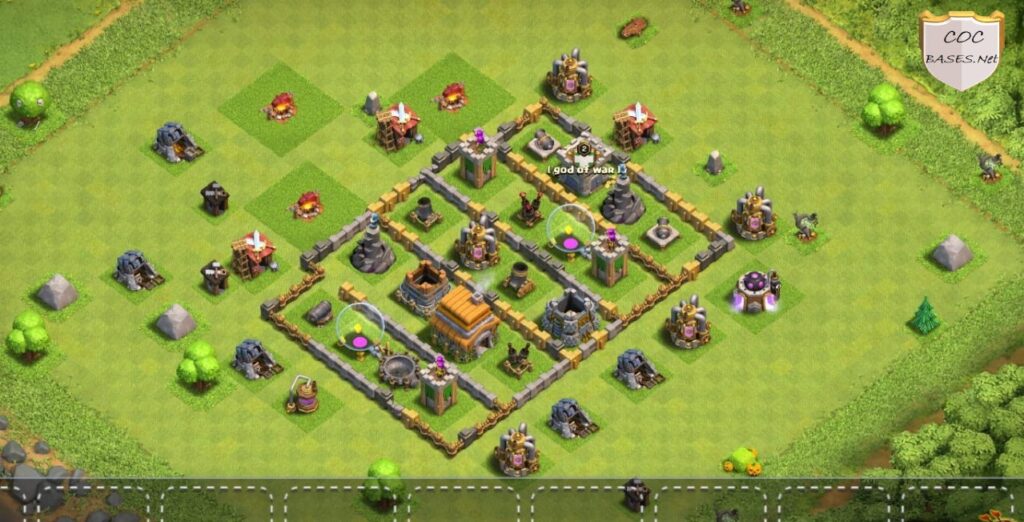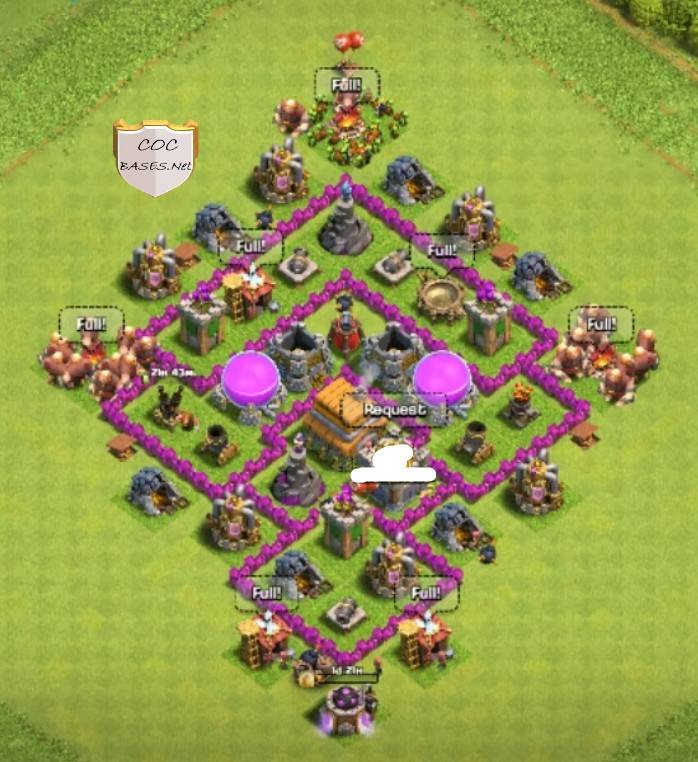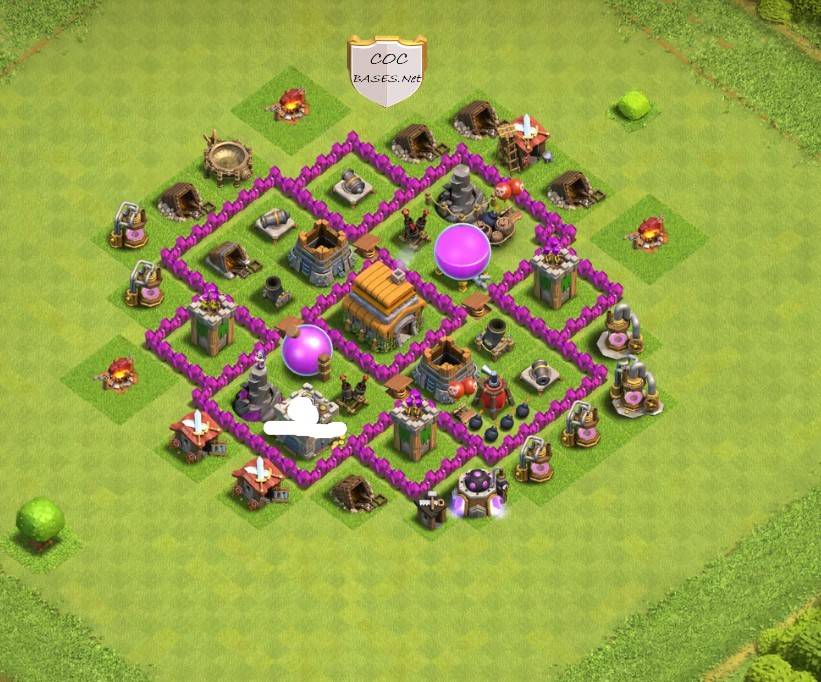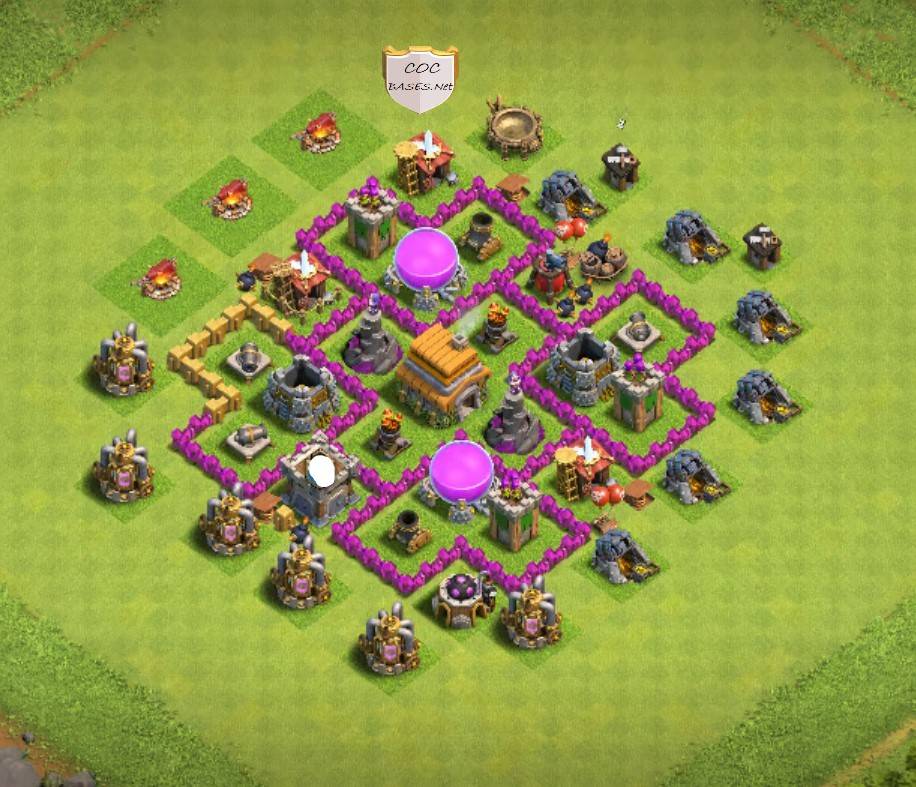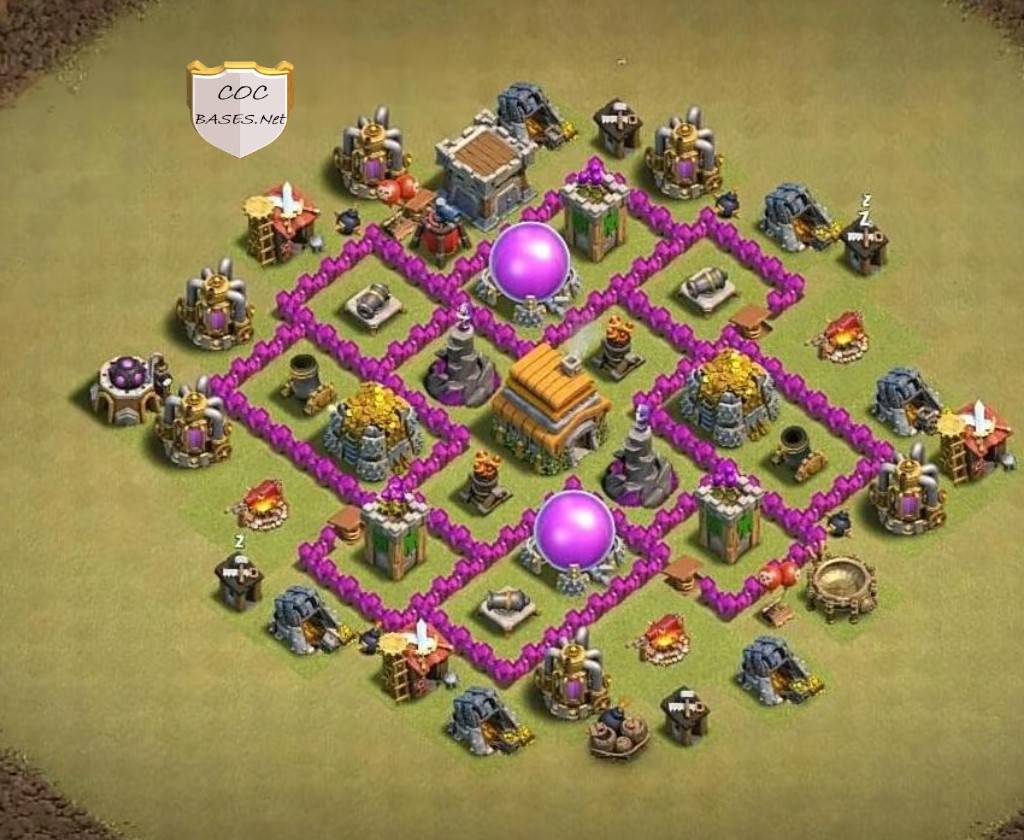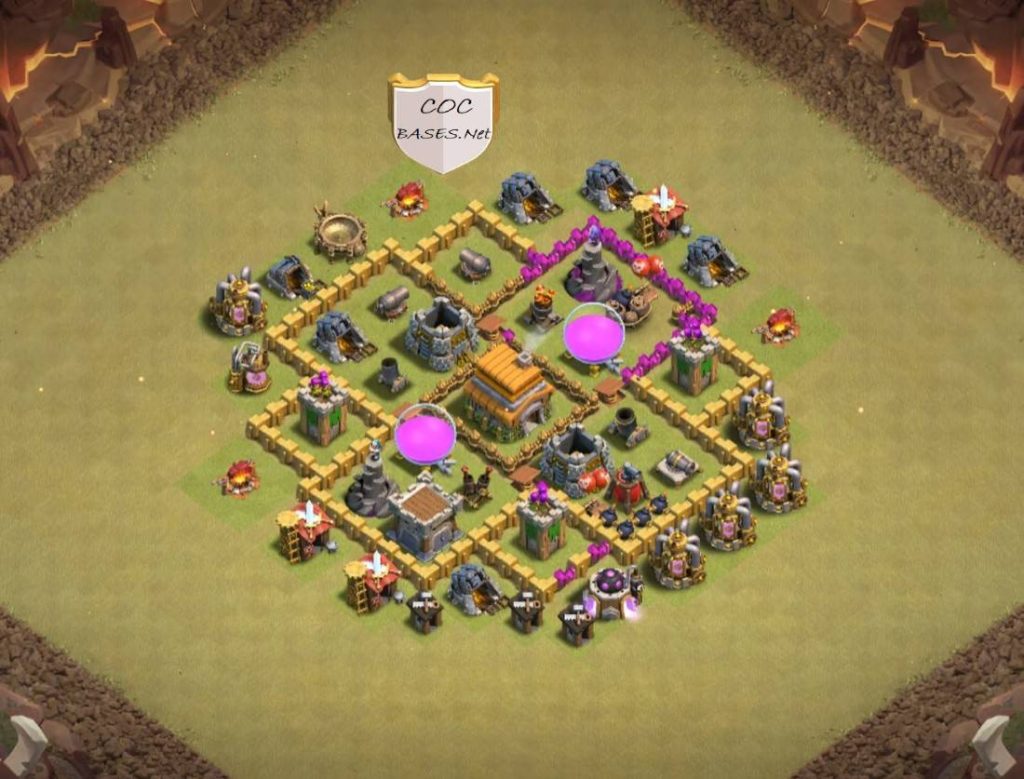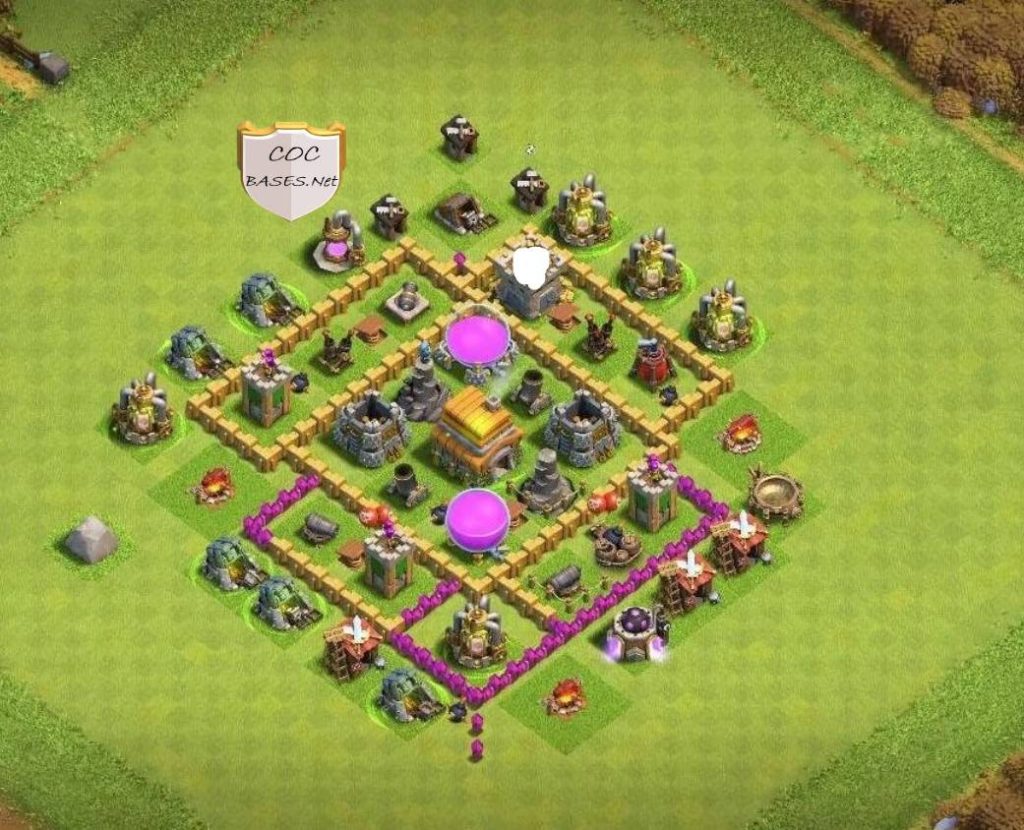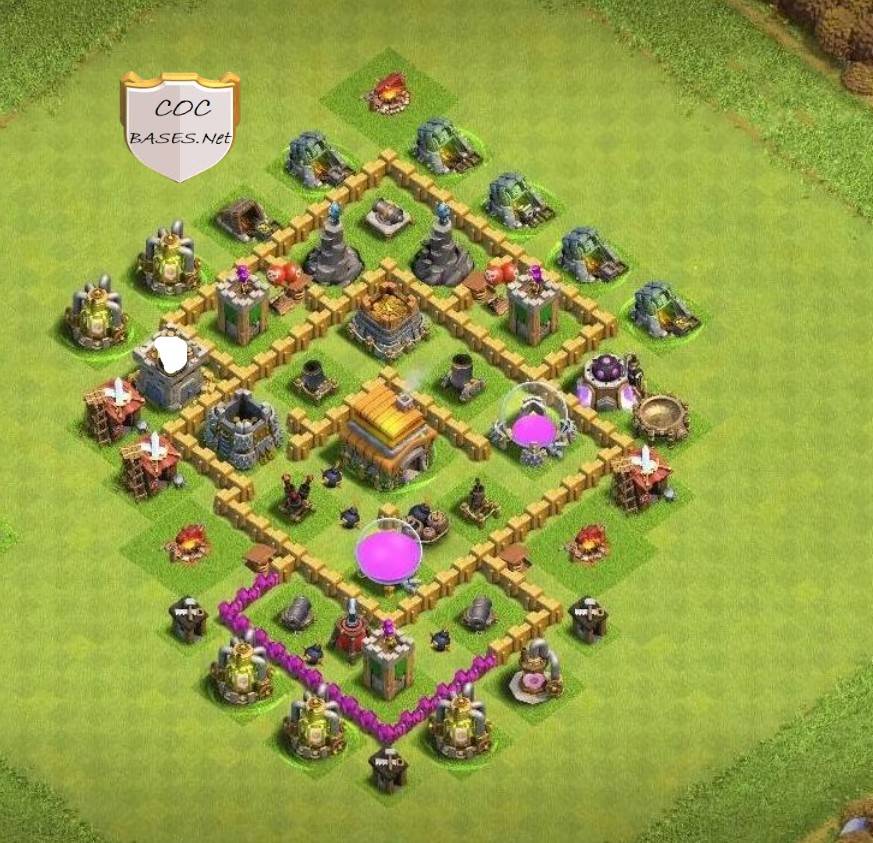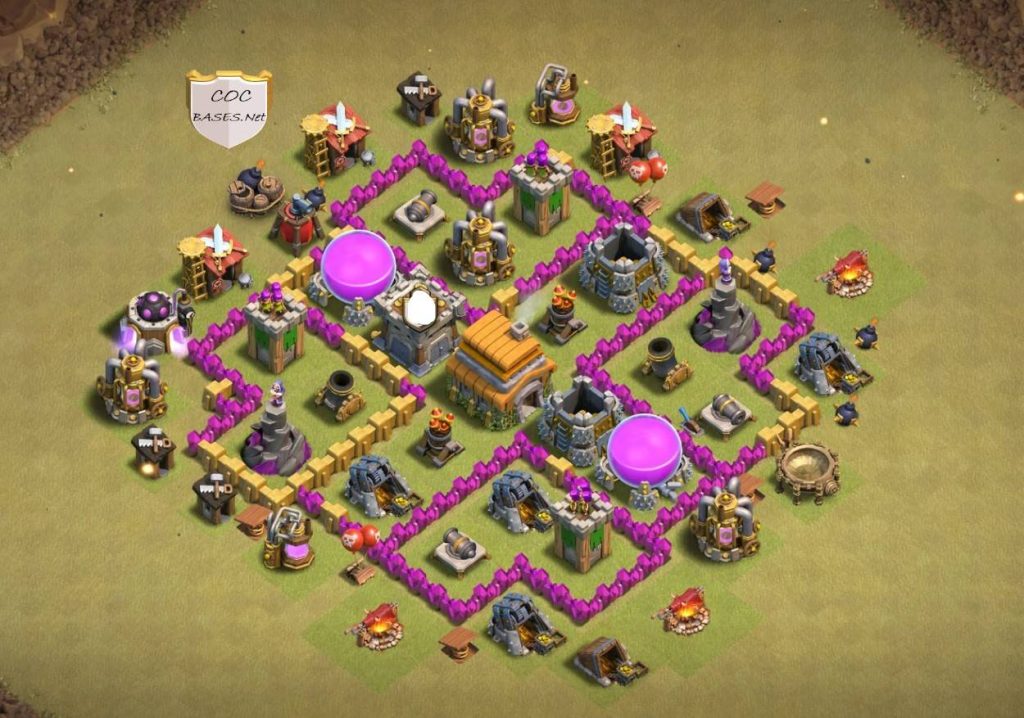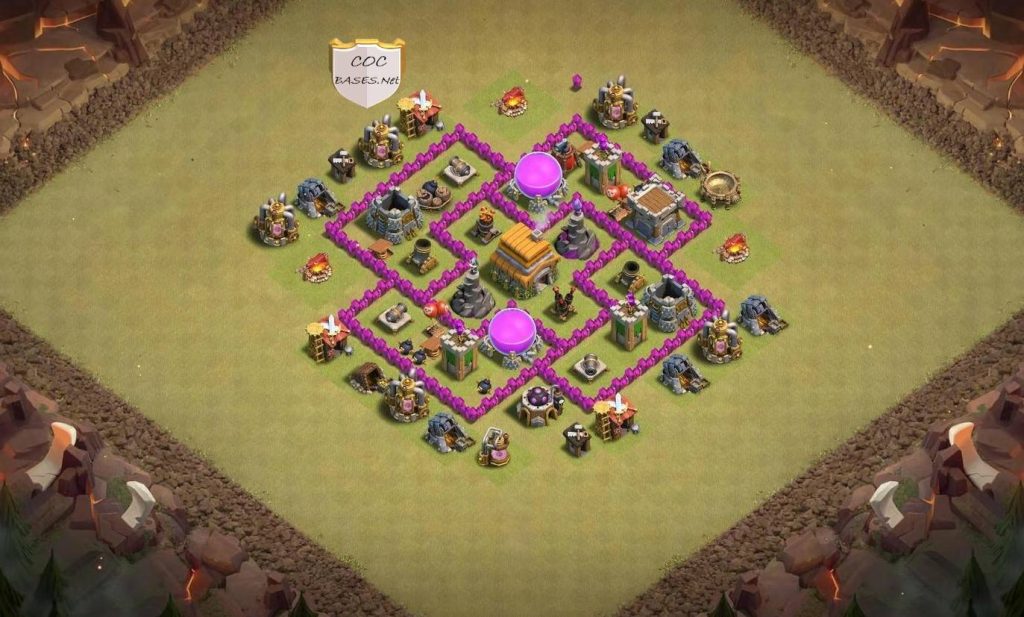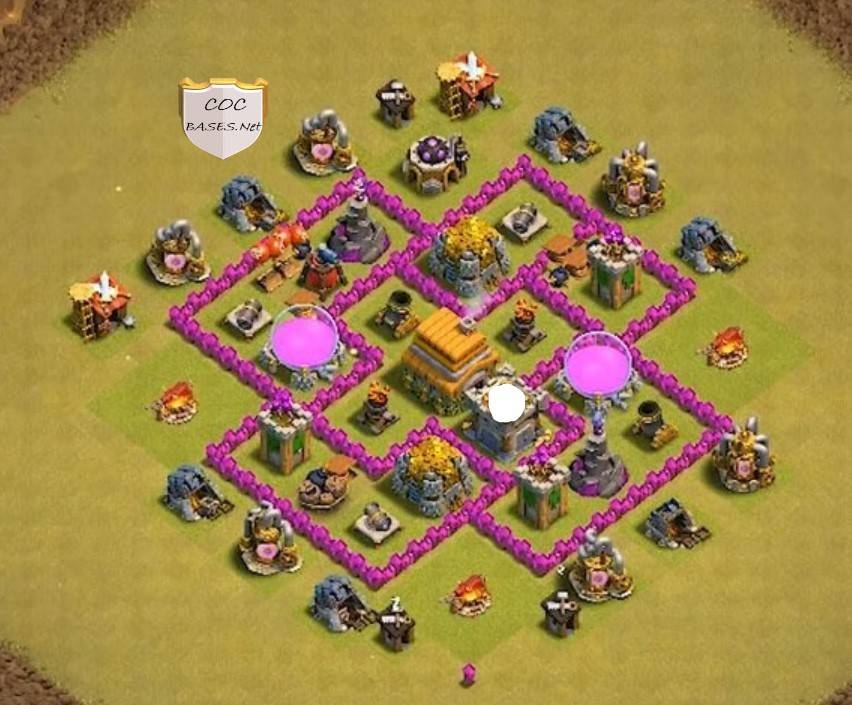 Best Town Hall 6 Hybrid Layout with Link
Here we have mentioned three amazingly outstanding hybrid base layouts for the players who love to play clash of clans bases 2023 with a hybrid base. All these mentioned best th6 hybrid bases are eye-catching and wonderful. The first th6 base layout consists of a town hall and clan castle placed in the center. The central compartment also consists of some amazing defense buildings to protect the town hall. There is a second layer of buildings and towers that are protecting the central portion from outside the wall.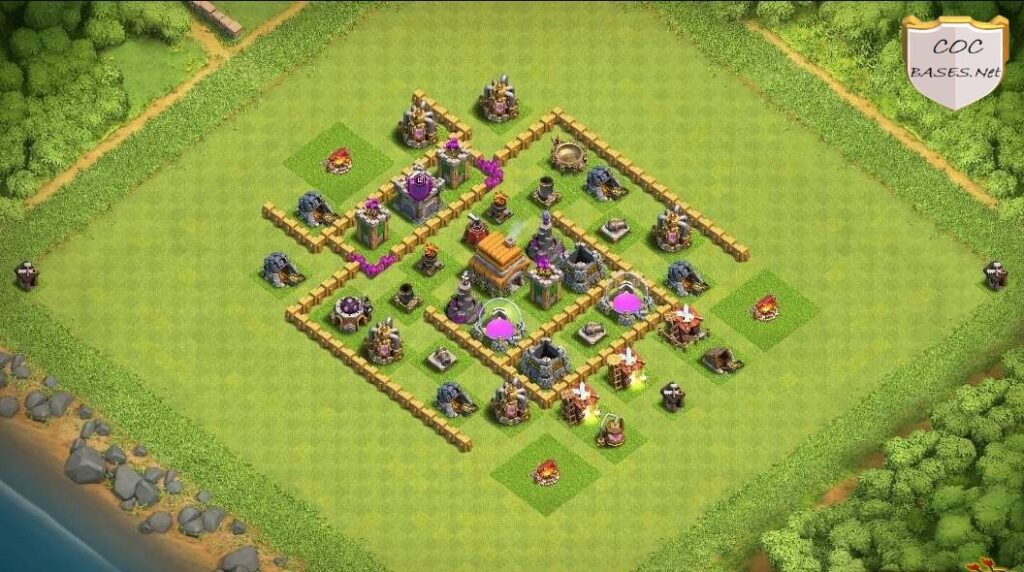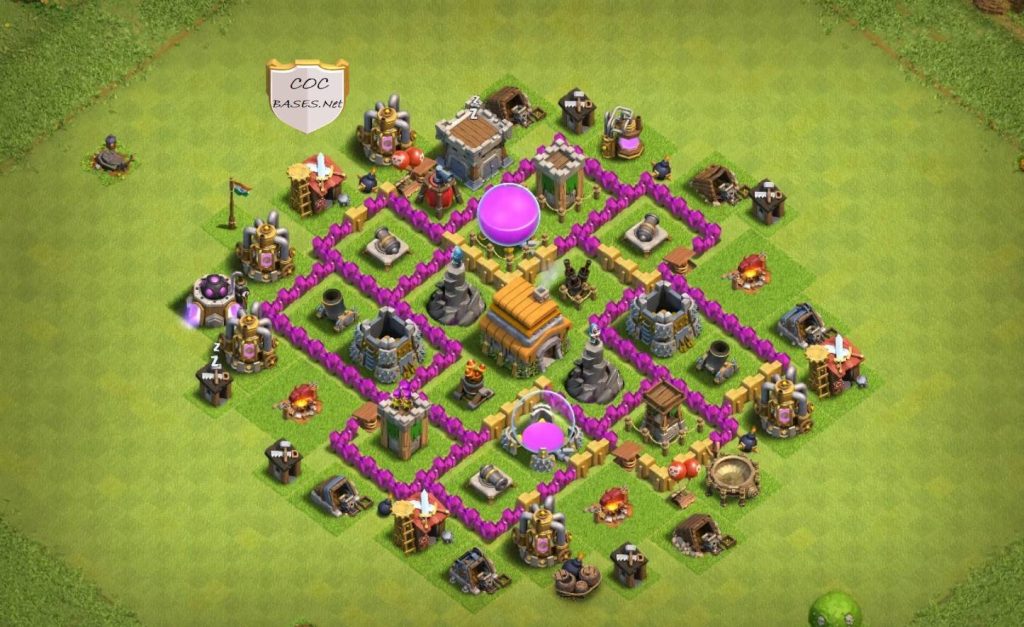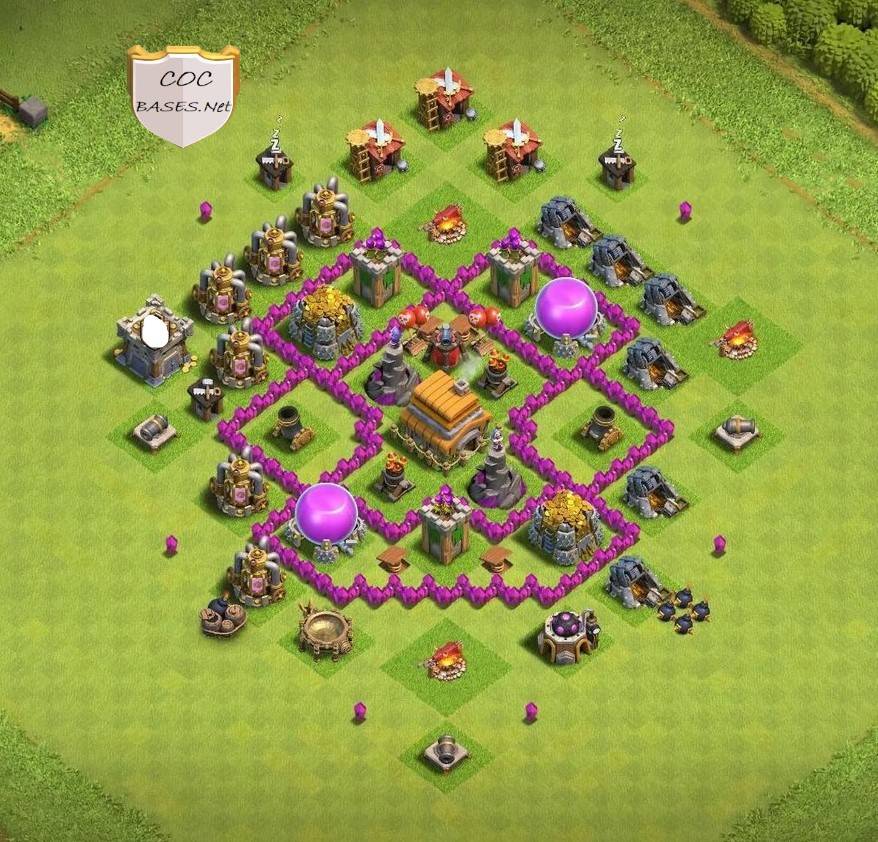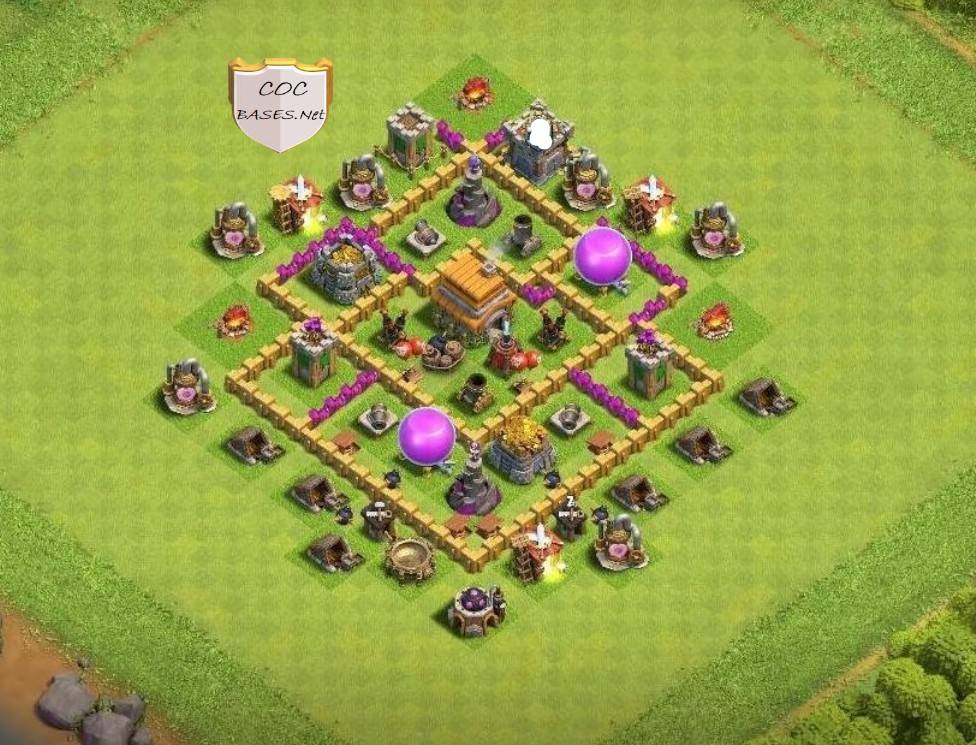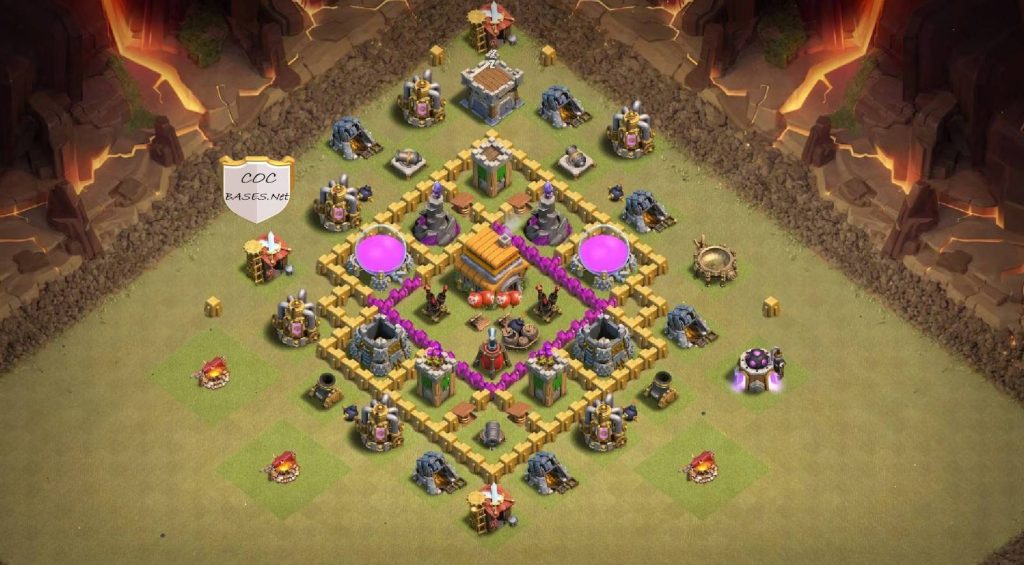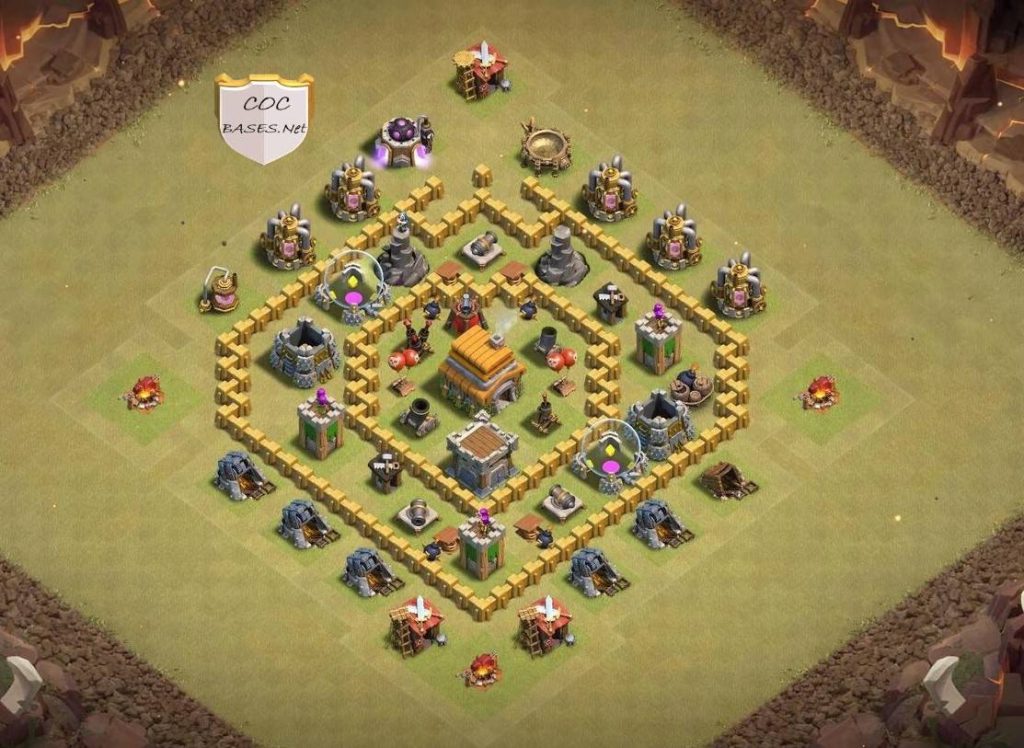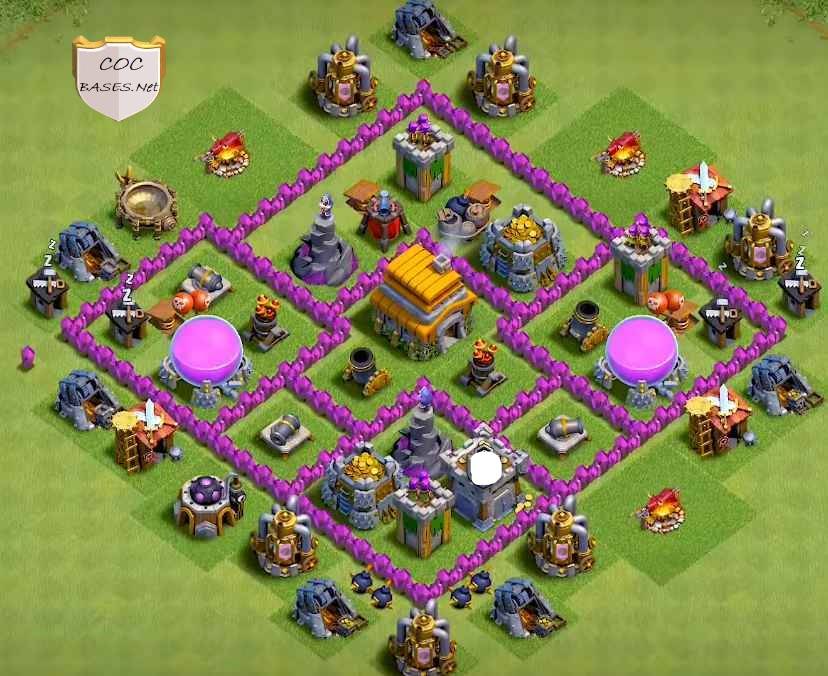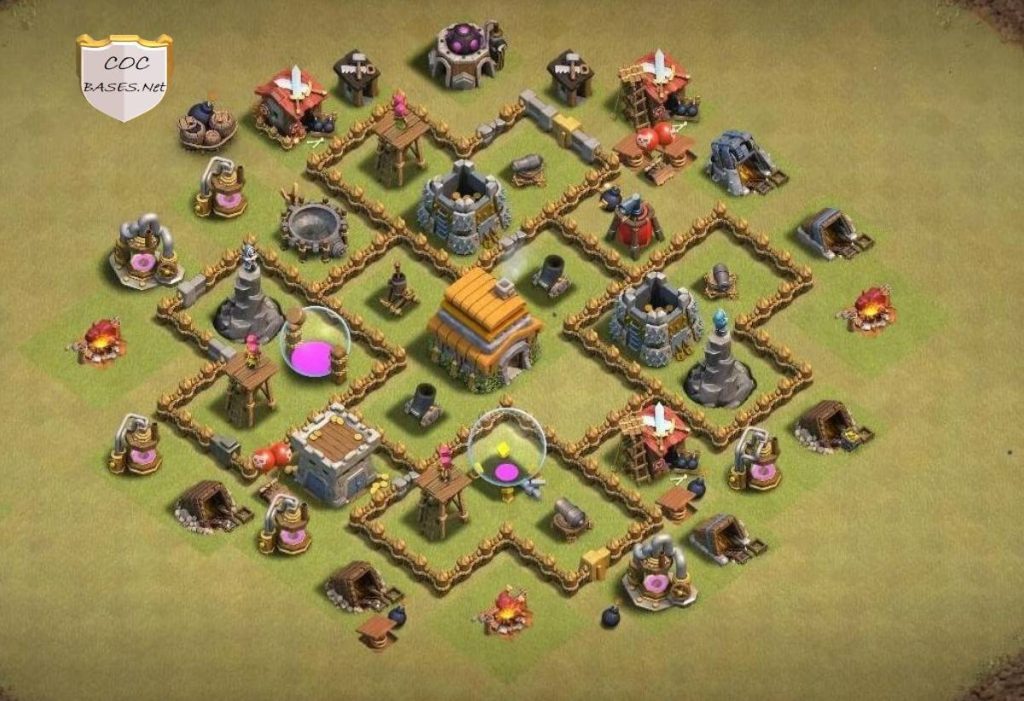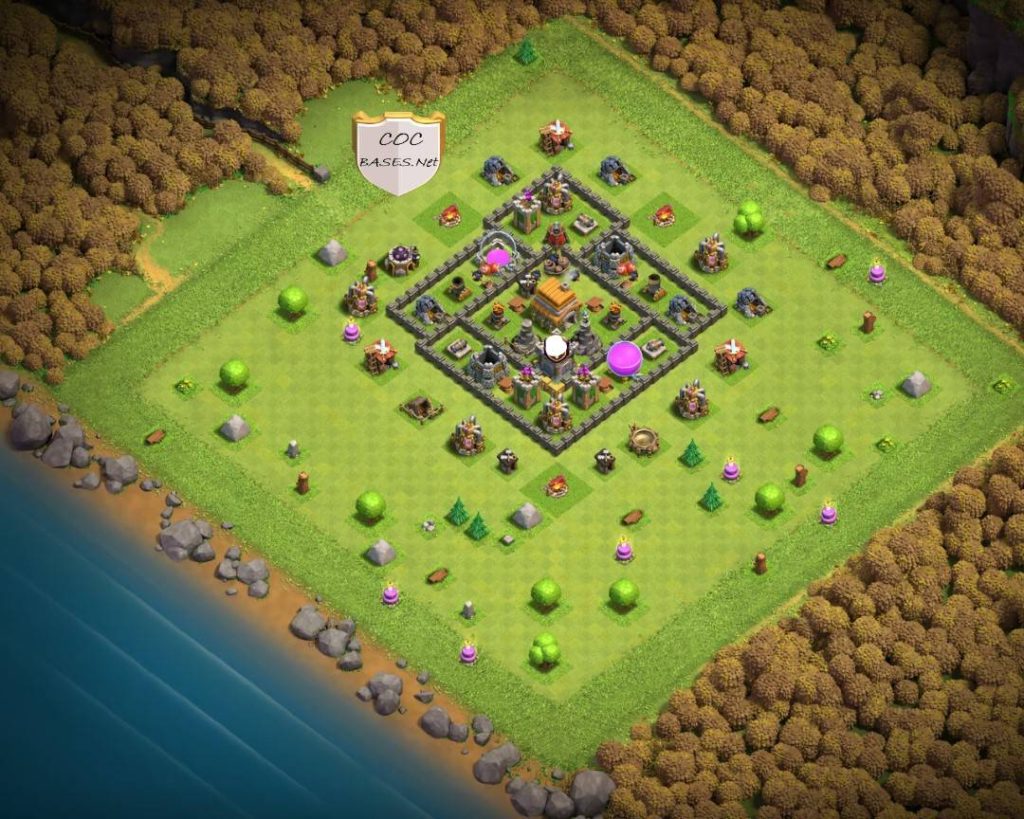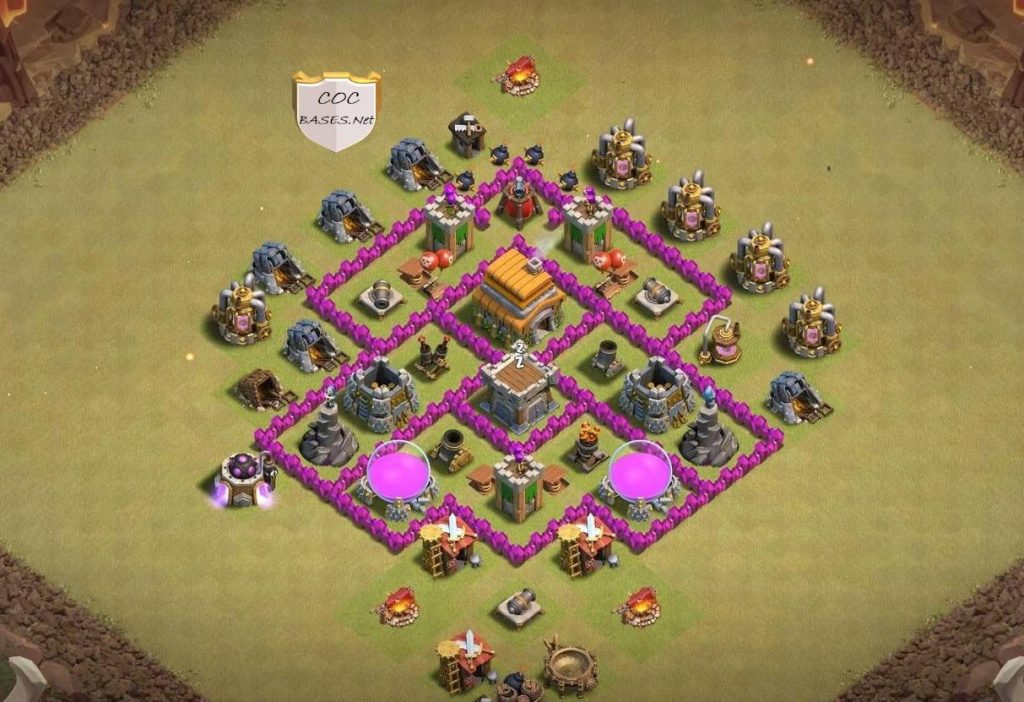 Clash of Clans TH6 Hybrid/War Base
This second layer consists of two hidden teslas, resource towers, dark elixir storage, cannon, mortar, air-defense, and storage buildings. The second layer has a maxed wall and outside that wall, there are some amazing defense buildings for the security of this whole clan. One thing that I found missing is more compartments to make the troop more secure.
This hybrid base layout is quite different from the first one, the only thing that I find similar is the placement of the town hall. the town hall is centralized with two sides covered with hidden tesla and the other two sides covered with mortar. There are four compartments into which the whole clan is divided. Two compartments consist of air-defense and the other two sections consist of cannons.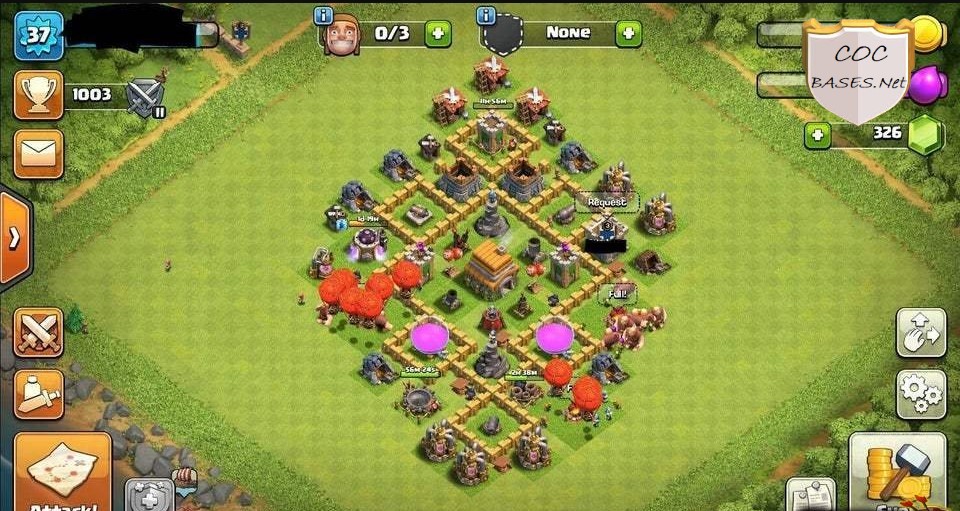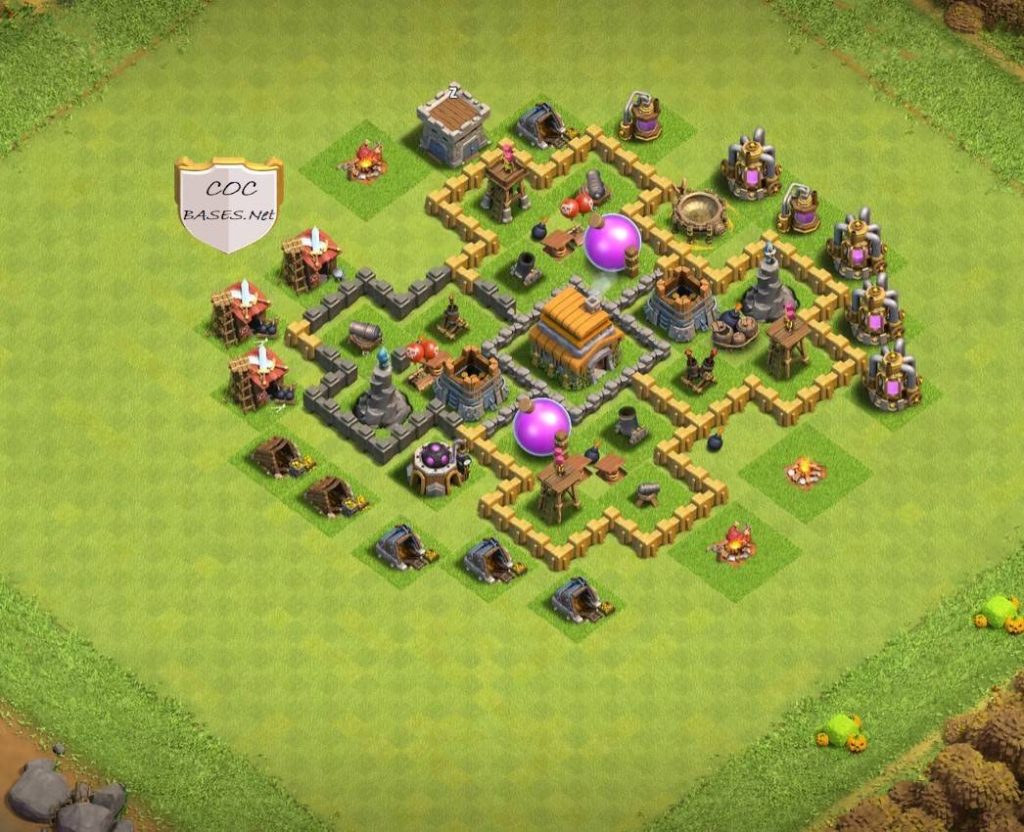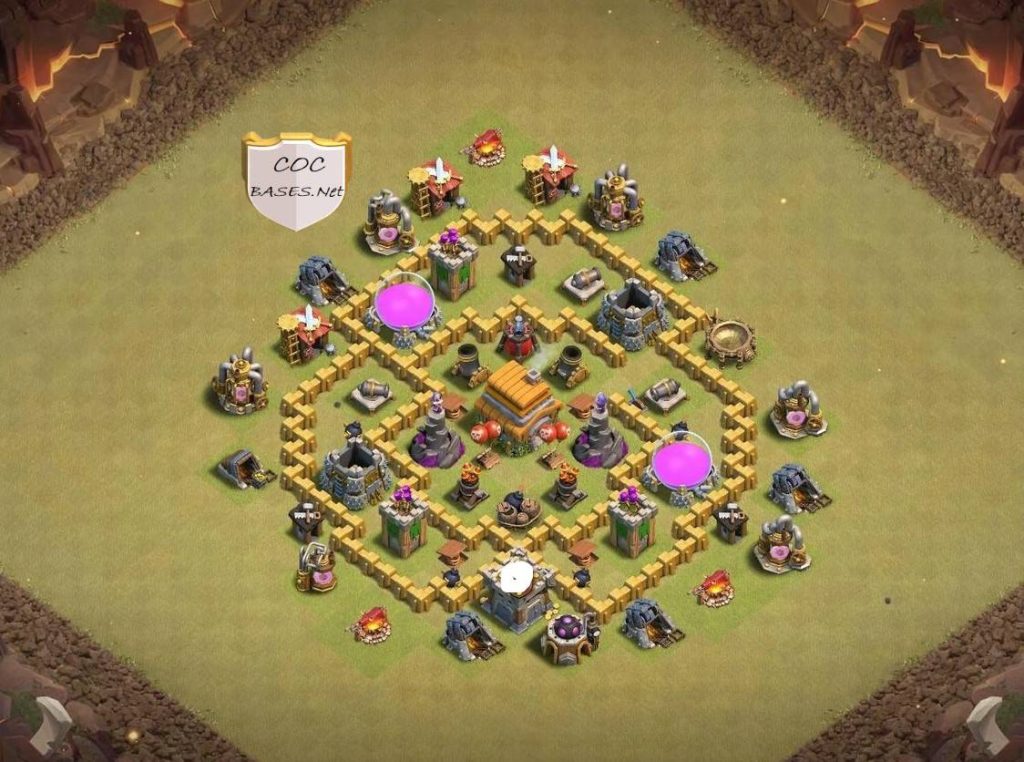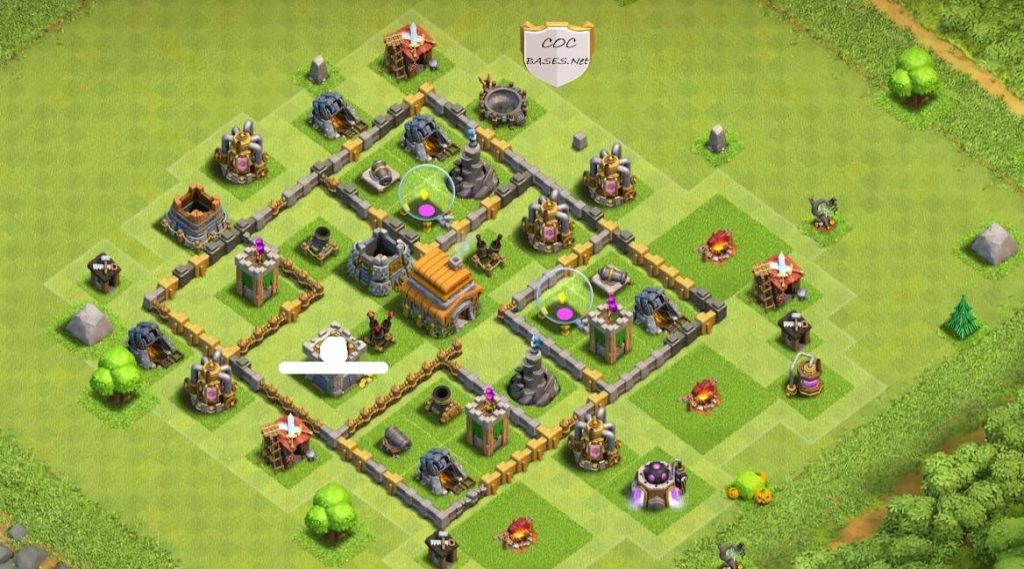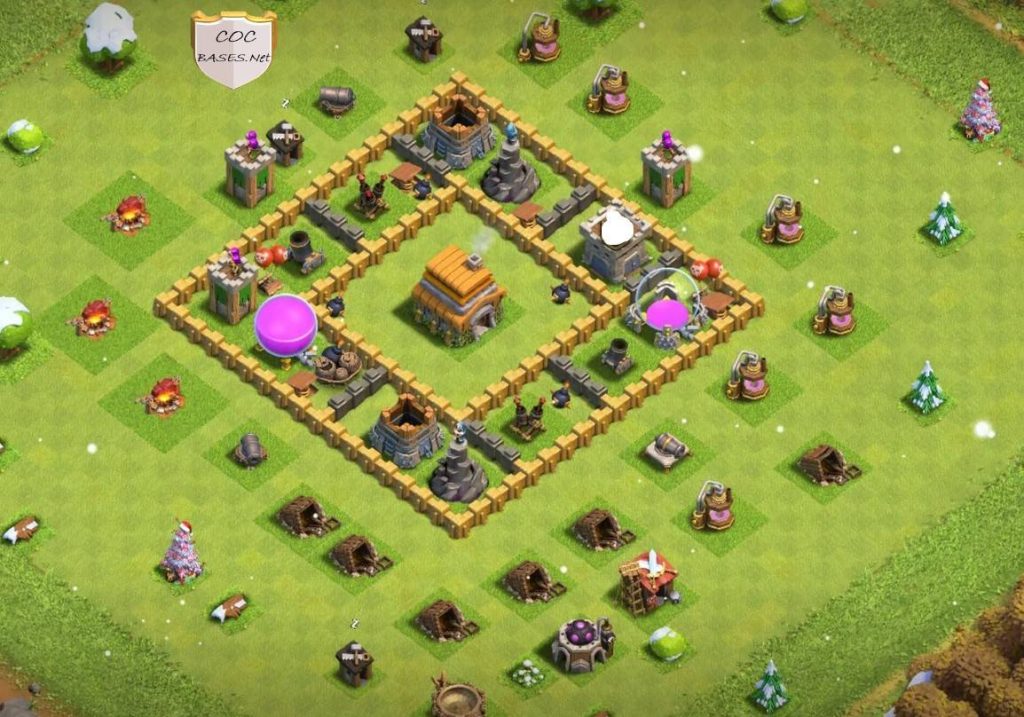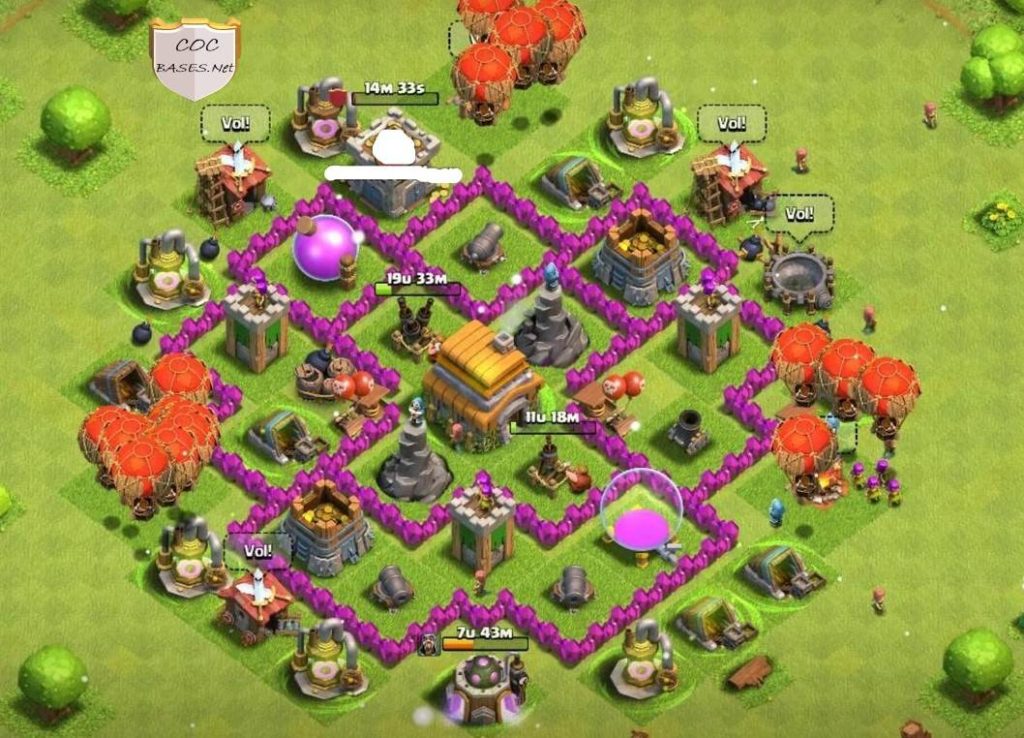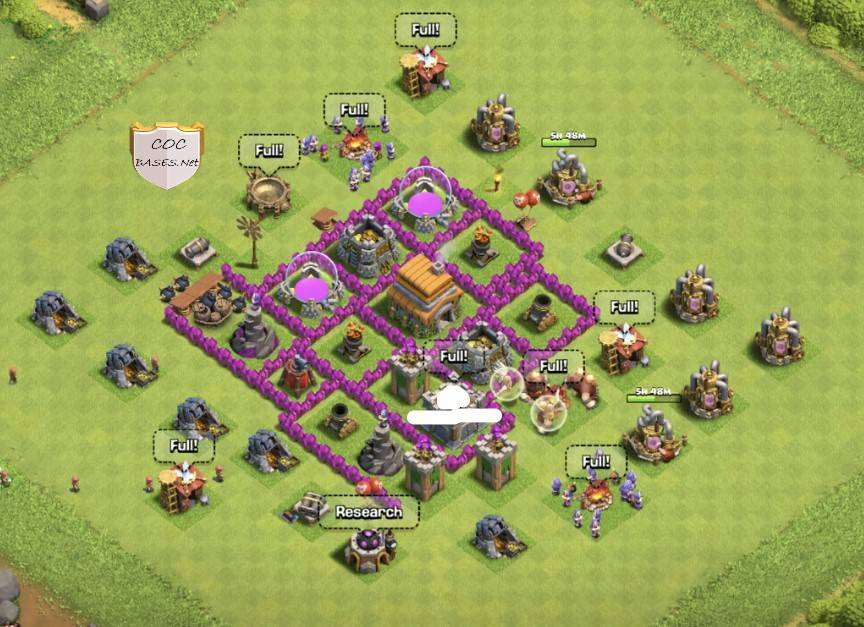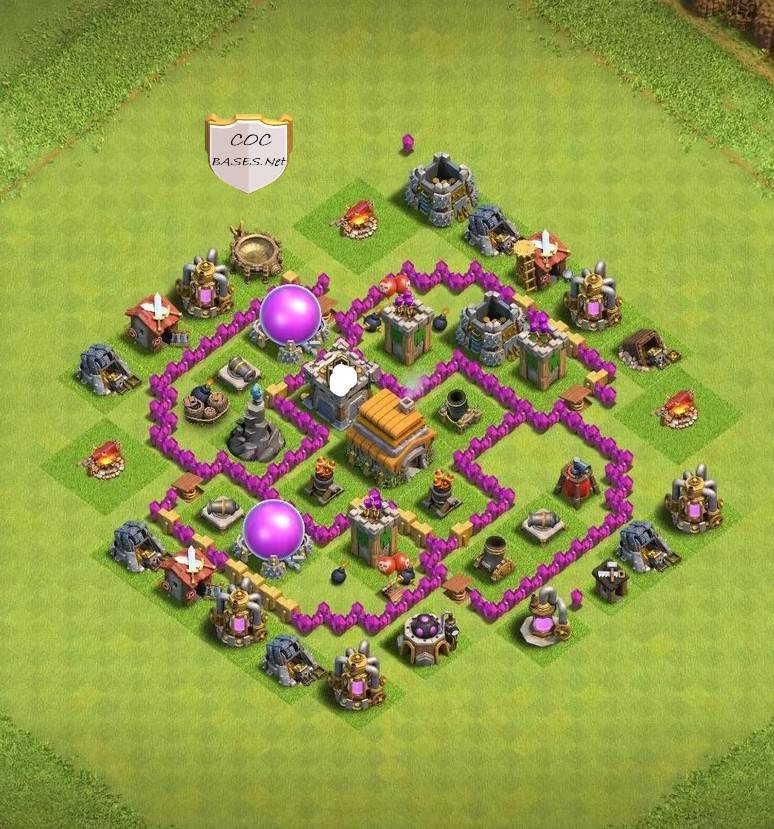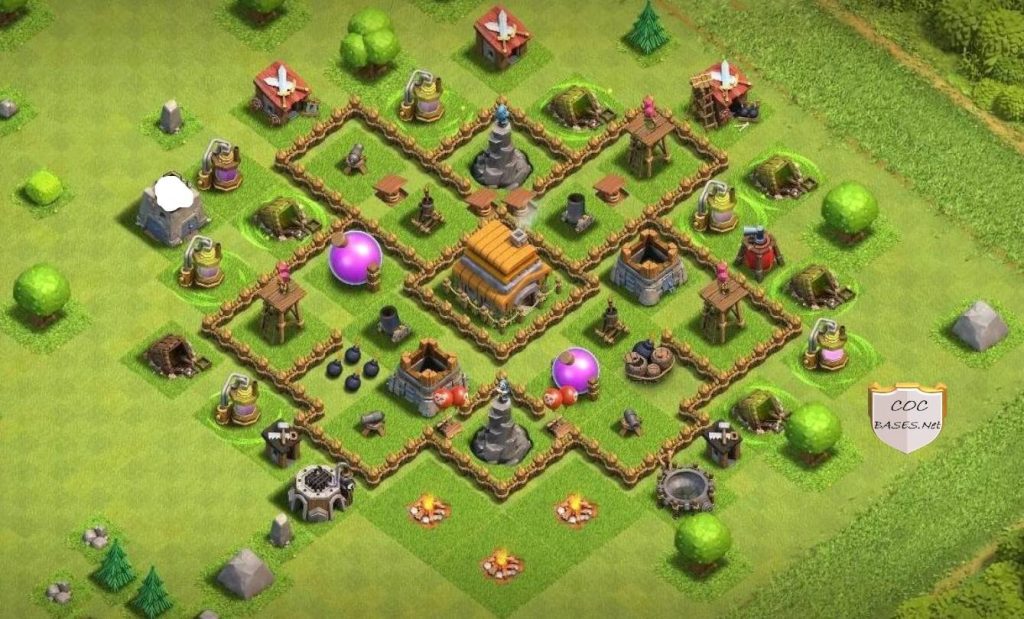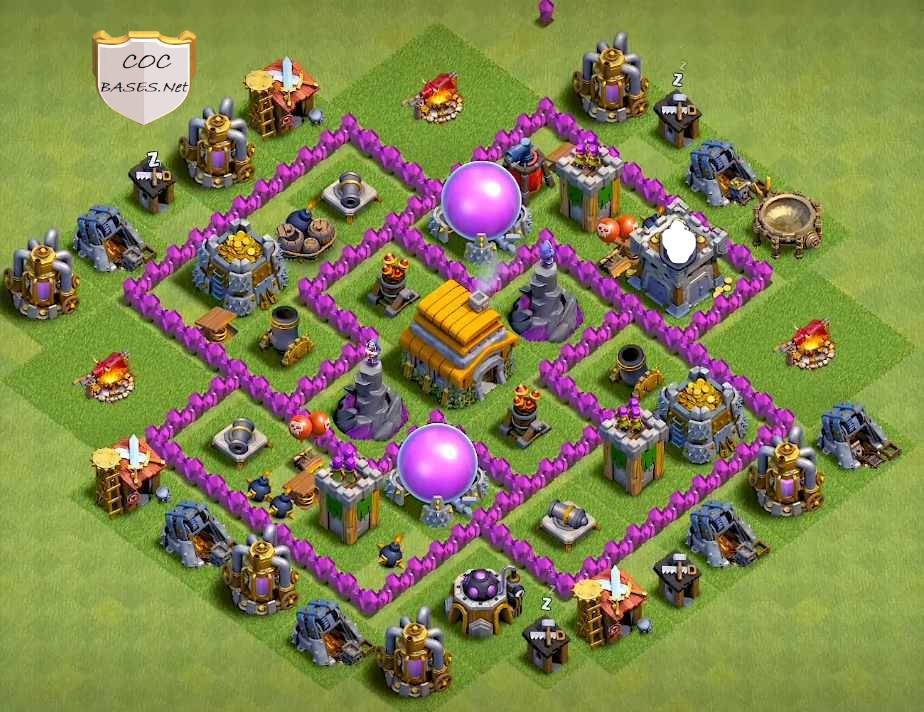 Hybrid Base Trophy Pushing 2023
There is no maxed wall boundary surrounding the whole clan for protection, which you can build if you have more walls unlocked. The important resource towers are placed in full security of defense buildings while unimportant resource towers are placed outside the clan. Some buildings and towers surrounding the best th6 hybrid base to destroy the air and ground attackers.
The query which I was having in the first clan is cleared in this best th6 hybrid base. The clan is divided into small compartments and layers making it extra protective. The town hall is centralized with a maxed wall surrounding it from all four sides. The center compartment is surrounded by four layers from which two layers consist of hidden tesla and mortar.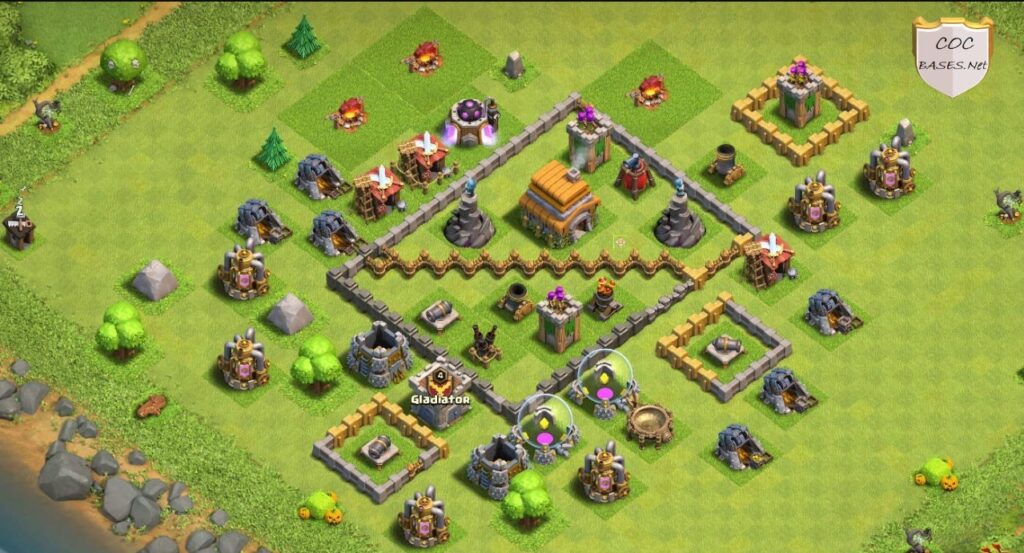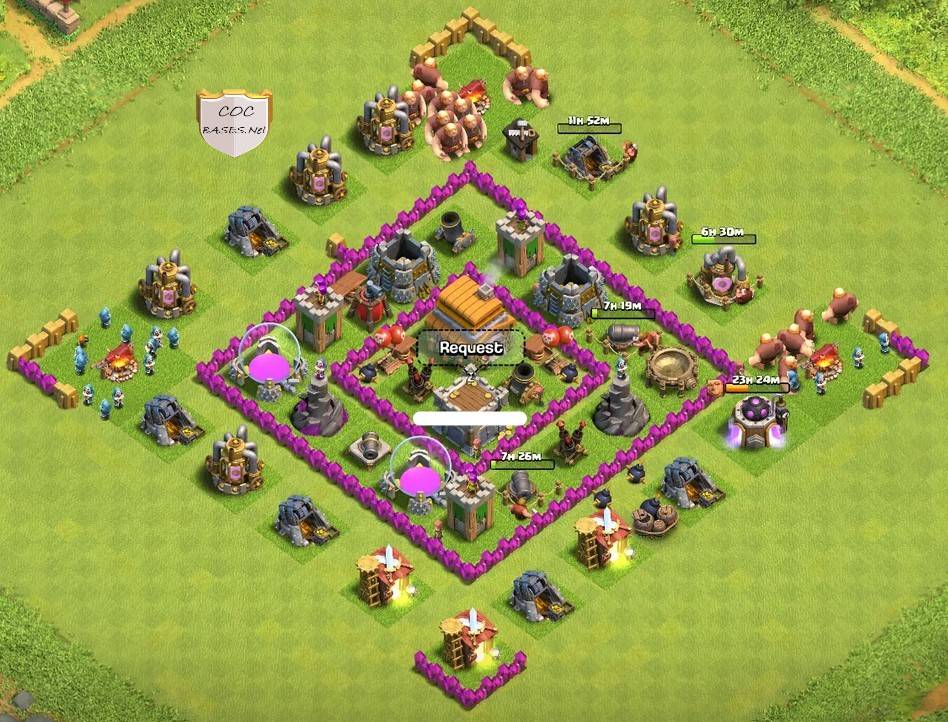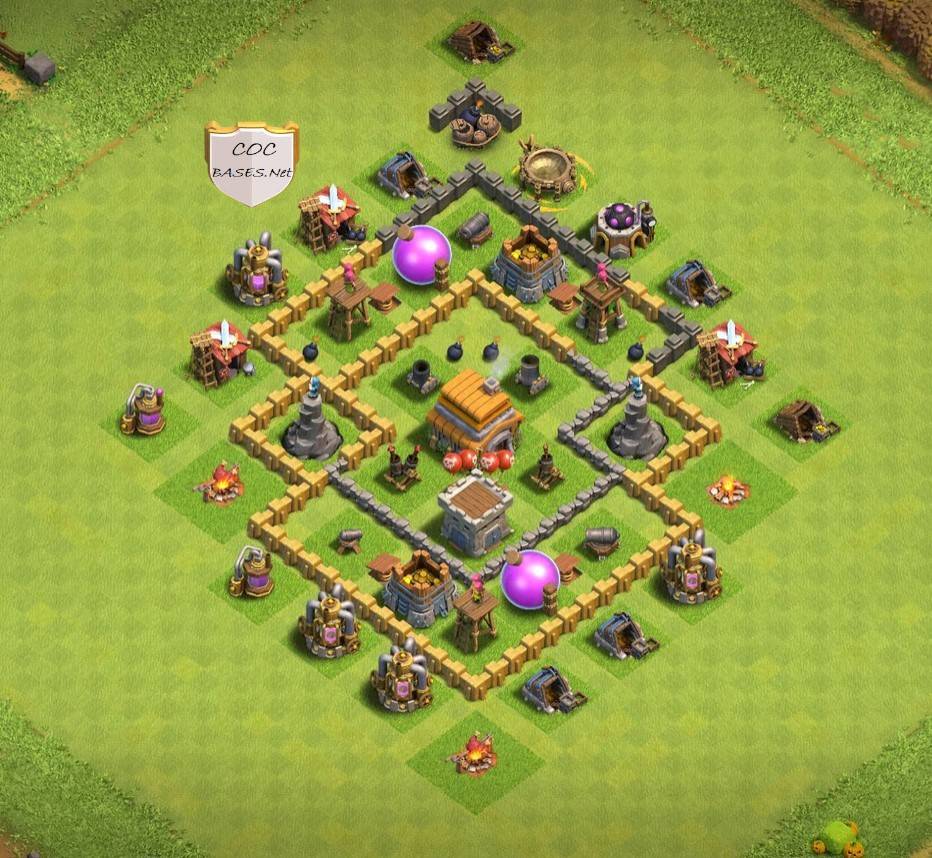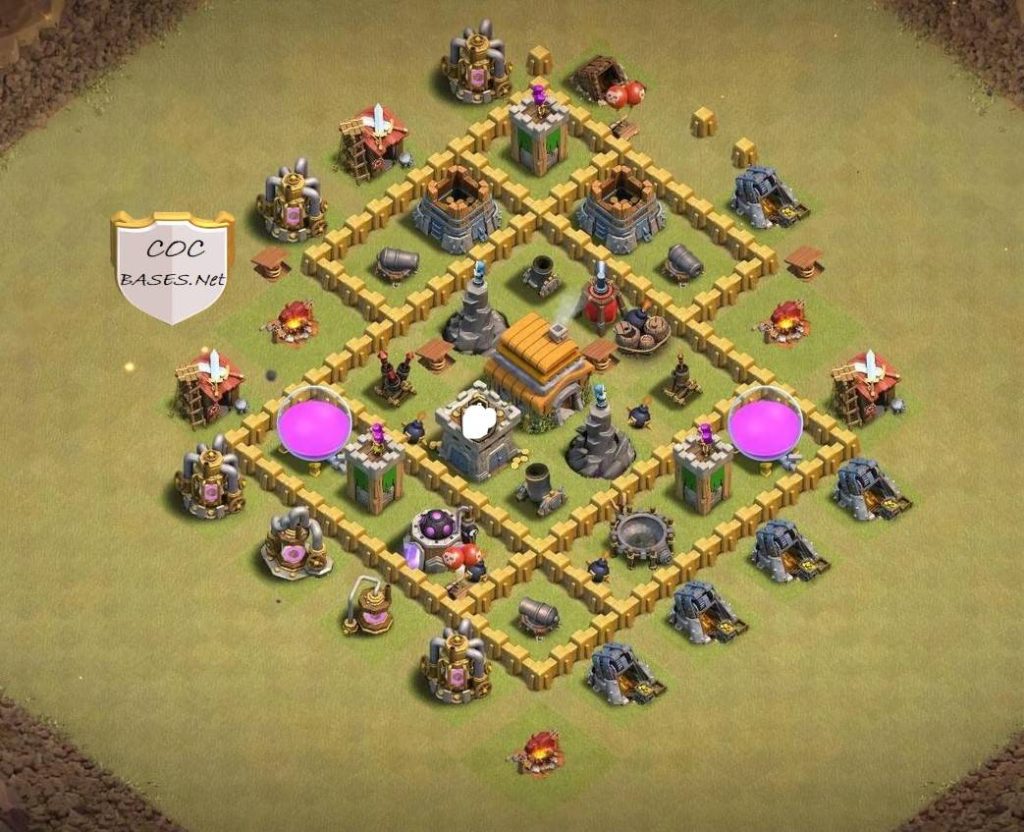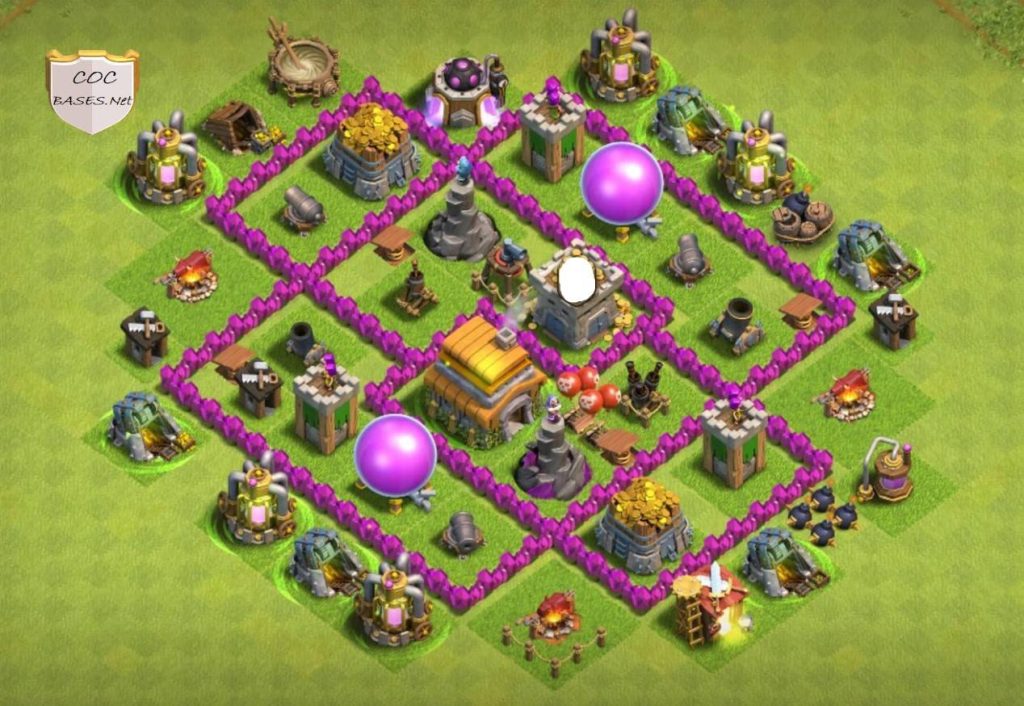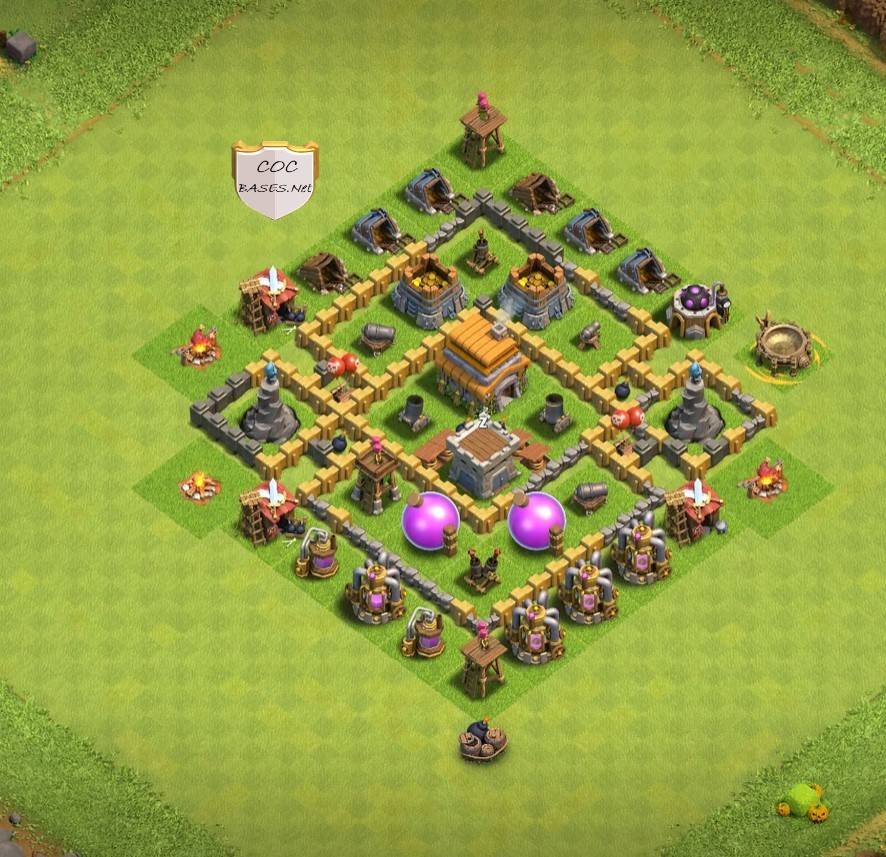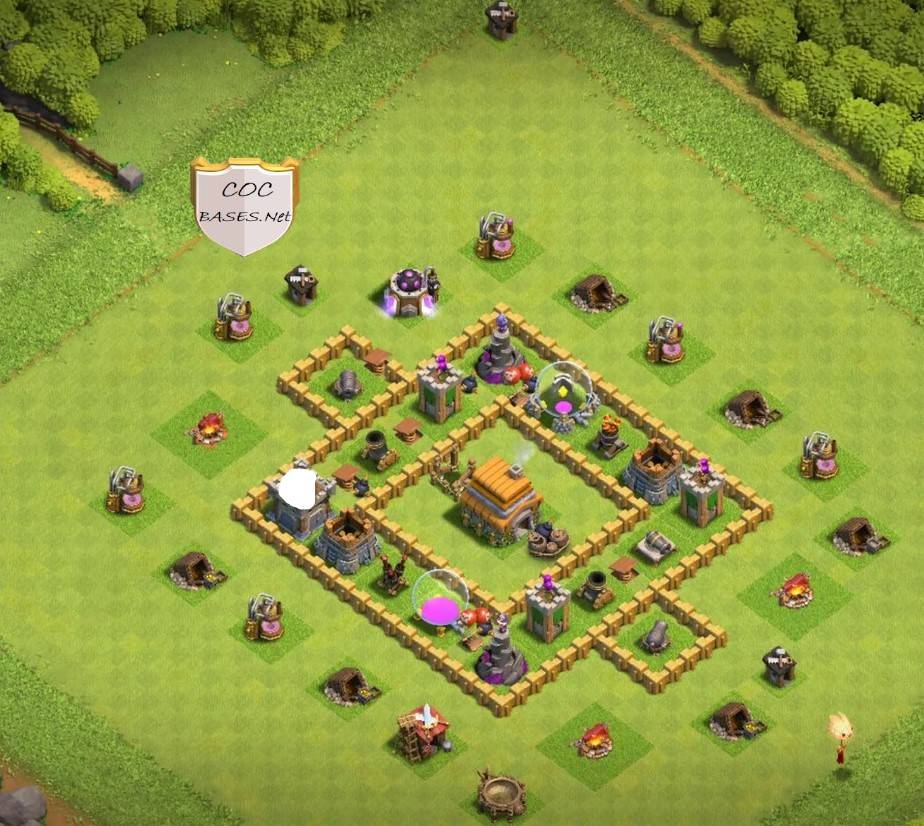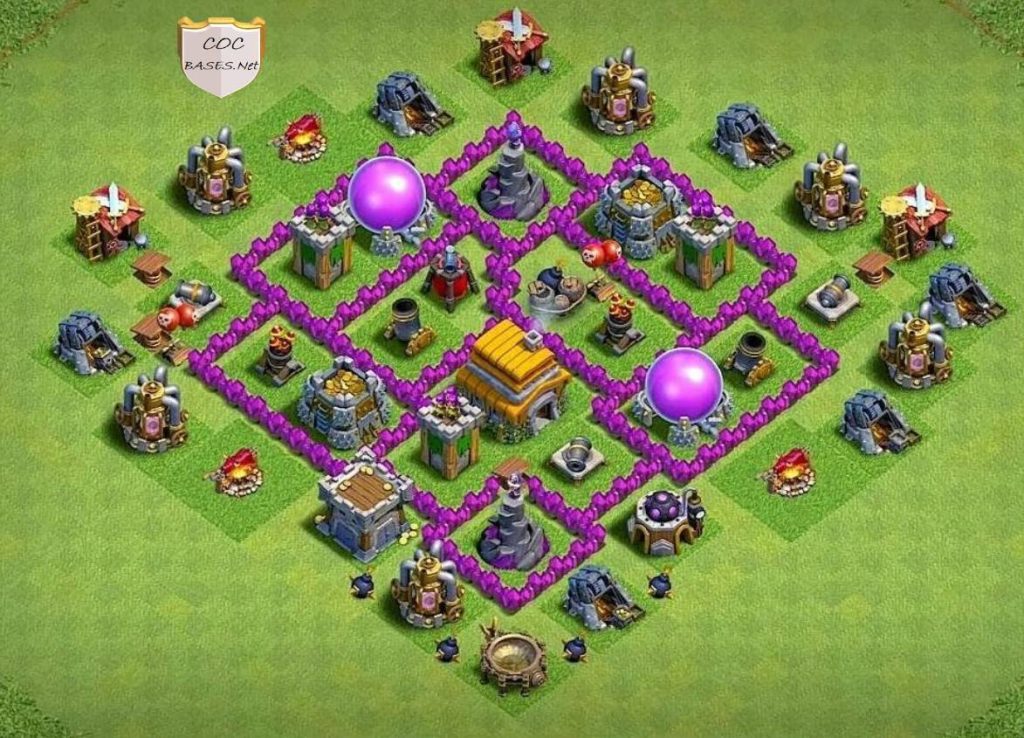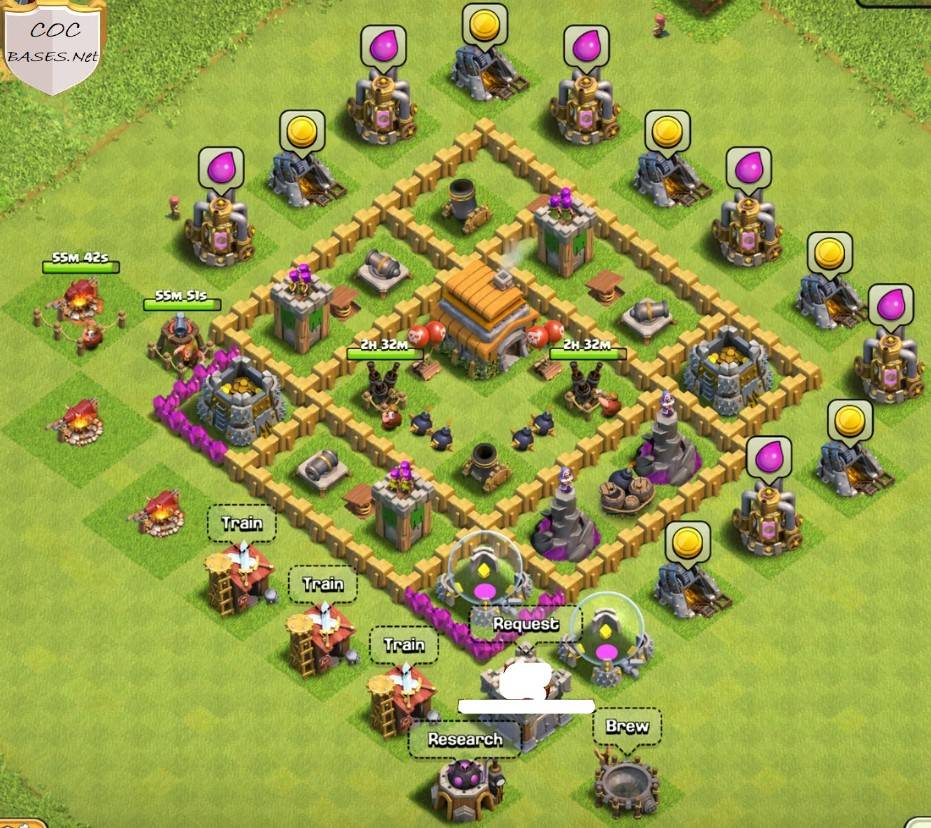 Clash of Clans Town Hall 6 Hybrid Base Anti 2 Stars
While the other two layers consist of air-defense and cannon. One thing that I don't like is no maxed wall boundary covering the whole clan. But outside this best hybrid base layout, there is an extra layer of defense army protecting the whole clan. The defense army consists of a barrack, dark barrack, laboratory, dark elixir storage, and some defense buildings.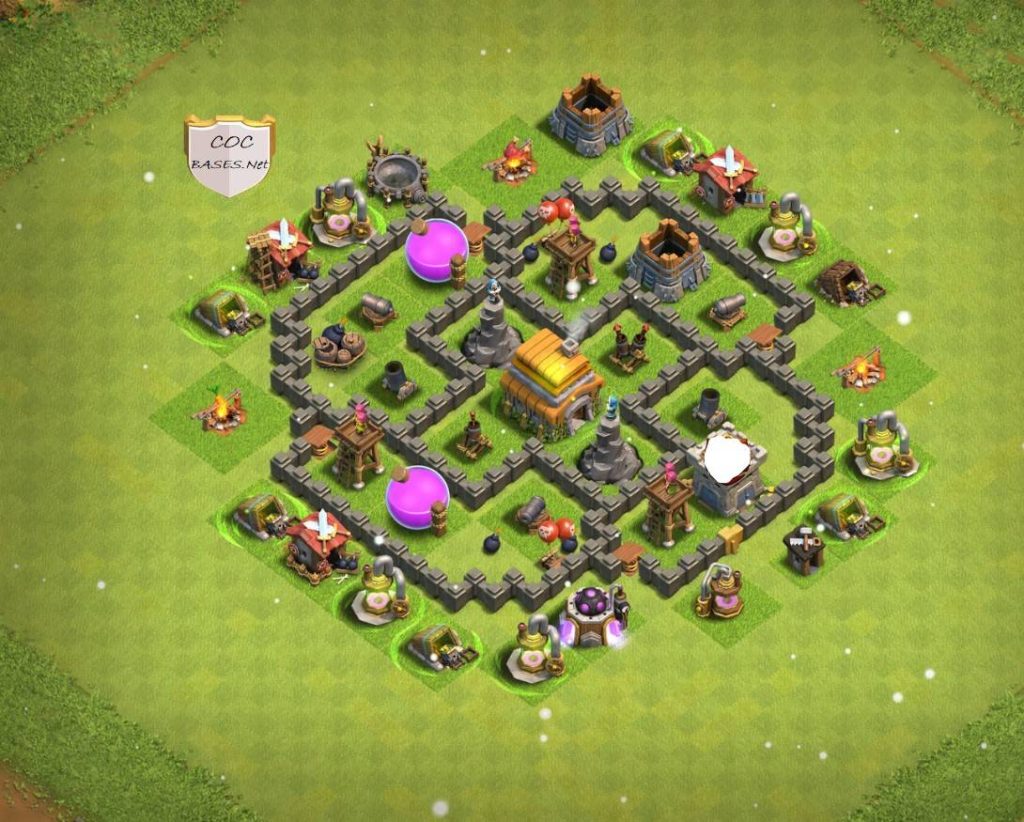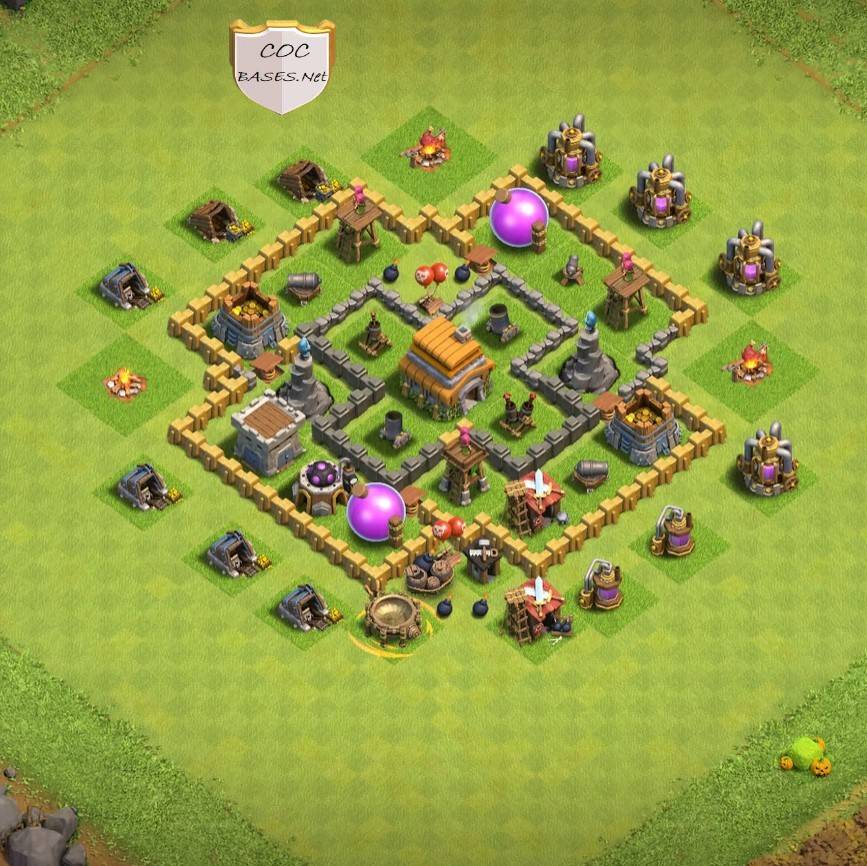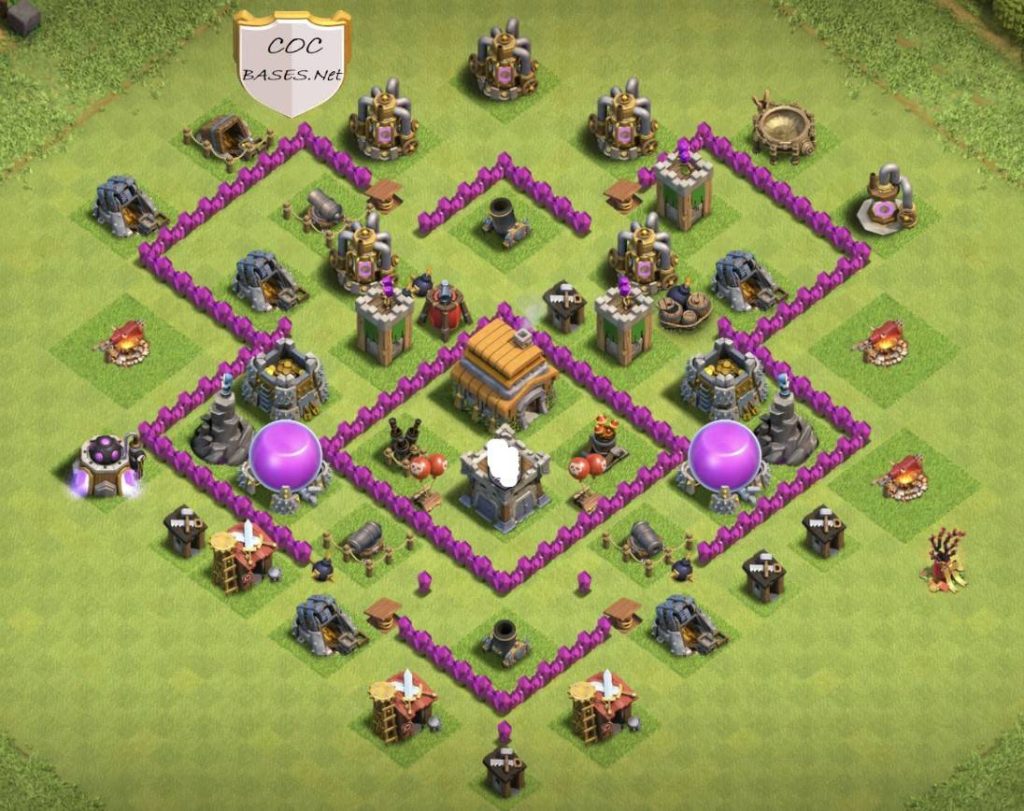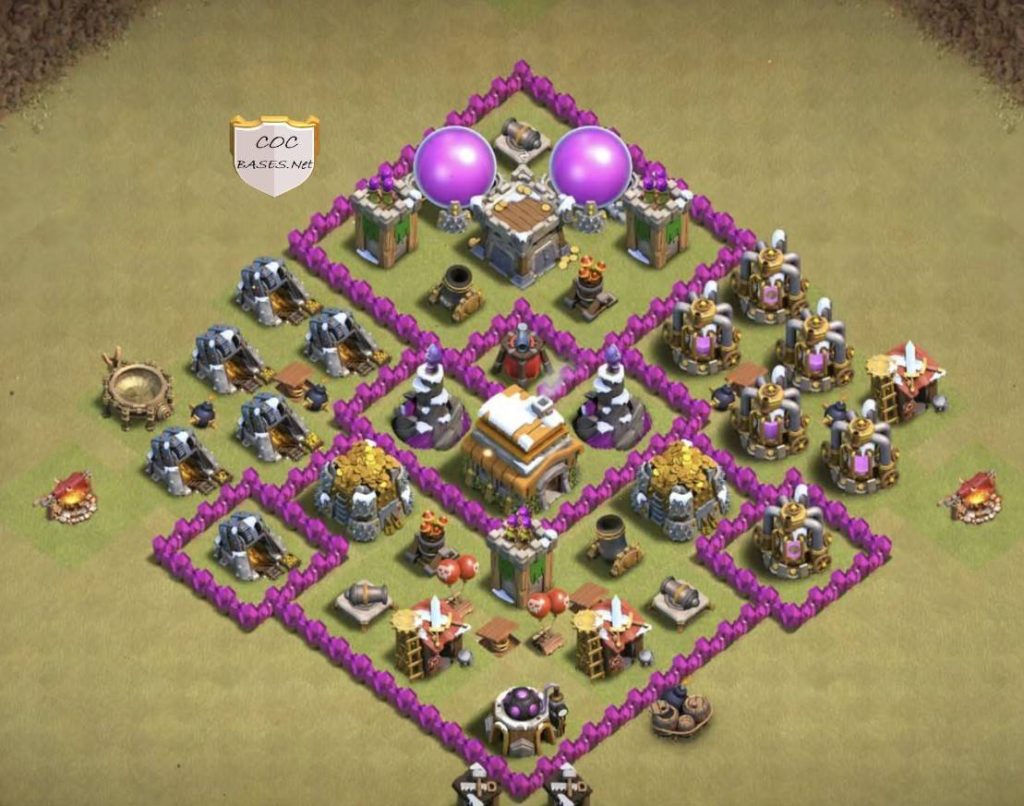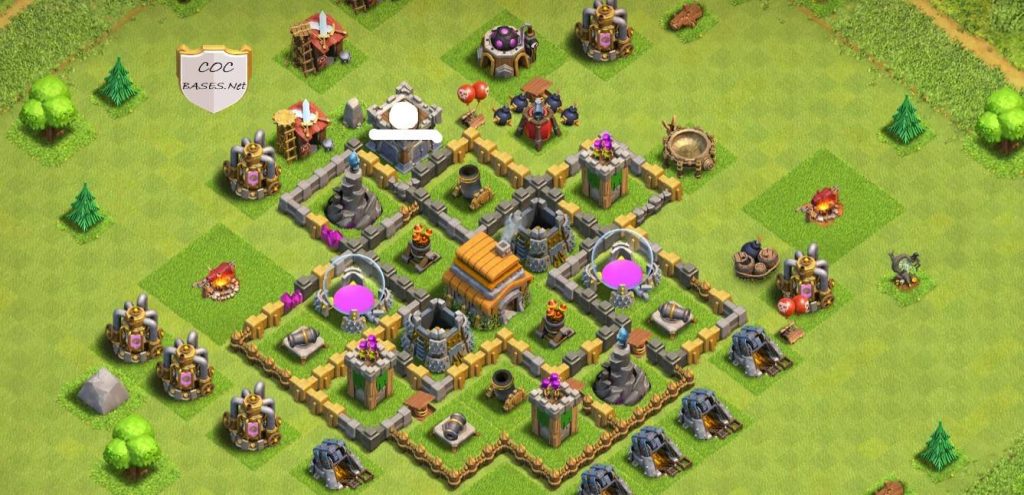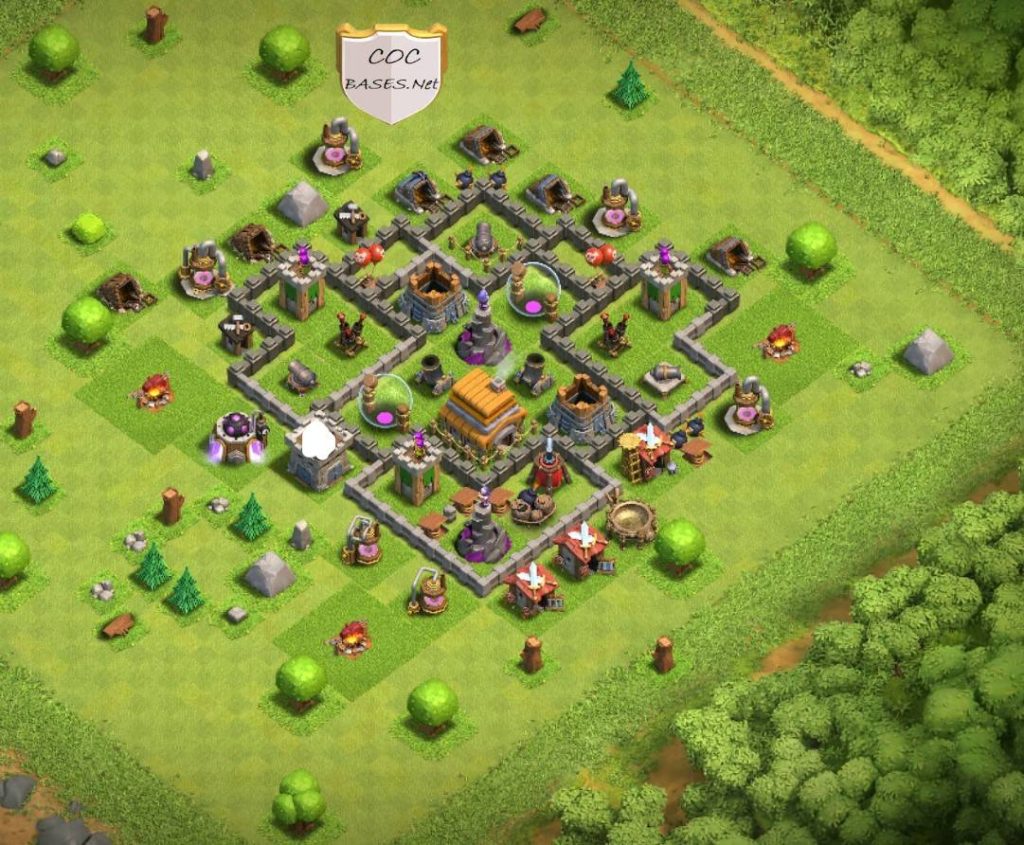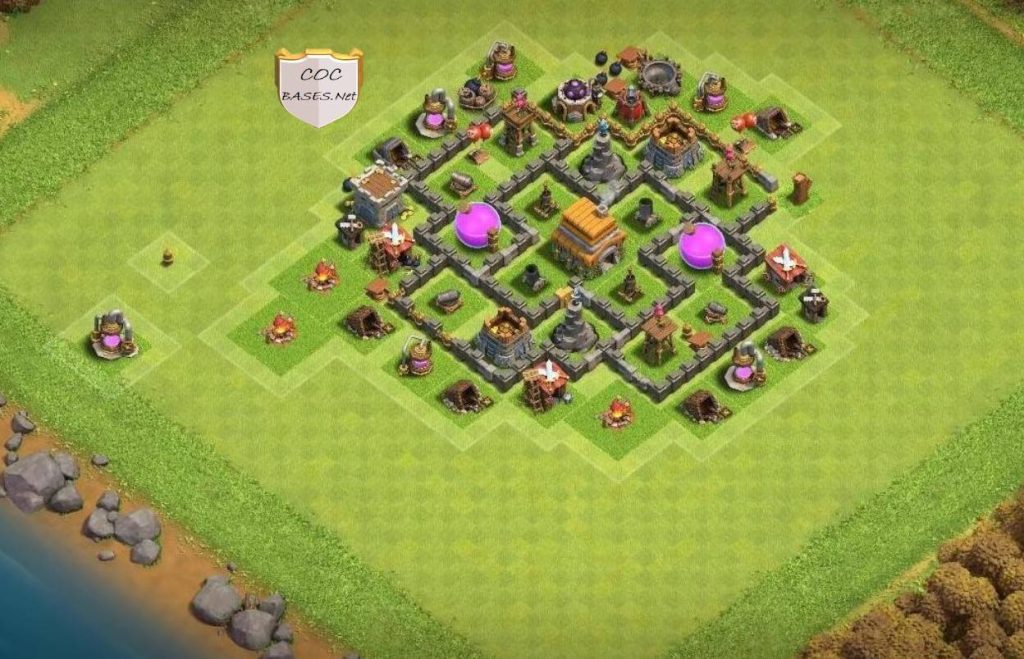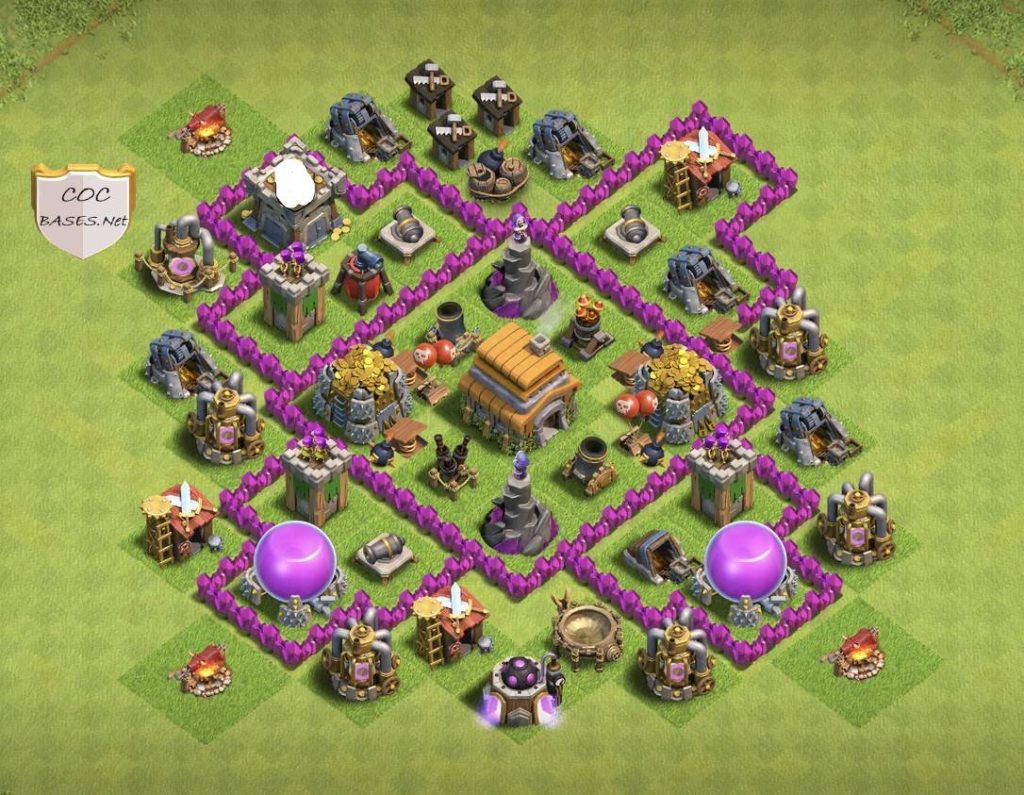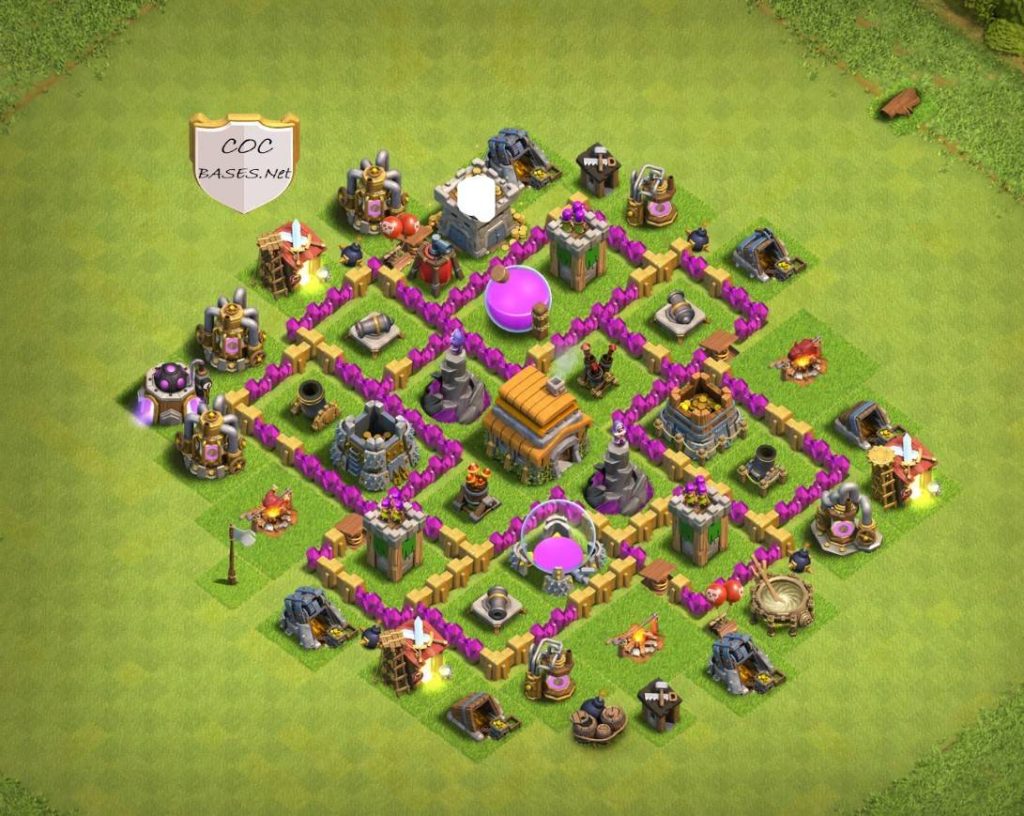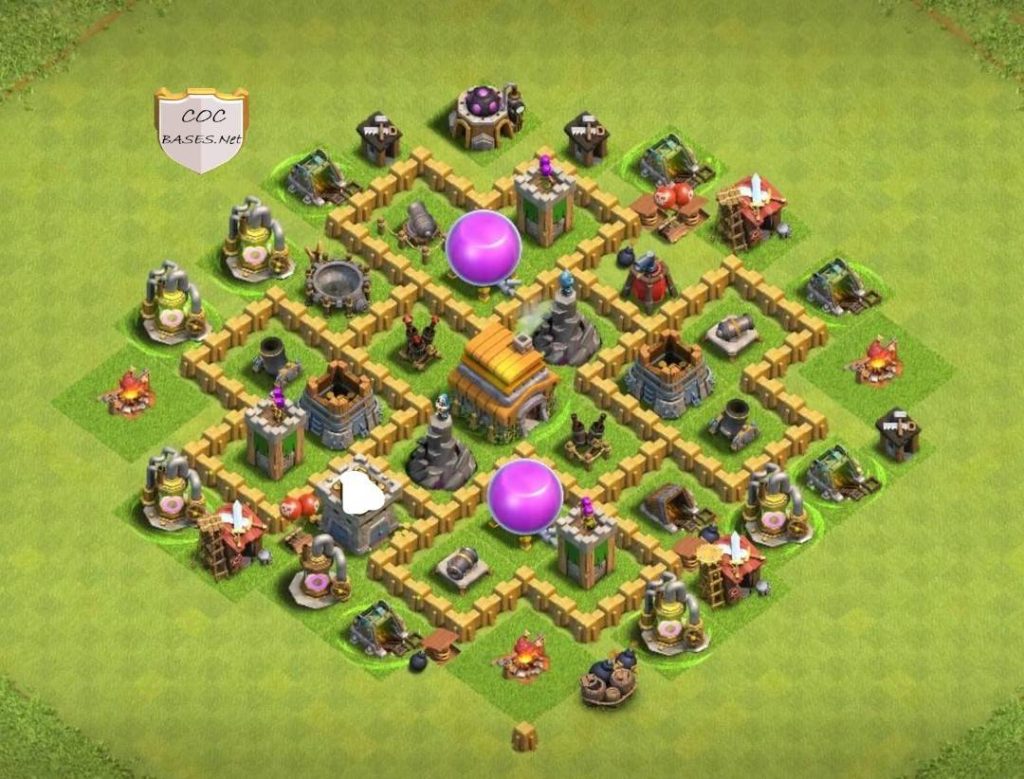 Clash of Clans TH6 Hybrid Anti 3 Stars Base Link
Here we have mentioned two amazing and very effective hybrid base layouts. This base is divided into small sections but doesn't have a separate wall surrounding the whole best th6 hybrid base. As always the town hall is centralized as in hybrid base the protection of it is very important.
The town hall is surrounded by some amazing defense buildings and army towers. Then there are small sections containing one building such as the important resource towers or best defense buildings. There is an outer layer of buildings surrounding the whole clan to avoid opponents to enter the clan.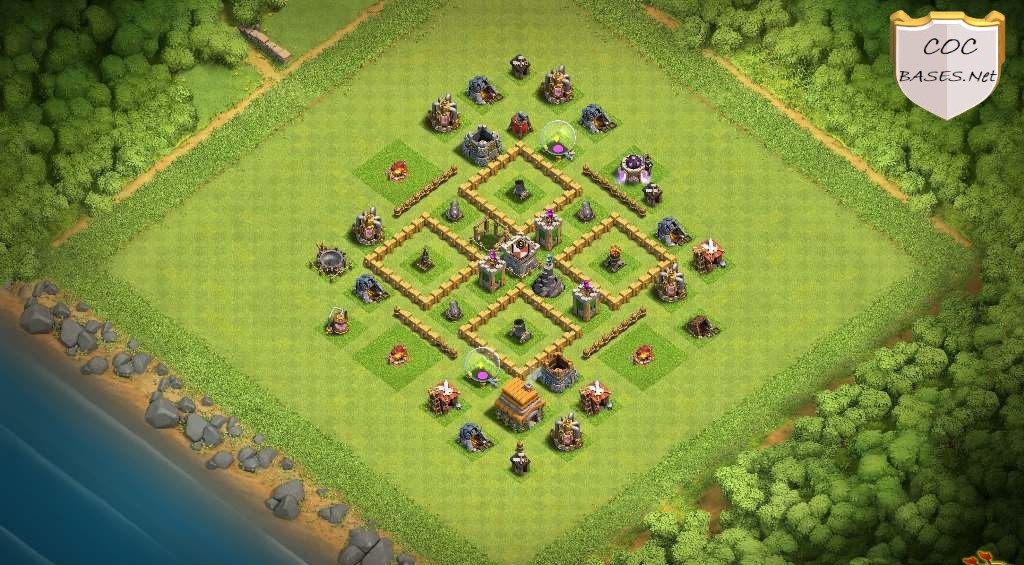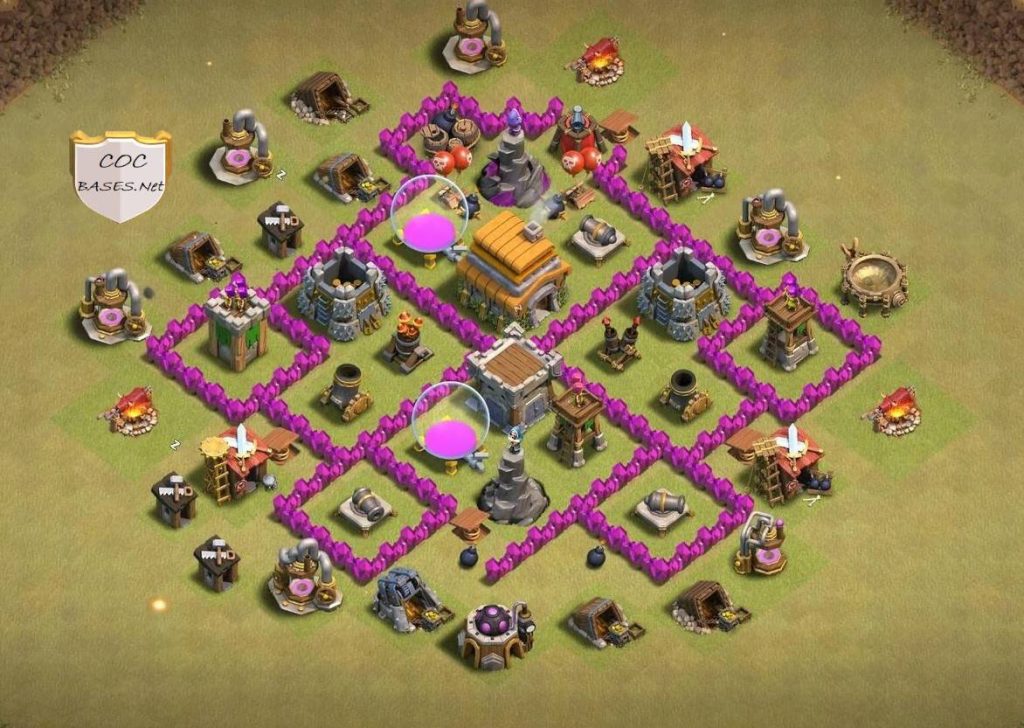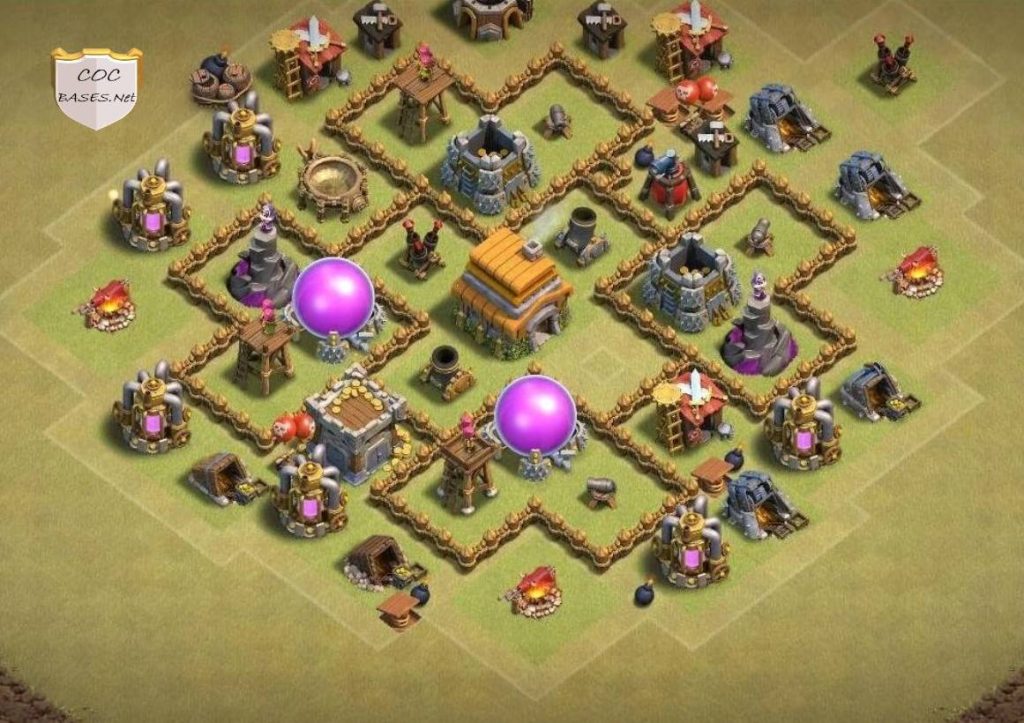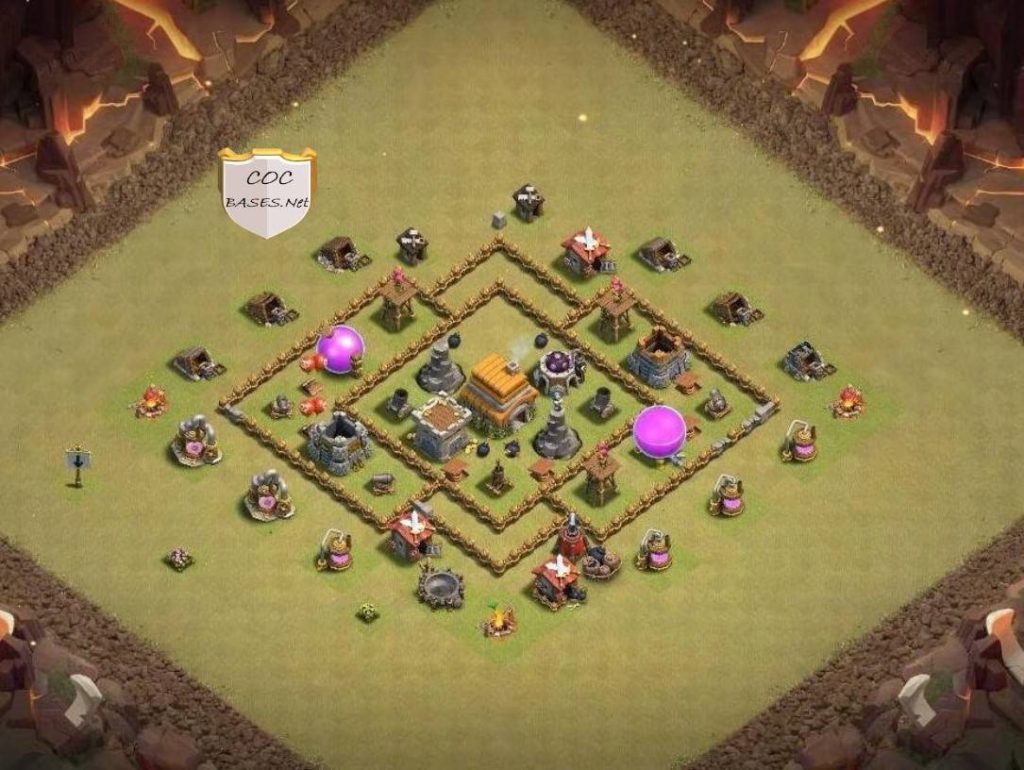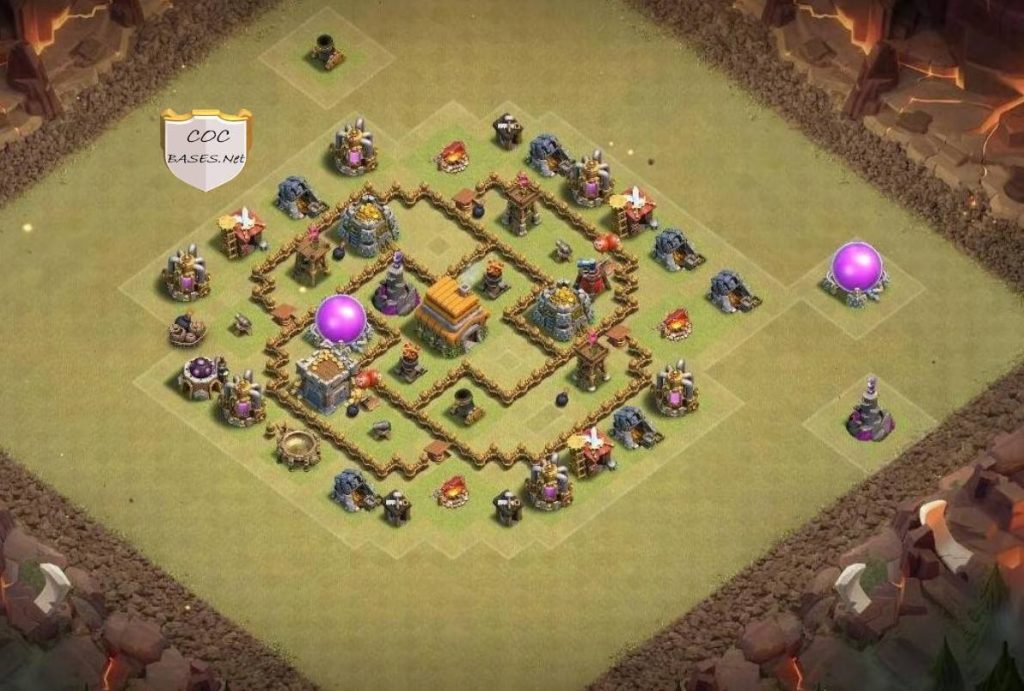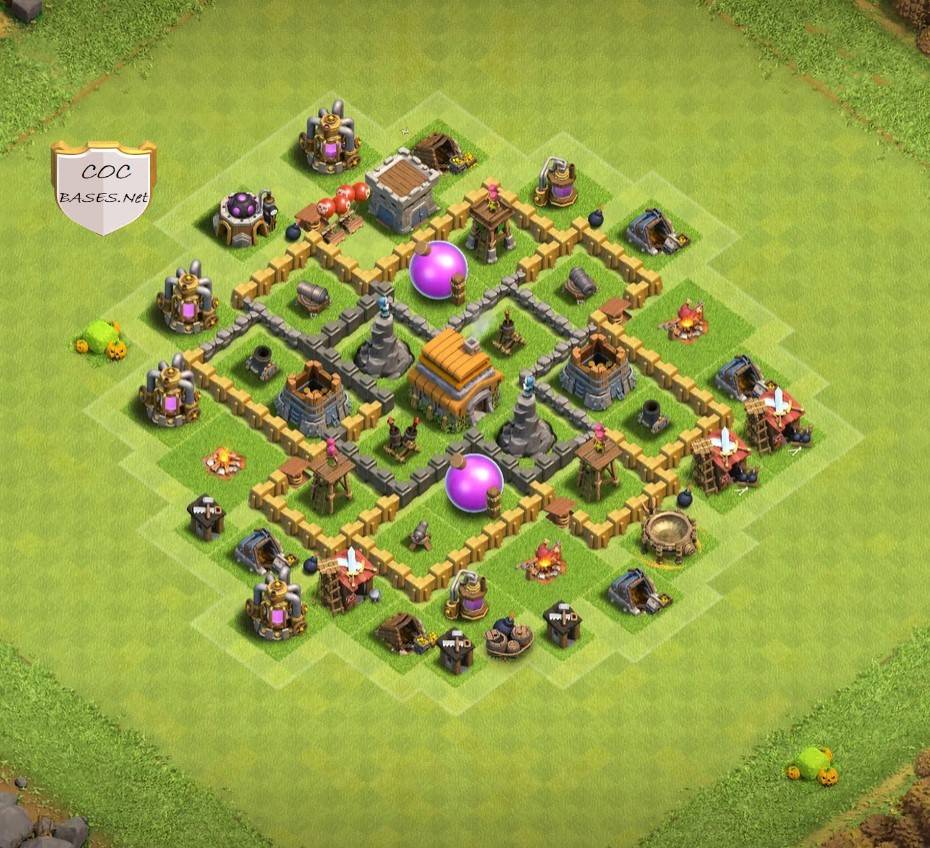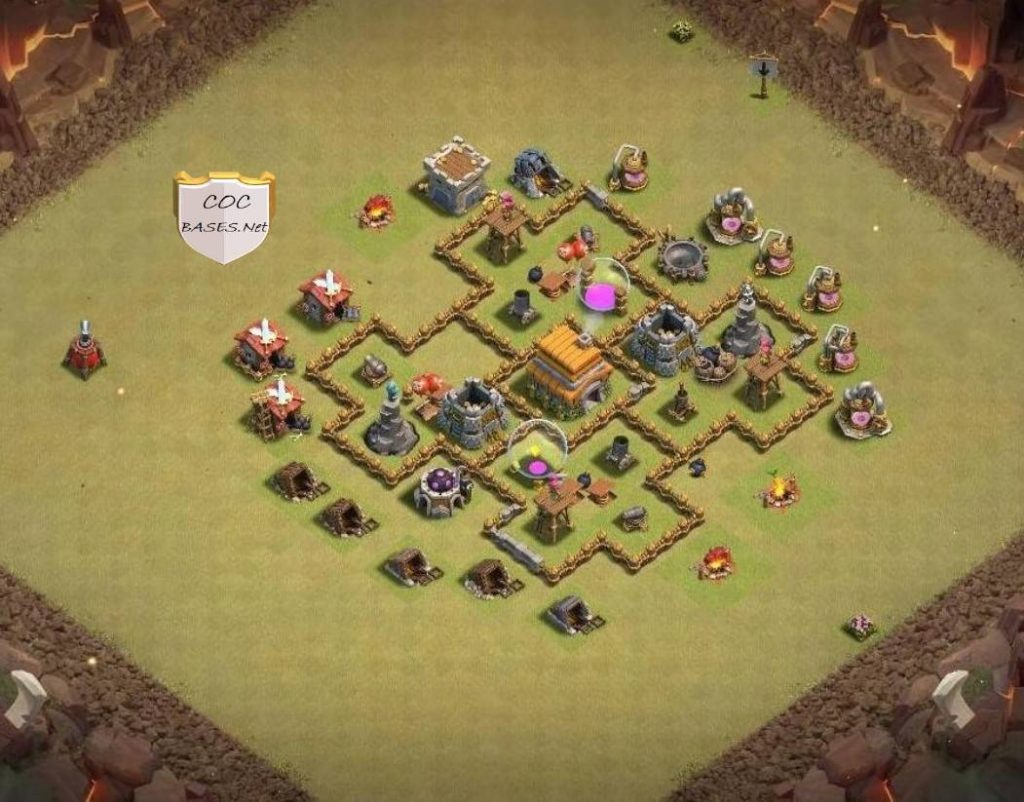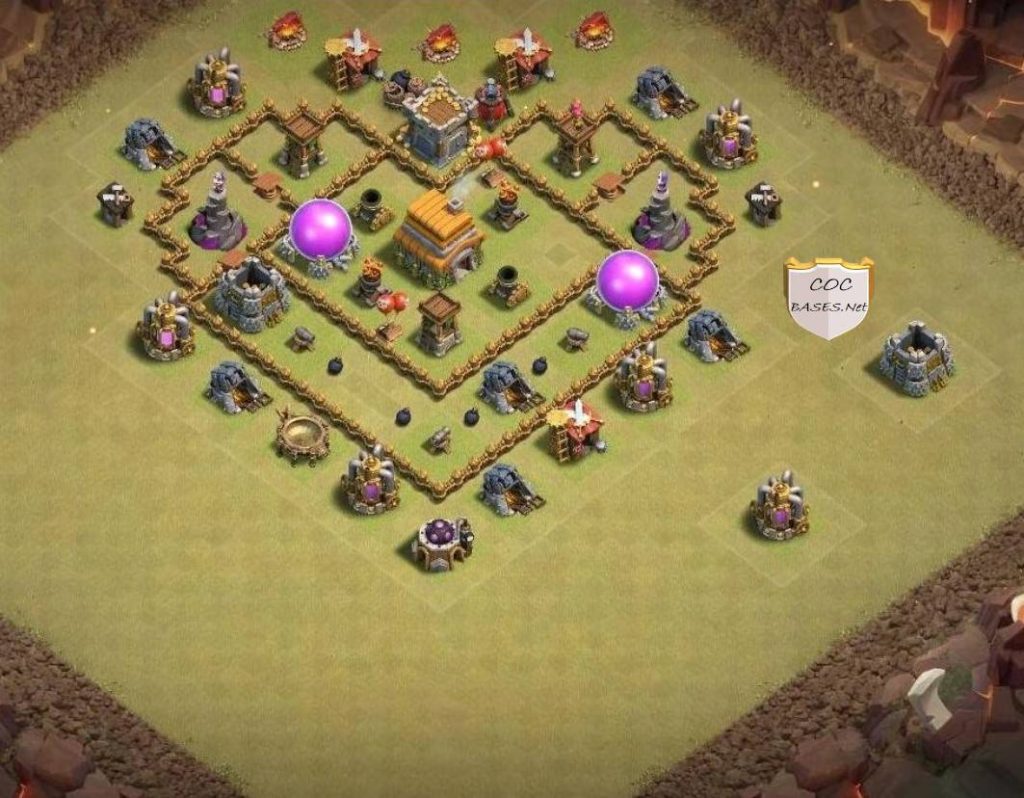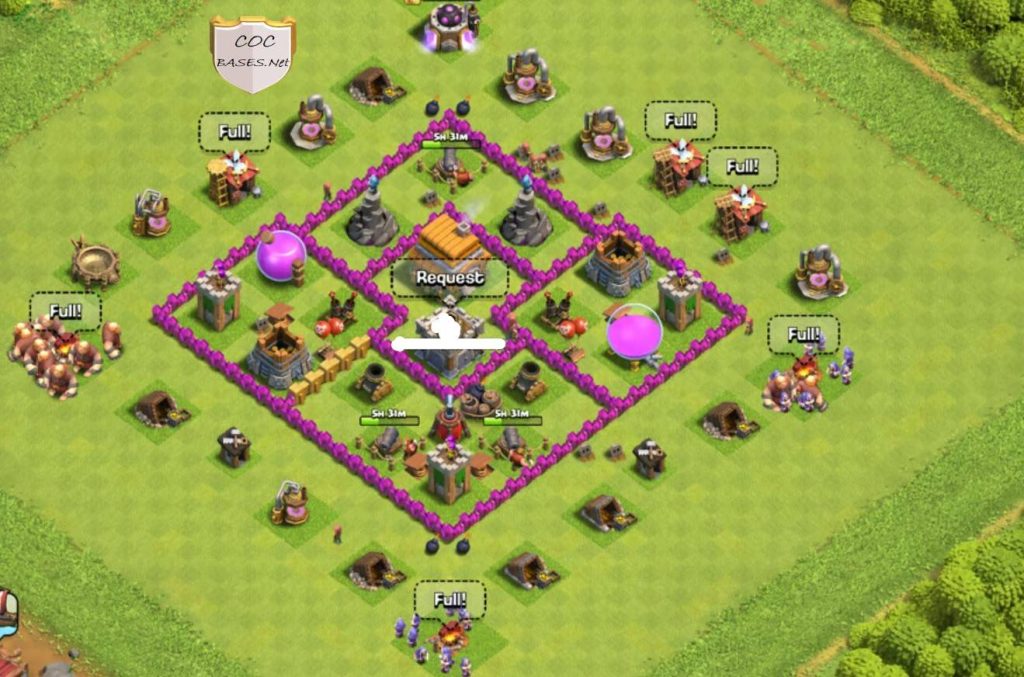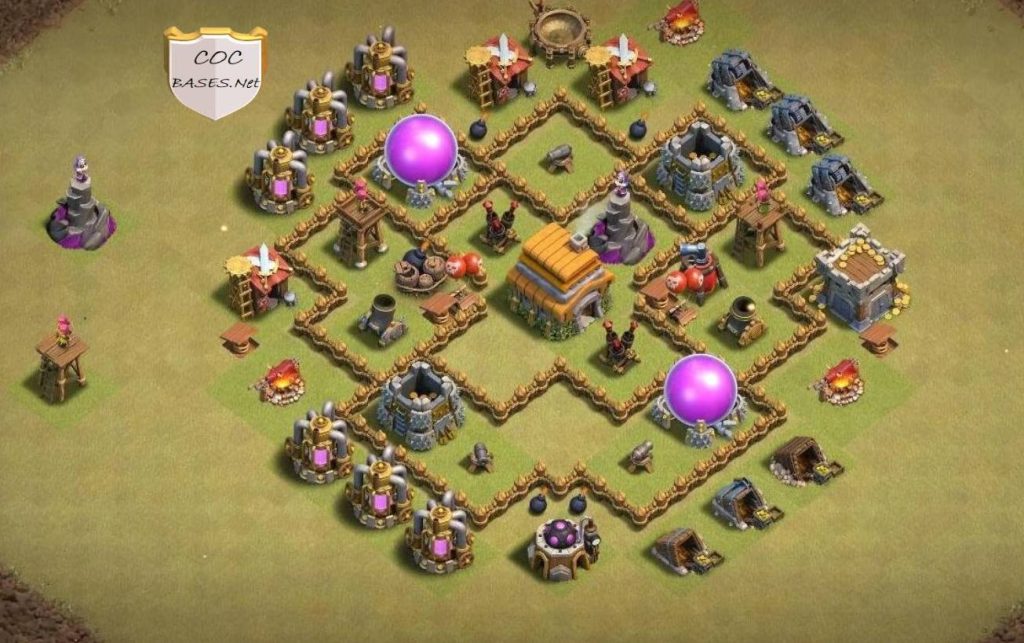 Town Hall 6 Hybrid Defense Base
If you have fewer buildings, then this can be the best base design for you. The one amazing thing is that the town hall is placed outside the clan with some best defense buildings surrounding it. this can be a good strategy to distract the opponents as they will try to reach the center first. In the center, they will find the clan castle but not the town hall. this is quite a simple base but can act as an effective one.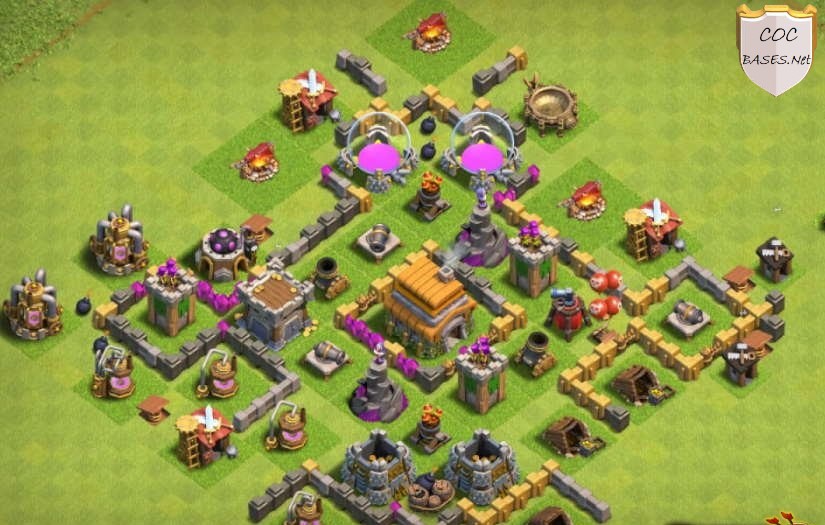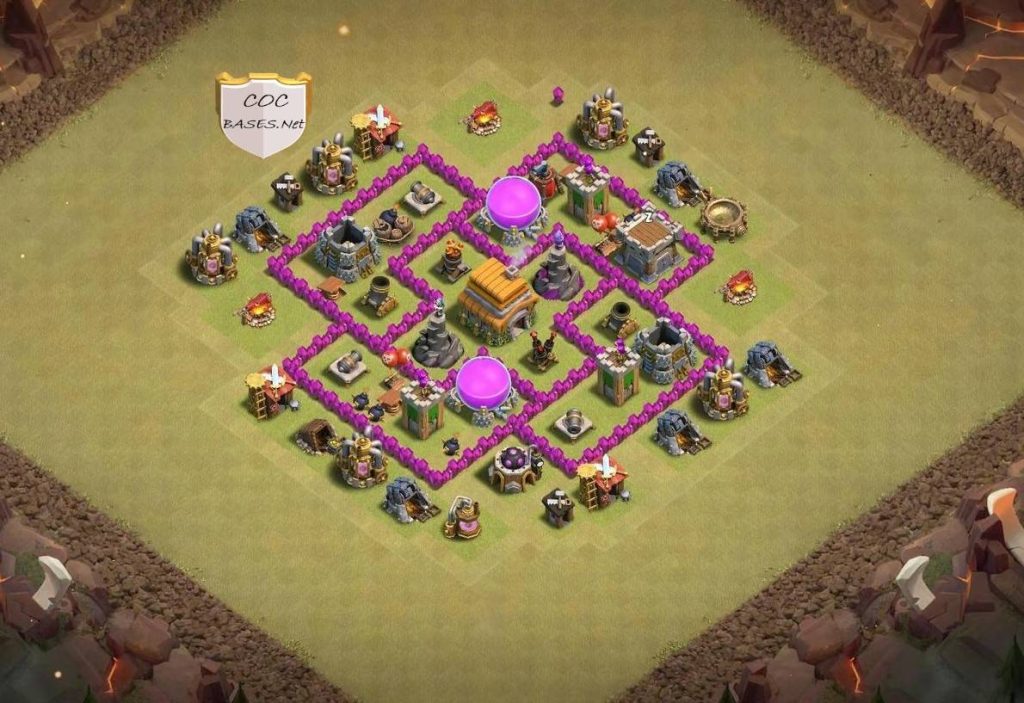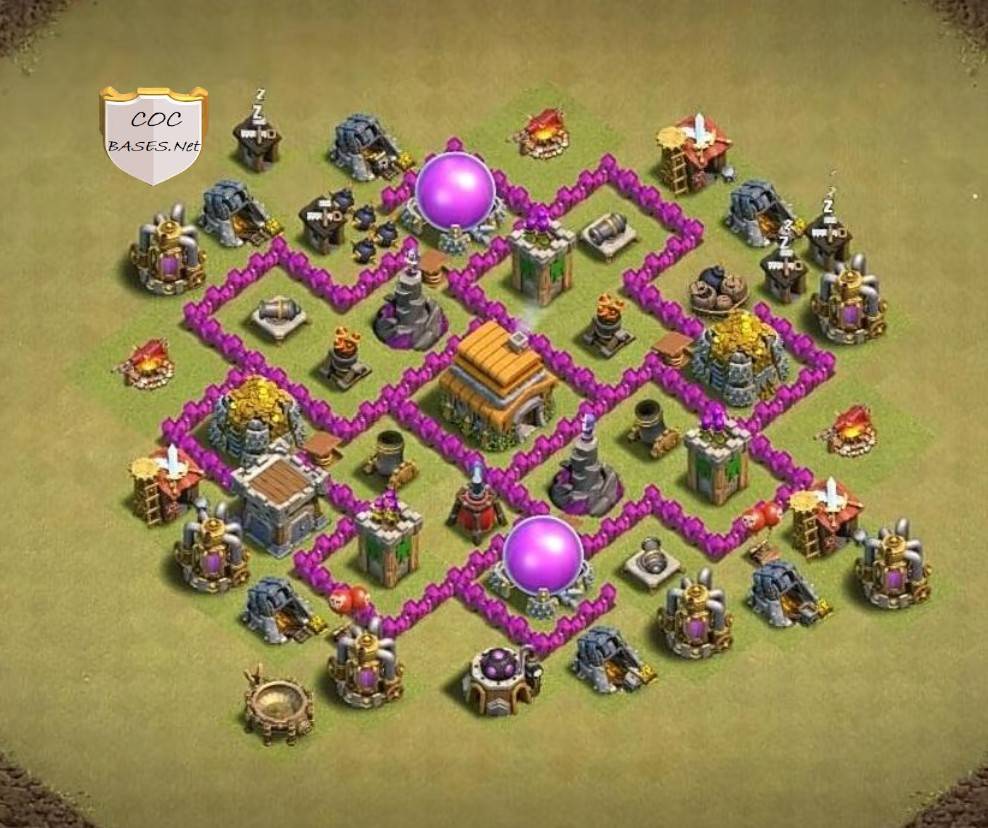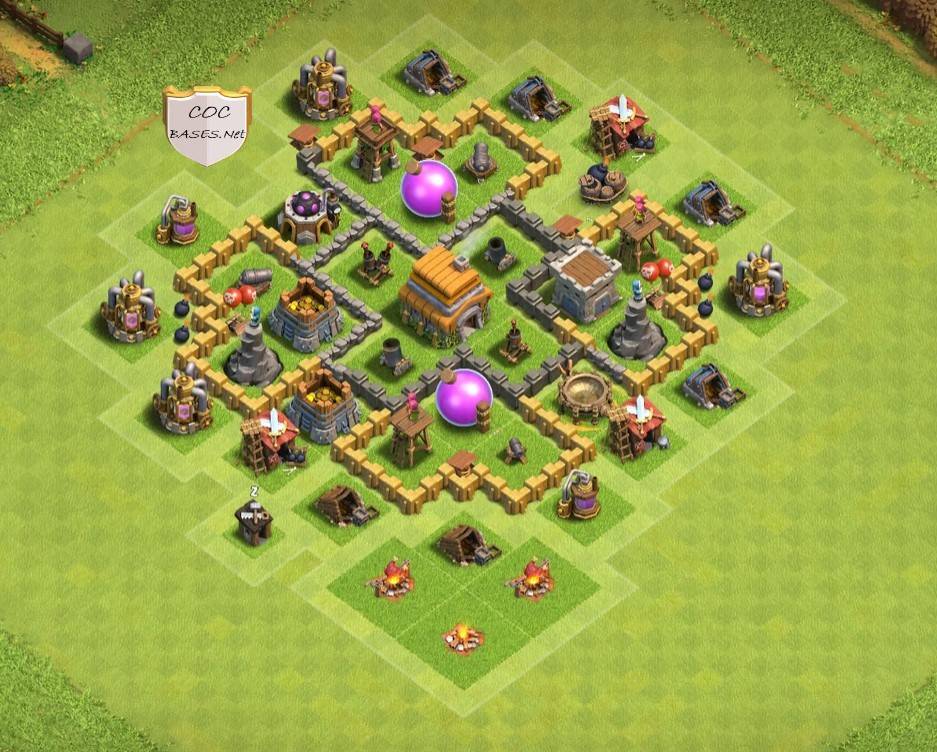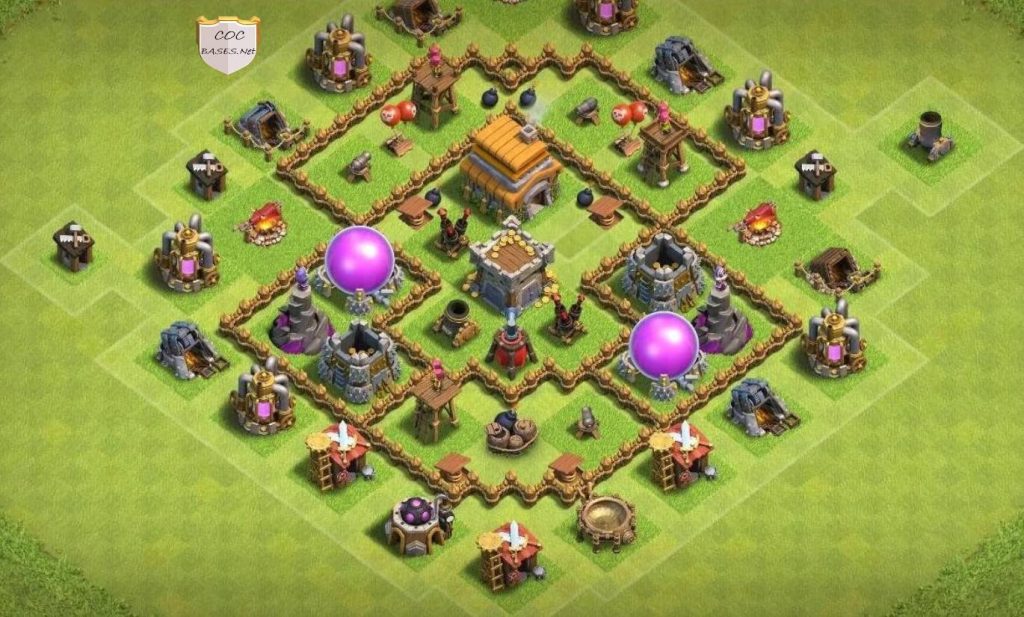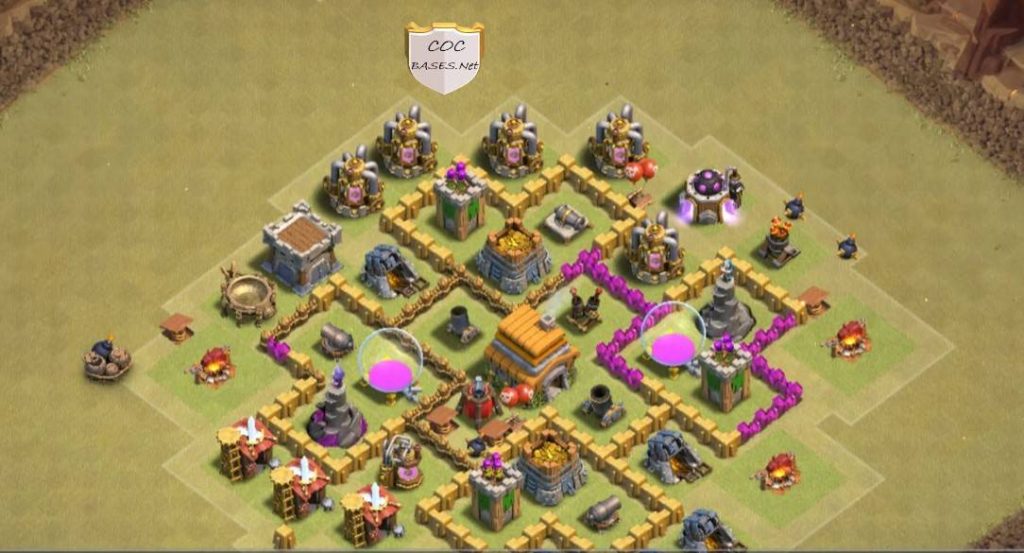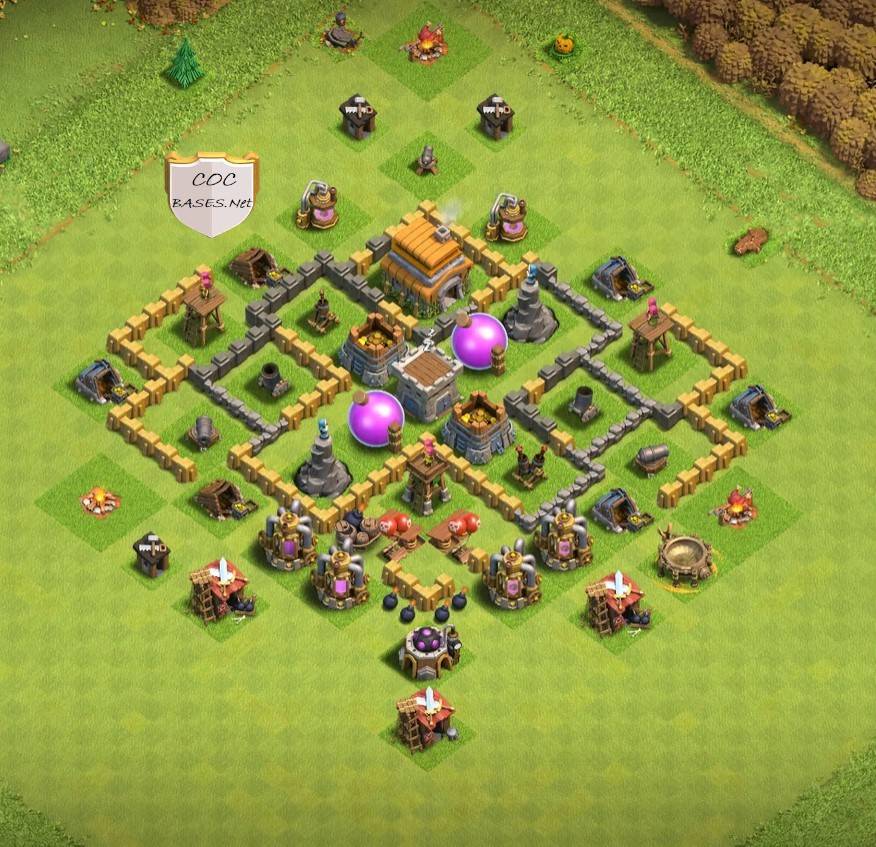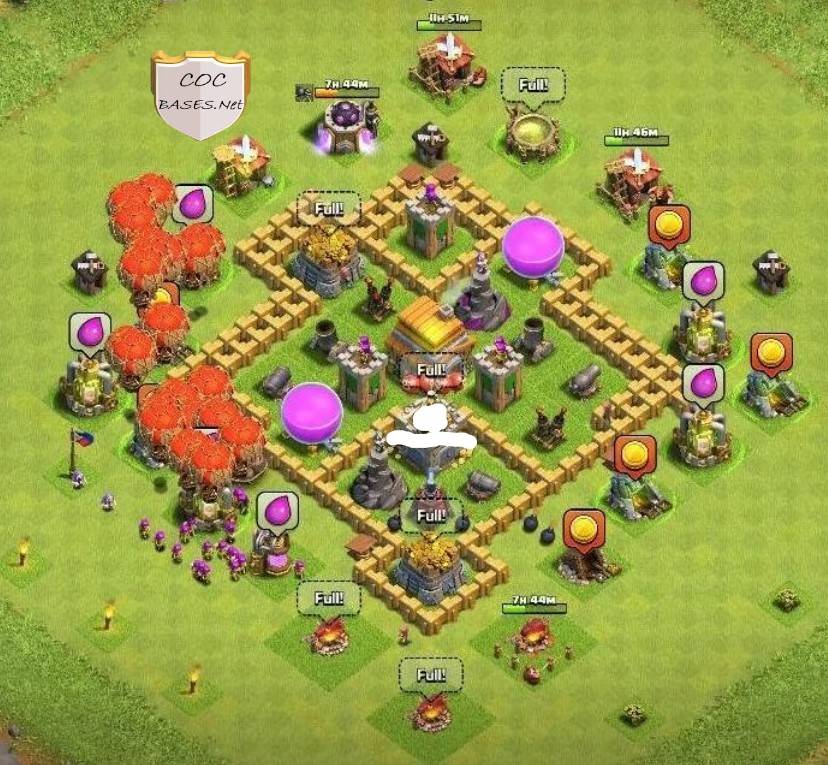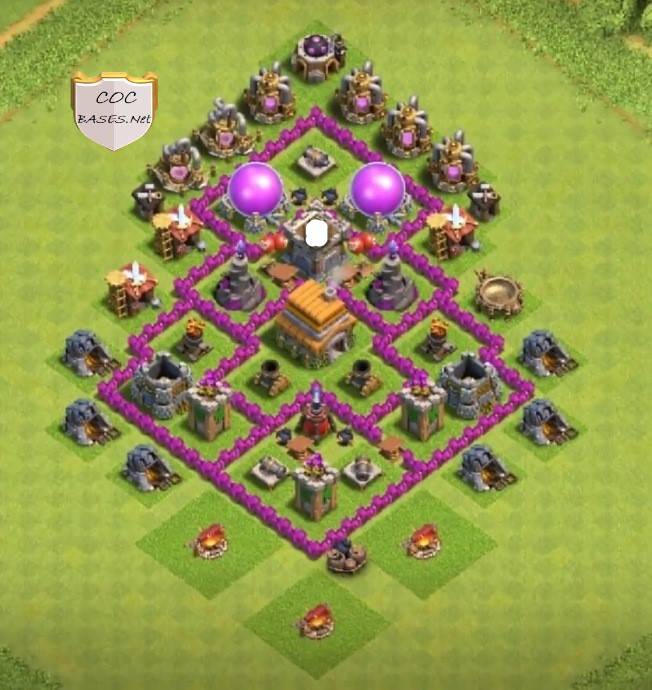 Anti All Troops Town Hall 6 Hybrid Base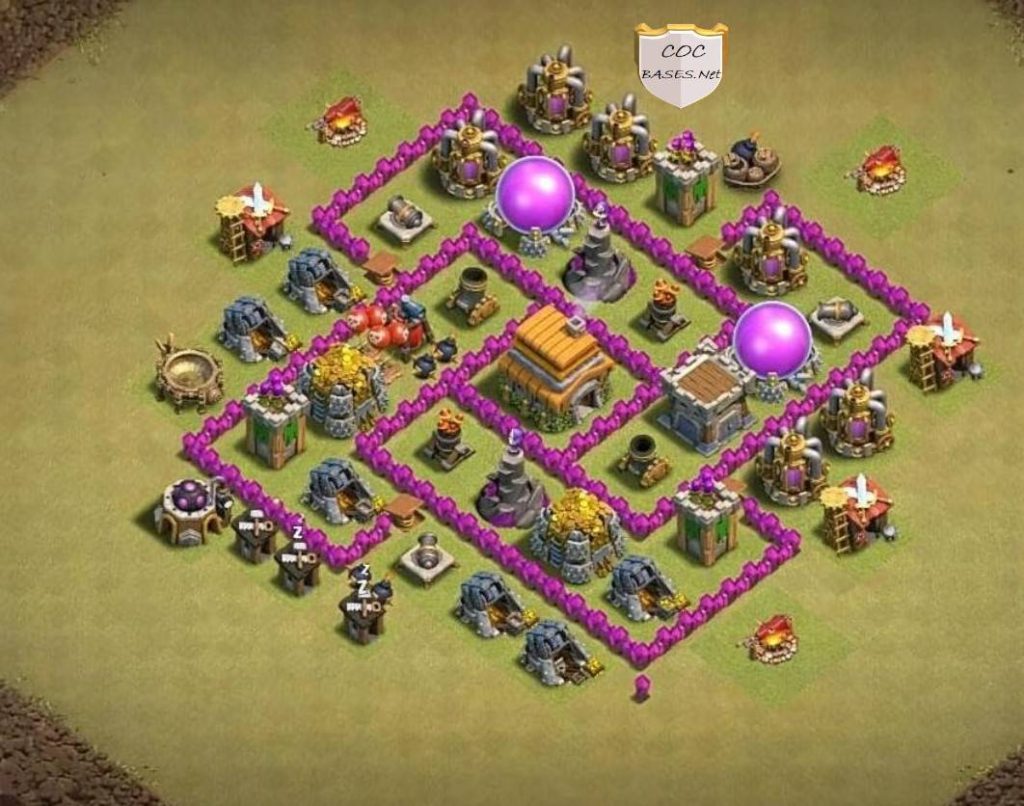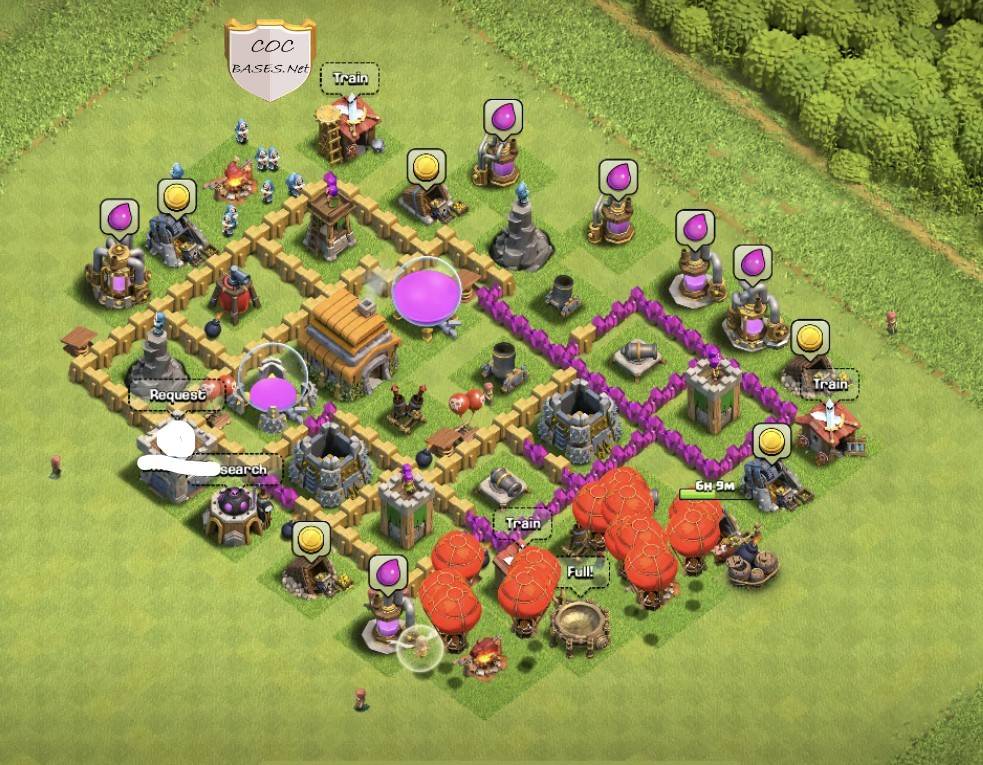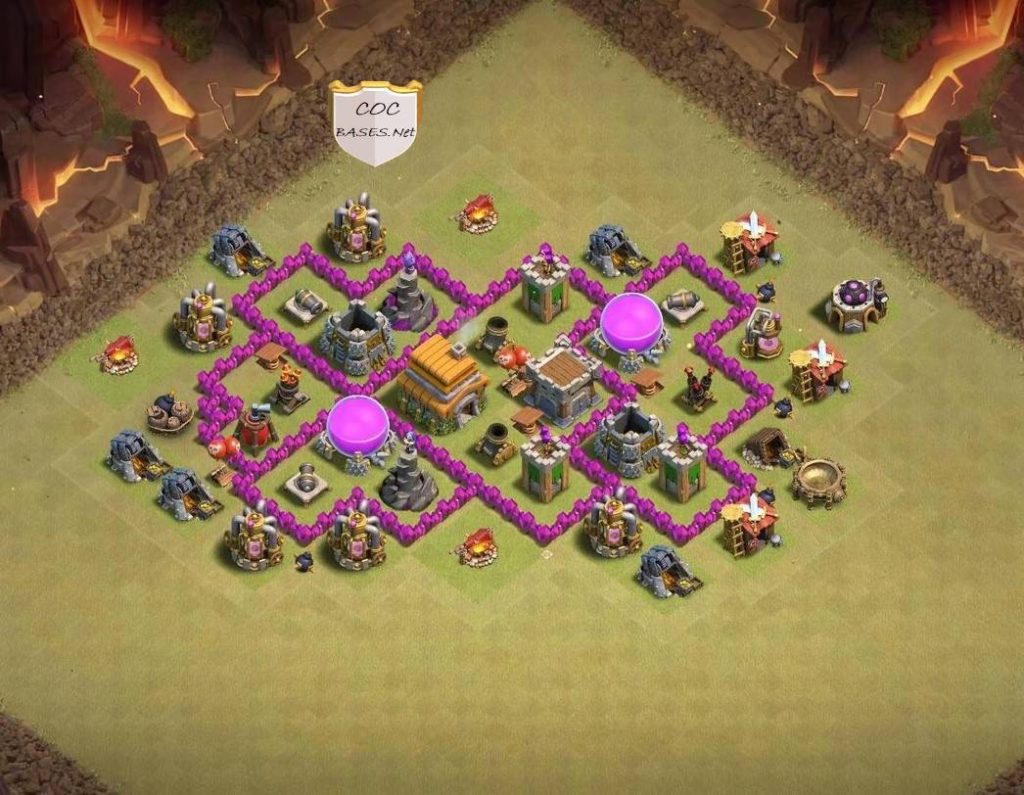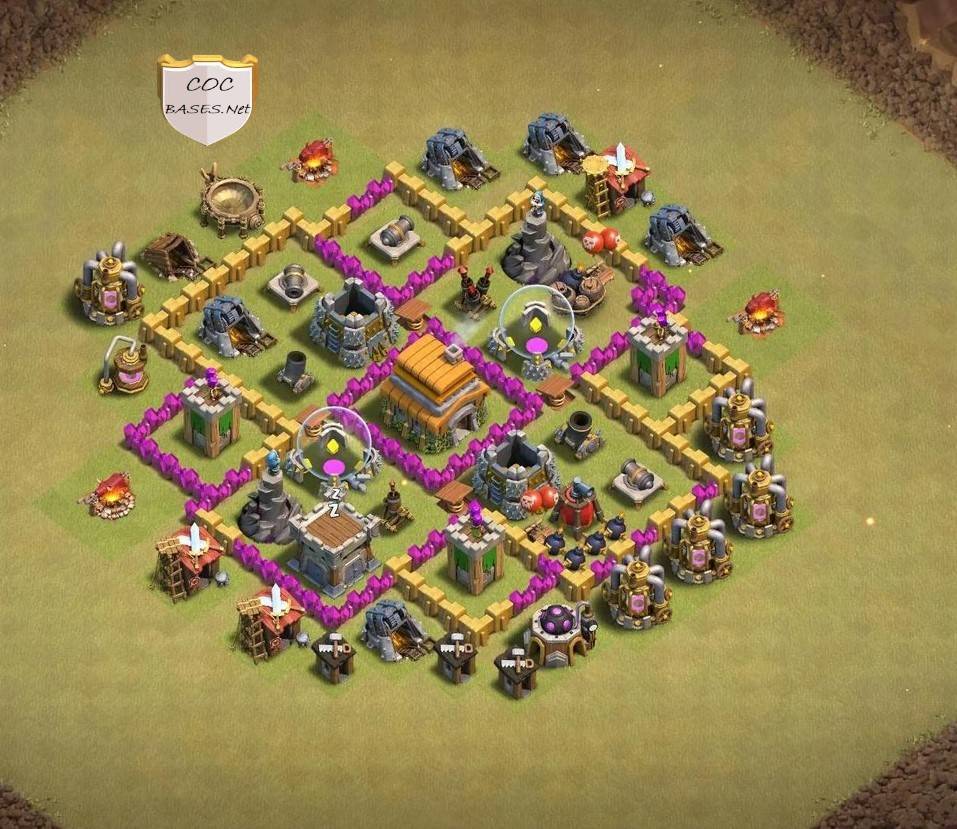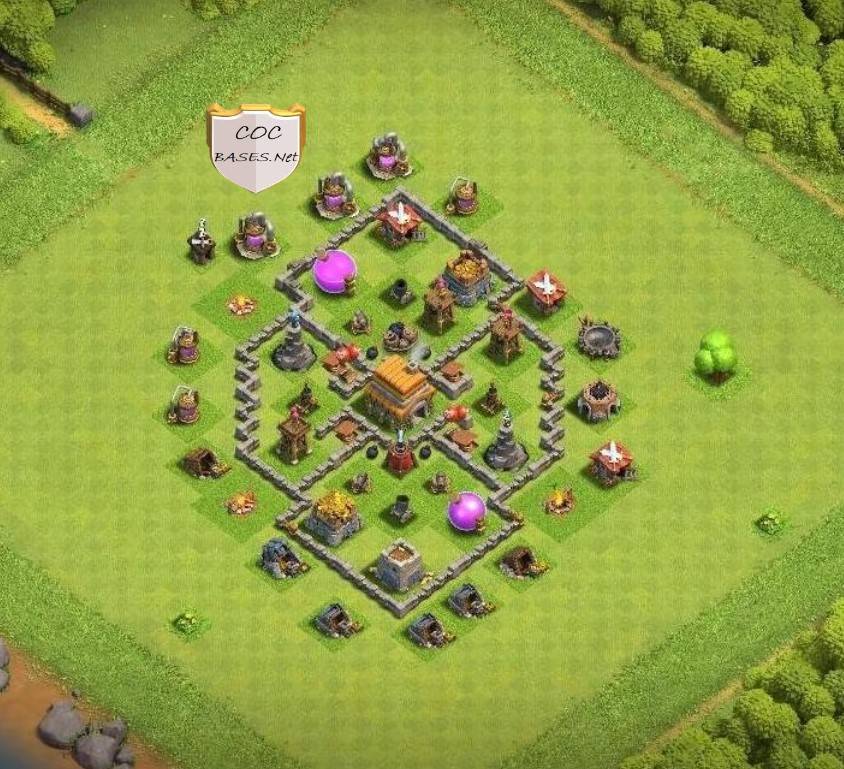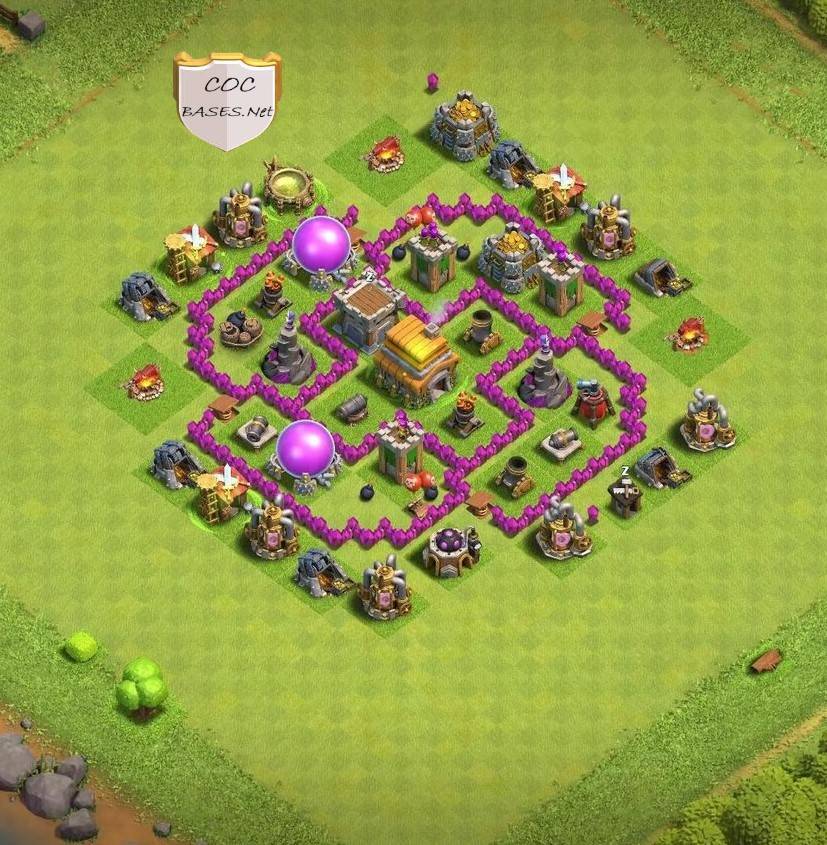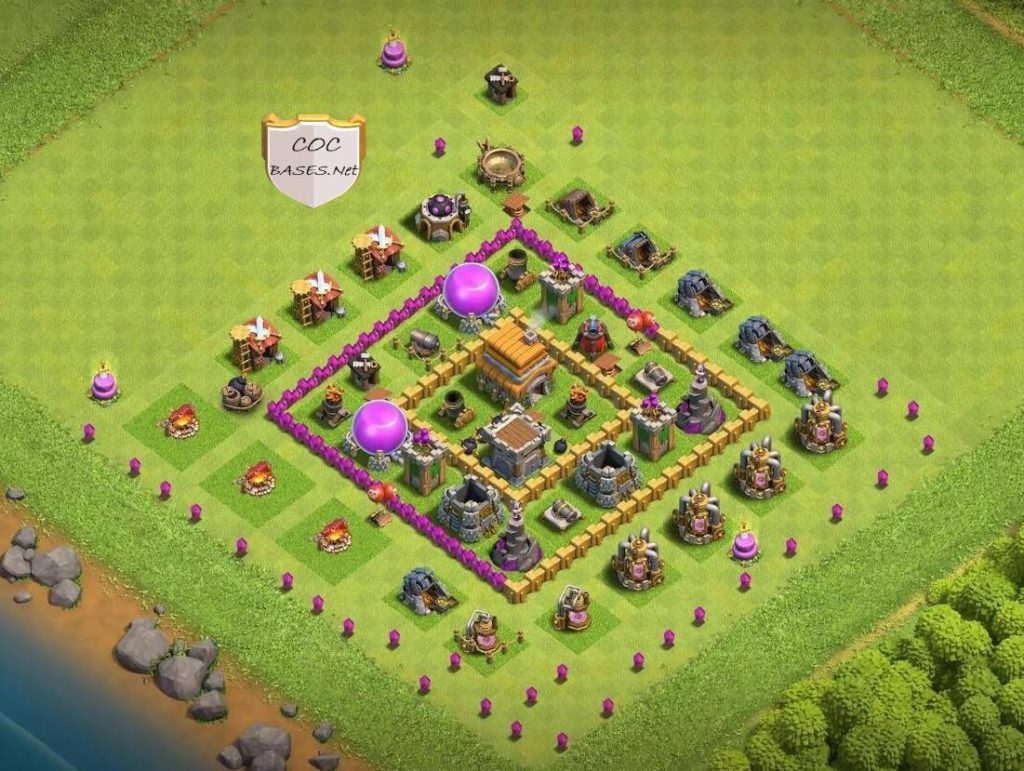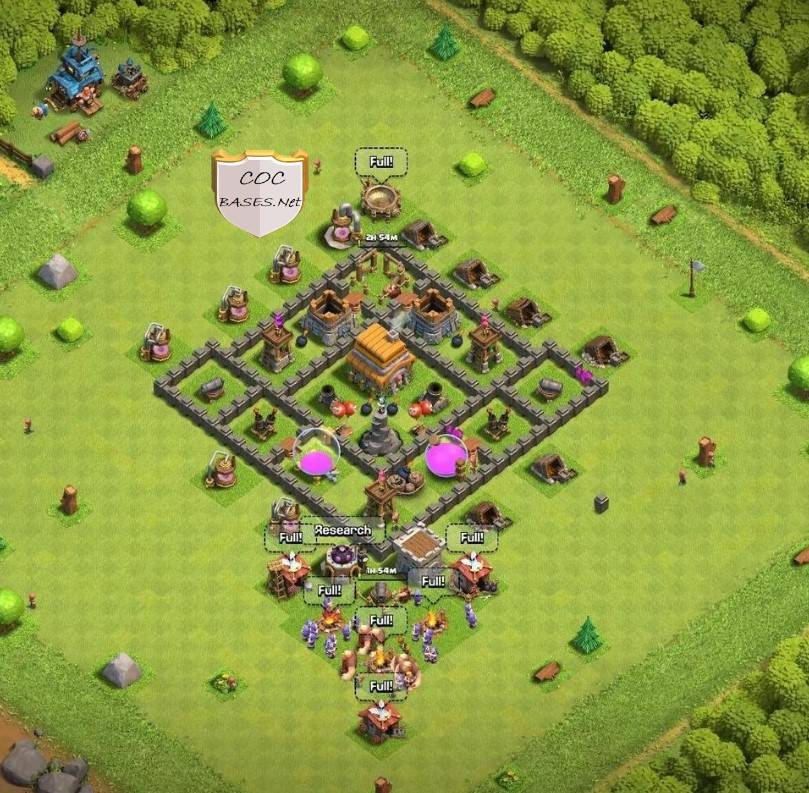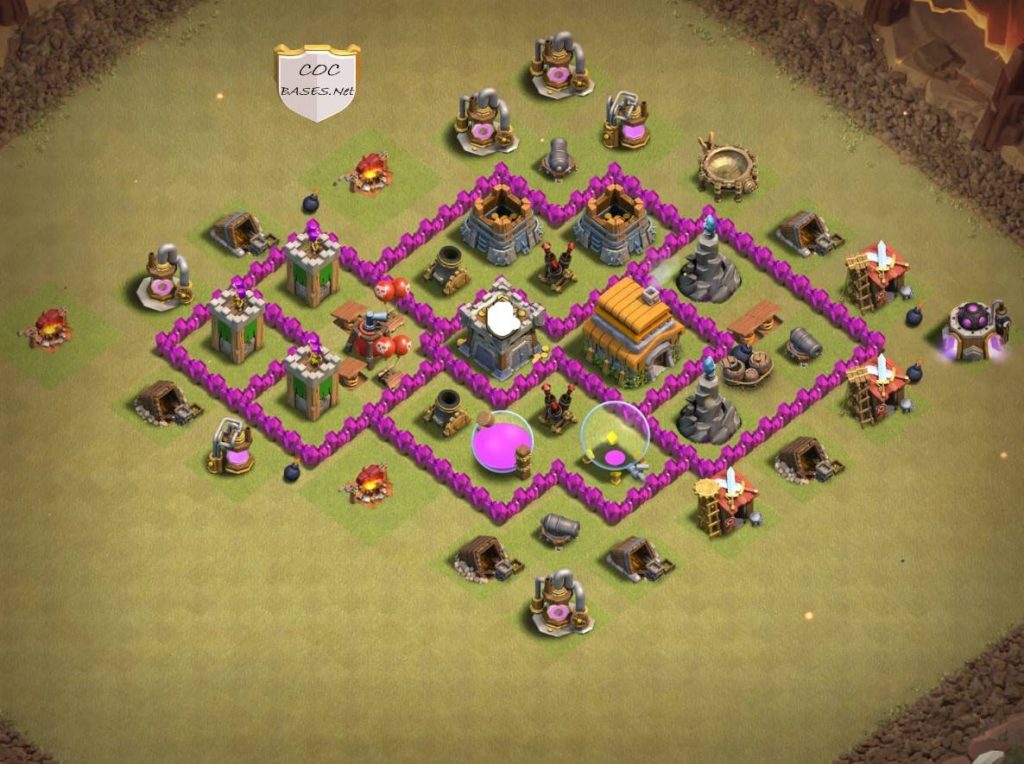 Hybrid Base Town Hall 6 Copy Link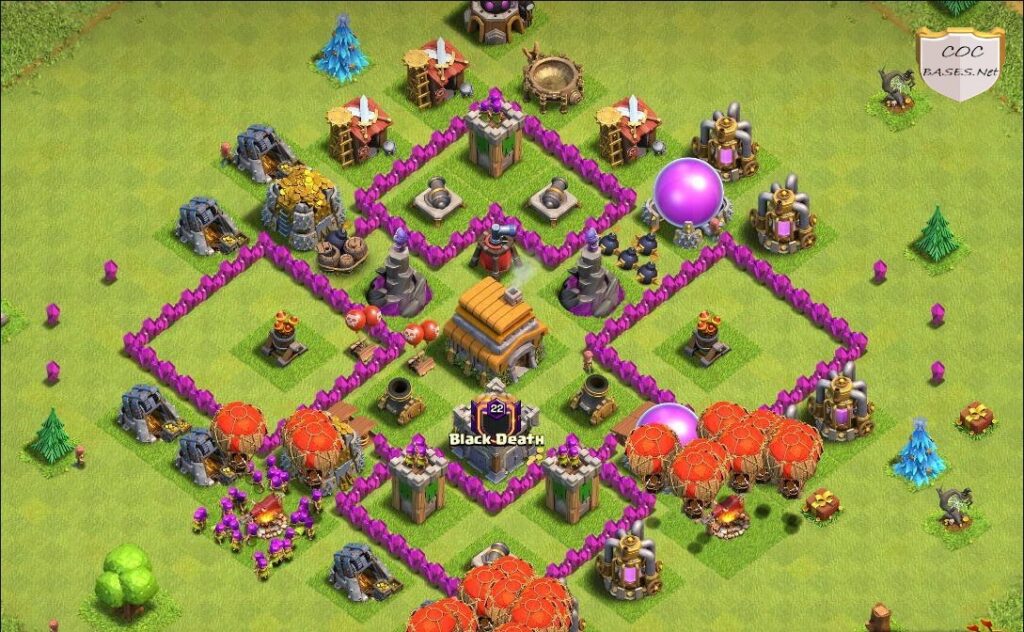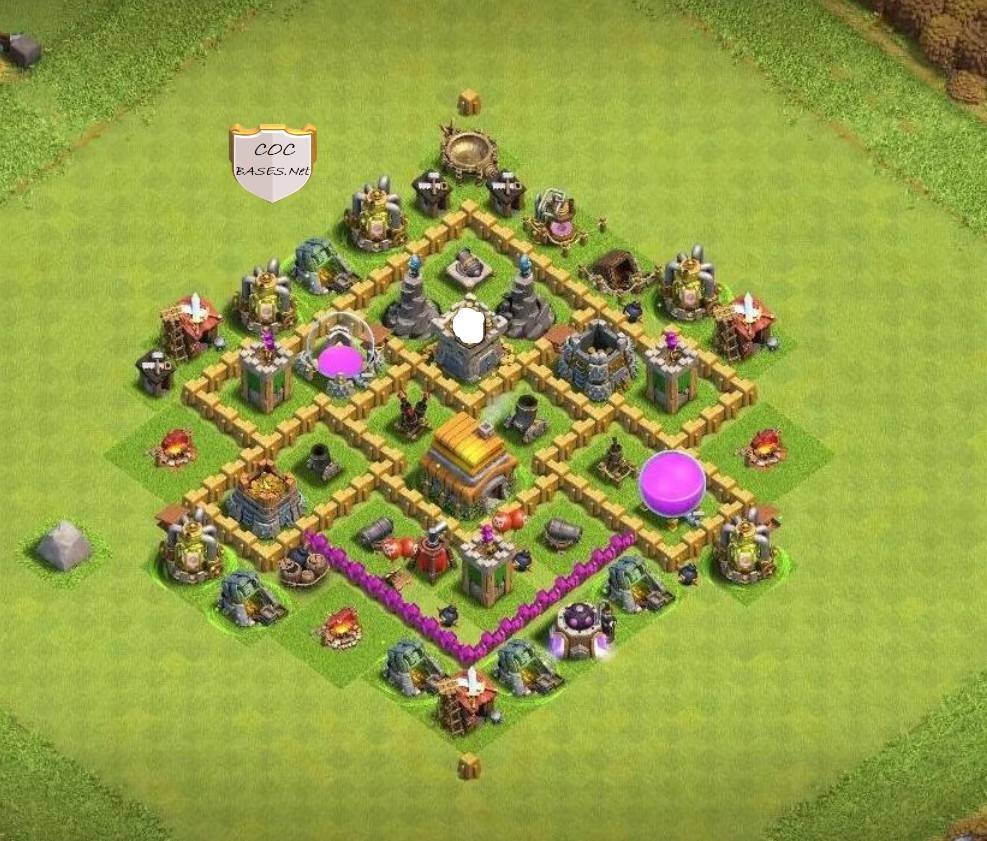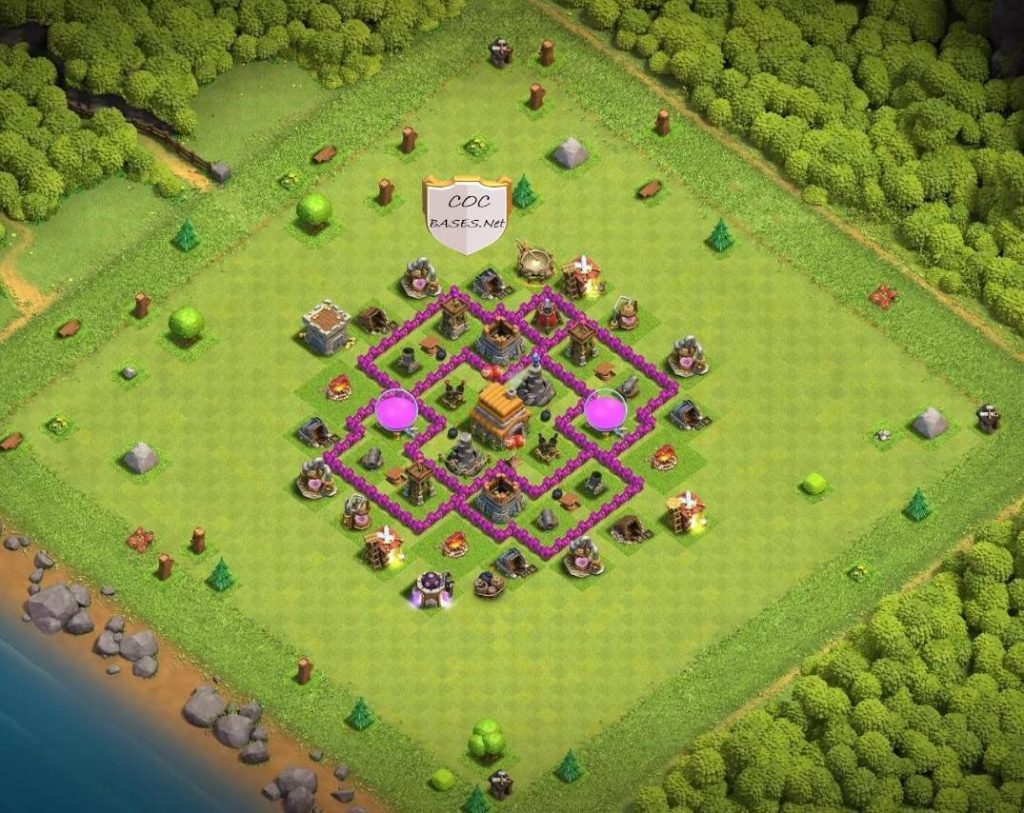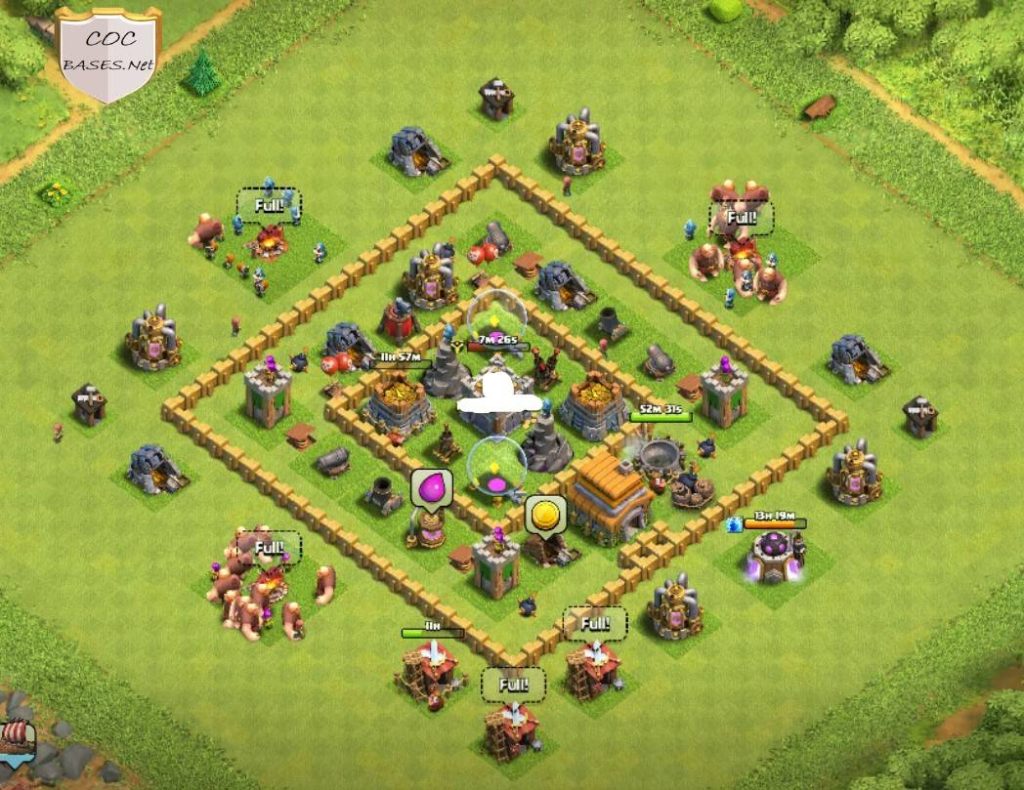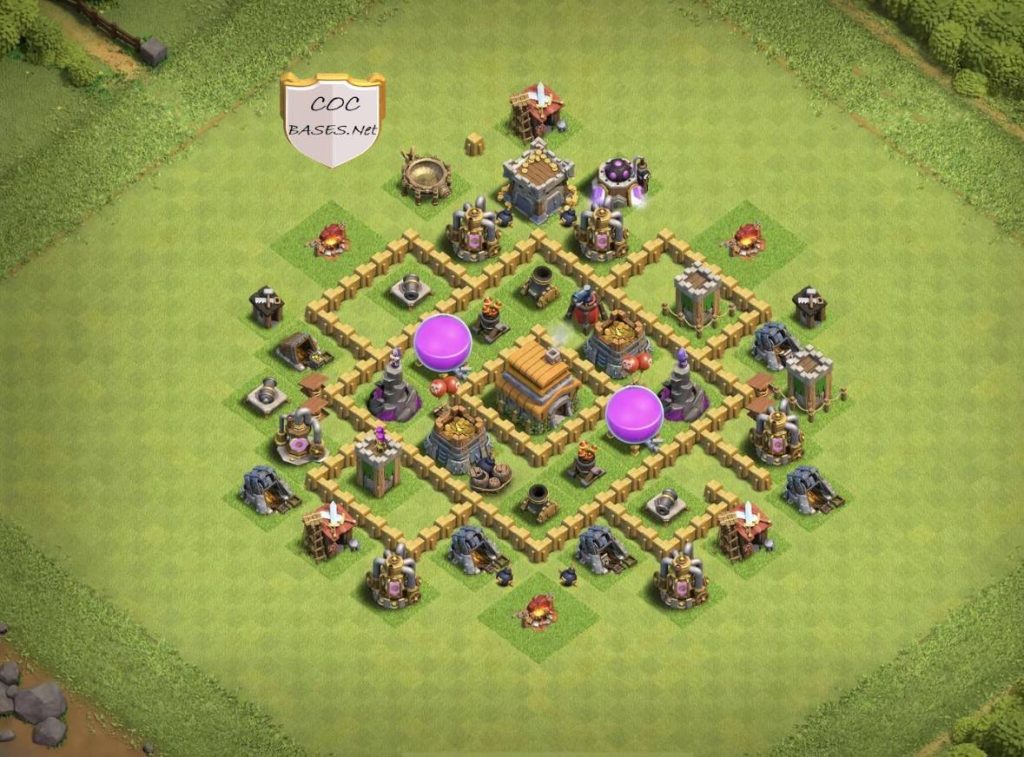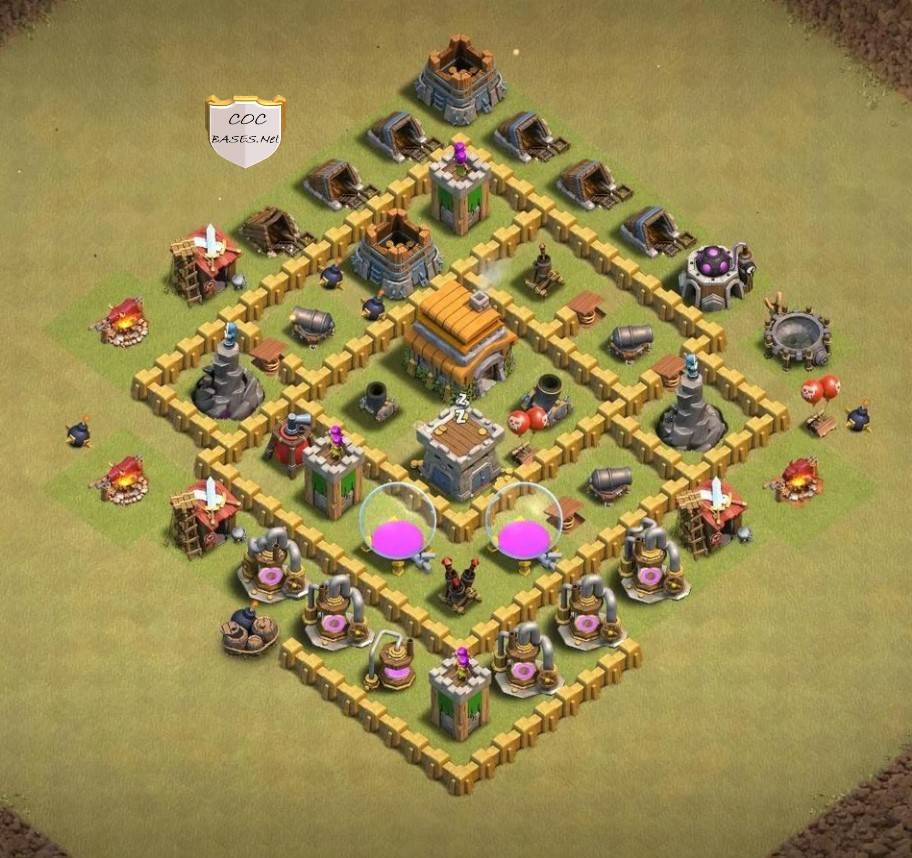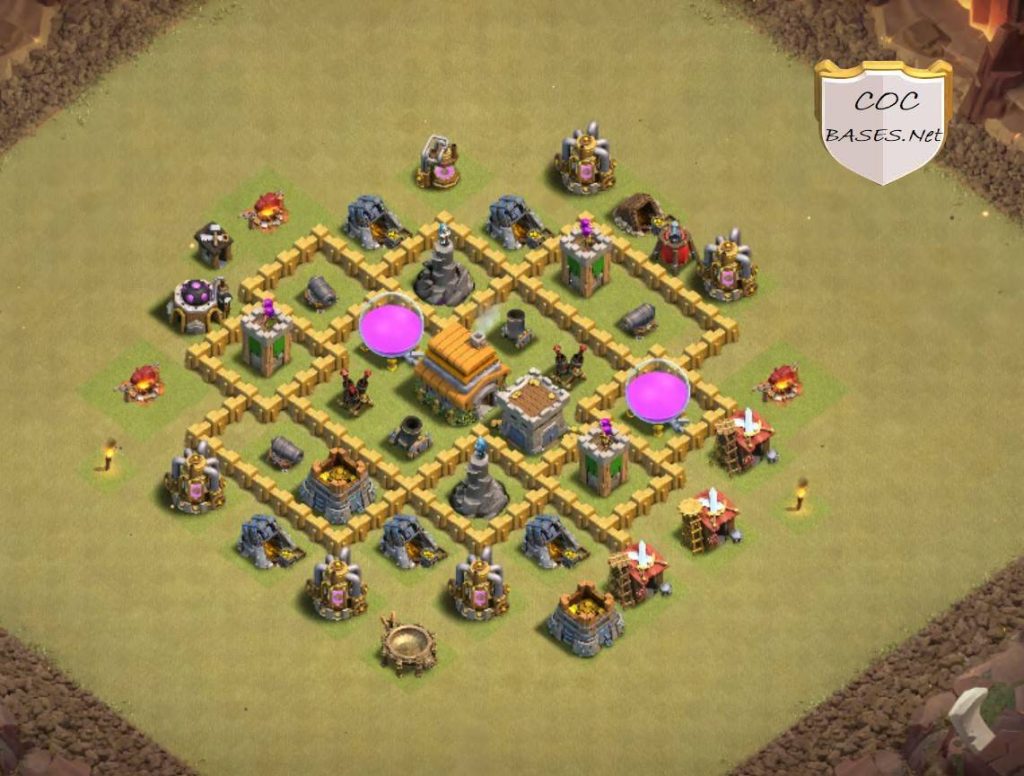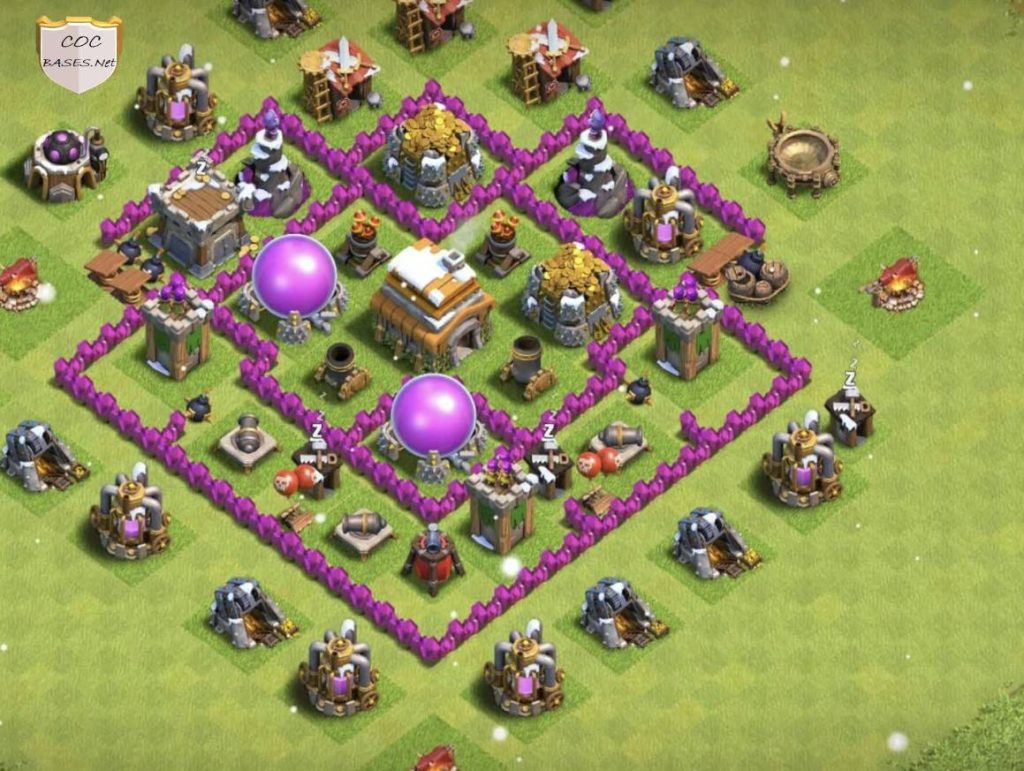 Clash of Clans Level 6 Hybrid Base Link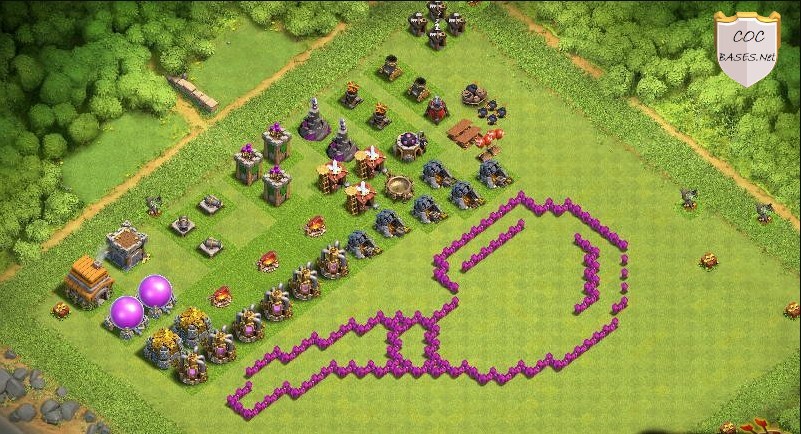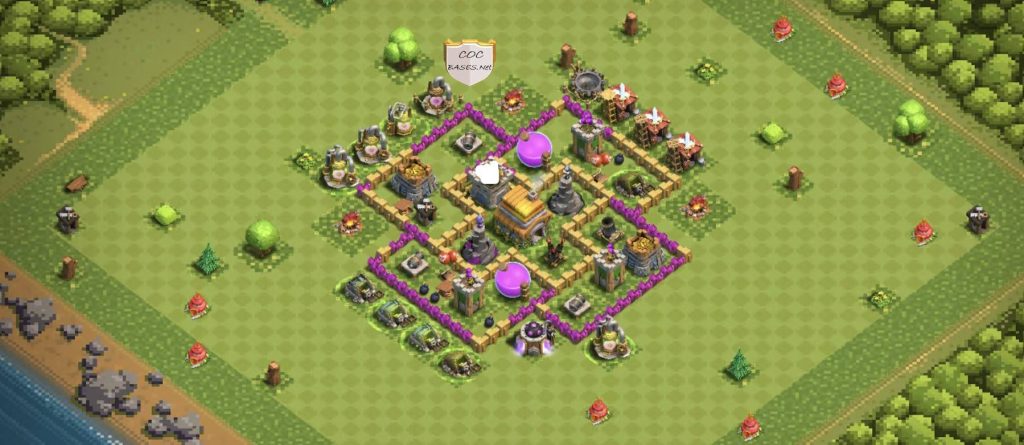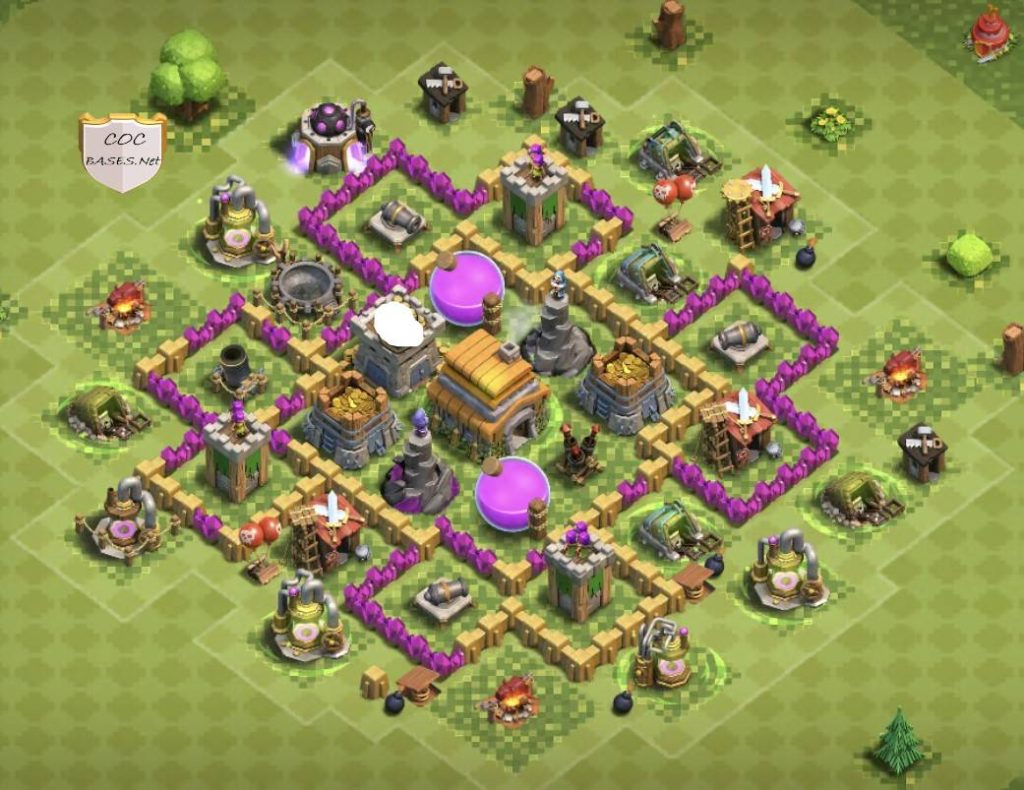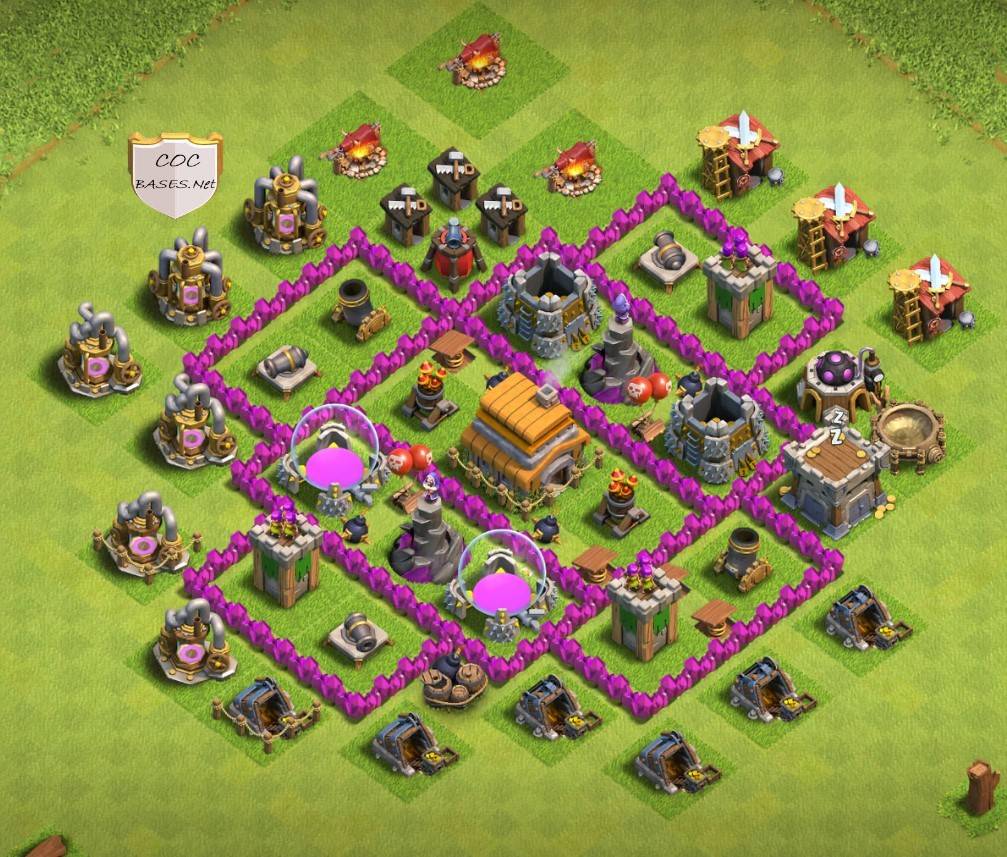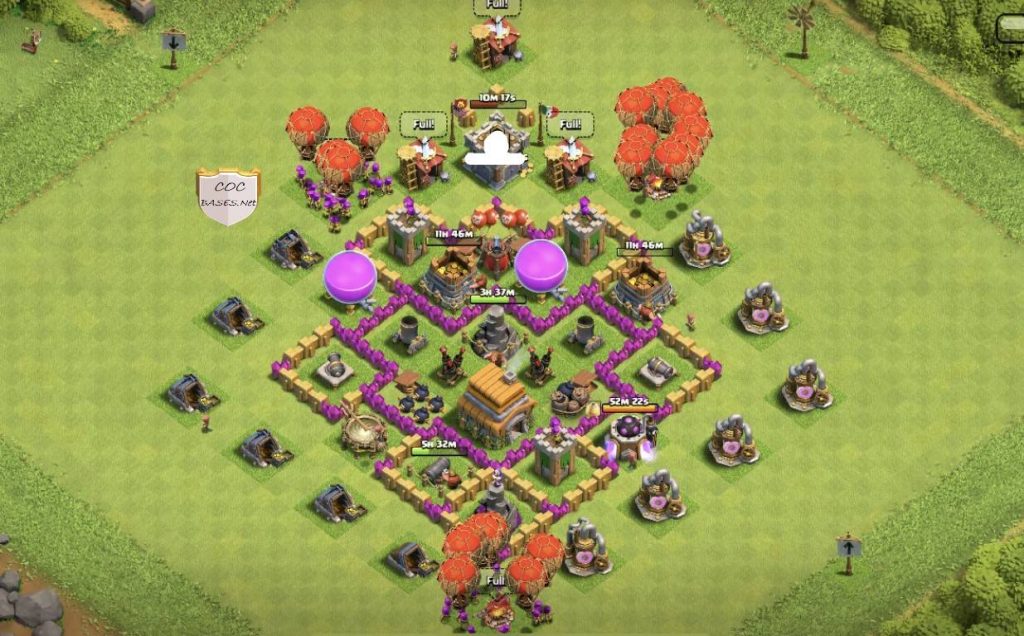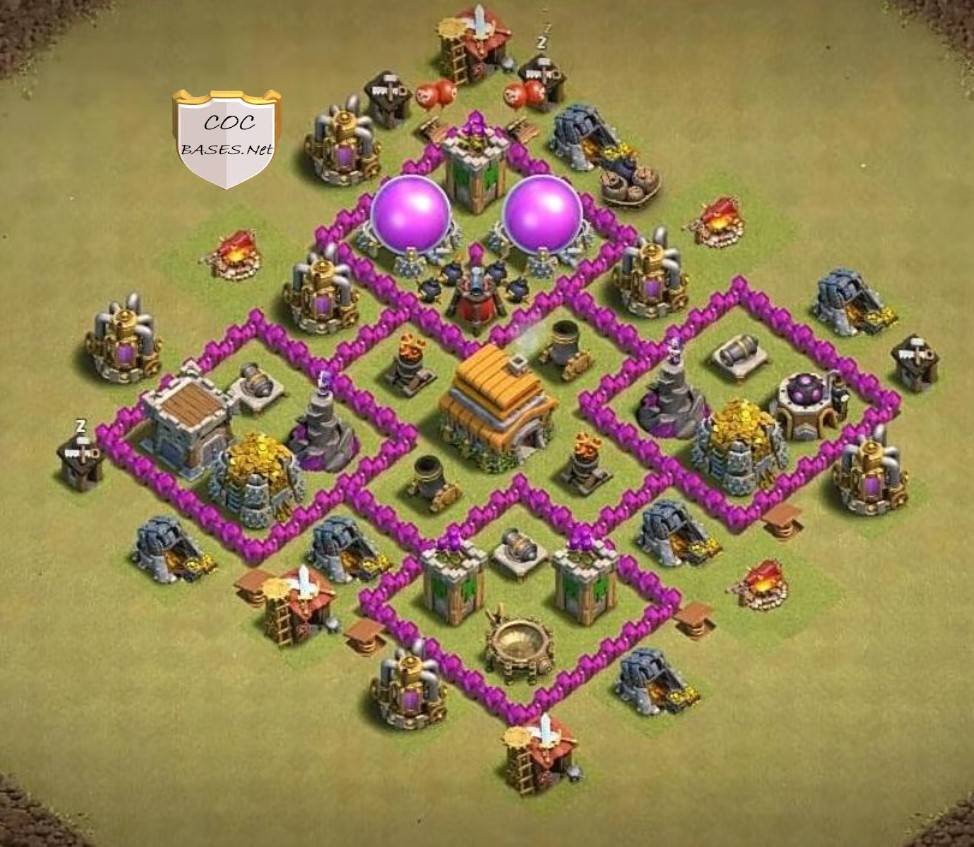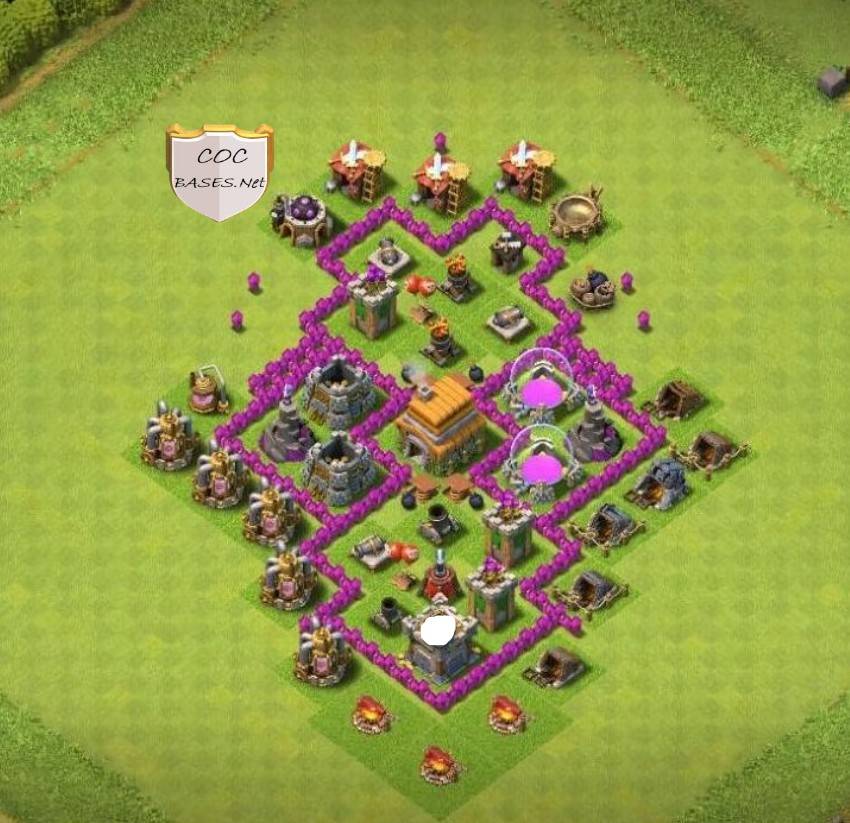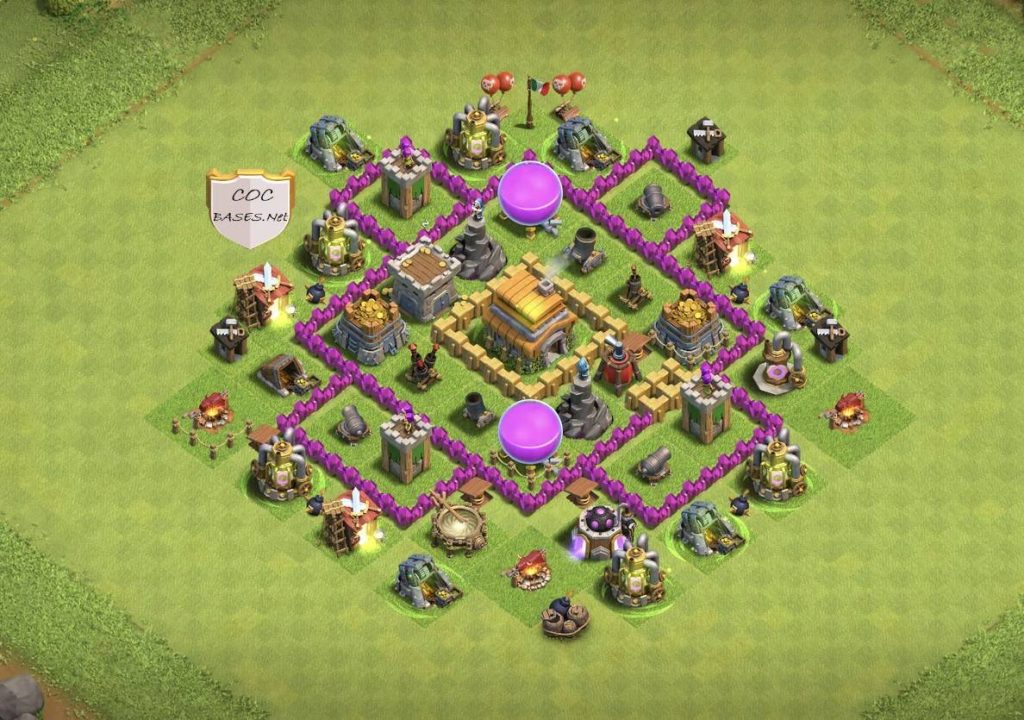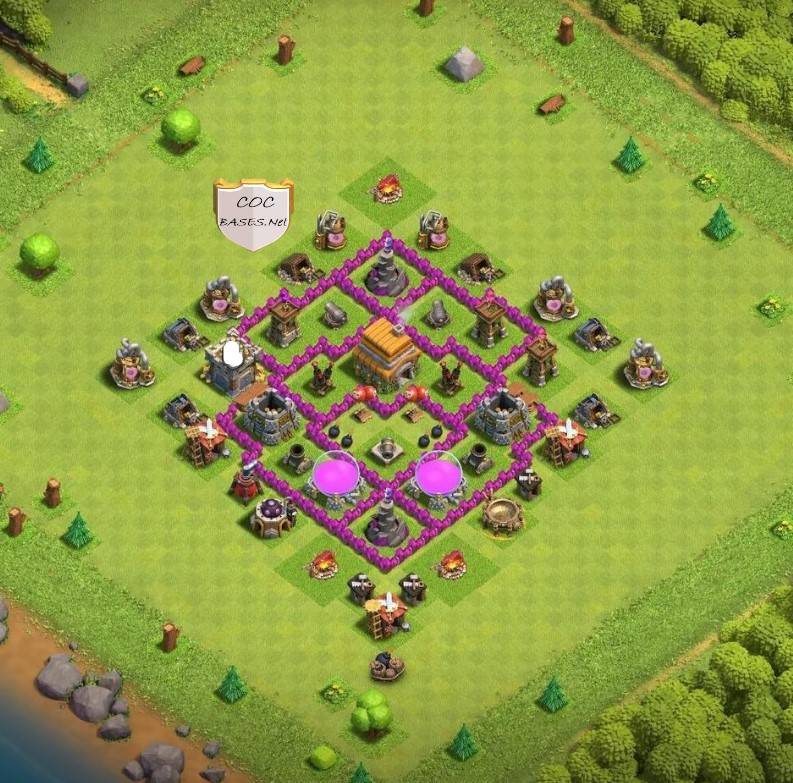 Conclusion
In this best th6 hybrid base guide, we have mentioned all the basic details needed to build the best base layout for your clan. These all mentioned best th6 hybrid bases are my favorite ones.I guarantee you that you will not lose by using these given strategies and tips in your hybrid base layout.
The combination of hidden tesla protecting the town hall is amazing if you look at the fourth design. I hope you will find the best hybrid base layout for your troop.
More Articles
th6 farming base anti everything