Hurrah! You have finished the first three levels of the town hall. Most people find lower levels of the clash of clans game quite difficult. These levels of the game are highly important. If your base is strong in the initial levels then the game eventually becomes easy. As you have passed town hall 3, now you will be needing the best guide for Best TH4 Farming Base.
Best TH4 Farming Base 2024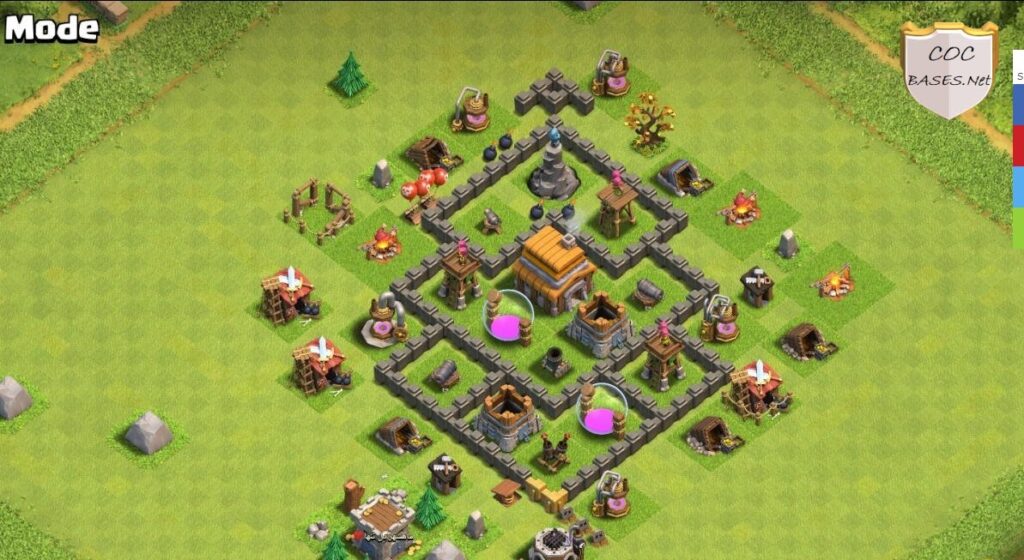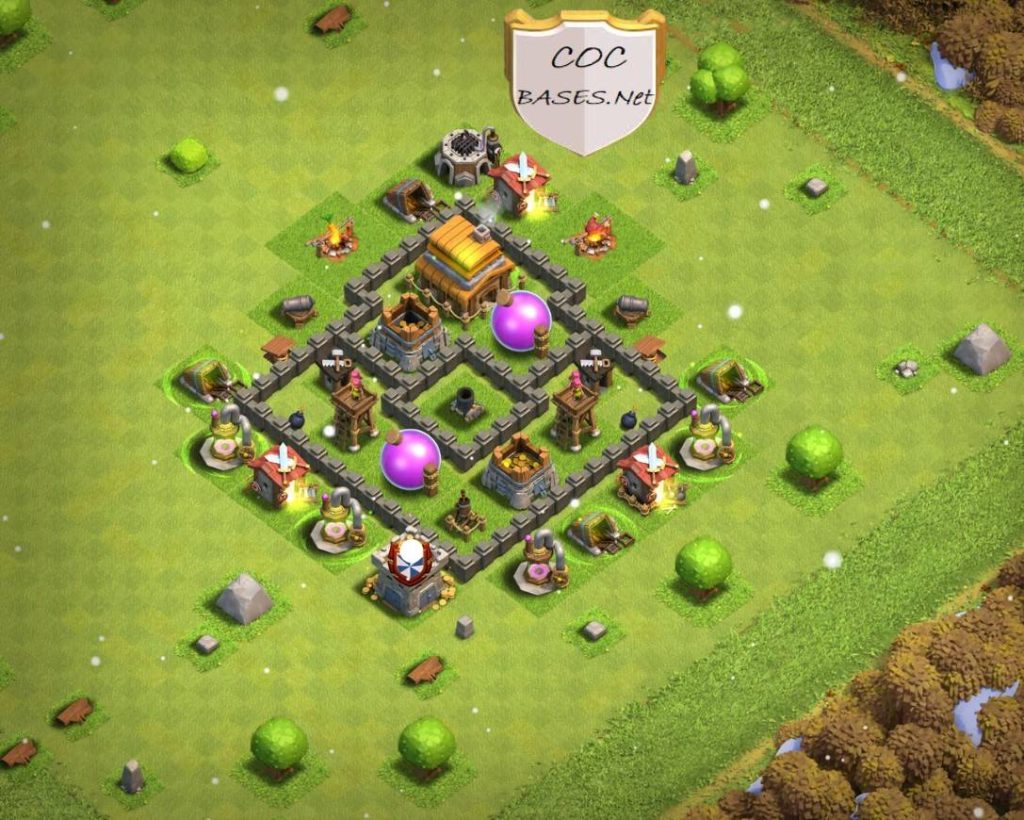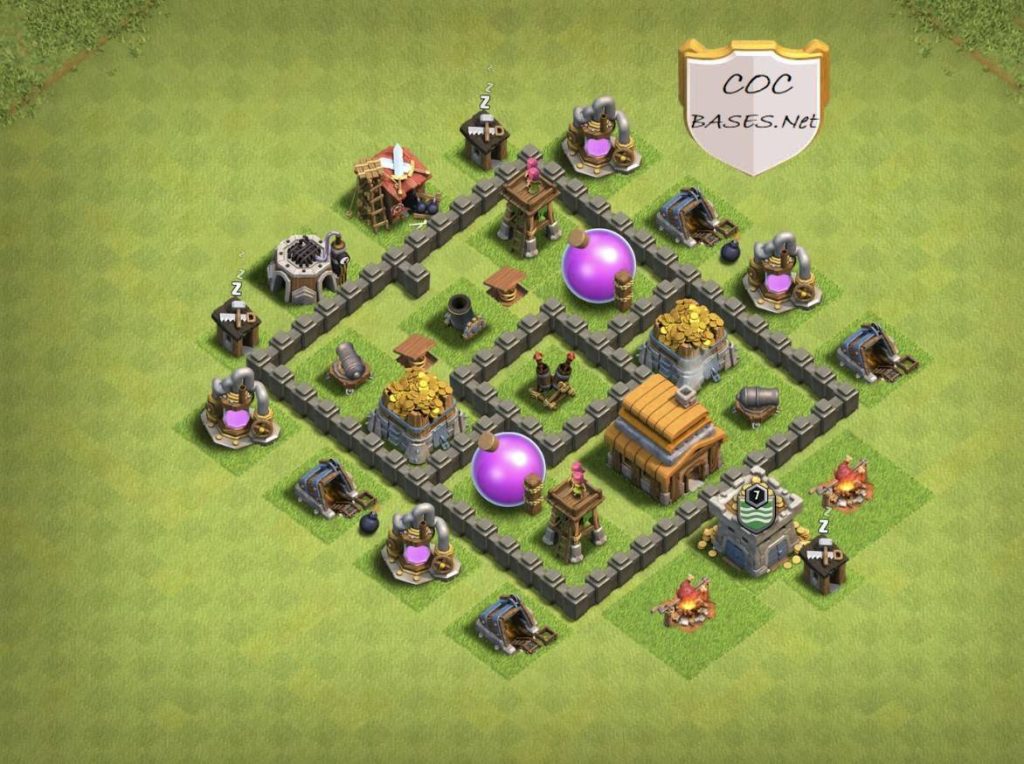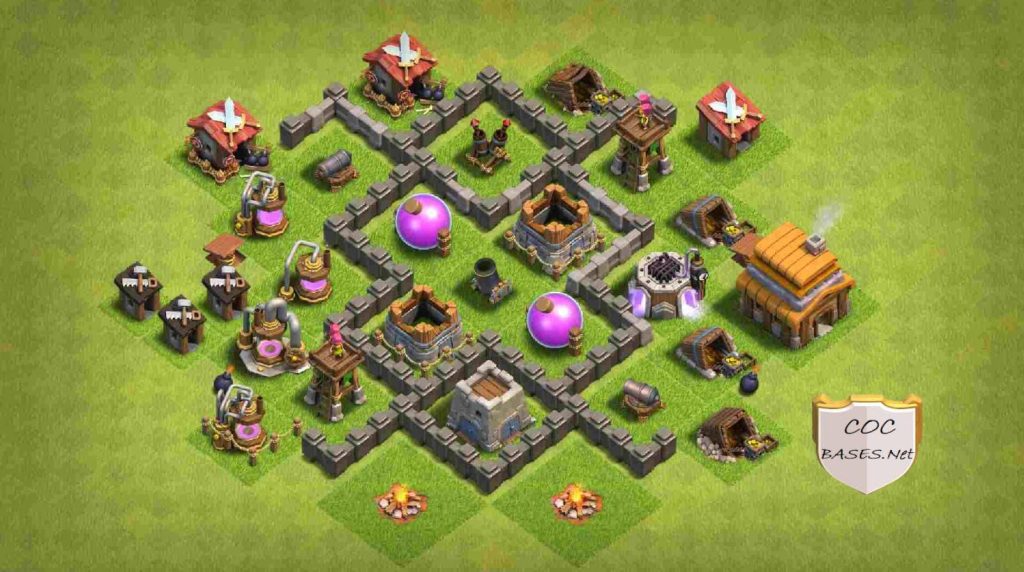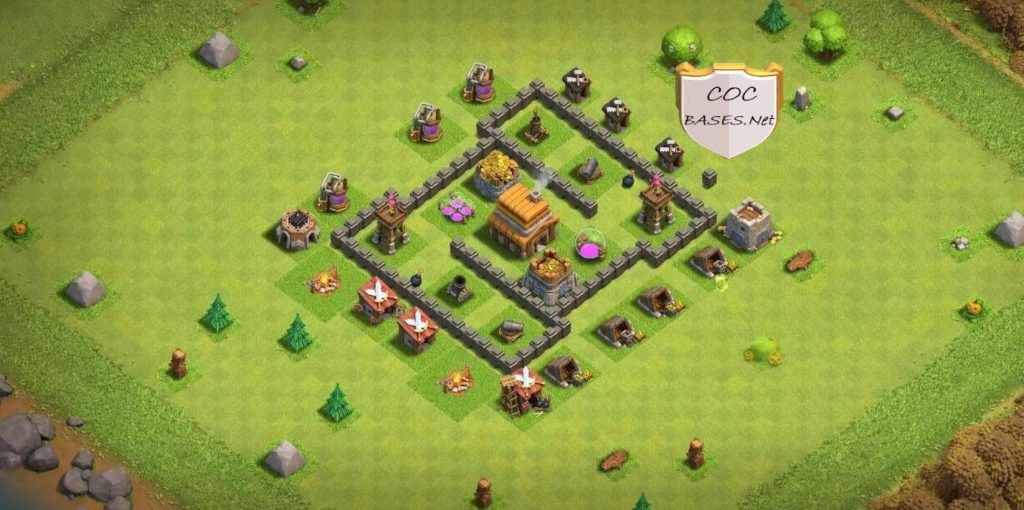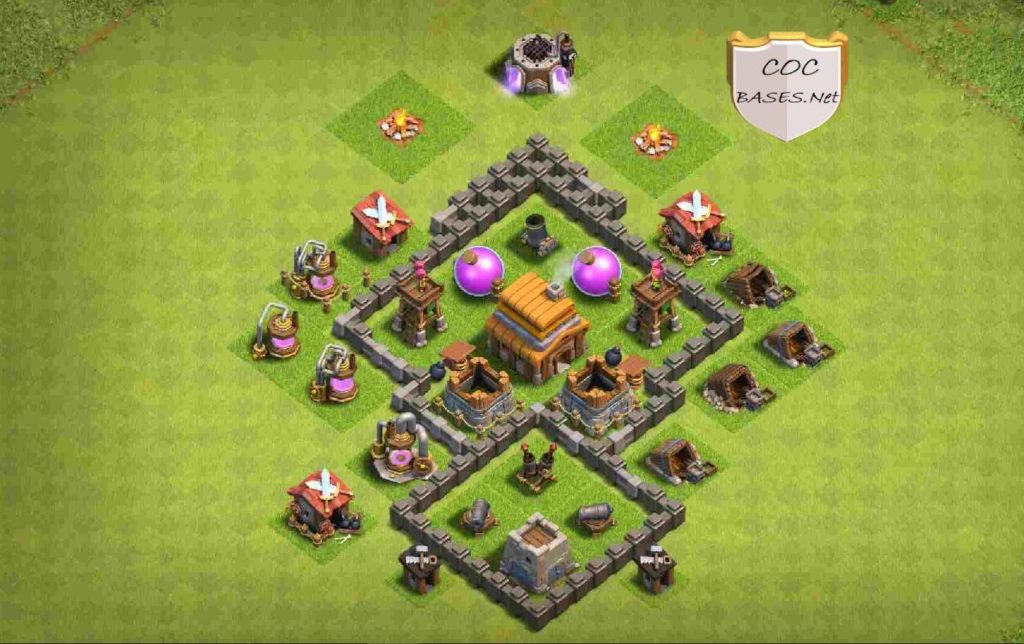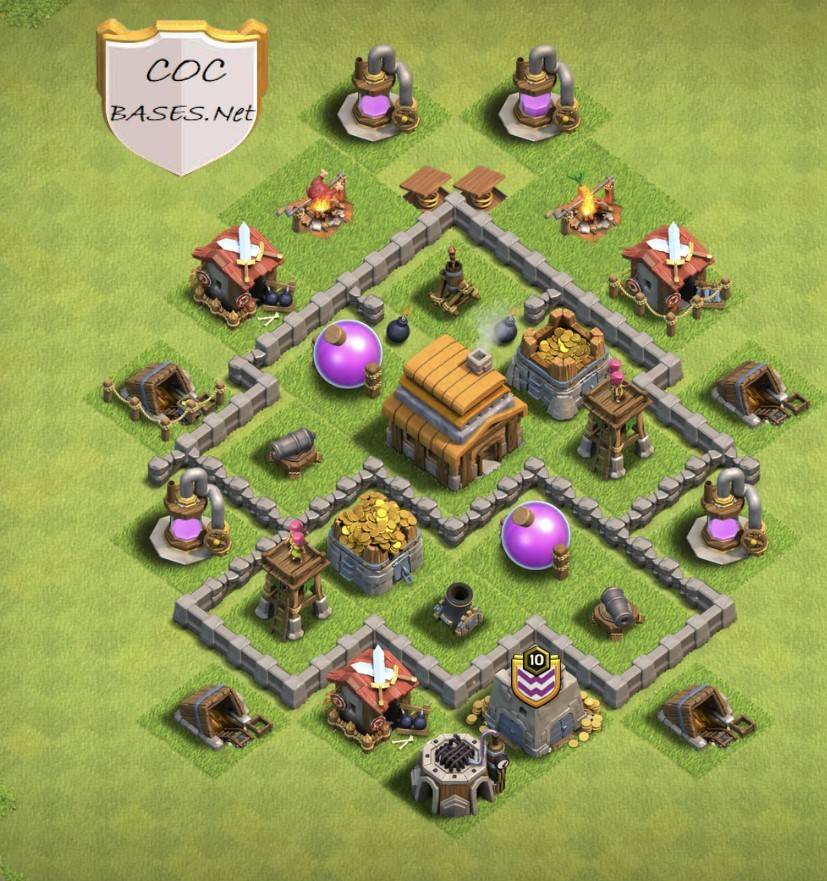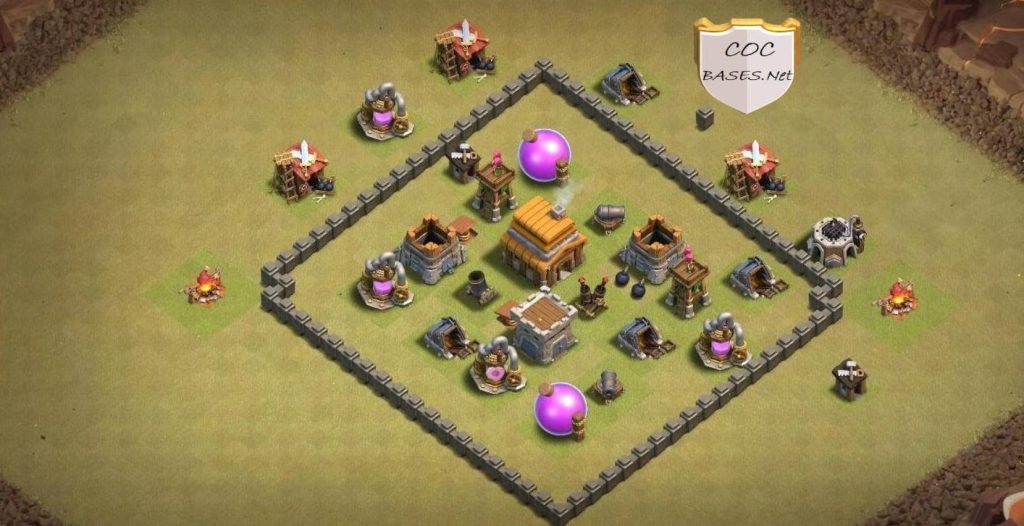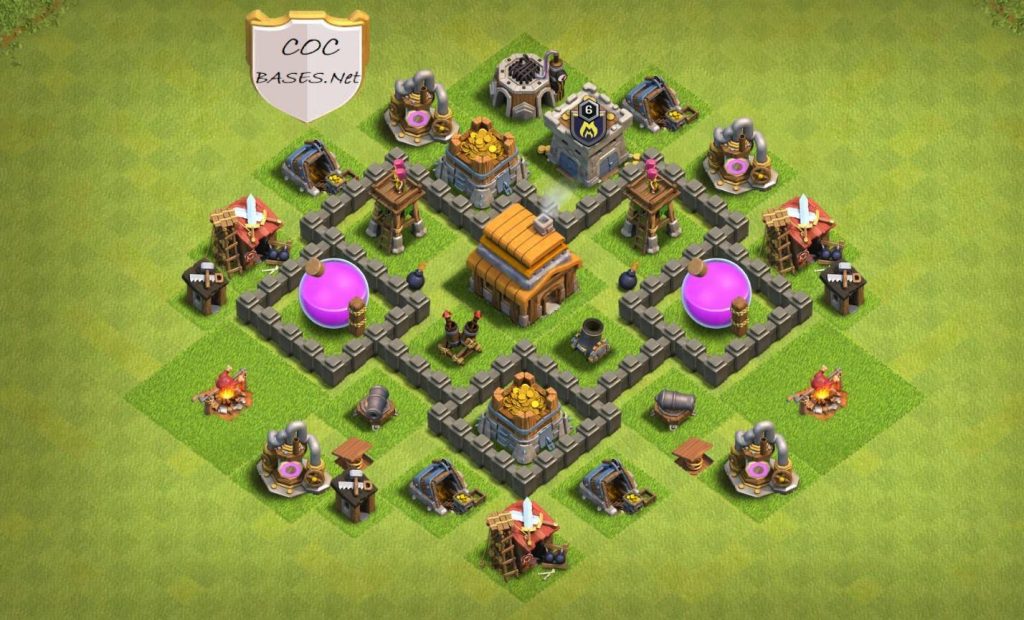 Best Town Hall 4 Farming Base Link Anti Everything
Here in this Town hall 4 farming base guide, we will talk about some amazing farming bases for th4. In the best farming bases clash of clans, it is important to secure your resource towers and storage buildings. Townhall 4 is one of the most amazing levels played and is best for learning new strategies and tactics for creating the best farming base.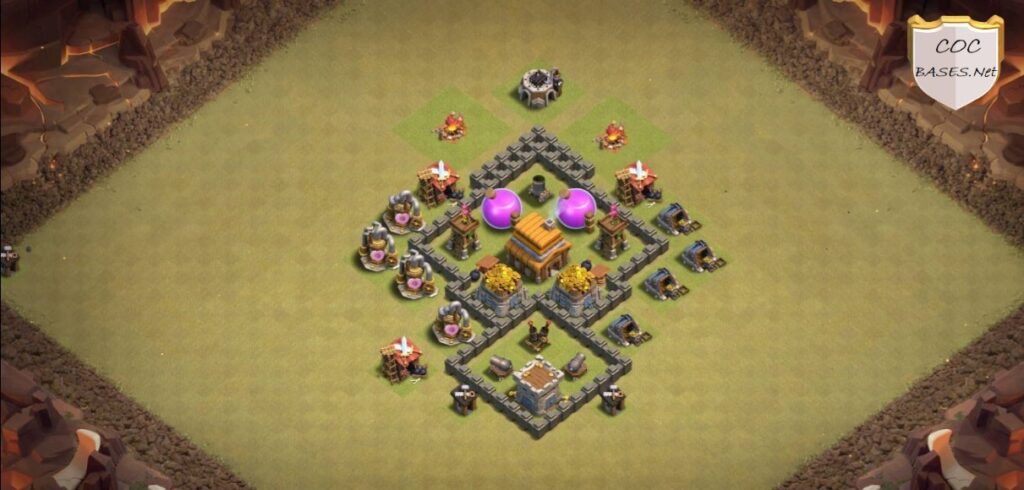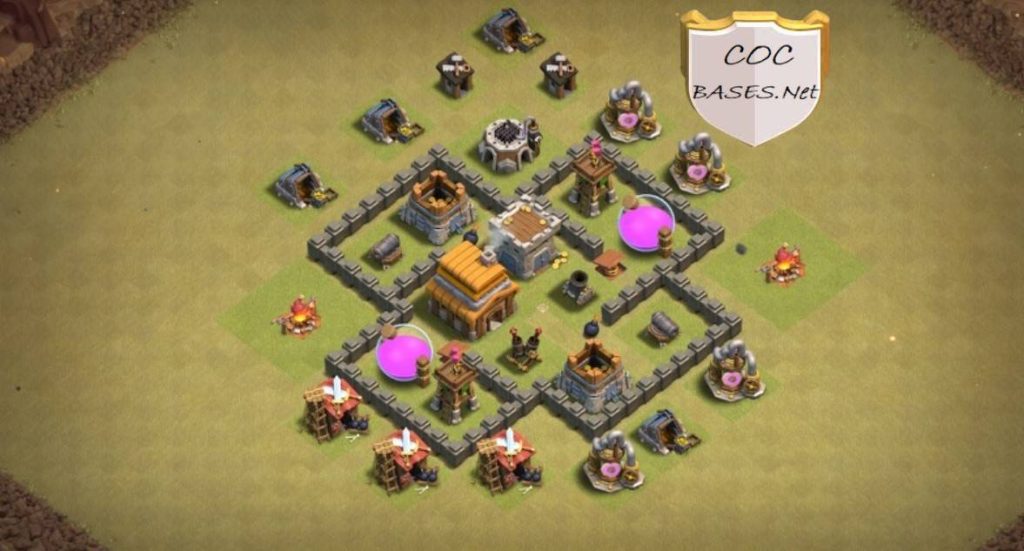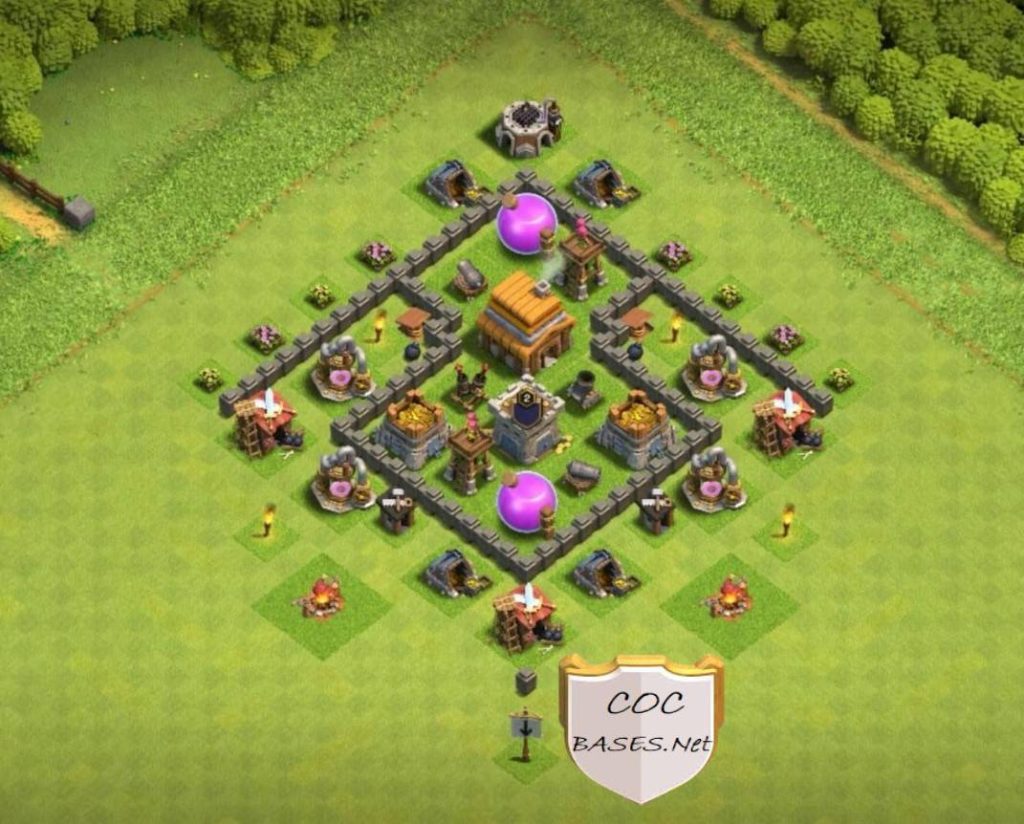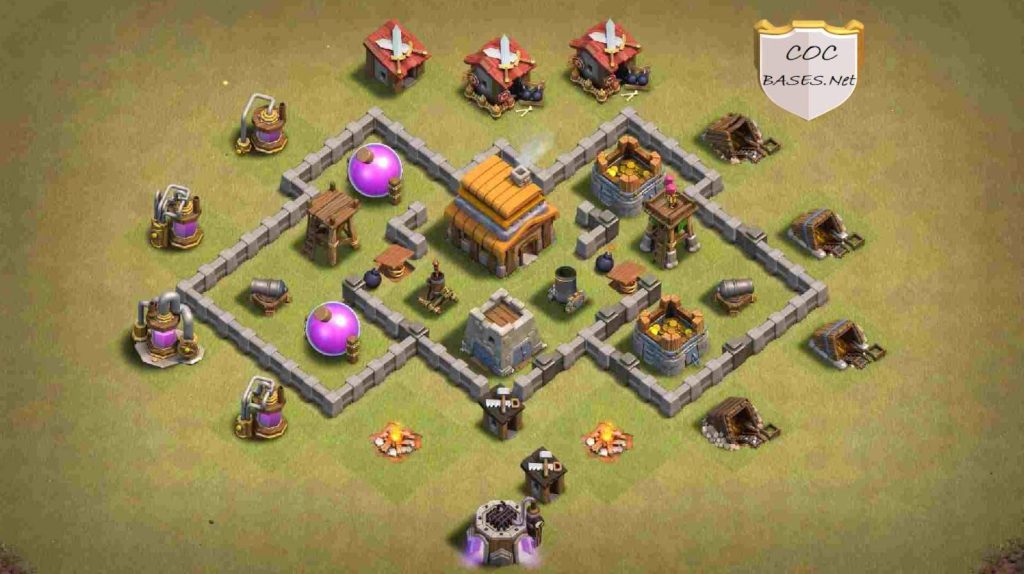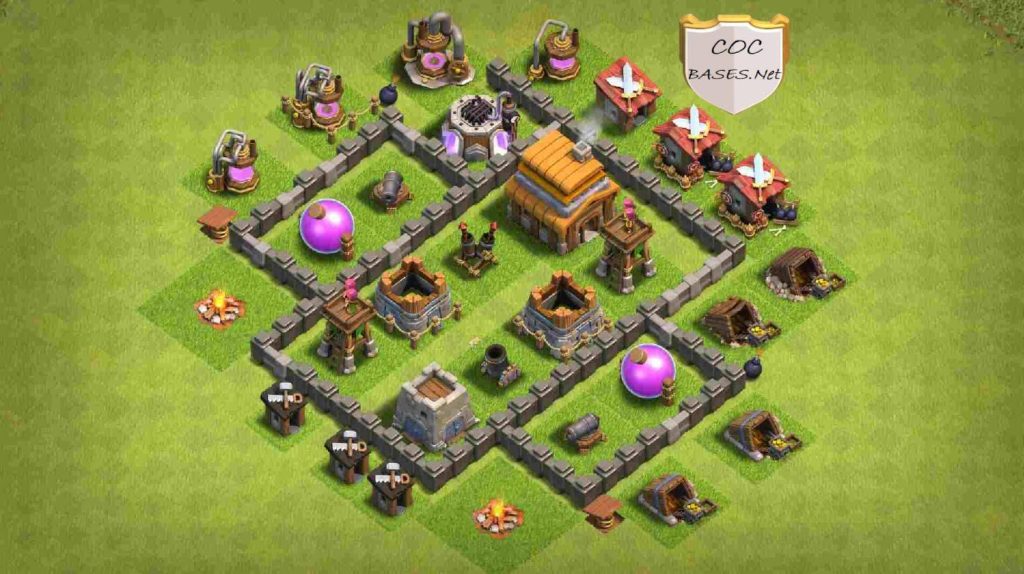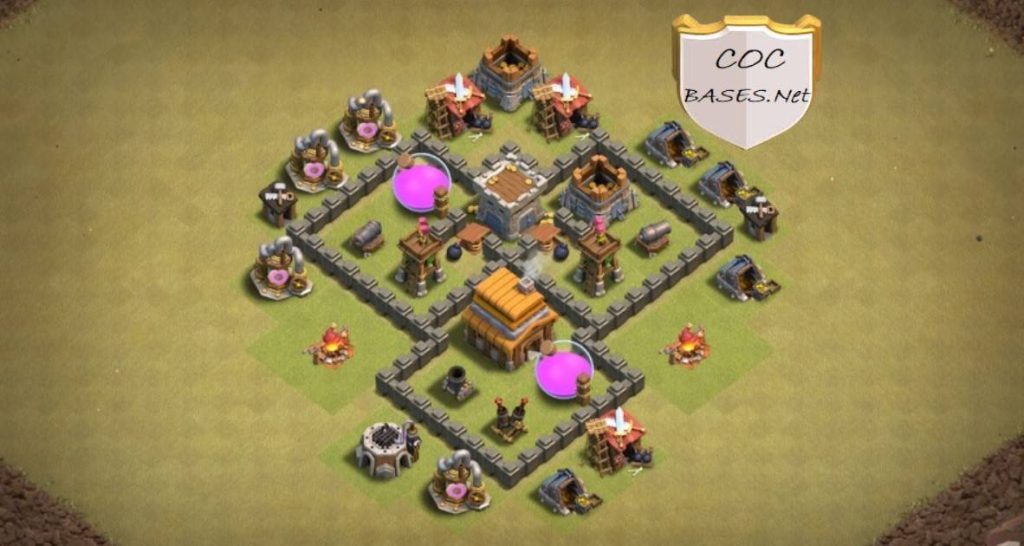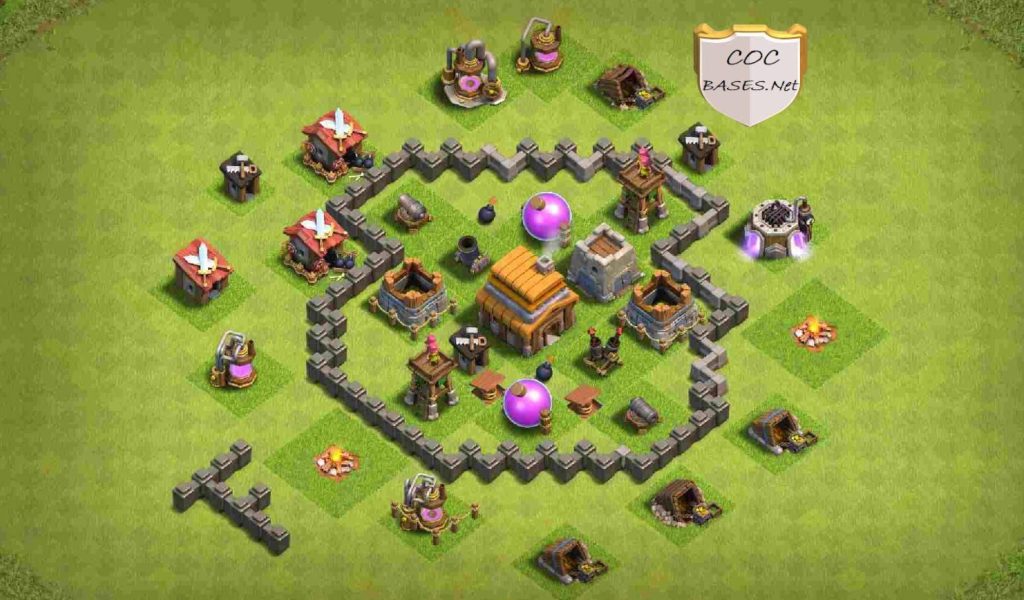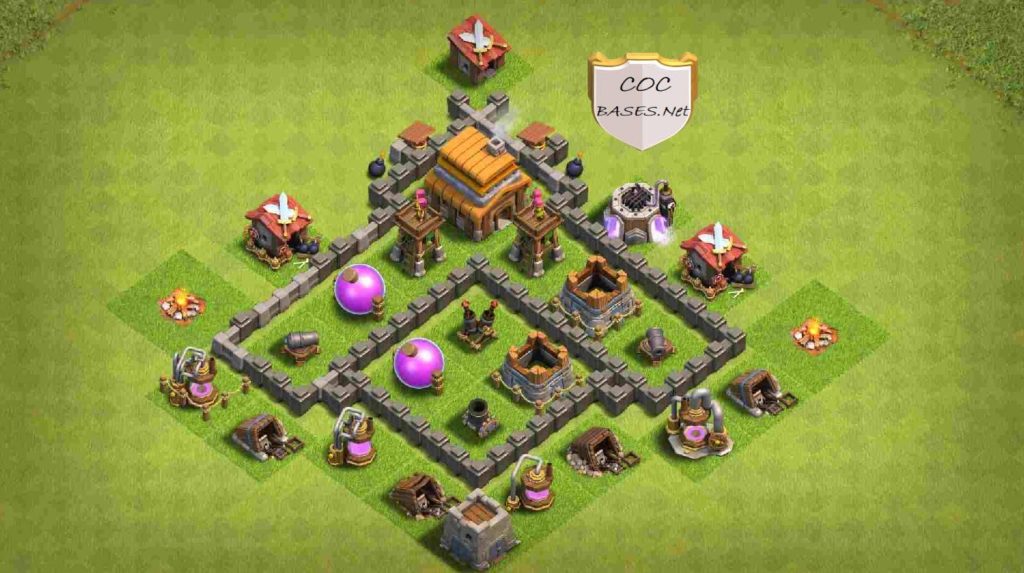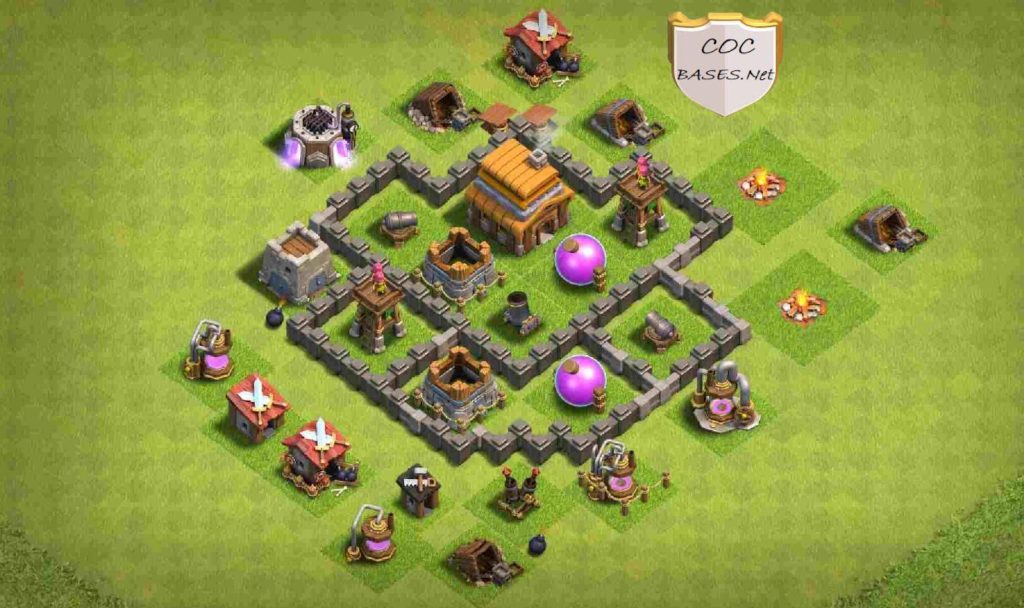 Clash of Clans Town Hall 4 Farming Base with Link
Townhall 4 is also considered the lower level and is the initial stage to learn about designing a most secure base with fewer buildings and towers. To make your game more proficient, you must create the best bases in the initial levels of the game.
The placement of towers and buildings is highly important in creating the best th4 farming base. In the initial stages, you have to choose between a few buildings and towers. The wall that is selected for surrounding the clan must be maxed. Below you will see some of the best th4 farming bases in 2024.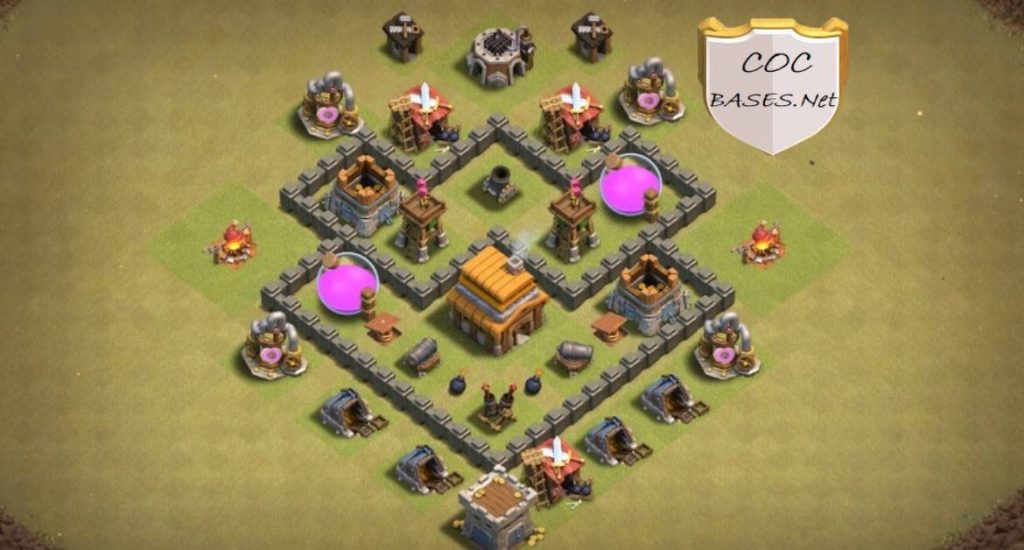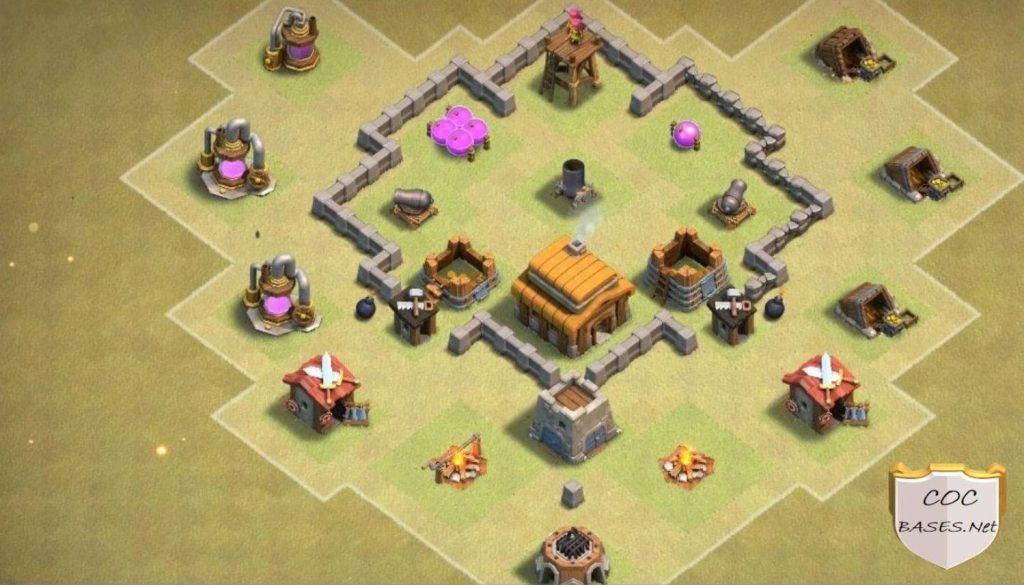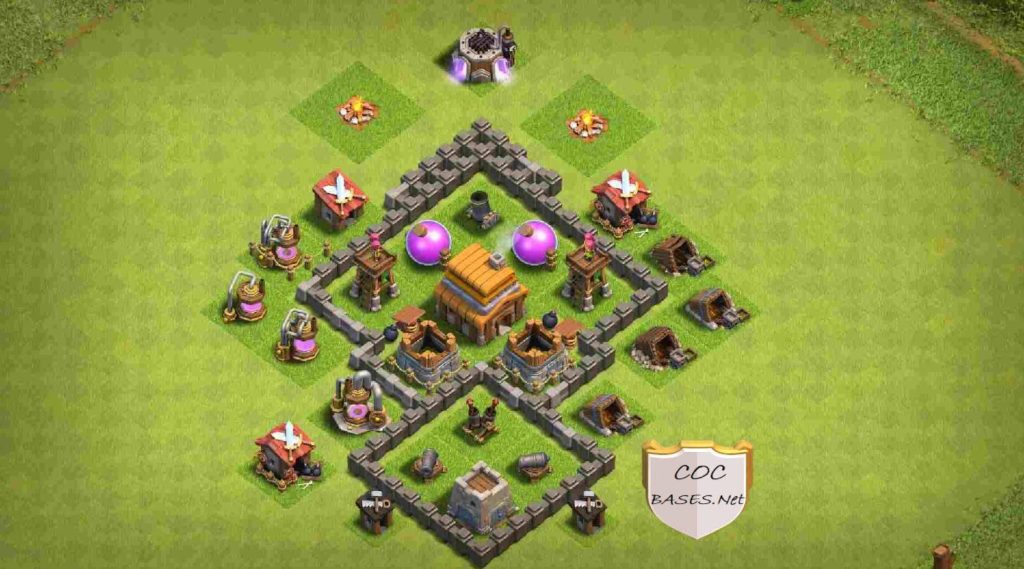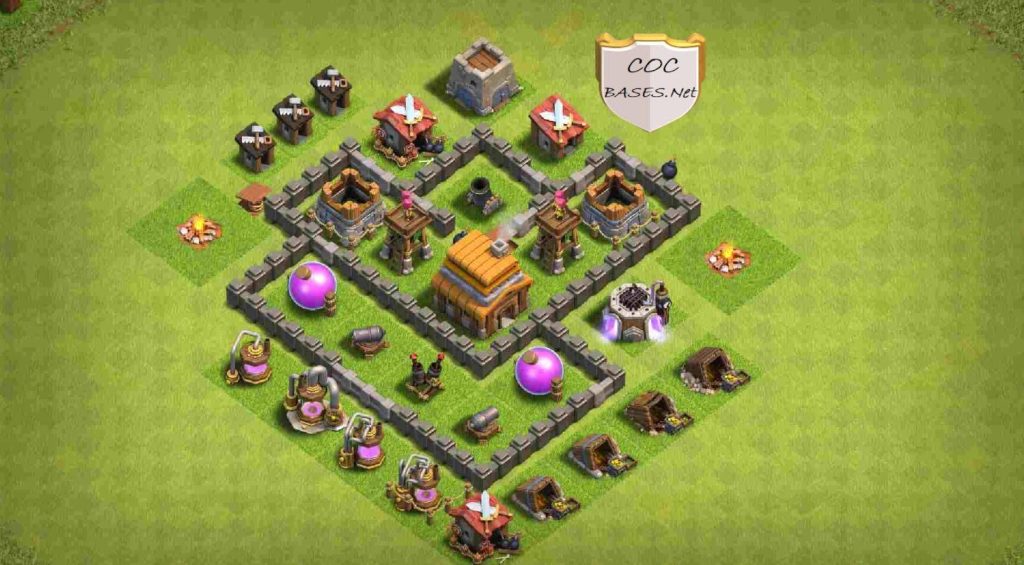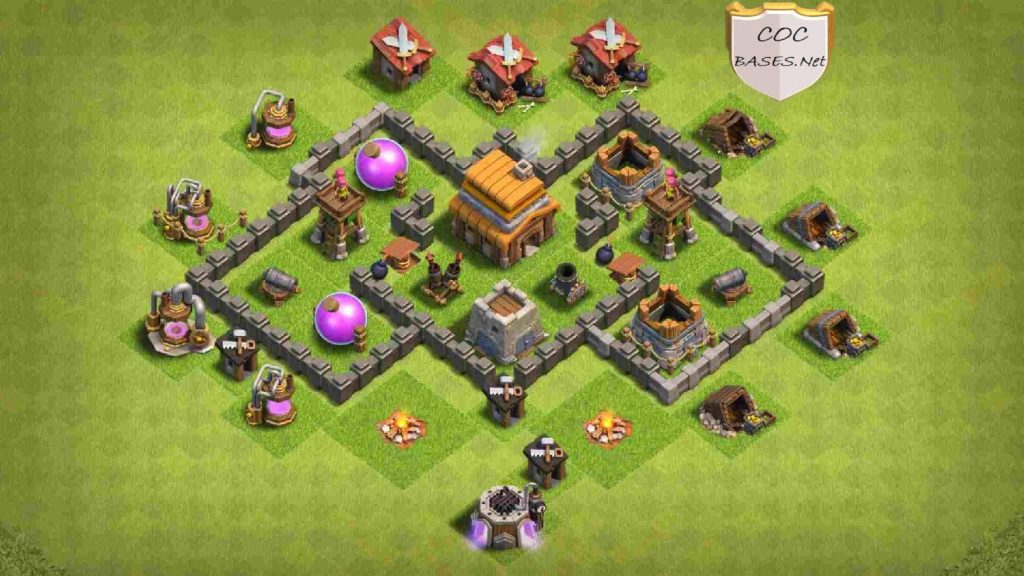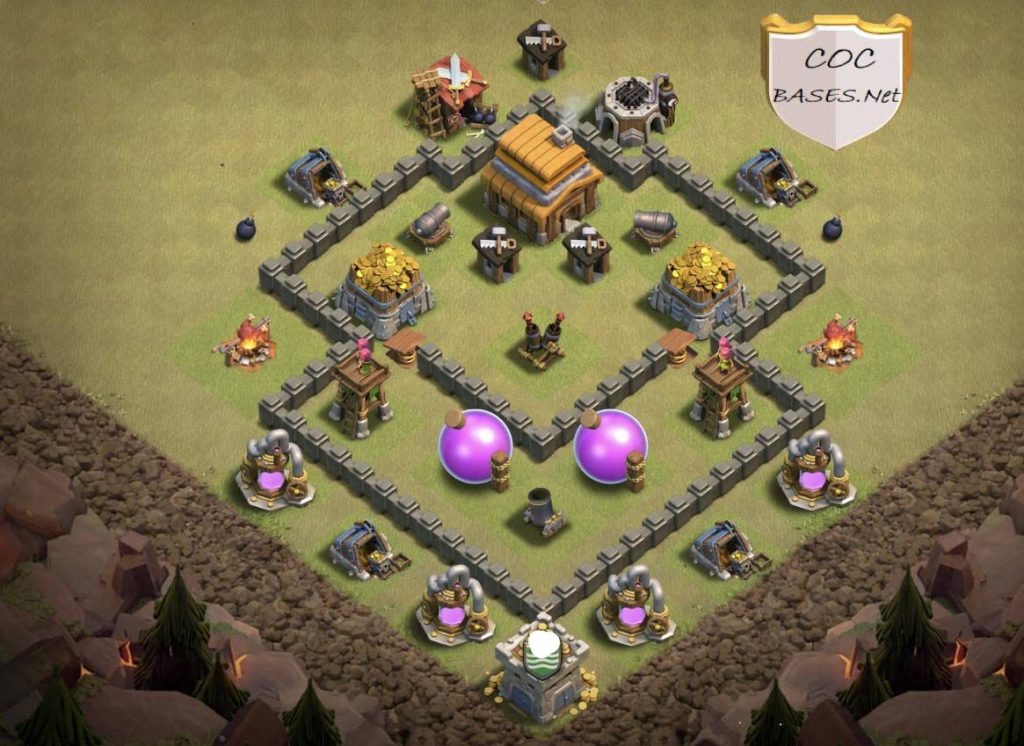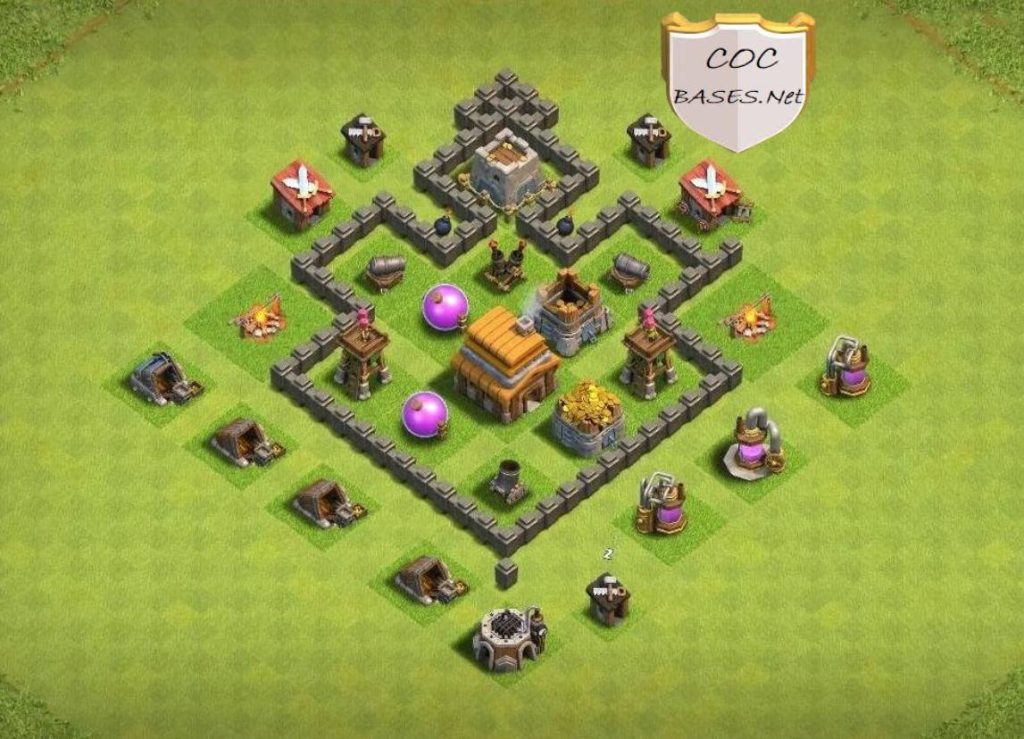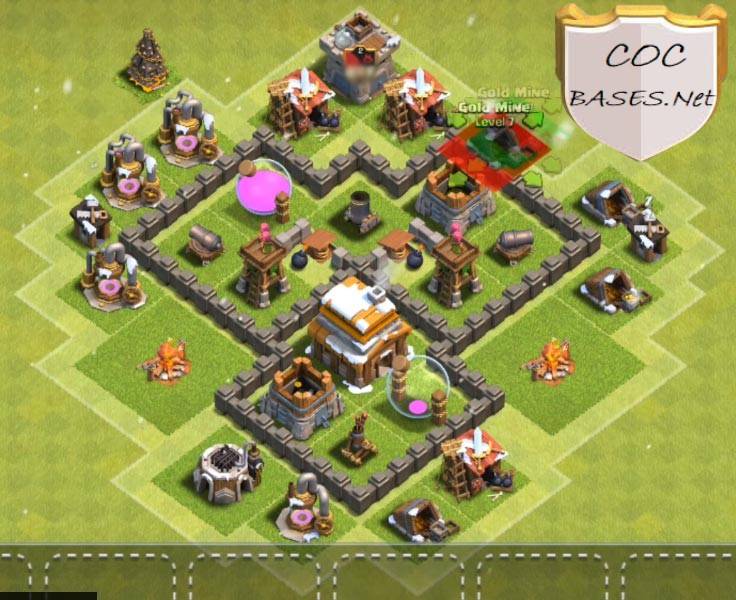 Clash of Clans Level 4 Loot Protection Base Link
Are you looking for some amazing farming base layouts for town hall 4? Yes, then you are at the right place. Here you will learn to create three amazing base layouts for 2024. In town hall 4, players have a few buildings from which they have to create a highly-secured th4 base layout.
The town hall is mostly placed in the center of the clan with air defense towers surrounding it for protection. The base is divided into small compartments to make it the Town hall 4 farming base. A hard wall is used to secure the whole clan. The outer portion of the clan consists of defense buildings and army camps.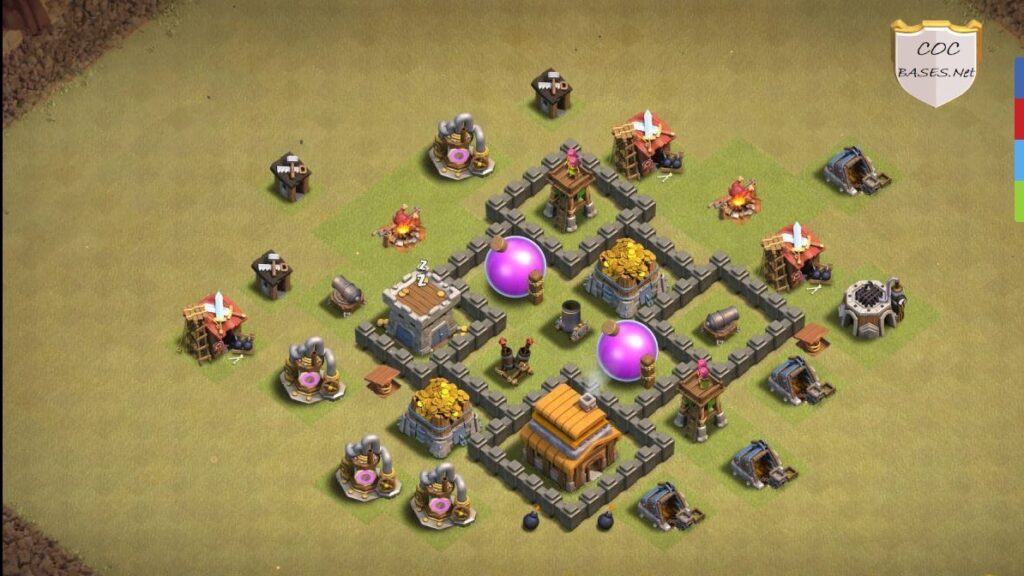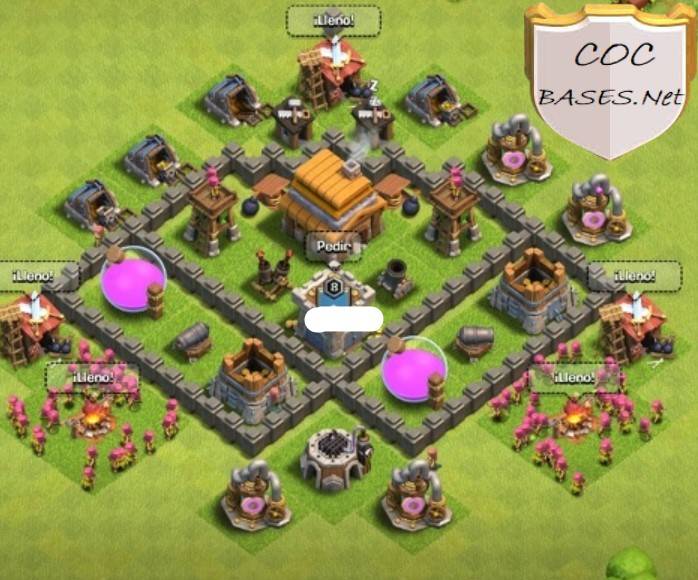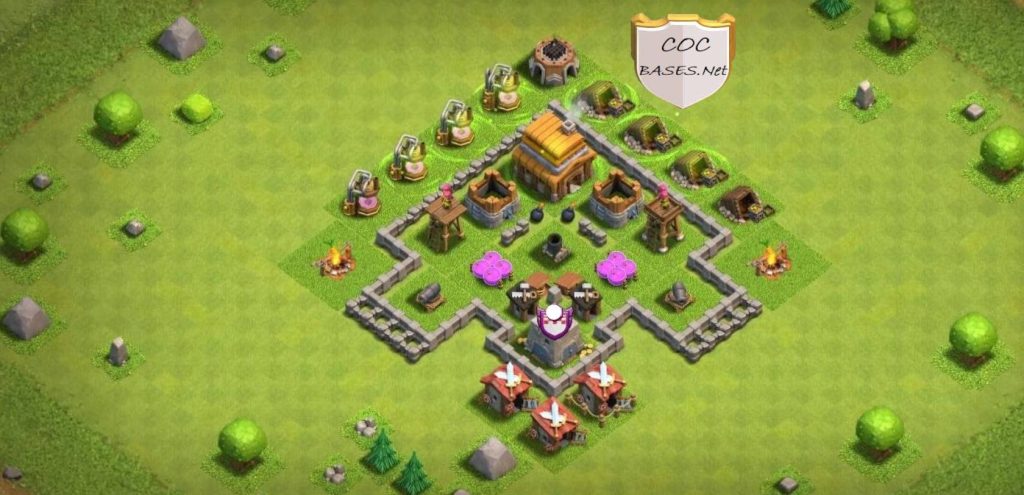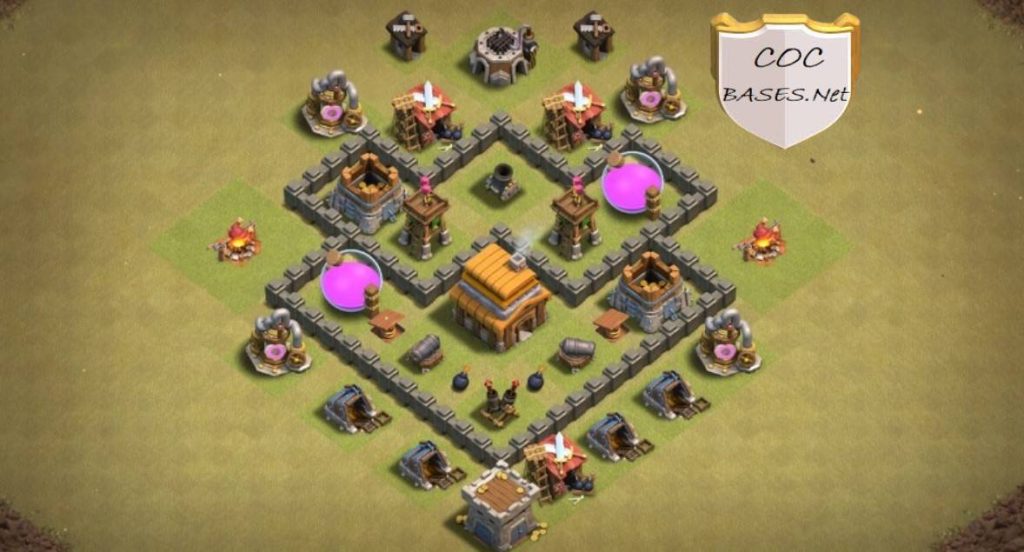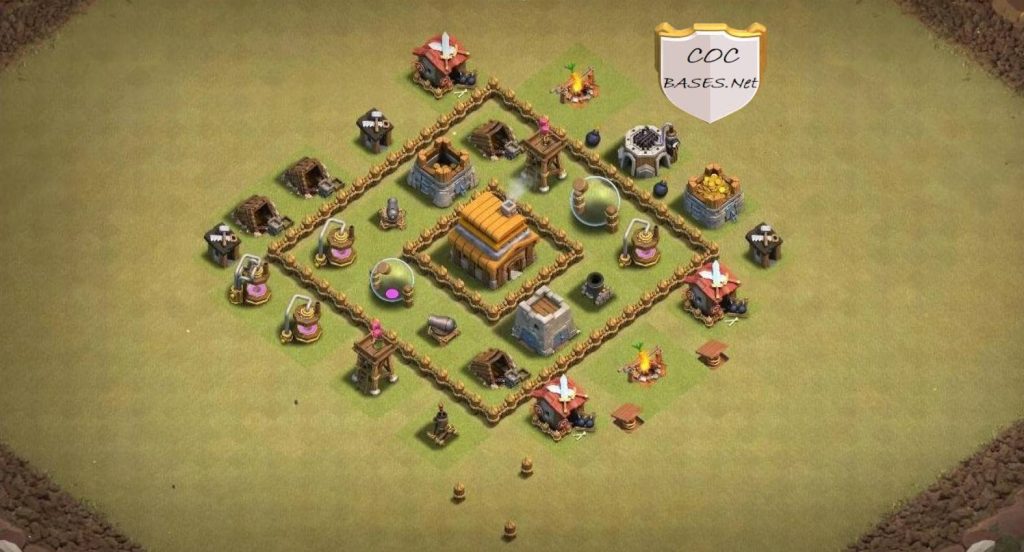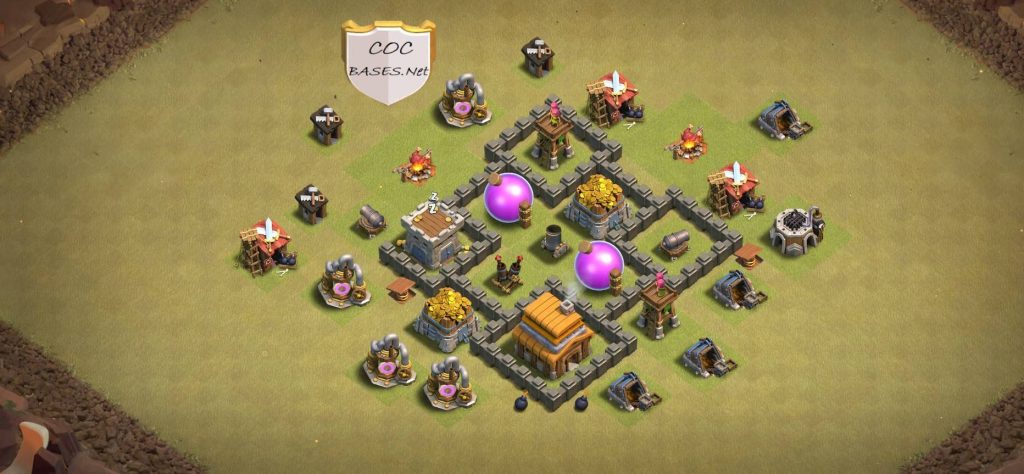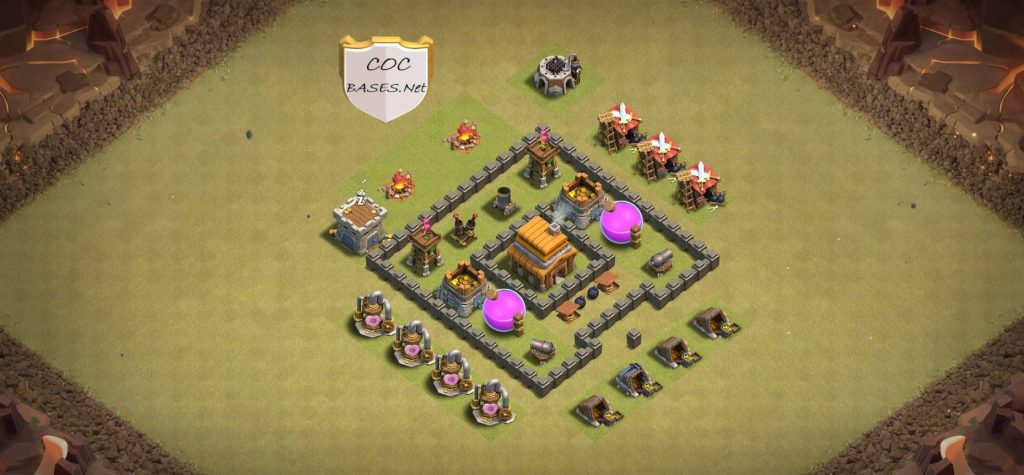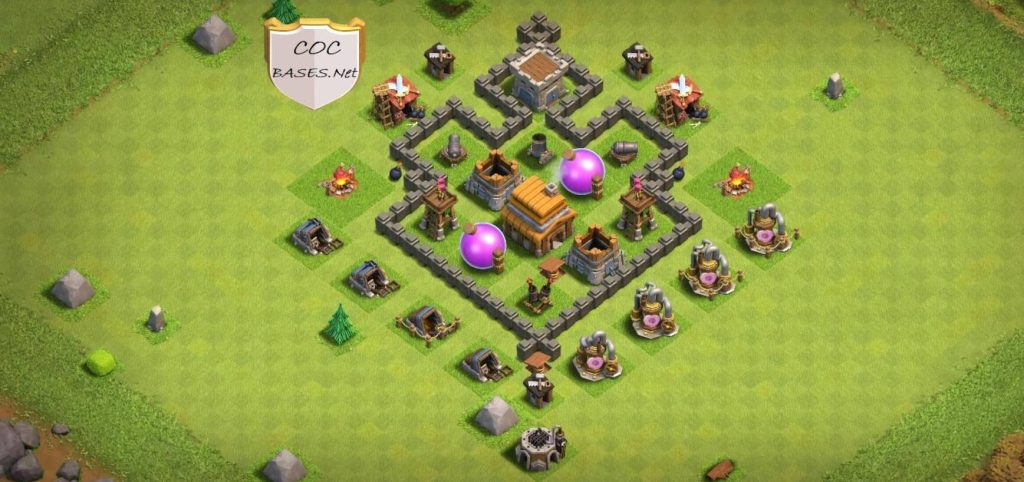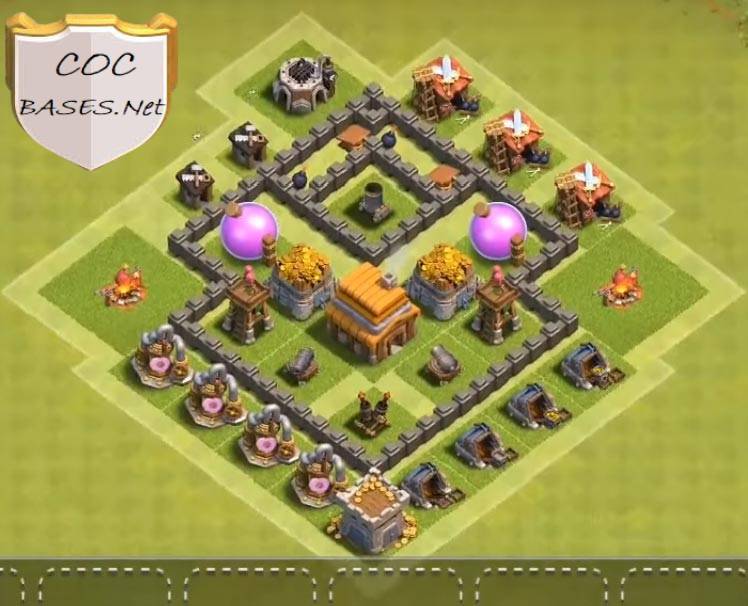 COC TH4 Anti Loot Base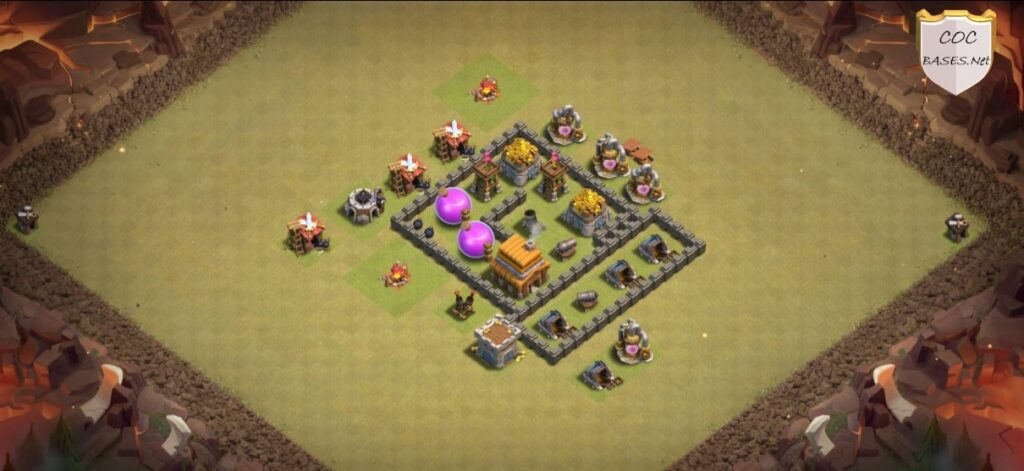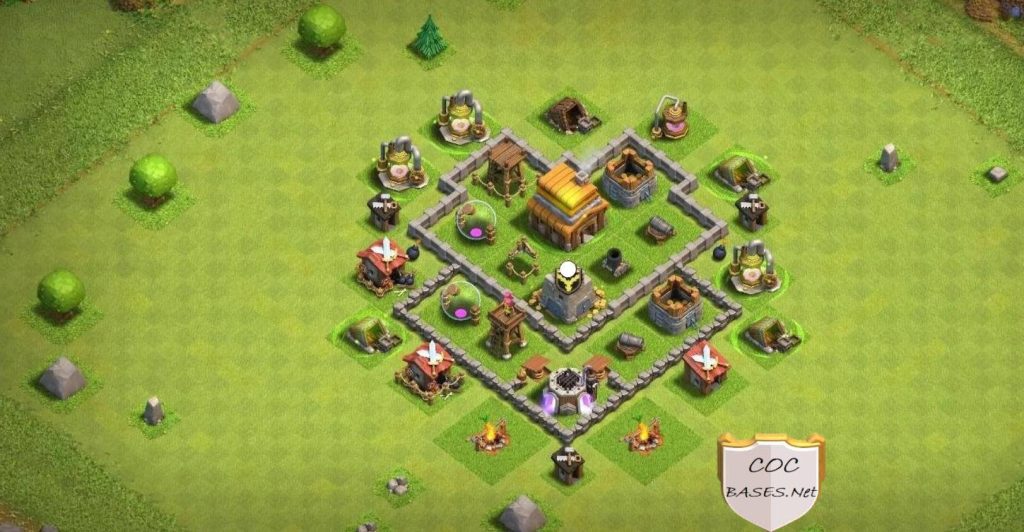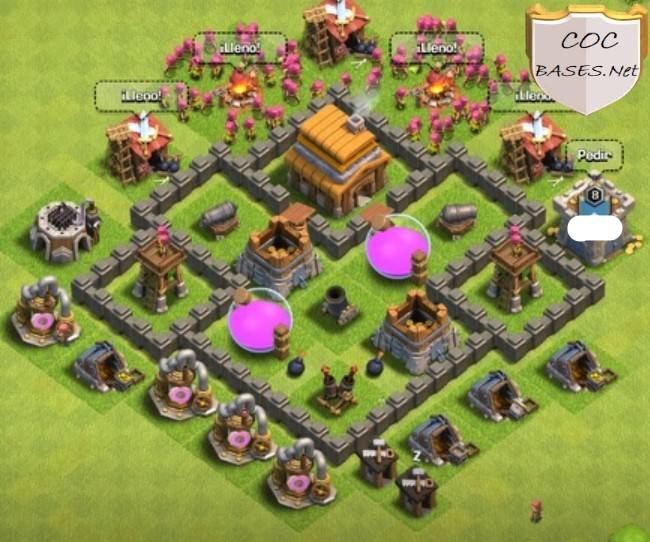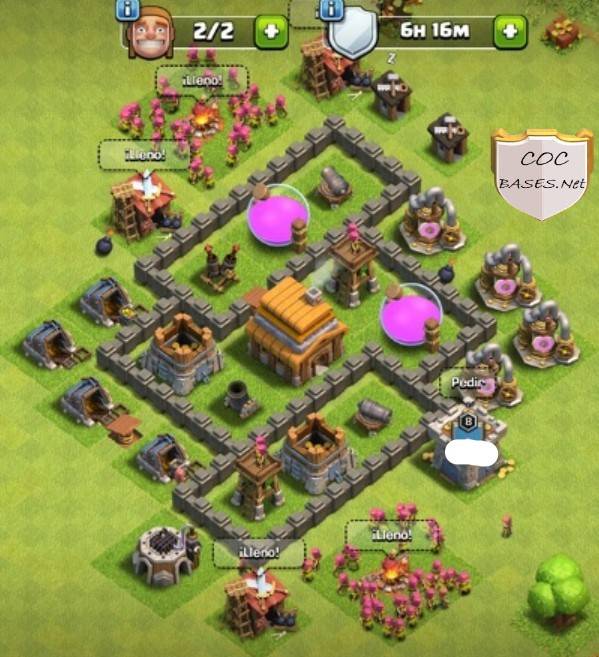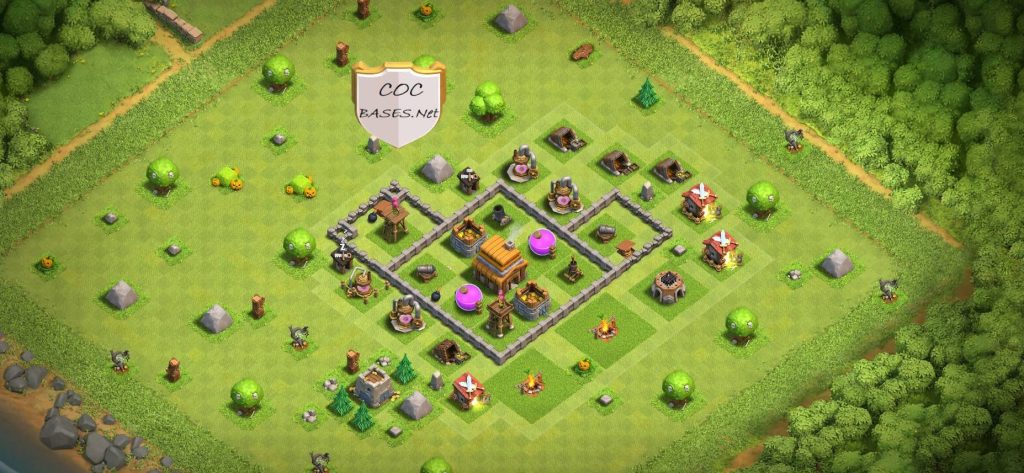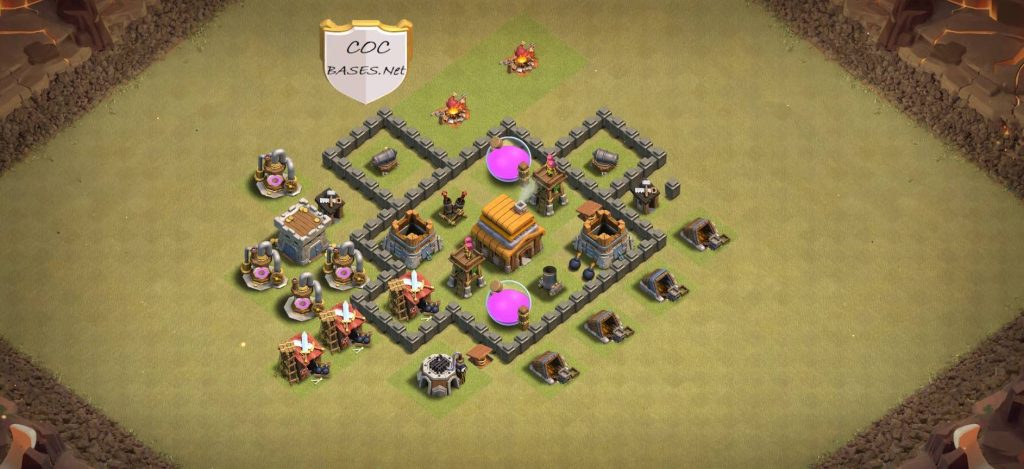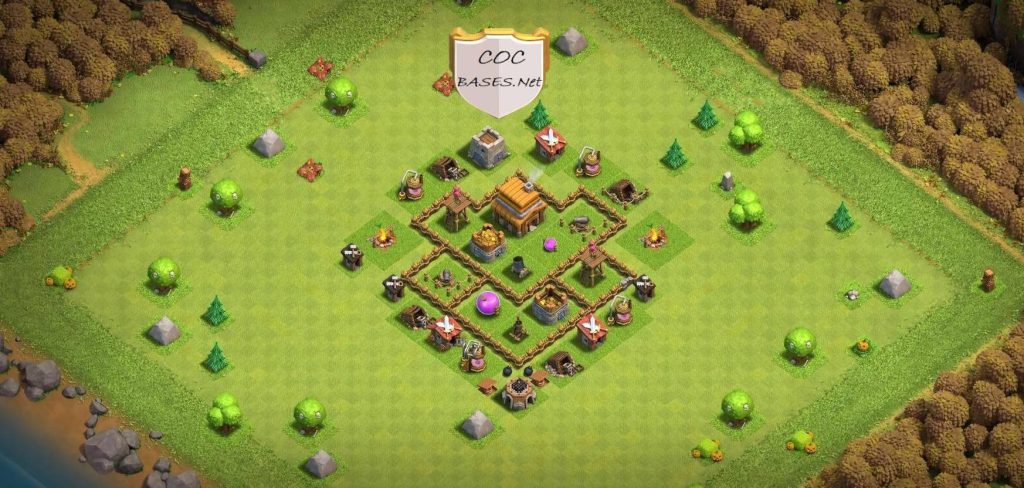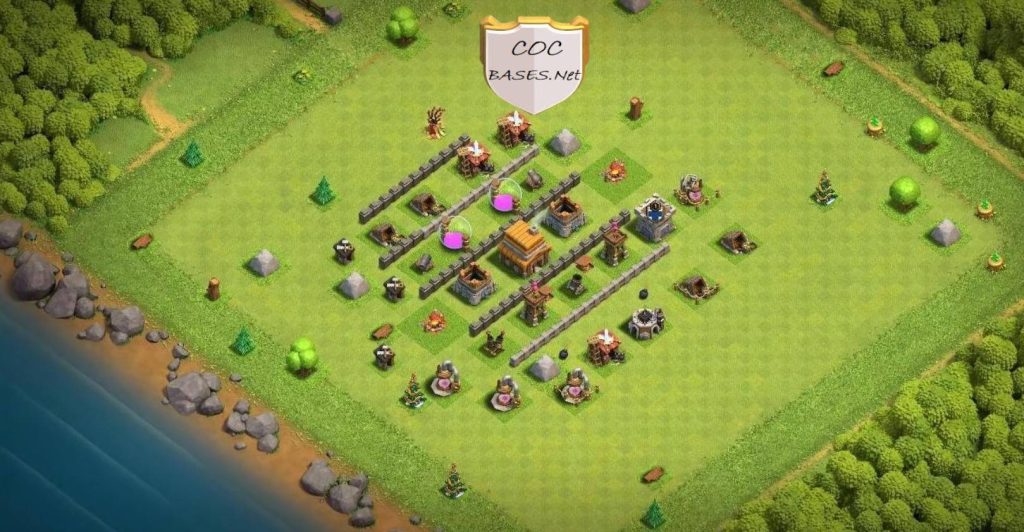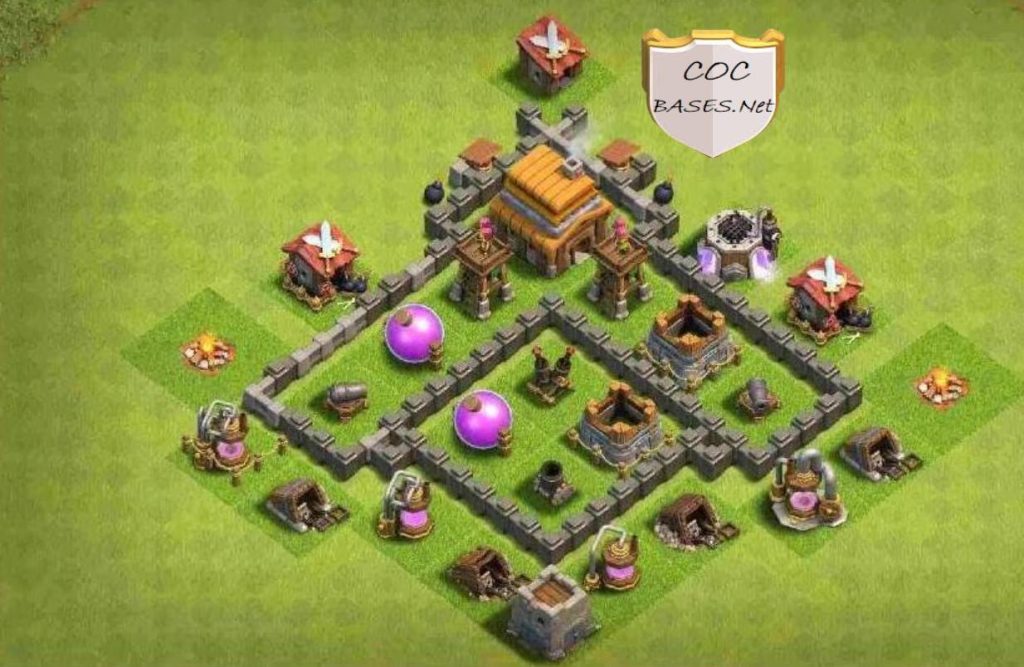 Best Town Hall 4 Defense Farming Base
The second mentioned Town hall 4 farming base is wonderful and amazing. The base is not divided into many small segments but still, it is a very secure base. The central compartment consists of town hall and resource towers, while the mortar and cannon are placed to protect them. There are two more compartments in the surrounding consisting of hidden tesla, air defense, etc. The wall used is hard and maxed to increase protection.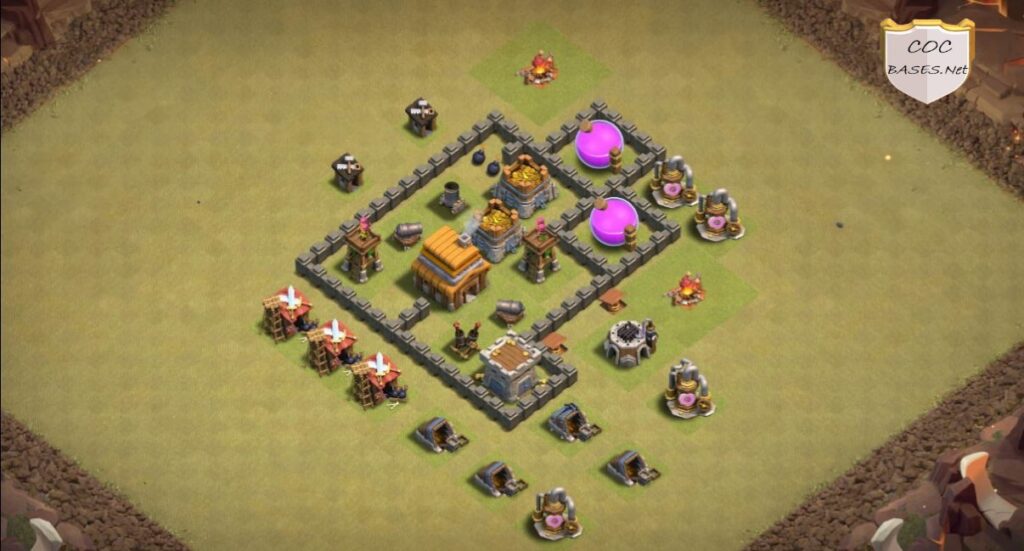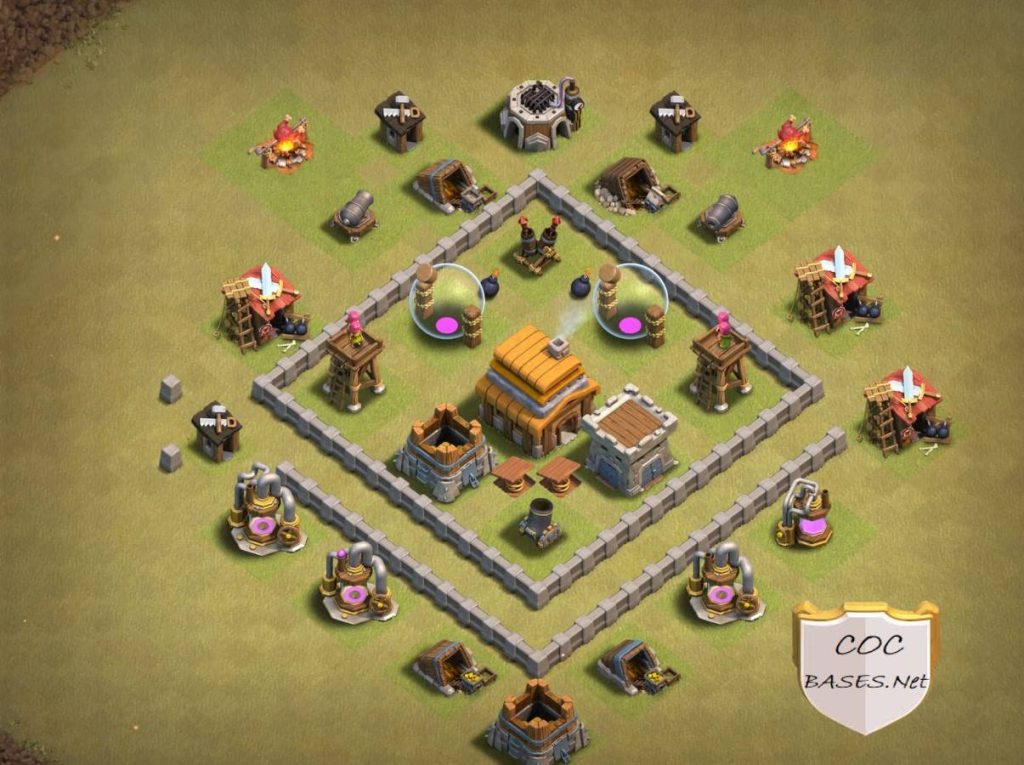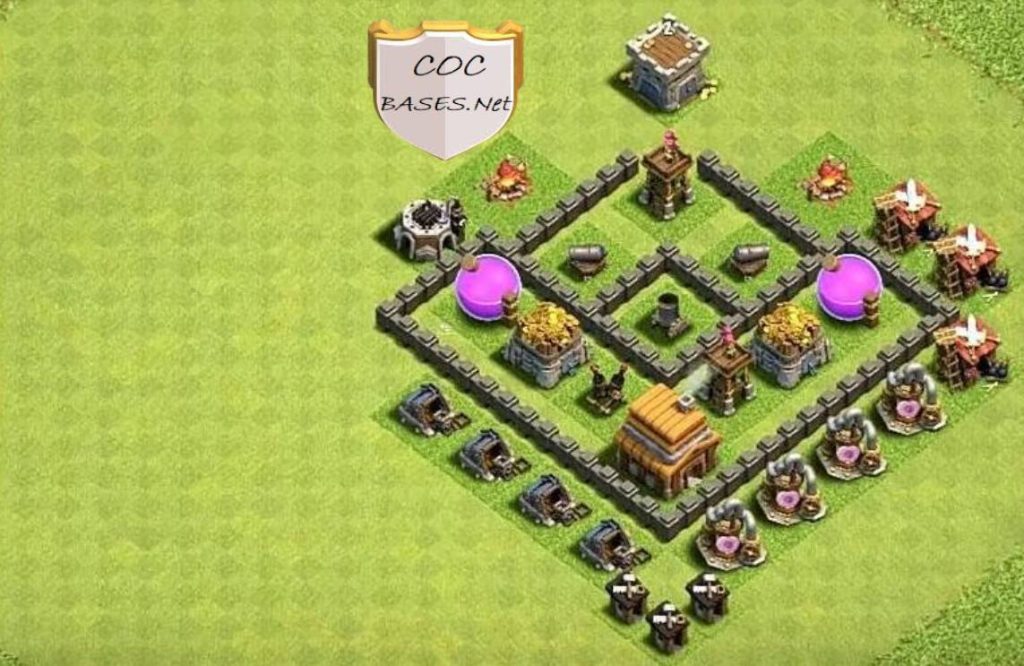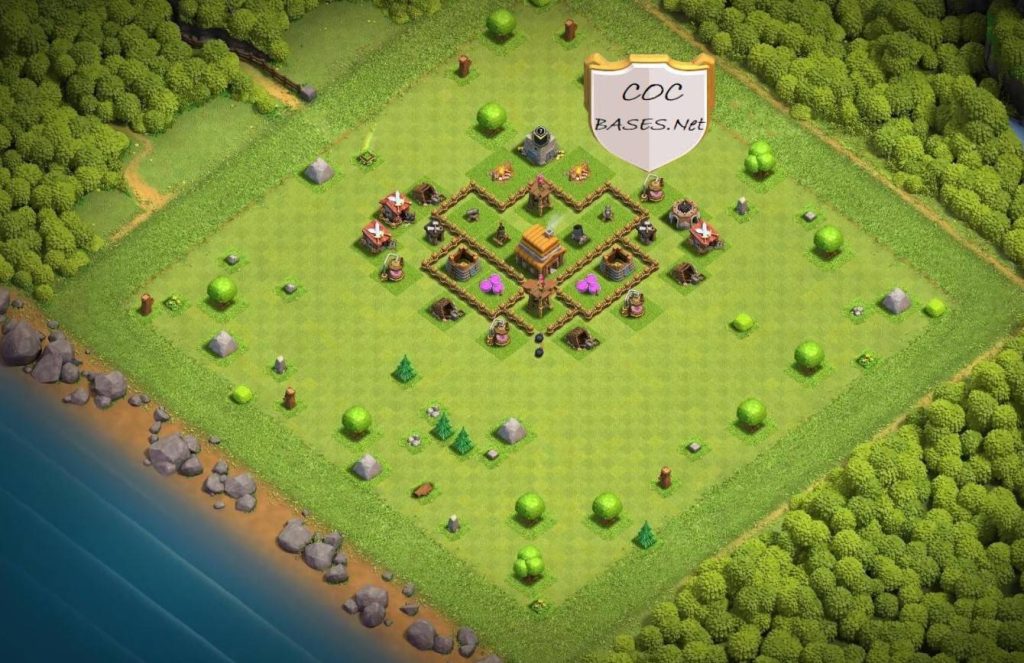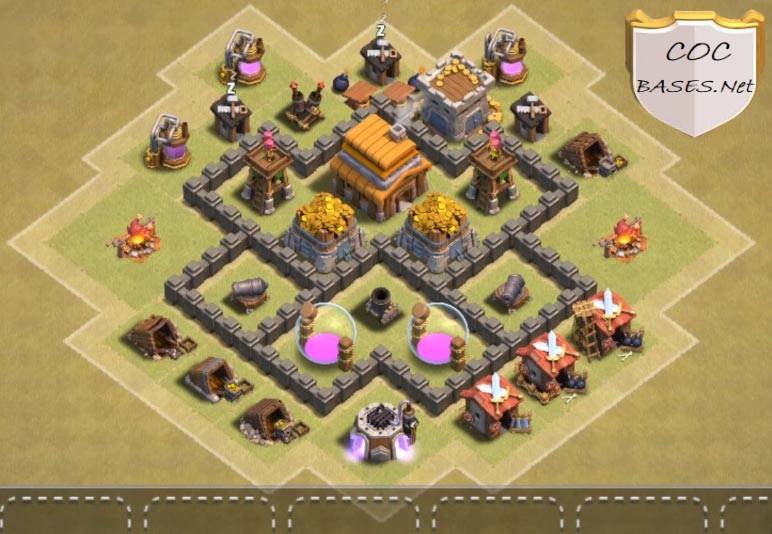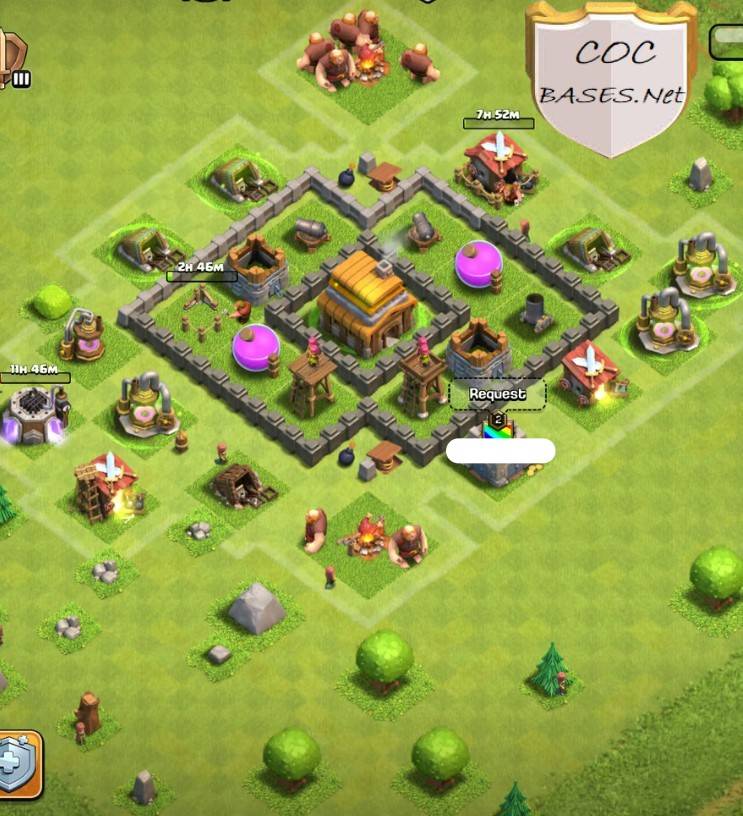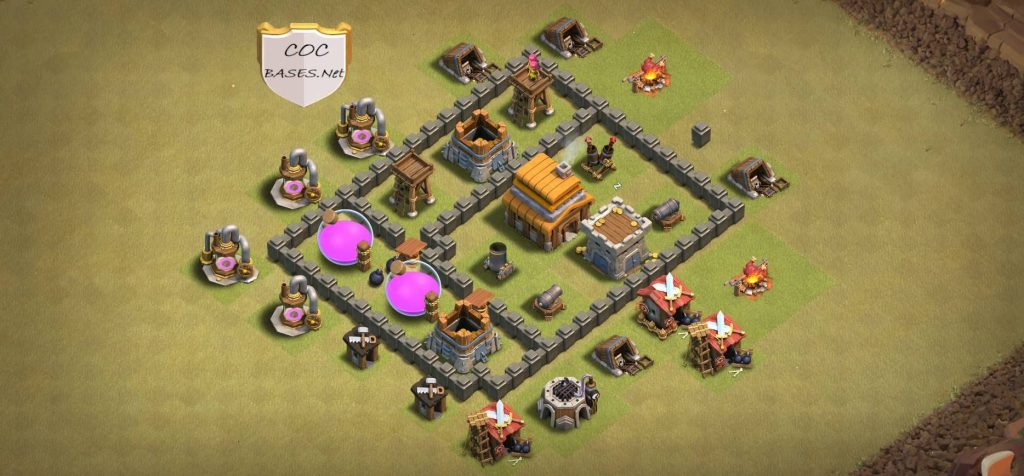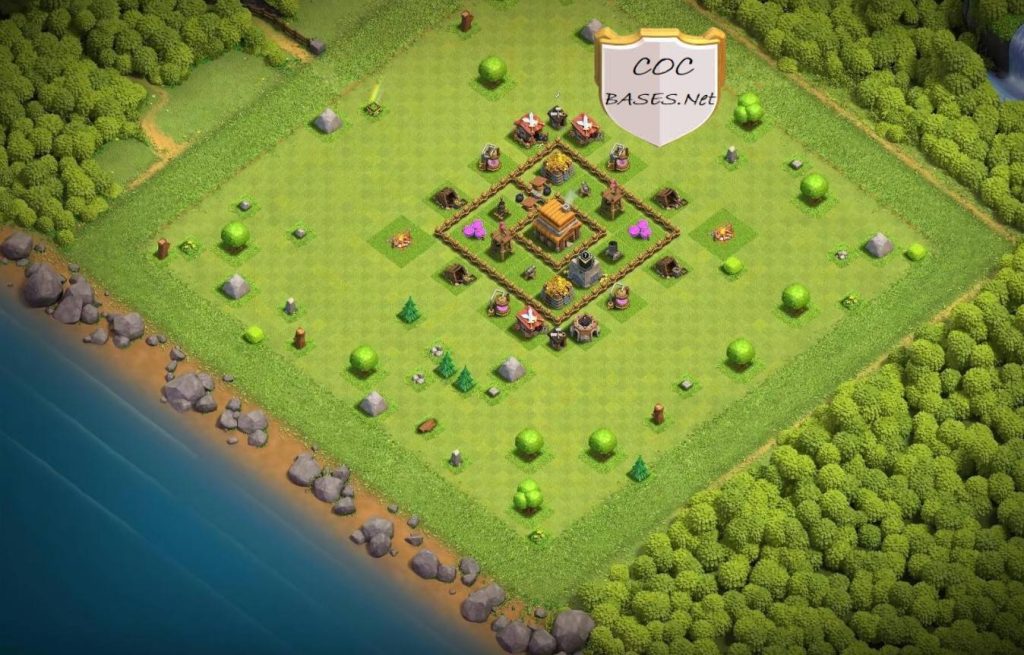 Farming Base Best TH4 Anti 3 Star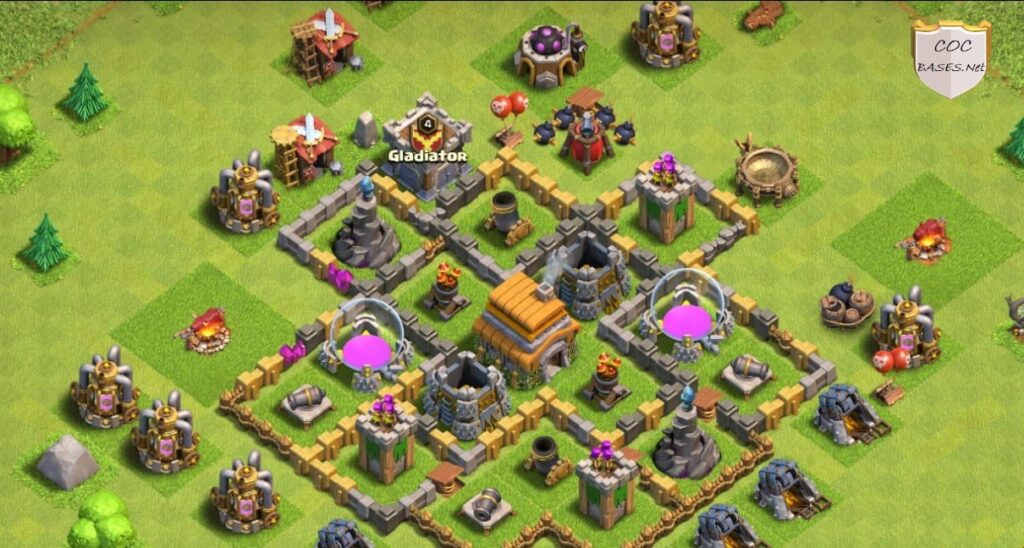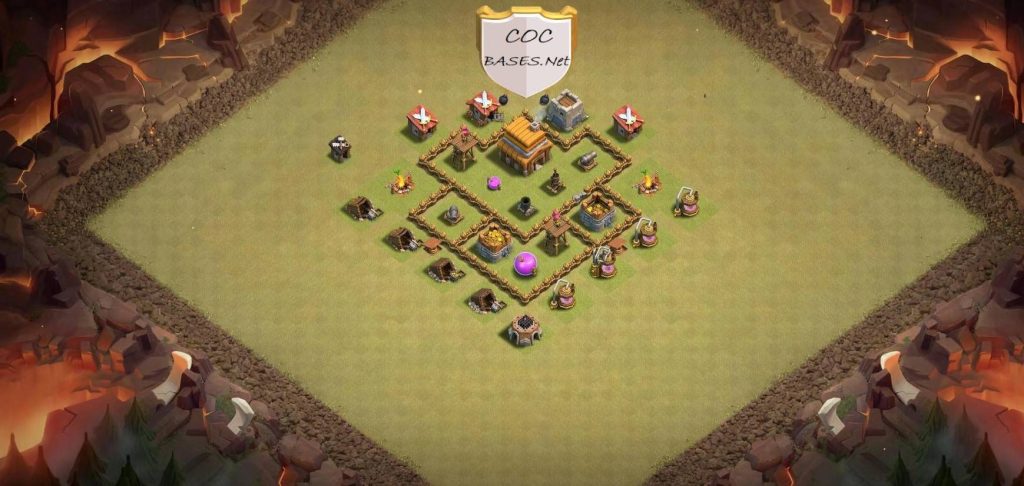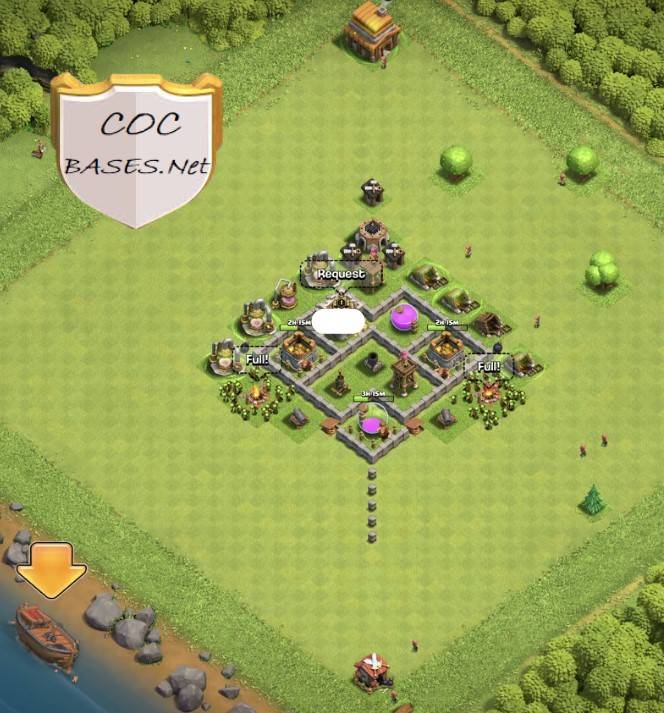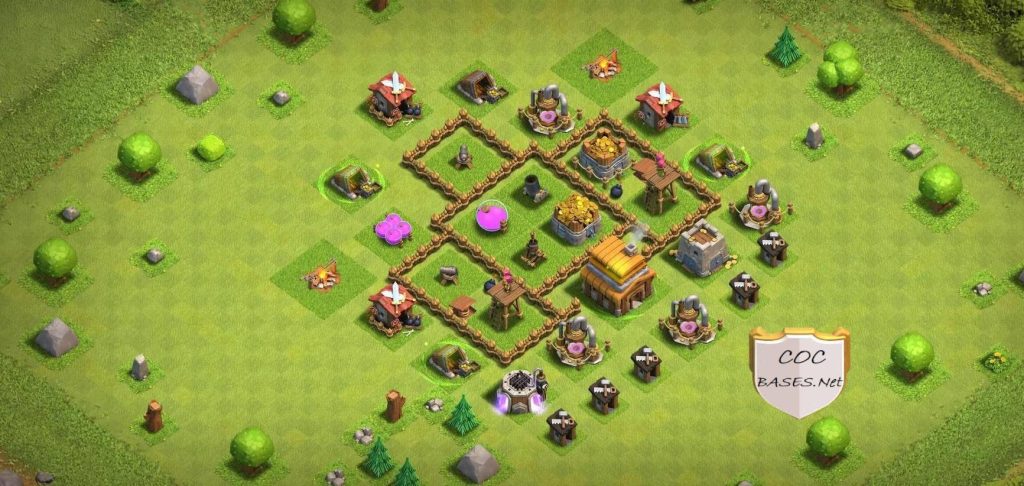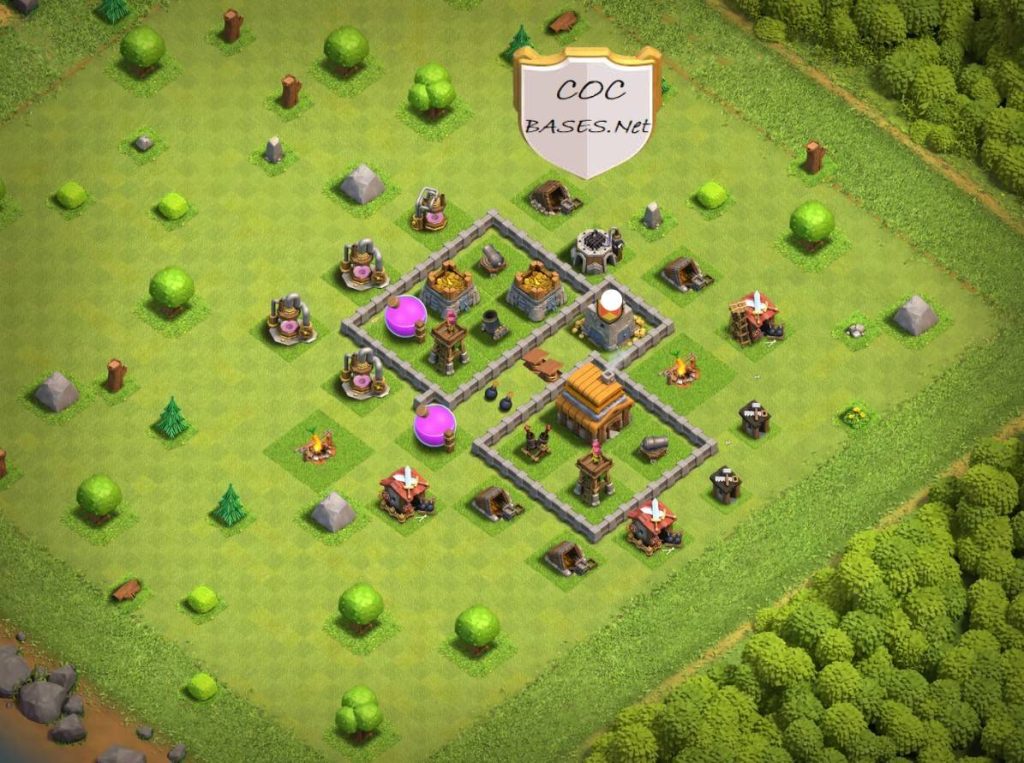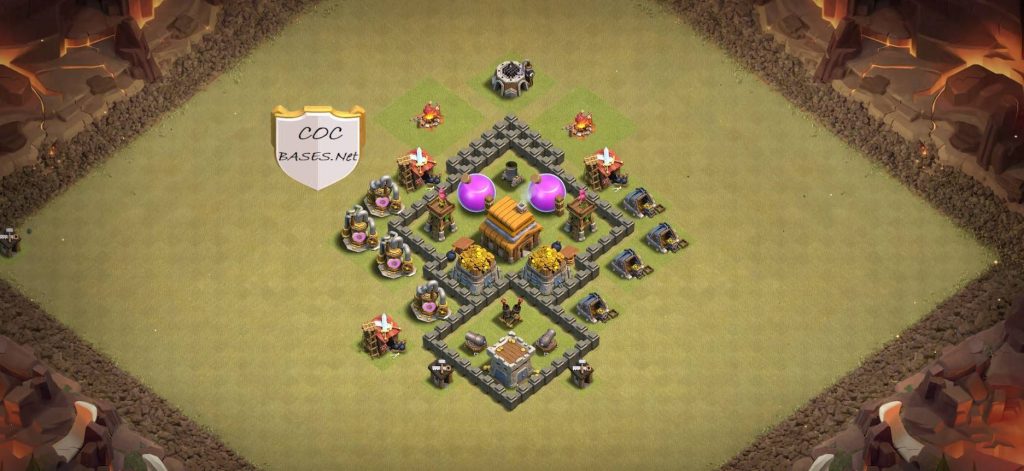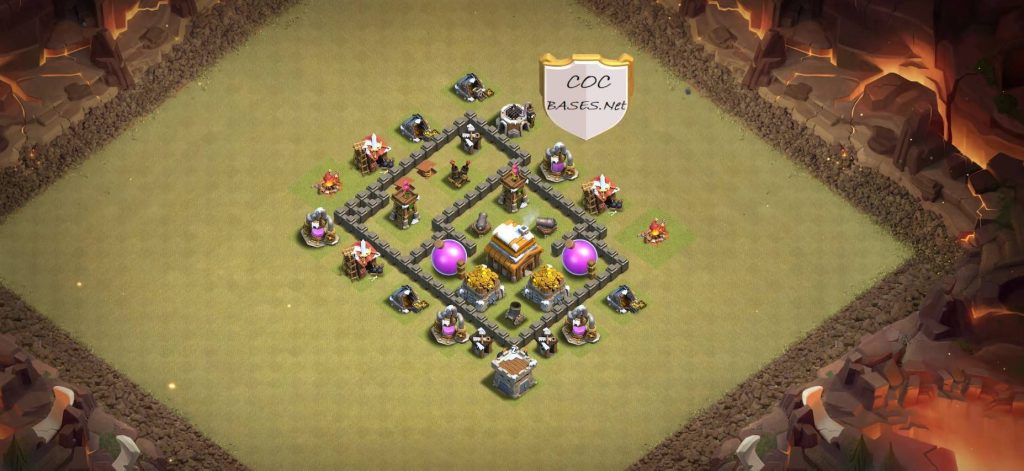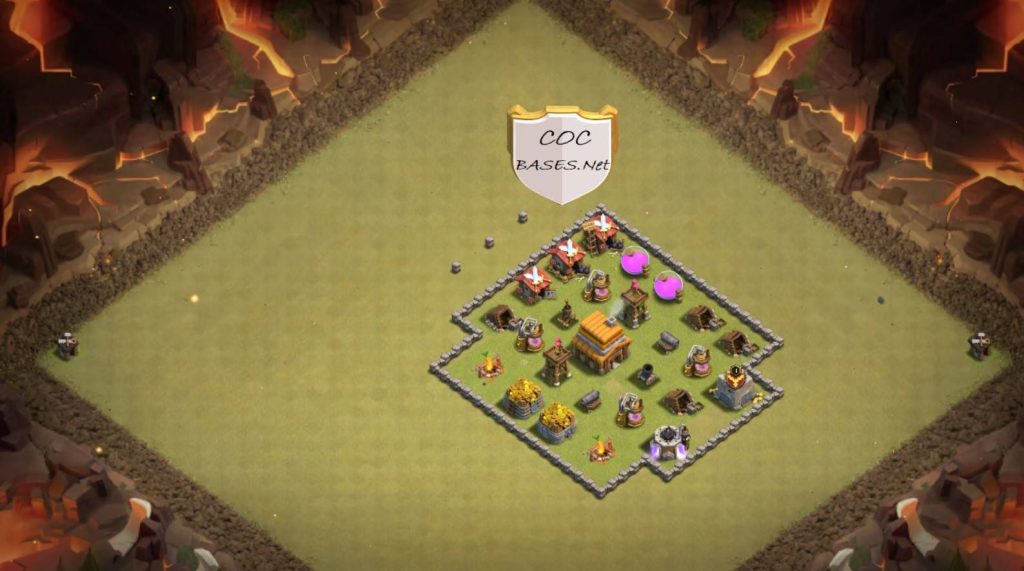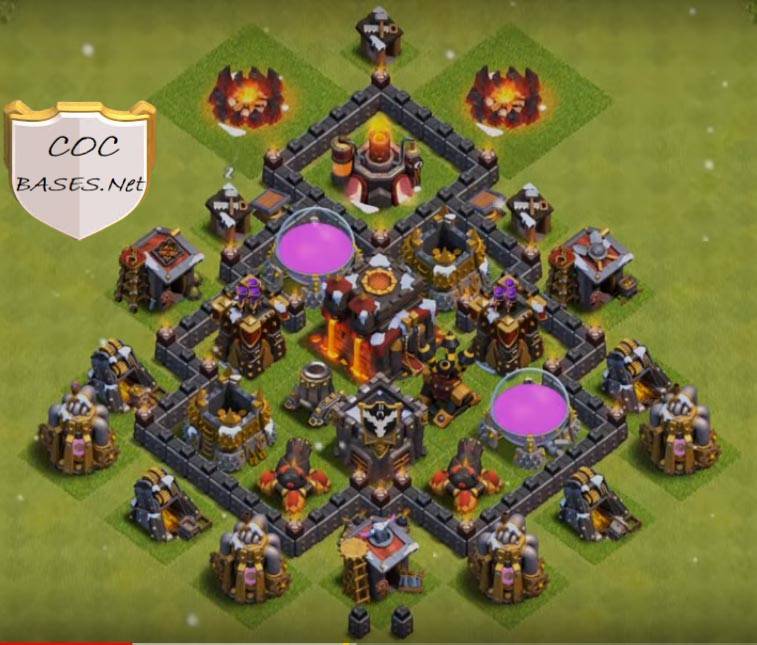 COC Town Hall 4 Farming Base Copy Paste
The third-mentioned base layout is highly secure and amazing. It consists of only two big compartments. One compartment consists of a town hall, resource towers, cannon, gold mines, etc. while the other base consists of air defense, clan tower, and cannons. The outer layer of this town hall 4 farming base layout consists of amazing buildings. The placement of the building in this base is amazingly done.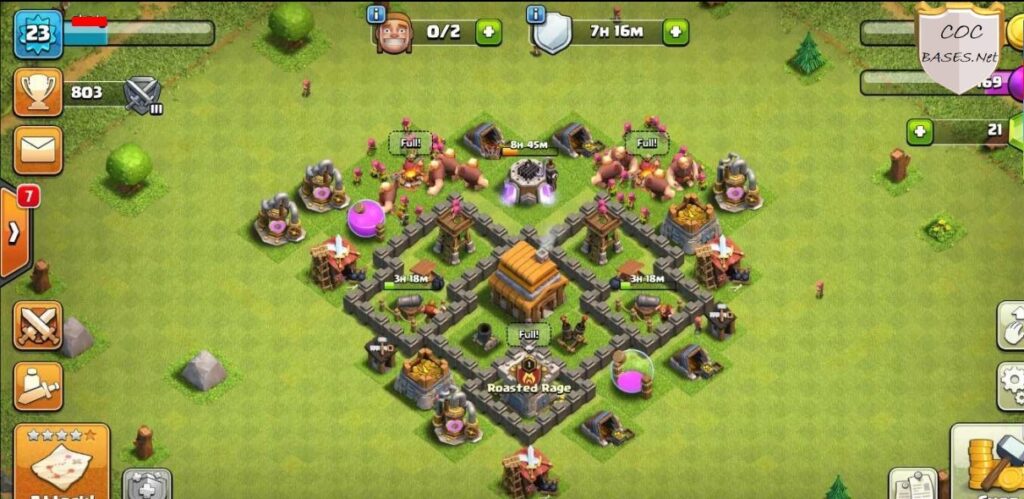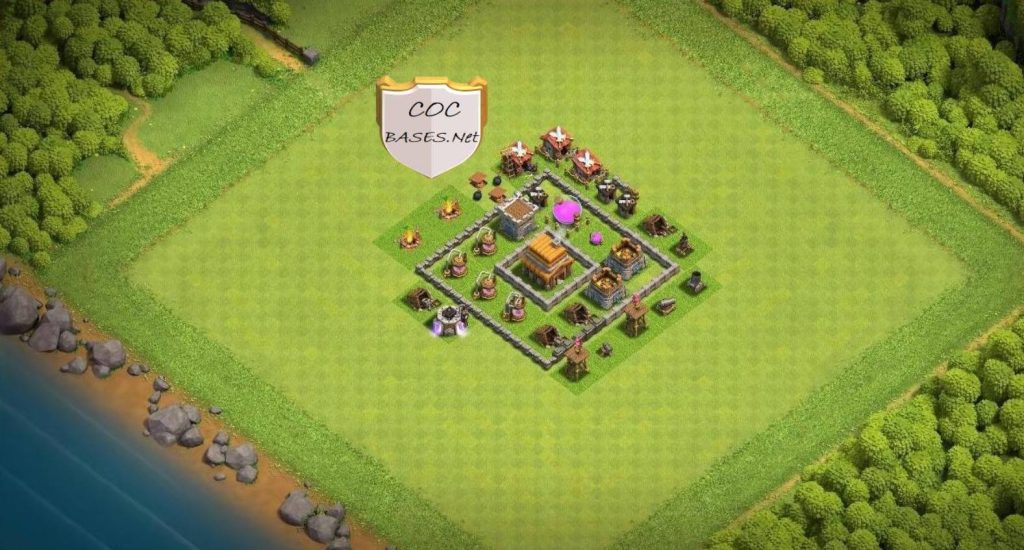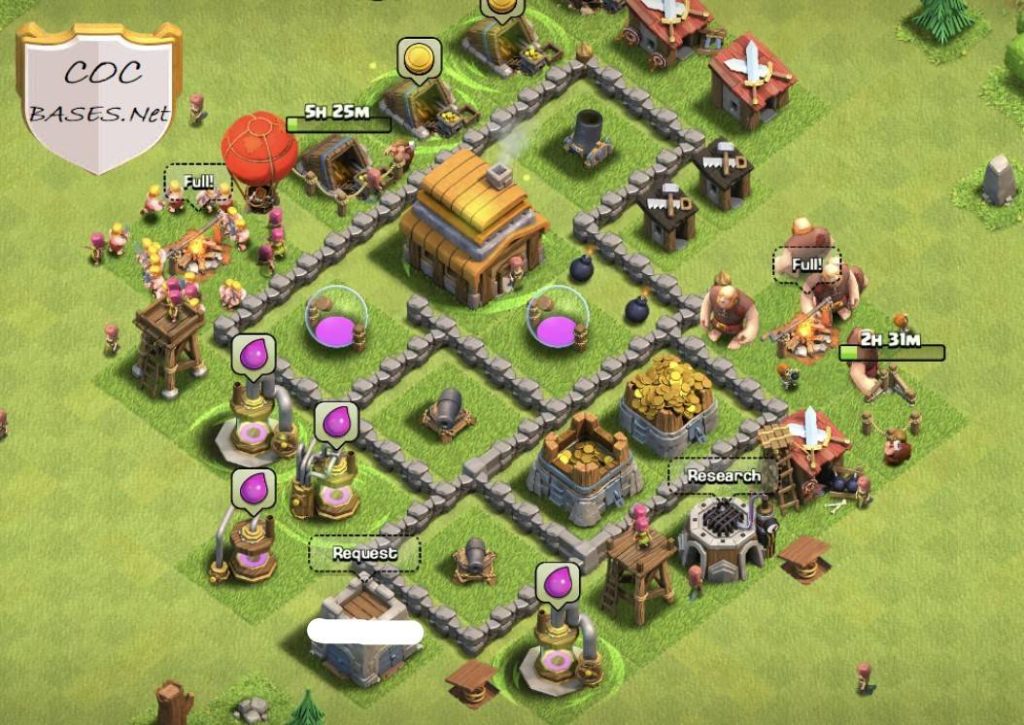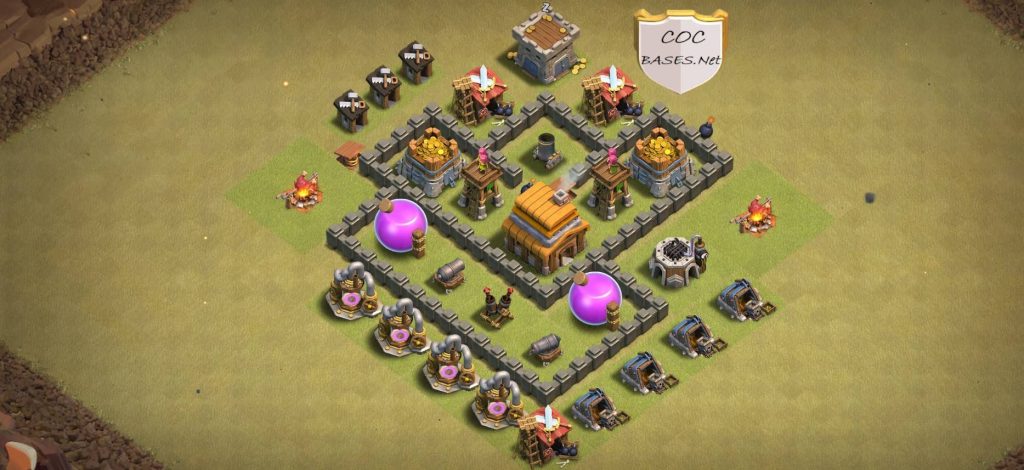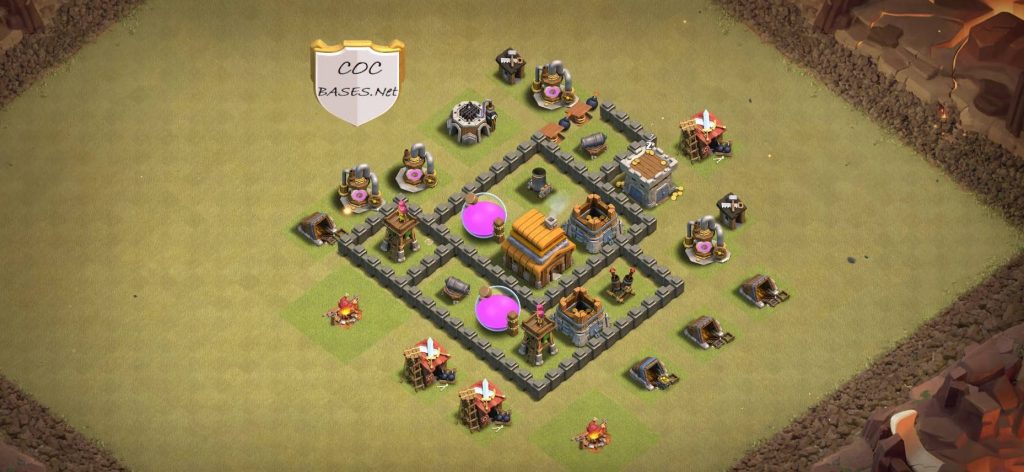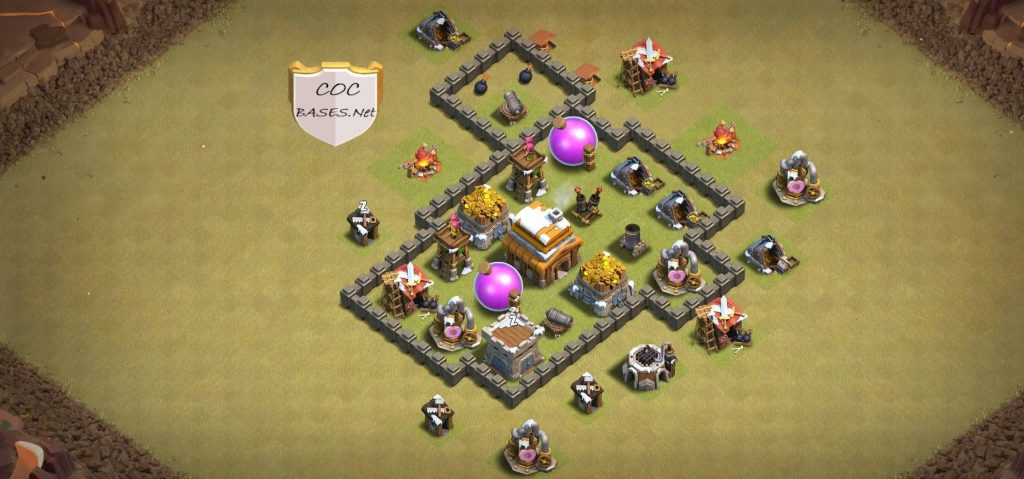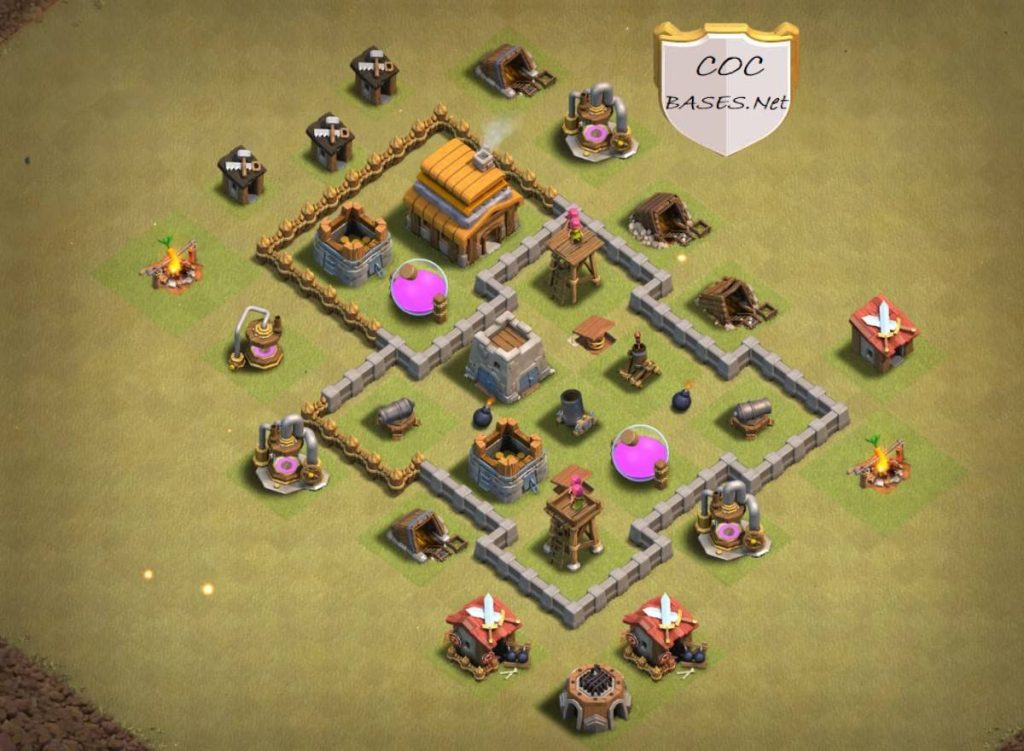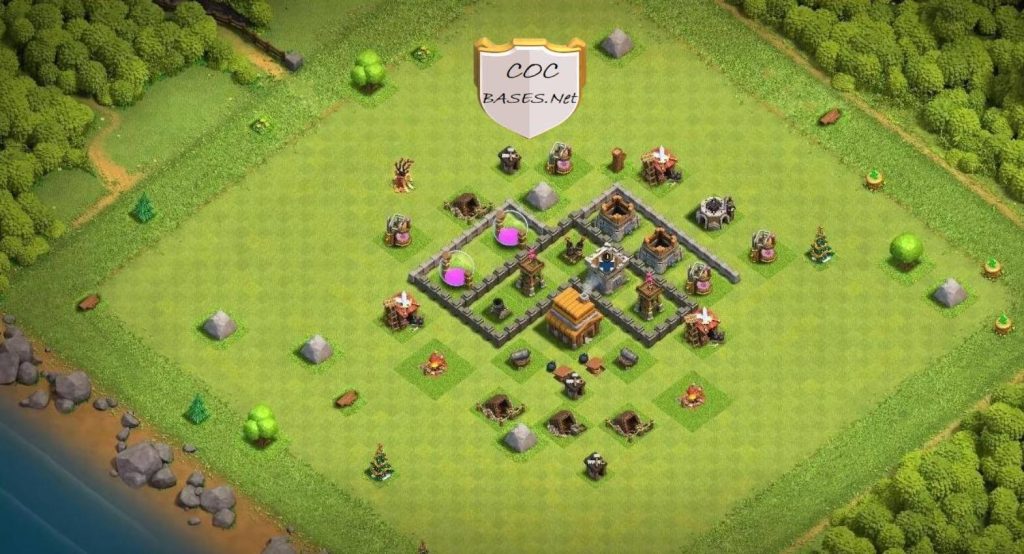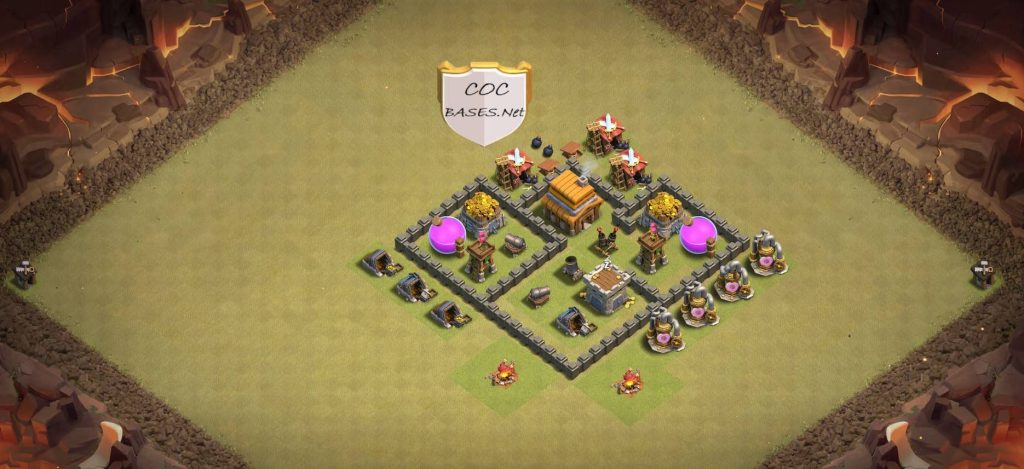 Max Town Hall 4 Farming Base Copy Link
Here you will see two wonderful and eye-catching base layouts for town hall 4. The first base layout is highly recommended when you have a few buildings unlocked in town hall 4. With very less buildings still, you can make a highly secure Town hall 4 farming base.
Most players place town hall in the center which is a very common thing to make a secure base. But sometimes give opposite results. In this base, you can see the town hall is placed in an outer layer of the clan with an amazing selection of buildings.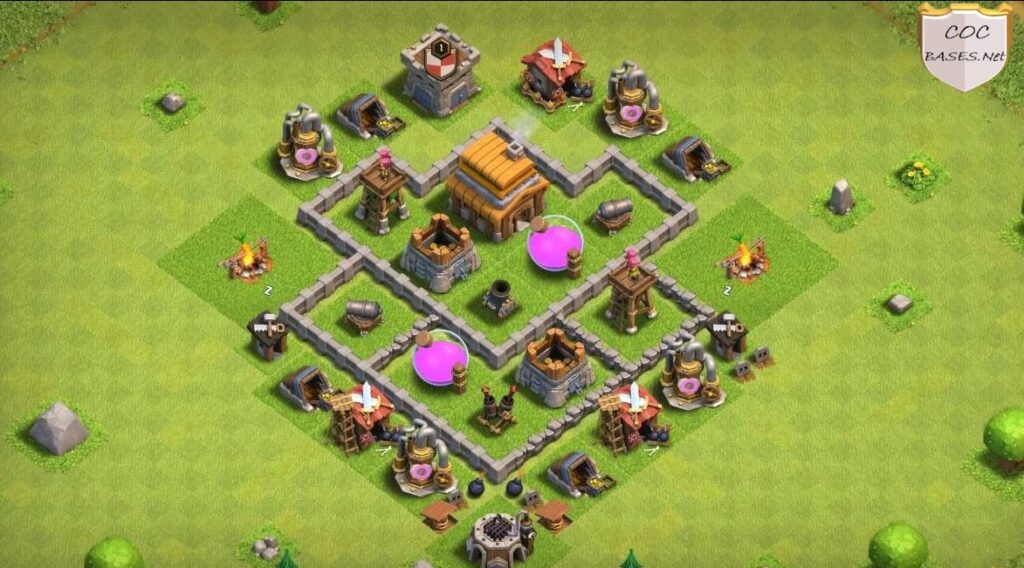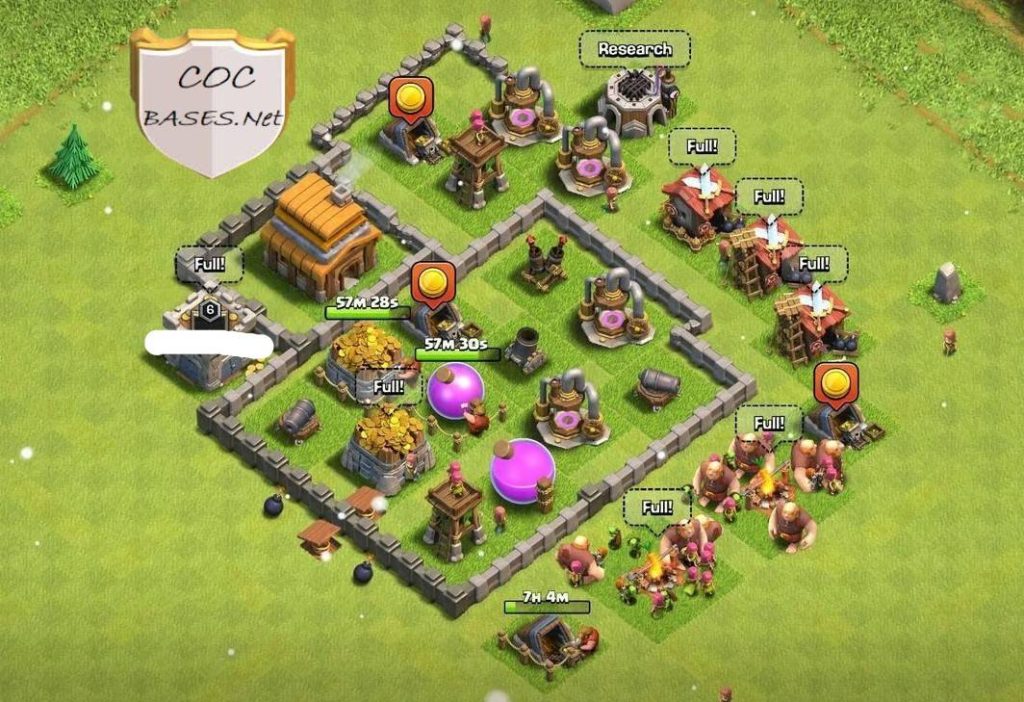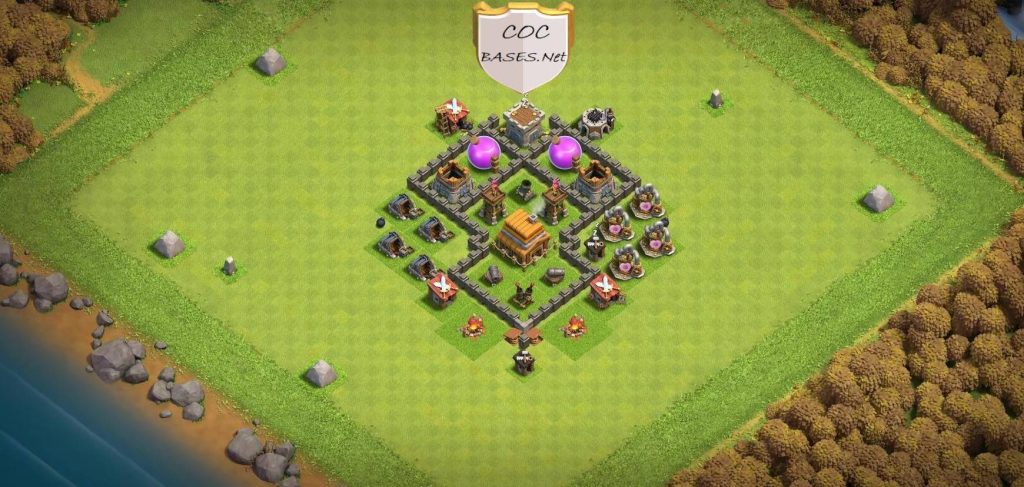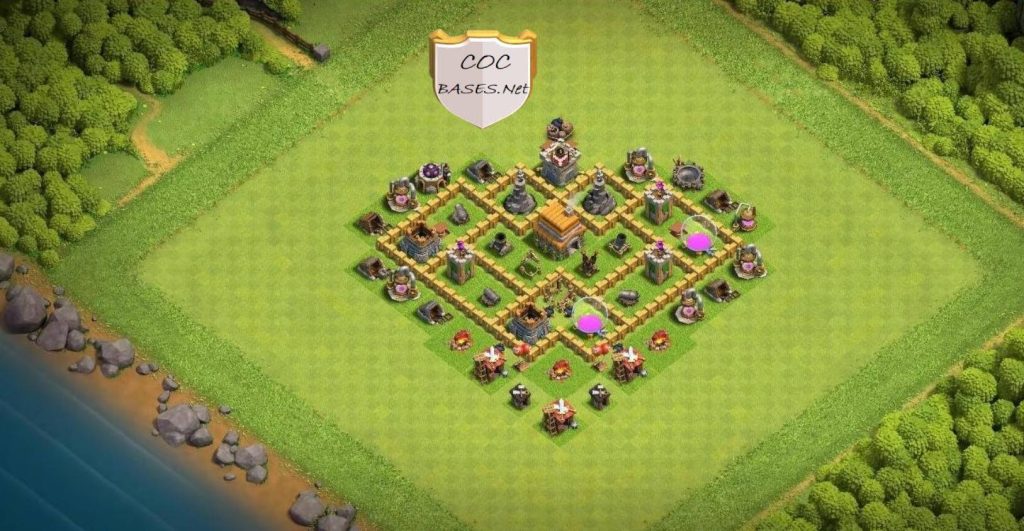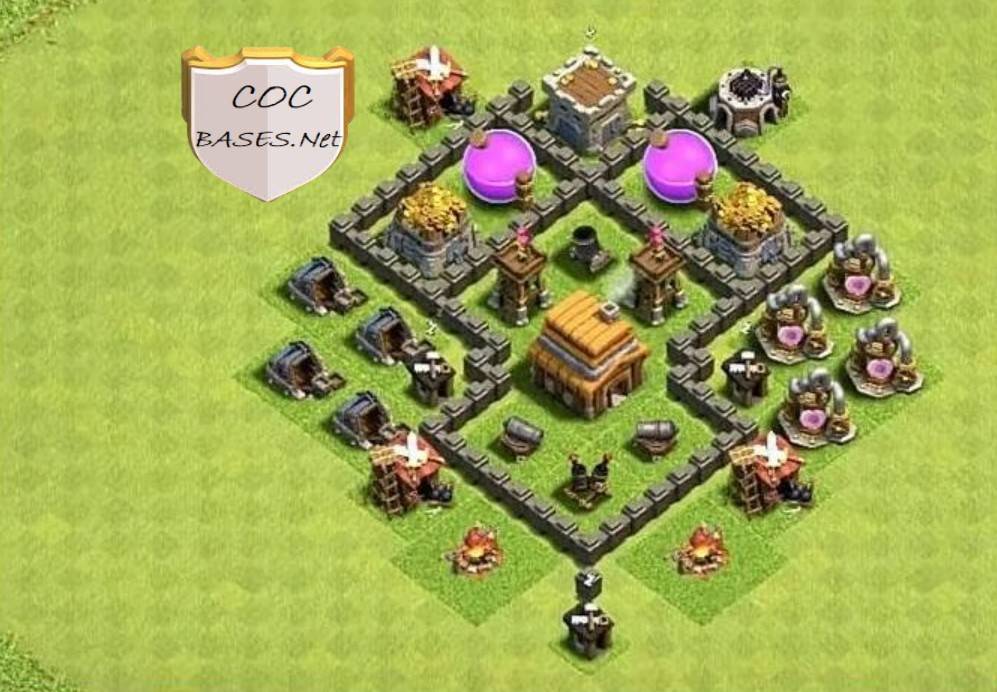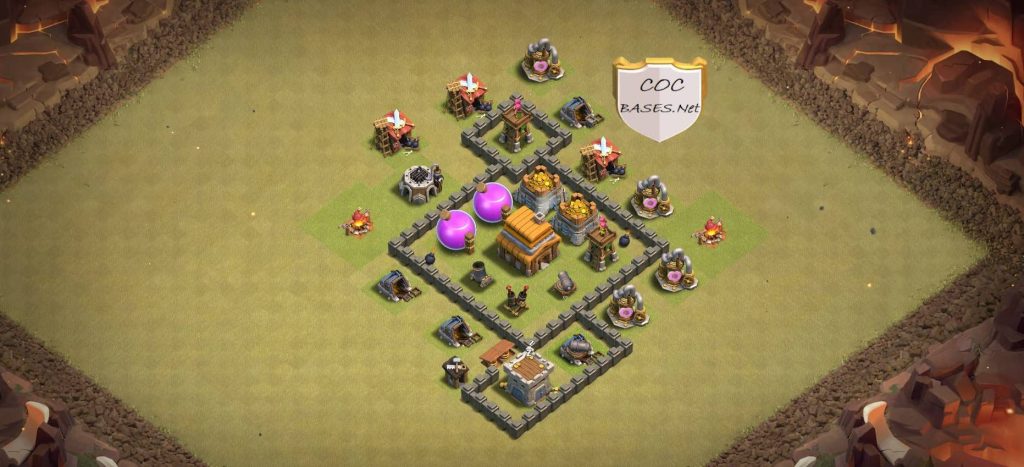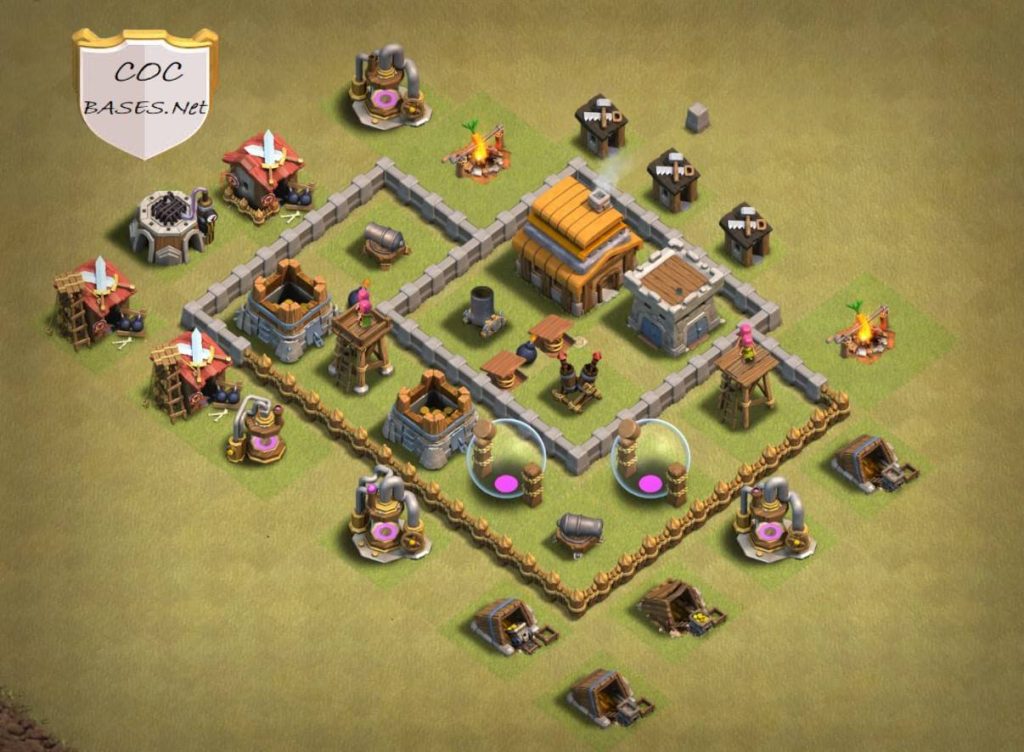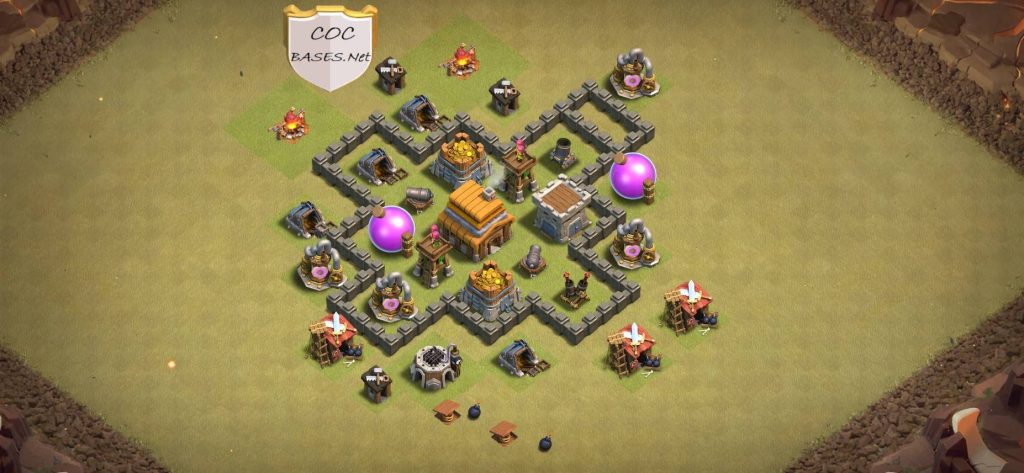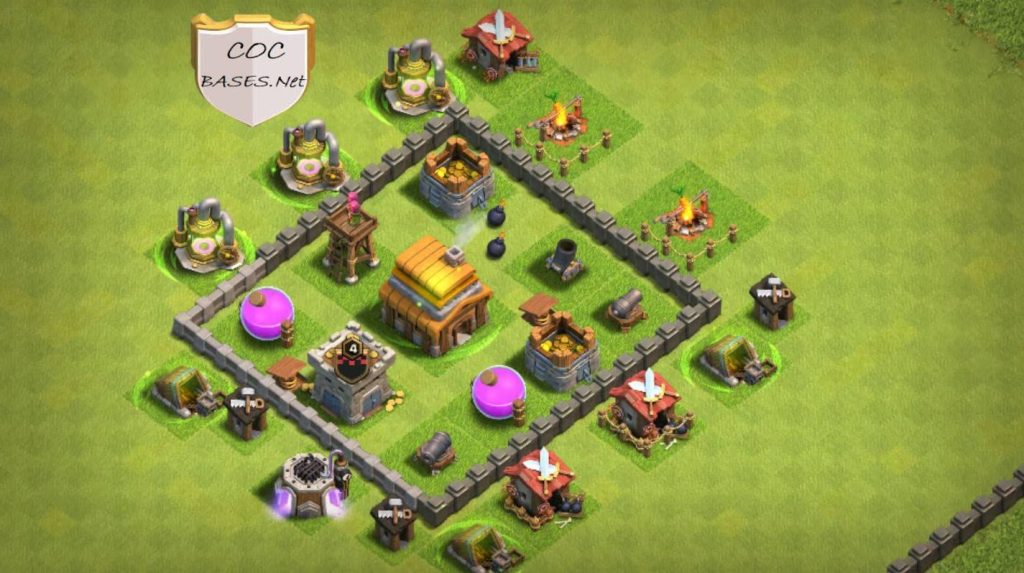 Unbeatable TH4 Farming Base with Link
Whoa! You will also find this Town hall 4 farming base amazing and wonderful. The center portion of the base consists of mortar and air defense. The town hall and clan tower are placed in a smaller portion. The whole clan is surrounded by hard, maxed walls and amazing buildings such as barrack, cannon, army camp, hidden tesla, etc.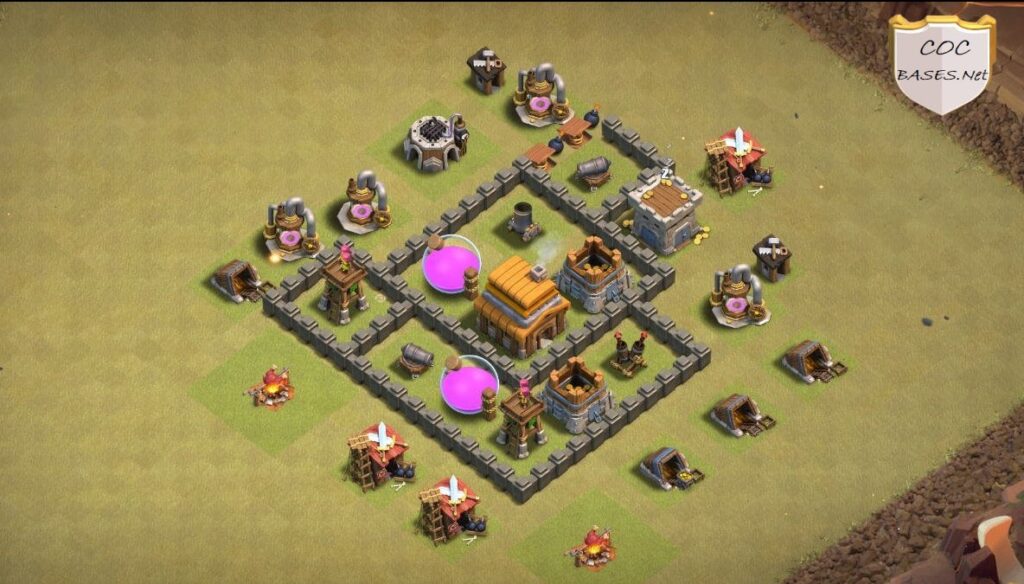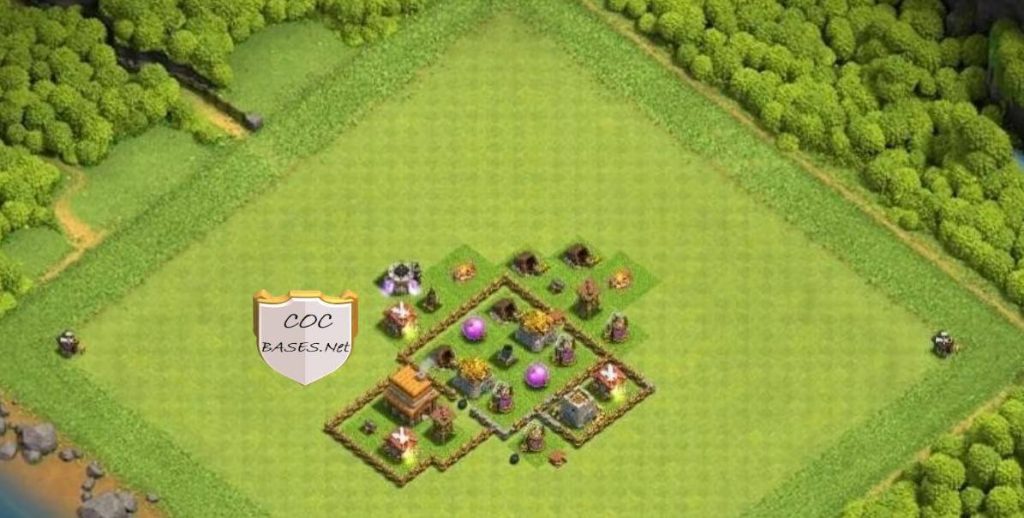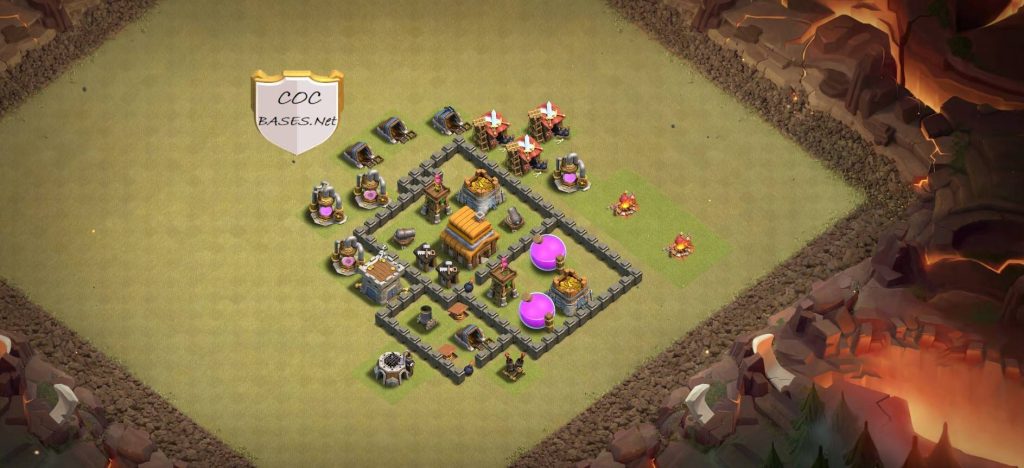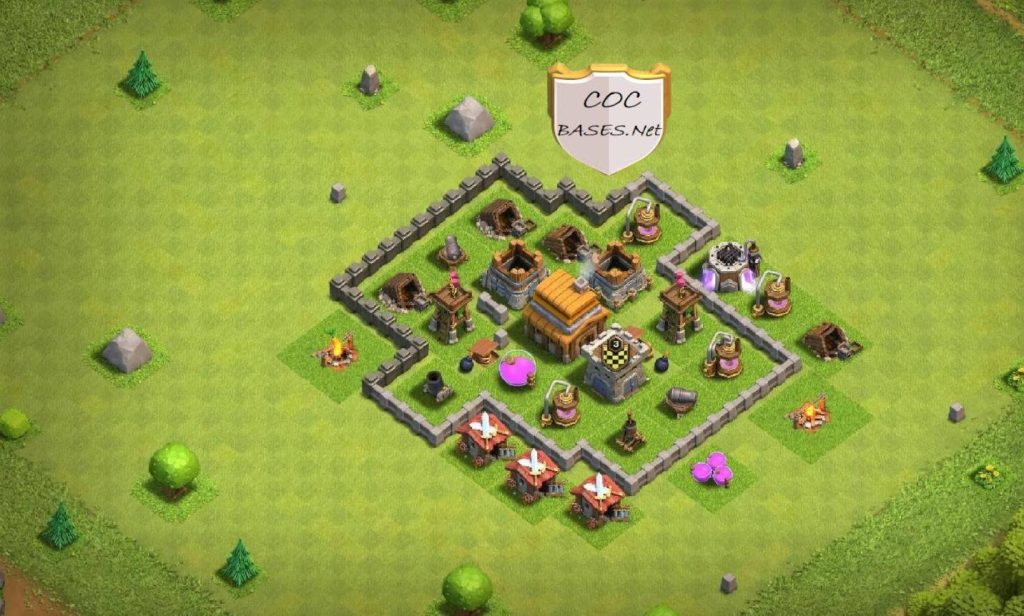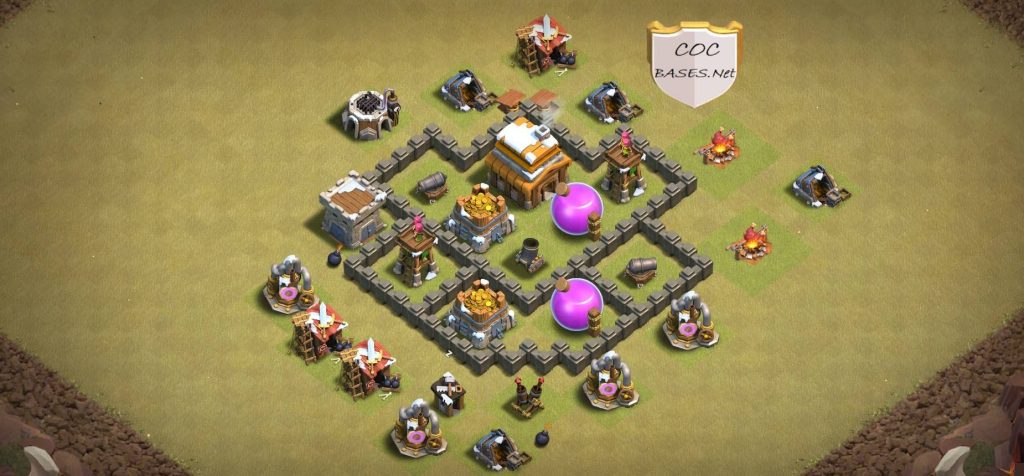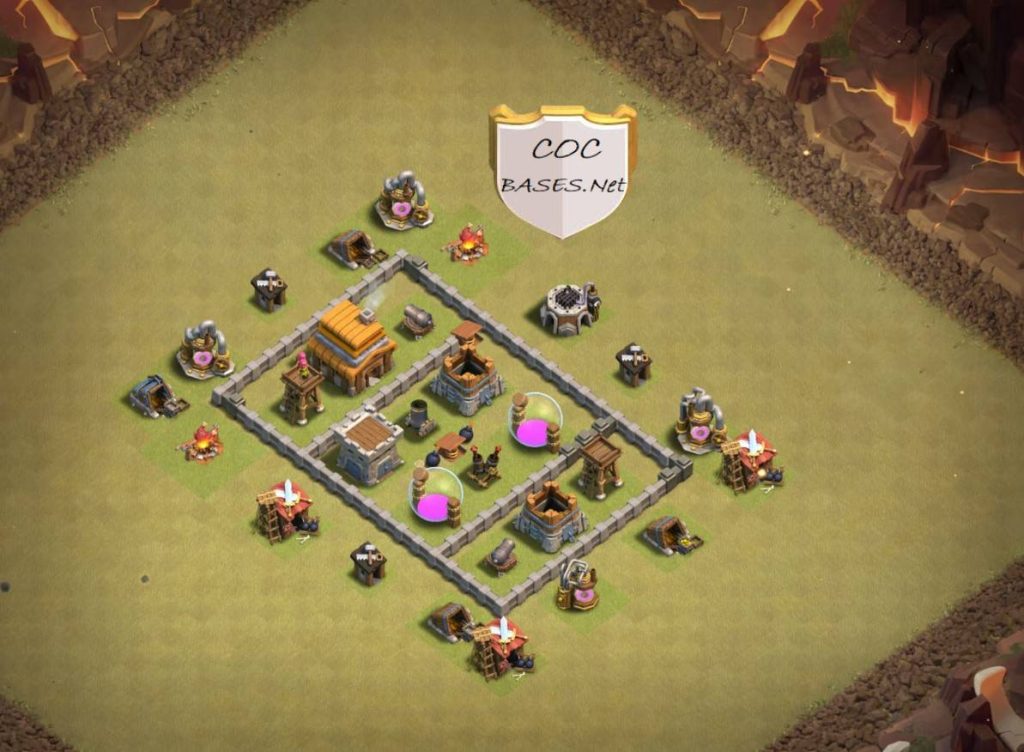 Check Out